Back in October, All Nippon Airways announced a contest to design the livery for its A380 aircraft.  And now we know what design won that contest.
Why The A380
Back in January 2016, All Nippon Airways (ANA) and Airbus announced that the airline had agreed to purchase three A380s.  The A380s in question are likely ones that were being produced by Japanese low cost carrier, Skymark.  Skymark, despite its ambitious plans, just couldn't cut it.  And in the end, the airline was acquired by ANA during bankruptcy proceedings.
The competition to acquire Skymark was fierce.  However, what likely swayed the decision in ANA's favor, was their new aircraft order.  As part of its Skymark purchase, ANA agreed to purchase new aircraft from Airbus.  This order included, of course, those A380s.
This was an important win for Airbus, as Japanese airlines tend to be loyal to Boeing.  But with ANA's order, Airbus will soon be delivering aircraft to both of Japan's largest carriers.  Japan Airlines had, by the way, ordered a number of A350's back in 2014.
The Contest
ANA's A380's will be used exclusively on the airline's Tokyo to Honolulu route.  So, the goal of the contest was to develop a Hawaii-based livery for these three aircraft.  The contest ran between October 7 and November 30, 2016, with the winner receiving two roundtrip tickets for travel between Honolulu & Tokyo, and an "ANA souvenir."
According to the airline, 2,197 submissions had been received during the contest period.  In the end, though, only one winner could be selected.  And now, we finally know who the winner is: Chihirou Masuoka of Tokyo.  For his design, Masuoka-san has received two roundtrip business class tickets for travel between Honolulu and Tokyo.  He has also received an A380 model featuring his special livery.

The Design
Masuoka-san call his design concept "Sea Turtle Family."  According to the airline, green sea turtle are a symbol of good luck and prosperity in Hawaii.  Indeed, Native Hawaiians consider the green sea turtle, or Honu, an Aumakua (family god).  To them, the Honu represents longevity, safety, and spiritual energy.
Given the design, ANA will be naming its aircraft the Flying Honu.  The airline hope the aircraft will pass happiness and luck to its passengers.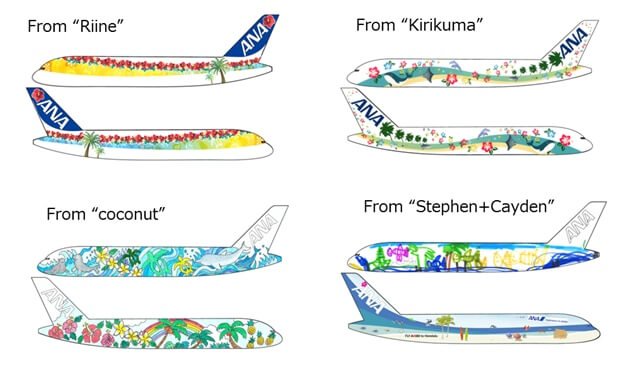 Four runners up were also announced, which are pictured above.  ANA states the runners up will also receive "commemorative gifts."
Going Forward
With the naming of its new aircraft, ANA has committed to supporting Honu conservation efforts.  Hawaiian green sea turtle are listed on the IUCN's endangered species list.  The airline also states that new passenger services will be introduced to coincide with the introduction of its A380s.  More details will be provided in the future as they become available.  ANA is expected to launch its A380 service in Spring 2019.
Flying Honu Final Thoughts
I honestly forgot this contest had even occurred.  It is interesting to see what design was ultimately chosen, though.  And while the name "Flying Honu" does incorporate some Hawaiian, the design doesn't look very Hawaii.  Rather, the Flying Honu looks very, uh, Japanese.  At any rate, it is a nice, interesting design, and I can't wait to see it in real life.
What interests me even more, however, is what impact the A380 will have on Japan-Hawaii travel.  That's a massive amount of new capacity, assuming that ANA doesn't reduce its current route offerings and/or frequencies.  And that's in addition to Air Asia X commencing Osaka to Honolulu service later this year.