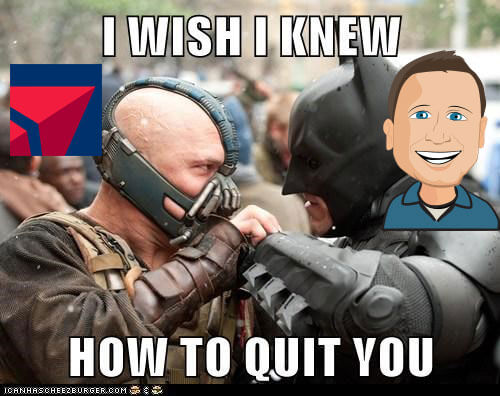 I'm asking for a friend of course…
Longtime readers of Jeffsetter know that I am a Platinum Medallion with Delta and based out of Minneapolis. You also probably know that with every change Delta brings to the table a piece of me dies. This change has me wanting to move away from my home state just to get out of the chokehold I find Delta has me in.
The most recent changes introduced by Delta are a HUGE DEAL and have been covered by Inside Flyer, the Wall Street Journal and pretty much everyone else. The slippery slope of frequent flyer programs changing has begun, and things will never be the same once all of the dominos fall.
What are the Delta changes in a nutshell?
You now earn "Miles" based on how much you spend, not based on Miles flown. In essence, the concept of "Miles" is now arbitrary (and the reason why I am putting it in quotes for the rest of the post). Not only that, but the number of "miles" earned by most passengers will be significantly lower for most casual (i.e. non business) travelers. That means in the past year Delta has raised prices of award tickets in many instances and also decreased the number of "Miles" earned through flying.
My fellow bloggers fear that United Airlines will follow suit within a few months and that American Airlines will probably do the same as soon as they emerge from bankruptcy and their merger with US Airways completes in 2015 or 2016. Once this all takes place, for USA based flyers there is a good chance that earning "Miles" based on the number of miles you fly will effectively be dead.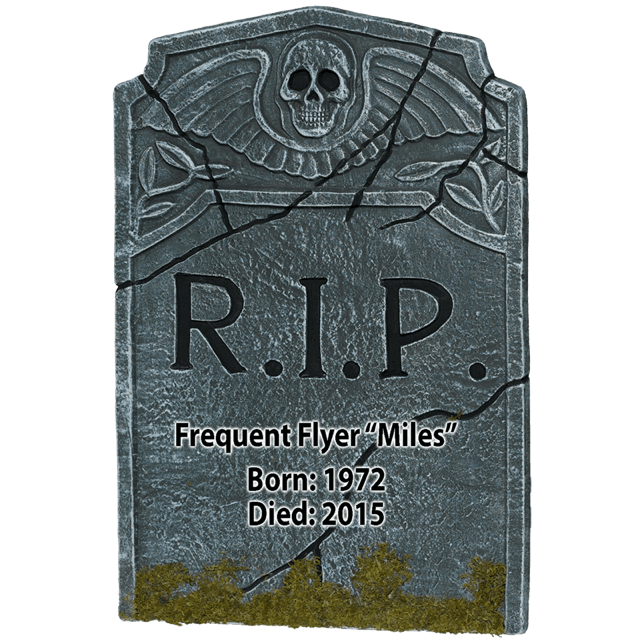 Here are some things that will become obsolete with Delta's change:
Earning "Miles" through flying becomes less lucrative
When it comes to earning miles on a reasonably priced flight, you're screwed. For example, my upcoming flight from MSP to Las Vegas for $400 will traditionally earn me 5,200 miles as a Platinum Medalliion. Beginning in 2015 it would earn me 3,600 miles. That's a significant reduction and is typical for the trips I pay for out of pocket.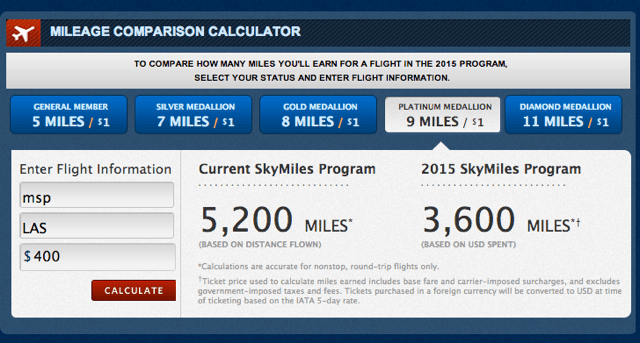 It is unclear at this point how redemptions will be affected by this change, but it's safe to say that the number of "Miles" needed for a redemption will not be going down in the future since Delta raised redemption prices twice in 2013.
Just how bad will this change be for your mileage earning?
Learn exactly how screwed you are by using Delta's you're f****d calculator.
How should you earn Sky "miles" moving forward?
While I am not clear on whether the number of miles you earn with Delta co-branded credit card spending will be affected by this change, it seems that earning miles by spending on credit cards and signup bonuses might provide you with the best options moving forward. Since I earn over 50% of my "Miles" via credit card, this change may not affect me as much as others.
I also strongly recommend getting a card from Chase or American Express to earn flexible points currencies that can be used on several airlines. This is my favorite hedge in the points and miles game.
Back to my ordeal
In writing this blog for the past 17 months, I have written countless posts about how a change Delta made was "the last straw" and yet I keep on coming back for more punishment. This is because in most cases Delta is the only option I have for direct flights out of MSP and I value my time. I could credit my miles flown to Alaska Airlines, but I'm worried that when Alaska and Delta inevitably break up in the future I will have put my eggs into the wrong basket.
This means that most logical thing is to simple move away from Minneapolis to a city that has less Delta dominance. Right now I am eyeing the San Francisco bay area as a target for this move. Great weather, lots of technology startups (my passion) and it's a hub for someone other than Delta.
That brings me back to the question I used to title this post: Is it rational to move across the country to avoid Delta? Has Anyone ever run away from a city because they are in a hub city for the worst frequent flyer program in the world?
I'm asking for a friend of course.