Hawaii is a beautiful mishmash of various cultures around the world. And it's something you can readily see around you when you're here. This mashup influences everything from the way we speak, our architecture, our customs, and, yes, even our food, which brings us to the Goteborg Musubi.
It's no secret that Hawaii is in love with SPAM. It's one of the few things most people in the US – I feel – know about. This is especially true of SPAM Musubi – the ubiquitous block of rice that's topped with a thick slab of seared SPAM and wrapped in nori (seaweed). It's a strange mashup of Japanese onigiri and American SPAM. SPAM, of course, made its way to Hawaii during WWII, while onigiri came with plantation workers from Japan. And if you've never tried SPAM Musubi, you really should. It's the perfect food if you ask me. The salty, meaty, umami of the SPAM, heightened by the umami of the nori, is perfectly complemented by the rice. Plus, it's a very portable food, perfect for the beach!
There is, of course, another type of musubi in Hawaii, which is the Goteborg Musubi.
Goteborg Musubi
Goteborg Musubi trades SPAM for a thin slice of Goteborg sausage. But, what the heck is Goteborg? It's a German summer sausage similar in appearance salami. How it got here? No one is entirely sure. Nor is anyone sure how it got married to Japanese onigiri. One thing we know for certain, though, is that immigrants are responsible for this concoction.
Even if you've been to Hawaii often, though, there's a good chance you haven't seen Goteborg Musubi before. To be honest, it's something that's not common in most of Hawaii at all. Why? Because it's a Kauai-based dish. In fact, it's so uncommon here on Oahu that when I bought a few this past weekend, people in the store were asking me what it was.
Variations
Like Salami, Goteborg sausage cups when you cook it. And, in most cases, Goteborg on musubis are cooked, though you don't have to do this. I prefer it cooked, though, as it adds texture and makes it saltier, pairing better with the rice.
Assembling a Goteborg Musubi happens one of two ways – sausage on top or on the bottom. If the sausage is on top, usually it sits atop a ball or cylinder of rice and is wrapped with nori. With the sausage on the bottom, however, a small ball of rice is placed in the cupped sausage.
Where to Find Goteborg Musubi on Oahu
Here on Oahu, there are a handful of places that offers Gotebor Musubi. The ones I know of include Fort Ruger Market, Tanioka's, and Pa'ina Cafe.
Fort Rutger Market
Recently, Fort Ruger Market got a new chef. That new chef added some new menu items, including Goteborg Musubi. So, we headed out to give their version a try while also getting some of their famous poke.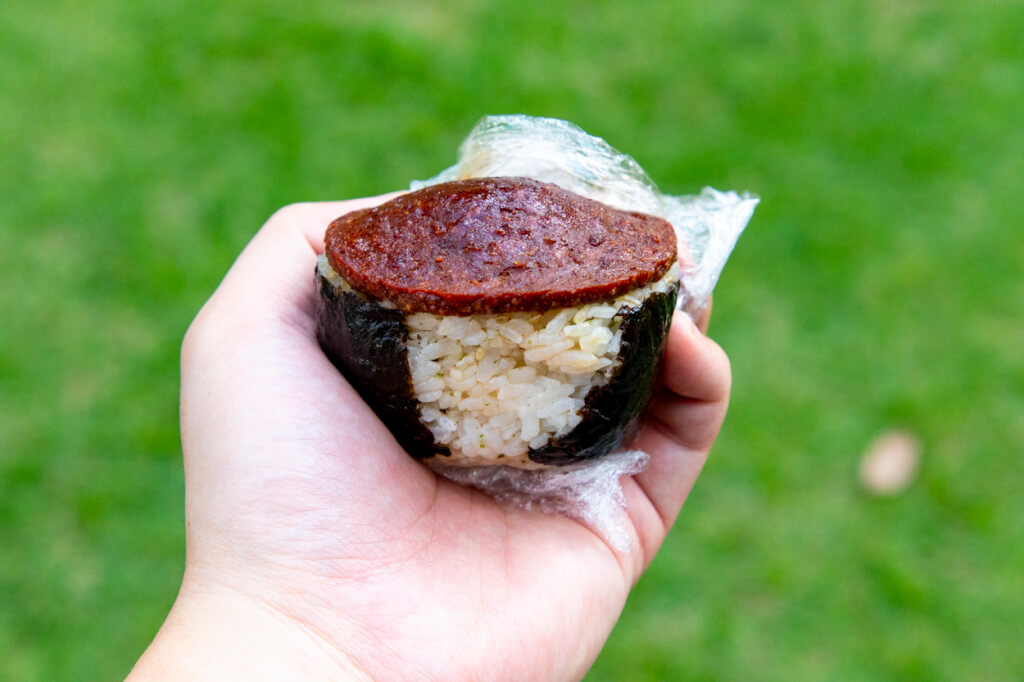 As you can see, Fort Ruger Market uses a sausage on-top assembly method with the nori wrapping only around the rice. What's more, they mix a small amount of furikake into their rice. The sausage itself is also cooked quite crisp, though the crispiness doesn't hold up to being wrapped up in plastic. But that's ok because it still tastes great. My only wish is that they use a little less rice so you can taste the sausage more. Ruger's version is also quite expensive, clocking in at $2.75 for one, while Pa'ina sells theirs for $3.60 for 3. From what I remember, though, Pa'ina undercooks their Goteborg.
For the poke, I went with a Local-Style Poke Bowl, which is basically a shoyu-style poke. Only, here, I had it topped with bubu arare, furikake, and what I think is crispy garlic onion. It's really good and is comparable, I think, to that of Off the Hook's.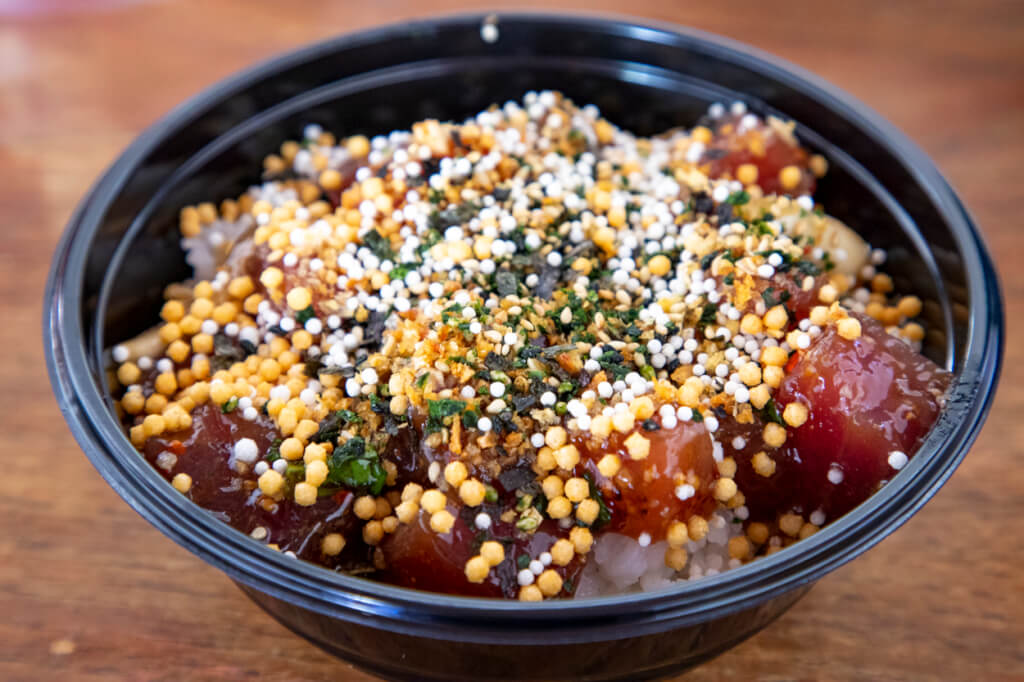 Final Thoughts
If you've never tried Goteborg Musubis before, I encourage you to give them a try if you ever come across them. They definitely have a different flavor profile than SPAM, having a slight twang and firmer texture. If I had to choose, though, I still prefer SPAM Musubis – the meatiness and saltiness just pairs better with rice, in my opinion. This is something that definitely comes down to personal preference, though.
Fun fact. Did you know that Goteborg sausage sold in Hawaii is made by Hormel? They've got a serious lock on our local musubi market!