When you think of food in Haleiwa on Oahu's North Shore, you think of shrimp trucks.  But there's so much more than that.  So on a recent weekend adventure, I decided to visit some Haleiwa Food Trucks and try something different.
The shrimp truck that started to craze is, without a doubt, Giovanni's Shrimp Truck.  It was the first food truck on Oahu's North Shore and the first shrimp truck.  They're famous for their garlic shrimp plates, while they also have a lemon and a spicy plate too.  Me?  I'm not a fan.  The one time I tried them, the shrimp was mealy and overcooked.  And since most (but not all) of the trucks don't even use local shrimp, I didn't understand why shrimp became such a big thing on the North Shore.
So, when the wife and I headed up to the North Shore for a weekend adventure, I decided to try something different.  Now, Giovanni's doesn't even appear to be in the Haleiwa Food Truck lot anymore.  But the place is still packed and hard to find parking at.  You'll either need to come during off hours, have a lot of patients, and/or park elsewhere.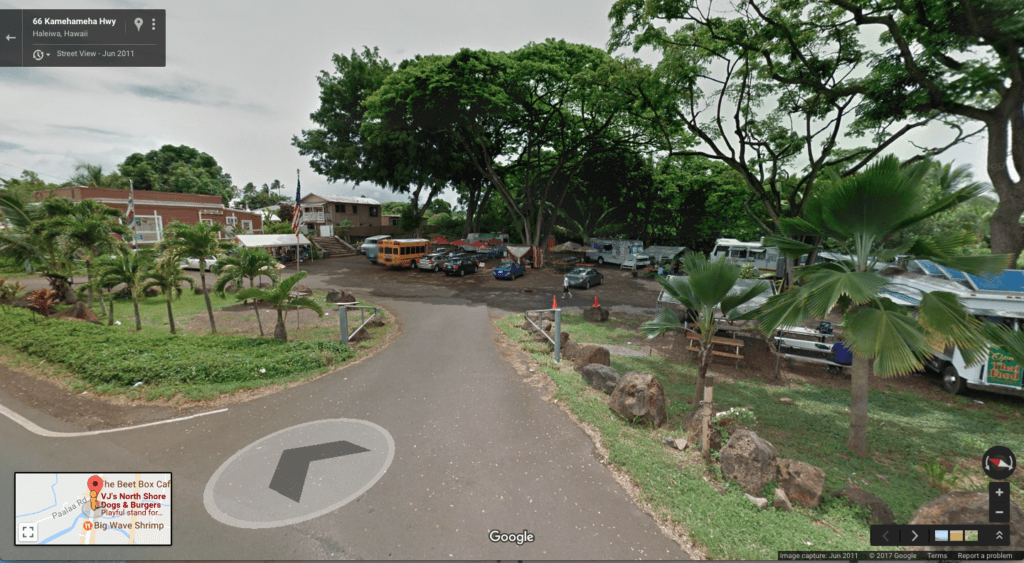 VJ's North Shore Dogs and Burgers
Like I said, I don't understand the North Shore shrimp craze, but I did hear about a food truck slinging good burgers.  This is something I had to check out!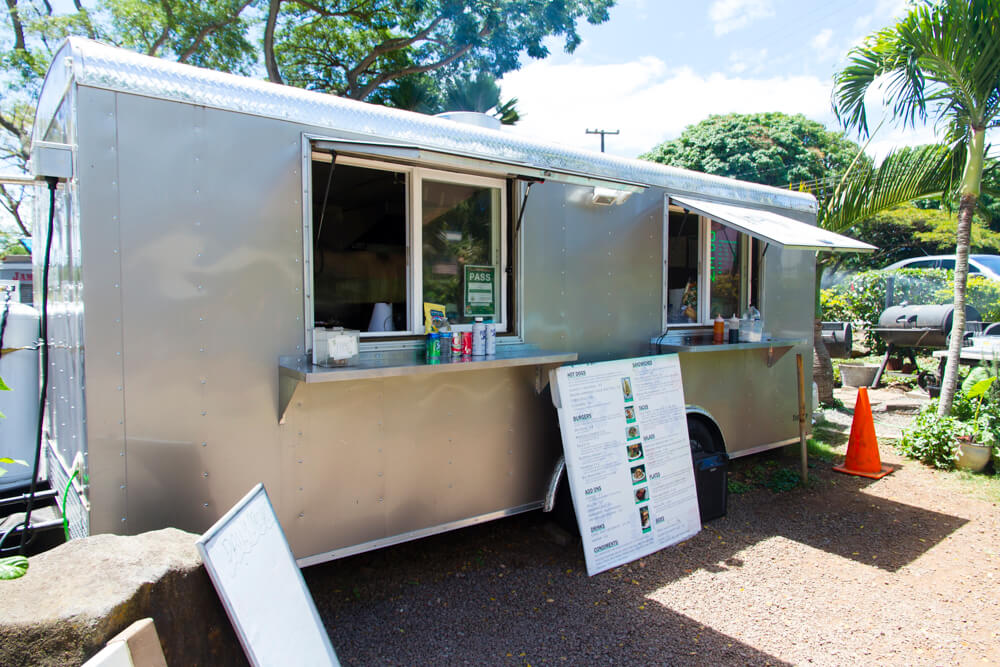 Located in the Haleiwa Food Truck Lot, VJ's North Shore Dogs & Burgers is an offshoot of the nearby butcher.  The butcher shop specializes in Molokai-raised beef, wild Axis deer from Molokai, Niihau lamb, and all-natural pork from Oregon.  And of course, the butcher shop supplies the food truck, so it's something I had to try.
The truck actually serves up more than hot dogs and burgers.  Also on the menu were tacos, salads, sandwiches, and plates.  Prices are a little on the higher side, but it is all-natural and mostly local.  This time around I decided to get a Buddha Head Burger ($12), which is a 1/3 lb beef patty with cheddar and Portuguese Sausage (linguica).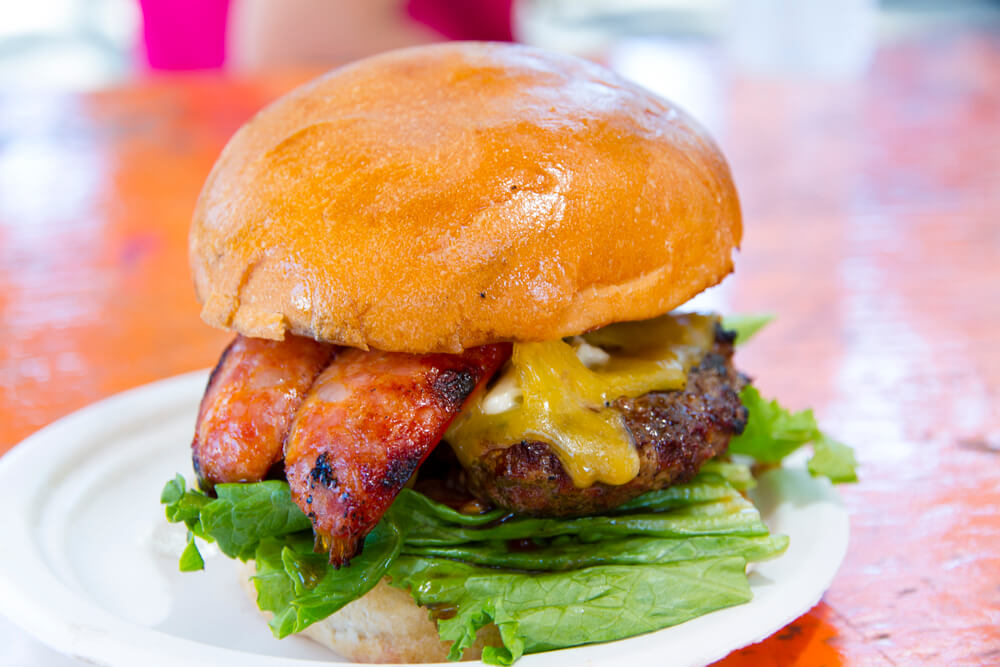 The beef being free-range, grass-fed is a leaner than I'm used to.  So it's important, in this case, to order your burger on the cooler side to maintain moisture and keep it from toughening up too much.  However, the addition of the juicy, fatty, flavorful Portuguese Sausage really helps balancing things out.  And no fries for me this time, as I didn't feel like paying $5 for a side of fries.  Nevertheless, VJ's North Shore Dogs & Burgers is a solid choice and is different from the standard shrimp truck experience.
Hono's Shrimp Truck
Despite my aversion to North Shore Shrimp Truck, Mrs. Island Miler does do the shrimp thing when we're up there.  But she doesn't go to Giovanni's either, instead she prefers Hono's Shrimp Truck.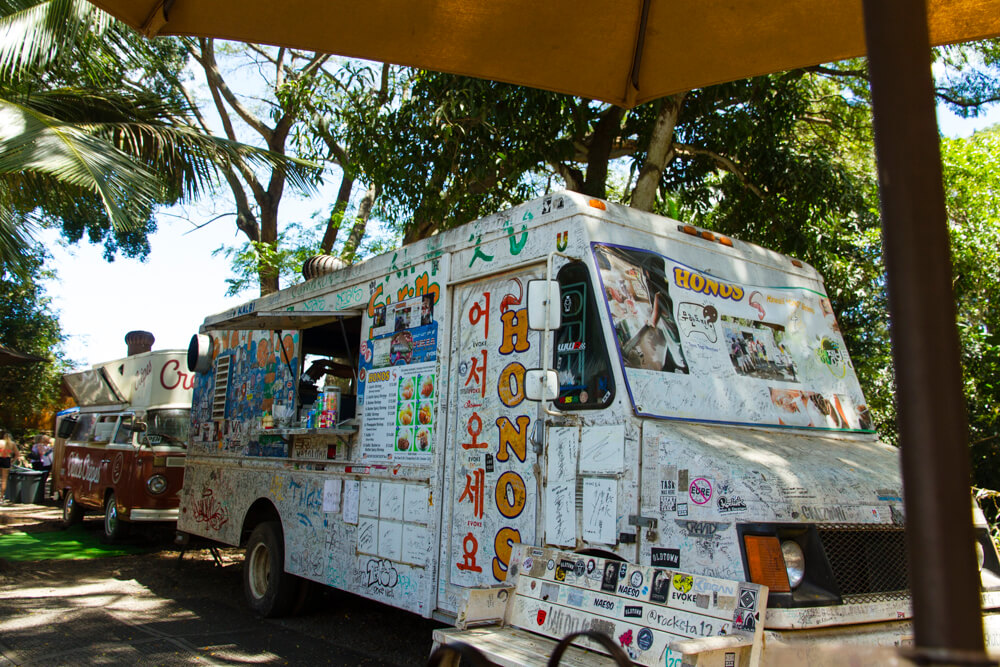 As you can see, Hono's has a Korean influence to it.  And you'd be right in guessing that this isn't going to be your standard scampi-style shrimp late here.  No, in fact Mrs. Island Miler's go-to dish at Hono's is their Spicy Butter Shrimp.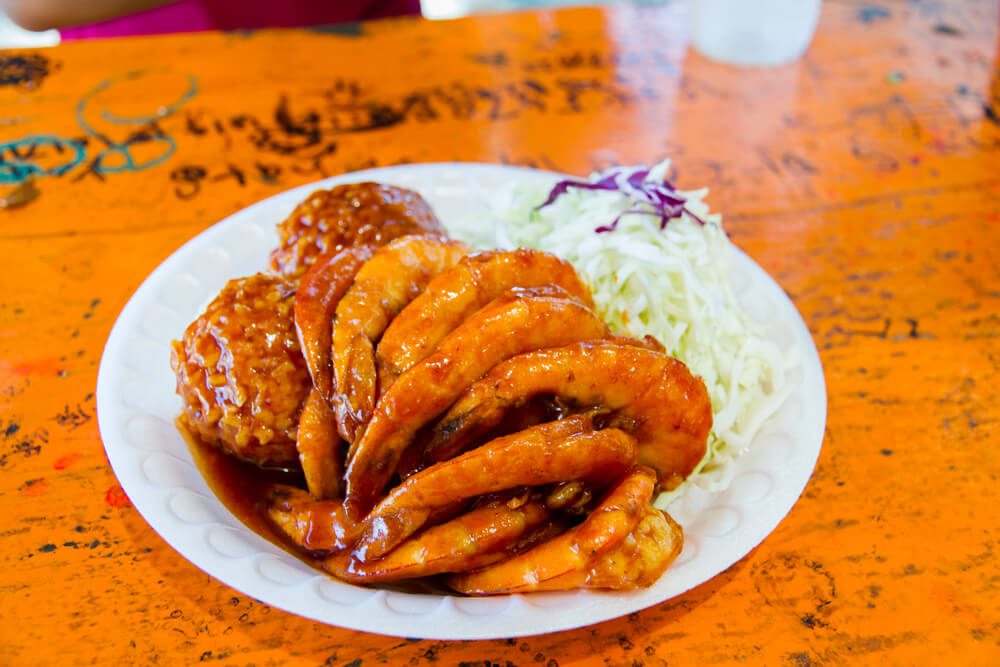 Take a look at that!  A generous pile of shrimp is coated in a fiery butter sauce, which also coats the two scoops of rice.  All there is to help tame the heat is a bit of slaw.  Thankfully, the shell-on shrimp at Hono's are split to ease the peeling process.
I didn't try any of the shrimp myself, but Mrs. Island Miler likes it, so it must be good… As long as you like spicy.  She has good spice tolerance, but even this one gets to her a little after a while.  And perhaps more importantly, she reports the shrimp aren't overcooked here either.  Not this time, nor the previous times she's been.
North Shore Food Trucks Final Thoughts
Today there are many choices for your food truck dining needs on Oahu's North Shore.  The first you'll see is this lot in Haleiwa, that's home to a variety of different trucks.  Then, of course, there's another lot in Pupukea across from Shark's Cove, and yet another in Kahuku near the shrimp farms.  Which you decide to go to is up to you and your preferences, but I encourage you to do your research first.  VJ's is a solid option, though I admittedly prefer the burgers at Kua'Aina a little more.  And if you're searching for a shrimp truck that serves locally raised shrimp, you may want to check out Romy's instead of the others.  In fact, Romy's is one of Oahu-based Hawaii Magazine's top picks.