The Big Island's Hapuna Beach has been named the best beach 2021, in Dr. Beach's annual list of best beaches in the U.S. In recent years, that designation has gone to other Hawaii beaches – Kailua Beach, Kapalua Bay Beach, and Hanauma Bay.
If Hapuna Beach sounds familiar, that's because it was the last place I visited before the pandemic. Back in August 2019, I scored a sweet redemption at the Westin Hapuna Beach before their Marriott Bonvoy category shot up. It was a great stay at a beautiful property set on one of the best beaches on the Big Islands. Apparently, I'm not the only one that seems to think so.
Hapuna Beach Named Best Beach 2021
While Hapuna Beach the Westin Hapuna Beach, the beach is actually a state park. Known as the Hapuna Beach State Park, it has a public parking area and facilities and can be accessed via Hapuna Beach Road, which is just south of Kauna'oa Drive, which leads to the Westin Hapuna. And while the whole beach is public – as all shorelines are in Hawaii – park visitors tend to stay away from the portion of the beach fronting the hotel.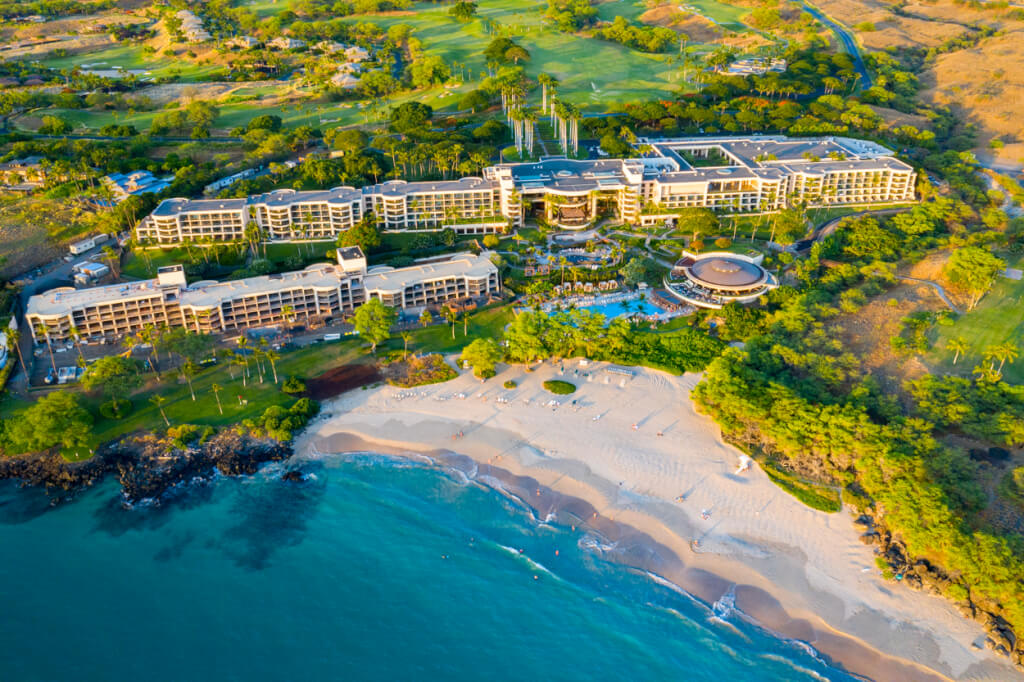 So, what makes Hapuna Beach so special? It's a large, natural beach made off powdery white coral sand surrounded by West Hawaii's iconic black lava fields. That alone may not make it that special, but, as you'll notice, beaches aren't as common on the Big Island as they are on other islands. That has to do with the island's relatively young age. It's also why black sand beaches are much more common here than on other islands. So that combined with the beach's accessibility, make it pretty unique for the island.
It is worth noting, though, that Hapuna Beach can be subjected to fairly strong rip currents. This is especially true during the winter months. Even when we went during the summer, I found the conditions to be a little rough. But, we still enjoyed our time in the water – you just have to be vigilant and be careful.
The Other Hawaii Beach on the 2021 List
Coming in at Rank 6 is Duke Kahanamoku Beach. Never heard of it? That's because most people tend to lump it in with the greater Waikiki Beach. The reality is, Duke Kahanamoku Beach is the beach on the far western end of Waikiki Beach fronting the Hilton Hawaiian Village. It is the widest section of beach in Waikiki and runs between the ocean and the artificial Duke Kahanamoku Lagoon.
Thanks to the beach's size and distance from most hotels in Waikiki, though, it tends to be one of the least crowded portions of Waikiki Beach. Plus, thanks to its proximity to the public Ala Moana Bowls parking lot. That said, the parking here fills up QUICK. So, if you're not staying at the Hilton, be sure to get here early or be willing to circle around and, possibly, walk far.
Other Beaches on the List
Interesting, all of the other beaches on Dr. Beach's 2021 list are East Coast beaches except for one. Those beaches include:
10. Coast Guard Beach, Cape Cod, Massachusetts
9.  Beachwalker Park, Kiawah Island, South Carolina
8.  Coronado Beach, San Diego, California
7.  Caladesi Island State Park, Dudenin Clearwater, Florida
5.  Lighthouse Beach, Buxton, Outerbanks of North Carolina
4.  St. George State Park, Florida Panhandle
3.  Ocracoke Lifeguarded Beach, Outer Banks of North Carolina
2.  Coopers Beach, Southampton, New York
Hapuna Beach Named Best Beach 2021, Final Thoughts
Honestly, though I like all of the Hawaii beaches that have won this distinction, I don't really understand these lists. I know, the lists are there to raise awareness of different beaches. But, how does a beach that's rated the best not keep requalifying? It doesn't make sense to me. Whatever. Dr. Beach does some other important work too, including raising awareness of rip currents. That can be an issue here in Hawaii, especially with those unfamiliar with conditions at certain beaches. In fact, ocean safety has long been a huge issue here. So, while you're going around enjoying beaches here, try to do your homework first, and make sure you heed all signs and warnings posted.