The Hilton Hawaiian Village is a mainstay of Waikiki hotels and is the largest resort on the island.  It's size and popularity HHonors members means the place is, in my opinion, a bit of a circus.  The number of people staying at the Hilton Hawaiian Village at any one time is a bit staggering.  The property does have nearly 3,400 rooms, after all, and is still growing!  And it's for these very reasons, and the fact that I'm loyal to Marriott, that I've never stayed.  Until now.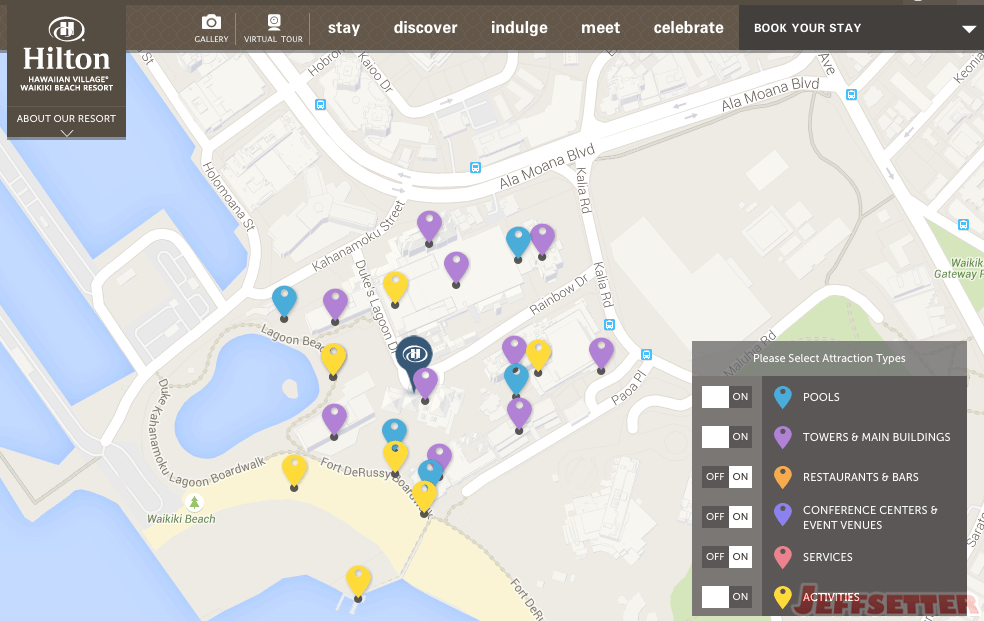 Earlier this month the wife and I had a wedding to attend at the Hale Koa (DoD) hotel.  The Hilton Hawaiian Village is a short, 5 minute walk from the Hale Koa.  It was because of this and a status match to HHonors Diamond that got me to finally stay.
For our stay I booked the base kama'aina (local) rate.  If you're a Hawaii resident, the Hilton Hawaiian Village offers some of the best kama'aina deals around, which even includes parking.  Kama'aina rates can be difficult to find, though, so it's a good idea to check often.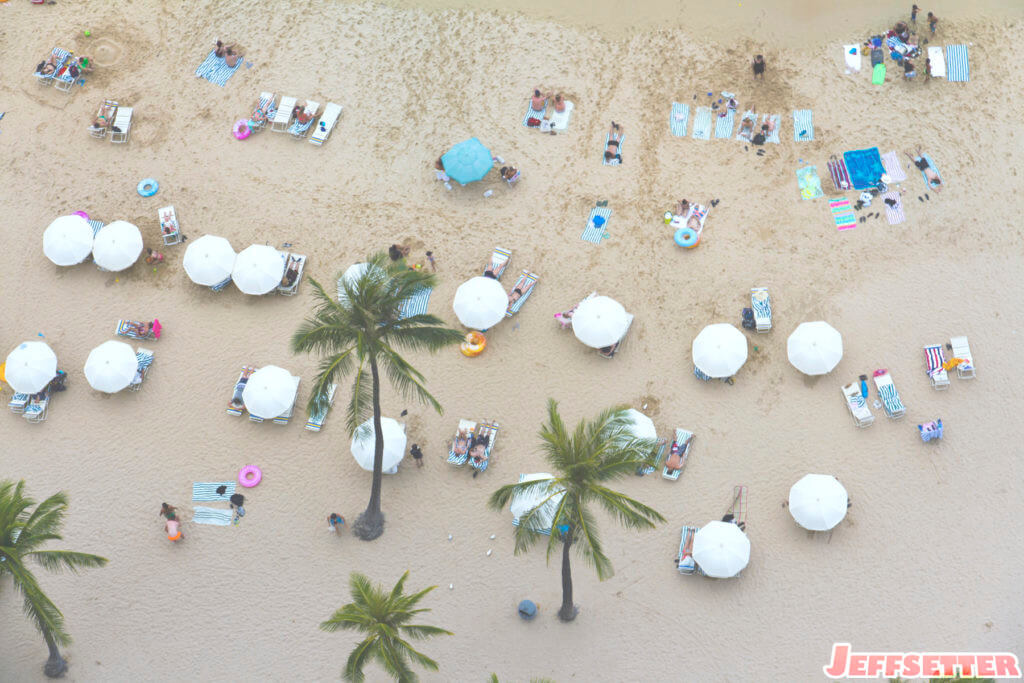 We arrived at the Hilton Hawaiian Village a few hours prior to the standard check-in time.  Despite this, we headed over to the lobby to see if we could get our room  early.  Interestingly the property has a line dedicated to HHonors members, but no separate line for elite members.  Fortunately, we didn't have to wait long.  I checked-in via the mobile app the day before, so we only needed to retrieve our room keys.
The friendly associate that helped us recognized my status right away.  She took some time to explain my benefits at the Hilton Hawaiian Village, and then moved onto our room.  I was informed that we had been upgraded to a fantastic room, but that it wouldn't be ready for hours.  I was then told that they could place me into a comparable room, and that it would be ready soon.  After taking down my phone number, we were on our way.  About 30 minutes later, I received a text with my room number.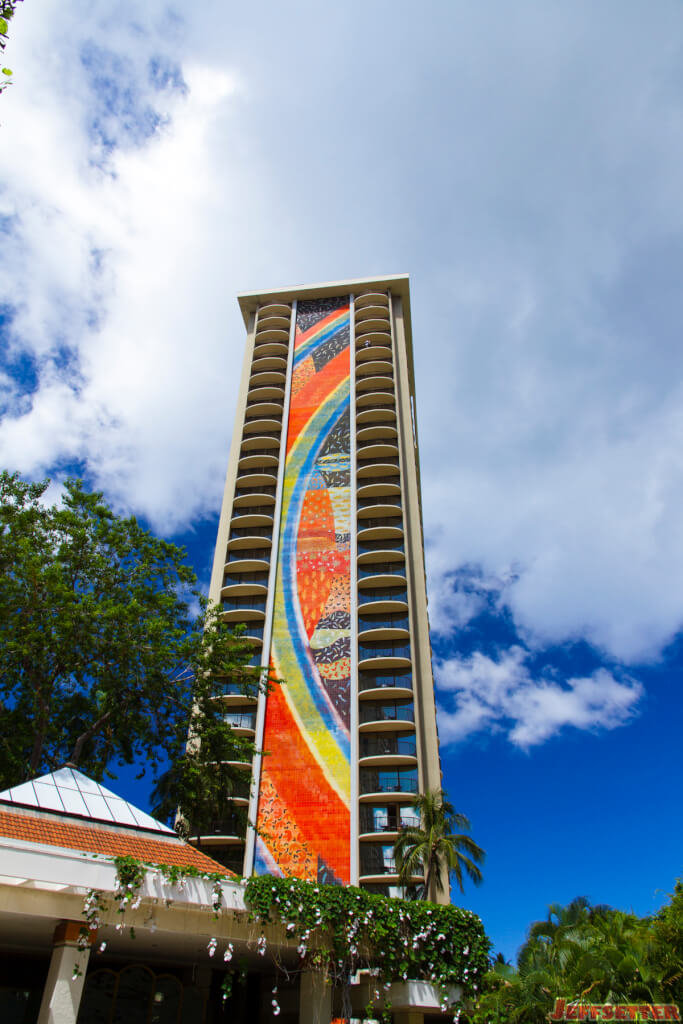 To my surprise we were assigned a room in Hilton Hawaiian Village's coveted Rainbow Tower.  Room 2601 to be exact.  So we headed over to the Rainbow Tower and took the elevator to the 26th floor.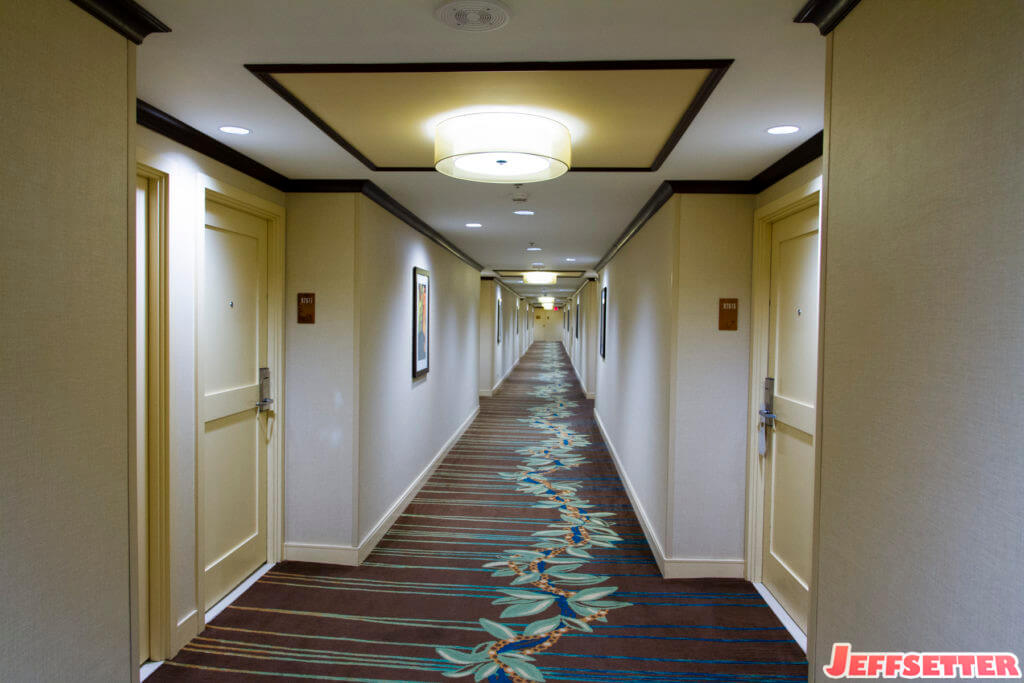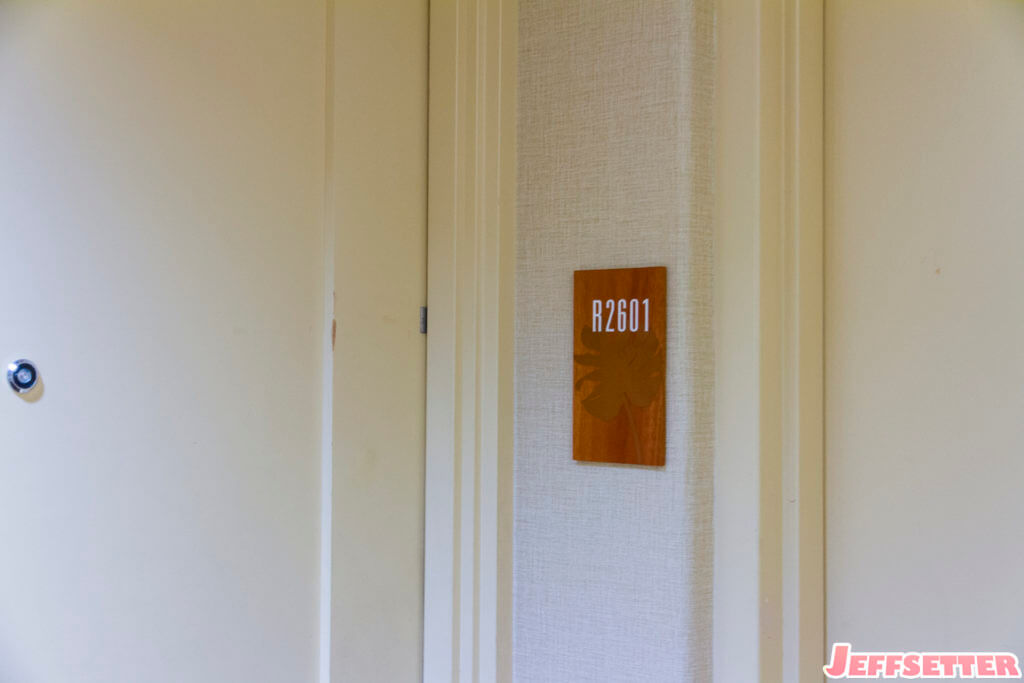 Once on the 26th floor, we had to make a long trek down the corridor to our room.  Because of the location of the room, I already knew that we had received one of the most highly-sought views in the most highly sought towers in the resort.  Our room was at the very end of the building closest to the ocean on the left side.  This meant that we not only had a great ocean view, but a spectacular view of Waikiki as well.  But more on that in a bit.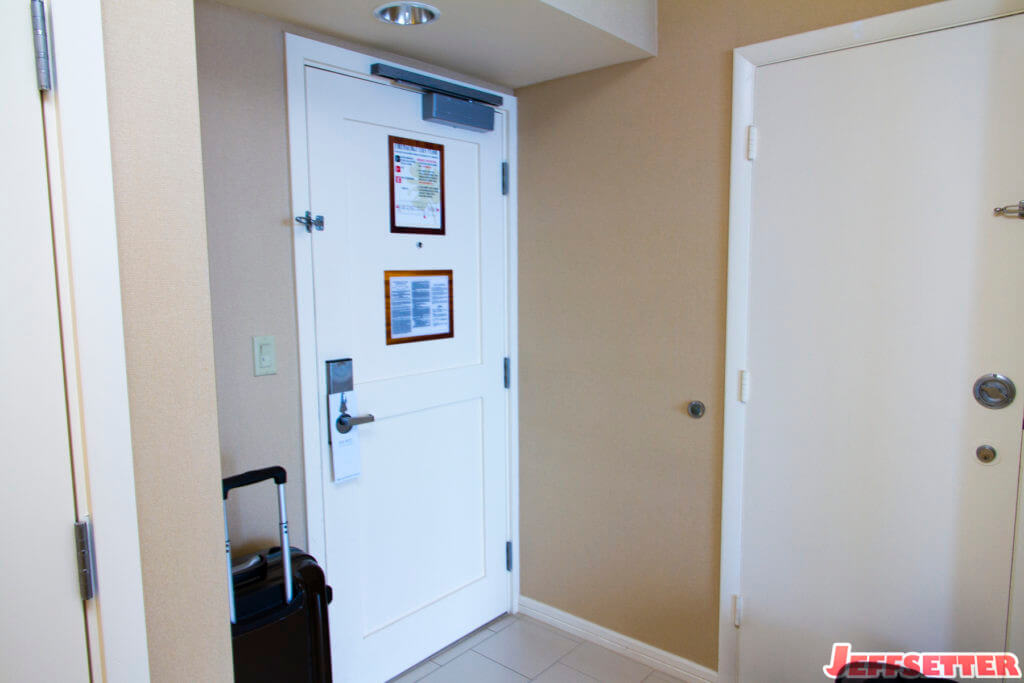 While not a suite, our room was a nice size.  Adding to the room's feel was a thoughtful layout.  The foyer area houses the mini fridge and coffee maker.  Directly behind it and next to the entry door was the closet with a nicely sized safe, iron and ironing board.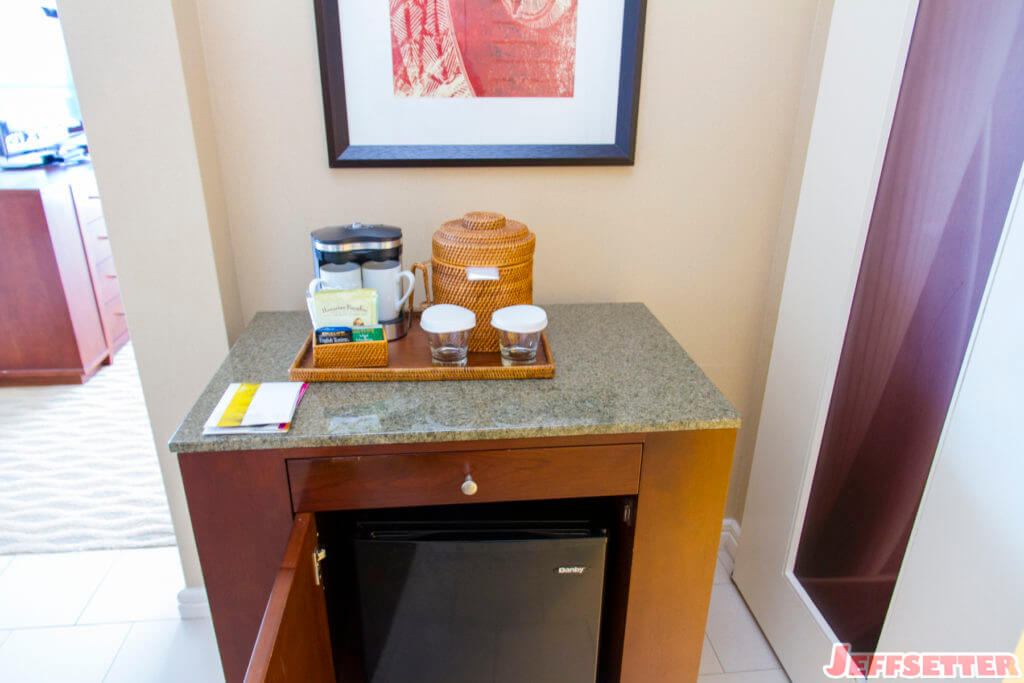 Immediately adjacent the closet was the bathroom with single vanity, toilet, and shower/tub.  While not large, the shower/tub served well as a shower with good temperature and water pressure.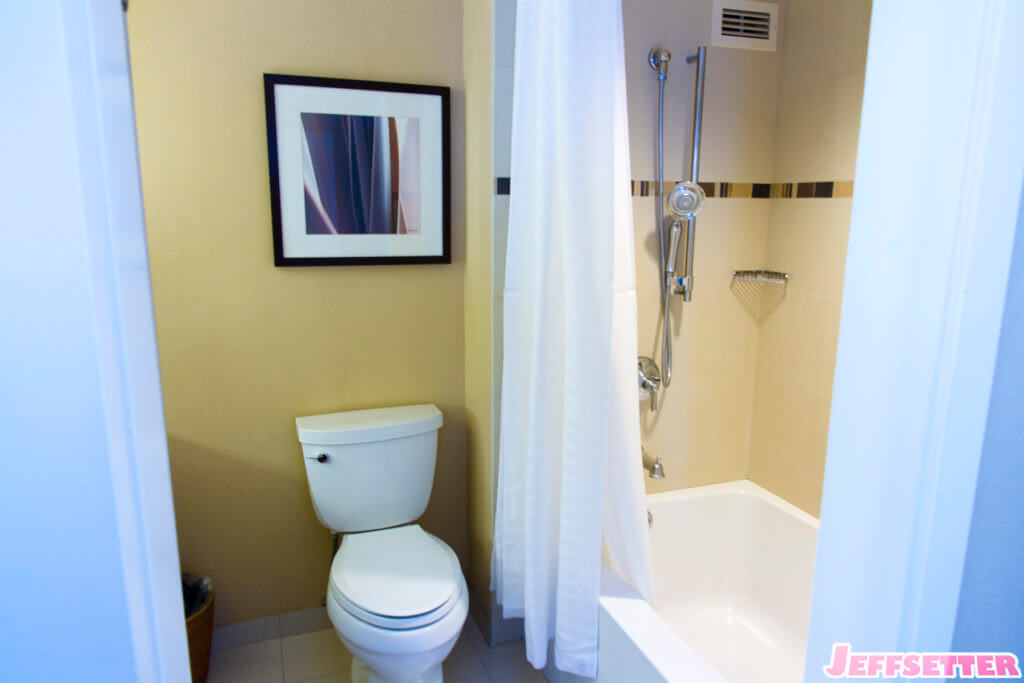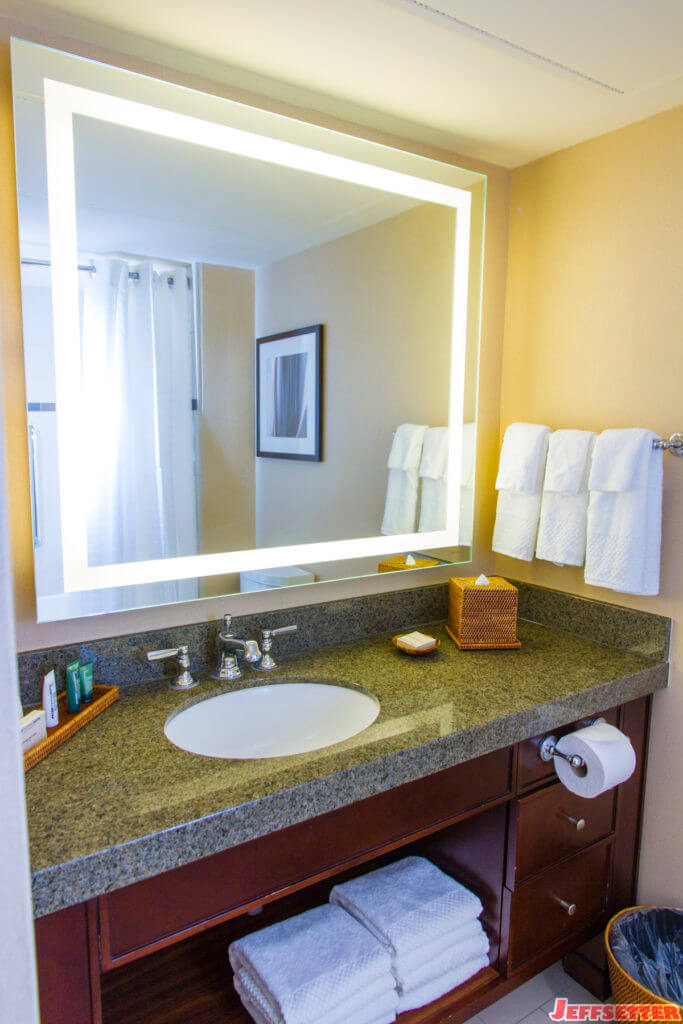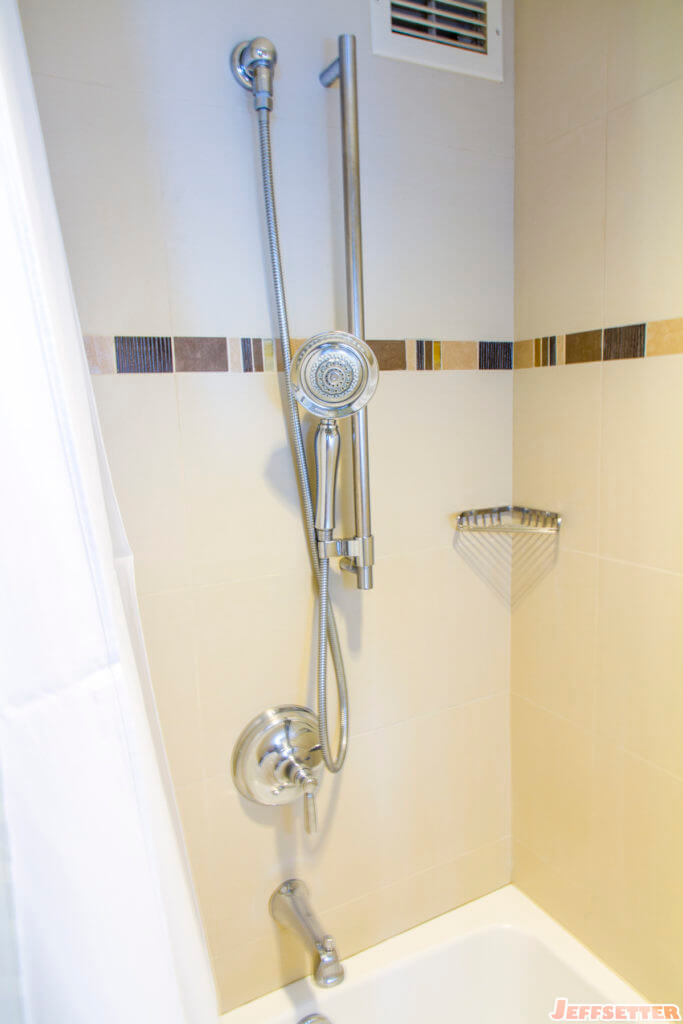 Toiletries on offer at the Hilton Hawaiian Village are the Hilton standard Peter Thomas Roth variety.  It's worth noting that Ali'i Tower guests receive Hawaiian inspired toiletries instead of the Peter Thomas Roth branded ones.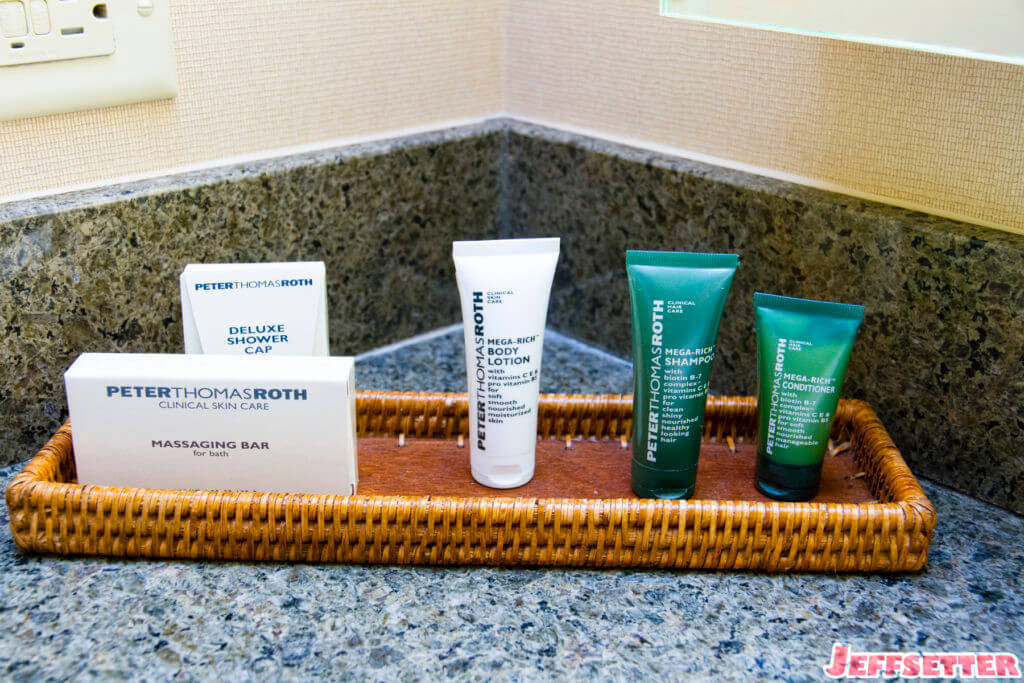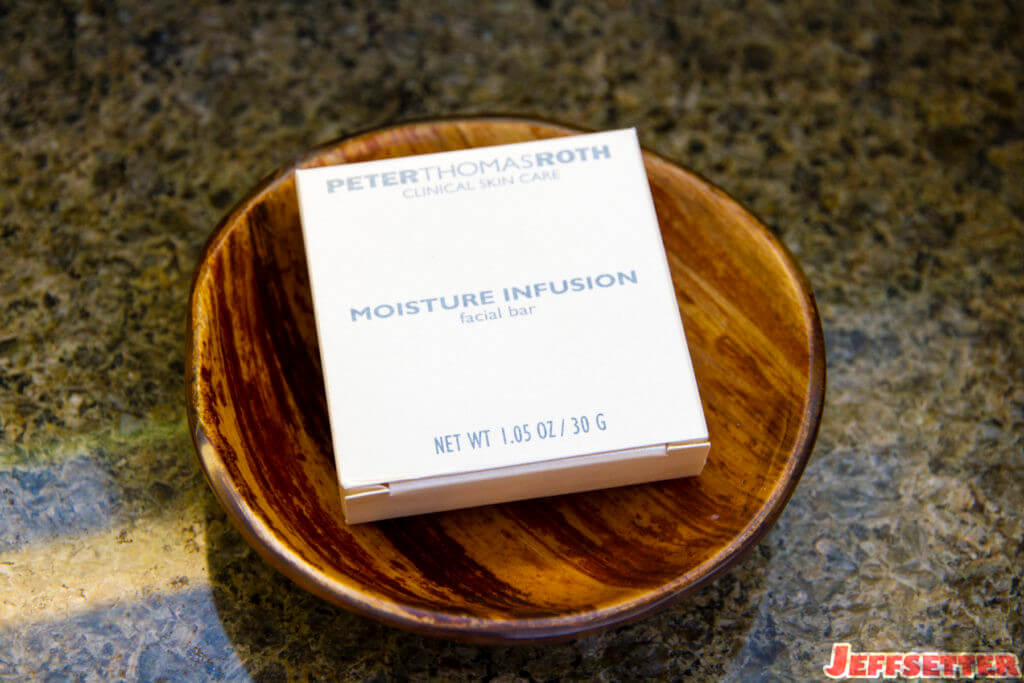 Beyond the foyer was the rest of our room.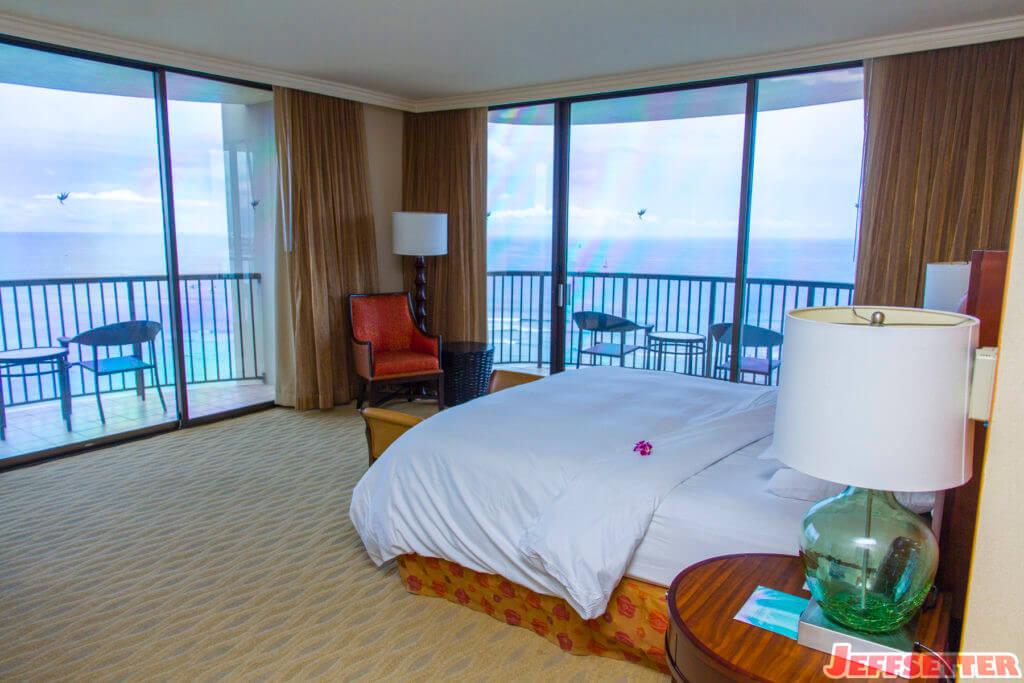 It turns out the room we had been assigned was a Rainbow Tower Corner King room.  These spacious rooms feature two balconies, one with a view of Diamond Head, the other looking towards downtown Honolulu.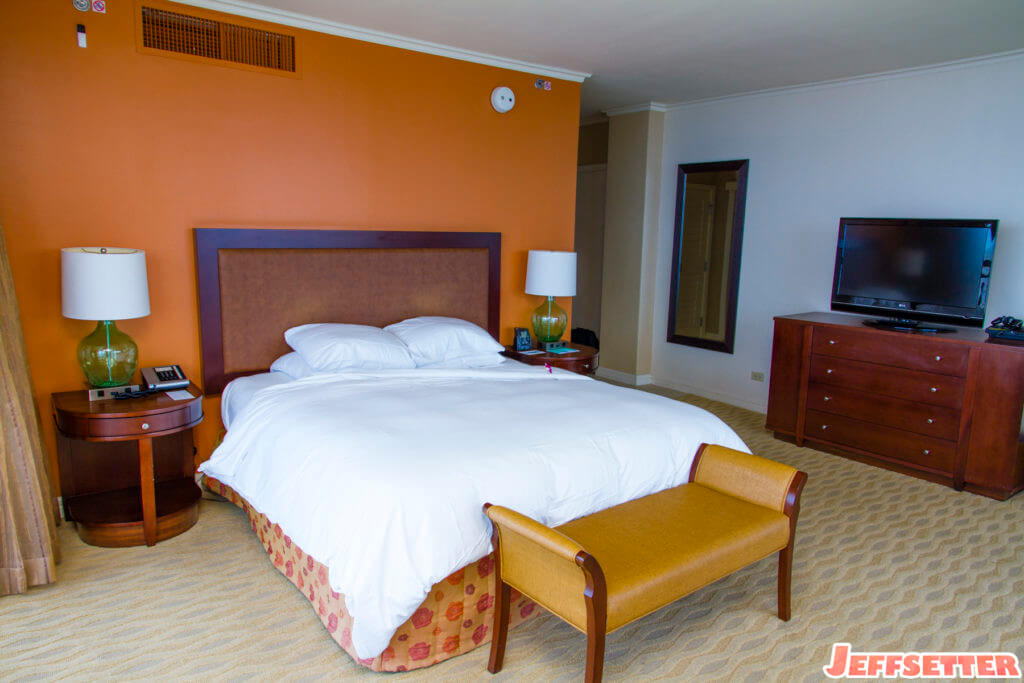 As inferred by the room name, our room featured a single, plush king bed with nightstands on either side.  Next to the bed was a dresser with a 37″ HDTV and a Sony PS3.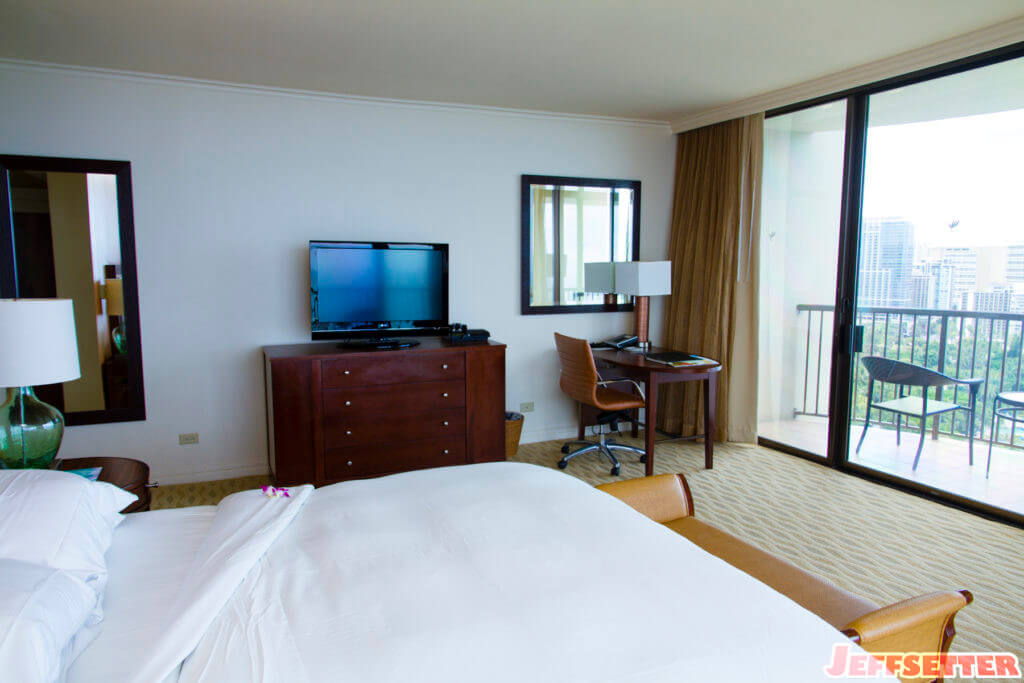 Next to the dresser was a work desk with a stylish work chair.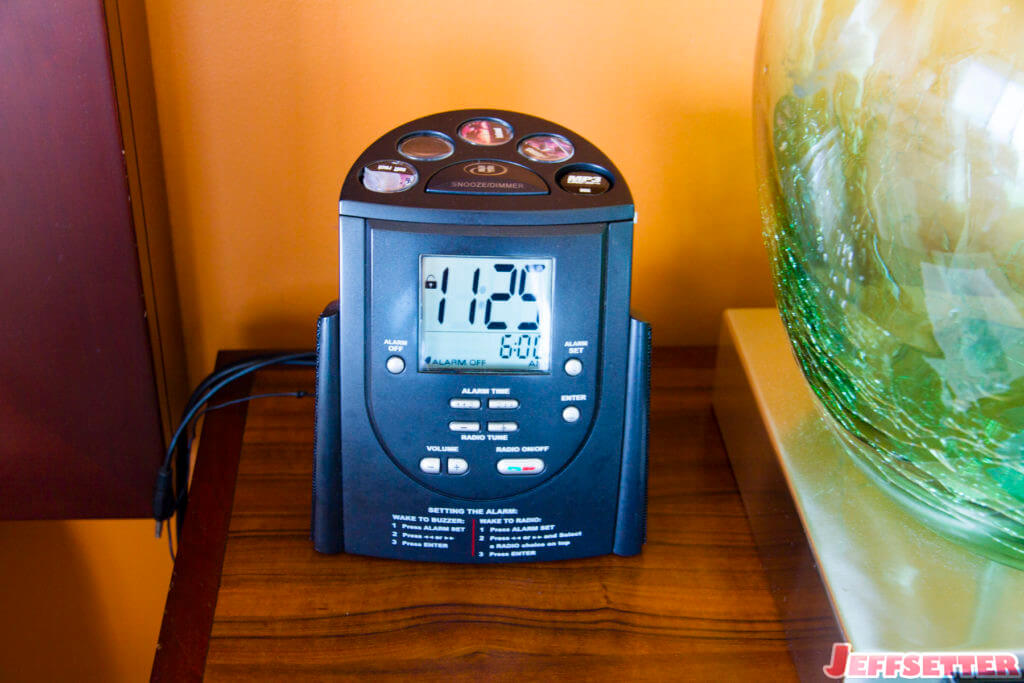 In terms of technology, the room had a proprietary radio alarm clock with aux jack, two phones and WiFi.  WiFi speeds, unfortunately, were unbearably slow and the TV was a bit small.  You also couldn't change the time on the clock, which I found a little odd.  I also couldn't figure out how the heck to change the temperature of the room…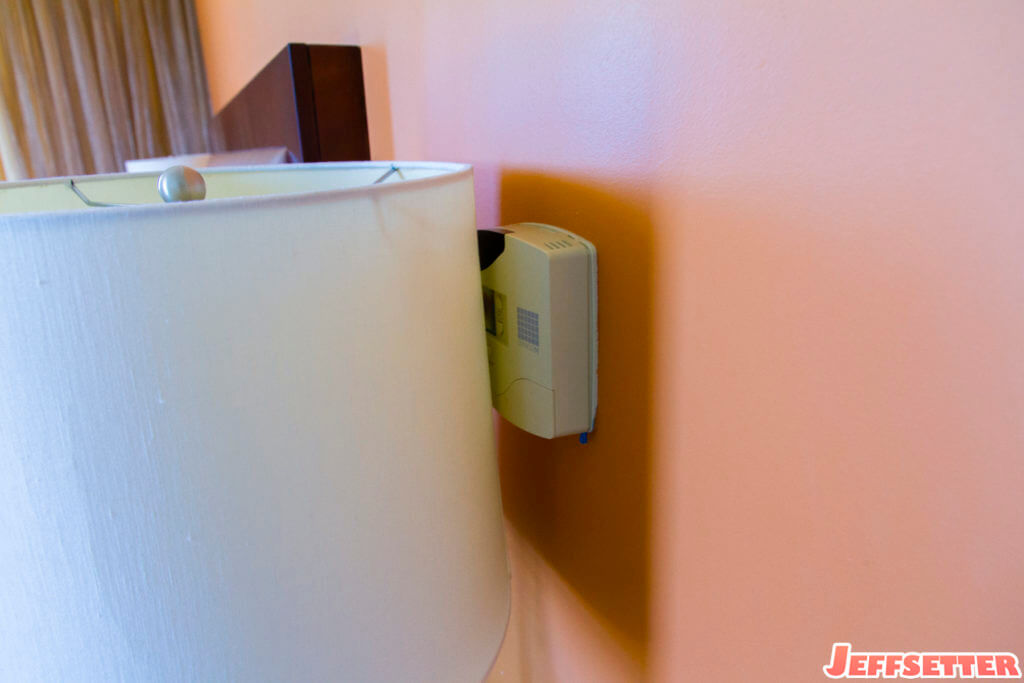 Until I found the thermostat hidden behind one of the lamps shortly before we checked out.  But that didn't really matter, as our room maintained a comfortable temperature throughout our stay anyway.  It also didn't really matter that the TV was at a poor viewing angle either.  I mean, why would you need a TV when you've got a view like this?!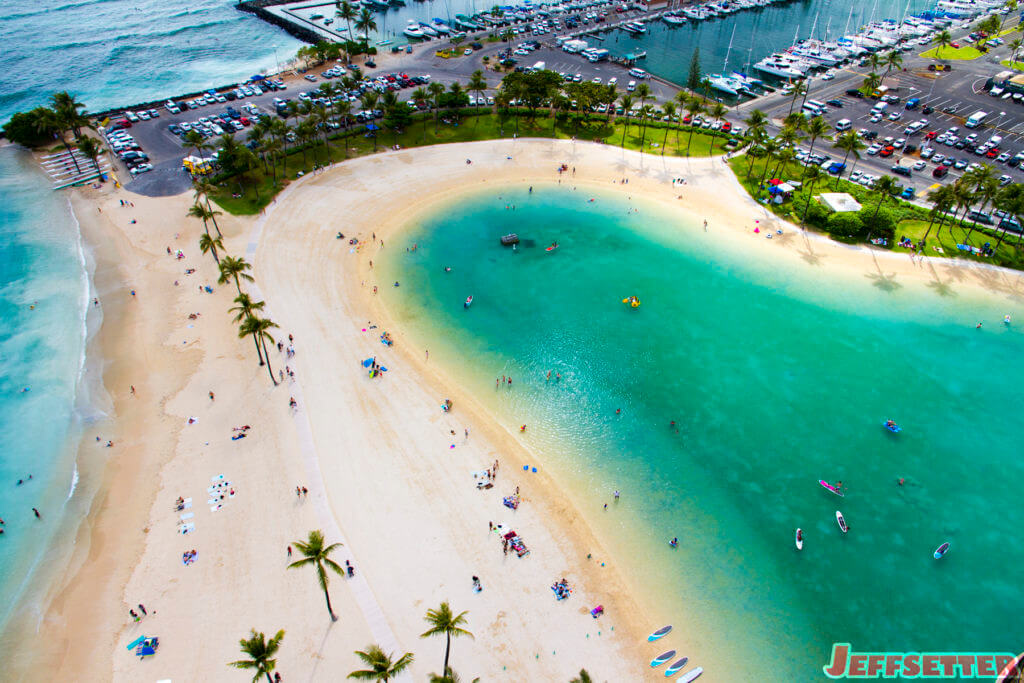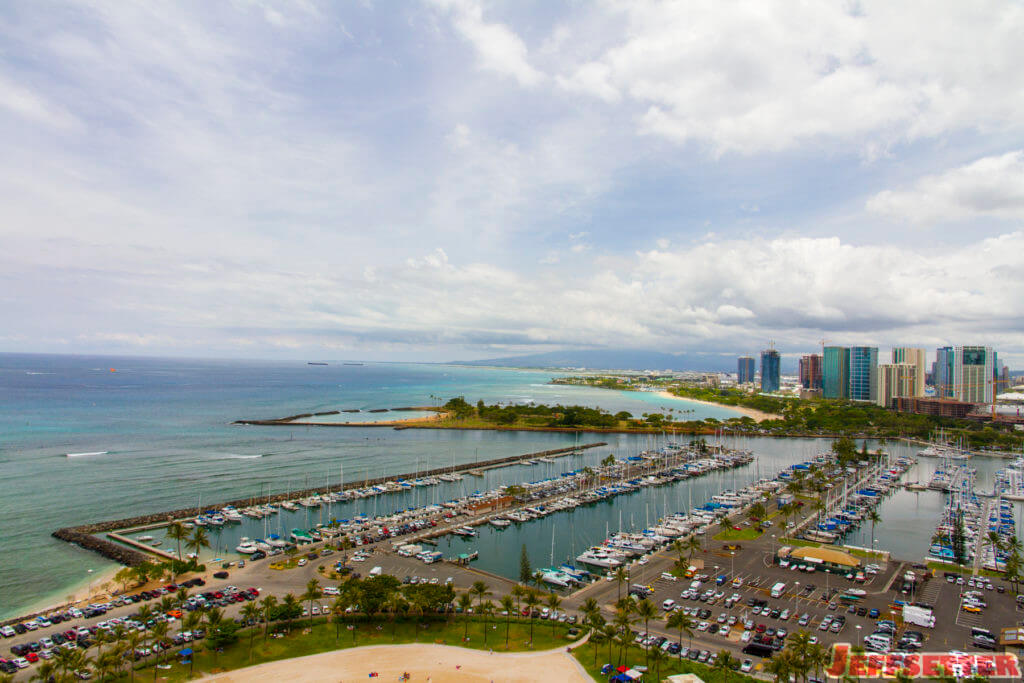 As I said before, our room had a view of both Diamond Head and downtown Honolulu.  And if you have the good fortune of staying in one of these rooms on a Friday night, you got front row seats to the fireworks show.
Once we settled into our room, the wife and I were starving and decided to grab a bite to eat.  We needed something quick since we'd soon need to get ready for the wedding we'd be attending.  So, I decided to place an order with Fresh Connection, the resort's pickup/delivery quick service place.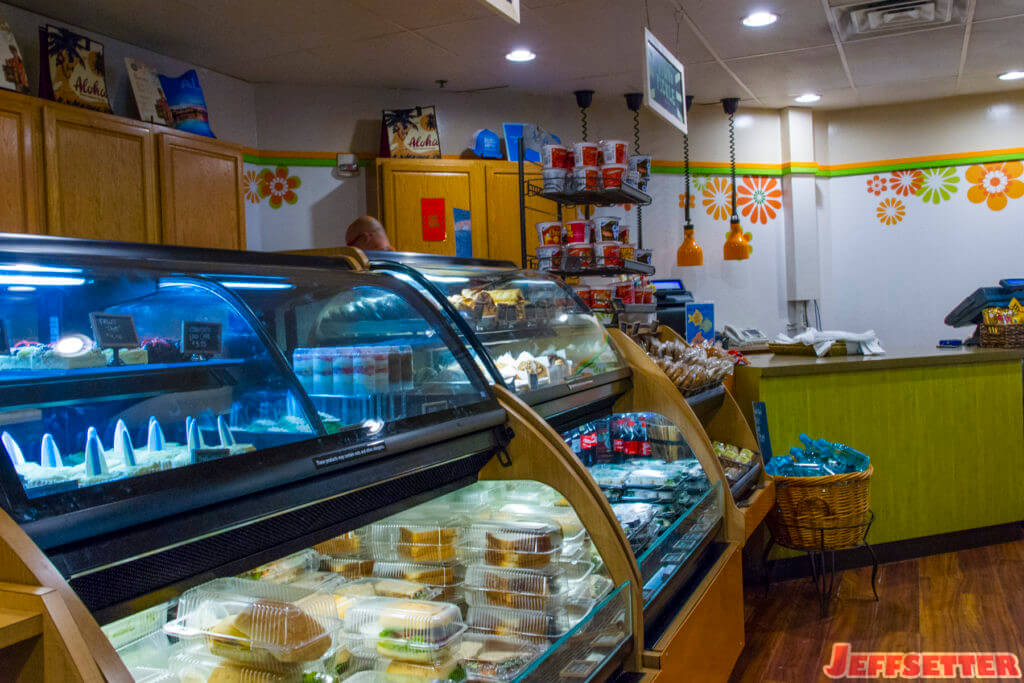 I was quoted a time of 5 minutes, so we immediately headed out of our room and over to the Ali'i Tower.  The Fresh Connection was a bit difficult to find.  Our order consisted of a sandwich, a wrap, and some fries.  When we arrived, the associate simply picked our cold items out of the case, and shoveled pre-cooked fries into a container.  In lieu of lounge access with breakfast, Diamonds get $10 dining credit per person, per day.  I ended up using all $20 of credit and then some on our lunch.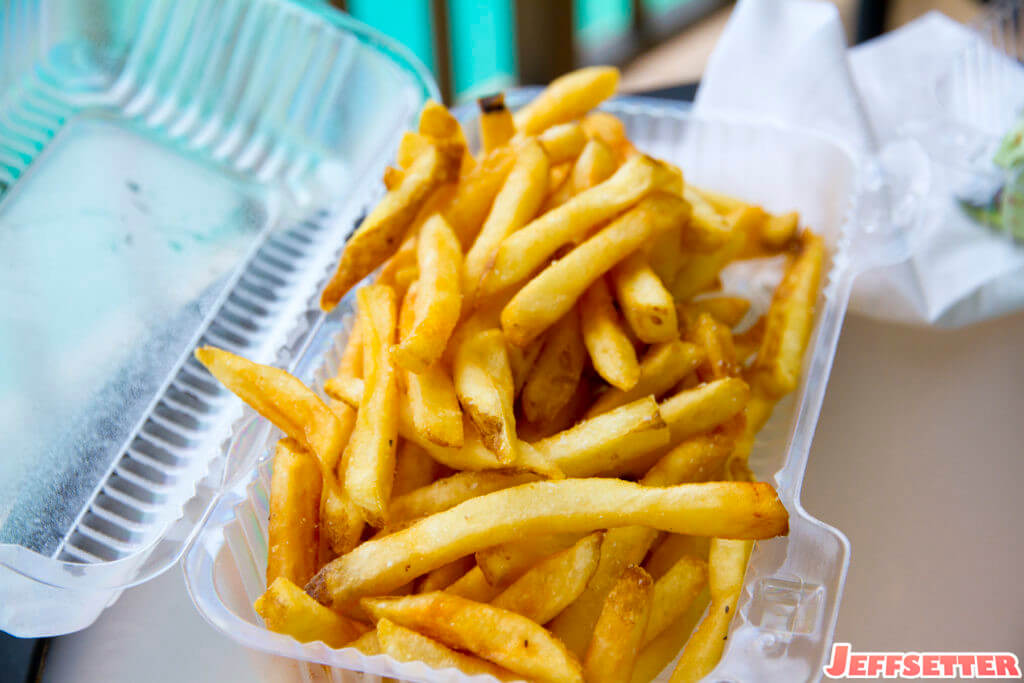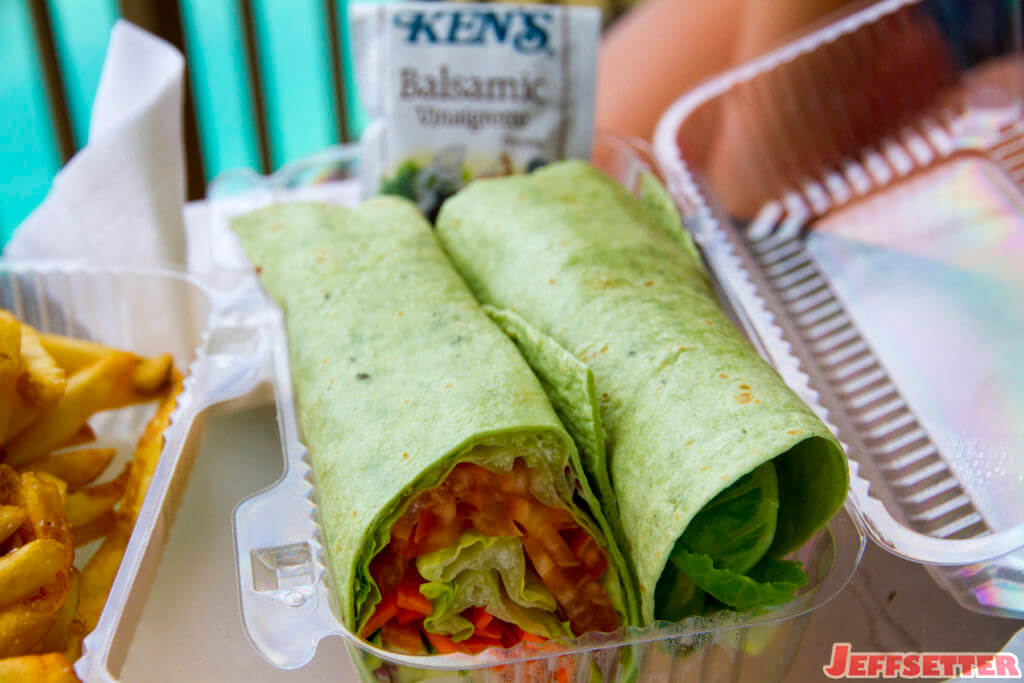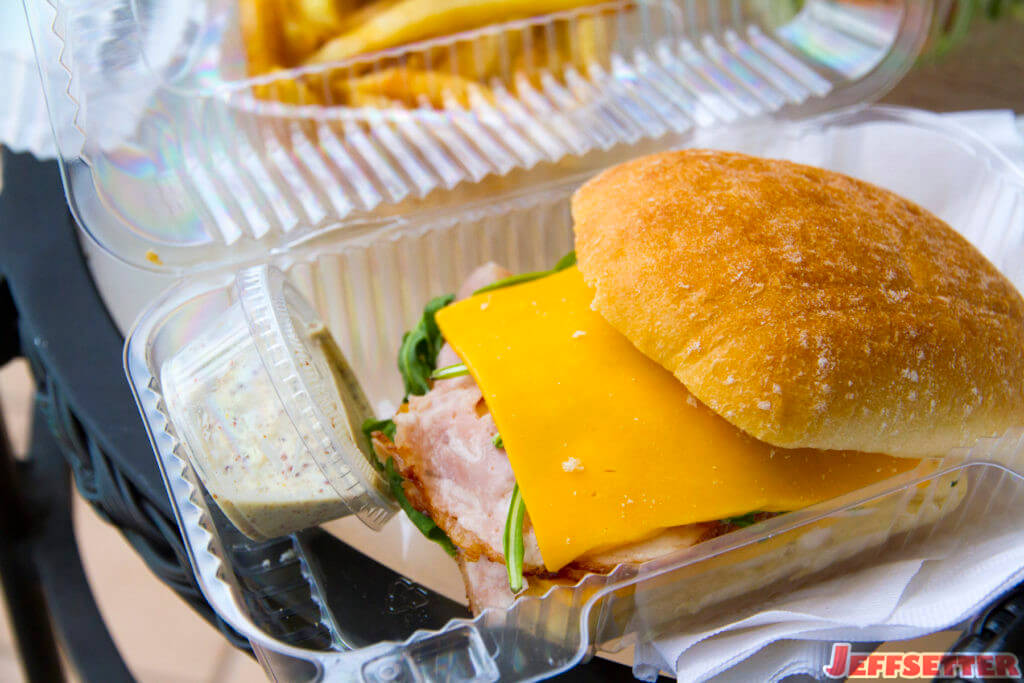 With such fantastic views, the wife and I decided to take our food back up to our room and dine on one of our lanais.  The food itself was, well, resort food, though it did taste pretty good.  The fries were also surprisingly crispy despite having sat under a heat lamp for an undetermined amount of time.
Speaking of the food & beverage credit, Diamond members also receive two bottles of water per stay, but you have to present a certificate to the concierge to get them.  Complimentary premium high-speed internet is also offered to Diamond Members.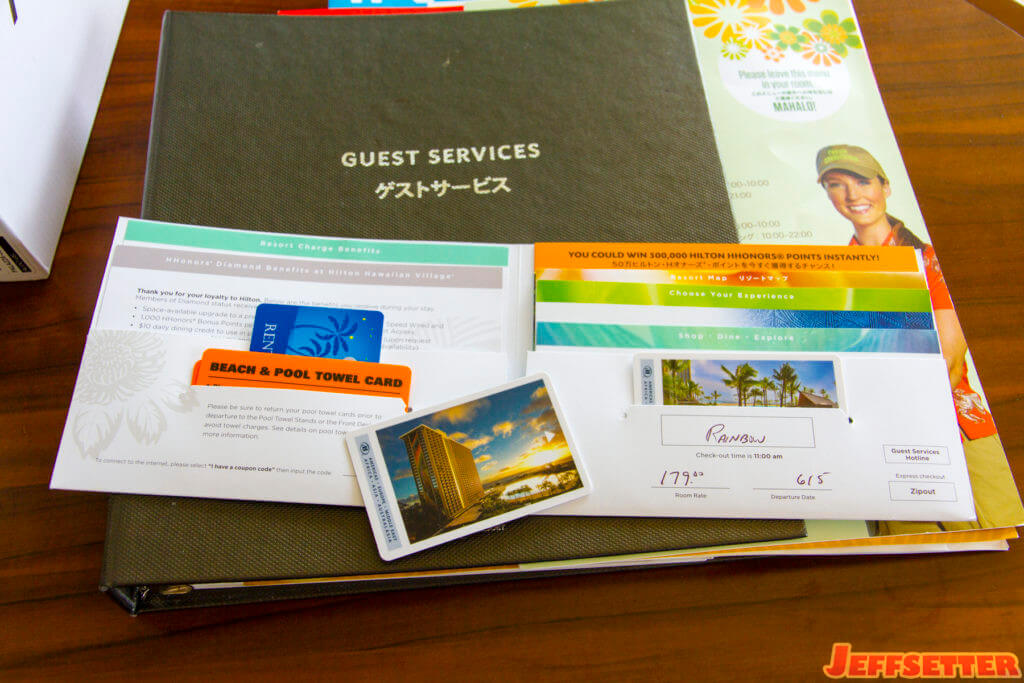 Unfortunately, the Hilton Hawaiian Village does charge a $30/night resort fee, which doesn't include self-parking.  What it does include, however are:
WiFi (no big deal for HHonors elites)
Unlimited DVD and PS3 game rentals
Local & toll-free calls
Resort Audio Tour
Wednesday & Saturday Dive-In movies
Outdoor morning exercise classes
One custom photo card from the Xerox Business Center
While the benefits are rather underwhelming, it is the norm for Waikiki.  Sad.  Oh, and those bright orange pool/beach towel cards?  Those MUST be returned if not used.  What happens if you don't?  I don't know.  When we returned them we had to put them in an envelope with our name and room number.  So probably a good idea to use them or return them… You may get charged if not!
Overall, though, our little single night stay at the Hilton Hawaiian Village was a good one.  It was a good first experience at the property, and a good first experience as a HHonors Diamond member.  Our time there wasn't nearly enough, though, and I plan on returning at least once more this year before I lose my status.  Unfortunately HHonors doesn't have soft landings like Marriott Rewards.