Last updated on January 31st, 2021 at 02:08 am
For my recent anniversary trip to the Big Island, I decided to stay at the Westin Hapuna Beach Resort. After all, it's a newly renovated property that offers an excellent points redemption opportunity.
Booking the Westin Hapuna Beach Resort
Honestly, the whole reason we went to the Big Island for our anniversary this year was to stay at the Westin Hapuna Beach using credit card certificates. After all, at the time of booking, the Westin Hapuna Beach was a Category 5 property, requiring 35,000 points per night. So, I was able to use my SPG Amex annual free night certificate for one of the nights, and points for the second. Unfortunately, it has since bumped up to Category six, costing anywhere between 40,000 and 60,000 points per night.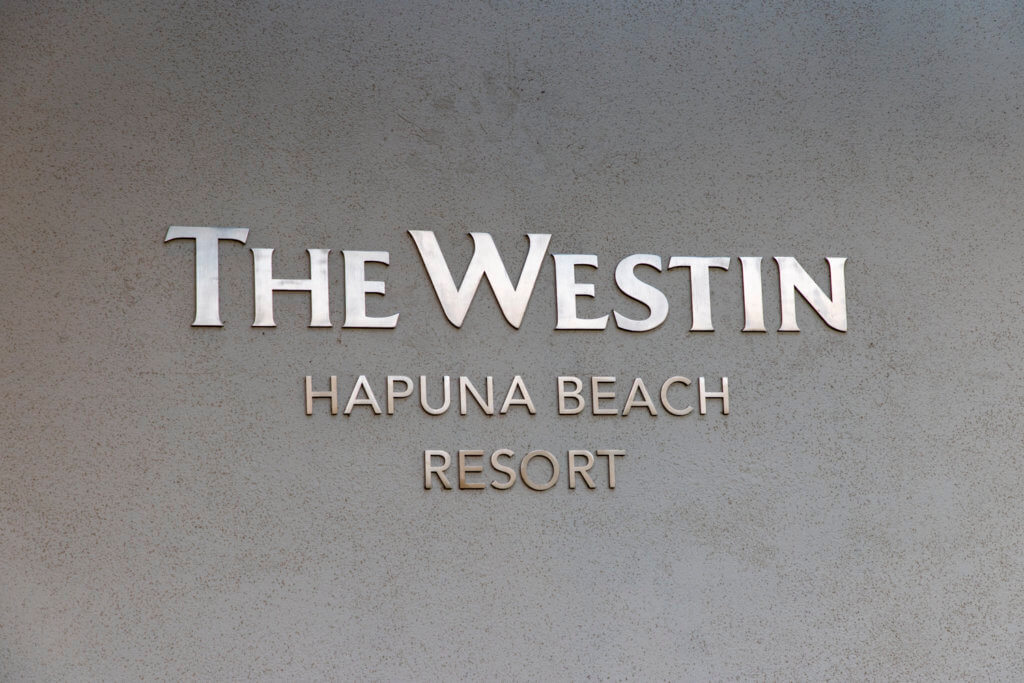 At the time, booking was effortless. I even applied a Suite Reward Upgrade request, which eventually cleared. It's important to note, though, that this is a popular property, so don't expect upgrades to clear. That said, Assistant Manager, Jenna, reached out to me as our stay date neared. She offered to assist in making numerous arrangements, while also taking note of my arrival time, preferences, occasion, and additional guest's name. She was extremely helpful and a joy to work with when we finalized our plans.
Getting to the Westin Hapuna Beach
If you're flying in to Kona, expect about a 30-minute drive north along the Queen Ka'ahumanu Highway to get to the resort area. Then, you'll take a right onto Kauna'oa Drive, where you'll have to provide your name and obtain a hangtag at the guard shack. From there, it's another five-ish-minute drive along the golf course to the hotel.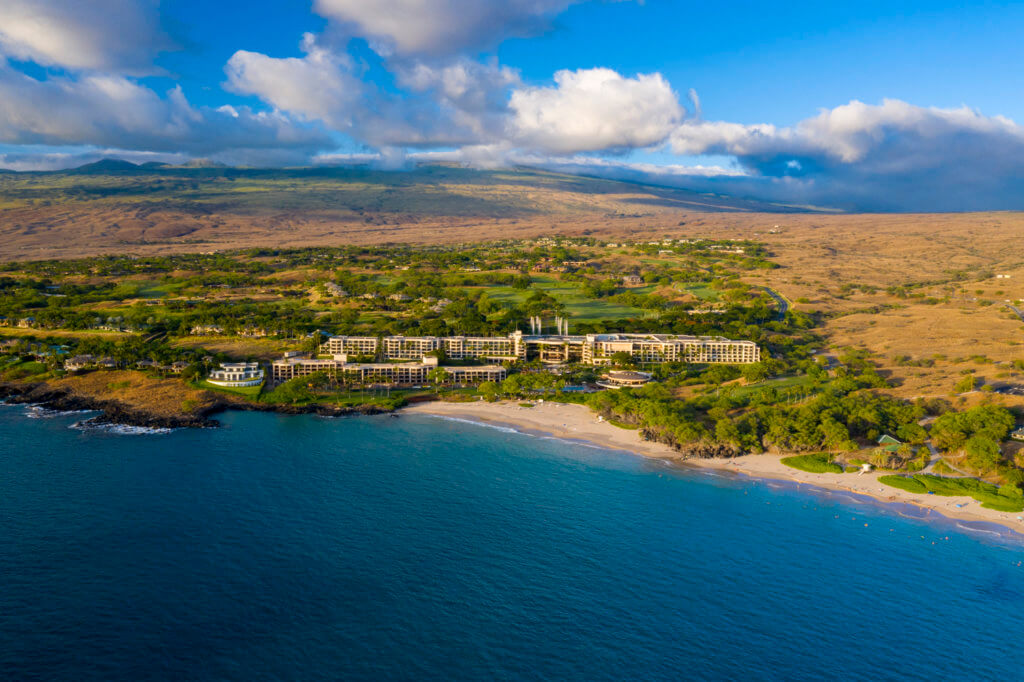 Once you arrive, you can either valet at the porte-cochere, or drive past that and take the first right to access the self-parking garage.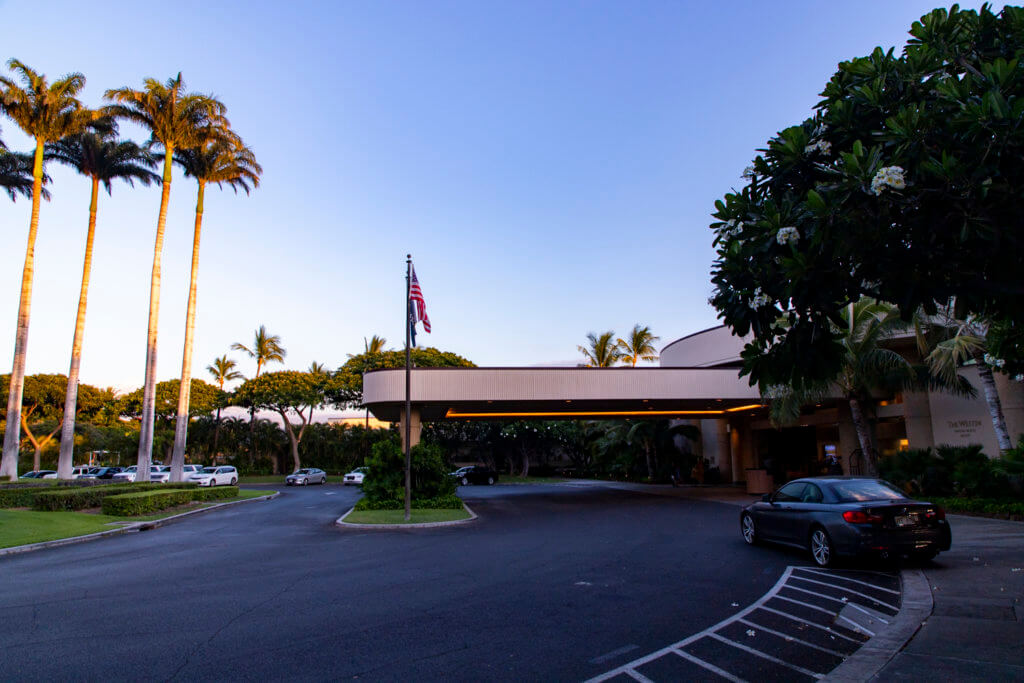 Check-In Experience
As I mentioned in a prior post, we got to the property around 10:30 am. We self parked, so it's about a five minute walk from the garage to the front desk.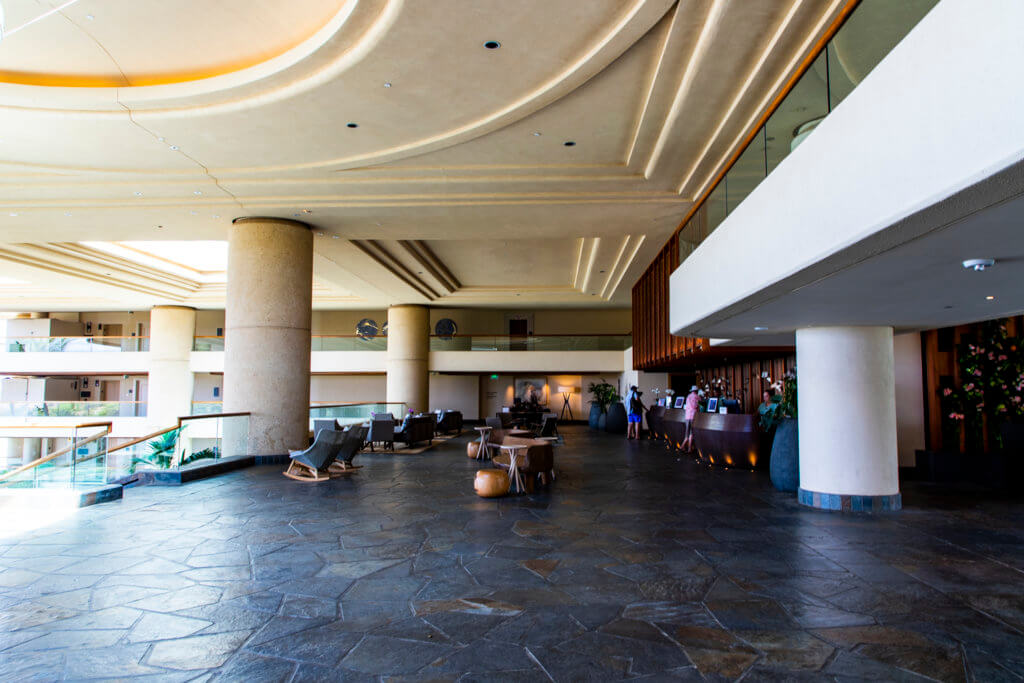 From there, we checked in and was informed that our room wasn't ready yet. That's ok. While it would've been nice to settle in before heading out, this wasn't a big deal. They did, however, provide us with a reusable bag, an explanation of the resort fee inclusions, as well as my breakfast voucher card.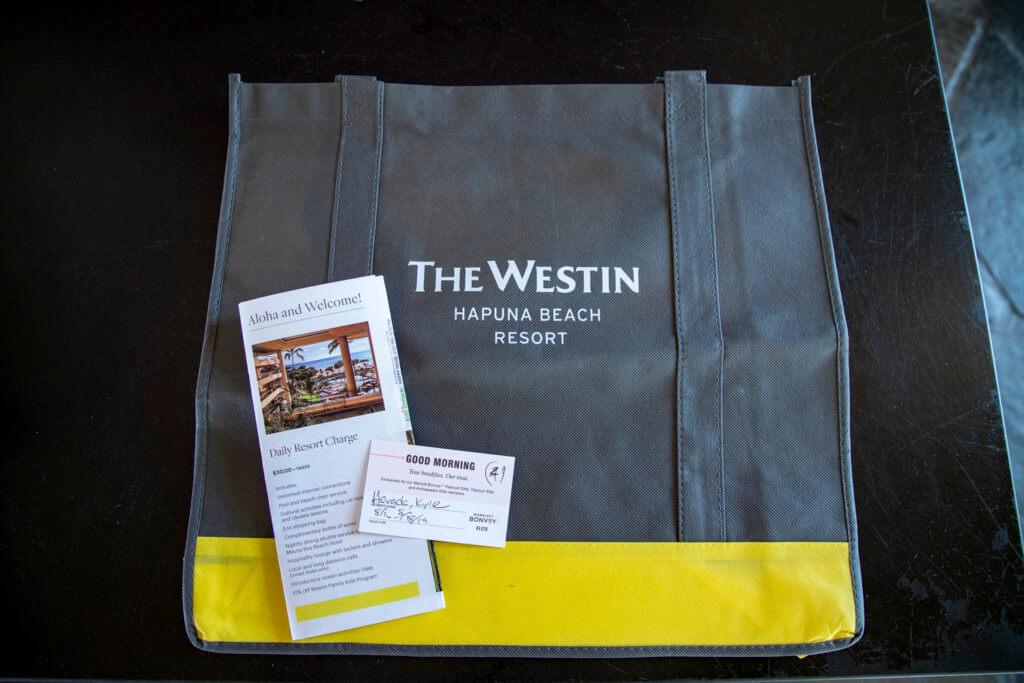 I decided to go with that amenity this time around rather than the points since it's a full buffet.
Then, after dropping our bags, we took a quick look around the massive open-air lobby before heading out.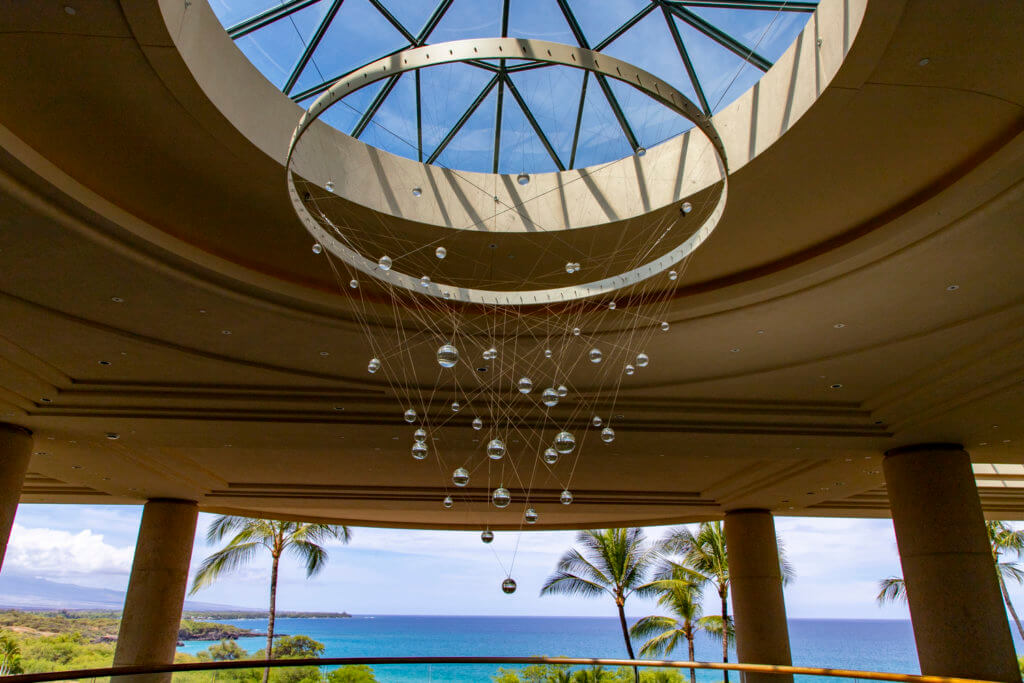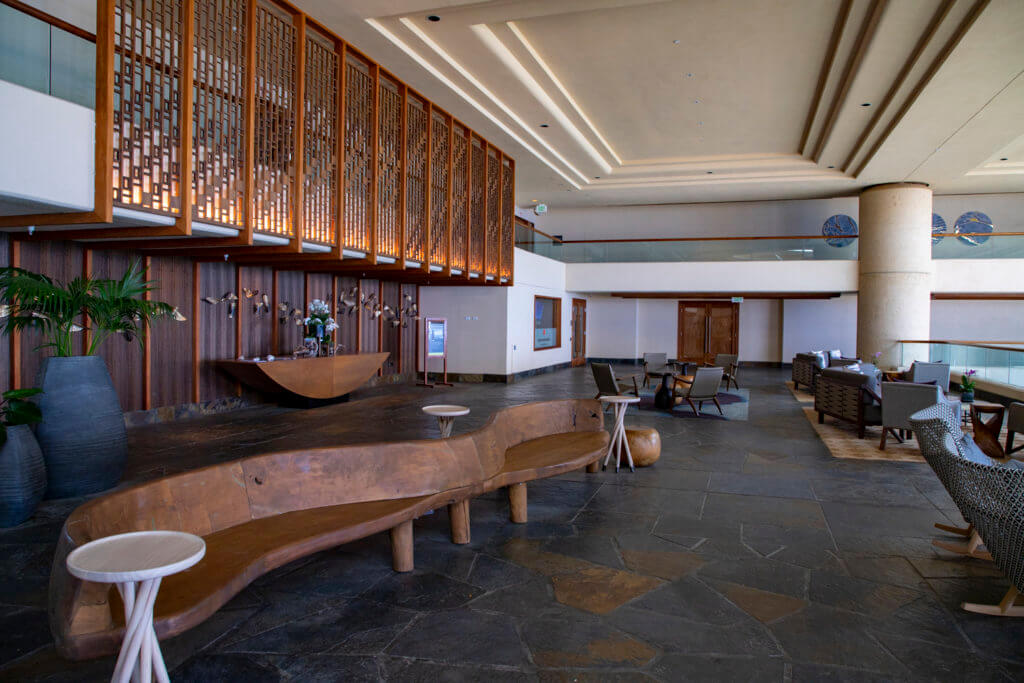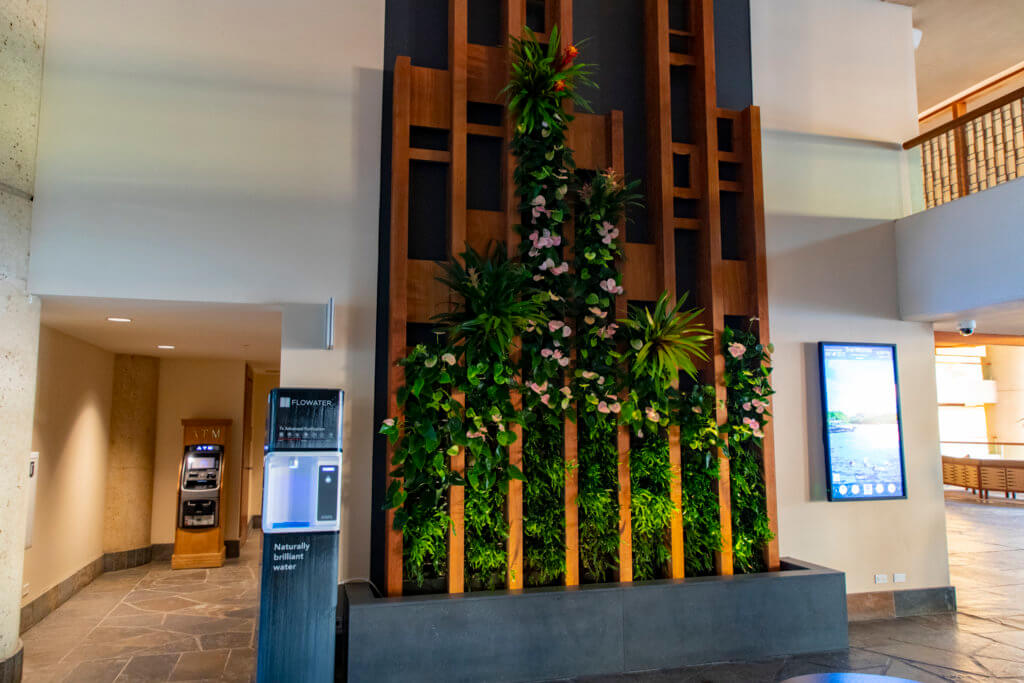 After leaving the property, we headed over to Tex Drive In, Mauna Kea Tea, and Two Ladies Kitchen (I wrote about them a few years ago here, but you can see an update here). Then, we made our way back to the property, arriving back around 5 pm. It's worth noting that our room did become available not long after we left at around 12:00 pm.
Our Suite
Because my Suite Reward request cleared before checking in, I knew what type of room we'd receive. And for this stay, we got a one-bedroom suite on the lobby level just to the left of the front desk.
Living Room
Upon entering the room, you'll find a small dining area with a wet bar, microwave, mini-fridge, cabinet space, coffee maker, and expansive counter space. In the cabinets and drawers, you'll even find dining ware.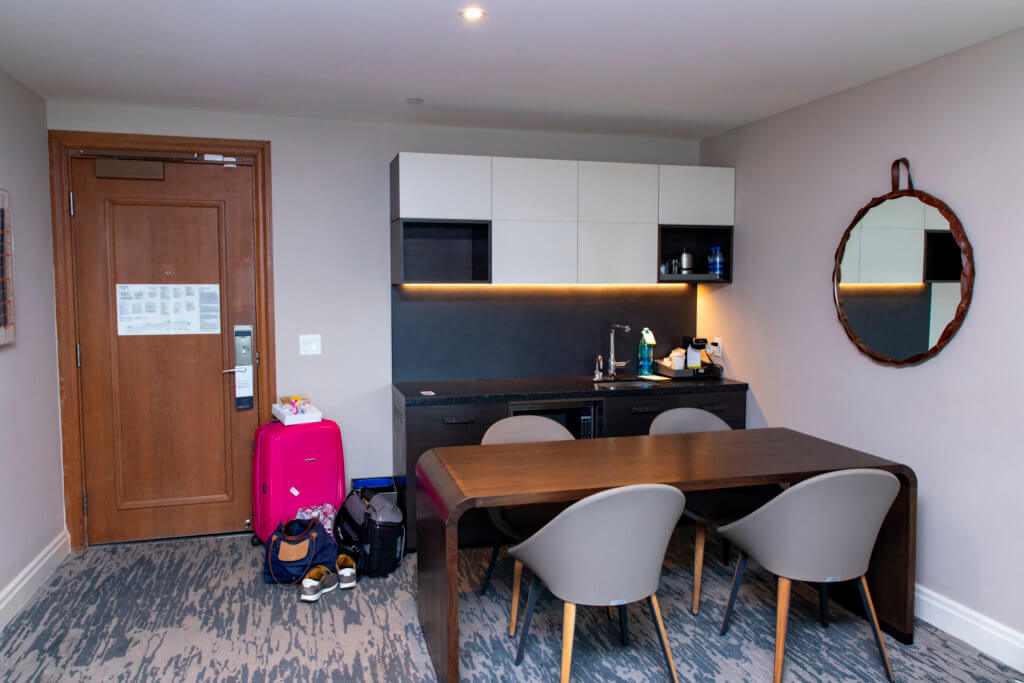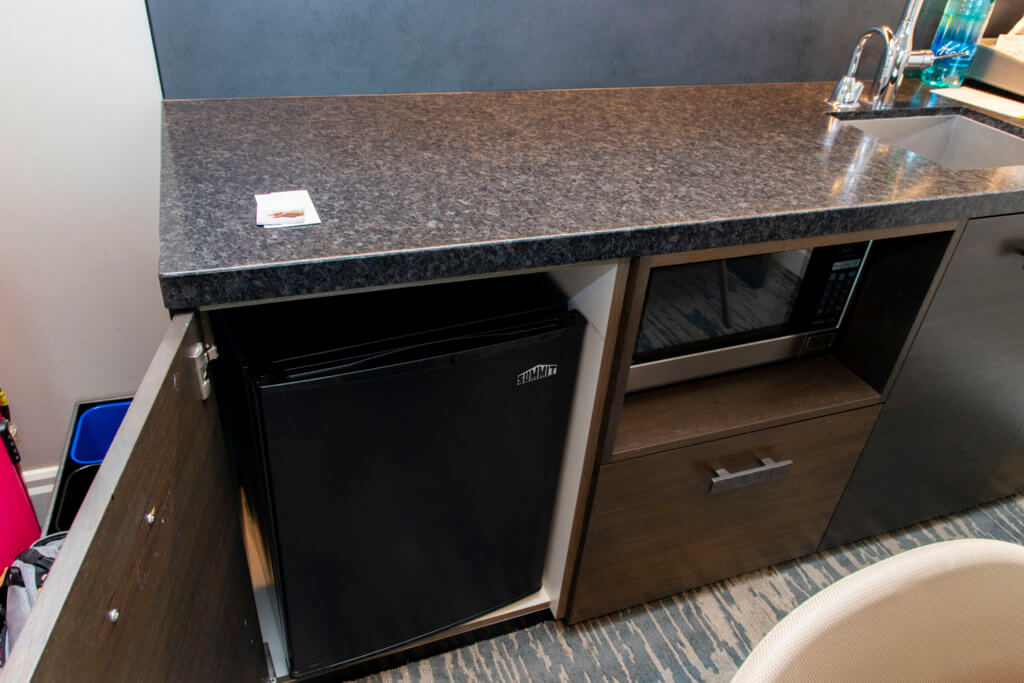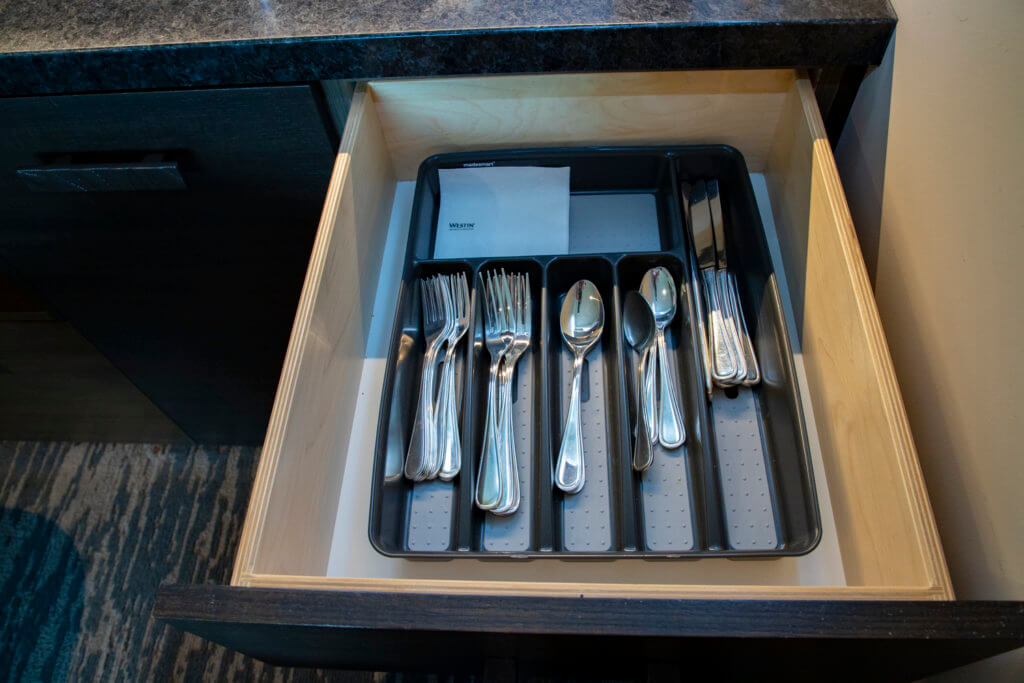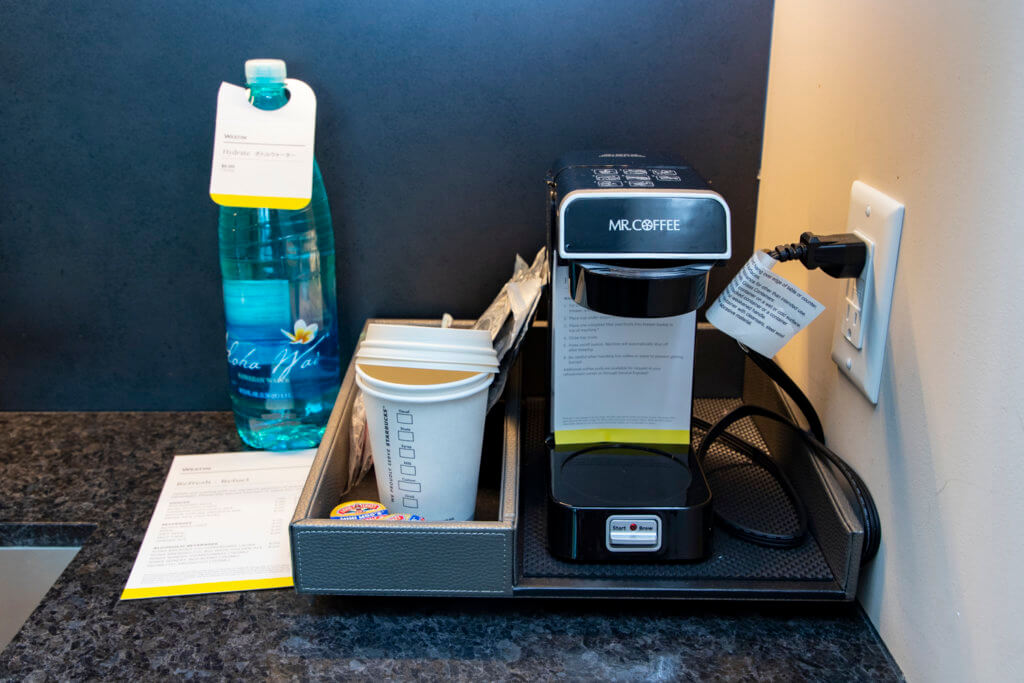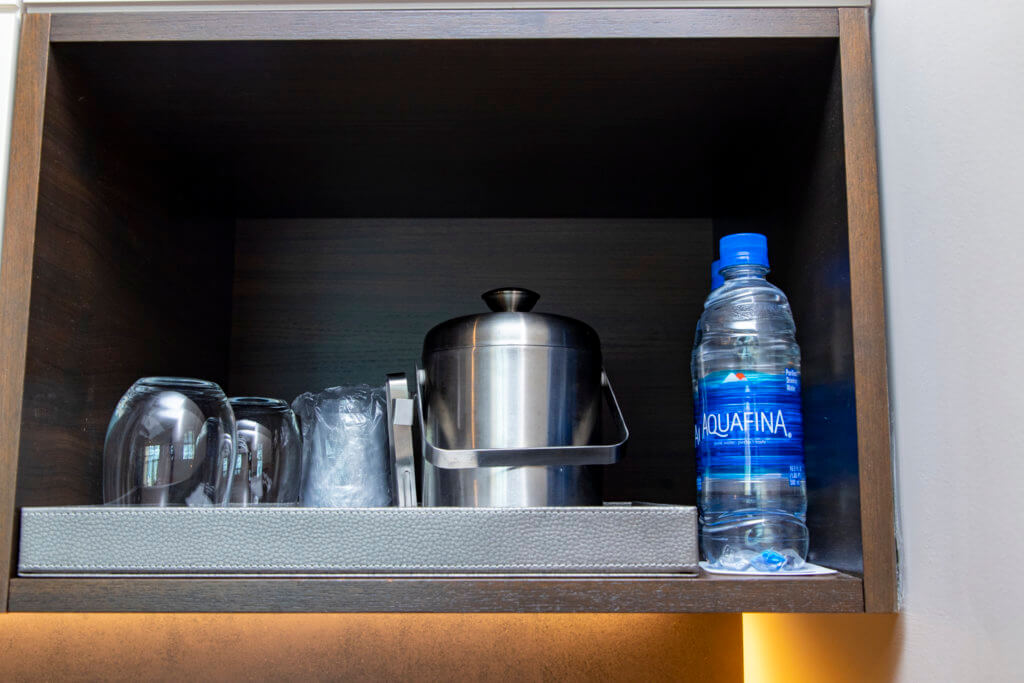 Of course, thanks to my Marriott Bonvoy status, we received two complimentary bottles of water per day.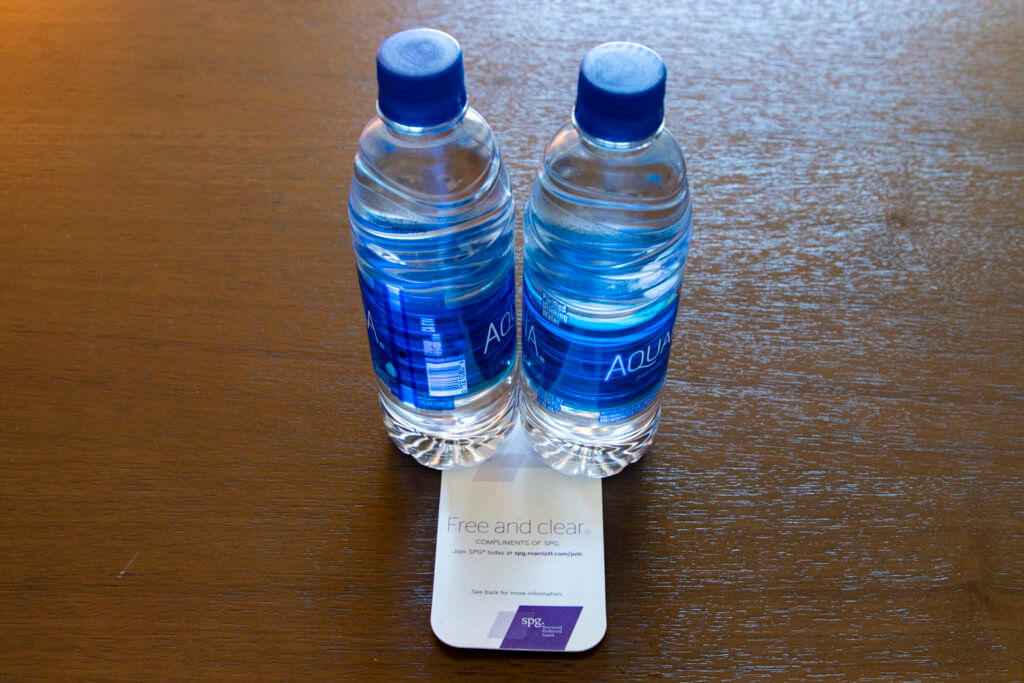 Further into the room, we find the living room. Here, you'll find a large sectional, a coffee table, and a large HDTV with Netflix, Hulu, etc.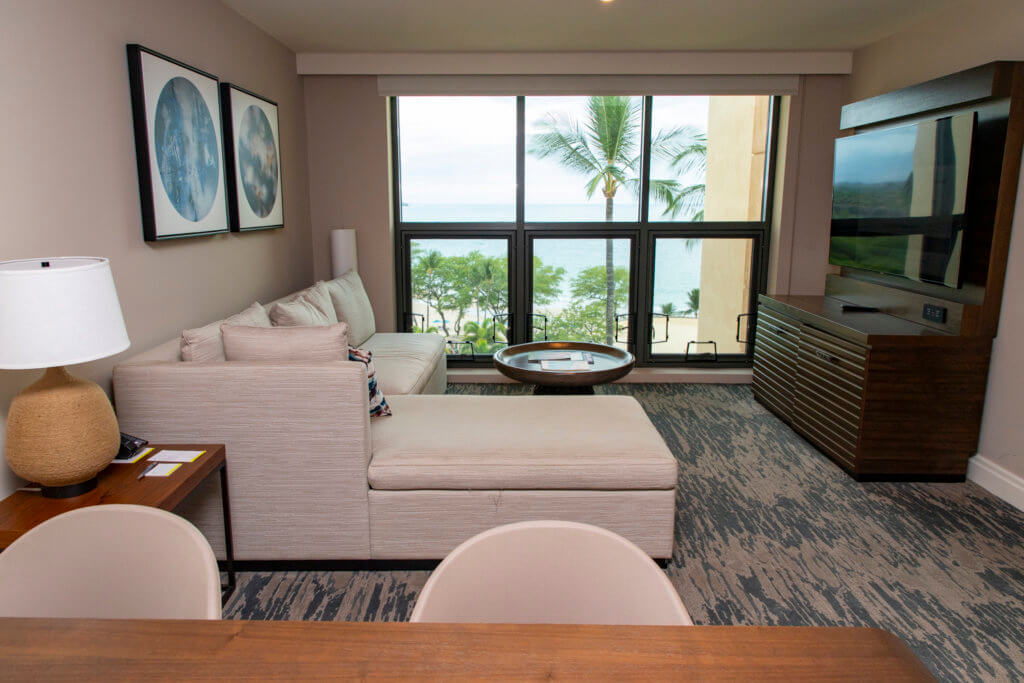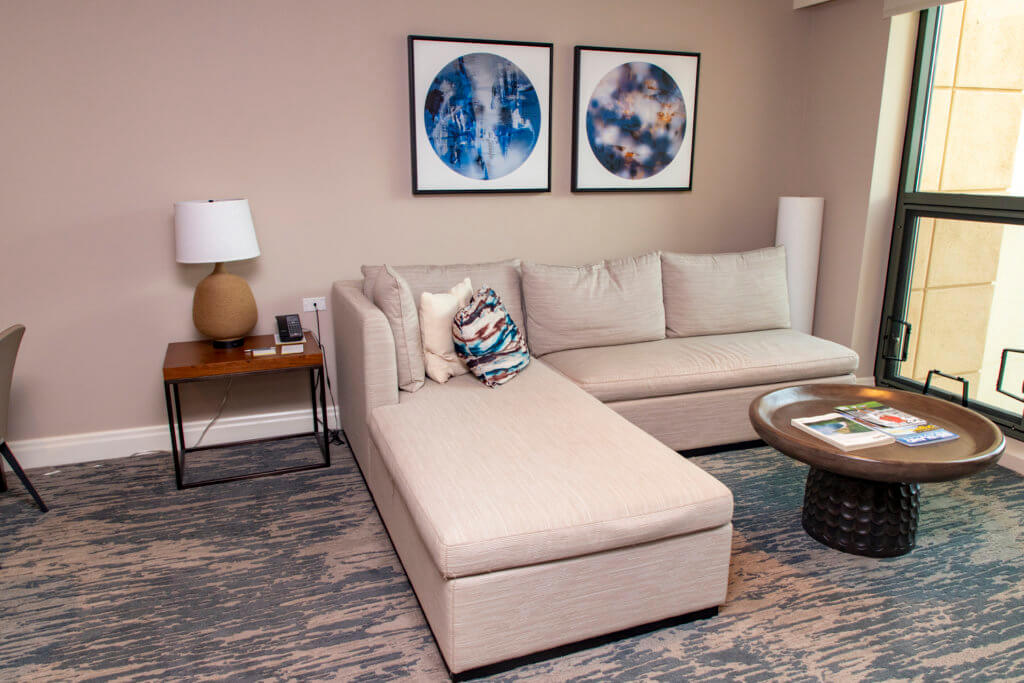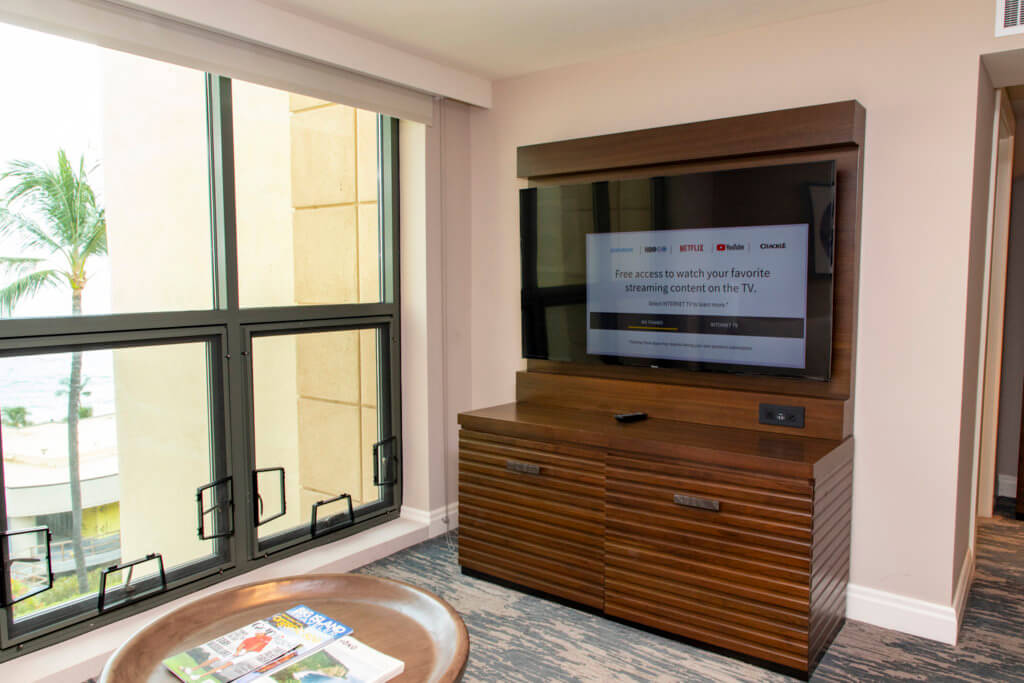 To the right of the TV, in the space between the bedroom and bathroom, is a small closet. Here, you'll find the iron, ironing board, and an umbrella.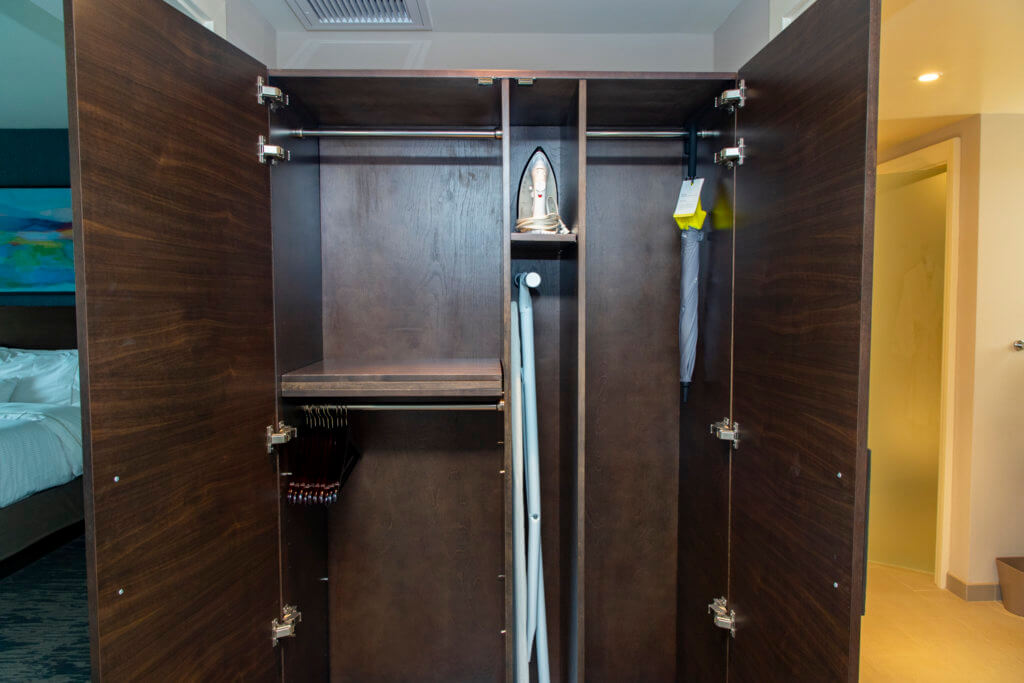 Bedroom
Just past the living room TV is the bedroom. In our particular room, we had a king bed, which has a nightstand on the right and chairs on either side. On the left of the bed is a floor lamp with a small floating shelf built-in to the headboard in place of a nightstand and table lamp. Then, across from the bed is a large TV, desk with chair, and a set of dressers.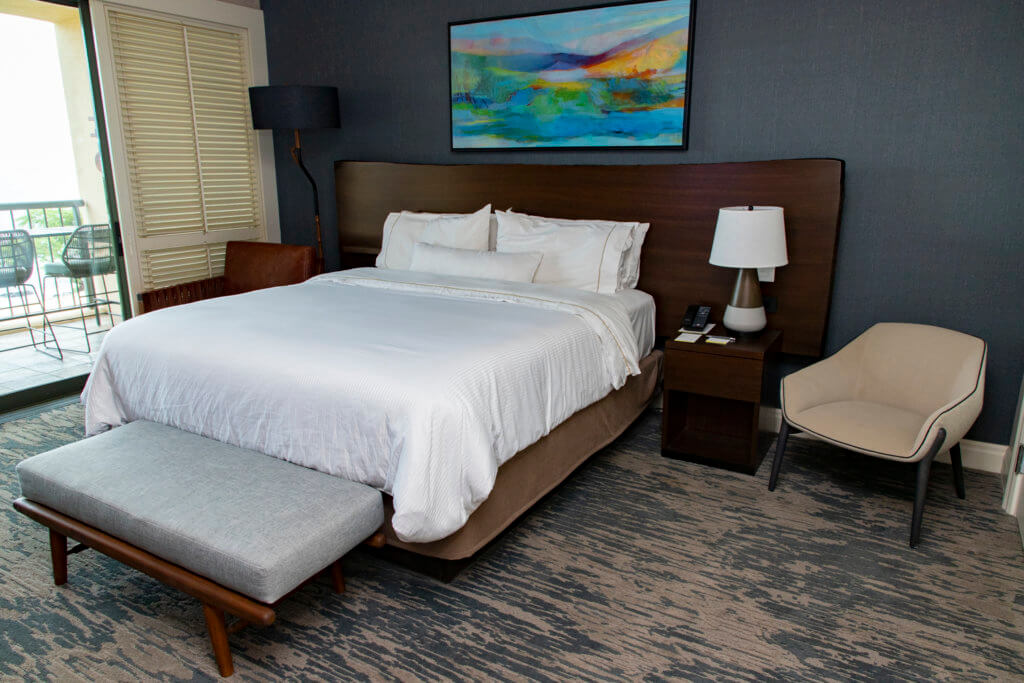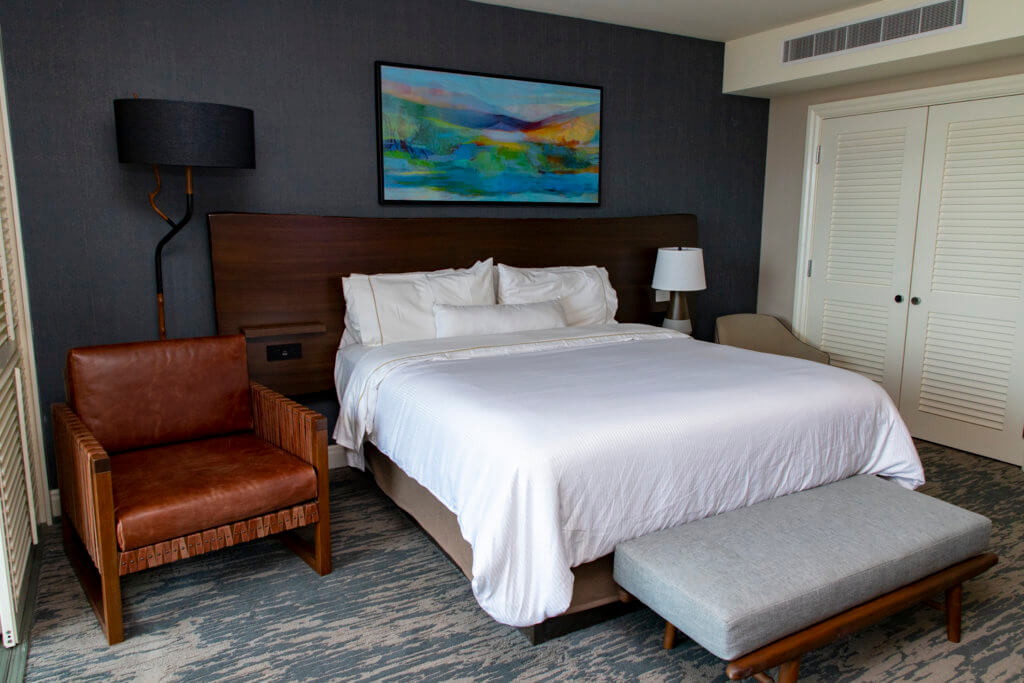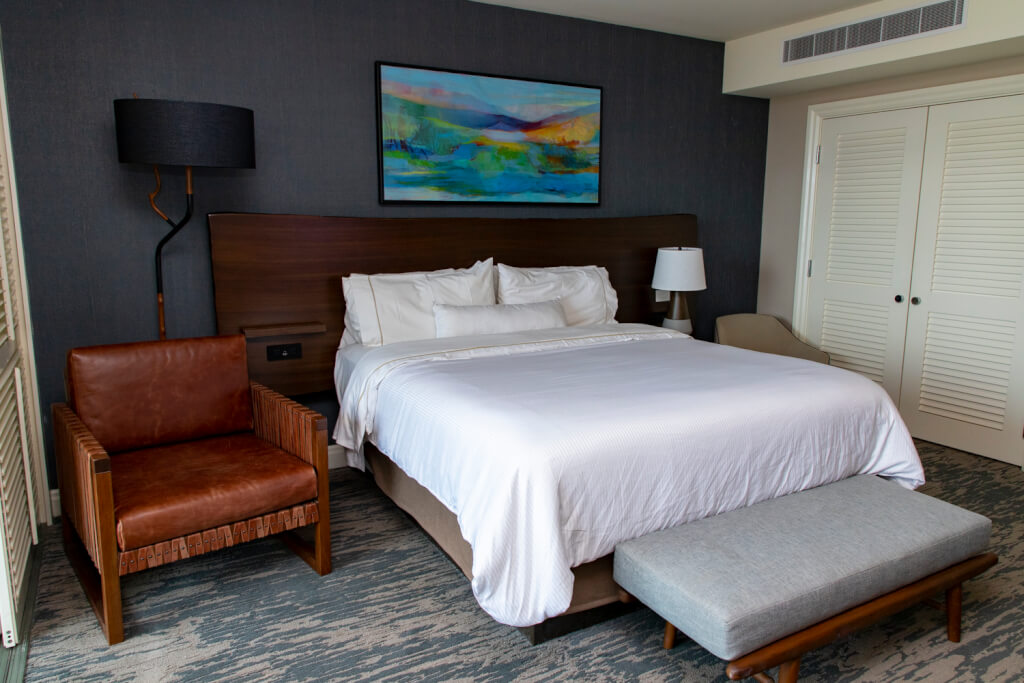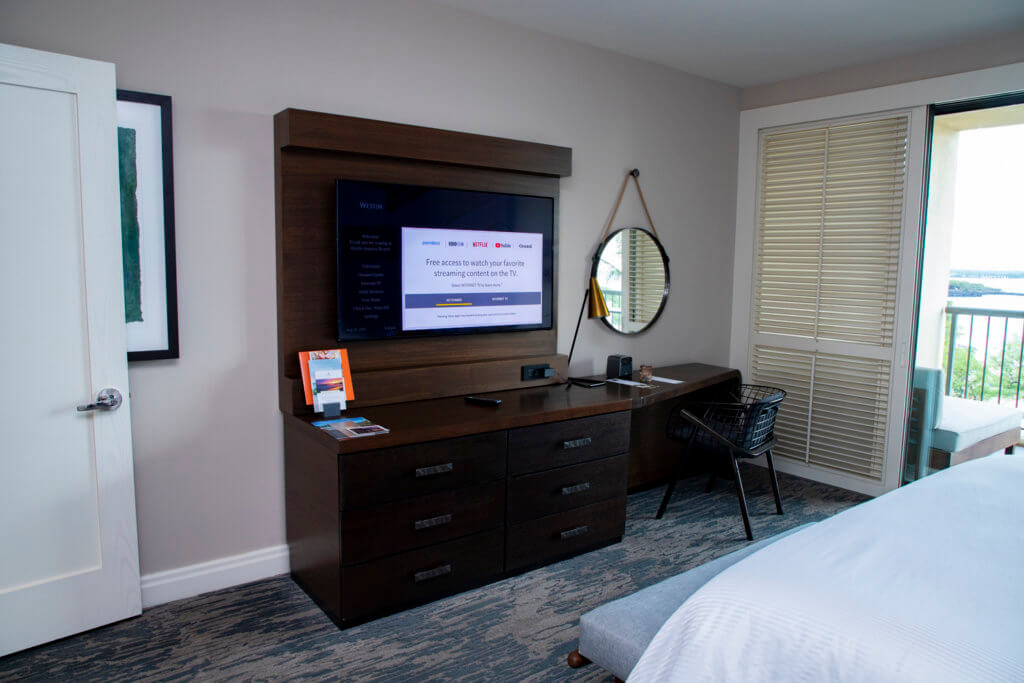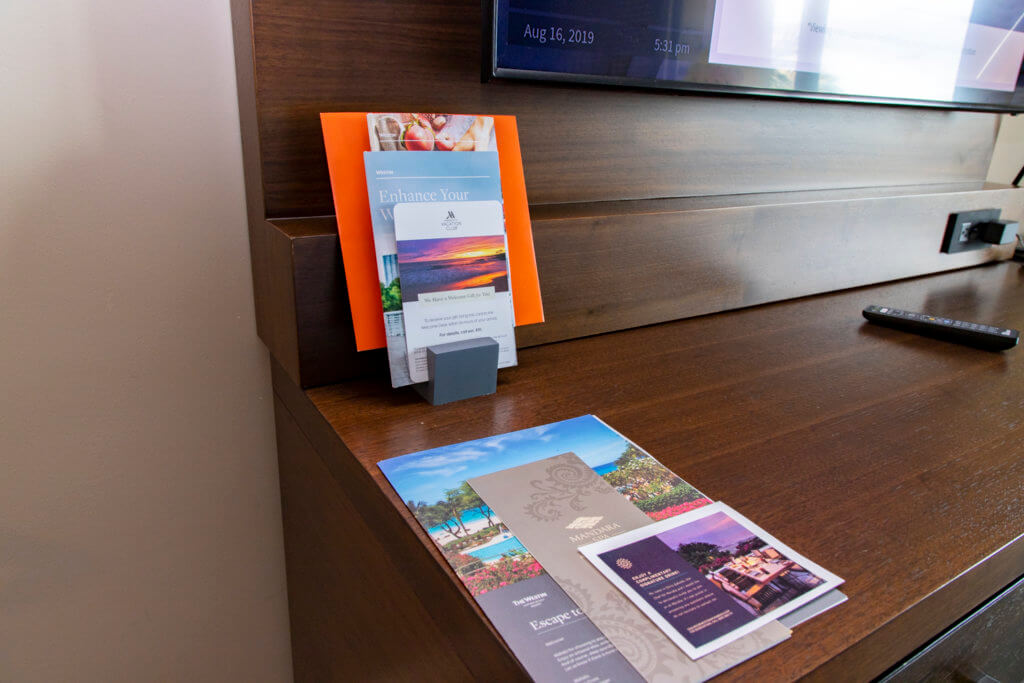 On the desk is a clock radio with smartphone connectivity, along with the usual service tags, and Westin Sleep Well Lavender Balm. This is an interesting spot for your clock radio to go if you're one who actually uses the alarm function. We usually use our phones, so this wasn't an issue for us.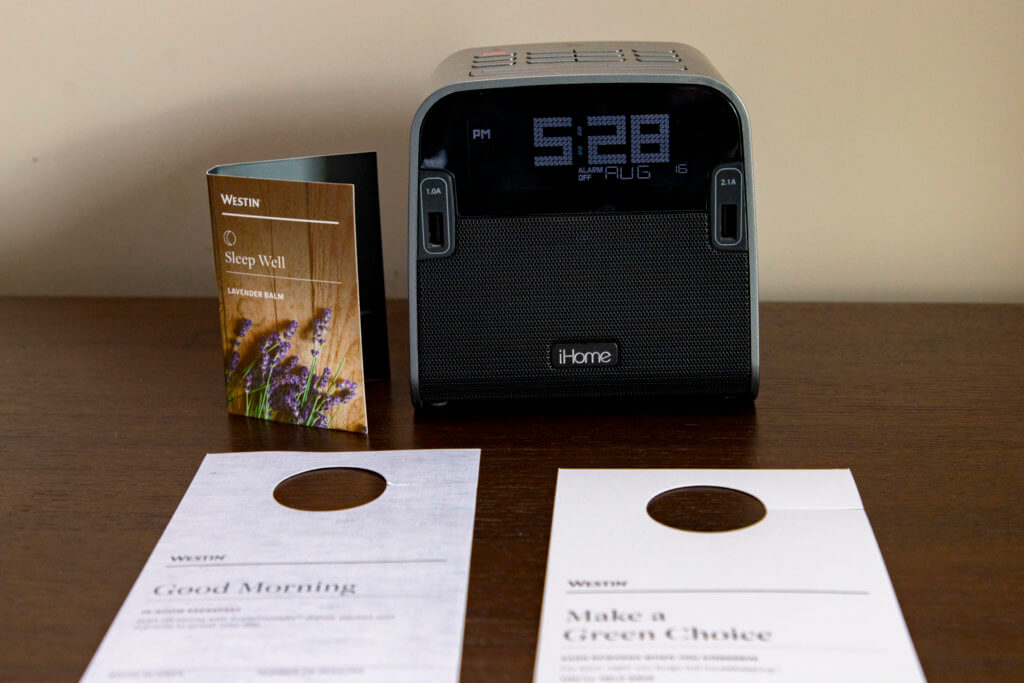 Then, off to the left of the bedroom is a large closet with one of the biggest safes I've seen recently.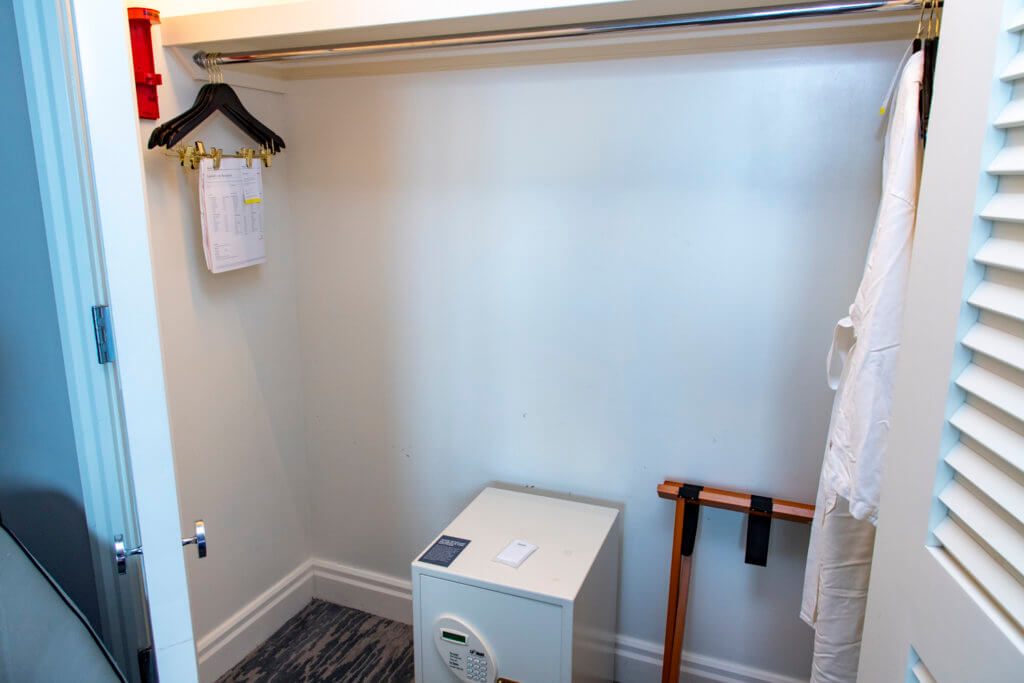 Bathroom
On the other side of the closet, you'll find a large bathroom. Here, is a separate water closet, dual vanity, free-standing tub, and large walk-in shower.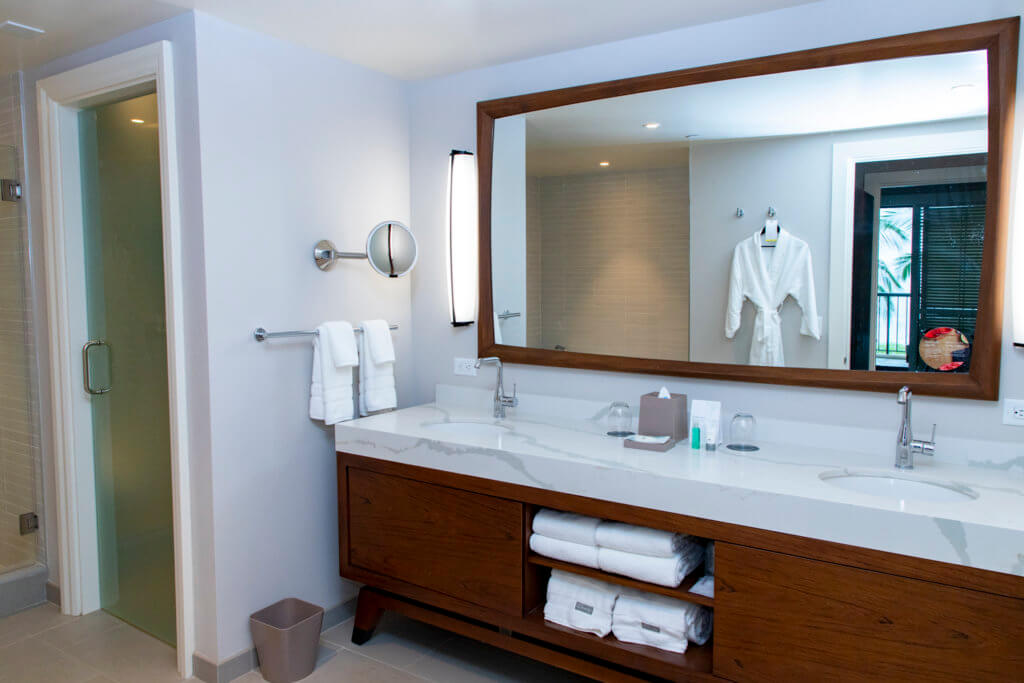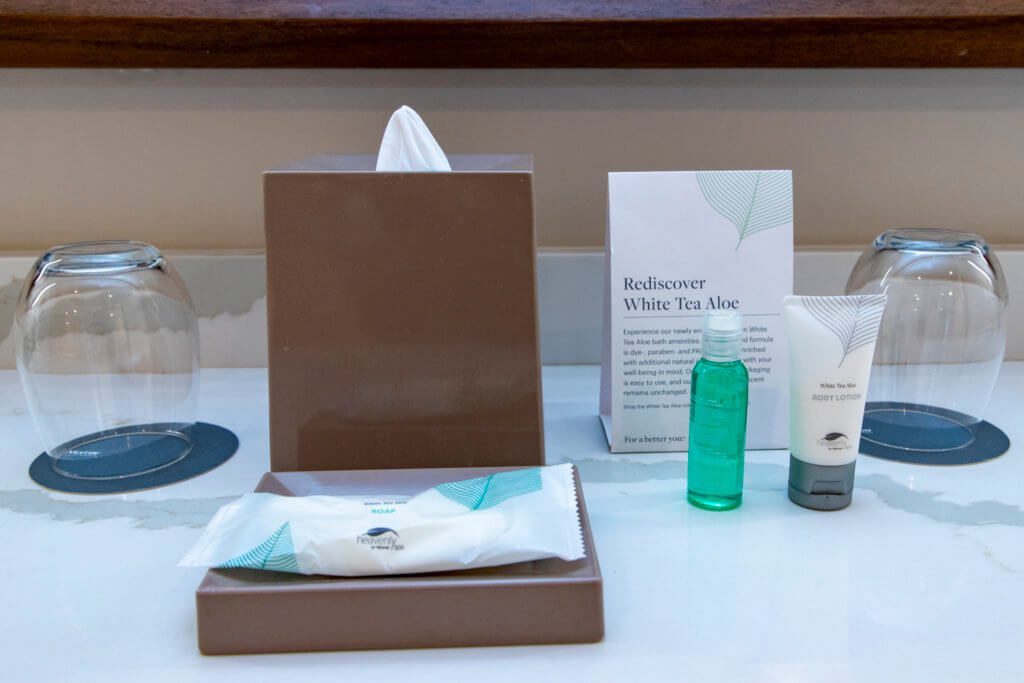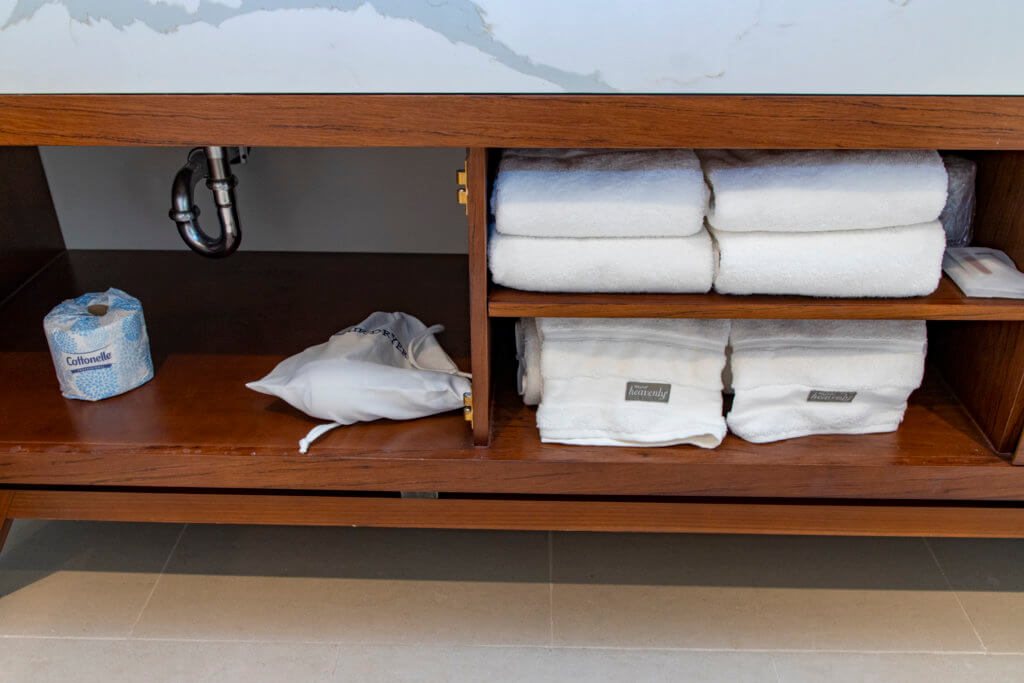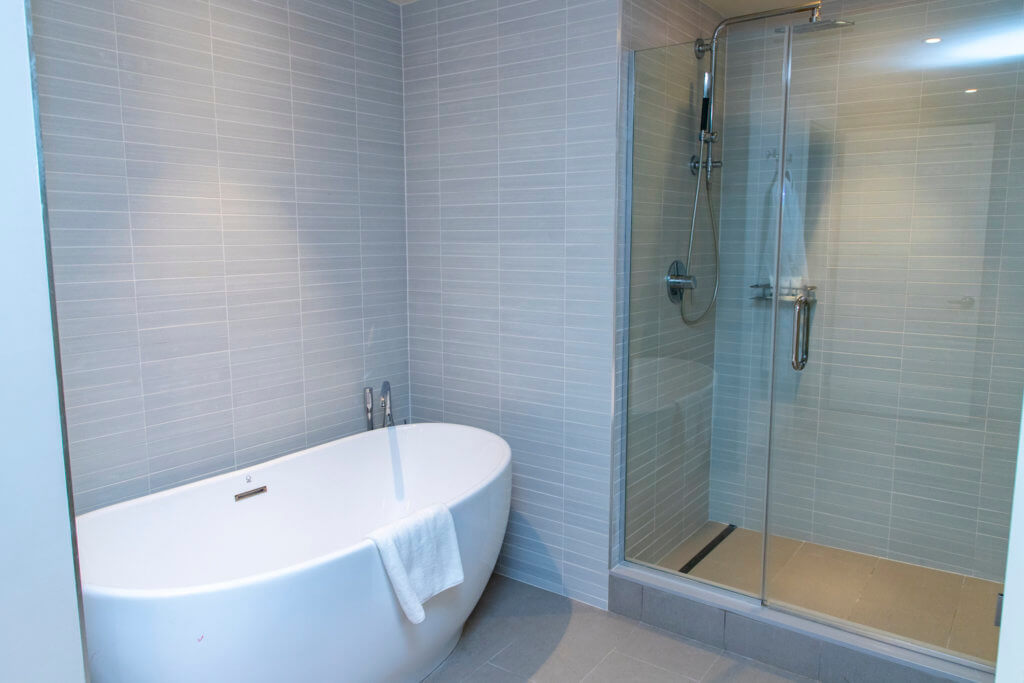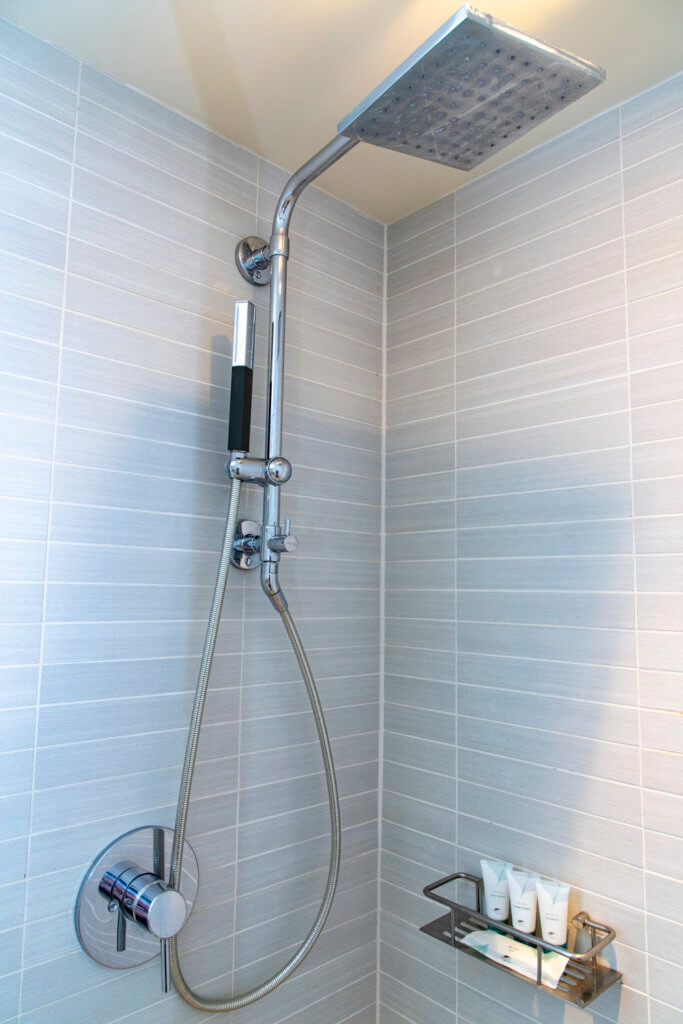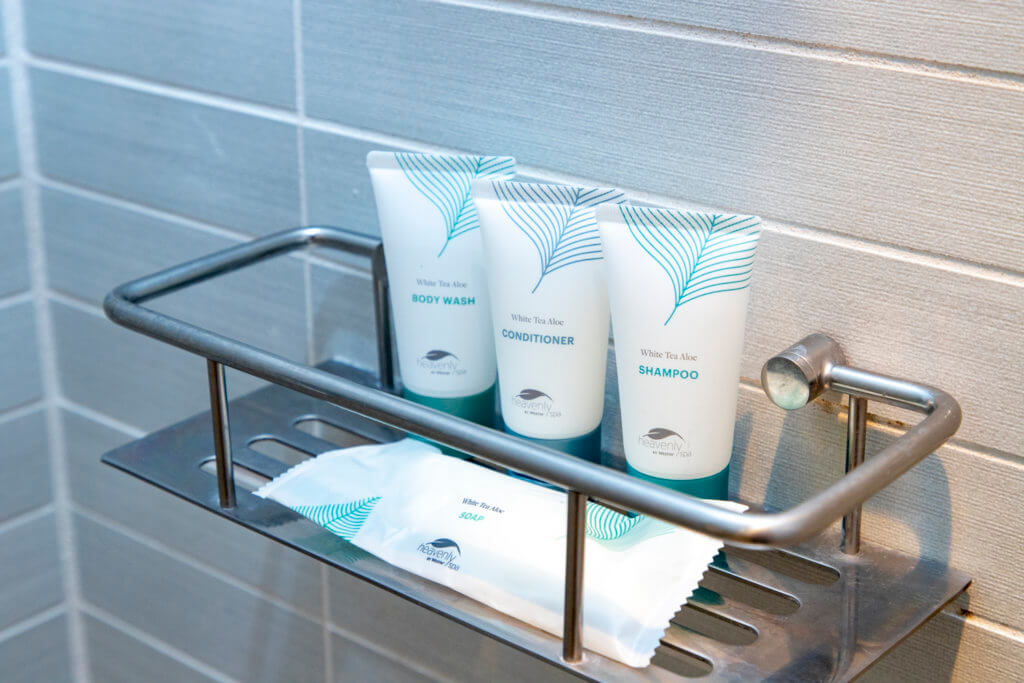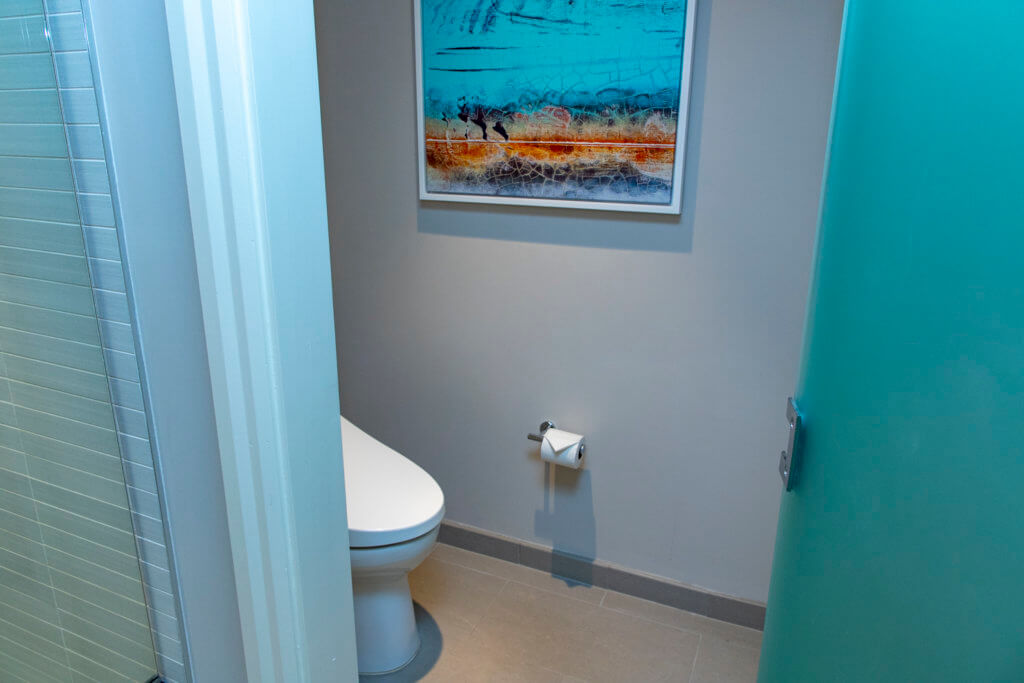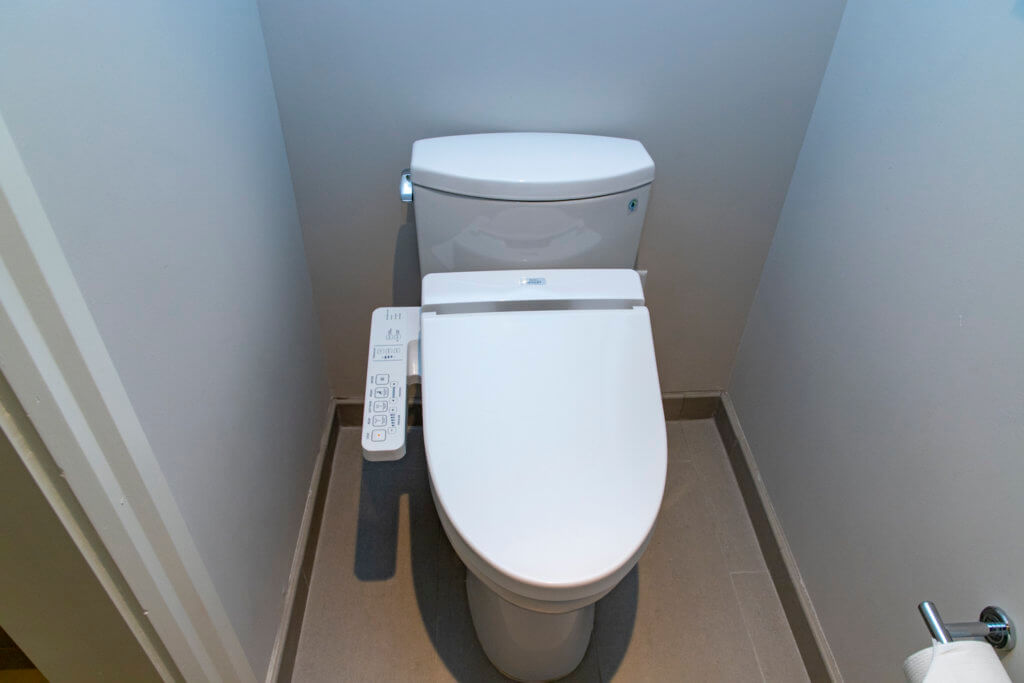 Our View
Despite having a true suite, our room has only one balcony, which is off the bedroom. Out on the balcony, you'll find small table with a couple of seats, as well as a day bed.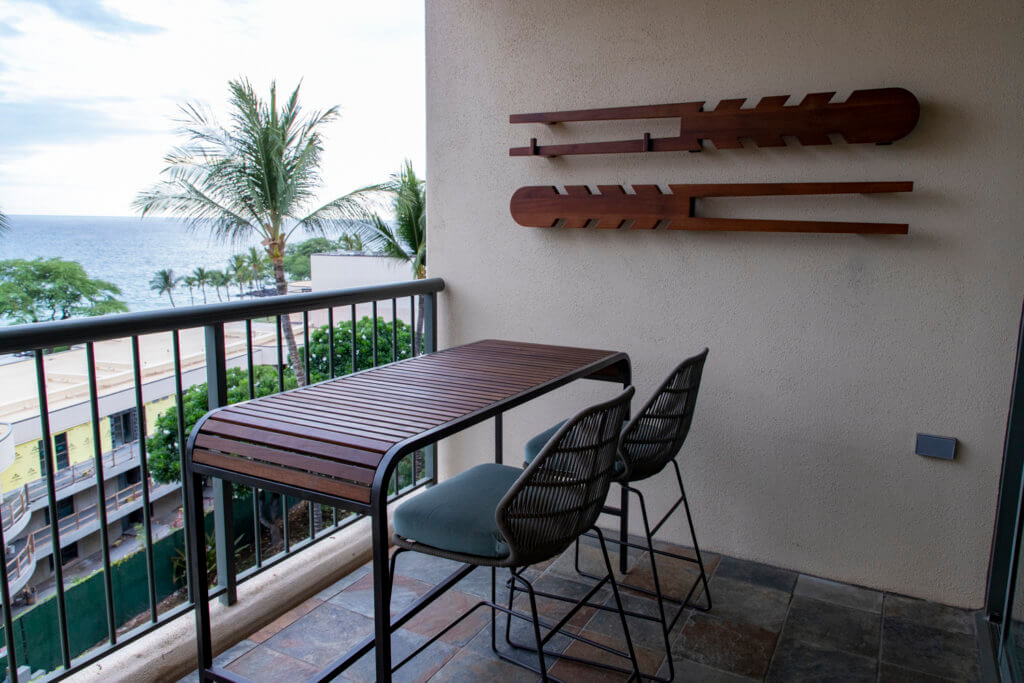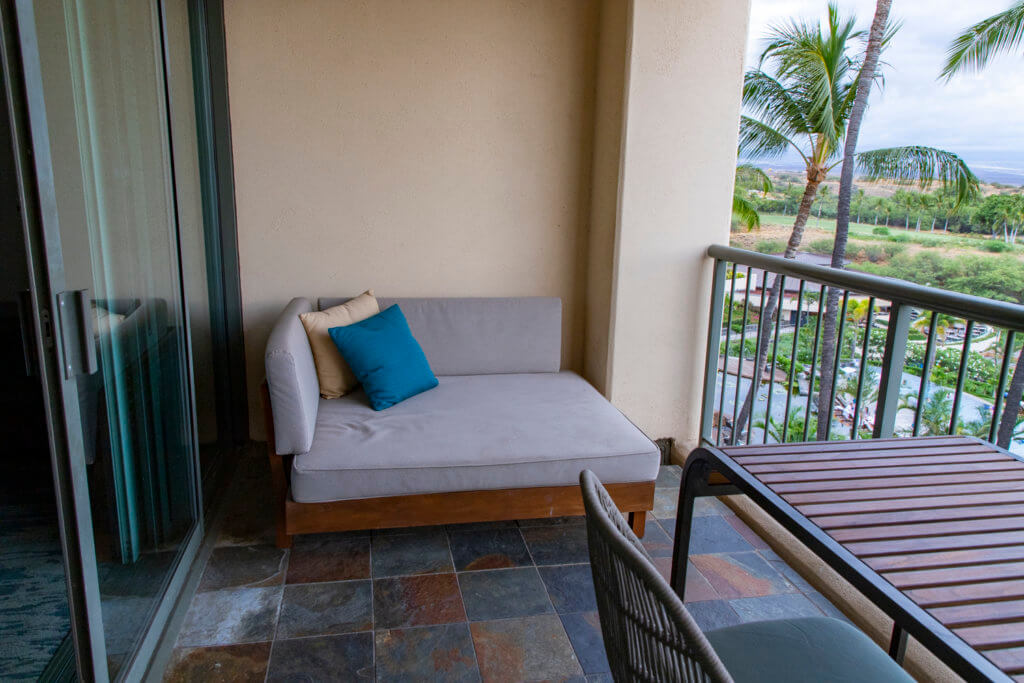 Our balcony overlooked the pools with the ocean beyond. Unfortunately, on our first day in, the weather was rather gloomy. But, on subsequent days, it did clear up quite a bit.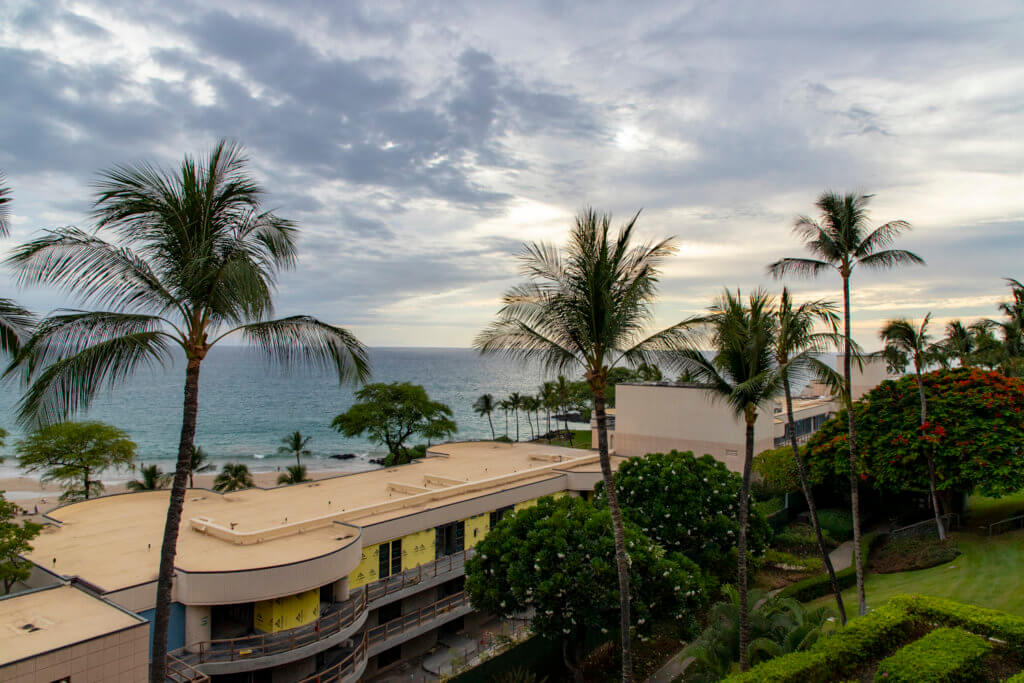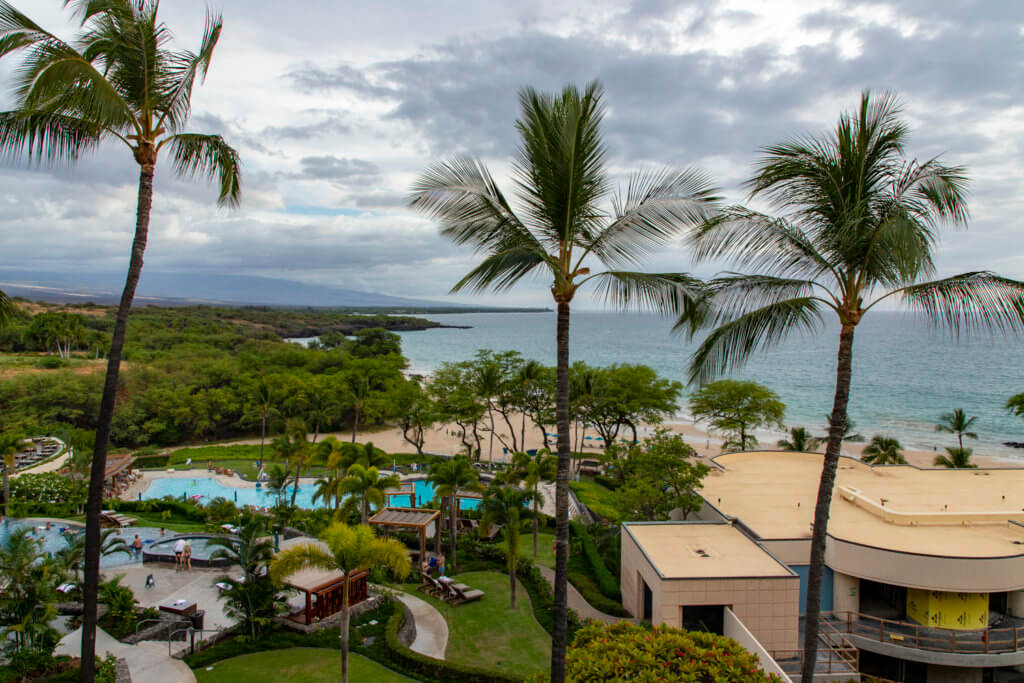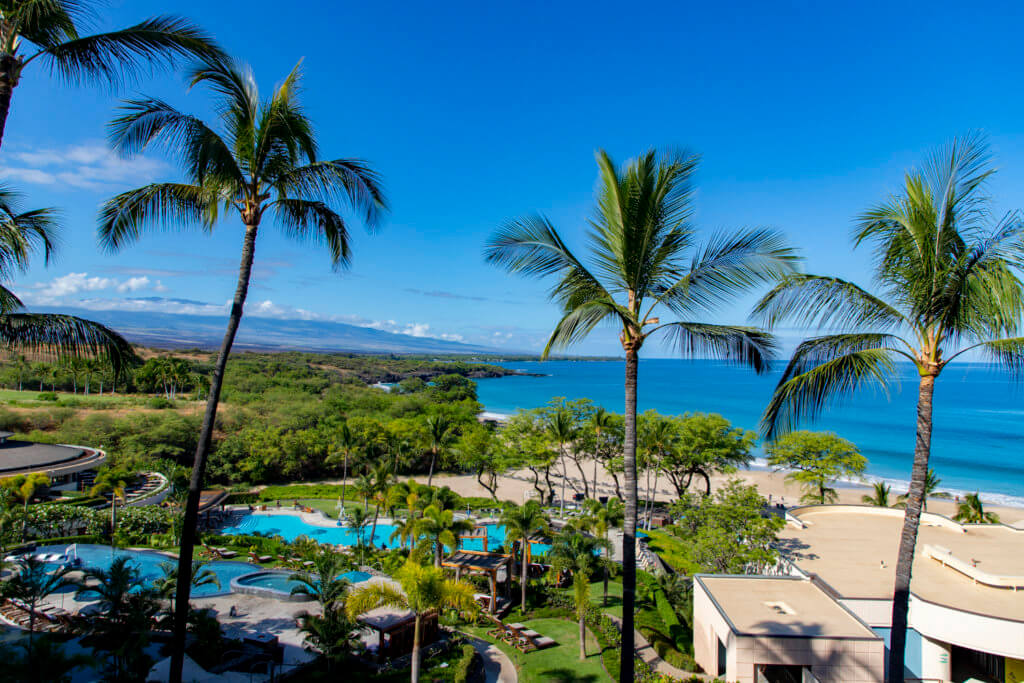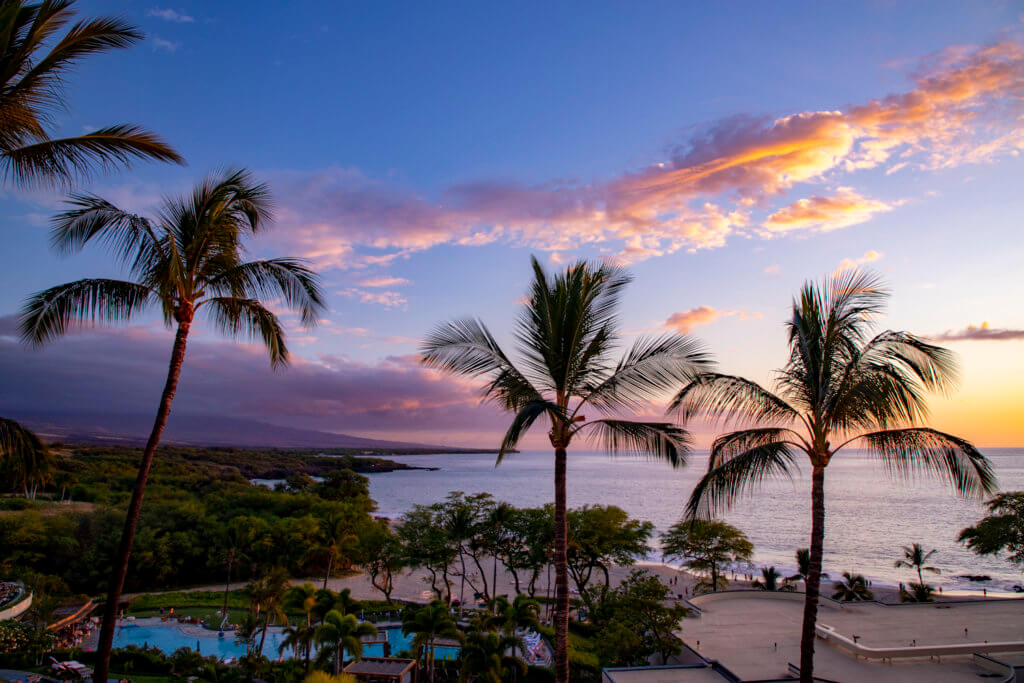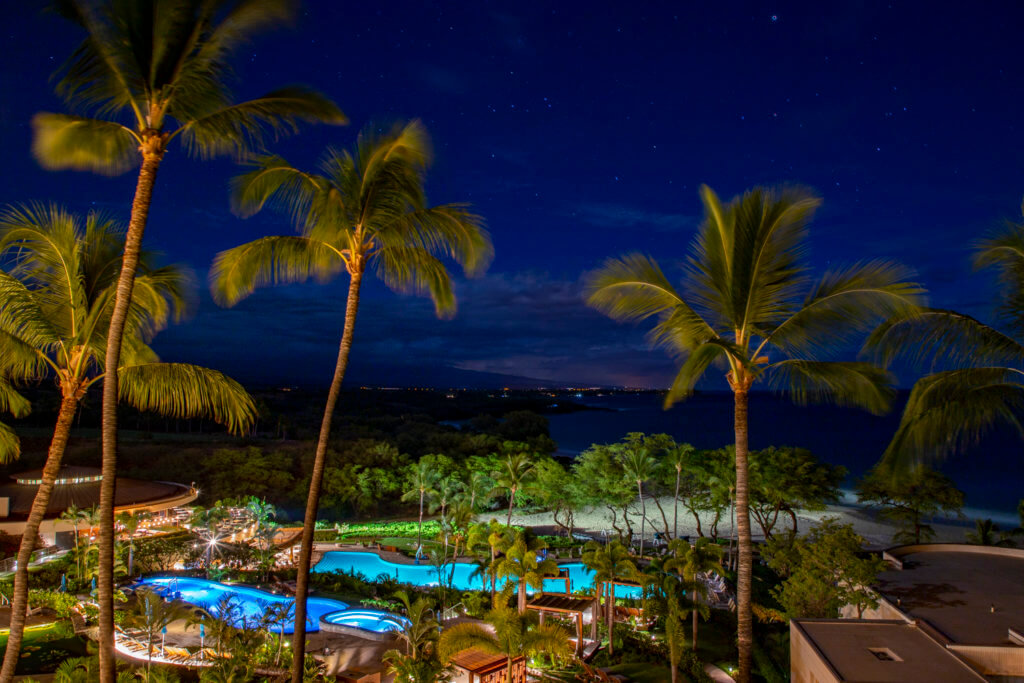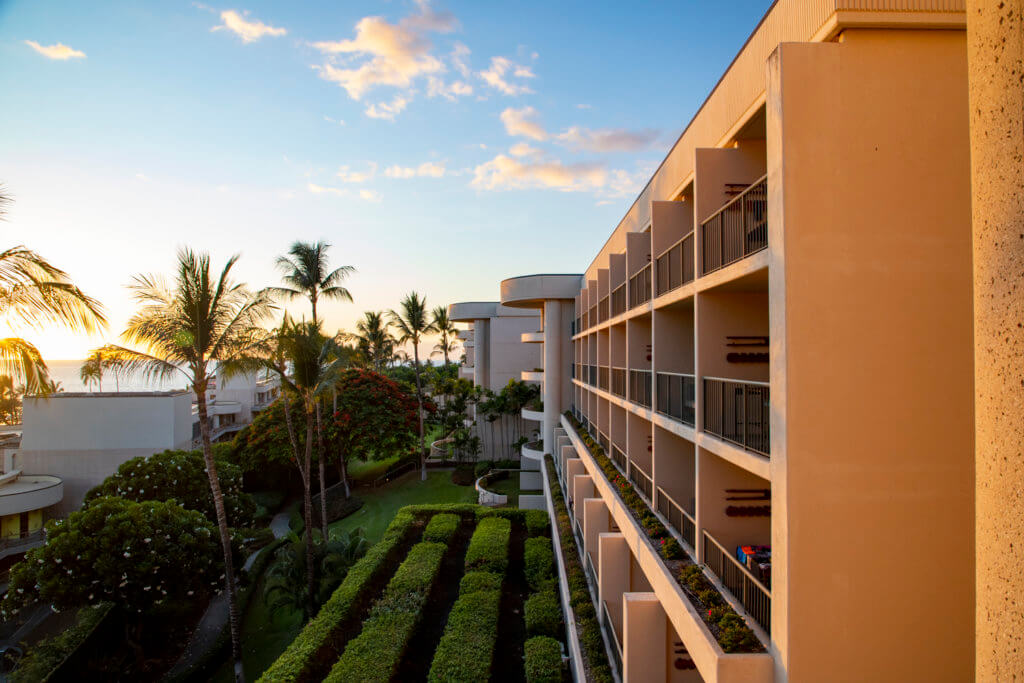 You'll notice in some of the above photos that there is another building below that looks like they're under construction. That building is actually being converted into residential units. So, what would've been oceanfront rooms for the hotel are no longer available. And, yes, for now, you may encounter some construction noise too.
Resort Amenities
The expansive Westin Hapuna Beach has two large pools. The upper pool is the adult-only pool, while the lower one is the family pool. And, beyond that is one of the few beaches on the Big Island, Hapuna Beach State Park.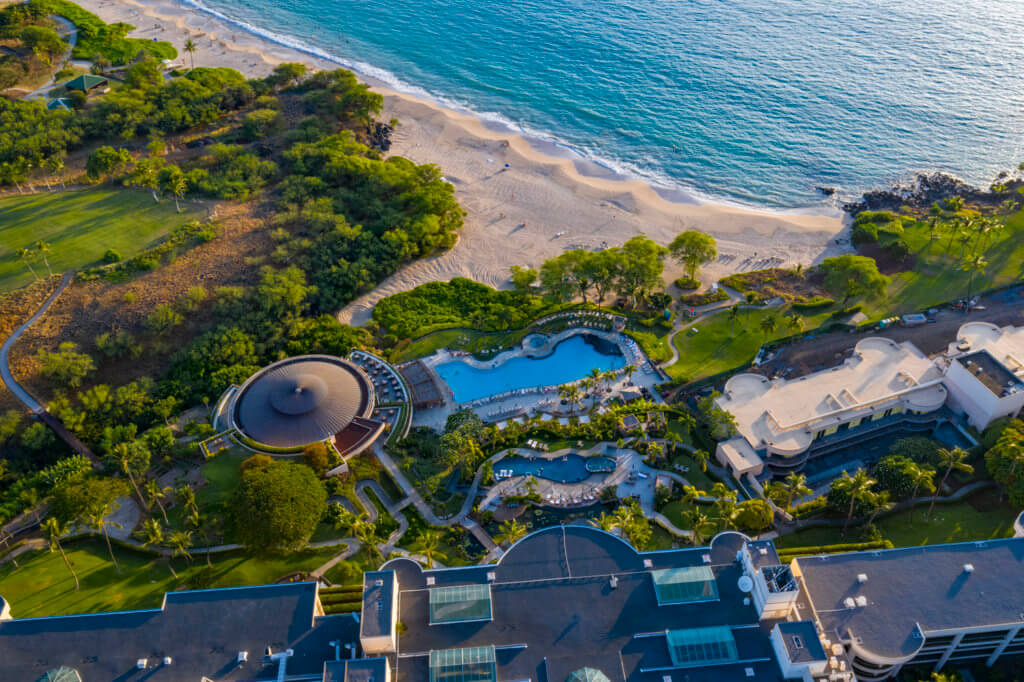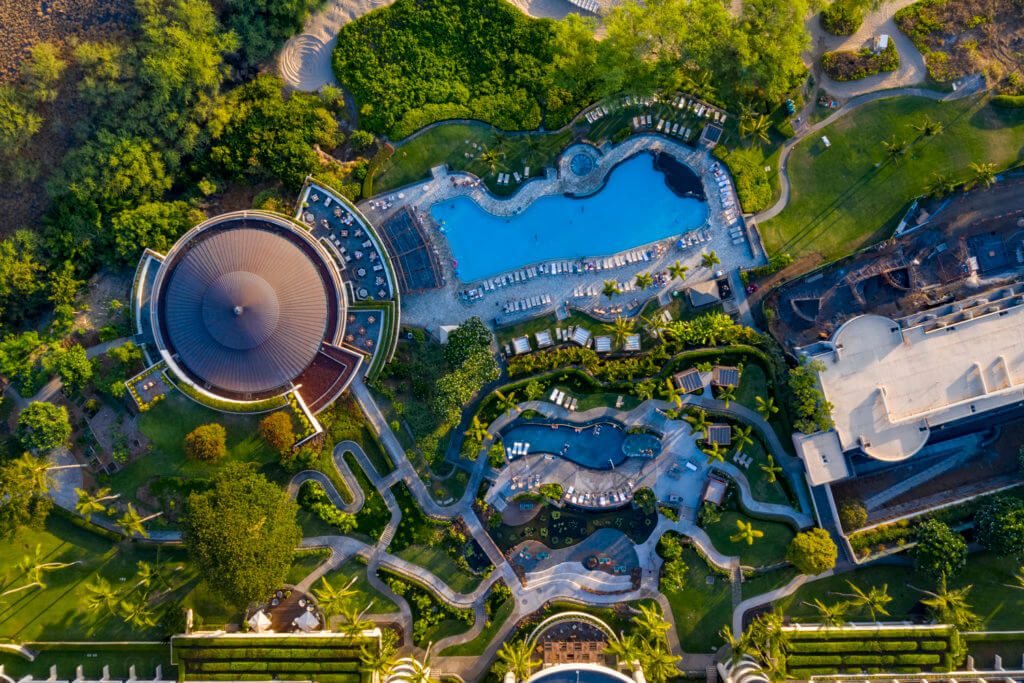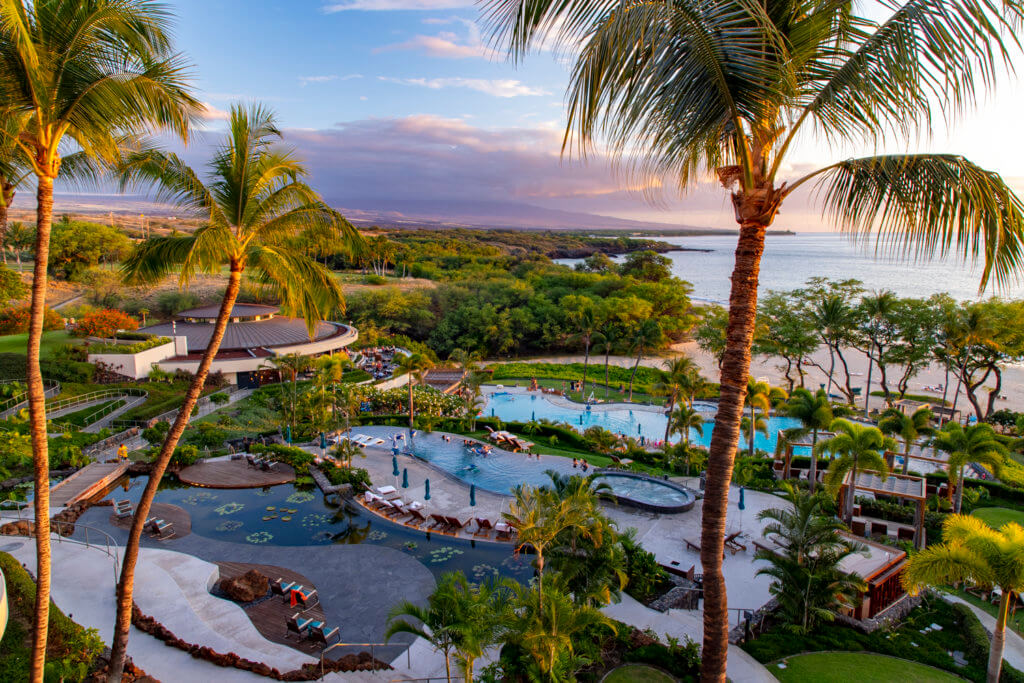 We didn't spend any time in the pools because, why? However, we did check out the beach for a little while.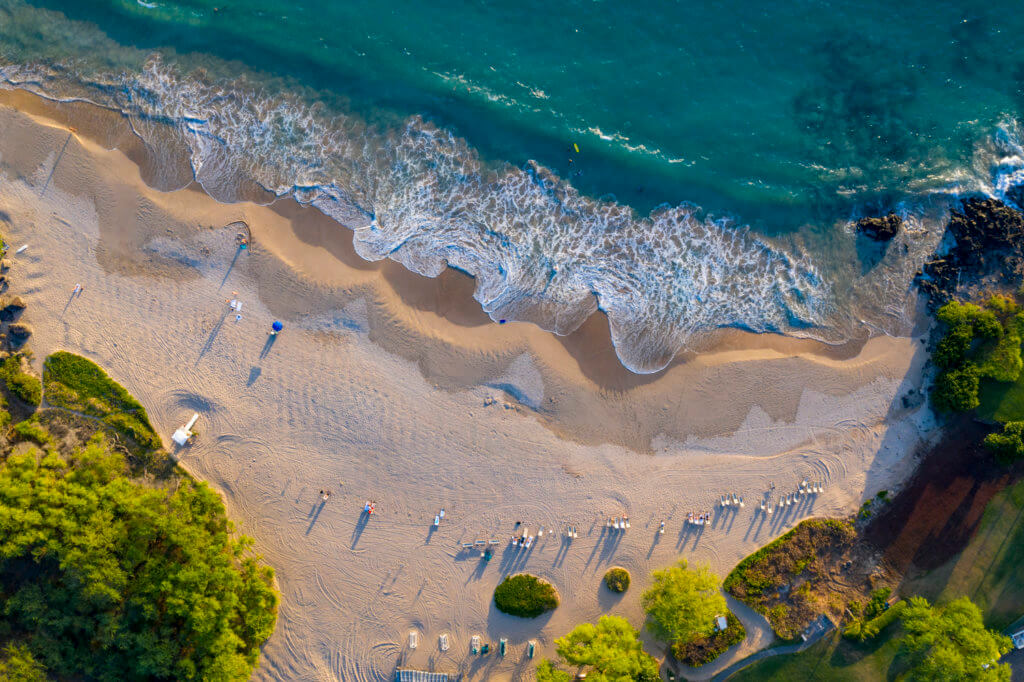 The sand at Hapuna Beach is powdery, meaning it feels great under your feet, but gets EVERYWHERE. And while it's a gorgeous beach, the currents can be dangerous. The surf the day we went was pretty strong, so we stayed close to shore and bobbed around a little.
Since both the Westin Hapuna Beach Resort and the Mauna Kea Beach Hotel are owned by the same entity, they do try to encourage you to property hop. In fact, there's even a free shuttle between the two. We didn't have time to do so this time but might take advantage of this benefit in the future – especially since the Westin Hapuna Beach only has one restaurant. That said, the signature restaurant at the Mauna Kea looks pretty good too. 
In-line with Westin's overall wellness initiative, the Westin Hapuna Beach also offers athletic wear for rent. We didn't check out the fitness center, though, and I don't even know where it is lol.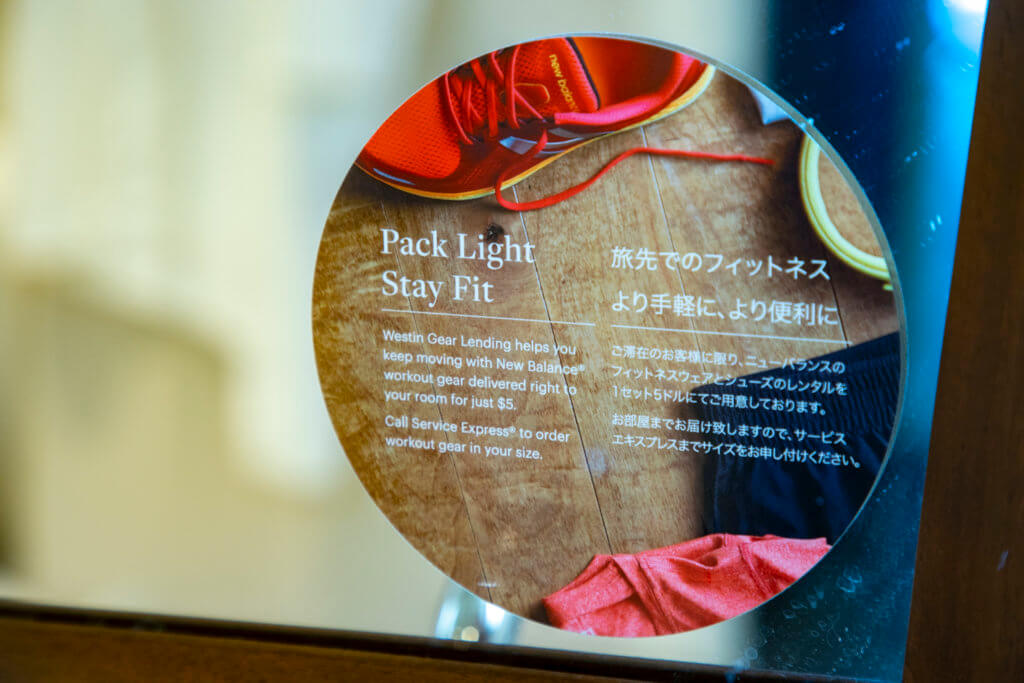 We did also receive a wonderful welcome amenity from Jenna because of our anniversary. It was a rather large platter of fresh fruit along with a bottle of red wine and a wonderful handwritten note.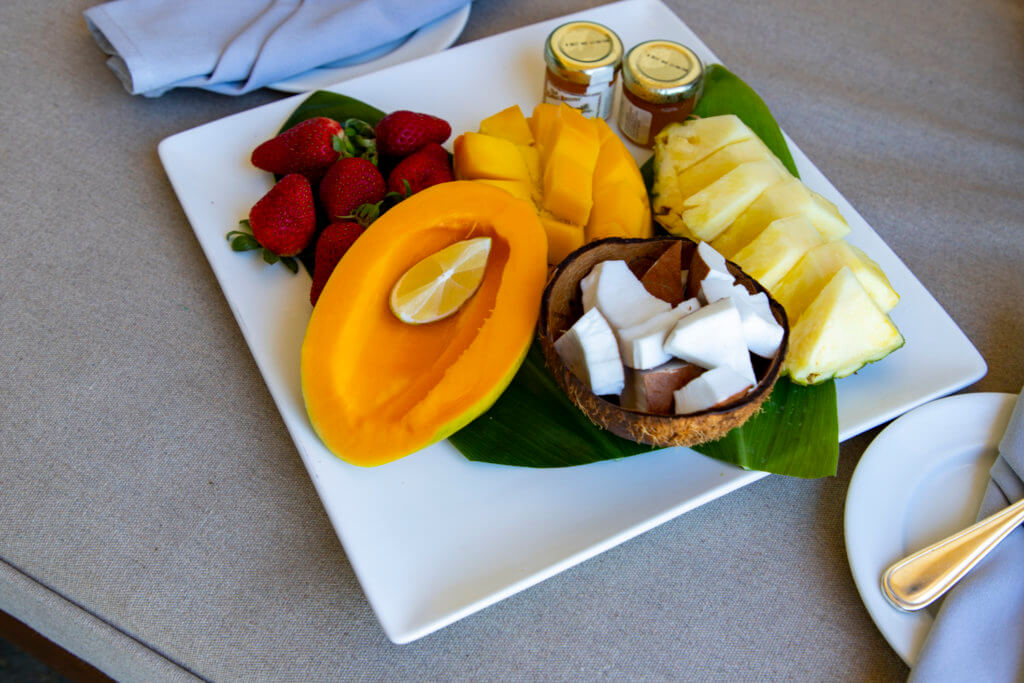 Check Out
The day before our departure, I stopped by the front desk to see if we could score late check out. Unfortunately, the Westin Hapuna Beach is a resort property, so the guaranteed late checkout benefit doesn't work here. I was able to score 12 pm late check out, though, which is an hour later than normal. However, if I recall correctly, we dug out around normal time anyway to grab some lunch in Kona Town.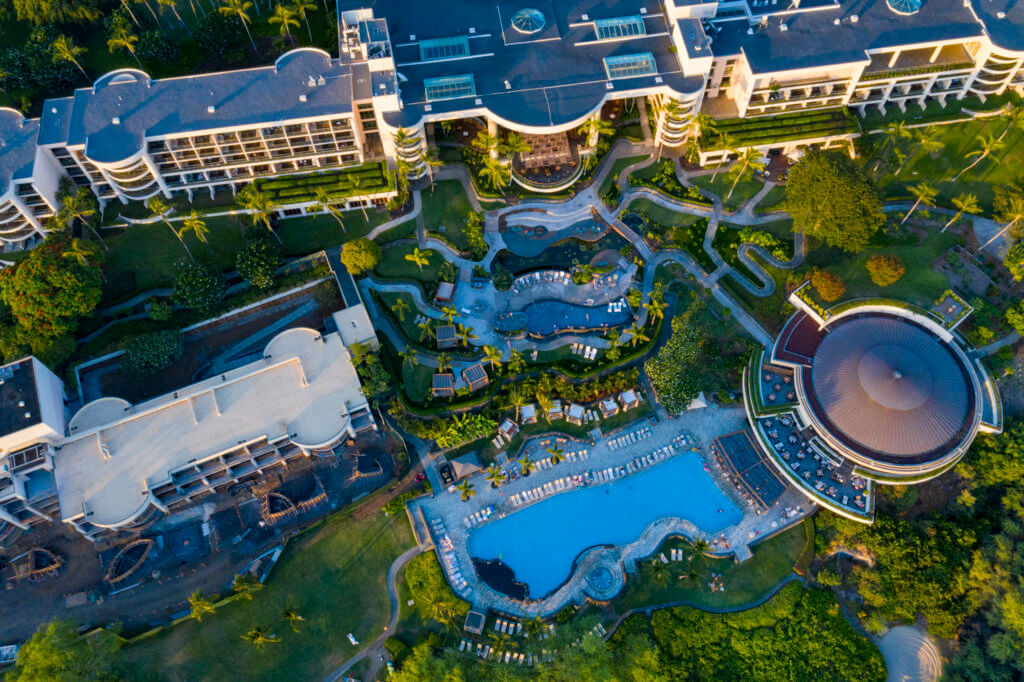 Westin Hapuna Beach Resort, Final Thoughts
To say we enjoyed our time at the Westin Hapuna Beach Resort would be an understatement. Every single employee we interacted with was incredibly warm and genuine, while our room was gorgeous.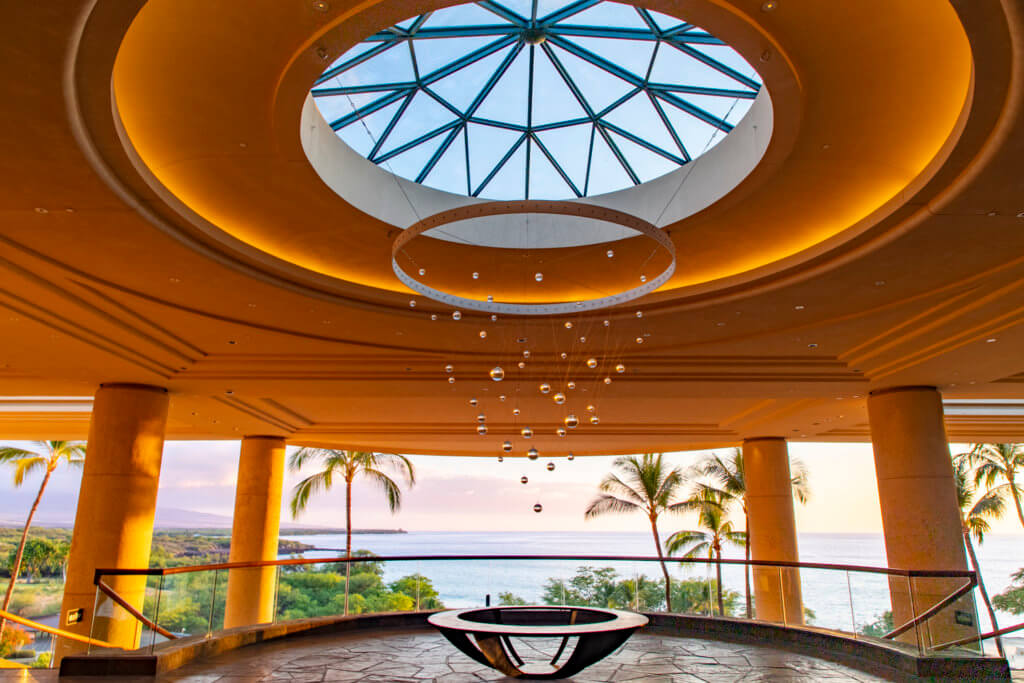 If I had to nitpick, though, it's that our room was a little noisy. The noise from passersby easily came into the room. However, because we had a suite, the bedroom was nearly silent.
That said, thus far, the Westin Hapuna Beach Resort is my favorite Big Island resort today.
Big Island LUV
Westin Hapuna Beach Resort