Boeing Dreamliners graced by Pualani are scheduled to begin arriving in their new island home later this year. And after much anticipation, the Hawaiian 787 interior was finally unveiled, including the configuration of their hotly debated business class product.
We've been talking about a Hawaiian 787 for some time now. The initial order for the aircraft was placed way back in March 2018, with an original delivery date in 2021. Then, we learned that Hawaiian would be the launch customer for a new seat manufacturer called Adient, including a new business seat concept called Ascent.
Unfortunately, we all know what happened after that. The pandemic hit, and the 787 ran into manufacturing issues, both of which pushed deliveries way back. Of course, feeling the sting of the pandemic, perhaps, worse than any other U.S.-based legacy airline, Hawaiian further deferred its 787 deliveries to late 2023 while also upping its confirmed order to 12 birds. Meanwhile, despite finding out that the 787 will feature SpaceX Starlink wifi, we still didn't know what the insides of these things would look like. That is, until now.
The Hawaiian 787 Interior
I'm sure most of you have already seen the Hawaiian 787 interior since so many other travel websites and news stations have covered the story already. But for those of you that haven't, here's a quick rundown.
Leihōkū Suite
I'm sure the main feature everyone was waiting to see – I know I was – is the Hawaiian 787 interior's new business class product. Branded the Leihōkū Suite, this is a true business class suite with fully-height doors, a 78″ lie-flat bed (in bed-mode), an 18″ entertainment screen, a personal power outlet, wireless Qi charging, and in-seat storage. In fact, these seats are virtually identical to the Adient Ascent suites onboard Qatar Airways' newer Boeing 787-9s (not Qsuites).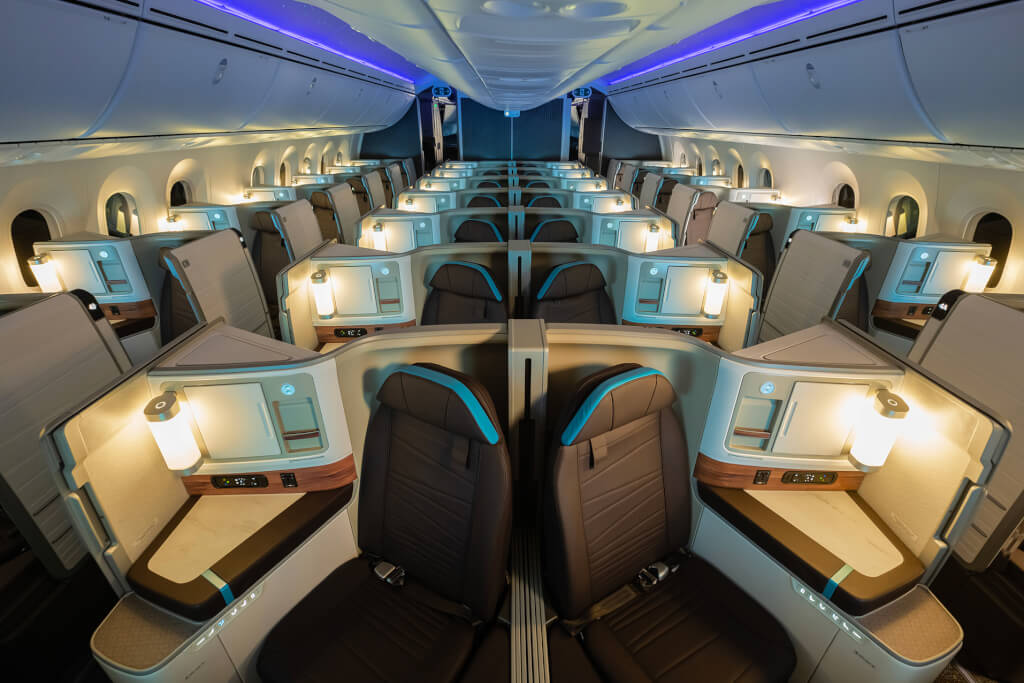 The primary difference between Hawaiian's version and Qatar's appears to be the colors and finishes, and the fact that the Qatar version has a headphone port right next to the power outlet – it looks like that might be inside the storage compartment for Hawaiian?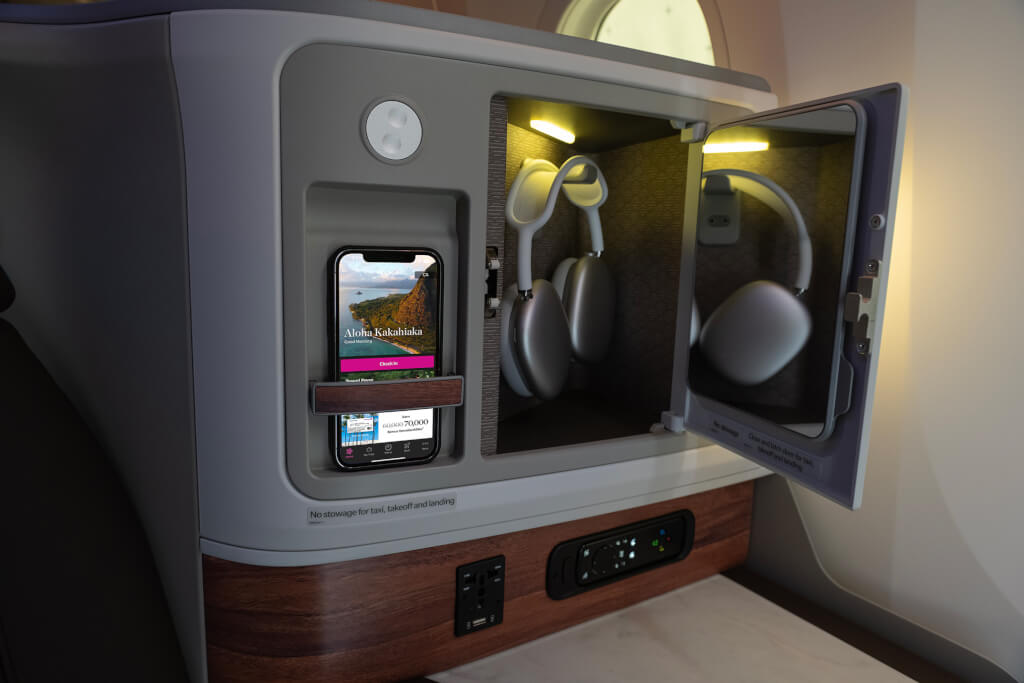 I do find it a little funny that Hawaiian is using Apple AirPod Maxes in their product shots when the IFE system will not have Bluetooth connectivity, which I feel is a bit of a miss, given all the other airlines adding the feature on newer aircraft.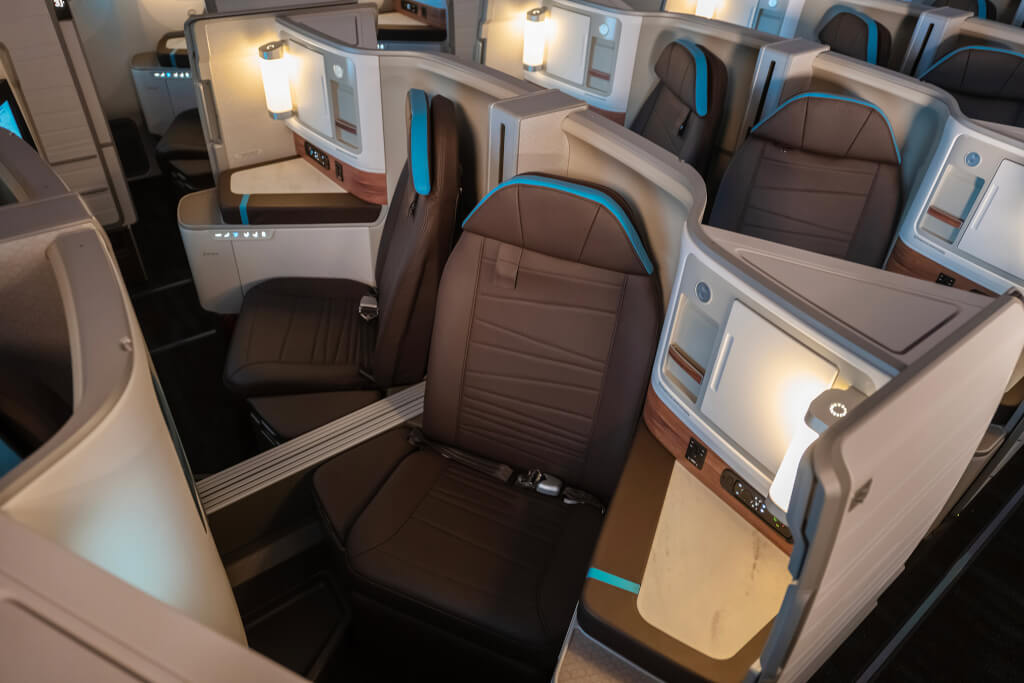 Of course, the other airline using the Adient Ascent is Hawaiian's old partner, American. Their seat is more bespoke than Hawaiian and Qatar's. They feature more surface areas to place your devices, food, and beverage, even without deploying the tray table, while the middle seats face inwards rather than towards the aisles.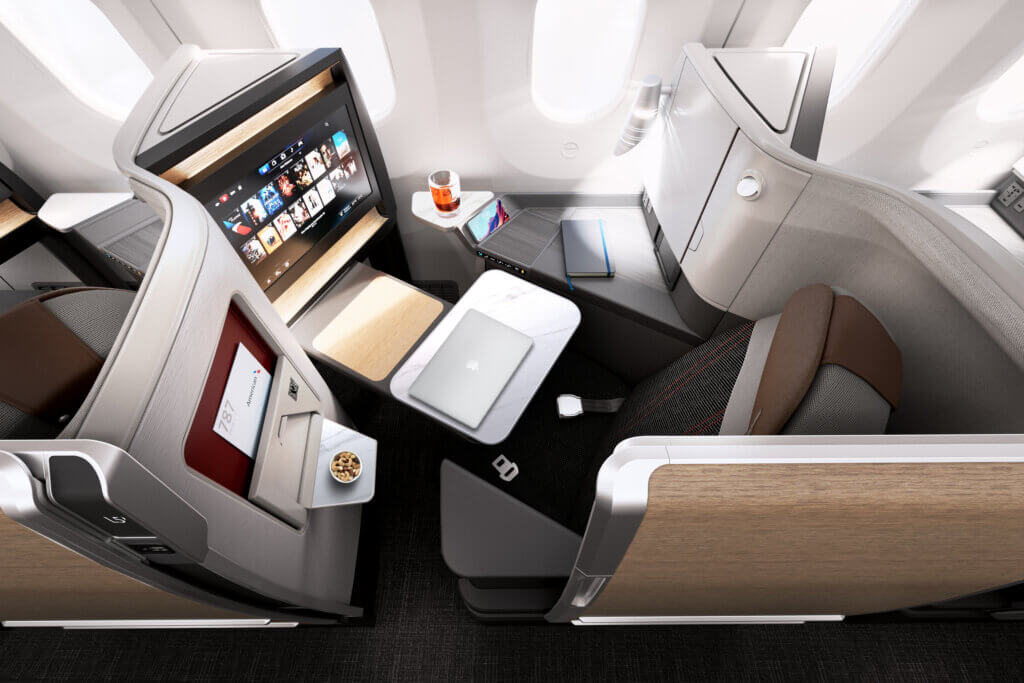 That said, these seats are a massive upgrade to the Hawaiian's existing 2-2-2 business class seats on their A330s. The new seats have more privacy, better access, more storage, and have actual built-in IFE, rather than a janky iPad stand.
It's also worth noting that there will be far more business class seats on the 787 compared to the A330 – 34 seats versus 18. That's nearly double!
Oh, and Hawaiian is adopting a starry night mood-lighting design in business class, reminiscent of Emirates' premium cabins.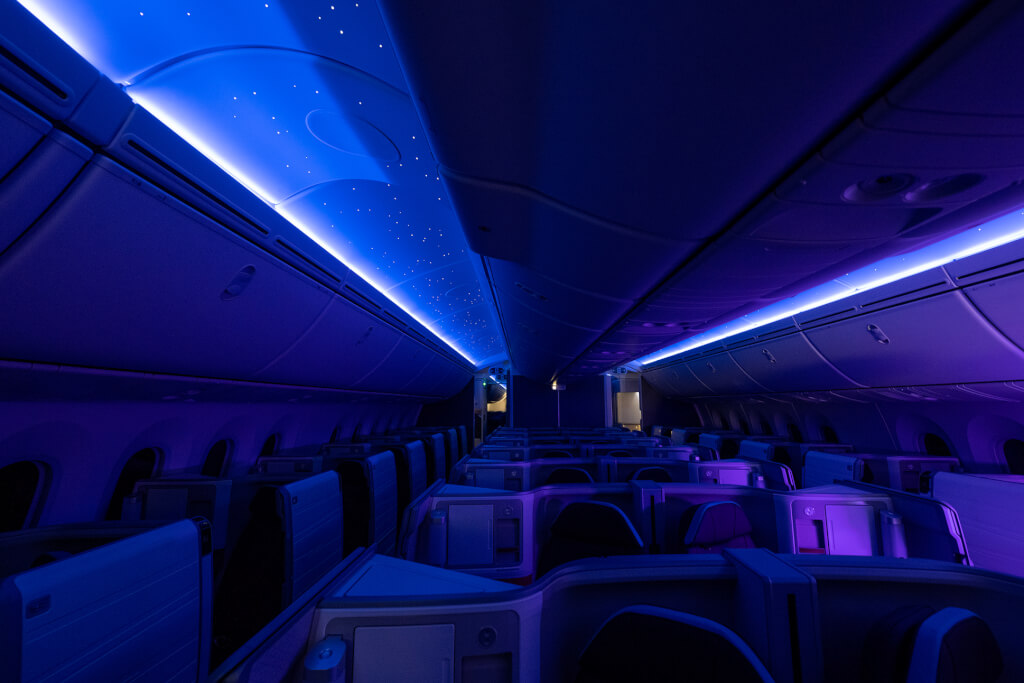 Hawaiian 787 Interior Main Cabin
The less exciting part of the new Hawaiian 787 interior, but perhaps, the more important part for most of us, is the Main Cabin. Out back, Hawaiian is installing 266 Collins Aerospace Aspire seats, 79 of which will be Hawaiian's Extra Comfort product. Unfortunately, there won't be a Premium Economy cabin, as is becoming the norm nowadays. For reference, the Airbus A330s currently features 260 Main Cabin seats, including 68 Extra Comfort seats.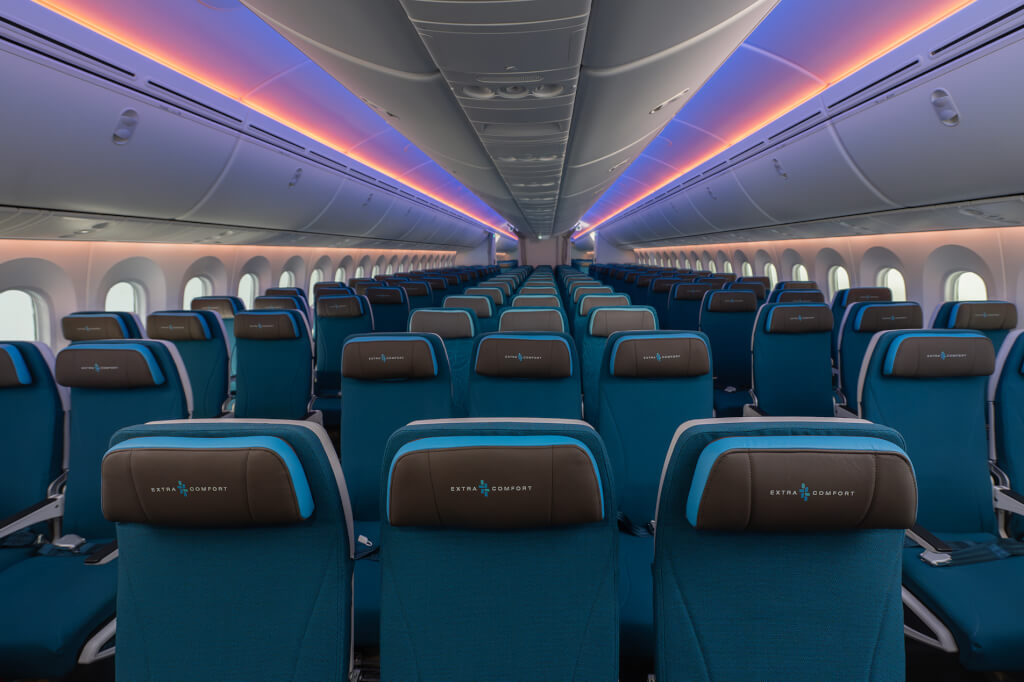 The seats themselves are arranged in a 3x3x3 layout, featuring ergonomically contoured backs and armrests, more shoulder and hip room, 12″ seatback monitors, and USB-A and -C ports. Standard Main Cabin seats will feature 31 inches of pitch, while Extra Comfort will feature 35 inches of pitch. Extra Comfort seats also have an ac power outlet, a feature Hawaiian admitted to The Points Guy was kept out of standard Main Cabin seats to encourage people to upgrade.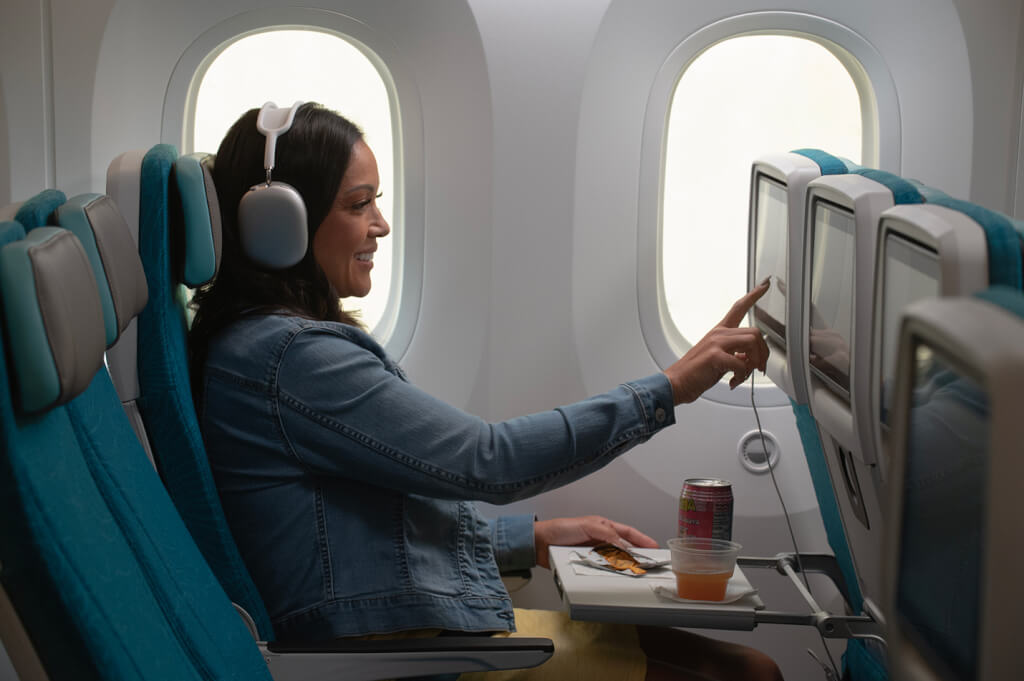 It should be noted that Collins Aerospace Aspire seats aren't the most comfy around. So if you're hoping that your butt won't go numb sitting in the back, that might still be the case. But the 787 does feature larger windows, higher humidity, and a lower cabin elevation, so you should feel better overall after your flight on a Hawaiian (or any) Dreamliner.
I will say that I do LOVE the design details Hawaiian infused into their interiors. Just look at the gorgeous floral patterns on the Main Cabin seats, along with the ocean-inspired carpeting.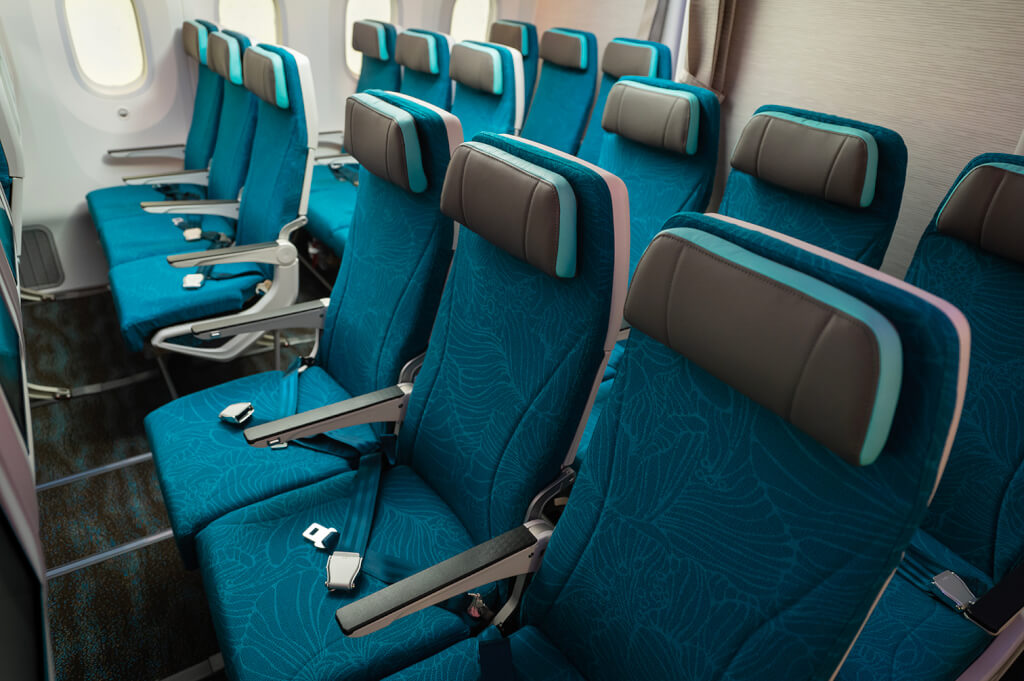 Even the textures of the cabin walls and the Koa-inspired wood accents near the galley/lavatories just add to the modern island feel!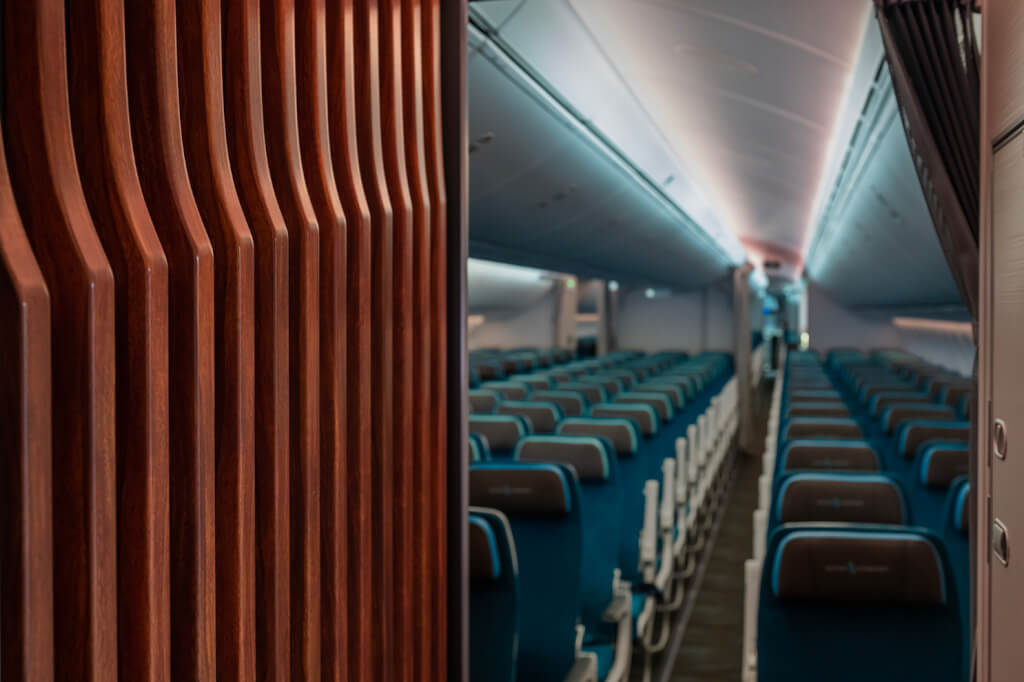 Other elements to keep an eye out for are the aloha attire on the lavatory indicators and this lighted design element that I can't quite place – I'm assuming it's above the boarding doors.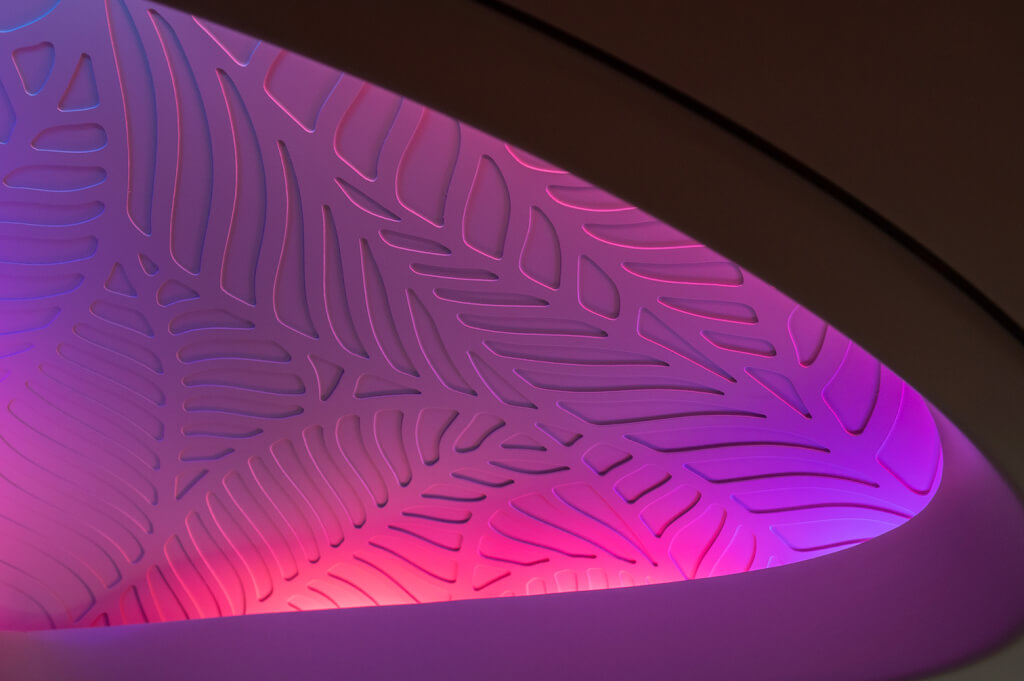 The Story Behind the New Hawaiian 787 Interior
Naturally, there is a video talking about the process they went through to develop the new Hawaiian 787 interior – I encourage you to check it out. It's pretty cool that the Boeing representative working with Hawaiian on this project is a local boy himself!
Final Thoughts
I've been reporting on a lot of negative news regarding Hawaii's hometown carrier lately, so it's nice to be able to write about something positive. And I really do think this is positive. These new interiors are gorgeous! Plus, these new birds are more premium-heavy, too. Though the 787 has 300 seats versus the A330's 278, a lot of that is in Extra Comfort and Leihōkū Suite. In fact, the 787 has six FEWER standard Main Cabin seats than the A330.
However, Hawaiian's configuration is still far more dense than the other legacies. For example, United's densest 787-9 configuration has 257 seats, while American's has 285. That makes me wonder if Hawaiian does plan to deploy any of these to Europe. While they certainly still could, they may need to limit cargo or block seats.
What we do know, though, is that the Dreamliner will make its way to the East Coast and Japan after a shakedown period serving the West Coast. And as much as I like the new Hawaiian 787 interior, you'd probably want to stick with Hawaiian's joint-venture partner, Japan Airlines. Sure, the business class seats on Hawaiian are likely better, but if you plan on flying Main Cabin, JAL is the way to go. In the back, JAL configured their seats in a 2x4x2 arrangement with 32″ to 33″ of pitch. And their premium economy product is even better, offering 42″ of pitch in a 2x3x2 arrangement.
Oh, and Hawaiian's 787s aren't being delivered with Starlink… It'll be added later. The A330s might even get it first… As a reminder, the first of the 787s are scheduled to arrive in November, with entry into service early next year.