Hawaii's largest airline has been on a roll lately with new aircraft, uniforms, and a lie-flat first class product.  And now, Hawaiian Airlines adds seasonal routes both domestically and internationally.
Late last month Hawaiian Airlines took delivery of its very first Airbus A321neo.  And as it preps for this new aircraft type, the Airline also introduced new uniforms and catering experiences.  The first route for the A321neo will be between Portland, Oregon, and Kahului, Maui.  Or, at least that was supposed to be the first A321neo route.  However, in a surprise move, Hawaiian announced that the PDX-OGG route is the first new route for the A321neo, but it won't be the type's inaugural route.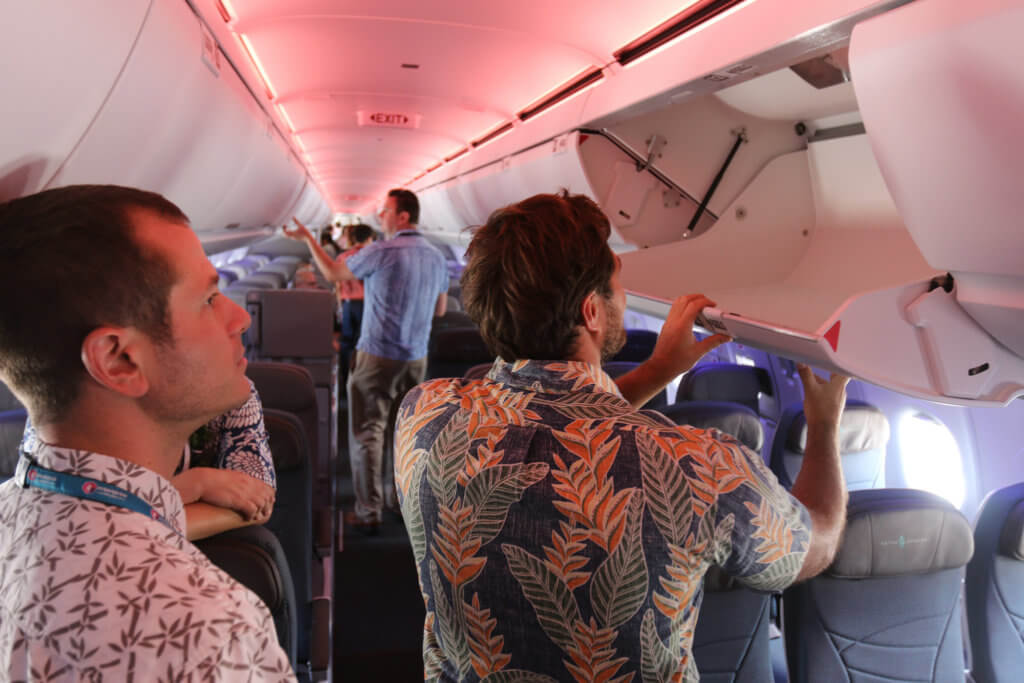 A321neo Inaugural Route
The first A321neo to enter revenue service will fly an existing route.  Beginning on January 8, 2018, ten days before the new PDX-OGG service begins, Hawaiian will begin A321neo service between Kahului and Oakland, California.  Today, Hawaiian operates this route with its existing fleet of A330-200s, featuring 278 seats in a 3-class configuration.  However, once the service cuts over to the A321neo, the total seat count will drop to 189.  This, of course, could cause a rise in airfares, especially when load factors are high as they are for December.
Additional Changes to Seasonal Routes
In addition to the adjustment being made to the OAK-OGG route, Hawaiian will also downgrade its service between Lihue, Kaui and Los Angeles, California.  Like the OAK-OGG service, LAX-LIH will go from an A330 down to an A321neo.  However, this seasonal flight will recommence much later than OAK-OGG, resuming on April 11, 2018.  Oddly, a month before the LAX-LIH service, Hawaiian will also commence service between Kona and Los Angeles.  This time, though, the route will launch with an ancient Boeing 767-300ER before cutting over to an A321neo at a future date.
New A321neo Route
Aside from the previously announced, new A321neo routes, the next route coming online will be between San Diego, California, and Kahului.  Beginning on May 1, 2018, this route will operate daily as:
HA 37:  SAN-OGG, departing at 8:15 am and arriving at 11:15 am
HA 38:  OGG-SAN, departing at 12:50 pm and arriving at 9:50 pm
New Seasonal Routes
Finally, we have Hawaiians new seasonal routes.  Most will operate between Hawaii and the U.S. West Coast with the Airline's new A321neos.  However, there will be one domestic A330 route and one international route.  These routes are as follows:
San Francisco – Honolulu (A321neo); May 25, 2018, to July 31, 2018

HA 53: SFO-HNL, departing at 8:00 am and arriving at 10:35 am (starts May 26 and ends July31)
HA 54: HNL-SFO, departing at 9:50 pm and arriving at 6:00 am (starts May 25 and ends July 30)

Oakland – Kona (A321neo); May 26, 2018, to September 2, 2018

HA 65: OAK-KOA, departing 11:30 am and arriving at 1:55 pm
HA 66: KOA-OAK, departing at 3:30 pm and arriving at 11:35 pm

Los Angeles – Kahului (A330-200); June 1, 2018, to August 31, 2018

HA 55:  LAX-OGG, departing at 1:30 pm and arriving at 4:15 pm
HA 56:  OGG-LAX, departing at 10:00 pm and arriving at 6:05 am

Narita – Honolulu (A330-200); August 1, 2018, to September 30, 2018

HA 824: NRT-HNL, departing 9:30 pm and arriving at 10:20 am (starts August 2 and ends September 30)
HA 823: HNL-NRT, departing at 4:05 pm and arriving at 7:30 pm the next day (starts August 1 and ends September 29)
Fare Special
To celebrate the launch of its new San Diego route, Hawaiian is offering a fare special.  For those booking now through December 11, 2017, enjoy $199 one-way fare for travel between May 1, 2018, and May 24, 2018.  This fare is inclusive of taxes and fees and is subject to availability.  Visit hawaiianairlines.com to book.
Hawaiian Airlines Adds Seasonal Routes, Final Thoughts
It's always disappointing to see capacity cut on routes, especially when the flights seem full.  To me, that means there's risk of airfares moving up in price.  But, that might not happen too, mainly since many other carriers serve these routes as well.  This is especially true of Hawaiian's new seasonal routes, such as those between Los Angeles and Kahului, and San Francisco and Honolulu.  What I find most interesting, though is that Honolulu will be getting A321neo service next summer on the seasonal SFO-HNL route.  This route is already served by Hawaiian's A330 fleet and has competition from Virgin, United, etc.  So it'll be interesting to see how this additional capacity will affect fares and how the route will perform in the long run.
At any rate, things are getting interesting as Hawaiian moves forward with its A321neo plans.  And as more of these aircraft arrive, things will only get all the more interesting.  After all, more A321neos means more new routes for Hawaiian, not only with that aircraft type but for the A330s too as some routes are down-gauged.  And just imagine when Hawaiian's A330-800neos (or 787s) begin arriving!