In preparation for the commencement of its new A321neo service, Hawaii's largest Airlines launches new uniforms and meals.
Hawaiian Air's new A321neo's have been a long time coming.  And with the first A321neo route scheduled to begin in about a month, Hawaiian has been busy updating itself in preparation for this new service.  And so on December 1, Hawaiian launched its new uniforms and in-flight catering.
New Uniforms
Unveiled just over a year ago at HONOLULU Fashion Week, Hawaiian Air's new uniforms are stunning.  I love the print and the sharply contrasting colors.  Of course, the fact that the uniforms are attractive isn't surprising.  After all, one of Hawaii's best designers, Sig Zane, is the genius behind Hawaiian's new print.  And if you remember, Sig Zane is also the designer of Ohana by Hawaiian's livery.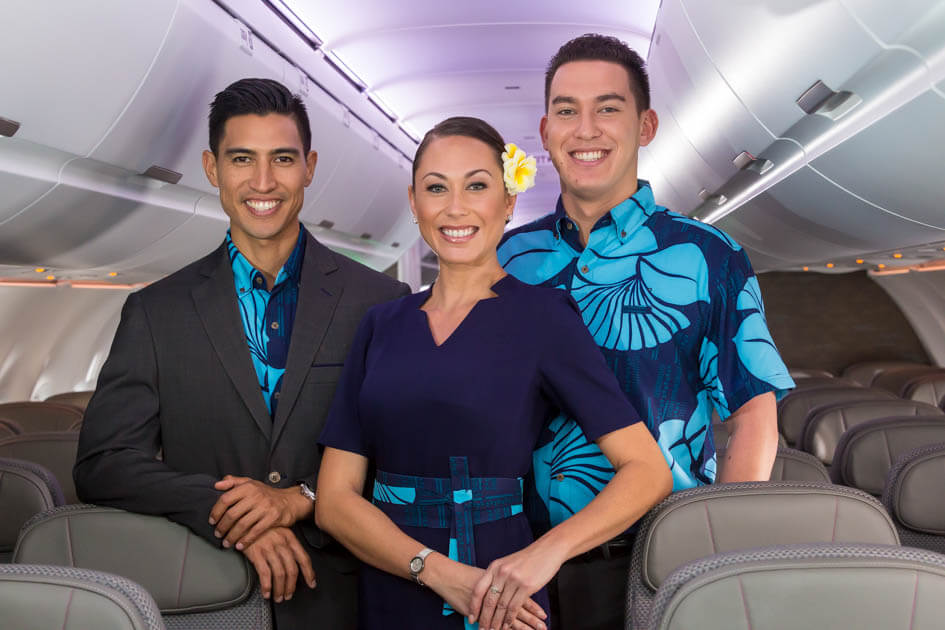 Called Ku Makou, or Together We Stand, the prints theme is comprised of lehua blossoms and 'ohe kapala (bamboo stamps).  Employees receiving these new uniforms include Airport Customer Service, Cabin Service, Cargo, In-Flight, Line Service, Maintenance, Ramp, and Supply.  Support staff, however, will not have the above aloha print.  Instead, they'll have appropriate uniforms with aloha print accents.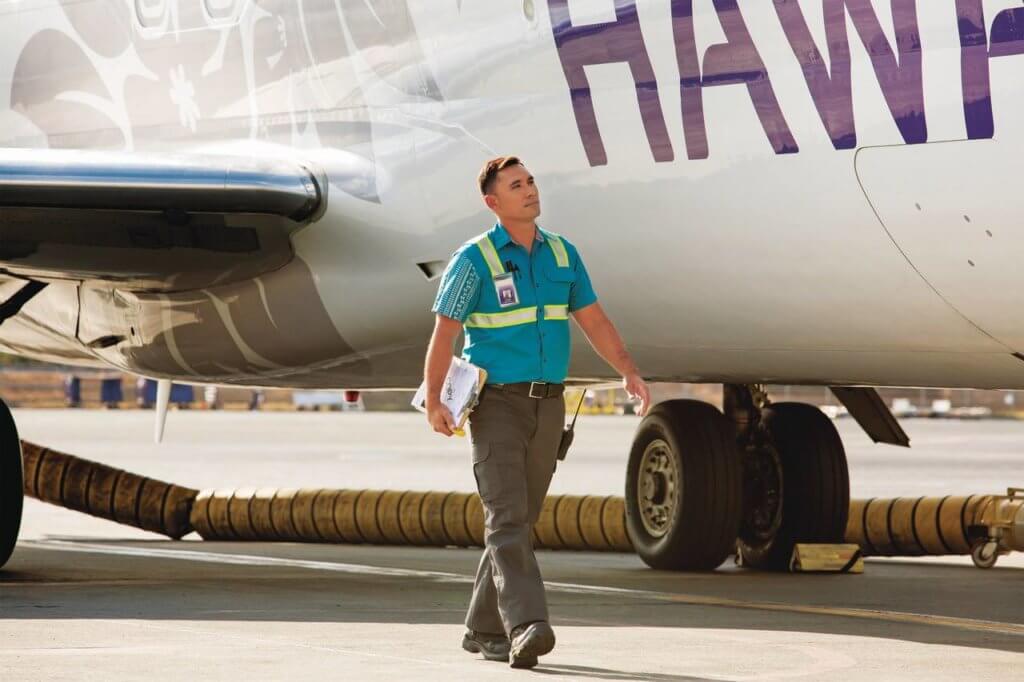 New Meal Service
Coinciding with the new uniforms, Hawaiian also launched new meals.  Unfortunately, unlike the new uniforms, the new meals are not a positive change.  These changes, though, only affect routes between Hawaii and North America (except JFK), and really only affect economy class passengers.
Called Pau Hana Cafe, Hawaiian is actually scaling-back its complimentary meal service.  So, today, brunch flight passengers will receive a continental breakfast box.  This box will include yogurt, granola, grapes, and a "loaf."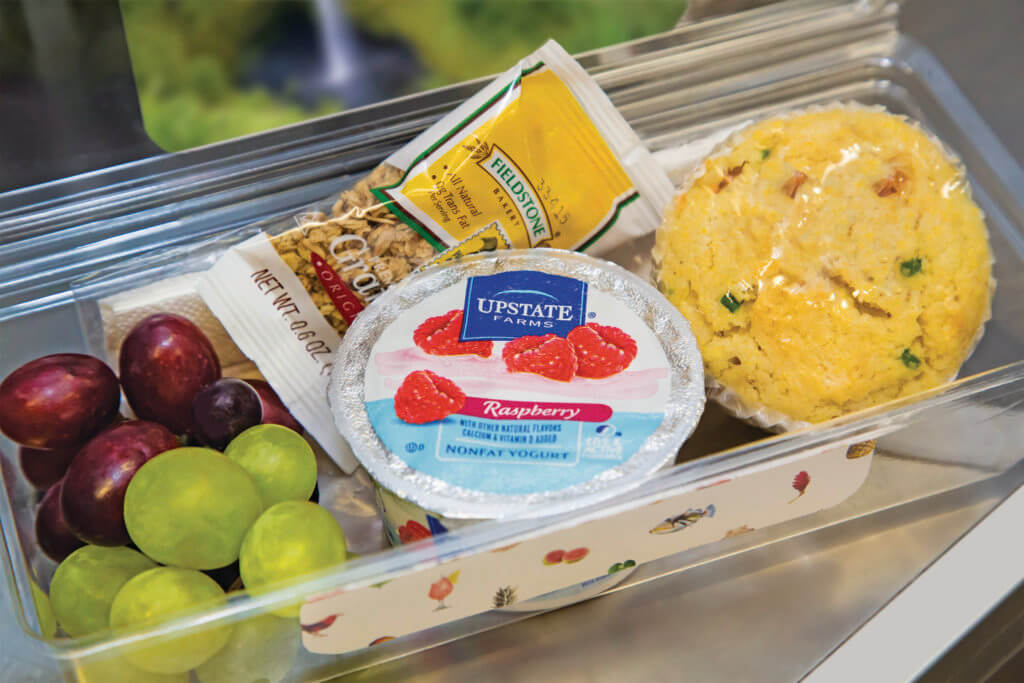 That's a sharp contrast to the warm sandwich and fruit salad Hawaiian used to serve for brunch.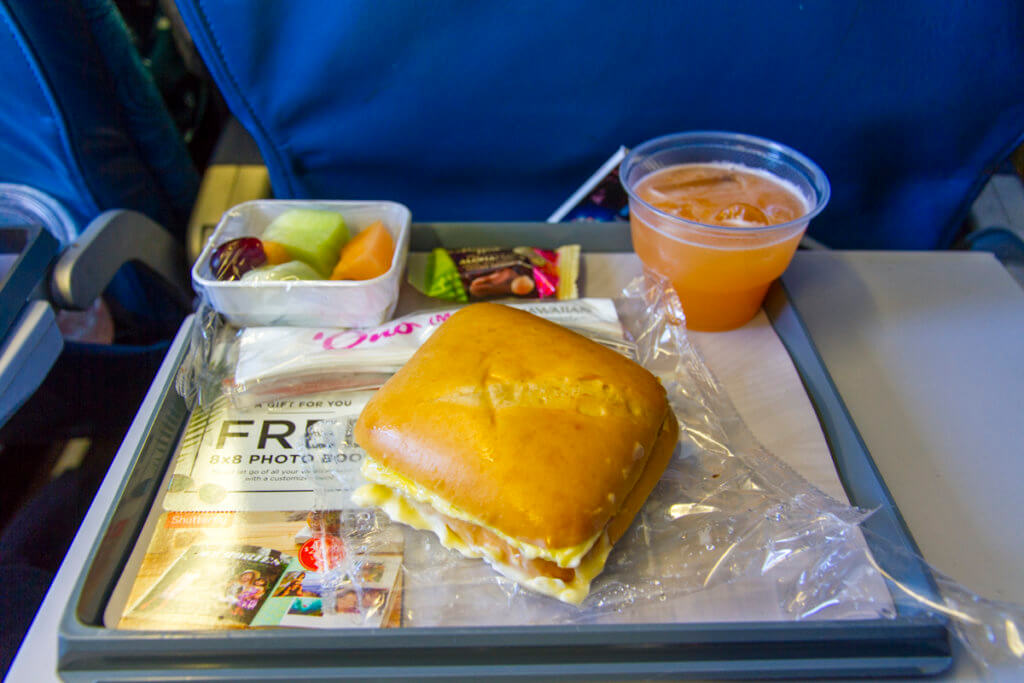 Lunch and dinner will now, ironically be comprised of a hot sandwich and a bag of chips.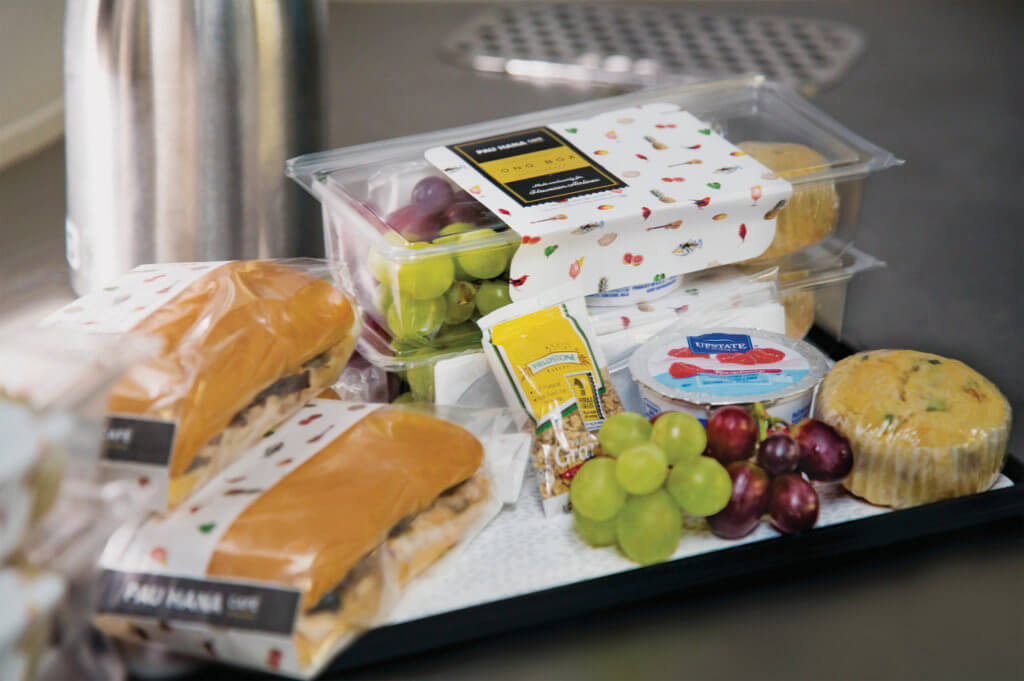 The sandwich, for what it's worth, look a little bigger than the old brunch sandwich.  However, it's a considerable downgrade from the previous selection of hot meals.  For example, on my last North America flight with Hawaiian from Vegas, the meal was pasta and salad.
Meals will be followed by a sweet treat and coffee service, though what that sweet treat has not been detailed yet.  I'm hoping it'll be more than just the Honolulu Cookie Company or La Tour cookie, or the Hawaiian Host Macadamia Nut chocolate.  Prior to landing, Economy passengers will receive a packet of Pau Hana Snack Mix and a drink, which includes an option for a complimentary cup of Koloa Breeze Cocktail.
First Class Dessert
If you're lucky enough to be sitting up front, not much is changing in terms of catering.  The biggest change is that the featured chef has now switched to MW Restaurant's Wade Ueoka.  However, another addition was made to first class catering that Hawaiian didn't announce.  Beginning this past weekend, pies from my favorite pie company, the Hawaiian Pie Company, became available for first class passengers.  The pies will only be offered on flights originating in Hawaii and will be served chilled.  That's a little unfortunate, as the pies are even more amazing warm, but oh well.  I'd still take it.  As far as flavors, those will vary by route:
North America: POG (passion, orange, guava)
South Pacific:  POG (passion, orange, guava)
Oceania:  Passion Pear
Asia:  Passion Pear
I've never had the Passion Pear pie, but the POG pie is one of my favorites.  Chunks of pear are flavored with passion, orange, guava juices and baked in a flaky, buttery crust.  I'd totally suggest trying it if you can!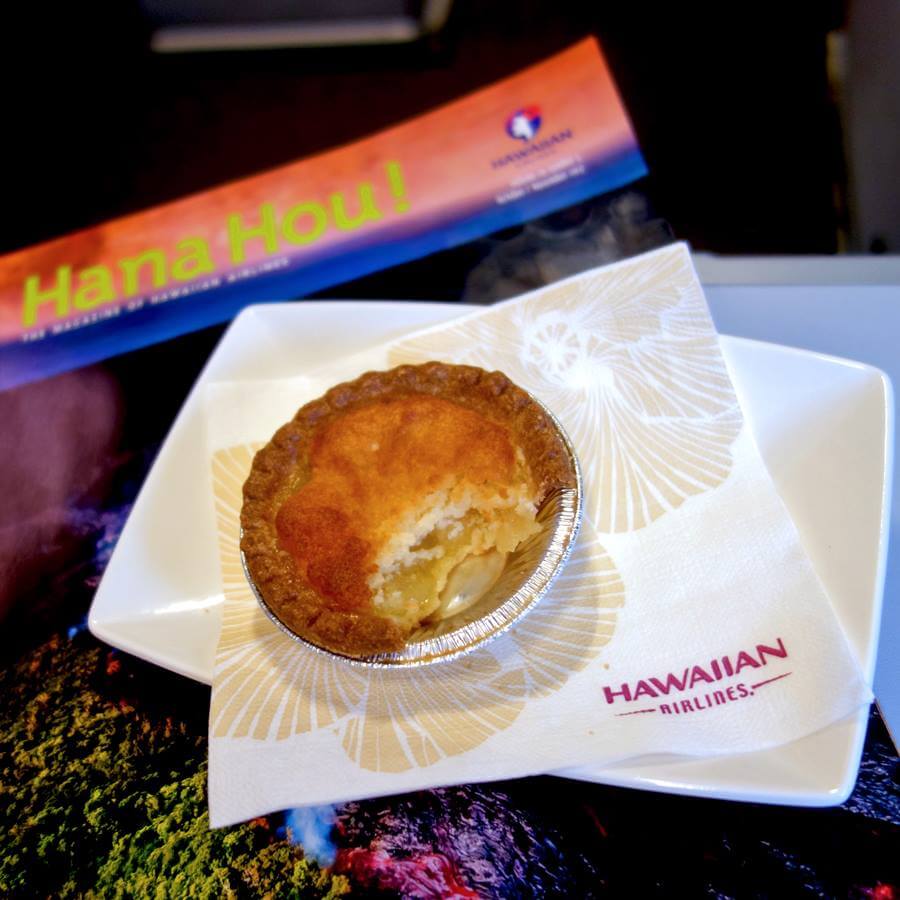 Hawaiian Airlines Launches New Uniforms and Meals, Final Thoughts
I like Hawaiian's new uniforms, but in the grand scheme of things, they aren't all that important.  The big news here is the change in catering.  Hawaiian's meal service is no better than what American offers on its flights between DFW and Hawaii.  I mean, Hawaiian's sandwich is hot, whereas American's isn't.  And while having a complimentary meal is nice, how important is it if you land starving?  Especially when that flight arrives at 10 pm to 11 pm.  At this point, I'd rather pay a reasonable fee to get a better quality, more substantial meal.  Alaska, for example, offers decently priced, reasonably tasty meals in economy.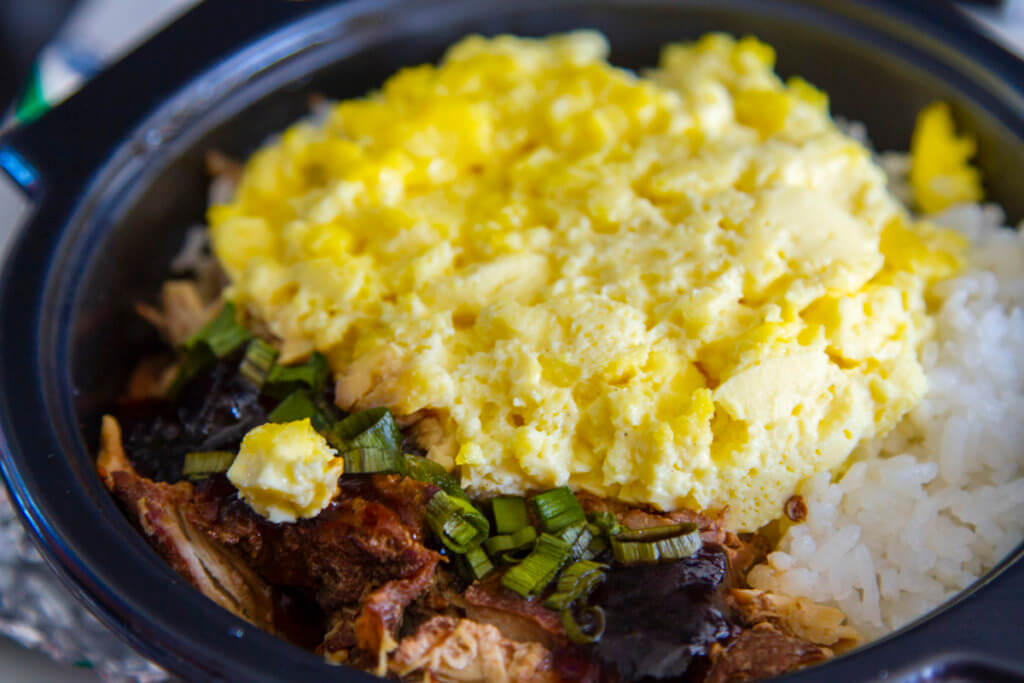 Getting back to the new uniforms, though, if you're a fan of Sig Zane's work, check out his website.  Zane makes a variety of clothing items for men and women.  However, his releases are extremely limited and usually sell out within a couple of hours of launching.  And his shirts are quite expensive too, running from $110 to $250 for an aloha shirt.  $110 isn't that bad, though, considering Tori Richard and Reyn Spooner shirts usually go for slightly less.