For a long time, Hawaiian charged just about whatever they wanted on flights between Hawaii and Las Vegas. With Southwest entering the market, though, that can't be the case anymore. Or can it? Let's do a Honolulu – Las Vegas airfare comparison to see how things are going right now.
Southwest's new Honolulu – Las Vegas route begins SOON. So, unfortunately, I can't get "standard" fares for flights to Vegas on Hawaiian given how few dates I have to chose from. What's more, Hawaiian's fare structure differs significantly from Southwest's. For one, Hawaiian's Main Cabin Basic doesn't allow you to change flights, select your seat in advance, earn credit toward elite status, or upgrade. On the other hand, Southwest doesn't have different seat types, doesn't have assigned seats, and never charges change or cancelation fees. So, I'm going to do my best to present as fair a comparison as I can and will primarily compare Hawaiian's Main Cabin fares with Southwest's Wanna Get Away fares.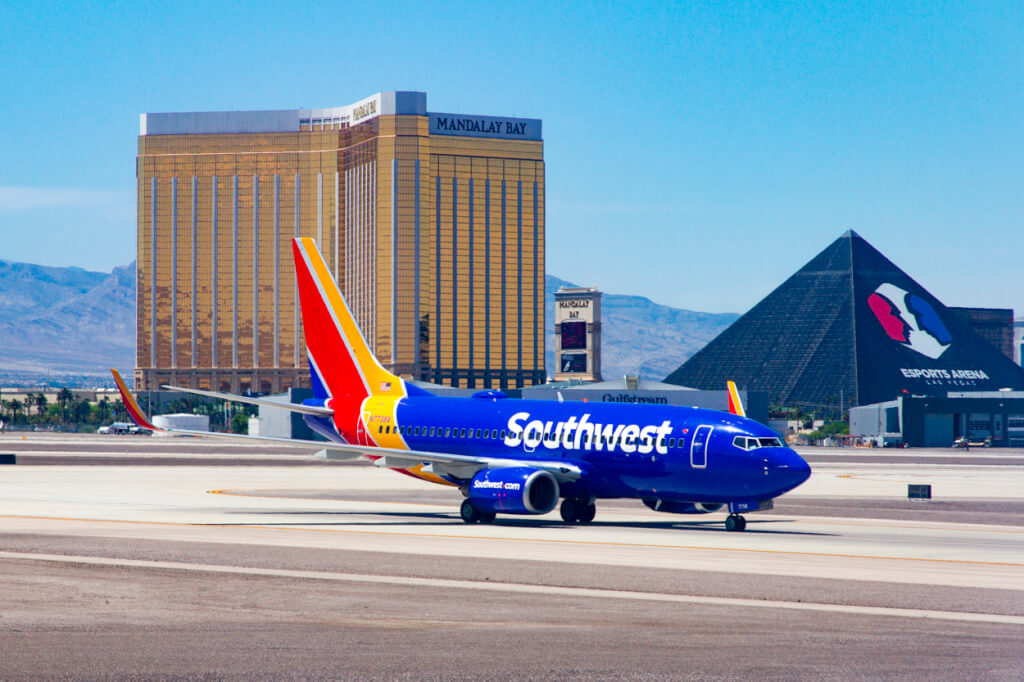 What Honolulu – Las Vegas Fares Look Like Now
Fares two weeks from now on Hawaiian are CRAZY. Look at that, we're looking at fares starting at $652 roundtrip in Main Cabin Basic, topping out at $878. Main Cabin? Fares range from $787 to an eye-watering $1,039 for a roundtrip flight. Mind you, this is for ONE person.
Things, however, are a little more reasonable a week or so later. As you can see below, just before Southwest begins its Las Vegas service, Hawaiian is charging as little as $695 per person roundtrip.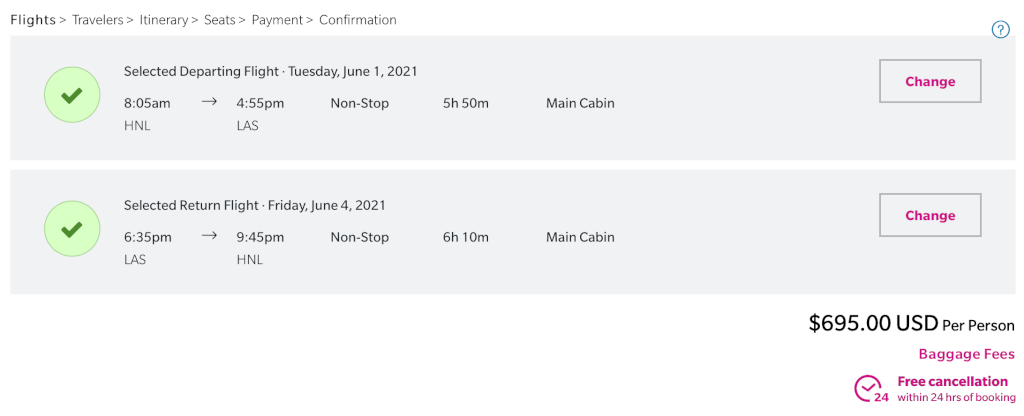 What Fares Look Like When Southwest Commences Service
Now, let's take a look at what fares look like in Southwest's first week of Honolulu-Las Vegas operations. First up is Hawaiian. Here, we see roundtrip fares in Main Cabin running from $518 to $604 roundtrip. Of course, that's not all. If you don't have a Hawaiian Airlines World Elite Mastercard, you'll need to throw on another $30 for your checked bag each way. So, that brings our total up to $578 to $664.
Southwest's fares? $308 roundtrip. That's it. Remember, Southwest doesn't charge for checked bags – you get two free.
Looking towards the end of Southwest's current schedule in October, Hawaiian is charging between $508 and $519 roundtrip in Main Cabin. Add in a checked bag and we're looking at $568 to $579
Interestingly, Southwest's schedule has only one flight in October. Their initial announcement said that they'd operate Honolulu-Las Vegas twice a day. So, either they didn't load the entire schedule in, or the second daily flight is only seasonal?  At any rate, we're looking at $343 roundtrip, which is $225 less than Hawaiian when accounting for a single checked bag.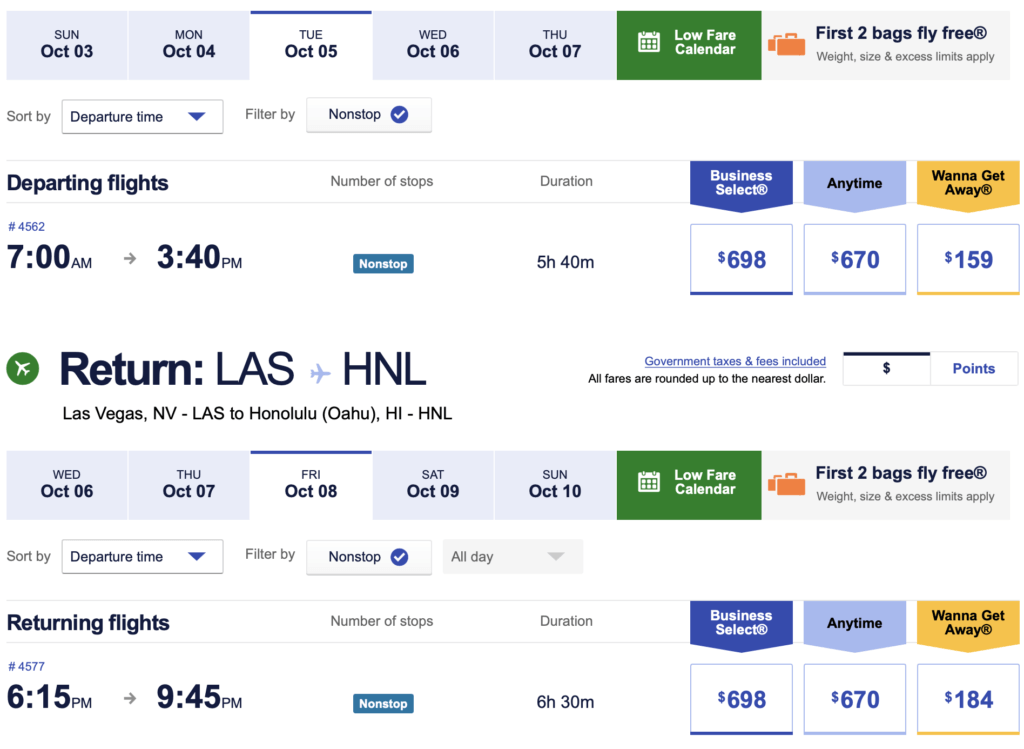 Award Fare Comparison
Now that we know what cash fares look like, let's look at what award fares look like between to two. Spoiler alert, Southwest is still far cheaper.
Starting with Hawaiian, it's important to note that Hawaiian Airlines World Elite Mastercard cardholders enjoy reduced award rates – a base of 35,000 miles versus 40,000 miles. As you can see, in early June, cardholders can get a roundtrip flight for 43,750 miles, while non-cardholders will need to redeem 50,000 miles. In October, we're looking at 43,750 miles to 52,500 miles for cardholders or 50,000 miles to 70,000 miles. Hawaiian's redemption rates give you a redemption value of roughly $0.013 per mile.
Southwest Rapid Rewards is a revenue-based system, so prices vary based on the cash price of the ticket. So, in June, we're looking at 21,375 Rapid Rewards points for a roundtrip flight. In October, you're looking at 24,253 points roundtrip. Both redemption scenarios give us a value of roughly $0.014 per point.
How to Earn Your Miles and Points
I won't get too much into this, as I covered this topic in my 2021 Hawaii Credit Card Award Travel Guide, but, here's a high-level overview. Based on an annual credit card spend of $36,900 spread across a variety of categories, you'd earn 52,700 HawaiianMiles using the HawaiianAirlines World Elite Mastercard. That card carries a $99 annual fee, which makes sense to have if you travel on Hawaiian enough to recoup that cost in checked bag fees.
While Southwest does have a card of its own issued by Chase, I prefer to earn Chase Ultimate Reward points and transfer them to Southwest Rapid Rewards. Why? Because with the Chase Sapphire Preferred ($99 annual fee) plus the Freedom Unlimited and Freedom Flex, you can earn a total of 85,000 Ultimate Reward points which transfers 1:1 to Southwest Rapid Rewards. Get the Sapphire Reserve along with the Freedoms instead, and you can earn 89,100 points per year.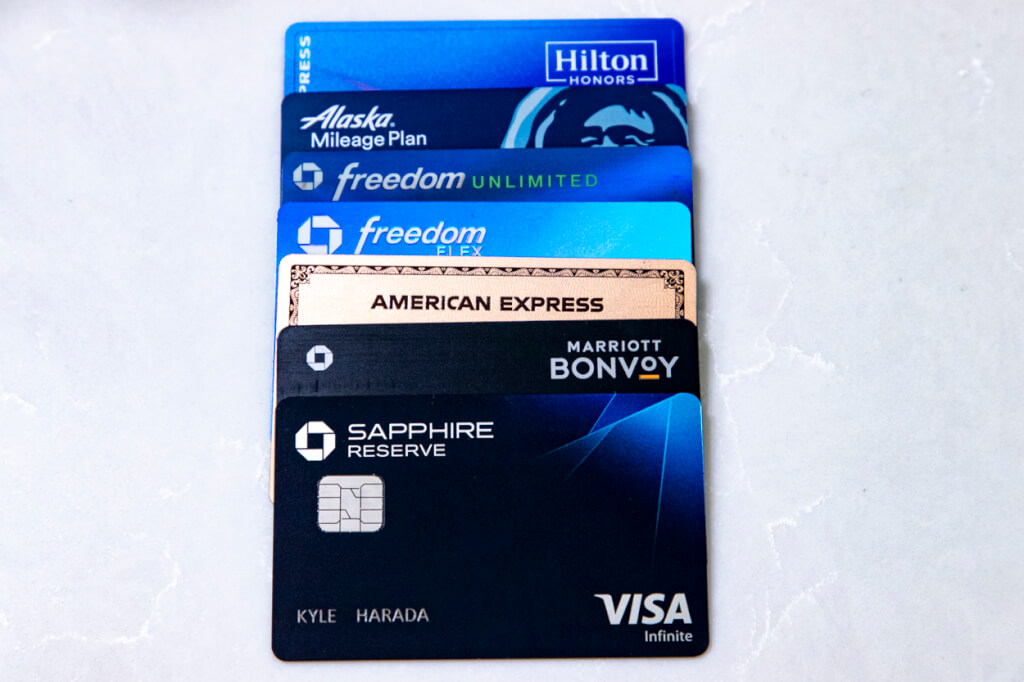 Going the Hawaiian route, you'll earn enough for about one roundtrip ticket per year. However, going with Chase cards and Rapid Rewards, you'll earn enough points for three roundtrip tickets on Southwest! And that's with all the same AND the same annual fee.
Of course, if you really want to fly Hawaiian and go the Chase route, you can transfer your points to Virgin Atlantic instead. That way, it'll cost you 40,000 miles roundtrip, meaning you can earn two tickets per year.
Honolulu – Las Vegas Airfare Comparison, Final Thoughts
Obviously, my Honolulu – Las Vegas airfare comparison between Southwest and Hawaiian isn't super comprehensive. Airfare can fluctuate wildly day-by-day and by season. So, you could find lower fares than I'm presenting here, or you could find higher fares. This is really meant more as a way to give you an idea of what we're dealing with. Of course, Hawaiian could also choose to get super aggressive and match Southwest's pricing, but I guess we'll have to wait and see.
Outside of the pricing comparison, there are other factors to consider too. I know some people refuse to fly Southwest because of their location at HNL and their lack of jetbridges there. For others, it's the lack of first class, Extra Comfort-like seats, smaller aircraft type, absence of seatback entertainment, or even the lack of meals. But, there's no doubting that, at least for now, Southwest is cheaper. And, while Southwest may not have all the amenities Hawaiian does, they do have live TV streamed to your phone, an extensive library of movies and TV shows, affordable satellite wifi that works over the ocean, and the fantastic Companion Pass for those of you that fly a lot.
For me, though, this is often going to be very schedule-driven. I primarily travel to Vegas for work – though who knows when I'll be able to do that again. As a result, I typically like to take the redeye in to maximize my time on the ground. But, historically, I fly out of Vegas using Alaska instead with a stop in SFO or SEA. This way is often cheaper and gets me a better departure time. What airline you choose, though, will depend on what you prioritize.