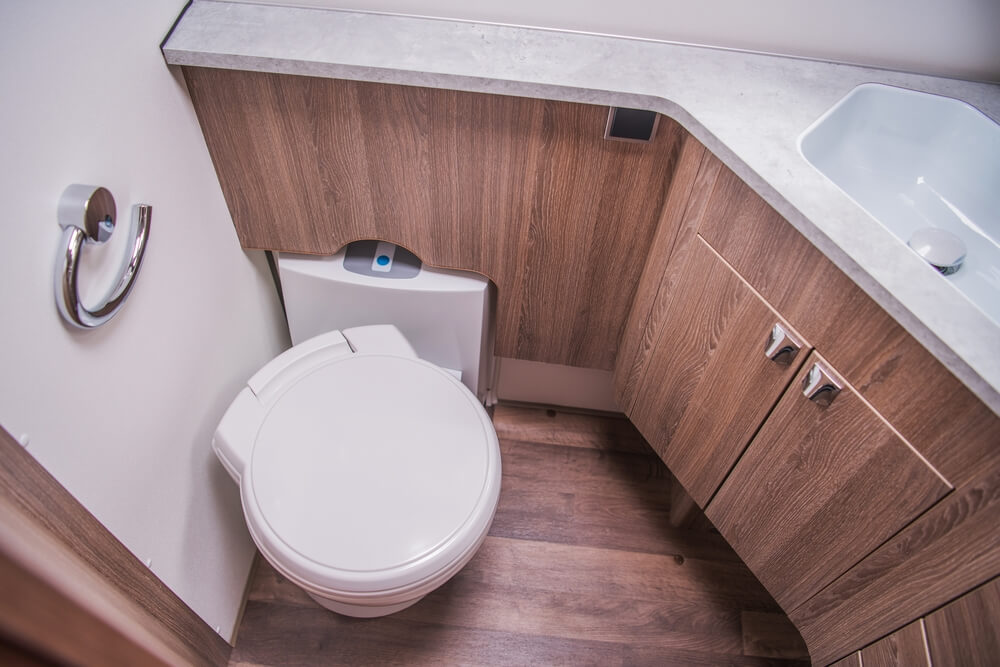 All of our reviews are based on exhaustive research, industry experience and whenever possible, hands-on testing. When you make a purchase using one of our chosen links we'll a small percentage of the proceeds. This supports the site and keeps Jeffsetter running. You can read more here.
There is a long list of things you don't want malfunctioning while traveling in your RV. Near the top, is probably your toilet. Luckily, for the most part your rig's toilet is usually not susceptible to malfunctions or damage. After all, it's far from the most complicated or fragile piece of equipment in your RV. However, while chances are you won't have to encounter many problems with your toilet itself, the mechanisms that support it may not leave you so lucky. A common one to encounter is when you are going to flush your toilet yet no water enters the bowl.
It is very frustrating and leaves you wondering, why won't my toilet fill with water?
If your RV toilet won't fill with water, it is most likely an issue with the water supply valve. If the valve is damaged, stuck, or switched off by accident it will prevent water from entering your toilet. Less commonly, the issue may also be due to a problem with your RV's water pump.
Let's dive deeper into each of the reasons for why you may be encountering this problem
Three Possible Reasons Your RV Toilet Won't Fill With Water
Water Supply Valve Issues
This is the most common reason for why your toilet may not be filling up with water. The water supply valve is responsible for sending water from your RV's fresh water tank into the toilet bowl when you flush. It is usually located behind or to the side of the toilet near the floor.
You can usually find it by simply following the hose near your toilet as it is attached to the valve. The reason this valve is there is also to allow you to cut the water supply to the toilet in the event of a leak. It also is necessary in case you or someone else needs to work on the toilet. It's function usually goes unnoticed, but once you need it you'll be glad you had it.
So why would it prevent water from entering your toilet bowl? Well, there is a chance you may have just accidentally switched it off without realizing it. If that is the case, you have nothing to worry about. The valve is easy to access and you can just switch it right back on. However, if this is not the case, and you checked your valve to see if it is correctly switched on, then you'll need to begin troubleshooting.
Your water supply valve may simply be stuck. This is easy to identify, all you have to do is try and switch it one way or the other and if it doesn't budge, there you go. This can be a result of age, rusting, or other sorts of wear and tear due to lots of water contact. Removing the valve from the hose and inspecting it may be enough to fix the issue. Sometimes, all it needs is a good cleaning. If the buildup is too severe, then you'll want to replace the valve itself.
Replacing the valve would also be necessary if your current one is damaged. This would certainly prevent water from entering your toilet bowl. Wether the valve is damaged or not will become apparent either by looking at it or trying to use it.
Once again, a lack of cleaning over a long period of time can result in this. Additionally, excessively high water pressure over time can also damage the valve. This usually happens when your rig is hooked up to a campsites amenities and you don't adjust for the potentially high pressure they may use.
If your valve has been damaged or worn out, you'll need to replace it. Fortunately, water supply valves are typically very affordable with most being around the $15-20 range.
Water Pump
Your water supply valve is not the only reason why water may not be filling up your toilet. Your RV's water pump is another culprit to watch out for.
In older rigs, the water pump can become susceptible to burning out when left on for too long. When your RV is not hooked up to water amenities, it will pull from your fresh water tank when it needs to. To send water from the tank to your faucets, toilet, shower and other appliances, your rig uses the water pump. When turned on and in use, your pump will do what it is deigned for. However, if left on without actively using any appliances that need water, your pump can become burned out. This will prevent it from working in the future and stop water from entering your toilet.
Newer rigs tend to have a system in place to combat this. If they are left on and are being over-worked as a result, the water pumps will automatically shut off to prevent a burn out. However, if you are unaware of this, then all of a sudden your water pump will stop sending water to you toilet and you won't know how to fix it.
That is why it is important to be aware of your rig's water pump function and act within its means if you don't have access to another water supply.
General Water Shut Off
A fairly uncommon reason for why water is not entering your toilet bowl is due to a general water shut off at the place you are camped at. Most campgrounds or facilities will send out a notice ahead of time if their water supply is going to be shut to all campsites. Although sometimes, there is no warning. This can be frustrating as it leaves you troubleshooting despite there being no problem with your rig. A quick way to test this out is to see if the problem is localized to your toilet or if all your appliances are not receiving water. Then you can head to other campsites and see if their water hookups also work or not.
Closing Thoughts
Wether its your water supply valve, water pump, or the area you are staying at, a lack of water to your rig's toilet is never fun.
Luckily, both your rig and toilet were designed with a lot of similar problems in mind. That way, when you go to troubleshoot, you'll find it to be quite simple. Chances are, you won't need to replace your toilet or rehaul your rig's plumbing. It's also rarely a result of a clogged toilet. With the information you now know, if you ever encounter this problem you'll have already solved it in no time!