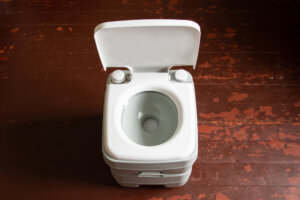 All of our reviews are based on exhaustive research, industry experience and whenever possible, hands-on testing. When you make a purchase using one of our chosen links we'll a small percentage of the proceeds. This supports the site and keeps Jeffsetter running. You can read more here.
Heading out in an RV knowing you have everything on board that you need is a great feeling. Being able to sleep comfortably each night, shower, and use the toilet whilst parked in the middle of a forest or at a lake is what camping is all about. Speaking of bathrooms, there are many types of RV toilets available, each one different from a regular toilet, and offering diversity from the last.
So, what types of RV toilets are there?
The traditional gravity flush toilet is the most common. Cassette toilets are great for smaller RVs, macerator and vacuum toilets help unclog blockages and allow for a more powerful flush. Composting and dry flush toilets are waterless, portable toilets are great if you're often changing from RV to RV, and incinerator toilets turn waste to ash.

RV toilets are a key component for happy traveling, regardless of the kind of toilet you have in your rig. With technology ever-changing, however, there are now more RV toilets to choose from.

Each RV toilet has benefits along with drawbacks, and that's exactly what we get to the bottom of in our list of toilets available on the market today. By delving a little deeper into RV toilets, you may be tempted to upgrade or change around your bathroom system for a more convenient, comfortable RVing experience.
Types Of RV Toilets
Traveling in an RV equipped with a bathroom is a game-changer for comfortable RVing with the whole family, but is there a toilet system that could work better for you?
Whether you've just started out on your RVing journey and want to learn more about RV toilets, or are experiencing issues with your current toilet setup, exploring various options can be helpful and informative.
1. Traditional Gravity Flush Toilet
A traditional gravity flush toilet is one of the most common toilets to find inside an RV. These toilets don't look too dissimilar from household toilets, so they are a relatively comfortable and familiar option to go for. In place of a typical toilet flush handle, gravity flush toilets tend to have a foot pedal which when pressed, releases a small amount of water to clean the toilet bowl and the waste is then released into the black tank of the RV.
As gravity flush toilets don't require electricity and use minimal water, they are a great option for RVing, especially for those looking to boondock. Containing waste in the black tank means you'll only have to visit the dump station when it's time to empty it. This means plenty of time spent on the road rather than sitting at the campground, although large families may find they fill up a black tank from using a gravity toilet quite fast!
Emptying an RV black tank is a simple job, so when the black tank is full, it's time to head to the dump station. Gravity flush RV toilets don't separate solid and liquid waste, so things can get a bit smelly during the emptying process. With the help of a sewage hose and RV dump station, however, your RV black tank will soon be fresh, empty, and ready to go!
Pros:
Affordable and readily available

Familiar toilet aesthetic

Easy to clean
Cons:
Blockages can occur in the tank

Mixing of solid and liquid waste can produce odor

Needs to be emptied at an RV dump station
2. Cassette Toilet
The humble cassette toilet. A popular option for tent campers and those traveling in small RVs, cassette toilets are a simple way of getting things done. They look like small portable toilets, however, there is a small tank attached to the underside of the toilet where the waste is held. Many cassette toilets have a built-in flush system with a push flush which releases a little water after flushing.
Other cassette toilets may need plumbing into the RV's system, but either way, these toilets often need a little extra love and care. Chemicals are usually needed to help break down the solid and liquid waste which can produce foul smells in the small waste tank each time the flush is used and waste is dropped into the tank. I have had my fair share of experience with cassette toilets over the years and I can safely say they aren't the ultimate RV toilet type for me!
Cassette toilets are simple to use and install, but they require frequent emptying, especially if there's more than one person on board. They are also a pretty stinky option! When it's time to empty one of these types of RV toilets, the bottom needs to be detached and the waste poured out from a pipe connected to the holding tank. It's not the most pleasant job, and it does mean getting a bit close to waste, but cassette toilets are a simple toilet system that beginner RVers may love.
Pros:
Simple to use

Convenient when near a dump station
Cons:
Hands-on emptying approach

Mixing of solid and liquid waste can produce odor

Leaking can occur over time
3. Composting Toilet
Dry toilets exist in the RV world, and one style is composting toilets. The key difference between a composting toilet and the other options we've talked about so far is that solid and liquid waste is typically separated. This limits odors for a far more pleasant RV and toilet experience for everyone traveling in the rig.
As composting toilets don't require any water, they are a fantastic option for the eco-conscious and those wanting to head off-grid for a while, park under the trees, and not rely on a campground or dump station for toilet matters. Liquid waste in composting toilets tends to be held in a container that can be poured into public toilets or emptied at a dump station.
Solid waste usually needs to be mixed with some sort of dry, composting material like sawdust which helps break down solids into compost, and aids in limiting bad smells too. Composting toilets are becoming an ever-popular option for RVers, as they are environmentally friendly, require no water or chemicals, and allow adventurers to stay out in the wilderness for longer without needing to empty the toilet.
I've used a composting toilet for the last couple of years in my RV and I haven't turned back. They are a little pricey, but composting toilets are effective and easy to use for full-time RVers like me, living life on the road in a camper van!
Pros:
Saves water usage

Separate solid and liquid waste means minimal smell

No risk of clogs or blockages
Cons:
Hands-on emptying approach

Needs to be emptied, cleaned, and maintained often
4. Incinerator Toilet
I think it's safe to say that we all have upgrade ideas and dreams for our RVs, and one of these for me is fitting an incinerator toilet into my rig. Incinerator toilets are on the expensive side, hence why I haven't yet purchased one! They are, however, one of the most user-friendly types of RV toilets on our list as any waste gets incinerated and transformed into ash.
One of the things I love about incinerator toilets is that there's no need to get up close and personal with any waste whatsoever! The incineration process takes care of that, by heating the toilet bowl and essentially turning waste into nothing. Simple to use, with no water or electricity required, incinerator toilets are a game-changer for RVing, as a trip to the dump station is never needed!
Incinerator toilets need to be vented out from an RV because of the incineration process involved when breaking down the waste. This may not be possible for all RVers, especially those with solar, a roof rack, and other components taking up space on their roof. These types of RV toilets are ideal if you have the budget, space, and means to fit one into your rig.
Pros:
Quick, easy, and effective

Odor-free as the toilet is vented from RV

No stored waste as all that's left is ash
Cons:
High price point

Needs to be vented
5. Macerator Toilet
A macerator toilet is a step up from a traditional RV gravity flush toilet as it has an additional feature. Essentially, a macerator toilet grounds up waste in the tank to help unclog blockages and prevent future ones. The macerator breaks up any existing clogs in the tank so waste can easily be removed from the tank. These kinds of toilets tend to need an electricity supply to operate, so this is something to be mindful of if you have a small electrical system in your RV or would prefer an electric-free option.
In contrast to gravity flush toilets, macerator toilets usually have a much smaller hose. On one hand, this means emptying waste is a little easier, but on the other hand, it can take longer to empty the entire tank. It's wise to stay right by the hose whilst emptying the macerator toilet, as the last thing you want is anything to build up in the hose, create pressure, and power waste out suddenly.
There are arguably more potential issues with a macerator toilet since it has an additional function. With care, attention, and maintenance, however, this type of toilet should last for many adventures, keeping blockages and smells at bay!
Pros:
Breaks down waste to avoid clogs

Macerates existing blockages in the tank

Easy to use and empty
Cons:
Expensive

Requires electricity
6. Portable Toilet
Portable toilets do what they say in the name – they are portable and can be taken pretty much anywhere. These types of toilets tend to be affordable as they are so simple, but they are a great choice for solo RVers or those looking to camp for only a few days. Portable toilets can be similar to cassette toilets, with a small tank underneath which stores all of the waste.
This waste then needs to be emptied at an RV dump station which isn't the nicest job. The only option is to pour the tank contents out and try to rinse the inside the best you can. Portable toilets can be difficult to clean and with solid and liquid waste being mixed, it's not uncommon to experience foul odors from a portable toilet.
The tanks on these toilets are small, and can't cope with more than a few days of use, especially if the whole family is coming on vacation. Therefore, a portable toilet will have to be emptied regularly to avoid leaks and over-filling. For avid boondockers or those who love spending weekends off-grid, portable toilets aren't the most fitting choice as they require too much attention and maintenance.
Pros:
Affordable

Ideal for solo travelers

Space efficient
Cons:
Mixed solid and liquid waste leads to smells

Unpleasant, up-close, emptying process
7. Dry Flush Toilet
As the name suggests, a dry flush toilet requires no water to function. Instead, a dry flush toilet has a specific cartridge and liner that contains solid and liquid waste. When the toilet is flushed, the bag gets sealed and stored. As there is a consistent need to purchase cartridges and liner bags, the cost of a dry flush toilet can be expensive in the long run.
The way in which a dry flush toilet works means never having to get close and personal with waste again! The toilet takes care of this, all without draining the fresh water supply on board the RV. As the bags are sealed airtight, no odor can escape and make the bathroom in your RV smell.
The bag of waste can then be disposed of in an appropriate dumpster that accepts this kind of sealed waste. Being able to spend less time at the dump station and more time traveling and exploring the open road is a goal for so many, and a dry flush toilet is an awesome way of getting one step closer to this.
Pros:
No odors

Easy and clean to empty

Readily available
Cons:
Pricey in the long run

Limited number of flushes per cartridge
8. Vacuum Toilet
A vacuum toilet in an RV is similar to a macerator toilet since there's usually a macerating pump involved in the flushing process. The vacuum system allows for a more powerful flush, which with the help of a macerator, breaks down any waste so blockages and clogs can be avoided.
Waste is then flushed into a black tank where it can then be drained and emptied at an RV dump station. As the waste is broken down before landing in the tank, the chance of experiencing clogs is considerably lowered, making the emptying process much easier. This also includes toilet paper, which can sometimes be a nightmare with RV toilets, getting stuck and creating a mound that's tricky to shift.
Vacuum toilets put a stop to these issues, making for peaceful camping trips for many seasons to come! They can be a little noisy when in use, but once you're familiar with how they work and the sounds they produce, vacuum toilets may be the upgrade you've been looking for in your rig.
Pros:
Reduced risk of clogs and blockages

Breaks down toilet paper
Cons:
Electricity required

Noisy
Closing Thoughts
The different types of RV toilets available each have advantages and disadvantages worth exploring if you want to upgrade or change the bathroom situation in your RV. Some toilets are water and electric-free and are suited well to boondockers and off-gridders, while other options are more simplistic but have a far lower price tag!
Regardless of the RV toilet you decide to go for, with correct installation, use, and maintenance, you shouldn't experience too many problems going forward. Just remember to always be respectful and dump waste appropriately in the correct locations.