Last updated on September 21st, 2023 at 12:16 pm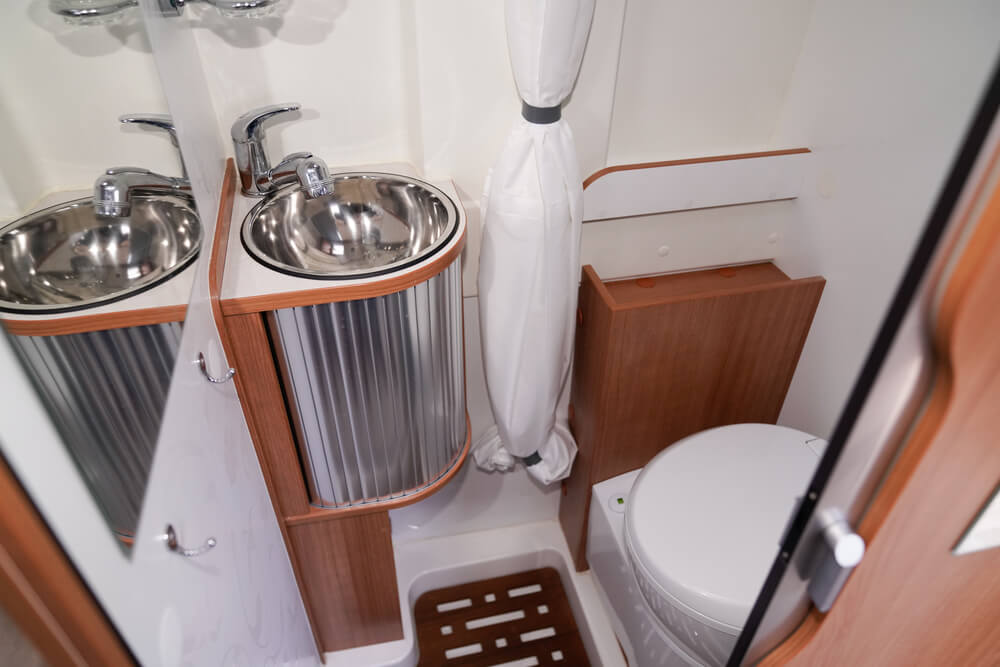 All of our reviews are based on exhaustive research, industry experience and whenever possible, hands-on testing. When you make a purchase using one of our chosen links we'll receive a small percentage of the proceeds. This supports the site and keeps Jeffsetter running. You can read more here.
There's nothing more anxiety-inducing than seeing your RV toilet foot pedal leaking. While a leak anywhere in your RV is cause for concern, knowing something is wrong with your RV plumbing can be devastating. What does it mean when you experience this leak?
Why might you be seeing your RV toilet foot pedal leaking?
Your RV toilet foot pedal may be leaking because the foot pedal is broken, or because of the weather, the age of the unit, and the buildup of sediment within your toilet. You'll have to check all toilet components for worn or broken parts and possibly replace the foot pedal or the whole toilet.
There are a number of possible issues causing a leaky RV toilet foot pedal and we will discuss them one by one and in depth. We will also discuss the many ways in which you can fix this common issue without spending too much or having to call an expert, and what you can do to prevent this issue in the future.
So, if you have a leaky RV toilet foot pedal, this is your guide on how to fix it. Let's get started!
7 Causes Of RV Toilet Foot Pedal Leaking
Before you can fully solve a problem, it is important to know what caused it. Let's go over some of the most common causes of your RV toilet foot pedal leaking.
1. Sediment Buildup
One of the most common reasons why your RV toilet foot pedal may be leaking is due to sediment buildup on the pedal itself. This happens over time or with frequent use, especially if you use your RV heavily during a particular season and then let it sit for some time.
A variety of sediment or build-up can occur around the foot pedal, making it difficult or leaky when flushed. However, this can solved easily by repeated flushes and movement of the pedal. Be careful when attempting this process, as you run the risk of damaging the foot pedal too, so go gentle!
2. Cold Weather
Cold weather plays a part in a lot of different RV systems. Your RV toilet may be suffering from cold weather without you even knowing! One of the first questions you should ask yourself when considering whether or not the climate has affected your toilet foot pedal is: Have you been using antifreeze in your RV plumbing?
Antifreeze isn't just something we use in automotive vehicles; it should be used in your RV too, especially when storing it over the winter months. Your toilet foot pedal may be leaking because of frost or ice buildup within your toilet or plumbing system. The pedal may have cracked or been otherwise damaged by expanding ice during the coldest parts of the year.
RV toilet foot pedals aren't indestructible… far from it, in fact! They easily crack or break in cold weather or winter climates, so this is something to keep in mind when assessing your leak. When winterizing your rig, remember that RV antifreeze is very different from conventional antifreeze. It's vital to use the right product to avoid putting dangerous chemicals such as ethylene glycol through your RV plumbing system.
3. General Use Or Wear
Sometimes, things just break, and your toilet foot pedal or RV toilet may be one of them. Leaks are a part of RV plumbing, especially if you use your RV frequently or have a particularly old RV (like mine!). It's important to perform routine inspections on your RV systems, such as the electrical cords, plumbing, and propane lines.
However, leaks and damage may occur in locations you can't see, or parts of your RV may break suddenly and without warning. Your RV toilet foot pedal may be leaking because it's simply old or worn out. Thankfully, the majority of every RV is replaceable, should you know what part to purchase and how to install it. That may be where things get tricky!
4. Rust Or Rusty Parts
Similar to sediment or buildup, rust, and rusty parts can occur within your RV toilet, including the RV toilet foot pedal. You may notice some resistance or bubbling when you flush, or perhaps you can see bits of rust and debris in the water that leak from the pedal itself.
The toilet pedal may simply be old and in need of replacement. It's also worth considering the ways in which you store your RV and your RV plumbing system. Leaving water inside the RV when it's off the road for winter isn't a good idea. it can freeze and expand, cause leaks, and also allow rust to build at a scary-fast rate.
5. Broken Foot Pedal
Sometimes after many years of repeated use, an RV toilet foot pedal can simply break or fall off. This can cause leaking, so you'll need to replace the broken pedal with a brand-new one. There are many different kinds of RV toilet pedals available on the market but you'll need to purchase the right pedal for your specific toilet.
Buying a different one than what's recommended by your toilet manufacturer could result in the pedal not fitting correctly and leaking in the future. To avoid any regrets and stay on the safe side, stick to buying the exact pedal your toilet needs!
6. Internal Components Worn
If you are experiencing leaking from your RV toilet foot pedal, and it's also harder to use, there could be a few things going on. If your pedal feels stiffer than usual it may be caused by an internal component that's become worn out. Take a closer look at the internal components and connections to see if there are any visible faults.
If the spring has broken or parts have worn away, you should be able to find replacements online or at an RV hardware store. These parts should be inexpensive and relatively easy to fit, so take things slow and steady and you'll have a working foot pedal in no time!
7. Faulty Valve
The valve of the foot flush can become faulty, and if this happens, a small leak may appear underneath the foot pedal. Taking a closer look inside will reveal whether or not the valve is causing the leak, and if so, the valve will need replacing, as talked about in the video below:
Replacing the RV toilet foot flush valve should stop the leaking, making your toilet efficient and functional again!
How Does An RV Toilet Foot Pedal Work?
Before diving into any repairs on your foot pedal, it's essential to understand how the mechanism works. RV toilets are unique from residential toilets in both the materials used and the design or mechanics that are utilized. The very fact that the flushing mechanism is located at the foot of the toilet is something RVs have, while residential homes don't.
Understanding your RV toilet foot pedal before you repair it yourself is important and means the repair should go smoothly. I highly recommend watching the video below, all about how RV toilet foot pedals work. It's also an easy-to-follow guide for how to replace a foot pedal too!
While you may find you don't need to replace the foot pedal, it may be worth doing so rather than attempting to repair it. RV toilet foot pedals are inexpensive, and you may run into more hassle trying to repair one than spending a few dollars on a replacement.
How To Fix An RV Toilet Foot Pedal Leak
If you know you have an RV toilet foot pedal leak, how can you best fix it? Here are our top solutions worth trying if you have a broken RV toilet foot pedal.
Check All Toilet Components
If your RV foot pedal is leaking, you may find it's more than the simple lever itself that's broken. There are more components to an RV toilet than you may think, and some of them are more likely to cause leaks than others. This is why it's vital to know exactly where your toilet is leaking from. You may not be experiencing a leak from your toilet foot pedal. It could be a leak in your toilet seal or even the bowl itself.
However, if you know the leak is coming from your toilet foot pedal, you need to remove it carefully. I highly recommend taking photos of this process so everything goes back together the way it should. It can be very easy to get lost when making RV repairs!
Lubricate Parts And/Or Repair Damages
Once you've found the point of the leak, you can begin the process of cleaning, lubricating, and repairing any potential damage to the pedal itself. This may feel like a time-consuming process, but it's necessary for stopping the leak. I recommend purchasing a toilet lubricant like this one from Thetford.
Thetford is one of the biggest RV toilet brands in the business, so their lubricant is excellent for toilet repairs. I also recommend reattaching the foot pedal and testing the toilet for leaks as you lubricate and repair it. While this may seem tedious, it's one of the only ways to ensure the repairs are working well!
Use Tank Cleaner Or RV Toilet Paper
If you experience regular leaking and find that your repairs or replacements aren't helping you fix the problem, you may want to consider preventative care. Protecting your toilet for the life of your RV involves a few different products, namely tank cleaner or treatments, and RV toilet paper.
There's a lot of debate surrounding RV toilet paper and whether or not it's even necessary. If you are struggling with buildup and residue inside your RV toilet and black water tank, you may want to purchase RV toilet paper and see if it makes a difference. Having an option that dissolves easily may make all of your problems go away.
You should also consider utilizing RV tank treatment or cleaner. These chemical products break down and dissolve any solid waste or material found in your black tank, leading to a more efficient plumbing system overall. If you think residue and buildup are why your RV toilet foot pedal isn't working, I recommend using both of these products.
Replace The Toilet Foot Pedal
Sometimes, our best work just isn't enough, and you may find you need to fully replace your RV toilet foot pedal. This is easier to accomplish than you might think, and it's likely what you'll need to do, no matter how much preventative maintenance and care you take.
There are many components inside an RV toilet foot pedal that can simply break. Age, wear, and tear are not usually things you can prevent, so it may be in your best interest to simply replace the foot pedal to begin with, rather than waste your weekend trying to repair your RV toilet.
Foot pedals are affordable and fairly easy to replace. Keep this in mind when you start to troubleshoot why your RV toilet is leaking; you may find this is your best and first option!
Replace RV Toilet
If all the previous steps fail to stop the leak, you may simply have a cracked or broken toilet. An RV toilet bowl can break due to age or stress on the road while driving, and you should try whatever other options you can before replacing the entire unit.
However, RV toilets are not terribly expensive in the grand scheme of RV repairs, so it may be time for an upgrade. Remember to never put a residential toilet into an RV, given the fragility of porcelain in a moving vehicle. You don't want another toilet leaking, do you!?
What If My RV Toilet Foot Pedal Is Stuck Or Broken?
If your RV toilet foot pedal is stuck in an upward or downward position or is otherwise broken, you may want to make repairs sooner rather than later. There are a few reasons why this might be the case, including buildup, rust, or other debris caught in the mechanisms.
You'll need to turn off the water leading to your toilet, as a foot pedal that's stuck in a downward position will continue filling the toilet bowl with water. You don't want a flooded RV, I'm guessing! The most likely solution for you is to gently remove the mechanism and clean it using soapy water, and perhaps even a basic mechanical lube.
You want to ensure the mechanism is operating completely before reinstalling it onto your toilet. Again, if your foot pedal remains stuck or otherwise incapacitated, you should consider replacing the mechanism or pedal entirely. This may be your best bet when dealing with a repair of this nature.
Where Else Do RV Toilets Leak?
If you don't think your RV toilet foot pedal is the problem, but you still have a leak, you may want to consider making additional repairs to your toilet. Some of these repairs may include:
Replacing the toilet flange seal (the component that connects your toilet to the floor). A very inexpensive and simple repair overall, besides the need to remove the entire toilet
Tightening or replacing the water valve or mechanism. Can be more costly if a certain component is broken or damaged
Replacing the toilet ball seal (the component that keeps water inside of your toilet bowl). Extremely simple and easy to repair, but often doesn't lead to water leaking onto your floor
Sealing the toilet bowl itself (though replacing the entire toilet is recommended). May be inexpensive, but it's unlikely that the repair will hold up over time
Given just how many different locations your RV toilet may leak from, you should take your time and assess the leak in detail before jumping to conclusions. Chances are, your rubber valve seals are simply wearing out and it's time to replace them.
However, seeing a leak forming under your RV toilet foot pedal is usually pretty obvious. You may only have to replace it without diving any deeper into your toilet repair- this is a blessing in disguise, trust me! The less you have to deal with your RV toilet, the better.
Final Thoughts
Seeing your RV toilet foot pedal leaking is never a good thing. Thankfully, there are a wide number of solutions for you to try, including replacing the pedal itself. While no one likes getting dirty, this is one repair that you'll be thanking yourself for and your RV will too!