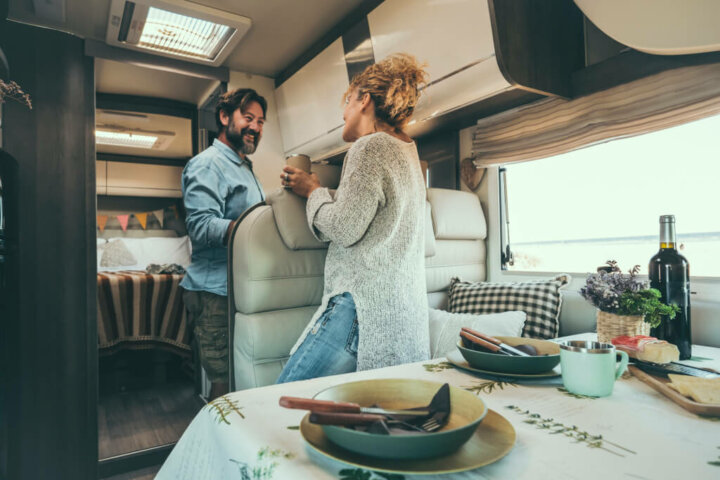 All of our reviews are based on exhaustive research, industry experience and whenever possible, hands-on testing. When you make a purchase using one of our chosen links we'll get a small percentage of the proceeds. This supports the site and keeps Jeffsetter running. You can read more here.
Your RV comes equipped with a ton of furniture and appliances to make it as comfortable as a living space on wheels can be.
For many RVers, the dinette in their rig does not just serve as a place to eat their meals, but it also has the ability to convert into an extra bed. Now talk about extra comfort!
With that being the case, it never hurts to look into ways to make that setup as comfortable as possible. Especially since a dinette bed usually isn't going to be as nice to sleep on as a king-size mattress for example.
So, how can you make an RV dinette more comfortable?
An RV Dinette can be made more comfortable by using all the things you might use on a regular bed. Using soft pillows, a small mattress, and reinforcing the dinette are some of the options available to you.
Let's dive deeper into the many different ways you can make your RV dinette more comfortable.
How To Make An RV Dinette More Comfortable?
Depending on your RV, dinette set, your aesthetic, and personal preference you may prefer one option over another. Either way, there are a lot of options that you can use to make your RV dinette more comfortable.
A Small Mattress
Probably one of the best ways to instantly make sleeping on your RV's dinette bed a better experience is to use a small mattress.
Especially where sleeping is concerned, the addition of a compact mattress is super helpful. It provides support, and comfort while requiring basically no effort to use on your dinette bed.
The word small is key here because most likely your RV's dinette bed is not very spacious, and keeping an oversized spare mattress on hand poses a lot of potential storage problems.
Imagine trying to travel with a large mattress in your rig. Considering that RVs can easily feel packed with just a few things on board that is the last thing anyone would need, even fitting it through the door can be a nightmare. A small mattress won't instantly solve every storage issue, but it will certainly make it easier.
If storage really is a massive issue, mattress pads, roll-up or foldable foam pads, and even blow-up mattresses are all good alternatives as well.
Pillows
As great as a good mattress can be, it's definitely not the only thing you'll need to make your dinette comfy. A good set of high-quality soft pillows will work wonders in making your RV dinette feel like home.
When paired with a good mattress, pillows will help you with neck and back support while also making falling asleep and staying asleep way easier.
Additionally, when your RV dinette is not being used as a bed, having soft pillows around the cushions can make sitting around the dinette super comfortable.
That's why pillows will rarely pose any storage problems. They can fit neatly into most closets and in all of your rig's storage compartments, plus if you're placing them around the cushions of your dinette, you can probably just keep them there.
Removing The Dinette Table
Speaking of sitting around the dinette, if you find that you rarely use the large table that sits in between the dinette set, you can remove it entirely. After all, every time you convert it into a bed you temporarily remove the table anyway.
Unless you absolutely need it, removing the table instantly frees up a ton of space for when you or others are sitting by the dinette. With that free space, you're free to do even more with it, including adding extra modifications to make it more comfortable or decorating it to fit your personal aesthetic.
Using Foam On The Seats
Keeping with the topic of sitting around the dinette, another option that you can use to make it more comfortable is using foam on the seats. Some dinettes naturally have pretty uncomfortable cushions and others simply become worn out from constant use either from your family or your enthusiastic pets.
Either way, some foam toppers on the seats can be an instant fix. Using foam on the cushions is usually an easier and cheaper option than replacing or upgrading the cushions themselves. Good memory foam can be found almost anywhere and can be made to perfectly fit your dinette set and provide extra comfort.
More so, high-quality memory foam can "help support your body along the curves and natural lines of the body," WebMD explains!
Reinforcing The Dinette
Usually, when thinking of the dinette we think of the cushions and what we can place on them to make it more comfortable. While that is definitely important, the cushions on your dinette all sit on a base that is usually made of wood, and that base also plays a huge role in whether or not the dinette is as comfortable, stable, and sturdy as it can be.
Having another layer of wood installed above the base and below the cushions is a great way to reinforce it. Inspecting the base for any cracks or damage and fixing them will also keep your dinette reinforced for longer.
Doing these things will not only keep it more stable when you're using it but will also make sleeping on the dinette bed easier as whatever mattress you are using can sit more comfortably on the base.
Reinforcing the base can also go beyond the wooden structure itself. You can also use padding along the base to provide better support for the dinette set as a whole.
Foam, folded blankets, and other soft materials can all be used as padding. Not only does this help reinforce the base, but it will make a huge difference in making it more comfortable as the extra padding will definitely be felt when laying or sitting on the dinette.
Closing Thoughts
Your RV's dinette is a pretty unique piece of furniture due to its functionality. It can be used as a dining table, a place to sit, or even be converted into a bed. Its functionality gives you a ton of options when looking to improve it, especially where comfort is concerned.
With just a few changes or extra additions, your dinette set can become one of if not the most comfortable pieces of furniture in your rig.
Usually, everyone feels bad for whoever has to sleep on the dinette bed at night, but with the options outlined above, they might just end up with the best spot in the RV.