Last updated on June 23rd, 2023 at 08:51 am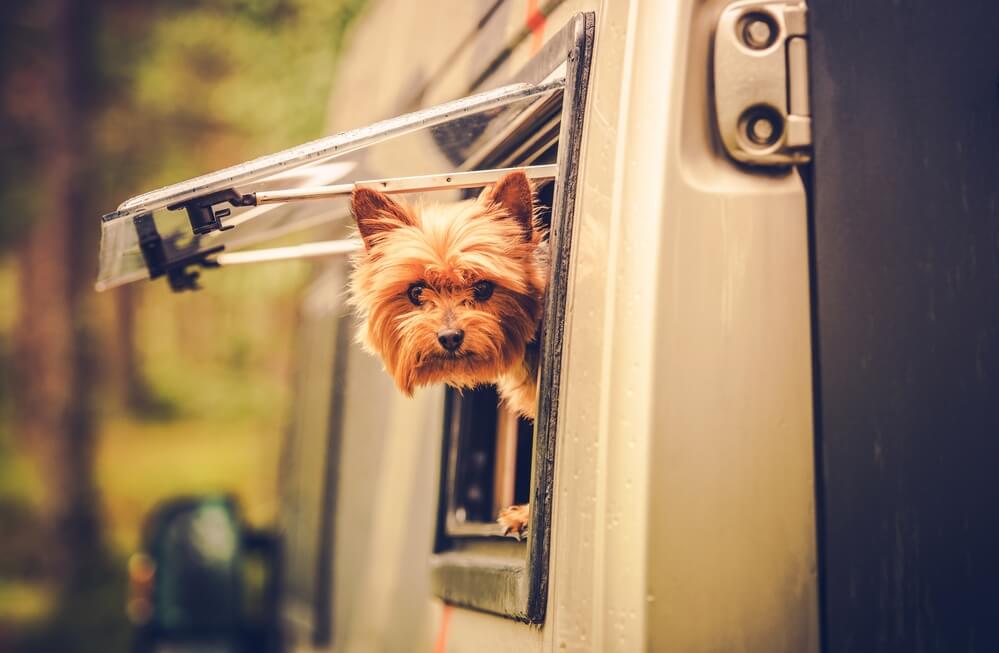 All of our reviews are based on exhaustive research, industry experience, and whenever possible, hands-on testing. When you make a purchase using one of our chosen links we'll receive a small percentage of the proceeds. This supports the site and keeps Jeffsetter running. You can read more here.
One of the best parts of RVing is spending quality time with family. Some of the best memories I have growing up are the RV trips we used to take during the summer and hanging out at the campgrounds with my dog Happy (yes, I was 6 when I named him).
After all, pets are family, too! I'm not the only one who thinks that either! The Associated Press reports that more than 65% of RVers bring a pet with them on their RV trips! While most RVers bring dogs (about 93% of people who travel with pets) cats aren't completely left out of the fun!
While you can convert just about any RV into a pet-friendly home on wheels, there are some RVs that are clearly better for traveling for pets of all kinds. We'll be looking at the best RVs for traveling with pets across several RV Classes. You can check out my favorites here, or keep reading to see individual reviews of each one.
What Makes An RV Good For Traveling With Pets?
Before we dive into the specific reviews of each RV it's worth talking about what actually makes an RV good for traveling with pets.
But it's not all about the rig- you'll also need to consider what kind of RVing experience you're looking for.
How Big Is The Rig?
When you're dealing with the very limited space inside an RV, every new occupant counts! Even if that new occupant is a 6-pound chihuahua! Then of course there's the space required for food and water bowls, toys, beds, and all the other pet accessories that you'll need to bring. For cats, you'll also need to find space for a litterbox!
Having a bigger RV will of course make the space issue easier but bigger isn't always better when it comes to traveling with pets.
While a huge Class A RV is going to give you plenty of space for people and pets, you're going to have a very hard time stopping at rest stops for frequent potty breaks and walks. A Class B RV on the other hand won't have any issues pulling over at a rest stop for a quick pee break for your pup.
Overall, larger RVs are great for cats who can have more room to roam and won't be going on walks as frequently. While smaller Class C or Class B rigs might be a better option for dogs who need to get out and about regularly.
What Kind Of Pet Owner Are you?
When it comes to living with pets in a traditional sticks-and-bricks home, what kind of pet owner are you?
If you're the kind of person who sleeps with a bed full of furry friends while you wear your dog hair sweater proudly, then you're probably ready to squeeze into a Class B or a smaller Class C RV.
But if you're someone who tries to keep your pets off the furniture and you've got a spare lint roller at work, in the car, and at home, then you're probably going to want at least a Class C RV to give yourself some space!
How Much Room Does Your Pet Need?
Then there's the consideration for your pet! While there's no RV large enough to give a dog proper exercise there is a big difference between a Class A and Class B – especially if we're talking about a little chihuahua!
However, it's not all about exercise alone! Your pet also needs to get some mental stimulation now and again! A larger RV gives your pet more space to play with toys or just get a different bit of scenery.
Temperature Control
It's absolutely critical you're able to control and monitor the temperature of your RV at all times. This means you also need to consider the entire RV and not just the driving area. Dogs and cats are suspectable to heatstroke and sadly it can happen faster than you might think. But it's not just the heat you have to worry about, you'll also need to protect your pets from cold weather, too.
Dogs can be especially vulnerable to heat depending on their body condition and coat. If you're traveling with northern breeds like a husky their thick coat (and undercoat) can quickly cause them to overheat.
So, if you're traveling with pets, a temperature monitor is pretty much required. Even though you should never make it a habit to leave your dog or cat in the car unattended there are some places that your pet simply can't go. While a quick stop into the store might seem harmless enough, you need to know what's going on inside your RV if you leave your pet alone for any length of time.
My favorite option is the completely wireless setup from Ideal Sciences called the Temp Stick. You can check out the latest price and read the reviews on Amazon by clicking here. You can also see it in action by checking out this video:
Monitoring temperature isn't really an option if you're RVing with pets- it's a requirement. It's just too risky to not know what's going inside your rig whether you're there or not.
The other thing to consider is how well you can manage the temperature inside your RV in the first place. You'll want to look at how many windows you have, the shades available, and the type of insulation in the RV.
Flooring and Fabrics
Accidents happen and even the most well-trained pups might have an emergency pee break inside your RV now and again. Then there's the issue of shedding and some material will more quickly attract hair and make it hard to keep your RV clean.
Avoiding carpet is pretty much a given since carpet will hold pet odors and make it harder to ever give your home that new RV smell. Luckily carpet is pretty rare in the RV world.
You'll also want to consider the material of your couch and bed. Some fabrics are simply better at limiting pet problems and microfibers are going to be your best. Synthetic leather is another good option and ultra-leather is one of the most popular and practical options.
Accessibility
How easy is it for your pup to actually get in and out of the RV? While it might not seem like a big deal to pick up your small dog and help them get inside if your pup is feeling particularly brave that day and decides to jump it could lead to an injury. Even if they're larger, older dogs might have a problem with larger steps, too.
While you typically don't have a lot of options when it comes to the clearance height of your RV, picking up a dog ramp can make things a lot easier. You can check out our 6 favorite RV-friendly dog ramps in this article.
The nice thing about the WeatherTech ramp is that it has a weight capacity of 300 pounds which means that most people can safely use it as well. That being said, many RVs come equipped with magic stairs that will extend and make it easy for pups to get inside. But for RVs like the Winnebago Revel that feature a large barn-style back door a dog ramp makes a great option.
Keeping Pets Clean
Cats are already well known for staying nice and clean but dogs will most likely need regular baths. While many dogs can be bathed inside the bathroom, this is only really practical if you have a wet bath rather than a dry bath. Even better, are outdoor baths. My favorite Class B for dogs, the Winnebago Revel, has a great outdoor shower option with a hose extension that makes dog washing pretty easy.
Pets Get Car Sick Too
Another factor is whether or not your pet will suffer from motion sickness while you're on the road. That's why it's so important to give RVing with your pets a test run before you go out and pick up a rig!
Remember, in many cases, larger vehicles will reduce the chance of people getting motion sick. Therefore, even if your cat or dog suffers from motion sickness while in a compact car, it doesn't mean they can't comfortably ride in a larger rig.
Are Most Campsites Dog Friendly?
Most campsites are dog-friendly but it's if you're traveling with a furry friend it's always best to call ahead and confirm before arriving. It's also important to remember that some campsites might have specific breed or size restrictions so doing your homework is critical.
But some campsites take dog-friendly to the next level by including huge off-leash areas where dogs can go nuts! Bring Fido put together a great piece on the best dog-friendly parks and it's worth checking out.
Best Class B RVs For Traveling With Pets
Class B RVs are some of the most popular RVs on the market and for good reason. They're small enough to fit into most regular parking spaces but still have everything you'd need for longer trips. That makes them the perfect RV if you're looking to transition from rural to urban environments.
The only downside is that they aren't exactly large (most are around 16′ to 22′) and even though they're typically smaller than a larger Class C, they're still more expensive. A Class B would be best for a single traveler and their pet or in some cases a couple.
Let's get into the first pick!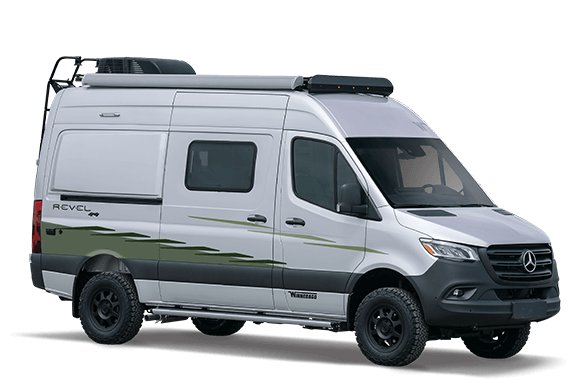 Length: 19′ 7″
Exterior Height: 10′
GVWR: 9,050 pounds
Best Pet: Dogs
Favorite Feature: The bed that lifts up to the ceiling so it's out of the way giving you plenty of room for extra storage or to create a safe, secure place for your pup to rest in their kennel.
What We Wish It Had: The Revel doesn't have much cook space and a very limited counter area. If you're looking to cook some big meals on the road this might not be the rig for you.
Built on the Mercedes-Benz Sprinter Chassis, the Winnebago Revel is a 4×4 Class B RV that drives more like a truck than a home on wheels. The Revel falls into a special group of Class B RVs called Adventure Vans and the Revel certainly lives up to that name.
This RV is built with adventure in mind, and many of its features make it great for blazing new trails with your pet on board. First up is temperature control, which in the Revel is a real standout. The diesel heating system means I don't have to worry about my furry pal getting cold during the winter months. Since diesel fuel is easier to get my hands on compared to propane, this is a convenient heating option for me.
Because the Revel is made to go offroad and off-grid, it also features several long-lasting batteries able to fuel the air conditioning unit. These batteries can obviously be powered by shore power, but the Revel also features a solar panel so I can stay charged up when the sun is shining. There's also a dedicated alternator with the sole purpose of keeping the batteries charged. This means I have three ways to keep my batteries topped up and the temperature under control.
As if that wasn't cool enough, the Revel includes a robust app, allowing RVers to track the status of their batteries no matter where they are. Even more, I can turn on the air conditioner remotely via the app, so if I'm out on a hike with my dog, we can head back into a cool van, or keep it nice and cool when I head to the store.
If the existing system was combined with something like the Temp Stick, I can get detailed stats on the battery and temperature, and make adjustments while I'm away from my RV. Because the Revel is built for adventure it has a durable and rugged interior perfect for dogs. There's certainly no carpet and besides the bed, there's no material I can't spray off.
The Revel has a generous bed, measuring in at a surprisingly large 6'4″. This makes the Revel a great Class B for tall people but also leaves plenty of room to share the bed with a dog. But what really makes Revel's bed unique is that it can be raised all the way to the ceiling so it's completely out of the way. This leaves plenty of room for a dog crate, accessories, and a big bag of food with tie-downs for securing everything in place.
The Revel also includes a rear water station, perfectly placed for dog baths! Add a simple hose and not only can I enjoy an outdoor shower, but I can also make sure my dog is nice and clean after a long day on the trail. Again, it's these types of boondocking and adventure features that turn out to be great additions to traveling with a dog.
In all honesty, the limited kitchen is a bit of a deal-breaker for me as there's not much counter space, and the cooktop is a plug-in which isn't something I'm used to at all. As a food lover myself, if I was working with a cooking space like this I'd probably find space for a portable grill as well. You can see the kitchen and all the other features of the Revel in this video:
The Revel is definitely better suited to our canine companions rather than our feline friends. There just isn't enough room for cats to comfortably hang out inside the RV and unless a cat is very well trained the risk of them wandering off is just too big. The Revel is really designed to be taken off the road where you can post up and camp out. That's perfect for dogs but just isn't going to work as well for cats.
While Class B RVs are already going to be on the expensive side, the Revel is certainly on the higher end with an MSRP of $185,838. While that doesn't make it a budget RV, it is packed with features that just aren't found in other Class B rigs.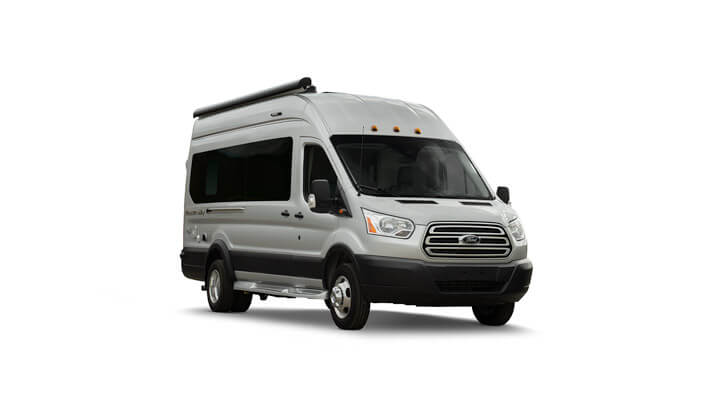 Interior Height: 6'6″
Bed Length: 77″
MSRP: $129,805 USD
Exterior Length: 19′ 8″
Exterior Height: 10′
Favorite Feature: The huge windows that will keep our feline friends happy and stimulated.
What We Wish It Had: Microfiber material for bedding and seating areas instead of Ultraleather.
While the best RV for dogs is centered around adventure and getting out of the RV, my pick for the best Class B for cats is more about the comfort of staying inside. Build on the Ford Transit 3500 van chassis, the Pleasure-Way Ontour is one of the more luxurious Class B RVs on the market with plenty of room for pets.
One of the most notable features of the Ontour is the massive windows. While they are ideal for enjoying beautiful scenery, when it comes to pets they can be a bit of a double-edged sword. If your dog has a particularly powerful urge to chase down squirrels and other small animals, these windows could quickly become a liability. But for cats, this can be a great way to keep their brain sharp and stimulated, as they constantly have a unique view.
However, the big concern with big windows is temperature control, since they mean a lot more sunlight is entering the RV. Pleasure-way does a great job at mitigating this with high-quality tinting and blackout blinds to keep the heat out. A great feature in my eyes of the Pleasure-Way Ontour is the interior which includes Ultraleather fabric for the bed and seating area.
This is an excellent fabric for keeping cat hair under control and most hair can simply be removed by hand. The only downside to the interior is that leather is occasionally a target for cat scratching. I'd recommend including a scratching post somewhere in the rig and keeping nails trimmed to avoid damage!
I've found, you can actually turn just about anything into a scratching post just by wrapping some sisal rope around it. It's also very budget-friendly to do so and you can grab sisal rope on Amazon for a few bucks. I like this route instead of actually buying a scratching post since it's more space-efficient.
Overall, Pleasure-Way is well known for producing quality RVs going above and beyond traditional RV standards. This means features like more solar power, bigger beds, quality craftsmanship, and tons of residential-style fixtures. While that certainly doesn't make a Pleasure-Way rig a budget RV, most class B's aren't exactly budget-friendly, to begin with.
All of this comes together to make not only a great RV but also an RV that works well for cats since it's so close to what you'd find in a normal home. Even though you do have to pay more for quality, the Ontour is still reasonably priced with an MSRP of $135,785 USD.
Best Class C RV For Traveling With Pets
Class C RVs are the type of RV that most people think about when they imagine hitting the road and seeing the sites. With a wide range of sizes between roughly 19′ and 29′ there is a lot of variation in this class. There are even smaller RVs which some folks consider to be Class B+ RVs, but for this article, we're going to consider them just another Class C RV.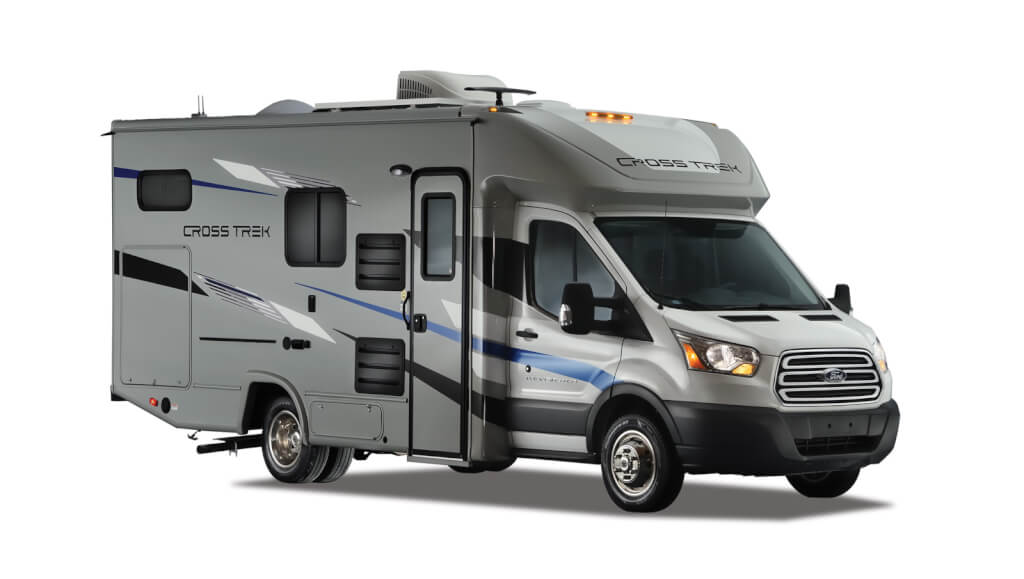 Length: 25′ 1″
Exterior Height: 10′ 6″
Interior Height: 6′ 7″
GVWR: 10,360 pounds
Favorite Feature: All the extra storage! It's huge!
What We Wish It Had: A bit more boondocking power in the form of more energy options to power the air conditioner and other equipment
The Coachmen Cross Trail comes in at 25′ 1″, and it's easy to see from the picture alone, it's a pretty compact rig. It's actually so compact, many RVers refer to this rig as a Class B+ plus, but we don't want to muddy the water with too many definitions, so we'll be calling it a Class C.
What makes this RV really unique (and a great option for pets) is the massive storage capacity in the rear of the motorhome. I've even heard some people joke this is a 2 bedroom RV because the storage space in the back of the rig really is that big!
So why is this good for pets?
This class C RV is ideal for pets, as it provides an abundance of extra storage space for larger items like kennels, toys, or whatever else you want to bring along – even a dog kennel! You can see this space highlighted perfectly in the video below:
I like getting creative in my rig wherever I can, so I love that this rig can be modified with a small pet door, allowing dogs and cats to cross between the storage space and the main cabin. I'm impressed by this feature as it makes the storage area, even more, pet friendly, as the space is ideal for a dog crate or a cat litter box, without interfering with the main cabin.
In the video above, Matt demonstrated exactly where this modification could be made. While this absolutely brings up new safety concerns for your pets, it's not hard to imagine how you could place the litter box in this extra space the same way you might place the litter box in the garage or laundry room of a traditional home.
As the Coachmen Trek doesn't have solar, the ability of this RV to boondock is reduced, and can complicate some temperature control since the air conditioning can only run off the battery. Depending on other conditions, I'd imagine the battery may last for around 3 to 5 hours of air conditioner time, but I'd expect to turn the car engine on in order to get additional AC time.
If you plan on wild camping and boondocking often, I'd advise picking up a generator specifically for an air conditioner for increased power options. When it comes to temperature control for homes and not just pets, it's a good idea to have multiple energy sources. Enhancing the rig with solar panels is also a possible option, too.
With massive and unique storage space, the Coachmen Cross Trail could be one of the best pet-friendly Class C RVs around- for both dogs and cats. The only downside is the limited air conditioning time. So if you're planning on doing any kind of boondocking or long-term camping you'll want to consider investing in a generator, solar panels, or even both.
The Crosstrek comes in at a great price with an MSRP of right around $90,000, meaning it's likely possible to find a lower price on a used model.
Best Fifth Wheel For Traveling With Pets
Fifth wheels can provide the space and other benefits of a massive Class A RV but with all the freedom of a travel trailer. For many folks, the fifth wheel is the ultimate RV vehicle, but it might not be the first thing you think about when it comes to traveling with pets.
The reality is, there are many excellent options in the fifth wheel market, and one of my favorite manufacturers has actually introduced an entire line of pet-friendly floor plans.
Let's take a look at my favorite.
Best Fifth Wheel For All Pets: LF335MBH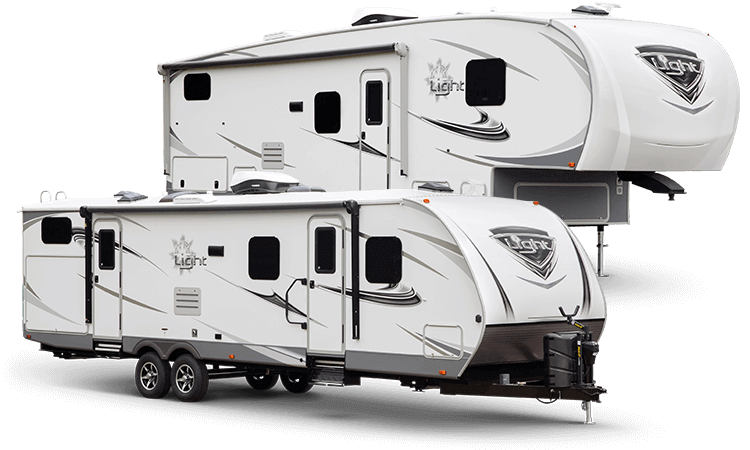 Length: 37′ 3″
Exterior Height: 12′ 7″
Interior Height: 7′ 7″
GVWR: 11,900 pounds
Favorite Feature: It's small but I love the slide-out dog food and water bowls under the fridge
What We Wish It Had:
Highland Ridge is a branch of the very popular Jayco RV company, and the LF335MBH Lite is part of their pet-friendly floor plan line. While it's primarily geared toward dogs, many of these features are great for cats too. I selected the LF335MBH as the best overall because it has a budget-friendly price with all the benefits of a large RV.
Pet-friendly is a phrase that gets tossed around quite a bit, but what exactly does Highland Ranch mean when they say their floorplans are pet-friendly?
First, there are little features like the slide-out food and water bowl. While it looks like any other drawer from the outside, this little drawer holds a food and water bowl for a cat or dog. While it's a small addition, it can make a big improvement in your overall quality of life, I can't tell you how many times I've accidentally stood in or kicked up our dog's water bowl in our camper!
The only thing I don't love about it is the location- it's located directly under the fridge and while you can technically move around the kitchen still, I wouldn't want to leave the drawer open while cooking, as I'd probably bump into it a hundred times!
This RV, along with the other pet-friendly floor plans, also features easy-to-clean vinyl flooring. Vinyl flooring is very easy to maintain and I think it looks great in this RV. The vents that are usually mounted on the floor are instead mounted on the walls in order to prevent dogs and cats from getting caught on them.
I think a big benefit of having the vents mounted on the wall is that pet fur is less likely to get caught up in the vents, which can really help extend the life of expensive A/C equipment. You can see the pet-friendly features in action in this video:
The LF335MBH has everything you'd want to see in a great RV regardless of whether pets are coming along or not! As an avid on-the-road cook, my favorite is the kitchen. I absolutely love the kitchen island which gives the RV the feel of a residential space instead that's perfect for making big meals. There's plenty of space and storage too.
I'm also a big fan of the overall layout of the RV with its big open space. While it makes the rig feel more like a studio apartment than a home, that's something I actually love about the LF335MBH! I can see myself cooking up a nice dinner while family or friends relax in the sitting area.
The LF335MBH Lite is a great entry into the world of fifth wheels since it's light, but luxurious and affordable. Depending on the options to go for, the 2021 model of the LF335MBH Lite has an MSRP of $60,975.00. I've also been able to find used older models for less than $50,000 which makes this a great entry point into the world of RVing- especially if you already have a vehicle that can tow this relatively light RV.
Best Travel Trailer For Traveling With Pets
Travel trailers are one of the best ways to start your RVing journey. If you already have a vehicle able to tow a travel trailer (and most trucks can), then you can avoid paying for all the vehicle components that go into a Class C, B, or A RV.
But are they good for pets?
While some travel trailers are so small that you wouldn't want to have more than one person in them, there are larger, pet-friendly travel trailers, big enough so you and your furry friend can stay comfortable.
Best Travel Trailer For All Pets: UT2102RB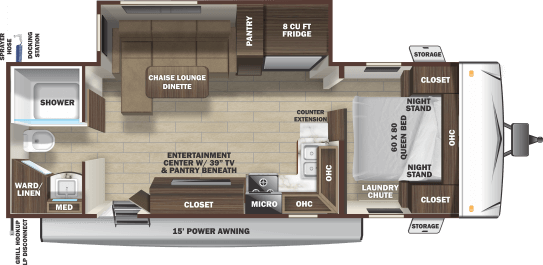 Length: 26′ 9″
Exterior Height: 11′ 1″
Interior Height: 6′ 9″
GVWR: 7,000 pounds
Favorite Feature: The huge bathroom!
What We Wish It Had: A little more functional storage. While they've squeezed in a lot of storage not all of it is very useful outside of specific items.
The UT2102RB Ultra Lite is part of the pet-friendly collection from Highland Ridge RV. Every RV in this line-up features small, but certainly noticeable, pet-friendly features like more durable vinyl flooring, special storage for pet bowls, and strategically placed air vents to prevent extra hair build-up. With a GVWR of 7,000 pounds for the lightest version, this rig is also surprisingly easy to tow with any kind of mid-sized truck.
We're already talked about how important flooring and materials inside an RV are when it comes to pets, and the folks at Highland Ridge RV are doing it right! They're added durable vinyl flooring to every RV in the pet-friendly line, making these fifth wheels great for dirty dogs! I like that they've also placed the heating and cooling vents on the baseboards instead of the floor.
While this might not seem like it makes much of a difference, not only does it prevent pups from getting their feet snagged on the vents, but it can also decrease the amount of hair that gets caught up in the vents – ideal as my dog has long hair, and I can confirm, it gets EVERYWHERE!
Like most Highland Ridge RVs, there's a lot to like! One of my favorite features is the spacious bathroom, which is larger than a lot of bathrooms in a traditional home! I love the beautiful sliding door leading into the bathroom shown here in this video:

The only thing I don't love is while there's plenty of storage space squeezed into all the usual spaces, much of it is pretty shallow, so it's not as functional as I'd like. Whether or not this is a big deal will depend on how you like to travel.
While there isn't any particular feature that really makes this rig stand out, that's actually part of the appeal. It does everything well without going too far in any particular direction, and quality features and fixtures combined with a focus on pets make this a great option. With an MSRP of $39,620 for the 2021 model, the UT2102RB is also reasonably priced.
Best RV For Cats
It can be easy to think it's only dogs who are likely to come on adventures with their owners in an RV, but I've met many people on the road who travel with cats on board! I've done some digging and found an ideal rig, perfect for small pets like cats who will be able to explore and get cozy.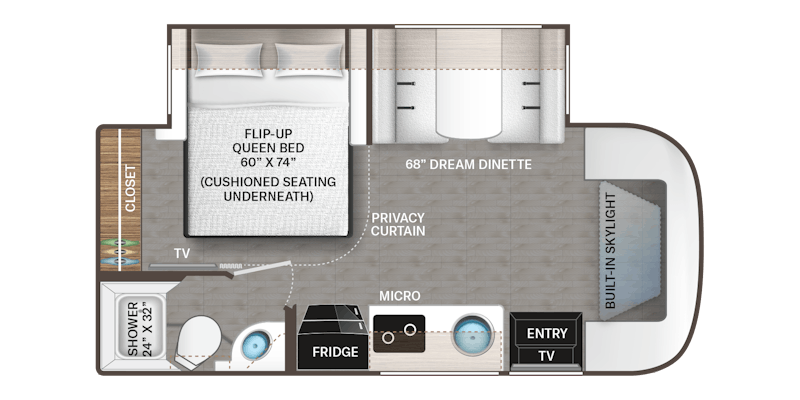 Length: 23′ 7″
Exterior Height: 11′
Interior Height: 6′ 8″
GVWR: 11,000 pounds
Favorite Feature: The space-enhancing slide-out!
What We Wish It Had: A bigger kitchen with more countertop space, as cooking is generally more enjoyable with ample space to put ingredients. However, the impressive dinette could function as additional space for the kitchen as it's opposite the sink and microwave oven.
I'm a big fan of Thor Motor Coach, and they've been in the RV game since the '80s, so they know what we explorers both want and need from an adventure rig. The Thor Motor Coach Gemini 23TW is the best RV for cats we could find, as there are numerous pet-friendly features in this rig, some more obvious than others!
Let's kick things off with the 15,000 BTU Air Conditioner which makes RVing in hot temperatures seem like a breeze. No one wants their feline companion to overheat, but heatstroke is a risk, especially when camping in summer, you can take a look at the signs and symptoms here. Having AC in an RV is vital for when temperatures skyrocket, and you'll need to know how to protect your RV from the sun, along with keeping your fluffy companion cool.
I like the amount of floor space in this Class B rig, as this not only makes it a great RV for cats to wander around but also means there's ample room for a scratch post or cat bed. The AC and other appliances can be powered by the 100-watt solar panel that also comes with a controller. I love this addition as it means I can venture off-grid with the support of the AWD system, and still keep the rig cool.
One of my close friends lives and travels full-time in a van with her cat, and she loves reaching remote locations and letting Rainbow out for a little exploration. The power patio awning is ideal for situations when it's drizzly but the cat wants to stretch its legs! Even if this is at nighttime, I like knowing I'm covered and can see my furball clearly as there's an integrated LED light – no running away and getting lost!
I like to think of myself as a vanlife chef – I'm forever trying out new healthy recipes in my RV, but I would find this difficult, as this Thor RV doesn't have much countertop space at all. This may be a dealbreaker if, like me, you love nothing more than picking up fresh, organic ingredients from the local markets and cooking up a feast in your rig. However, this RV is one of the best for cats since there's so much open internal space, easy-to-clean flooring, and ample area for a litter tray, cat scratch post, and any other accessories a little feline may need.
With an MSRP of $164,250 for the Thor Motor Coach Gemini 23TW, this rig is an investment, but it will see you and your cat through all the adventure waiting for you on the open road!
Best RV For Dogs
Finding the ideal rig for dogs is possible, and since class A RVs have such an abundance of space, I couldn't miss one off our list of the best RVs for traveling with pets. I've found a class A able to handle more than one furry companion with ease, and some innovative pet-friendly additions.

Length: 30′ 9″
Exterior Height: 12′ 2″
Interior Height: 6′ 8″
GVWR: 18,000 pounds
Favorite Feature: The pet-friendly features, including a multi-purpose tie-down, easy-clean vinyl flooring, pull-out pet food station, and the Bird's Eye Window where dogs can watch all the squirrels they want to from inside the coach!
What We Wish It Had: It's difficult to find something this rig doesn't have, though a lower price tag would be nice!
I can't imagine traveling without my dog but finding an RV that's suitable for our four-legged companions can be hard! There's a lot to think about when it comes to finding the best RVs for traveling with pets, but let me tell you, I think I've found the best RV for dogs. It's the class A Thor Motor Coach A.C.E 29D, boasting pet-specific features, a wealth of floor space, and an abundance of sleeping options for even the biggest of hounds to jump on board!
I know what you're thinking, and yes, this rig is big, it's a class A after all! But I simply HAD to add it to this list, since it's a fantastic option for RVing with dogs on board, and it's still less than $200,000. I've mentioned previously how much I like Thor as they have everything covered, and the A.C.E doesn't fail to impress.
One of the biggest concerns for me is when the weather outside is stormy and rainy, so my dog and I are stuck inside until it clears! I don't want either of us to feel cramped, but the 29D floorplan offers space to walk from the driver's seat, all the way to the back of the RV without any tight spaces or angular corners where bigger dogs may find it hard to turn around.
There's an impressive king-size bed, ideal for relaxing in front of the TV and having a fluffy cuddle. I love having a portable shower in my RV, as it allows me to give my dog a washdown outside when she gets filthy in mud! However, the impressively large bathroom area in the A.C.E 29D is sizeable enough to give a dog a shower with ease. Thanks to the 6-gallon DSI gas/electric water heater, I can lather my pup up and give her a warm rinse down, even in winter.
For summer though, I'd get the most use out of the exterior shower as it saves getting the interior of the rig covered in pawprints! The Thor Motor Coach A.C.E 29D has an MSRP of $182,850, however, the optional theater seats will bump the total price up a fraction.
Best Camper For Couples With Dogs
Living in an RV alone means you don't have to think too much about space, but when there are potentially 2 or 3 dogs and another person on board, things can get a bit cramped! That's why ingenious space-saving features are a gamechanger, and the camper I've found below won't disappoint.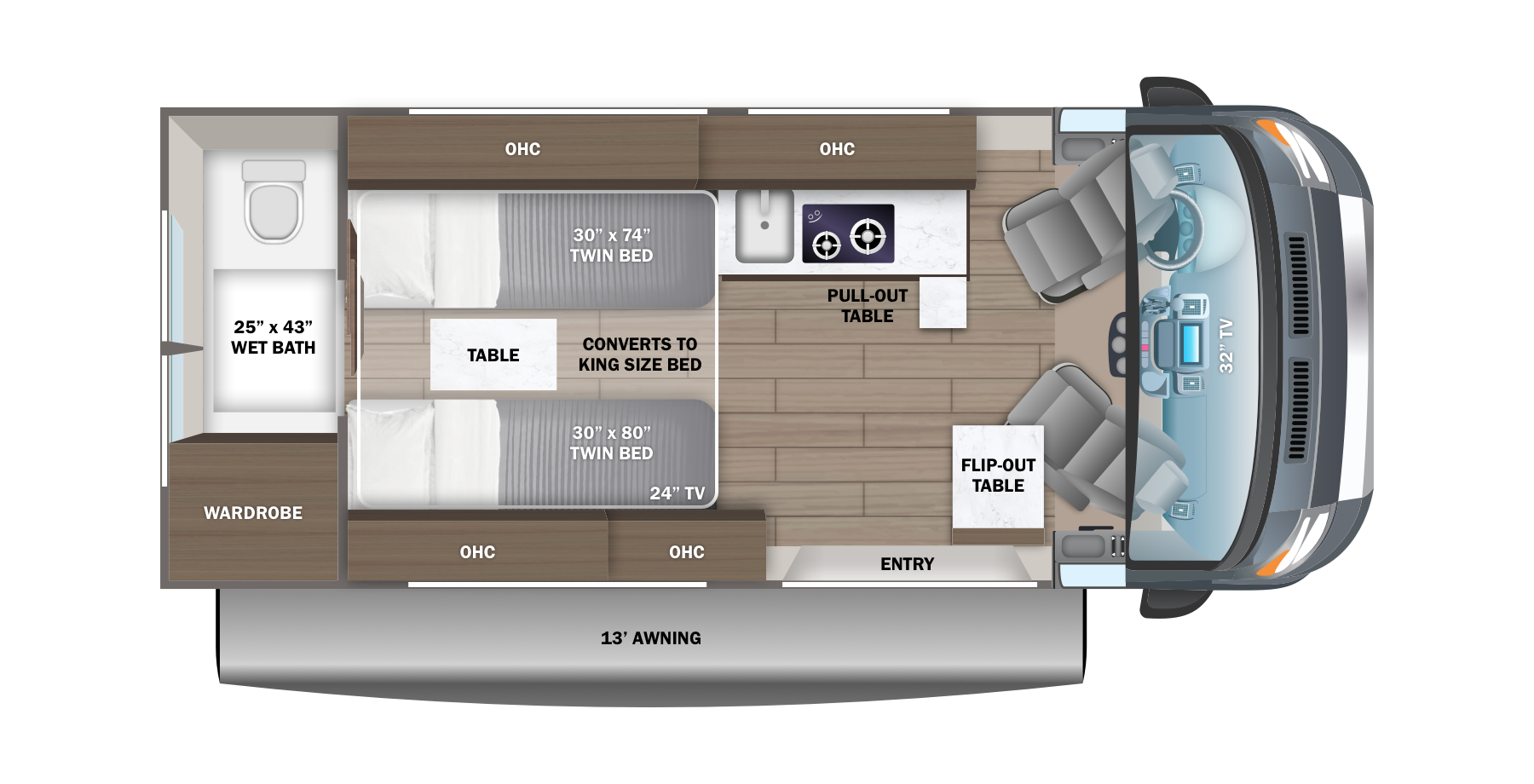 Length: 20′ 11″
Exterior Height: 9′ 3″
Interior Height: 6′ 2″
GVWR: 9,350 pounds
Favorite Feature: The convertible king-size bed can be folded away during the day to allow ample room for couples to sit at the table and dogs to easily walk through the camper.
What We Wish It Had: More countertop space would make this rig perfect, but at least there are a couple of flip-up tables that could be used as food prep space if required.
I live full-time in my rig with my partner and our rescue dog, whose on the larger AND fluffier side of life, so we need ample space for the three of us to live comfortably (and harmoniously!). The Jayco 2024 Swift 20T is arguably one of the best RVs for couples traveling with dogs for a number of reasons, not just the innovative interior design or durable RAM ProMaster 3500 window van chassis.
The 20T is a particularly stand-out design in my eyes, as there are several potential areas to place dog beds, such as on either of the front swivel seats at night or on the single benches when the king bed isn't in place during the day. The wet bath is also fantastic for dog owners as muddy paws can be washed away with ease, and I don't have to worry about doggy splashes on the walls as it's a wet bath, not a dry bath.
I'm often asked what it's like to live in such a small space with my partner and our pup, but honestly, when the weather is nice (and sometimes even when it's not), we spend most of our time outside. Therefore, the 13′ awning is a stunning feature of this Jayco, enabling couples to enjoy outdoor space with dogs, no matter the weather!
The kitchen isn't the biggest in this rig, which does break my heart a little! However, the flip-out table by the driver's chair could definitely create additional counter space to make cooking a lot easier. With 120V Coleman air conditioning at 13,500 BTU, this rig can be kept cool and comfortable in summer, supported by the 200W solar panel on the roof.
The Li package is available to take the electrical system in this Jayco up a notch. Having the flexibility to mold this RV to exactly what's needed is convenient, and rewarding, but upgrades always come with a price, so the Li package will heighten the overall cost substantially.
The Jayco 2024 Swift 20T has an MSRP of $163,800, which is relatively affordable for a class B like this, and could be the best option for couples traveling with dogs on board!
Closing Thoughts
Just because you're hitting the road doesn't mean you have to leave your pet behind! I hope this quick list of the best RVs for traveling with pets has given you the inspiration to take your furry friend on the road with you this season!
But I'd love to hear from you! What RV are you using for your furry family? Is there another rig I should include?