Last updated on January 6th, 2023 at 12:05 pm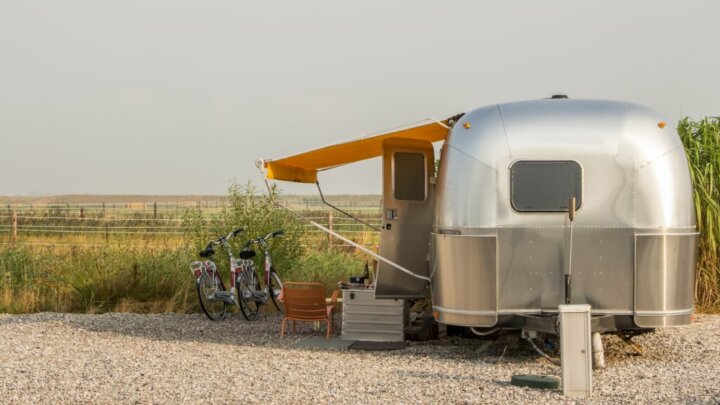 All of our reviews are based on exhaustive research, industry experience and whenever possible, hands-on testing. When you make a purchase using one of our chosen links we'll get a small percentage of the proceeds. This supports the site and keeps Jeffsetter running. You can read more here.
While it may not be everyone's cup of tea, there are a number of fantastic RVs under 20 feet long for those of you who might be searching for a more compact rig to take with you on quick weekend trips or off-road getaways.
However, what should you consider in a compact RV that's under 20 feet long, and how can you choose one that works best for you?
In this article, we will use our expert knowledge to address everything you should know before making an informed purchase on a compact RV. We will go over some of the reasons why you may want an RV that is under 20 feet long, as well as multiple things to consider before shopping around.
Finally, we have compiled a list of some of the best RVs that are under 20 feet long for you to consider! Some of these RVs are travel trailers, while others are motorhomes. No matter what, there is likely something out there that works perfectly for you! Let's get started now.
Only interested in checking out our list of compact RVs? Click here and jump ahead to the 12 best RVs under 20 feet long now!
Why Choose an RV Under 20 Feet?
If you have a large family or want to travel with a large group of people, you may not want an RV that is under 20 feet long. However, if this isn't a concern of yours, a compact RV ranging anywhere from 15 to 19 feet in length may be the sweet spot for a number of reasons. Here are some of the top reasons to choose an RV that's under 20 feet long:
Easier to drive. One of the primary reasons people choose a compact RV is because it is more maneuverable than a number of larger rigs. Obviously, having something that is 20 feet long is going to be easier to drive around compared to something that is 30 to 40 feet long! This goes for motorhomes just as well as it does for travel trailers, and RVs under 20 feet long are notoriously safer on the highways and on city streets alike.
Easier to make reservations. If you are brand new to RVing, you may not realize that a number of campgrounds and RV sites have length limitations depending on where you book. If you own an RV that is very large, you may not be able to stay in certain National or state parks, and RV parks may also limit your ability to stay there as well. Having an RV that is under 20 feet means that you can take it just about anywhere and stay the night easily!
Easier to clean and maintain. Just like having a small home means less maintenance and cleaning overall, the same can be said for your RV. Having a rig that is less than 20 feet long means that there are far fewer areas to clean and keep up with. RV maintenance can be exhausting, especially if you are dealing with a 40 foot long roof that needs resealing! Having a compact RV means that you won't have to spend nearly as much time taking care of it compared to a larger RV.
It costs less. While it will always depend on the make and model of the RV you are shopping for, most RVs that measure under 20 feet long are much cheaper compared to larger RVs. This may be stating the obvious, but compact RVs use fewer materials and require less maintenance overall, which leads to a lower price point. This makes them more accessible and possible for a variety of different households and lifestyles.
It weighs less. If you are looking at a towable RV instead of a motorhome, weight is going to be a huge factor in your ultimate purchase price. However, shopping for an RV that is under 20 feet long means that you likely won't purchase anything that is very heavy overall. This means that you have a better chance of towing it with a number of different vehicles, rather than a large pickup truck.
It's unique and cool!

A final reason to choose an RV that is under 20 feet long has to be the fact that most of them are extremely unique and cool to see. This is because most RV manufacturers who choose to build their RVs this small have to get creative. This includes unique storage solutions, bed setups, and kitchens. Compact RVs are some of the most revolutionary rigs in the business, out of necessity and desire to use every inch of available space!
What to Consider in an RV Under 20 Feet?
There are a number of things for you to consider before purchasing an RV that is under 20 feet long. Let's take a look at some of those considerations now!
Layout and Floor Plan
While you likely won't have as many options compared to larger RVs, the layout and floor plan that you choose are extremely important. Given the fact that you only have 20 feet to work with, choosing a floor plan that is both functional and comfortable can be difficult.
You may want to make a list of priorities when it comes to shopping for a compact RV with a layout that you enjoy. For example, not all RVs in the 15 to 19 foot long category have bathrooms on board, and it may be difficult to find a bed that you can walk around.
However, it shouldn't be all difficult when it comes to shopping for an RV that's this small. There are plenty of models available that offer you actual choices, such as where the bedroom is placed, as well as the amount of counter space in the kitchen.
All of this being said, most RVs under 20 feet give you plenty of solutions to make your life easier while camping on board in such a small space. I personally live full-time in a 19 foot long travel trailer, and it has plenty of room for me to do everything I need!
Storage Solutions
Any RVer will tell you that finding a rig with enough storage can be more difficult than you first anticipated. However, most RVs under 20 feet long have a number of storage solutions that larger RVs do not have, likely out of necessity.
Depending on how often you plan on using your RV and what you plan on using it for, you may be on the hunt for something with very specific storage solutions. However, if you just want a compact RV to camp in on the weekends, this may not be as big of a concern of yours compared to other shoppers.
If you already know that you want to bring along your kayaks or bicycles as well as enough luggage for long-term stay, storage should be a top priority for you. You will definitely find some compact options that allow you to bring your recreational toys along with you, but it may take a bit more time and effort compared to those of you with less specific storage needs.
How Many Beds
It is unlikely that your RV under 20 feet long has more than one bed. You may find a layout that has two, but the chances of fitting more than one sleeping arrangement inside of your compact RV are rare. This is something to keep in mind as you shop.
This may mean that the location of your one-and-only bed is very important. You may want a quiet rear bedroom toward the back of the rig, or you may opt for something near the entrance so that it is easily accessible.
Many RVs, including compact ones, have enough space to sleep another person. The bed may not be available during the daytime due to the fact that it takes up too much space, but you may be able to sleep anywhere from two to four people.
Luxury Features
Just because you are looking at a compact RV doesn't mean you can't get one with a number of luxury features.
All RVs are typically classified as standard or luxury, depending on the make and manufacturer. You may only want to look at luxury RVs or standard ones, depending on your budget or desired needs.
If you can afford it, there are a number of reasons to find a compact luxury RV. You can expect fine furnishings and upholstery inside, as well as a number of features that are included as standard. Some of these features can include Wi-Fi, electric fireplaces, and more.
Stainless steel appliances and power lift furniture are also commonly included in luxury rigs. However, this may put just about any compact RV out of your price point or budget, so it is something to consider before making a final purchase.
Boondocking Features
Given the fact that you can bring a compact RV to more places compared to a large RV, you may be interested in finding an option with plenty of boondocking features. But what exactly is boondocking? Let's talk about it briefly now.
Boondocking is commonly known as dried camping or camping without hookups. It essentially means that you can camp anywhere and everywhere, without worrying about RV electricity, water, or sewer hookups.
Some of the most popular boondocking features include solar panels, larger water tanks, off-road tires, and more. You may also want to look for an RV that is equipped for four-season use, completely maximizing your investment!
However, it is important to note that not all boondock features are included as standard in the majority of RVs on the market today. You may have to request these features or keep an eye out for rigs that are particularly built for dry camping. Note that these types of RVs may also cost more as well!
Towable Rig or Not
If you are shopping for an RV that is under 20 feet long, chances are you are looking at either a travel trailer or a Class B camper van, since most other options are over twenty feet long and will be too large for your needs. It's worth mentioning that these two options are very different from one another in a number of ways.
The main and most obvious difference when it comes to choosing between a travel trailer or a Class B is whether or not you want to tow or drive your RV. Travel trailers must be towed by a tow vehicle, such as a truck or SUV, while the Class B is essentially an oversized van.
There are pros and cons to both options, but you may want to consider which one you are more comfortable with. Overall, Class B RVs are easier to drive and set up, though they're much more expensive compared to the average travel trailer.
In addition, travel trailers tend to have more floor plans and layouts compared to Class B vans, though camper vans are getting more and more unique by the day! However, given the additional cost, you may want to consider a travel trailer, especially if you already have an adequate tow vehicle at home.
Budget
Speaking of additional cost, your budget should be a top consideration when shopping for an RV that's under 20 feet long. As I've already mentioned, choosing a travel trailer over a Class B will save you some money, often a significant amount of money.
However, you need to consider the fact that you will need a tow vehicle that is capable of towing your travel trailer, while a camper van is ready to go off the lot. You should also consider your overall needs and comfortability when it comes to towing, as it is not for everyone.
To give you a ballpark figure, many travel trailers that are compact start as low as $20K, while the majority of Class B camper vans start over $100k. Even if you need to purchase a vehicle to tow your brand new travel trailer, you will likely still end up paying less compared to the average Class B!
It is also important to remain realistic about how much you want to spend, as many RV manufacturers have additional features that are not included in the initial purchase price. If you want to add on anything, you are more than welcome to, but you need to understand that the additional cost will be there.
12 Best RVs Under 20 Feet
Now that you have read all of our potential considerations and reasons to purchase an RV that is compact and efficient, here is the list of our 12 best RVs under 20 feet in length! Let's check them out now.
Three different lengths and floor plans
Beautiful to look at, inside and out
Plenty of features included as standard
High price point for a small travel trailer
While it may not be within everyone's budget, there is too much to love about the Airstream Bambi. This iconic aluminum travel trailer is notorious for being one of the smallest single axle travel trailers on the market today, especially offered by Airstream. Let's check it out in more detail now!
Available in four different lengths and floor plans, the Bambi has 2 options that are under 20 feet long, and one that is at 20 feet exactly. This gives you 3 different rigs to choose from that are compact, efficient, and gorgeous. Because if there's one thing that Airstream understands, it's style!
This isn't to say that Airstreams are only stylish. Quite the opposite! All Airstreams are highly prized for their resale value and durability, often lasting generation after generation. So, with an initial purchase price of $59k, the Bambi may be pricey, but it is there for the long haul.
You likely know just how amazing an Airstream looks from the outside, but have you ever seen the inside of one? Airstream incorporates a number of luxurious touches in a comfortable and homey environment, making these compact rigs ideal for just about anyone. They're also comfortable enough to be used for any length of time, not just a simple weekend away.
You have everything you need inside the Bambi, including a well-appointed kitchen, a full bathroom, and the dining room as well as a bedroom. All of these features can be found in any length of Bambi, whether it be 16, 19, or 20 feet long.
Plus, all three of these lengths are under 5,000 pounds, making them easily towable by the average car. Another additional perk to purchasing an Airstream is the fact that their durable aluminum bodies are easy to maintain and care for, year after year. You'll likely want to keep this one in the family!
Multiple options, including ones just over 20 ft
Lightweight and very easy to tow
Budget-friendly with lovely interior design
Smallest floor plan leaves much to be desired
Starting at a cool $20k, the Jayco Jay Feather Micro is a fantastic travel trailer for those of you looking to begin your RV journey. It has a number of floor plans that are under twenty feet long, with two additional options in the 20 foot range, giving you loads of choices. Let's talk about them now!
The smallest option offered by the Jay Feather Micro is just over 13 feet long, but it may not suit everyone. It has a futon inside, with an outdoor rear kitchen, and no bathroom, which may be a deal-breaker for some of you. However, there are other options to choose from when it comes to this particular travel trailer!
In fact, their 19 foot long model has a spacious bed as well as sofa, full bathroom, full kitchen, as well as an exterior refrigerator and entertainment center. This gives you plenty of living space, both inside and out. And it's all under 4,000 pounds!
You may be wondering what to expect from a Jayco RV, especially given this low price point. For the most part, Jayco rigs are very well-built, especially when it comes to their foundation and detailed hard wood cabinetry. In fact, the interior design of the Jay Feather Micro is more luxurious than you might expect, especially at this price point.
It won't look nearly as stunning as the Airstream Bambi, but Jayco definitely gives you plenty to love in this travel trailer, both inside and out. Plus, if you're able to stretch the length to just over 20 feet long, you can get the Jay Feather Micro with bunk beds, allowing you to sleep up to 5 people inside!
So, what's the catch? This particular travel trailer may not be the best when it comes to boondocking or traveling during four season weather conditions. However, if you're looking for an easy travel trailer to hitch up and take on the road for a quick weekend getaway in the summertime, it may be the perfect choice for you, especially at this price.
Incredibly unique and eye-catching design
Airstream built, which means it'll last
Plenty of storage, including an exterior tent feature
High price point for the size
Leave it to Airstream to craft our most unique RV that's under 20 feet long! If you have never seen the Basecamp, now is your chance to check it out. Available in a 16-foot long rig or a 20-foot long rig, the Airstream Basecamp is one of the most unique and eye-catching travel trailers on the market today.
The first thing you'll notice about the Basecamp is the fact that it has panoramic window views on the front of its uniquely shaped aluminum frame. Depending on the floor plan you get, the kitchen is typically located at the front of the RV, giving you the best seat in the house while you cook or make your morning coffee.
There is indeed a bathroom on board the Airstream Basecamp, no matter what floor plan you choose. In fact, the rear of this rig converts from a comfortable lounge area into a full size bed, giving you plenty of space to sleep as well as relax during the daytime.
If you opt for the larger model, you can sleep up to four people inside of this RV. However, I advocate this rig for the adventurous couple, given the fact that it has a raised chassis and reinforced windows and exterior walls. This means you can travel wherever you like, no matter how unconventional the roads may be!
But what about storage? There are expansive cargo holds above your head, storage cupboards underneath your seats, plenty of kitchen storage, and you can even keep kayaks and longer items in the lounge area as you travel, as there's plenty of open floor space to keep things.
So, what's the catch? It has to be the price point for this particular RV, which starts at $46k. For a 16 f00t long rig with an extremely small bathroom and sleeping capacity for only two, this may not be right for everyone. However, if you are up for the adventure, you're going to look super-cool in this RV.
Plenty of storage for recreational toys
Raised chassis and durable tires
Super small and lightweight
May be too small with a high price tag
Winnebago is always reinventing their RVs, and the Hike 100 is no exception. Only available in a 15 foot long rig, this travel trailer is a great choice for those of you looking to hit the road, particularly when it comes to boondocking. Let's check out this compact beauty now.
Starting at $44k, this RV may make you scoff in terms of its size and price point. However, there are a lot of unique and convenient features to be found on board this travel trailer. For example, the Hike 100 has a wet bath, full bed, and an interior or exterior kitchen, depending on the floor plan.
Speaking of floor plans, the hike manages to create 5 distinct and unique options, despite all of them only being in a 15 foot rig. You can even get a floor plan with an additional lofted sleeping area, bringing your total possible sleeping arrangements to 3. This is perfect for the small family hoping to hit the road in comfort.
There's enough storage inside for all of your personal belongings, but the outside is where storage really shines. There's a roof rack with attached roof ladder, a rear hitch receiver to install a kayak rack or bike rack, and even more options for storing your recreational toys. Plus, there are two awnings, one on the side and one at the rear with bat wing shades, giving you a more private area overall.
The chassis of this particular RV is raised, giving you more room to hit the road, even if it's rocky. Plus, you have solar included in the purchase price, enough to power this tiny rig, as well as sealed and insulated tanks, allowing you to camp in any season. This RV may be small, but it has a lot to offer!
3 floor plans and models under 20 ft
Walk around queen bed feels like home
Well-appointed kitchen and storage
High price point for a fairly basic layout
If I decided to retire my 1976 travel trailer, I would upgrade into the Lance 1995. No, it isn't from the year 1995, but it is a 19 foot long travel trailer that has a lot to offer in terms of a full-time living floor plan. Let's check it out in more detail now.
Compared to the Winnebago Hike 100, the Lance is incredibly spacious. It has a walk around queen bed that can come standard or as a pull out couch, a slide out with a U-shaped dinette, a spacious rear bathroom, and a fantastic kitchen. There's a full size wardrobe as well as plenty of other storage for all of your belongings.
While the Lance line of travel trailers may not be reinventing the wheel, they are available in multiple interior designs, all of which are modern and well-appointed. The kitchen in particular is very lovely and easy to use, finished in modern and easy to clean tiles and countertops.
While none of it comes standard, Lance offers you a number of convenient features to make your full-time living easier, including an on-demand hot water heater, a power jack, solar panels, and much more. You can even get a backup camera and a roof rack installed by Lance as well.
The main drawback to purchasing a Lance travel trailer is the price point. The average travel trailer from this particular company starts anywhere from $40 to $60k, depending on the length. However, these travel trailers are extremely well-built and lightweight enough to be towed by the average pickup truck, so definitely keep them in the running.
Nice interior design throughout
Plenty of storage for everything you need
Lightweight without any sacrifices
Only 1 floor plan under 20 ft
Coming in at a solid 18 feet long, the KZ Escape has a lot to offer in terms of storage as well as style. It is extremely lightweight, under 3,000 pounds unloaded, and has a unique rear hatch door for loading your things as well as bringing the outside in!
The interior design of this travel trailer helps it stand out from the rest, especially when you consider that the floor plan is fairly basic. However, the floor plan is extremely functional at the same time, with a large rear dinette, a queen-size bed at the front, and a spacious bathroom and kitchen in the middle.
You can convert the rear dinette into an additional sleeping area, which means that up to four people can sleep in an 18 foot travel trailer. This is fairly impressive, especially when you consider the fact that the rear bedroom will be right next to you at the hatch door, giving you perfect views all day and night.
Given the fact that the dining area next to the hatch is completely open, you can store your kayaks and bicycles with ease. Plus, this lightweight rig could easily handle a rear-mounted storage option, or you could set up something on the roof.
This RV starts anywhere from $30-40k, depending on the features you want. Unfortunately, KZ only offers 1 floor plan back under 20 feet, the rest starting at 22 ft. If you think about it, you likely won't notice the extra two feet, but you may also find that this 18 foot floor plan works well for you!
Extremely lightweight
Aerodynamic design
Has everything you need under 19 ft
Forest River name may not be your favorite
There's a reason I see the Forest River r-pod at just about every campground I host at. They are extremely lightweight, come in a variety of floor plans, and have a unique shape that is both aerodynamic and appealing. Let's check out this popular travel trailer now!
In terms of floor plans that are under 20 feet long, the r-pod has roughly 2. However, if you are willing to stretch to 20 feet or more, keeping everything under 25 feet long, your options really open up. The r-pod offers over six different floor plans under 25 feet, making it versatile.
Even the smallest r-pod, coming in at 17 feet long, has everything you need to camp. There is a full bathroom, a large convertible bed in the dining area, and a well-appointed kitchen. The interior design is nothing to write home about, but it is clean and concise.
If you upgrade to the 19 foot travel trailer, it has a full size queen bed in the rear of the rig and an attractive dinette at the front. It can sleep up to four people inside, with a spacious awning so that you can enjoy your time outside as well. Plus, it's only 2,500 pounds dry, making it incredibly easy to tow.
Another great perk about the Forest River r-pod is the fact that it starts at $17 to $20k, making it budget friendly and affordable as well as easy to drive. While many additional features that you may be looking for don't come standard, you begin at a low enough price to likely add on a few things!
There's very little working against this rig, save for the Forest River name. Some people love it, but some people really hate it. Check out our full Forest River brand review so that you can make your own informed decision on the r-pod!
Boondock ready with four-wheel drive
Safe and reliable Mercedes-Benz chassis
Practical and easy to clean interior
Extremely high price point
Just barely qualifying, we have the Winnebago Revel at a fantastic 19.7 feet. This Class B camper van is extremely popular for a number of reasons, especially for those of you looking to go off-grid. Let's check out all of the great features in this camper van now.
Built on a reliable diesel powered Mercedes-Benz chassis, the Revel is fuel efficient and easy to drive. Mercedes-Benz incorporates a number of safety features into their rigs, and Winnebago makes sure to maximize on these safety features. Some of these include backup cameras, lane assist, and more.
Speaking of the chassis, it is a four-wheel drive option for those of you who are unsure what the road conditions will be like when you travel. This gives you total peace of mind while traveling over rough terrain or in inclement weather, not something that can be said for a travel trailer.
While the interior design is nothing special, it is easy to clean and maintain, made of long-lasting materials. Plus, the layout is where the Revel really shines. You have a large power lift bed in the rear of the van, allowing you to store things underneath it. Plus, the fridge in the kitchen allows you to access it from outside just as well as in.
Everything is also easy to access from the interior of this camper van, which is a huge convenience for those of you who are experienced in RVing and have been frustrated by other sorts of set ups in the past. Plus, you can easily boondock in the Revel, with huge batteries and tanks.
The catch, like most camper vans, is the price. Starting at $210k, this is nothing to scoff at. While the Revel is well-equipped and you likely won't want to add on too much more, this price point is not accessible to everyone.
Classy and luxurious interior design
Airstream name means it's well-built
Mercedes-Benz chassis and diesel engine
High price point for very little living space
While Airstream has given us a number of other rigs on this list, the Interstate 19 is a fantastic choice for those of you looking for a luxurious camper van. The Bambi and the Basecamp are both equally stunning and luxurious, but the Interstate 19 has a lot to offer as well.
Starting at $200k, this camper van is another high price point, which might make it less accessible for some of you. However, it is 19 feet long and easy to drive and park, also built on a Mercedes-Benz chassis like the Winnebago Revel.
You can get the Interstate 19 in three distinct interior design colors, including a Tommy Bahama special edition, should you be interested in that sort of thing. One of the main selling features of the interstate 19 is the fact that it has one of the largest beds available in any camper van, spanning the rear of the van.
The bathroom is also extremely impressive, despite it being a wet bath. It has plenty of space for you to shower, and even includes a clothes line should you be on the road a while. While the kitchen is fairly compact, it has an extended countertop that you can tuck away when not in use, and it has everything you need inside.
However, like most camper vans, you may be wondering if it's worth the cost. If you're going to invest in any Class B, going with Airstream is never a bad idea. At the very least, it will likely have a high resale value!
Unique and useful fiberglass frame
Completely customizable, inside and out
Durable and built to last
Purchase price will not be what you end up paying
The Escape 19, meaning that it's 19 feet long, is another travel trailer that I will consider upgrading into in the future. Starting at $35k, the Escape line of travel trailers are all built out of 1 continuous fiberglass piece. This essentially means that you won't ever have to worry about leaks or water damage as your rig ages.
Not only does this add incredible resale value to your RV, it also means that you likely will have this rig for years to come. The Escape also comes in a smaller model, should you be looking for something a bit more compact. However, given that they are built out of fiberglass, they are extremely lightweight and easy to tow.
This RV has everything you need inside, including a wet bath, full kitchen, spacious bed, and dining area. The cabinetry is light wood and modern, though the Escape brand offers you the unique opportunity to customize your RV to your heart's content.
Not only are there countless additions for you to consider, but you can also purchase or find your own custom formica countertops, flooring, and upholstery options. Escape is willing to install these for you, at a cost.
While it may take some time to manufacture and it may cost far more than $35k, you can truly make any Escape travel trailer your own. This even includes boondock capabilities, installation options allowing for four season travel, and much much more. The sky's the limit, so long as you have the budget for it!
Spacious and beautiful interior design
Has everything you need, and more
Lightweight and four season ready
Research the brand before you buy
Likely considered an underdog on this list just due to its name alone, the Starcraft Autumn Ridge is a fantastic option for those of you looking for something that is four season ready. It has an insulated underbelly as well as insulation in the walls, making it perfect for winter and summer time travel. Let's check out what else makes this rig special.
Coming in just over 19 feet long, the Autumn Ridge is extremely luxurious in its interior design and features. It still weighs less than three thousand pounds, making it lightweight and easy to tow for a variety of vehicles.
The interior feels modern and spacious, even on the 19 foot frame. You have a queen-size bed, a kitchen with a fantastic range and oven combination, and a luxurious bathroom. With a wardrobe and a dinette, you truly have everything you need to feel at home, no matter how long you're on the road.
There are numerous additional features to consider should you choose to add anything on, including a 50 amp service and an additional air conditioner. The Autumn Ridge starts at $23k, making it affordable for you to consider adding things that you may not be able to add onto more expensive options on this list.
Something to consider is the Starcraft brand name. This is a relatively small RV manufacturer, so it may be wise for you to do some proper research of your own. While everything seems to be in order in terms of the build quality on this travel trailer, you can never be too careful!
Mercedes-Benz chassis is reliable and safe
Exterior is well appointed for the adventurer
Interior is convertible and convenient
No clue how much it would cost
Tiffin has been a huge name in the RV game for a number of decades, and for good reason. The Cahaba is their highly anticipated Class B camper van release, though it is unclear when it will be available to the general public. However, there are enough interesting facts about it on their website to make it on this list.
It is unclear how much this particular RV will cost, but it has a lot to offer. Only 19 feet long, this camper van has large rear doors that open onto your sleeping area, which can either be two twin beds or one large sleeping space. You can use this open area during the day to store your recreational toys, such as kayaks and bicycles.
There's plenty of overhead storage as well, and on the rear of the van is a gear rack for even more belongings. While the kitchen is compact, it likely has a pull-out counter to make you feel as if you are in a more spacious kitchen. Plus, the wet bath will likely have an on-demand hot water heater.
It seems as if the Cahaba will be built for the adventurer in you. It has bright LEDs on the roof to illuminate your path, four-wheel drive, and the notorious and safe Mercedes-Benz chassis to get you where you need to go. More details are likely forthcoming, but definitely keep an eye on this camper van!
Final Thoughts
Finding a compact RV that's under 20 feet long can be a chore, but not with our handy list!
As you saw yourself, there are plenty of options on the market today, and the majority of these rigs are stunning as well as practical.
Whether you want a compact RV to enjoy the weekend in, or if you plan on living full-time in one as I do, one thing is certain, you can't go wrong with any of these fantastic options!