Last updated on December 10th, 2022 at 12:13 pm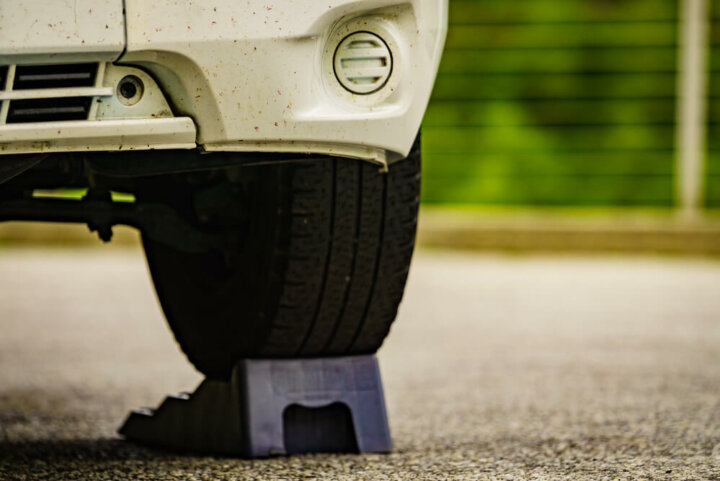 All of our reviews are based on exhaustive research, industry experience and whenever possible, hands-on testing. When you make a purchase using one of our chosen links we'll get a small percentage of the proceeds. This supports the site and keeps Jeffsetter running. You can read more here.
RVs, campers, and travel trailers are all great mobile ways to travel and see the world. It's all well and good when you're out on the open road, but what about when it comes time to park your camper?
On a flat surface, it's almost as easy as parking a standard car or truck, but you can't guarantee that every parking spot you find is going to be on nice, even ground. Parking on a slope requires a little bit more preparation.
So, how do you park a travel trailer on a sloped driveway?
Parking on a sloped driveway requires a bubble level, wheel chocks, leveling blocks, and patience. Park your camper on the most level part of the slope and then use your level to figure out how many leveling blocks you need. Place the blocks, park your camper, then use wood chocks to secure it in place.
It sounds easy, and with practice it gets easy. Below you'll find a more detailed explanation of how to park your trailer, RV, or camper on a sloped driveway or any slope.
What Tools You Need To Park A Travel Trailer on a Sloped Driveway
Below are a few tools that will assist you in getting your RV or travel trailer level when parking on a slope. What you will and won't need will depend on how steep the slope is that you're trying to park on.
Two-Feet Bubble Level
It might sound obvious, but making sure you have a level on hand is a good start when you need to park on a slope. You don't need anything fancy, just a standard bubble level will do the trick. I do recommend getting a taller one so that you can actually use it effectively.
Bubble levels are easy to read. There will be multiple leveling bubbles going both vertically and horizontally. Each one will have two black lines and you know it is level once the bubble is squarely between the two lines.
Leveling Jacks
Some RVs will have automatic leveling jacks built into their systems. These are easy to operate and only require pressing a button. You may also have manual leveling jacks which you will need to use the bubble level with in order to get it perfectly level.
Wheel Chocks
Wheel chocks are wedge-shaped and usually made of rubber or sturdy plastic. They are designed to be wedged under the wheel of a vehicle to keep it from rolling accidentally.
Leveling Blocks
You'll need a number of leveling blocks to park your travel trailer on top of to level out the wheels. There are plastic leveling blocks on the market, but you can also use wooden blocks. Just make sure that if you use wood it is in good condition and not rotten or broken.
Keep in mind the size and weight of your vehicle. If it's particularly large, the wood and the plastic blocks might not be a safe option for you to use.
How to Park a Travel Trailer on a Sloped Driveway
The best case scenario when you are looking for a place to park your RV or your travel trailer is to find a nice even piece of ground to park on.
That's not always possible, so it's good to know how to level your travel trailer when your only option is to park it on a slope. It's an important skill to keep in your arsenal so that you can ensure your travel trailer is always level.
When you are looking to park on a slope, my first advice is that you try to position your vehicle so that the slope is running from back to front instead of side to side, but let's take a look at both options in case that's not possible!
How to Level From Side to Side
You might be parking on a slope, but try to find the flattest, least sloped area to put your vehicle. Make sure that you clear away any debris that might get in the way of your parking before trying to level your travel trailer. Now that's done, you should be ready to level your trailer.
You'll want to use your bubble level to estimate how much you're going to need to raise the side of the trailer that's lower to make it level. Lay the level on the rear bumper of your camper first. The bubble will lean towards the higher side of the camper. Then estimate the number of blocks that you are going to need in order to make the camper level.
Place the block in front of the tires, if you have dual wheels, then place them in front of both of the wheels. Drive slowly on top of the blocks. You should definitely have someone guiding you at this stage so you know when to stop the vehicle. Your tires should be squarely on top of the blocks, if they aren't, then you will need to reposition the blocks.
Check if the camper is level or not. It is a bit of a guessing game about how many blocks you are going to need, so it might take a few tries to get it right. Add or remove blocks to level the camper again.
As soon as your camper is leveled, make sure to place the chocks under each wheel. You'll want to put them under the downhill side of each wheel to keep your camper from moving.
Don't skip out on this step, it's important for the safety of your travel trailer and those around it that it's as secure as possible. This is especially true if you are going to be inside your travel trailer while it's parked on the slope. People moving around inside will make the vehicle rock, even gently, which can unbalance it.
How to Level From Front to Back
To level your travel trailer from front to back, you'll want to start setting the jack on a wheel dock. The tongue jack is the part of your trailer that connects to your vehicle. When you are sure your trailer is at a solid resting spot, you can unhitch the trailer from your vehicle.
Place your level on the inside of your camper door, and see how level it is from front to back. The jack will usually have a hand or an electric crank to raise or lower it. Crank it until you have reached equilibrium from front to back.
Then place your leveling blocks under each of the stabilizing jacks on your camper. These are not designed for the purpose of leveling your camper, so don't use them for that purpose unless you want them to break. They are there to keep your camper from rocking or moving.
You might find that your camper doesn't have stabilizer jacks, you can have them installed or you can place jack stands on the four corners of the camper.
You can also look into Andersen Levelers, these are nifty tools that make this whole process even easier. If you have an Andersen Leveler, then you won't need any leveling blocks. It's a wedge system where you drive onto the wedge and simply pull forward until your camper is level. Even with this tool, make sure to use wheel chocks once you've parked.
What if It's A Really Steep Slope?
Some slopes are really really steep, and if that's the case, then the first thing I would advise is for you to find a different place to park. If you have no other choice, then you can park your camper there but be extra careful.
Follow the same steps as above, but you need to add extra blocking under your leveling blocks on the lower side of your camper. To make that work, you'll need to dig a couple of inches into the ground so that you are starting on level ground.
You would need a small shovel and a level to do this. Dig a few inches down and pat it as level as you can get it. Place the extra blocking inside and then your leveling blocks on that. It might sound like an extra step, but this is the safest way to ensure that your camper isn't going anywhere when parked on a steep slope.
The video below has great instructions on how to park a travel trailer on a sloped driveway.
Conclusion
Parking a camper, travel trailer, or RV on a sloped driveway can be intimidating the first time you do it. There are a lot of things that can go wrong, and if you don't do it correctly, it can have disastrous results. Not only do you not want your vehicle to roll away, but you also don't want it to be unlevel which can have adverse effects on your camper.
Following the steps laid out in the article should make parking on a slope a breeze and give you confidence in your ability to level your camper. All you really need is the ability to read a level and the patience to stack your blocks until they are level.