Last updated on August 24th, 2023 at 09:53 am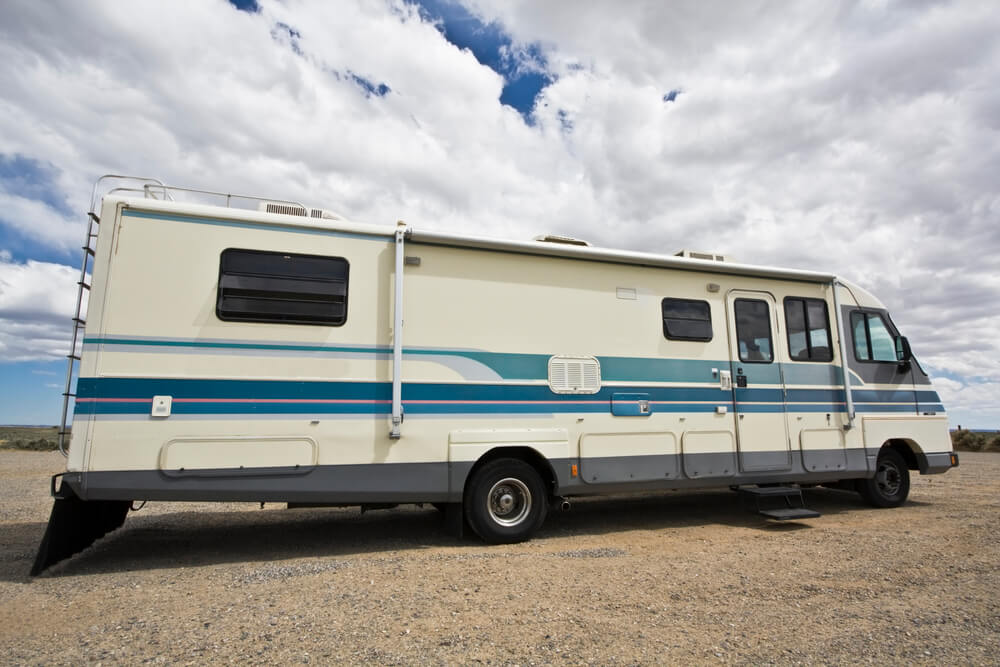 All of our reviews are based on exhaustive research, industry experience and whenever possible, hands-on testing. When you make a purchase using one of our chosen links we'll receive a small percentage of the proceeds. This supports the site and keeps Jeffsetter running. You can read more here.
The idea of RV storage can be anxiety-inducing for just about any RVer out there, especially when it comes to RV parking pad ideas. But you can get inspired and come up with your own RV parking pad thoughts- with a bit of our help!
In this article, we'll discuss some popular RV parking pad designs, ideas, and how you can best equip your own home for RV storage. You don't have to pay to store your RV anywhere else but in your own front yard, driveway, and more!
If you've never considered the ways you can store your RV on a parking pad on your own property, now is the time. Here are some ideas so you can safely store your RV for each and every off-season to come.
What Materials Are Best For RV Parking Pads?
Whether you're looking for cheap parking pad ideas or want a unique RV parking pad design, it all begins with the types of materials you plan on using. But what materials are best for RV parking pad ideas? Let's take a look at some options now.
Gravel
Did you know that a variety of gravel and crushed rock options make for ideal RV parking pad materials? If you're looking for a relatively inexpensive material to use on your parking pad, you may consider gravel for this reason. Gravel is found in a variety of grades, colors, and materials. All are ideal for RV parking pads and generally are readily available at your local hardware store to cut down on some RVing costs!
There are certain types of gravel more ideally suited for parking pad projects, but more on that in a little bit! You should plan your parking pad accordingly if you want to use gravel. This usually involves digging your designated pad area to a certain depth as gravel needs an even and level parking area in order to work effectively.
Some of the best gravel for RV parking pad ideas include:
Marble chips

Pea gravel

Crushed stone gravel

All-purpose gravel

Decomposed granite

Brick chips

Lava rocks
Given the wide variety of rocks available, you will likely find a stone option to suit your particular design aesthetics as well. Depending on the cost, you may be able to build an RV parking pad that's both unique and functional. Given the way gravel is manufactured, it's vital to build your gravel parking pad with a decent amount of stone.
Gravel is easy to install since you simply lay the rocks down without much ceremony. However, gravel is likely to shift and move whenever you drive on it, which could shuffle things about. To avoid getting your RV stuck in the mud, make sure you purchase and install an ample amount of gravel for your parking pad.
Non-Permeable Pavers
Another popular choice for RV parking pads is the paver. A paver is a word that describes almost any stone, concrete, or brick material that can be laid down as part of a road or sidewalk. Pavers are a much more complicated install than the average gravel parking pad, and they are often pricier too.
However, pavers maintain a solid and stable surface, even as season after season passes by. This material is also valuable for creating a unique and intricate design, especially if you're trying to match your existing driveway or outdoor landscaping. Having the option to match your brick exterior with an additional paved parking pad may be appealing to some, especially for the resale value of your home.
Popular paver options include bricks, cobblestones, and cement pavers, though there are many other manufactured options to choose from. These sturdy building materials are available in a wide variety of sizes, thicknesses, and colors, giving you far more options than you may initially think! The main downside to pavers besides the cost of the material is the extra labor involved.
Not only will you need to dig out an area for your parking pad that's level and consistent, but you'll also need to spend time laying each individual paver. You'll l also need to budget the cost of the mortar or adhesive used to keep your pavers in place. While it likely won't cost much, it's another cost consideration to think about.
However, many homeowners have built their own paver RV parking pad so this isn't something that you should be afraid of. You can check out a great example of this here:
Pavers are incredibly stable and easy to install once you get the hang of it. I recommend watching some tutorials and taking your time, should you decide to go with pavers as your parking pad material.
Permeable Pavers
Did you know that there are permeable pavers as well as less permeable options? Permeable pavers are useful for their ability to drain water and maintain their shape for years to come. Plus, permeable pavers are easy to install and maintain. Maybe they are the best opportunity for a family project!
Permeable pavers are available in a wide variety of materials and styles, such as:
Rolled plastic pavers

Hexagonal patterned pavers

Plastic grid pavers
Some plastic permeable pavers don't even need to be permanently installed in your driveway or home, which could be valuable for anyone renting a home or property. You can simply roll up your RV parking pad, which is extremely beneficial!
It's important to note many permeable pavers aren't ideal for heavy rigs or particularly long RVs. The plastic materials are likely not strong enough to handle so much weight regularly, and you will have to replace these pavers sooner than you expect.
That's why it's important to weigh up all RV parking pad options before making a final decision. While it may seem convenient to use plastic pavers given their ease of installation and water permeability, it may not work if you have a particularly heavy rig or want a more permanent option.
Cement
Another RV parking pad option is perhaps one of the more obvious choices. You can simply lay down a concrete or cement slab to park your RV, much like a driveway. But what are some of the benefits and drawbacks of this particular method?
Well, for starters, laying a cement parking pad may need more expertise than you currently have. This also will require you to potentially rent a cement mixer too which may result in additional expenses. However, there are many tutorials like in the video below, that can help you through this process. Cement can be used in a variety of ways so you can make an RV parking pad that best suits your style and location.
Leveling your driveway or parking pad is of course the most important step in this process, as it is with all of the other parking pad material ideas. It can be tricky to level wet concrete when the time comes, so having a few extra people to help you out with this may prove useful. You'll also need to build a wooden frame to hold your cement in place while it dries, another potentially unexpected expense.
Speaking of expense, a concrete parking pad can get expensive, even if you end up doing all of the labor yourself. This is doubly true if you plan on hiring a contractor or concrete driveway professional. I recommend hiring someone to help you with this project if you are a novice. An uneven concrete pad won't help your RV in the long run!
Grass
Did you know that you can park your RV on your existing grass or lawn? This can be another fantastic option for those of you who are renting or otherwise don't want to do anything too invasive to your property. Let's talk more about this option now. It isn't recommended you park your RV directly onto grass for many reasons.
You're more likely to experience issues with bugs and other pests, given your proximity to their natural environment. This isn't ideal for anyone, especially those storing your RV for months at a time. Another reason that you shouldn't park your RV directly on grass is because of the level of moisture found in grass and on lawns.
Your tires can suffer if they are stored atop such moist environments for a great deal of time. No one wants to spend their funds on RV tires before they have reached the end of their lifetime! However, there are ways you can mitigate the moisture and pest issues that plague any RVer who chooses to park on the grass. You can use many different tire covers, moisture barriers, and even leveling blocks.
You may already own leveling blocks in an effort to stop your travel trailer from rocking. This is only one of the benefits of leveling blocks. They are extremely useful for blocking moisture from reaching your tires as well! While this may seem like the least expensive option on this list, there is one important drawback to mention.
Given grass isn't a stable and secure material to park anything heavy on, you should consider that your RV may damage the grass that you are choosing to park on. If you live in an area of heavy rain and moisture, parking on a lawn may not be your best bet. Grass and dirt will be constantly shifting under the weight of your RV. You may even run the risk of damaging your grass completely. However, there are some preventative measures you can take to safely park on grass, but we'll talk more about this later.
What To Consider When Building An RV Parking Pad?
In case you couldn't guess, there are several things worth considering before and during the building of an RV parking pad. Curious to know what some of these considerations are? Read on to learn more!
Levelness Of Your Pad
One of the most important things to consider for your RV parking pad is the levelness of the pad itself. All RVs benefit from being level, especially RVs stored for months at a time. Your RV parking pad should be level so you can properly take care of all the systems within your rig. RV water tanks and propane benefit the most from your RV being level.
Your propane regulator can struggle to work properly if your travel trailer isn't level. Any water and holding tanks may also give inaccurate readings if your rig isn't level. Having a level parking pad is key to safely parking your RV as well. If your pad isn't even, you run the risk of your RV rolling away or shifting as time passes.
This can easily be avoided with the help of a level parking pad. Your RV tires and alignment can also suffer greatly if parked on an unlevel surface for a long period of time. You should take care to keep your RV level for the majority of its life, regardless of where it is stored.
Weight Of Your RV
The overall weight of your RV can greatly affect your RV parking pad choice. Not only does your RV run the risk of settling into whatever parking pad foundation you choose. The material you choose may not be able to hold up an RV that's too heavy!
You should take the time to weigh your travel trailer at home if you're worried about how much weight your parking pad needs to uphold. Plastic pavers and grass will struggle the most with a heavy RV. Make sure to know the weight of your RV before moving forward.
The weight of your RV will ultimately determine the necessary thickness of your parking pad foundation. A thicker foundation will bring more stability to a heavy RV. It will also increase your necessary budget for building materials, so this is something to keep in mind.
Your Neighbors
Neighbors are another essential consideration when building an RV parking pad. Unless you live in a rural area or on a property with acreage, you likely have neighbors nearby. And you may be surprised to hear your neighbors may have something to say about your RV parking pad ideas!
When planning your parking pad, you should take the time to check in with your neighbors regarding where you plan on building. If you're planning on going forward with one of your side yard RV parking ideas, great! You may want to confer with your neighbor regarding property lines and their comfort with this. RVs are tall and can cast long shadows, which could affect your neighbor's living situation. RVs are also not the most attractive things to look at.
You may want to see what your neighbors prefer if you plan on parking your beast of an RV right next door! Granted, your neighbor can't really stop you if you're choosing to build a parking pad on your own property. But attempting to be a good neighbor is never a bad thing!
Public Street Or Sidewalks
I received a not-very-kind note from my local post office about where I had chosen to park my travel trailer for a week. Apparently, it was blocking my neighbor's mailbox too much, and I needed to move it immediately! This is something to keep in mind while you plan and eventually build your RV parking pad.
Public streets and sidewalks should be something you consider while crafting your blueprints. Ideally, it's best to avoid using these areas in your design to keep the peace and respect the local area. Building on private property is one thing. Your RV parking pad should not interfere with public property, like sidewalks and public streets.
You may be brimming with front yard parking pad ideas, but you can't implement any designs that interfere with a sidewalk or street. Pedestrians should be an important consideration for your RV parking pad. Taking care to avoid interfering with walkways and public areas as much as possible is wise. The last thing you need is to interfere with public property and be forced to move your RV parking area entirely!
Cost Of Materials
Another huge consideration to think about before building your RV parking pad is the overall cost of the materials involved. Not only should this include the base cost of your needed materials (cement, gravel, etc), but it should also include the cost of labor (if necessary) and equipment rentals too. Very few homeowners already own leveling equipment to make their own driveways.
If you do, great! If not, this is a necessary expense when it comes time to build your parking pad. You'll need a commercial tamper or leveler to fully level the soil, or the parking pad foundation. And this is just the beginning. Materials range in price, from budget-friendly options to top-of-the-line permeable pavers.
Cement parking pads often end up being very expensive, given the finesse and expertise involved. This is where you may end up paying more to get professional help. Regardless of the professional help you receive as well as what materials you decide on, building an RV parking pad can be expensive. I recommend tallying up your total for various material options and more before committing.
RV Utility Access
Are you building an RV parking pad with the intention of using your RV while it's parked? You may be hoping to use your rig as an alternative residence, which is a fantastic idea! However, this means you should be sure to build out adequate RV utility access as well.
Having electricity, water, and sewer available at your brand-new parking pad can be a fantastic finishing touch for your new project. However, it will take additional budget and planning to do so. You may need to hire a professional to help you with RV utilities. This is especially true if you plan on laying additional power lines or water lines on your parking pad.
Sewer is another issue that needs to be tackled for this project. No matter how in-depth you plan on getting with the RV parking pad, it's best to consider running utilities to your RV before the building commences. It's much easier to lay additional power and water lines to your parking pad when the soil is dug up!
Height Clearance
The overall height clearance possible for your parking pad should be something you consider before starting to build. Taking a bit of time to measure your RV completely will help ensure you find the best spot to park your RV in the long run. If your ideal RV parking pad lies beneath a grove of short trees, you may want to reconsider.
Tree removal can get expensive quickly. Plus, you don't want to leave your RV parked under trees season after season. You run the risk of RV damage with each storm that rolls in! Many RVers only consider length and width when building their RV parking pad. Be sure to keep the overall height in mind too, as your RV roof is a delicate and necessary component to any rig and may change where you ultimately decide to park your rig!
Tire Protection
Another key consideration for you to think about is how you plan on protecting your tires while your RV is parked on its new pad. While pavers and cement can make your RV tires feel safe and secure, there is one enemy for your RV tires that you may not have considered: UV rays. No matter where you build your RV parking pad, the chances are high that you will have to contest with the sun for RV safety.
UV rays can easily damage your RV's tires, from any angle. From fading to drying the rubber out, sunshine is one of the top causes of flat tires and blowouts while on the road. However, you can take the time to care for your tires when building an RV pad. Tire covers are easily purchasable through many retailers, and a simple fabric cover may be all you need to get the job done!
Grass and gravel parking areas aren't the most ideal for your RV tires. Gravel can be difficult to maneuver on. Plus, the stones can easily wedge in tire ridges and grooves. The moisture of grass can also be a nightmare with RV tires too! However, all of these parking pad options can suit any RV tires, with the right adjustments. Just take your time when considering parking pad options.
Weather And Moisture Protection
A final consideration you should think about before building your RV parking pad is how much protection you have from moisture and weather. Rain and water damage are one of the main battles you'll face when building your RV parking pad. Rain can easily erode a parking pad, especially if precautions to combat moisture damage haven't been taken.
Taking the time to efficiently compact the soil you're building the parking pad on can help reduce moisture. Also, moisture barriers can be installed to provide further protection for the pad foundation. Permeable pavers can be extremely useful for dealing with water and rainfall. Other parking pad options, such as cement, grass, and gravel, may not be the best choices for wet weather.
If you live in a particularly wet environment, you may want to consider permeable pavers exclusively. This ensures the longevity of your RV parking pad ideas, so you can build it right the first time and enjoy it for years to come!
4 RV Parking Pad Ideas: Get Inspired Now!
Curious to learn how you can see your own RV parking pad ideas come to life? Check out some of these RV parking pad designs and get inspired for your own parking pad!
1. Gravel RV Parking Pad Ideas
Gravel parking pads can be a fantastic choice for just about any RVer. Not only does gravel make a secure and permeable parking pad for the heaviest RV, but it's often less expensive than other parking pad materials. To start the process, excavate at least 6-12 inches of soil for the entire pad after finding out about any permits or digging rights in your local area
Once the area has been excavated, the tamping process can begin. Tamp the entire area you plan on parking on and ensure the soil has been properly compacted. Once this step is complete, you can lay down a moisture barrier to better ensure the life of your gravel parking pad. Next comes the gravel!
It's recommended to use multiple sizes of stone or rock when building your gravel parking area. Lay down your largest pieces first to form a stable foundation for your parking pad. and lay the gravel down until the whole area is level. Often, 3-5 inches of gravel is more than enough to create a stable surface.
2. Paver RV Parking Pad Ideas
While pavers can be a more complicated installation, seeing a finished paver parking pad is always satisfying! The process of installing pavers begins just like the gravel parking pad. You'll need to excavate deep enough to ensure the dirt is compact and stable. Most pavers require you to dig a bit deeper, given the thickness of the average brick or stone paver.
You'll also need to make room for paver sand, gravel, or mortar during this process as well. Digging up to 18 inches may be your best bet for this project. Laying your brick or stone pavers is important, as the uniformity of these materials requires some finesse. However, using square stone tiles can help you in creating a uniform design, and the strength of a brick or cement paver can't be beaten!
Permeable pavers can be useful if you don't plan on laying down a base layer of gravel to help you with drainage. These plastic pavers can be even more difficult to install, so take your time. However, even plastic pavers like this option from TRUEGRID require you to lay dirt or gravel over top of them.
Plastic pavers are designed to give your parking pad more stability. They aren't made to simply become your new driveway. Keep this in mind when you start planning your RV parking pad ideas!
3. Cement RV Parking Pad Ideas
A cement parking pad may be the most ambitious project on this list. But it can also be the most satisfying to see completed. Thankfully, there are plenty of DIY blogs and helpful tips you can follow in order to accomplish this project!
You should excavate your parking pad area, like always. Digging anywhere from 4-6 inches should be enough to ensure you can lay a uniform slab. Then, all that's left is tamping the soil, mixing your cement, and pouring it! Pouring and evenly flattening your cement can be a stressful part of this process.
You may choose to lay down a base layer of gravel for proper drainage as well- something many handymen highly recommend. Finish your cement parking pad with a decorative border, and make sure your concrete is fully cured before driving on it!
4. Grass RV Parking Pad Ideas
Utilizing permeable plastic pavers beneath your lawn or grass can be a fantastic way to create a stable parking pad without sacrificing your lawn. While this process can seem a bit redundant if you have to dig up your lawn and then replace it, it can also be a cost-effective RV process.
You can also simply employ moisture barriers atop your existing lawn, something as simple as this tire saver ramp available on Amazon. While you run the risk of killing the lawn that lies beneath these ramps, it may be your best bet to safely store your RV tires without digging up your whole lawn or driveway!
Other RV Parking Pad Idea Tips
Still curious if there are things to consider when planning your RV parking pad? Here are some additional tips so you can safely and efficiently build the RV parking pad of your dreams!
Cover Your RV
We've already mentioned the importance of covering up your RV, and you may still be in the process of shopping for an RV cover. Regardless of where you're at in this process or how you feel about RV covers, sheltering your RV while you store it on your property can be beneficial.
Not only can RV covers provide your RV with the necessary protection from both the weather and harmful UV rays, but they may be the finishing touch you need for your RV parking pad ideas too. There are a couple of types of RV covers; soft options that rest against your RV, or a hard roof structure kind of cover.
While RV covers range in cost, I think it's wise to invest in a robust cover when building out an RV pad. This can save time and money in the future as your rig will be protected, no matter the weather! Many RVers choose to purchase a hard RV cover to go over the entirety of the driveway or parking pad rather than a soft cover that only covers the RV itself.
Soft covers run the risk of damaging your RV during windstorms and other unexpected weather phenomena. A driveway cover helps avoid this damage. It also offers your RV and new parking pad ample security, season after season.
Driving Your RV Is Important
While having a safe and protected location to park your RV is important, you should remember that RVs are made to be driven! Be sure to drive your RV once every other month. This will help keep all of the systems running well and your rig operating at its best.
This can be especially useful for preventing any pests or rodents from making your RV their home too! By taking the time to check on your RV occasionally, pests are less likely to build permanent nests.
Watch Out For Trees And Shrubs
When building your RV parking pad, you may have already considered what you can do to avoid any trees and shrubs in the area. However, you should keep this in mind once your parking pad is finished and you're backing your RV in.
Any low-hanging branches or shrubs can easily scratch or damage your RV resulting in you needing to paint it again! Make sure that your designated parking pad area is free of these plants well before you decide to park. It's the little steps that you can take that make all the difference!
Final Thoughts
Designing and building an RV parking pad is a fantastic choice for any RVer to do. It may just take some planning and time before your RV parking pad ideas see the light of day. However, with the helpful tips found in this article and countless video tutorials, you too can build a parking pad with durable and safe materials!