Our final stop in Hawaii was Oahu.
Several people told the Jeffsetters that we would hate Waikiki when we posed the "where to stay" question on our blog. 
That blog post gave us many ideas, and is also how we met blog contributor Kyle, who has now become a friend! Seriously, the Internet is amazing. 
We were told we should stay on the North Shore and not Waikiki. Naturally, the Jeffsetters chose to stay at the Hyatt Place Waikiki Beach. But we have a good reason! 
We wanted to keep rooms within our budget of $100 or less per night, and the ~$300 average price for a hotel room anywhere on Oahu was well above our budget. Even the vacation rentals available were approaching $250+  a night including all the cleaning and service fees. 
We mulled using points for our rooms or free nights, but the only place that would work for us was the Hyatt Place Waikiki Beach. We decided to bit the bullet and just stay in Waikiki, its only a couple of nights.
We got one free night using our Hyatt Credit Card Free Night Certificate. The other two nights we used points that were transferred from Chase Ultimate Rewards. Overall this saved us somewhere around $900!
Welcome to Hawaii!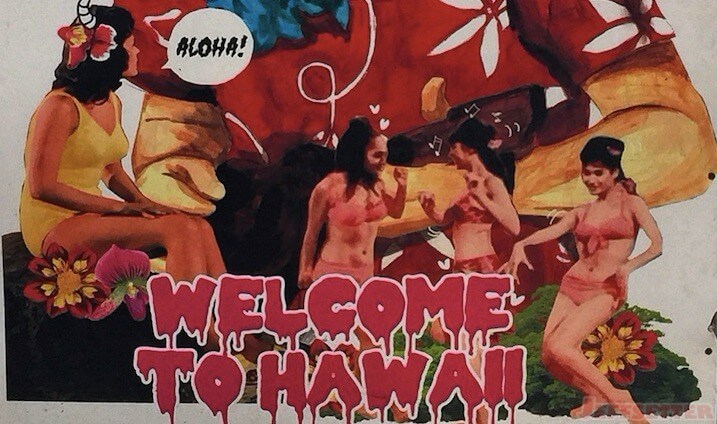 Different from our other reviews, this includes a large section on the location. The location is what did me in on this hotel, not the hotel itself. The hotel itself meets expectations for the Hyatt Place brand.
But as predicted, we weren't big fans of Waikiki Beach.
The Location
Waikiki is a former swamp turned pristine beach just for tourists. Originally, the beach was created in the 50s with sand from Manhattan Beach, CA.
Sand from other natural beaches in Hawaii annually replenish the constantly eroding Waikiki shoreline.
Yay convenience! Because why would you want to go 5 miles further to a natural beach?
No, I get it. If I lived on Hawaii, then I would want to confine the tourists to one location. Clearly, Oahu was way ahead of the Wire and the theory of Hamsterdam.
From Hyatt Place Waikiki, Waikiki Beach (0.2 miles) is just a 5 to 45 minute walk depending upon whether a tour bus (or 6) is loading when you leave the hotel.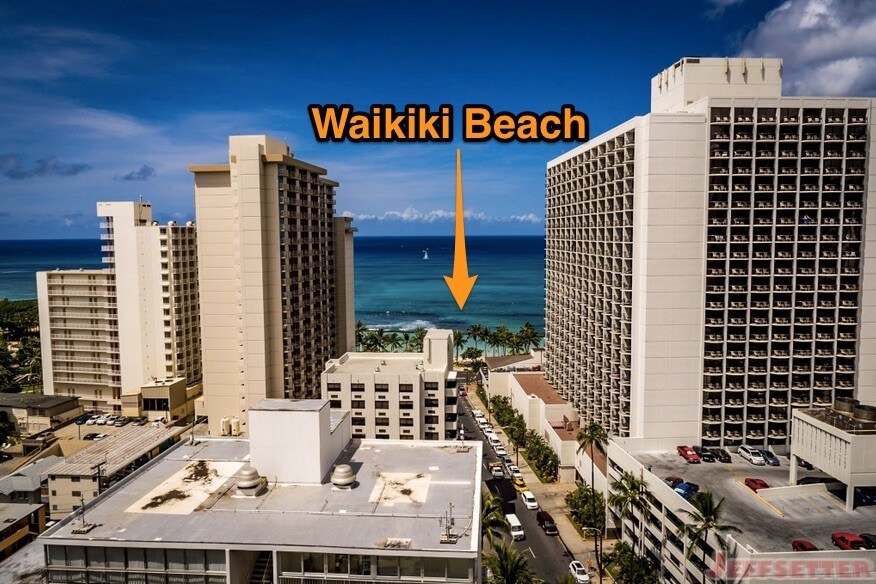 Be sure to arrive at Waikiki Beach before 8am, so you will not have to share your beach towel with other patrons as space is limited.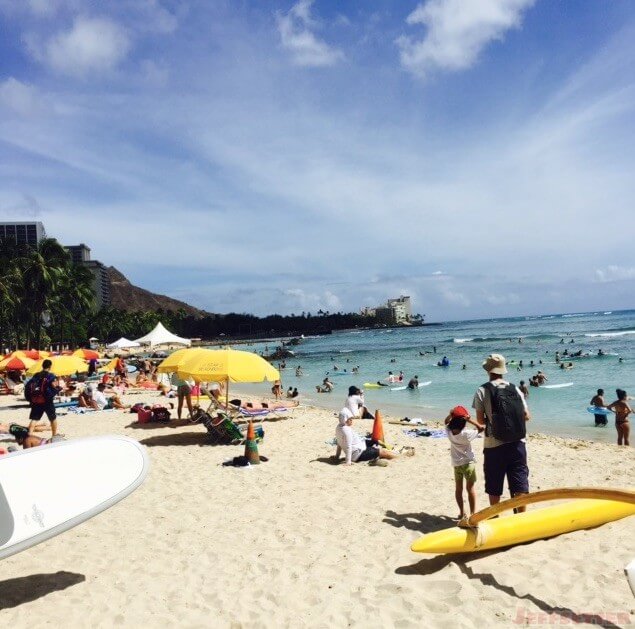 If you choose to venture into the water, you may wish to rent an individual shark cage to fend off novice paddle boarders and surfers.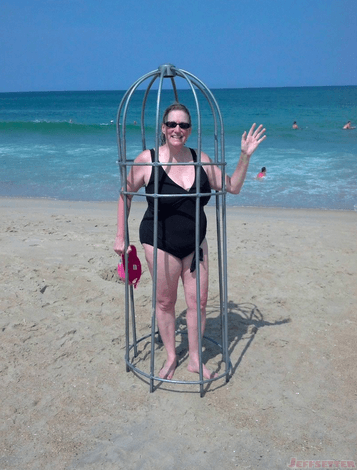 If the beach is still closed due to sewage, then hiking is an alternative.
Diamond Head Trail is an easy 1.5 mile walk from the Hyatt Place Waikiki. If you are up for an adventure, continue on the Diamond Head Trail for an additional 0.8 mile hike up to the summit. (Entry is $1 USD person on foot.)
The hike to the summit offers an experience similar to Black Friday shopping at your local Walmart, but in 90 degree heat with 60% humidity. I suggest waiting until high noon to be sure you achieve optimal cooked lobster status by the time you reach the summit.
Do take in the view of the Honolulu from the "pill box" (stand for a WWII gun) at the summit before beginning your walk back to the hotel. The only redeeming quality of this outing.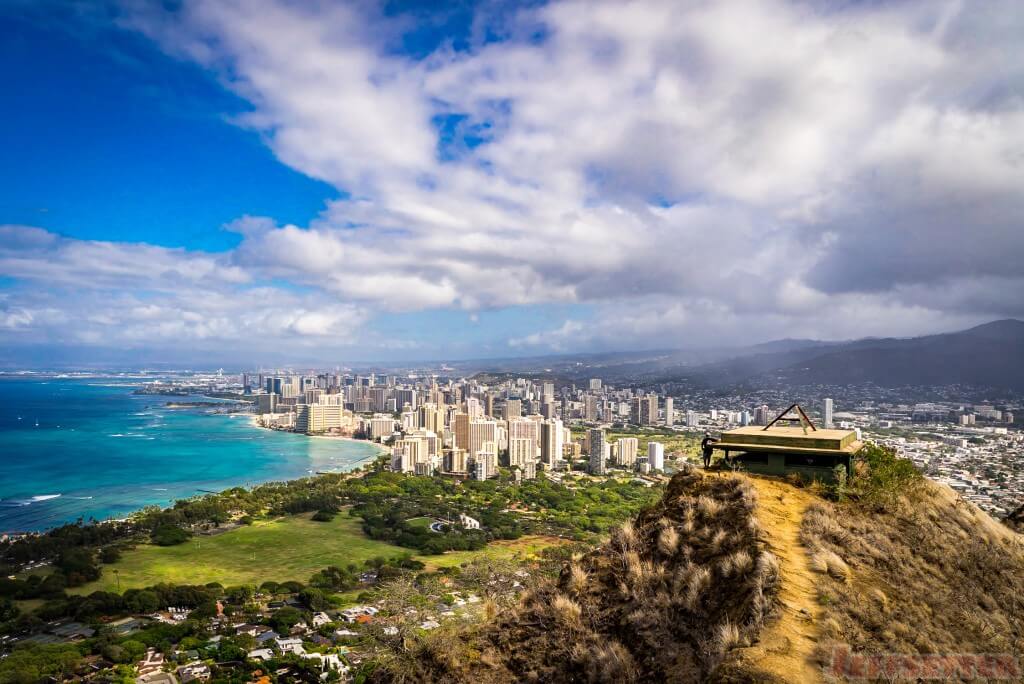 Not into physical activities? Do not fret! Plenty of American capitalism is available to delight your senses from Louis Vuitton to well this…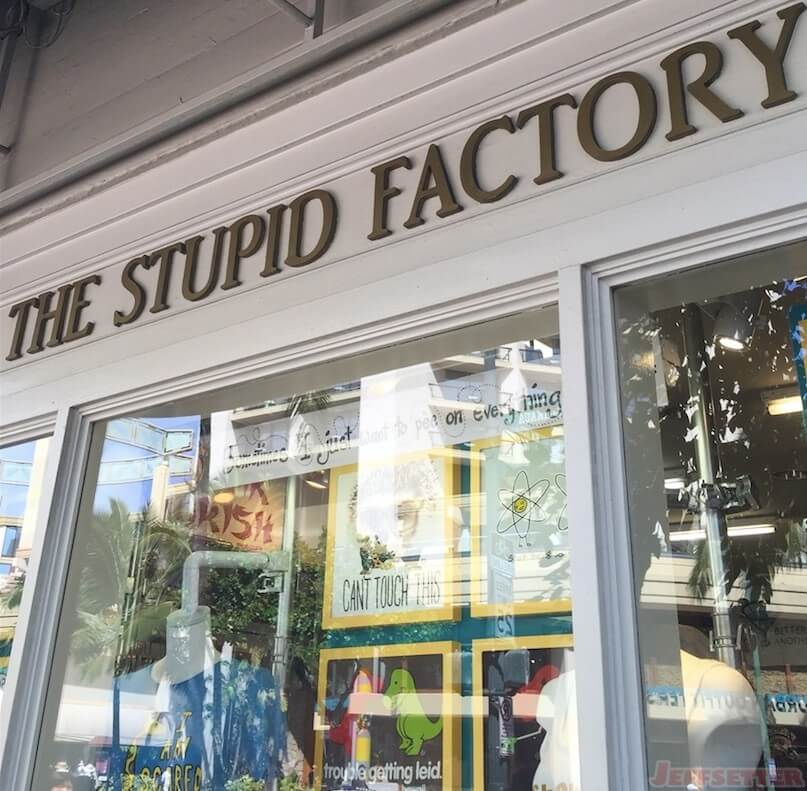 Yes, the top sign in the window says "Sometimes I just want to pee on everything."  Yes, this is a real store in Honolulu.
Had enough of the location? On to the hotel, which was fine.
The Entrance and Lobby
The lobby greats you with serene art work in attempt to sooth you after the 5 mile ($55.00 and 40 minute) taxi ride from the airport. I strongly suggest having the hotel arrange a taxi for you. The hotel offers a discount on the normal cab rate. Uber had a ridiculous surcharge when we arrived (6.1x).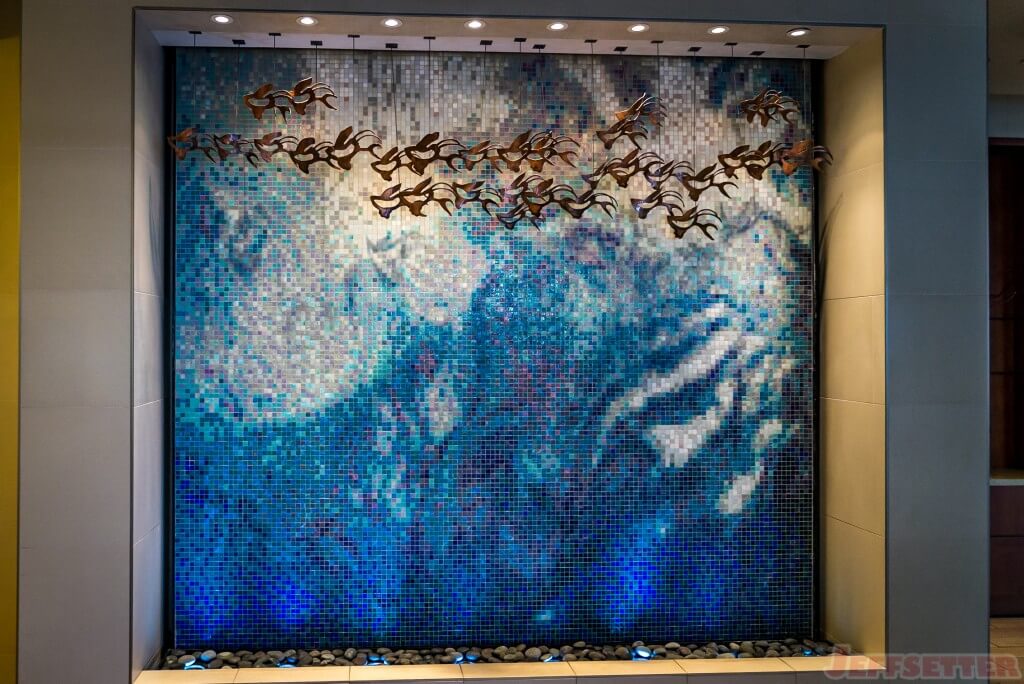 The hotel entrance is jam packed full of cars.
Our taxi couldn't even pull up in the drive. Instead of sitting and letting the meter run the Jeffsetters got out on the street and lugged our luggage up to the hotel. (Mr. did most of the work, I am pretty delicate. In my defense, there were stairs.)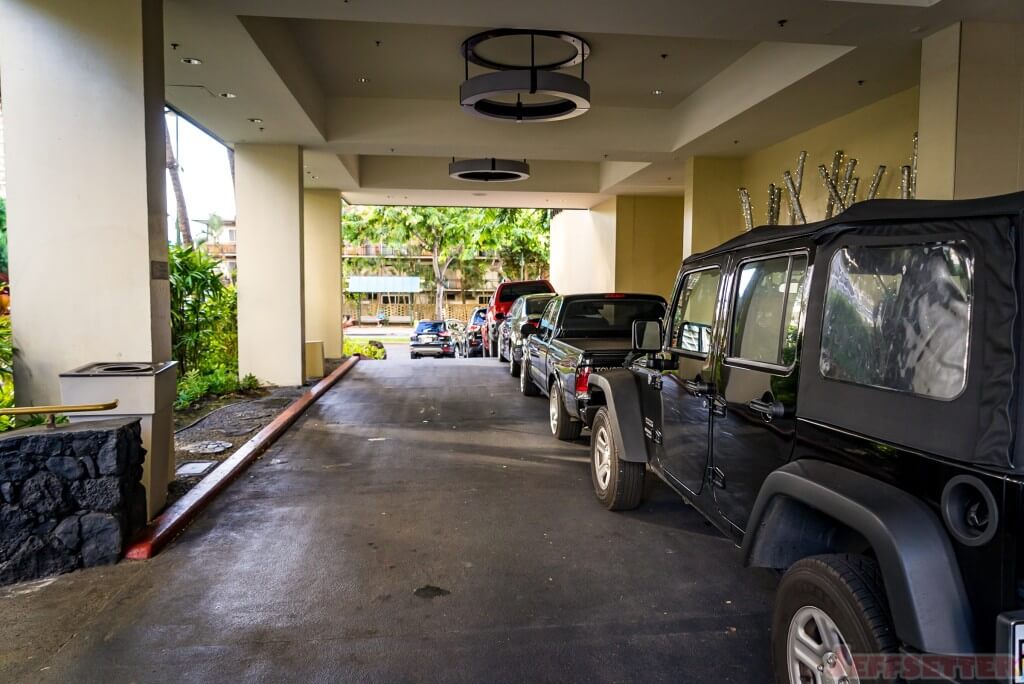 The Lobby is open air, clean with a snack slash real bar.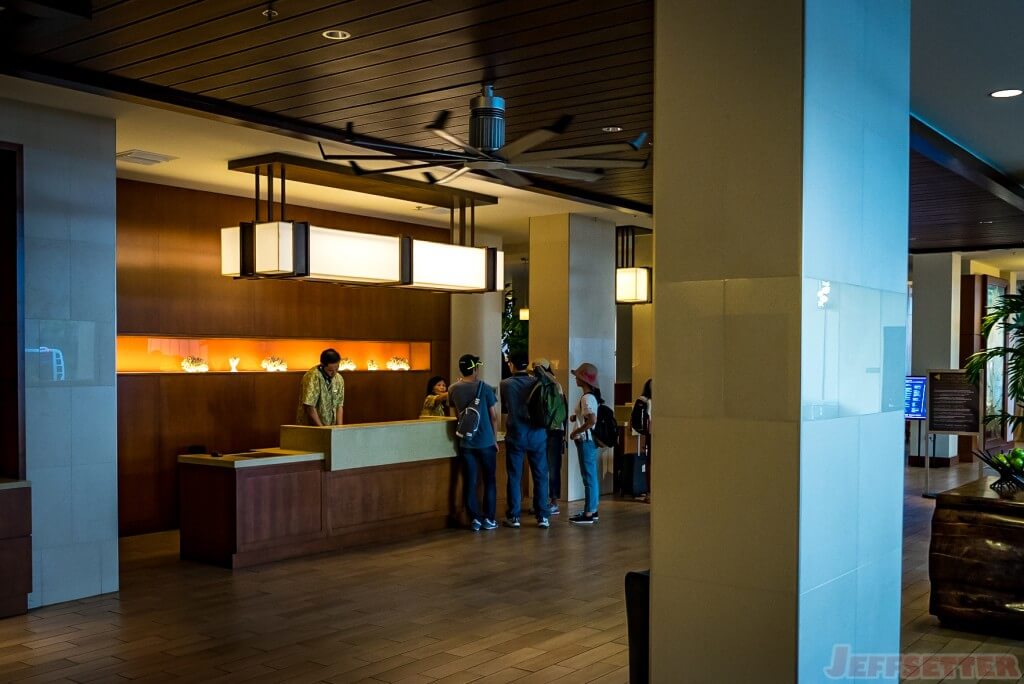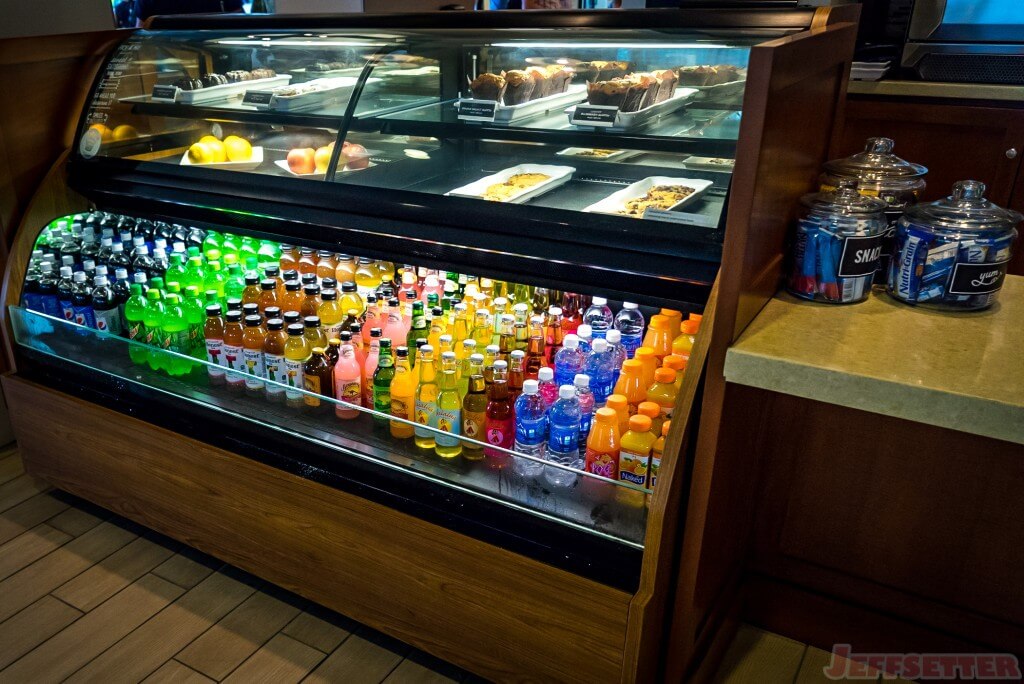 Check in was smooth, although Mr. Jeffsetter's status wasn't immediately recognized. Five minutes later, everything worked out, yet another status related travel crisis averted.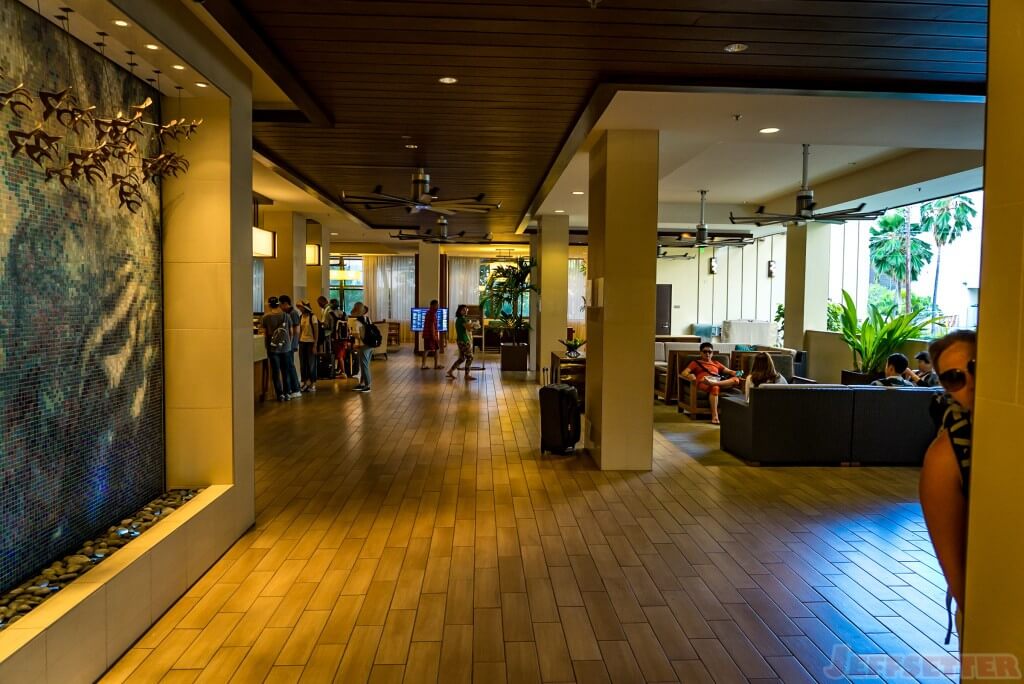 As you can see above, I managed to sneak into one of Mr.  Jeffsetter's hotel photos. He was not happy with me. Apparently doing things like this, results in me ruining his hotel review photos. "I really need to take these reviews more seriously."
Uh, its called differential branding Mr. J. If anything, I am taking these reviews too seriously by involving "branding."
Hyatt Place Waikiki provides two elevators for the Pali Tower (one of the two towers). These elevators service 19 floors.  
The ride up provided a slow leisurely pace to accommodate your vacation, and those customers that easily succumb to motion sickness. Downside – the line.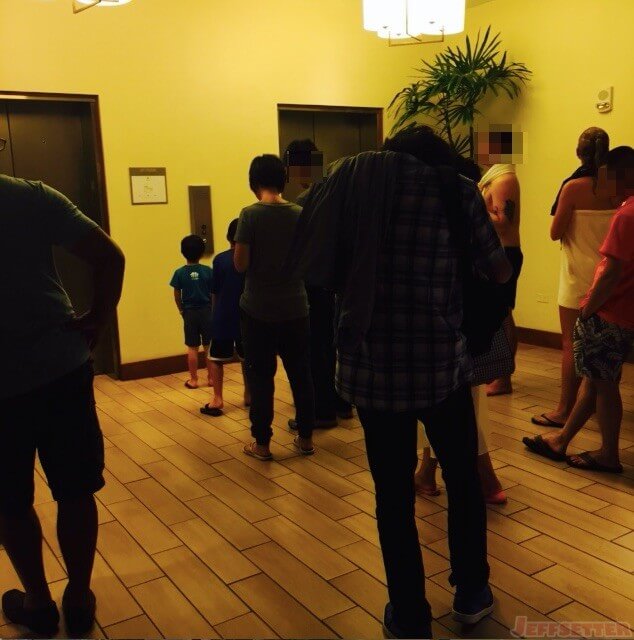 The Room View
Arriving to our room on the 18th floor, we were greeted with an upgraded ocean view room, see – the ocean. Everything worked out after the questionable check-in.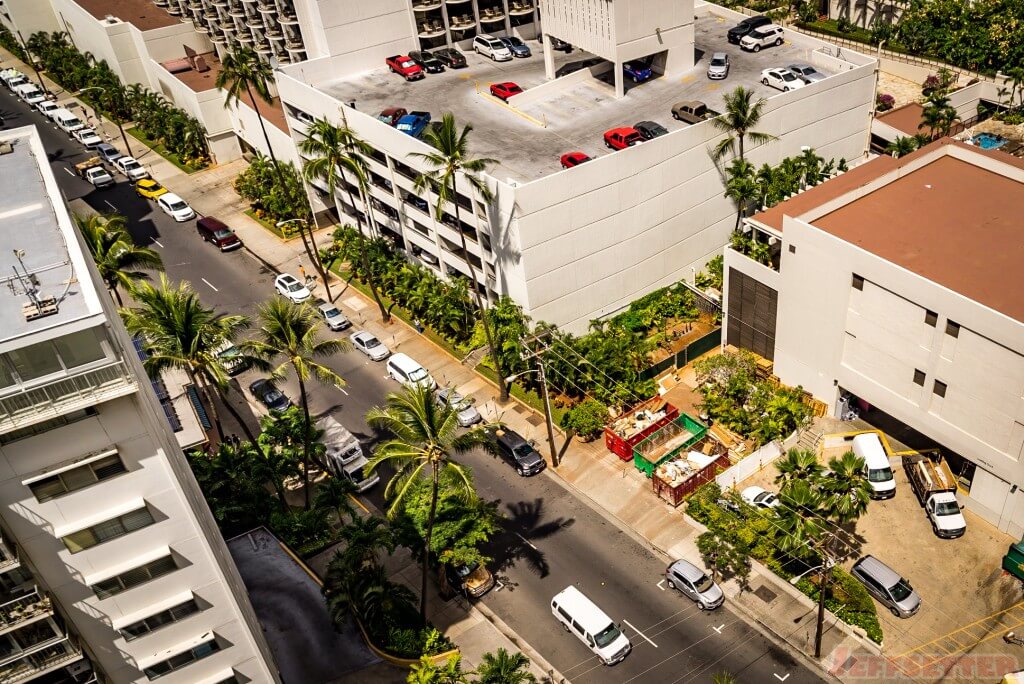 Ok joking, that picture was if you looked down. The view of the ocean can be seen from the deck with seating for two, and it is quite nice.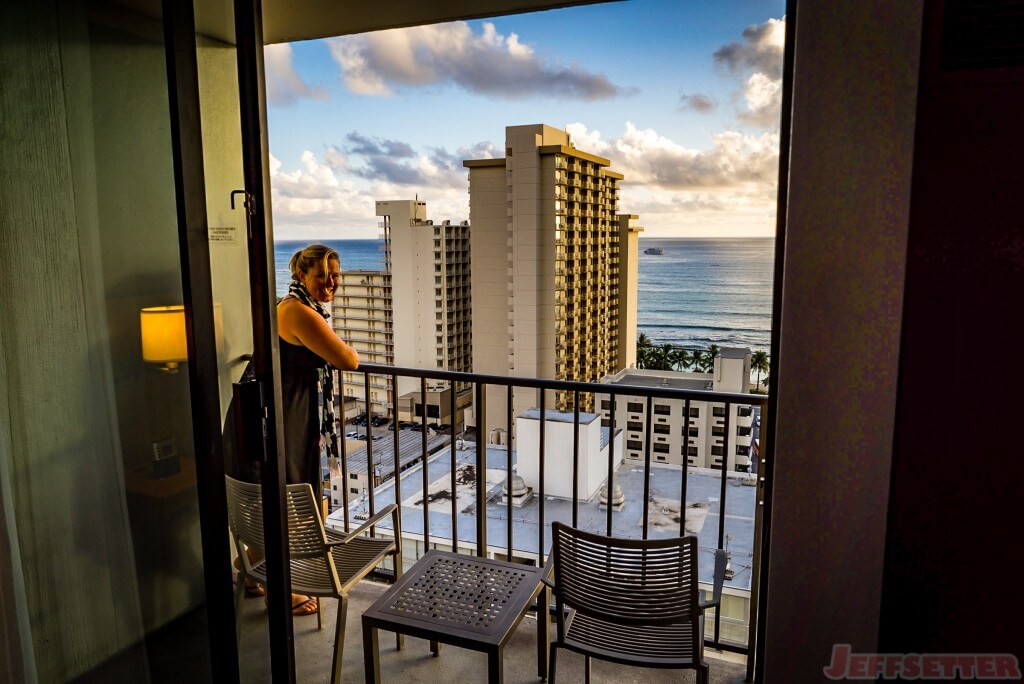 The Bathroom
The bathroom offers a variety of conveniences, some found in every hotel others quite unique to the Hyatt Place Waikiki.
Toiletries
Here I am again "ruining" another picture. In reality, I am discovering the products available for my enjoyment.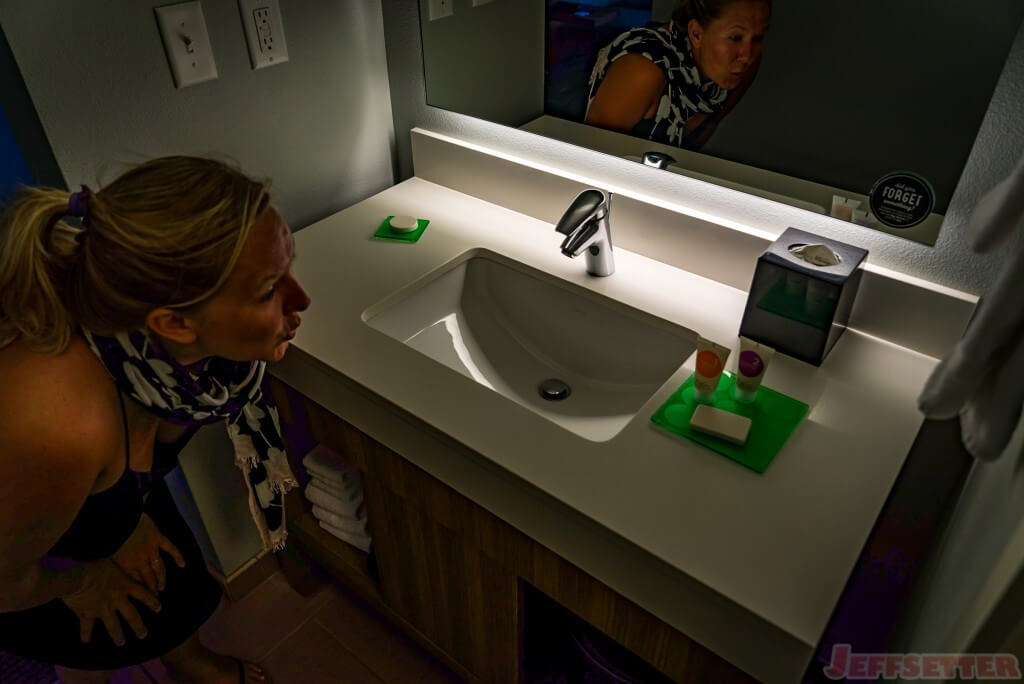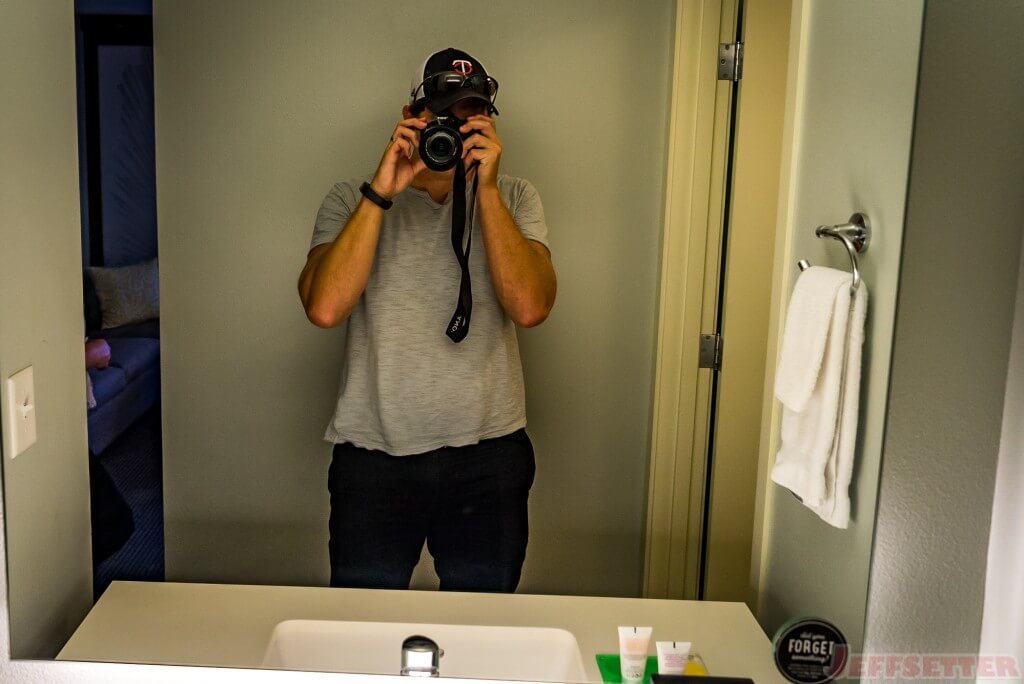 2. Dual Shower Heads – for the most efficient usage of fresh clean water on a remote island.
3. The The Toilet
Jeff vowed to never post a toilet photo on the blog again, but this time we have to make an exception for this exceptional toilet.
I have not seen an advanced toilet such as this since my last visit to the Google campus. Seriously, Google has some pretty hi-tech toilets.
Note, the control panel on the wall.
Seat warmer – check,

Air dryer – check,

Cleanser – check.
You can even control the force of the water and air.
Oh – but that's not all the toilet even has a built in tooth brushing station. Ours may have been a little broken. Wait for it…wait for it…..
#gross
The Room Itself
Our room was quite large with plenty of space for all our luggage.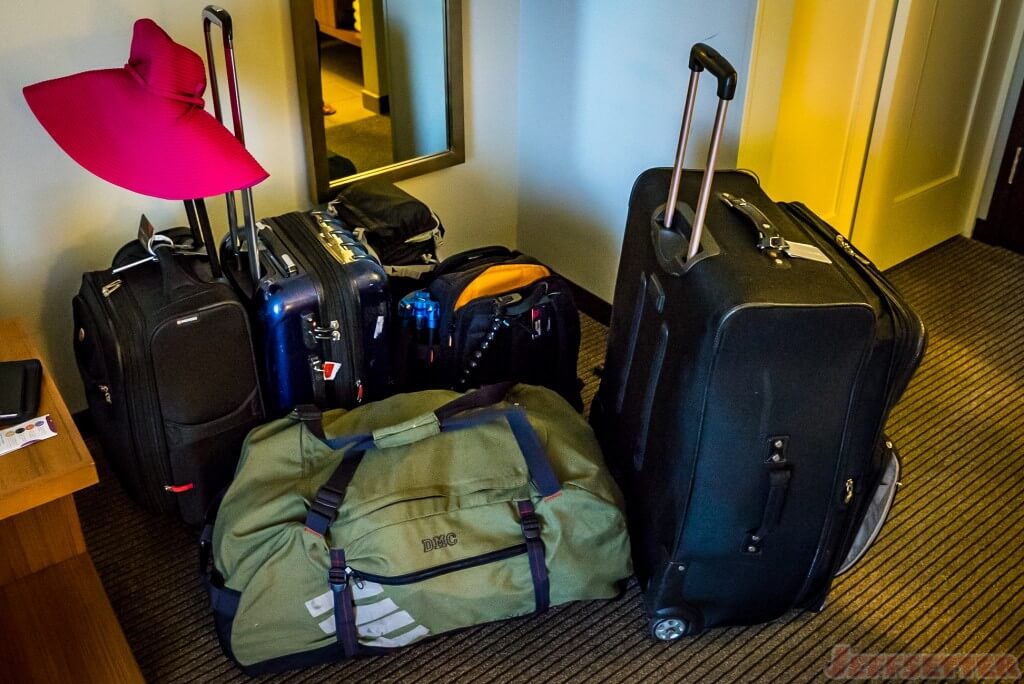 A sleeper sofa for the kids (if we had any) or other guests you may wish to bring back to your room.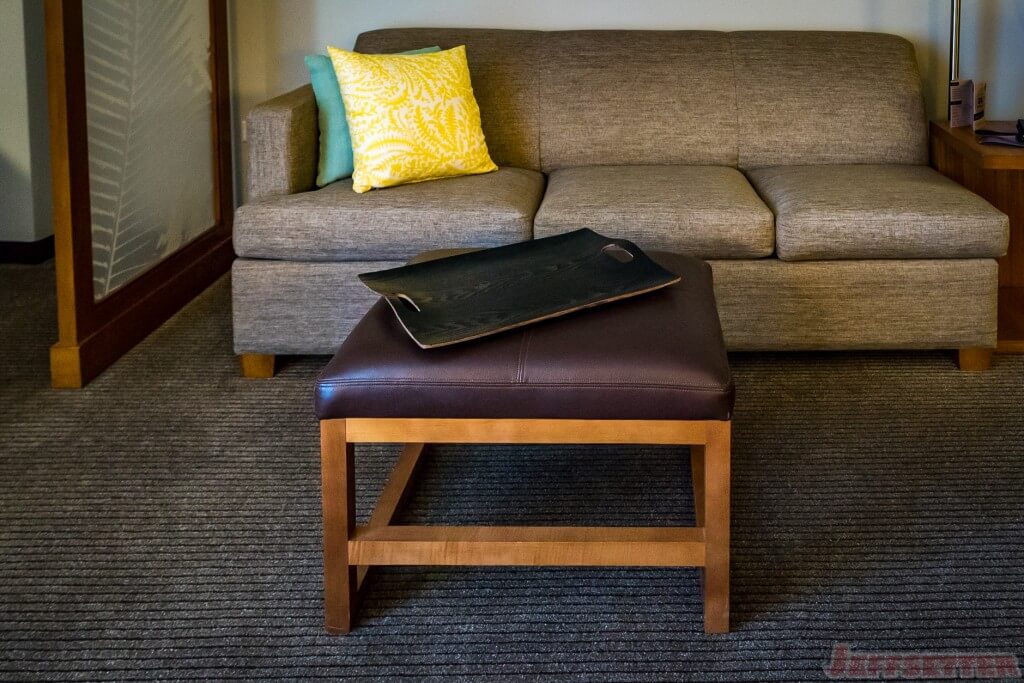 A work cubby for the hubby.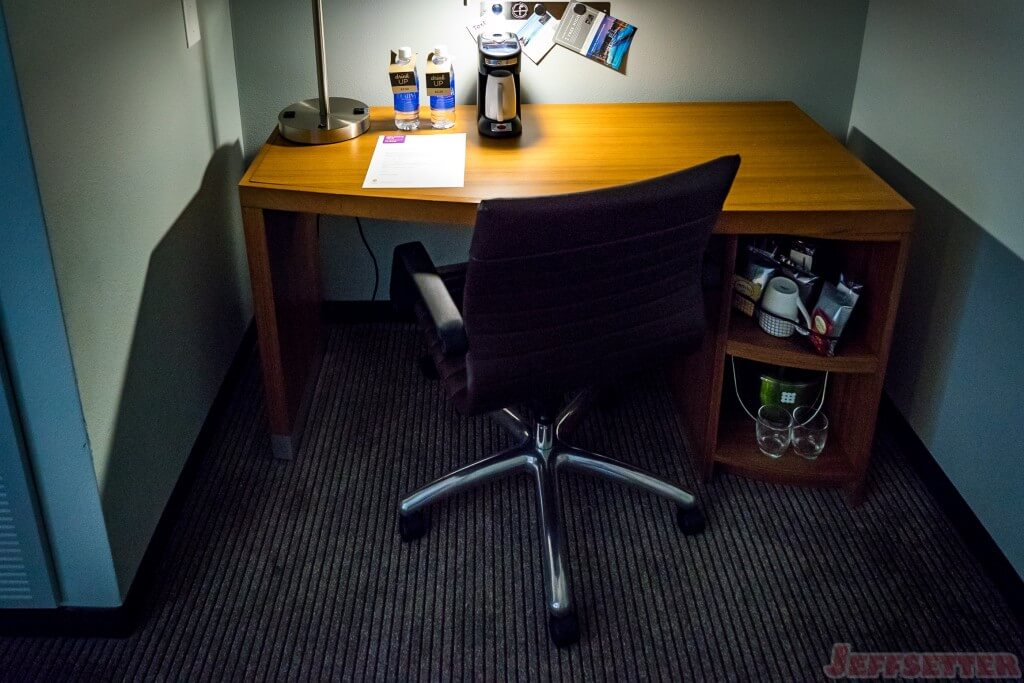 The bed was quite comfy, and I think there was a pillow menu.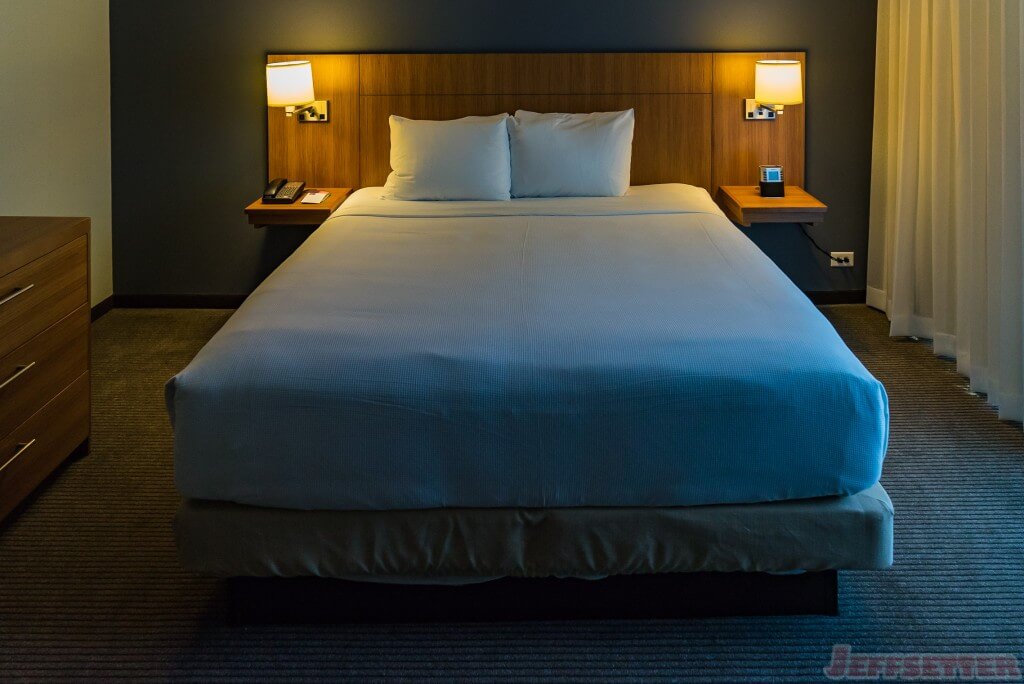 There was also a notepad for those all important notes. Like reserving your side of the bed.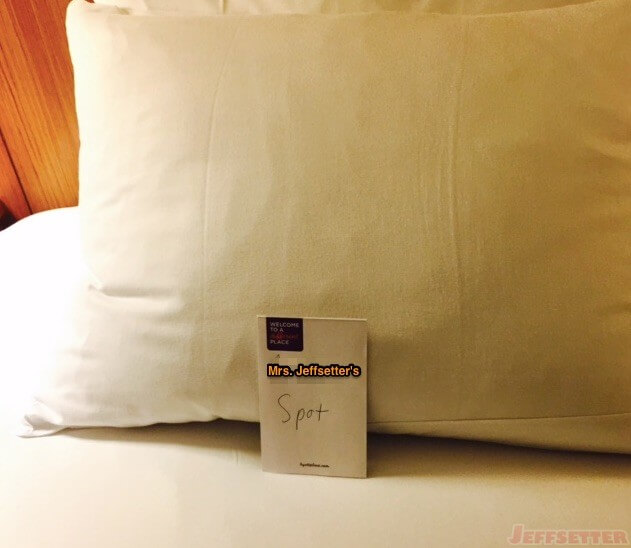 The room also has a flat screen and a dresser for storage, if you are on an extended stay.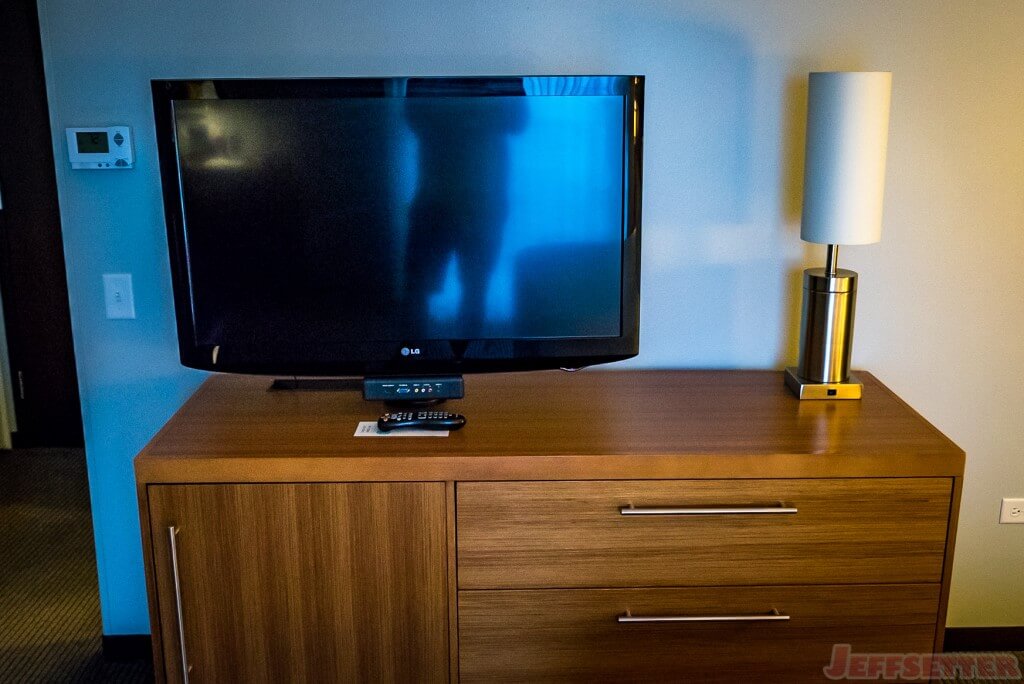 Breakfast is Included!!!
The Hyatt Place offers a free breakfast on the pool terrace from 6:30am-10am.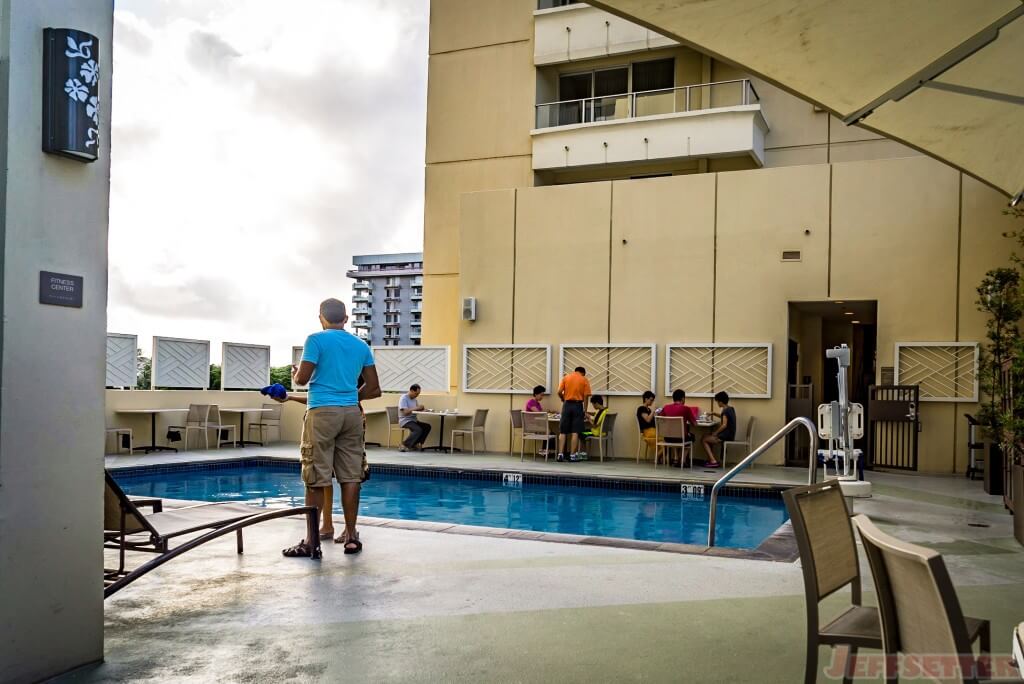 The buffet is tucked away next to a large seating area with "somewhat clean tables*.
*Somewhat clean – no dirty dishes or visible chunks of food, but the rag use to wipe down the table may have been changed around the time the hotel was built.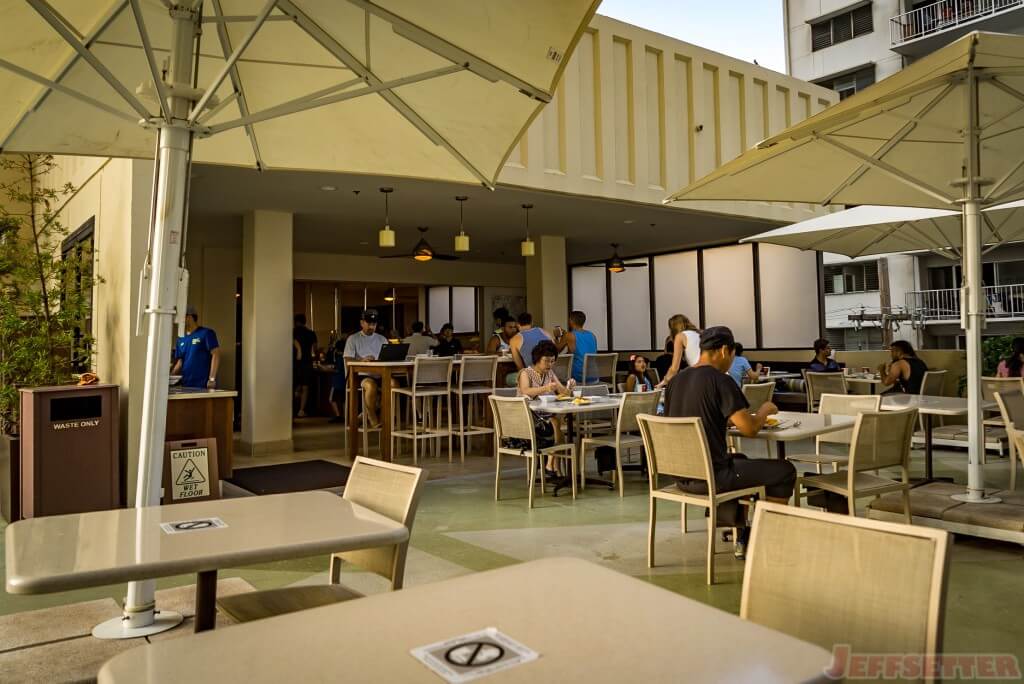 The staff are diligent. They continually refill the automatic feeders full of cereal and granola with caution before diving out of the way as the zombie children attack.
The Breakfast rush at this hotel is a scene straight out of Willy Wonka – chocked full of entertainment, yet leaves you thinking – did that really just happen?
("Augustus save room for later" we are going to one of the two Cheeseburger in Paradises within a mile radius.)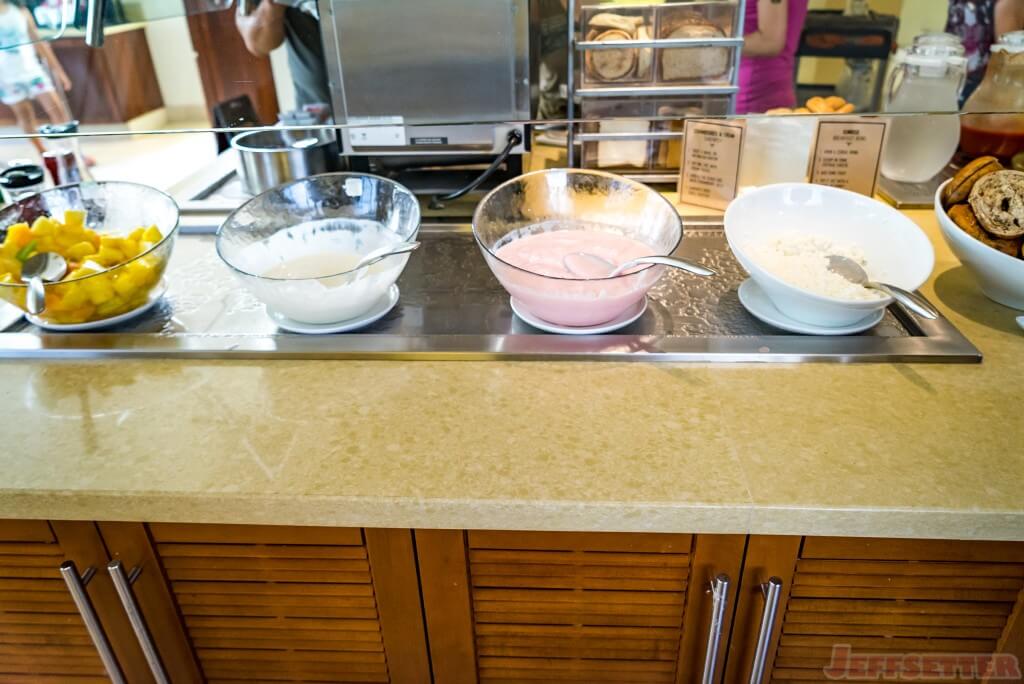 The cold and hot bar area resembles a feeding frenzy of piranhas in the Amazon River.
If you are not careful, you may be accidentally taken down by the swarm of hungry tourists – a whirling dervish of fists and elbows and all they want is a free lukewarm piece of french toast.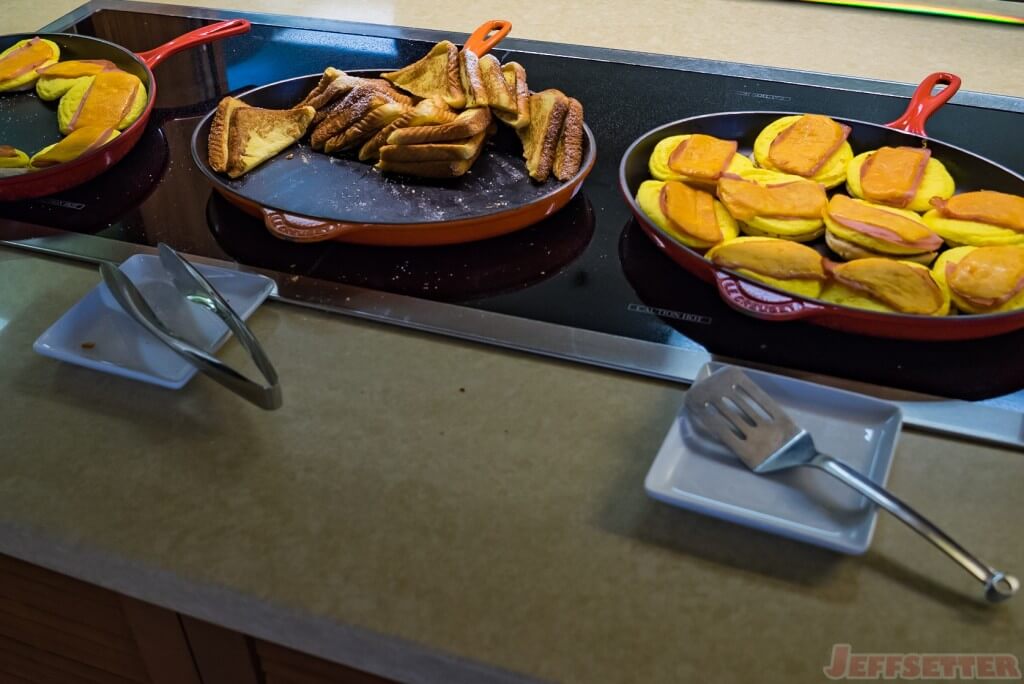 An average coffee and tea bar is also available.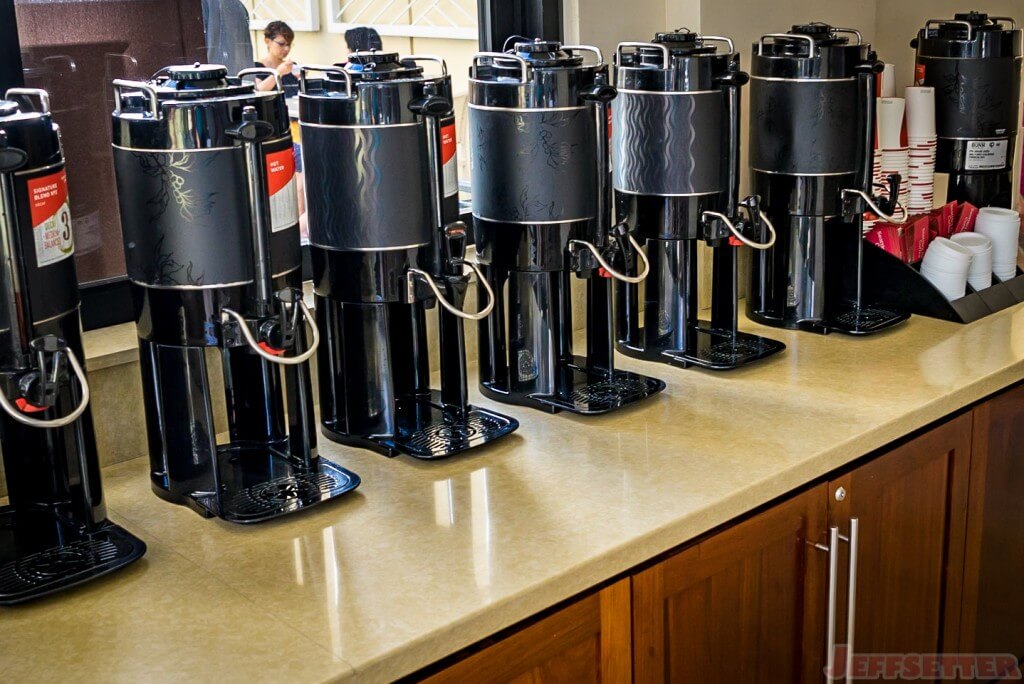 Note, these are not different flavors of coffee. There is just that much coffee sitting out. I had a moment of panic as I thought I was back at a firm conference.
I thought it was funny to have so much coffee, but then I realized I needed two cups before I had the energy to attempt a visit to the food buffet. Ugh, I had to have coffee just to write this. You probably need something stronger to read it.
The Verdict
Weeeelll, that's it. This is the Hyatt Place Waikiki. The definition of an average hotel stay. Considering the rates for hotels on Waikiki beach, it quickly over promises and under delivers.
I am not really sure what else to say other than meets expectations.
Next time we are on Oahu, we are going to stay at Kyle's house :).