Last year torrential rains caused devastating floods on the Valley Isle and closed one of its most iconic attractions.  But now the Iao Valley State Monument temporarily reopens to visitors.
In September 2016, Hawaii received an unusually high amount of rain.  However, it was Maui that received the bulk of the rain.  In fact, from September 13 to 14, Maui experienced intense rain storms, which caused flooding throughout much of the island.  For the most part, these floods coated low-lying areas in a thick layer of mud.  But in other regions of the island, these floods triggered landslides too.  The hardest hit section of the Valley Isle was Iao Valley, who's stream swelled to twice its size and cause massive damage to homes and the iconic Iao Valley State Monument.
Recovery Efforts
Nearly a month later recovery efforts finally began at the Iao Valley State Monument.  The extent of the damage to the park was massive.  Gone was the parking lot and much of the paved pathways near Iao Stream.  And the cultural park at the base of the trail has also been destroyed.  At the time, it was estimated that cleanup would take six to eight weeks, while restoration efforts would take at least an additional four to six months.  Estimates for the recovery effort were projected to be $300,000 to $400,000.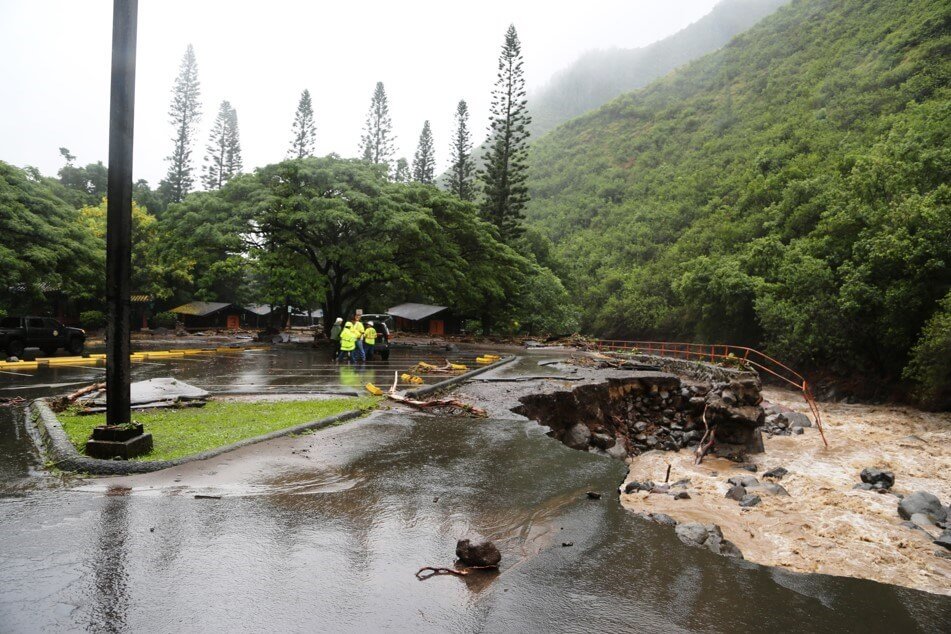 As a whole, the restoration effort was expected to take eight months to complete.  However, it has now been ten months since the recovery efforts began and there is still more work to be done.  But that work has been put on hold as the Department of Land and Natural Resources (DLNR) awaits receipt of the permits it needs to continue its rehabilitation work.
Park Reopens…. For Now
While the DLNR waits for its permits, they've decided to reopen the park.  How long the park will remain open for is anyone's guess, though.  It all depends on how long it takes for the permits to process, which let's face it, is a total joke in Hawaii.  But, work is anticipated to recommence this fall.  And when it does, there is no estimate on how long it will take to complete either.  So while there's still a fair amount of uncertainty regarding the rehabilitation efforts, at least those visiting the Valley Isle over the next few months have the opportunity to visit Iao Valley.
Personally, I think the Iao Needle itself is pretty underwhelming.  Don't get me wrong, it's a beautiful sight, but it's far smaller than I expected.  And given the amount of time we wasted trying to find parking and what not, it's not someplace I'd visit again.  There are far more interesting sites to see around the island, such as Nakalele Blowhole and Haleakala National Park.  So if your light on time during your Valley Isle visit, I say skip it.