While Hawaiian Airlines was in the news recently for a tumultuous flight, Tuesday was a far worse day for them. After hearing what some people went through, I want to remind you all to know your rights during irregular ops. Don't let the airline screw you over!
Before we get into why it's important to know your rights during irregular ops, let's discuss what the hell happened earlier this week.
Tuesday, December 20, was a bad day for Hawaiian Airlines. According to FlightAware data, the Airline canceled 50 flights that day (19% of its schedule) and delayed 166 flights (63% of its schedule). That means irregular ops impacted a staggering 82% of its flights on the 20th.
What happened? That much isn't clear. I expected some fallout from Sunday's incident, as Hawaiian removed N393HA from service. In fact, two of those canceled flights are linked to that aircraft – HA11 HNL-SFO and HA12 SFO-HNL. But that doesn't explain why 49 other Hawaiian flights were canceled. According to Hawaii News Now, company officials cite weather and "operational disruptions" as reasons for the chaos.
My theory is that both reasons are true. The weather caused massive delays that rippled throughout the schedule, causing crews to time out and stranding them at outstations. Further, there are a number of Boeing 717s out of commission right now. At least one of them is undergoing a heavy check, while the others are likely just broken. One of these issues at once may not have been all that bad. But, together? You get a perfect storm of chaos, as shown in the chart below.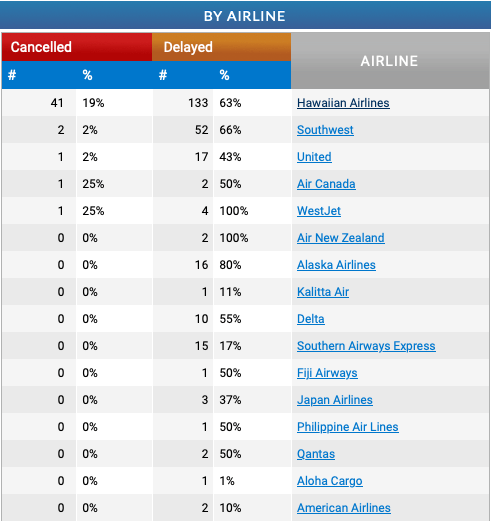 But these stats don't paint the full picture, my theory becomes a bit more clear. Things started out mostly ok, except for one cancelation that precipitated throughout the day. But by the time we get to HA166 from HNL to OGG at 8 am, we're already starting to see delays of 7 hours and 32 minutes late.
By midday, the vast majority of Hawaiian's schedule was operating at least an hour late, with numerous flights going out 3+ hours late. Ouch. What was worse, though, were the stories I heard of people who got stranded. In these cases, many didn't receive any sort of assistance or compensation from Hawaiian, even if they were stranded away from home overnight. One person I heard of was even told that Hawaiian "doesn't provide hotel rooms if your flight is delayed and not canceled." Mind you, this person's flight was "delayed" to the following day. Seriously. This is why it's important to know your rights during irregular ops.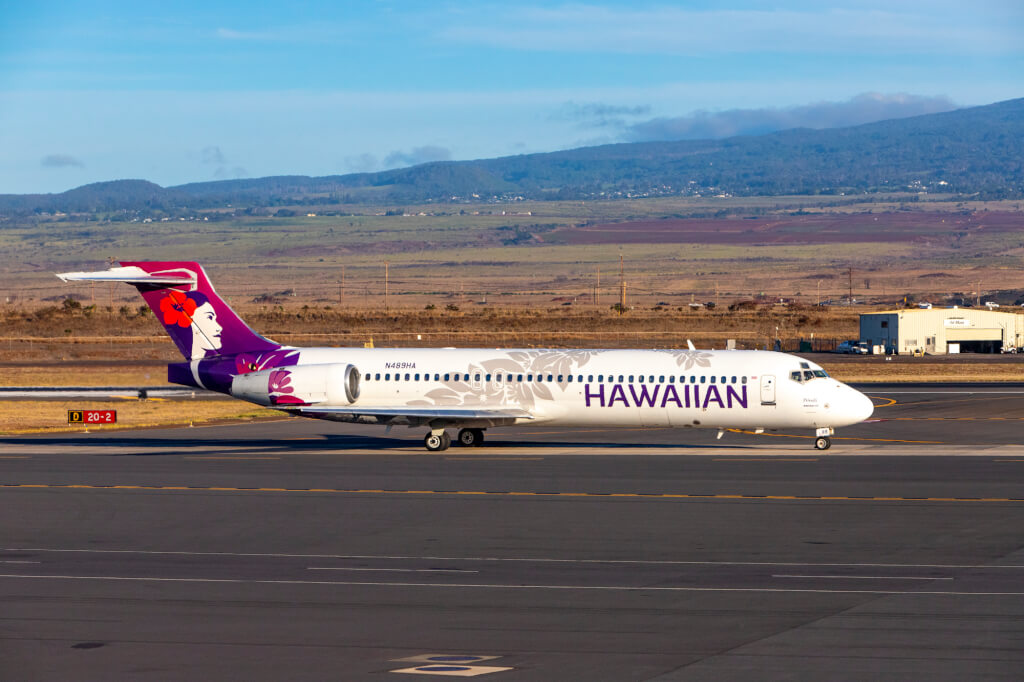 Know Your Rights During Irregular Ops
The above chaos is mild compared to the operational meltdowns suffered by larger carriers as of late. However, it's a good reminder to know your rights during irregular ops – especially when dealing with an airline like Hawaiian that doesn't necessarily want to play ball. And the first step to knowing your rights is to review the carrier's contract of carriage – you can find Hawaiian's here.
While the entire document can be intimidating, the important part to understand is Rule 21: Flight Delays, Changes, Cancellations, and Aircraft Changes. Under this section, Hawaiian stipulates that, under irregular ops:
we will transport you, subject to availability and without stopover, to your destination, next stopover point, or transfer point shown on our portion of your Ticket, in the same class of service, at no additional cost to you;
in our sole discretion, we may arrange for you to travel on another carrier; or
we will refund you in accordance with Rule 24: Refunds.
In addition to this, Section E of Rule 21 stipulates that:
If (i) the delay is expected to exceed 3 hours and extend into the period 10:00 pm through 6:00 am, and (ii) no scheduled alternate transportation is available to your destination or stopover point, we will provide one-night's lodging at an accommodation we select, provided, however, that we will not provide lodging for you if you reside in the city where the delay occurs.
We will provide you with one meal voucher if the delay will extend beyond three (3) hours. No alcoholic beverages will be provided to any guests.
When lodging is provided to you in accordance with Section (E)(1) above of this Rule 21 and ground transportation is not furnished by the hotel, then, if available, we will provide ground transportation to the place of lodging or reimburse you for reasonable transportation expenses when accompanied by a receipt. Where ground transportation has been offered but not accepted by you for whatever reason, we are not liable to reimburse you for expenses relating to alternative ground transportation secured by you.
We may provide you with a travel credit in lieu of any of the above. Your acceptance of a travel credit indicates your waiver of any of the above amenities. Travel credit (i) will be valid for travel only on Hawaiian within 365 days of the date of issue, (ii) will apply only to online transportation via Hawaiian, (iii) may not be endorsed to or accepted by any other carrier, and (iv) is not refundable, nor saleable, transferable, or assignable by you.
See that last bit? If you are in need of lodging because of Hawaiian's screw up, then you better not accept any travel credits. I'd gladly take the travel credit over a voucher for some crappy airport food, but not over lodging.
It's worth noting that the above terms only apply if the delay or cancelation is Hawaiian's fault. Their Force Majeure clause specifically states that they do not have to compensate you under the following conditions:
Any condition beyond our control including, but not limited to meteorological or geological conditions, acts of God, riots, terrorist activities, civil commotions, embargoes, wars, hostilities, disturbances, or unsettled international conditions, either actual, anticipated, threatened, or reported, or any delay, demand, circumstances, or requirement due directly or indirectly to such condition.
Any strike, work stoppage, slowdown, lockout, or any other labor-related dispute involving or affecting Hawaiian's services.
Any Government Law, demand, or requirement.
Any shortage of labor, fuel, or facilities of Hawaiian or others.
Damage to our Aircraft or equipment caused by another party.
Any emergency requiring immediate care or protection for a person or property.
Any event not reasonably foreseen, anticipated, or predicted by Hawaiian.
Yes, Hawaiian (and all airlines) isn't responsible for housing you if your delay is weather related – this may even be the case for those on HA12 and HA11 on 12/19 and 12/20, as that flight was supposed to be operated by N393HA, which is the aircraft that was damaged on the December 18th event. However, most impacted by Hawaiian's operational meltdown on Tuesday should be able to get the above benefits.
US Laws
Unfortunately, the only thing protecting you during irregular ops is the airlines' own contract of carriage. If they refuse to honor it, there is no federal law to protect you. This lackadaisical approach flies in the face of the strong consumer protection laws governing airlines in the EU, particularly EC 261.
What to Do if Your Rights Aren't Addressed?
To know your rights during irregular ops is important. But what if employees that day refuse to honor the airline's contract of carriage? Well, your first line of defense is to contact the airline directly. In this case, Hawaiian has a dedicated complaint process you can use – DO NOT attempt to speak with their Philippines-based contact center. It's worth noting, though, that Hawaiian doesn't have the greatest response times. You may be waiting A WHILE to hear back from them.
If Hawaiian refuses to assist you or doesn't do so to your satisfaction – within the law, that is – you can escalate your issue by filing a formal complaint with the DOT. This will result in the DOT contacting the airline and REQUIRING them to provide you with a formal answer. The DOT will also receive a copy of this and will review it for compliance if your complaint falls under their purview. However, as I covered above, there are no laws protecting you in the case of delays and cancellations. At a minimum, your complaint and the airline's terrible handling of you will become public information.
Another avenue to take is to reach out to the airline via social media. This may or may not work, but it's worth a shot.
Other Options
Since there's little protection from the law requiring airlines to follow their contract of carriage, it's best to take matters into your own hands. Namely, you can either 1) purchase travel insurance or 2) carry a credit card that has excellent travel insurance. An example of cards with such protections are the Chase Sapphire Preferred and Sapphire Reserve.
Because it's the cheaper of the two, I'm going to go over the Sapphire Preferred's coverage for flight delays. The specific coverage provided is the card's Trip Delay coverage. Under this plan, you can get reimbursed up to $500 per covered ticket for you, your spouse, and dependent children up to 22 years old. The reimbursement covers meals, hotels, toiletries, and medication and only requires that 1) you purchase the tickets (at least in part) by using your Sapphire Preferred, 2) the delay is 12 hours or more, and 3) the delay wasn't publicly known before you set out.
The major difference in the Sapphire Reserve's coverage is time – your delay need only be six hours to apply. With either card, all you need to do to file a claim is call the number on the back of your card. From there, a claims representative will guide you through the process. That said, be sure to save your receipts!
Know Your Rights During Irregular Ops, Final Thoughts
While it won't necessarily save you when things go wrong, it's important to know your rights during irregular ops so you can better discuss your options with airline representatives. Just remember to do so politely and respectfully – none of this is their fault, and being nasty isn't going to solve anything. The better option, of course, is to have Trip Delay Insurance – ideally, one provided to you for free by your credit card.
I will say, some airlines handle irregular ops better than others. For example, I experienced two delays with Alaska this year – one for 1 hour and 15 minutes, the other for 20 minutes. In these cases, Alaska automatically credited my Mileage Plan account with 669 and 604 bonus miles, respectively. Sure, that isn't much. But it's more than Hawaiian would ever do in a similar situation.