Months after suspending them due to the pandemic, Marriott reinstates Elite guarantees. What's more, they've announced a slew of new benefits and promotions with an eye on retaining members for the expected return of travel in 2022.
Marriott Reinstates Elite Guarantees
When the pandemic hit and travel ground to a halt, Marriott suspended its elite guarantees. And that's understandable given the hardships and uncertainties hotel operators were experiencing. But, as travel began picking up once again, Marriott did not reinstate those benefits – until now. So, effective immediately, Elite members get to enjoy the uneven availability of these "guarantees," which includes:
Ultimate Reservation Guarantee: if a hotel can't honor your reservation, they'll book you a night elsewhere and pay you for your troubles. Compensation ranges from $100 and 90,000 points to $200 plus 140,000 points based on brand and elite level.
Guaranteed Platinum/Titanium Elite Welcome Gift: receive a complimentary amenity or gift upon check-in at participating properties. If this guarantee isn't met, members receive compensation of $25 to $100 based on brand. However, Ritz-Carlton, Edition, MVC, and Design Hotel properties are not subject to this guarantee.
Guaranteed Room Type: this one should actually say guaranteed bed type since that's all it guarantees. If you do not receive this benefit, then members are entitled to $25 to $100 in compensation based on brand.
Guaranteed Lounge Access, unfortunately, isn't being brought back at this time. Typically, members not provided this benefit at non-resort JW Marriott, Marriott Hotels, Delta Hotels, Autograph Collection, and Renaissance Hotels receive $100 compensation.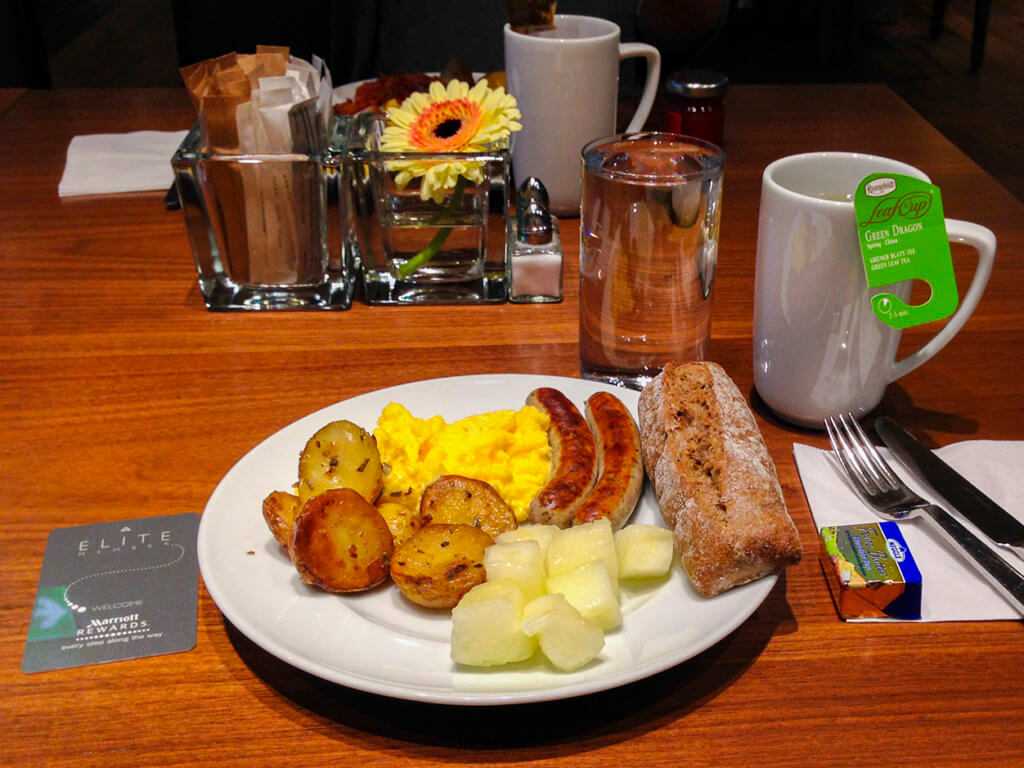 Fast-Forward to Elite Benefits
Much like they did last year, Marriott is giving 50% of the points they need to maintain their current status. Here's what that looks like:
Silver: 5 nights
Gold: 13 nights
Platinum: 25 nights
Titantium: 38 nights
Ambassador: 50 nights
These nights are in addition to any night you earn via stays or through co-brand credit cards. Marriott says to expect them to deposit to your account by February 5, 2021. What's more, the spending threshold for earning Ambassador status is now $14,000, which is down from $20,000.
Better Two-gether Promotion
As if gifting points didn't make earning or maintaining status any easier, Marriott is also running a bonus nights promotion. For stays of two nights or more between February 16 and April 27, 2021, members earn double the number of points AND elite qualifying nights. You'll need to register for this promotion, though a link is not yet available.
Save Up to 40% on Award Redemptions
You can potentially save big on award redemptions with Marriott's other promotion. All you have to do is book an off-peak award rate to receive up to 40% on the standard redemption rate. In other words, they've giving us a 10% discount on off-peak rates. Oh, and you must book by February 21, 2021, to get the deal.
Marriott Reinstates Elite Guarantees, Final Thoughts
These promotions are, admittedly, pretty great. They're far better than what we've been seeing pre-pandemic and even last year. Unfortunately, I probably won't be taking advantage of any of them. As of now, I have a single Marriott night booked for later this month. However, the fast-forward to elite benefit makes me happy. Since I attained Titanium status last year, I will be receiving 38 nights. That, combined with my 15 nights from the credit card means I will automatically requalify as Platinum Elite next year. Not that it matters, though, as these nights will also give me the final nudge I need to achieve Lifetime Platinum Elite status. That only took me, literally, 10 years to achieve!
As far as the guarantees are concerned, I wouldn't hold your breath. Marriott guarantees are as solid as a brittle rubber band. As you'll recall, Marriott scoffed when I complained about being denied guaranteed 4 pm late check out at a non-resort property. And, I'm sure all of you have much more egregious examples from your travels.