Sometimes the best things in life are found in the places you'd least expect them.  This is especially true for a major tourism destination like Hawaii, where many of the places locals love are off the beaten path.  Mitch's Sushi Bar is definitely one of these places, offering some of the best sushi in town, in an unlikely locale.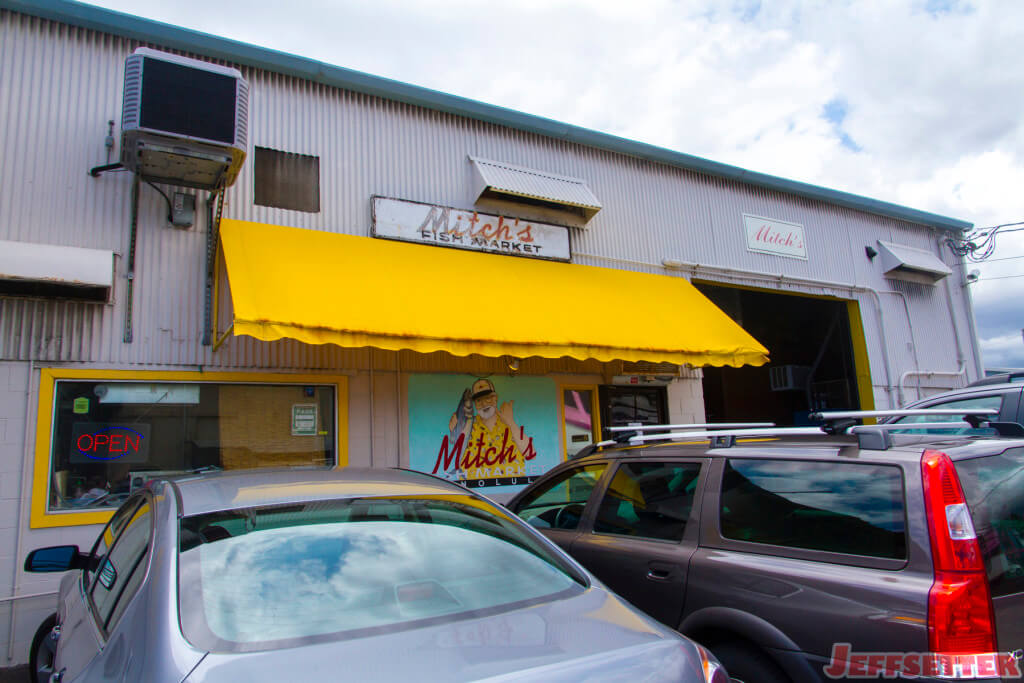 This small sushi restaurant buried in an industrial district right next to Honolulu International Airport.  I guess you could say it's hidden in "plane" view ?   Ok, that was a terrible pun… promise not to do it again if you promise to not leave!  Anyway, the area it's in just looks like a bunch of warehouses and what not.  Parking is atrocious, especially if you attempt to go for lunch as we did.  Dinner is probably better, in terms of parking, but either way you go, the menu is the same.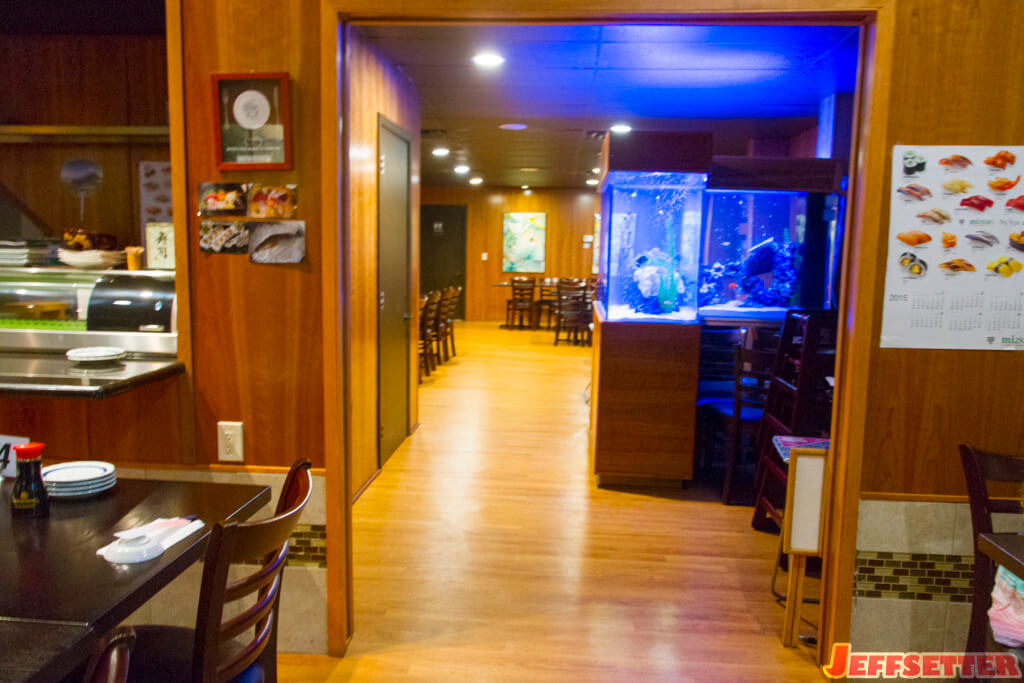 At Mitch's Sushi, you can order one of the two set menus, or ala carte.  You're dining time is limited to 2 hours due to the popularity of the place, but trust me, it's an ample amount of time.  For our lunch, the wife and I chose the Chef's Special set menu (2 order minimum, $80/order).  It comes with an appetizer, assorted sashimi, lobster sashimi, grilled item, assorted sushi, and "delicious miso soup" to finish.  We also tacked on an order of uni nigiri and ankimo.
The appetizer on this day was tako (octopus) with a miso ginger sauce.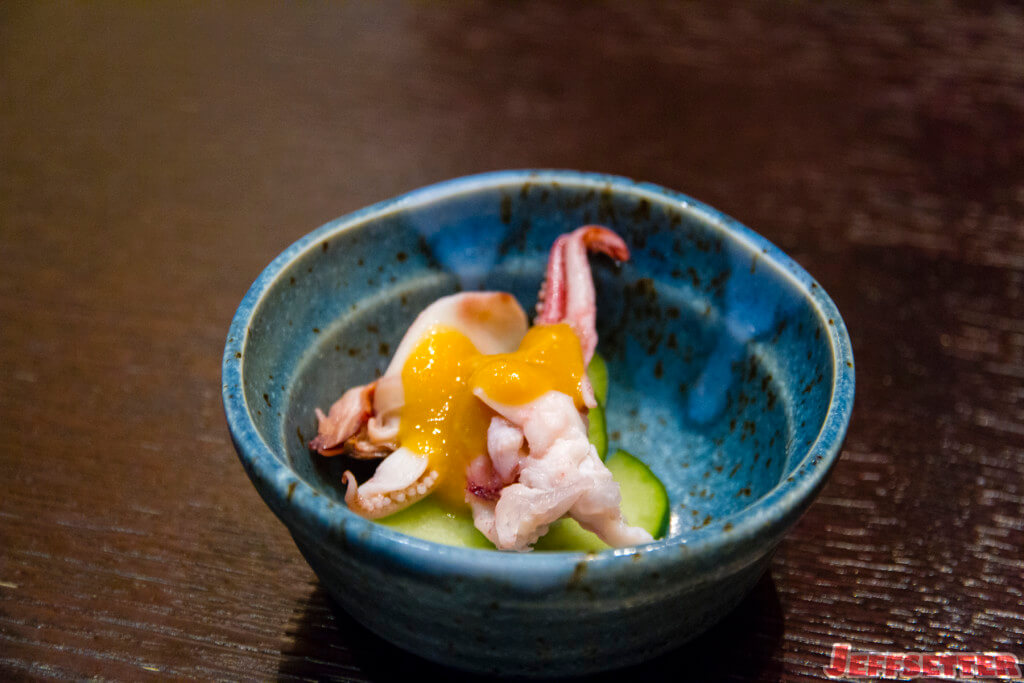 It's a very familiar flavor for me, with nice, clean ocean flavors and the salty, twang from the miso sauce.  The appetizer was followed by the sashimi platter.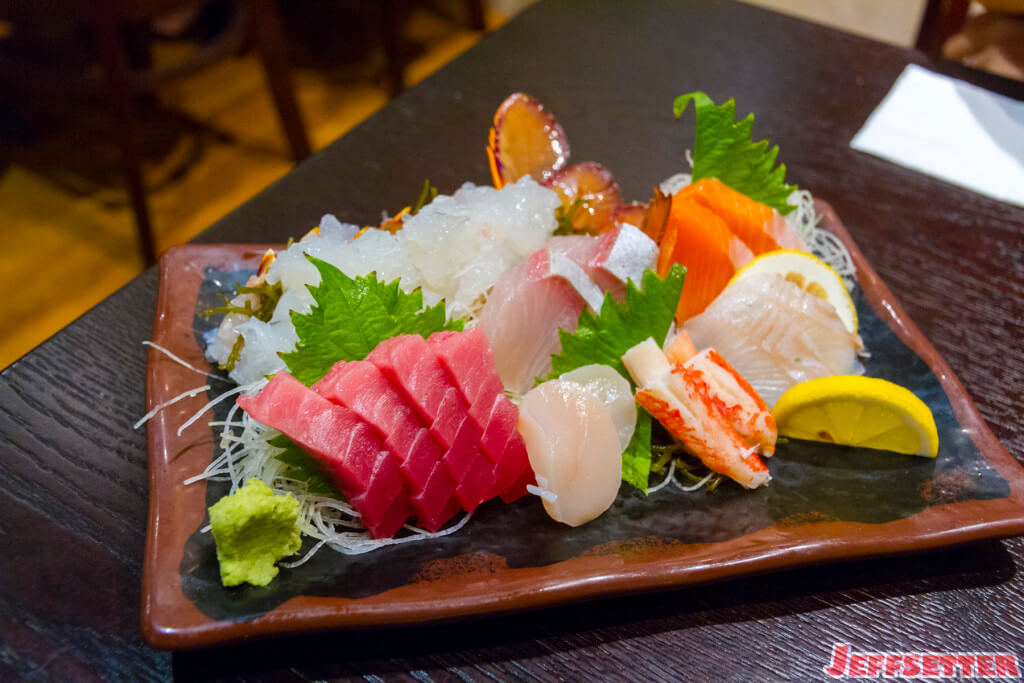 Sashimi included that day included maguro (ahi/tuna), Hokkaido scallop, snow crab, hamachi (yellowtail), salmon, shiromi (whitefish), and of course, a spiny lobster tail.  Everything was incredibly fresh, with excellent flavor and texture.  My wife doesn't really like lobster, but she loved the lobster sashimi.  It had a great, firm texture and sweet, succulent flavors.
Simultaneously, we were also served our ala carte orders, the uni and ankimo.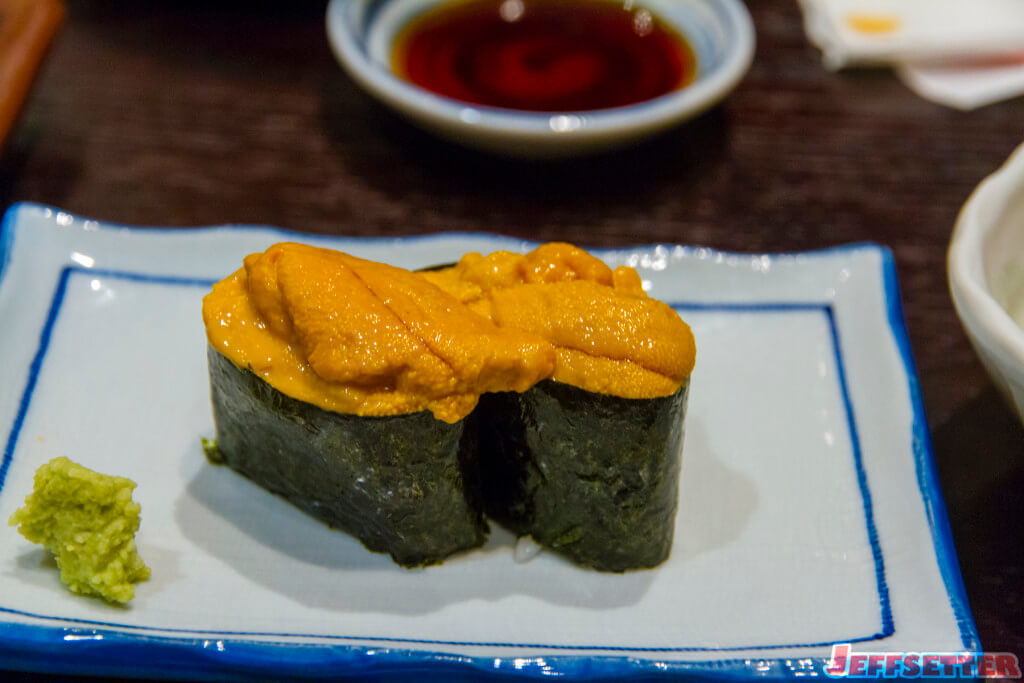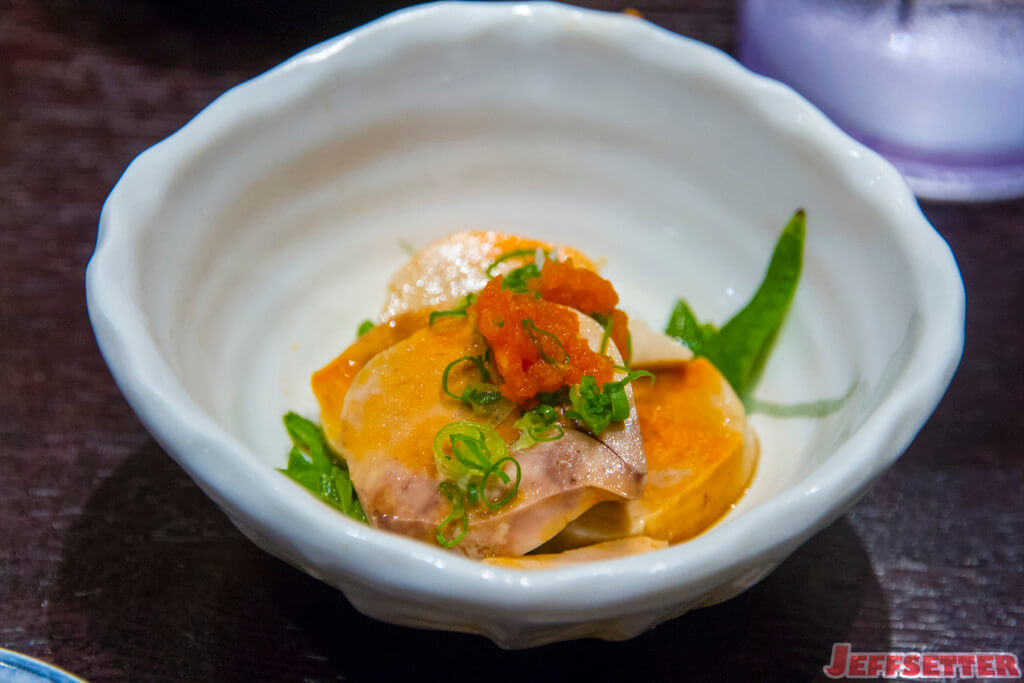 The uni was nice and fresh, while the ankimo was velvety smooth and amazing!  For those that have never heard of it, ankimo is prepared monkfish liver.  Many have come to call it the foie gras of the sea.  It's good stuff with a similar texture and richness to foie gras, but the flavor is different.
The grilled course during our visit was a piece of skin-on salmon.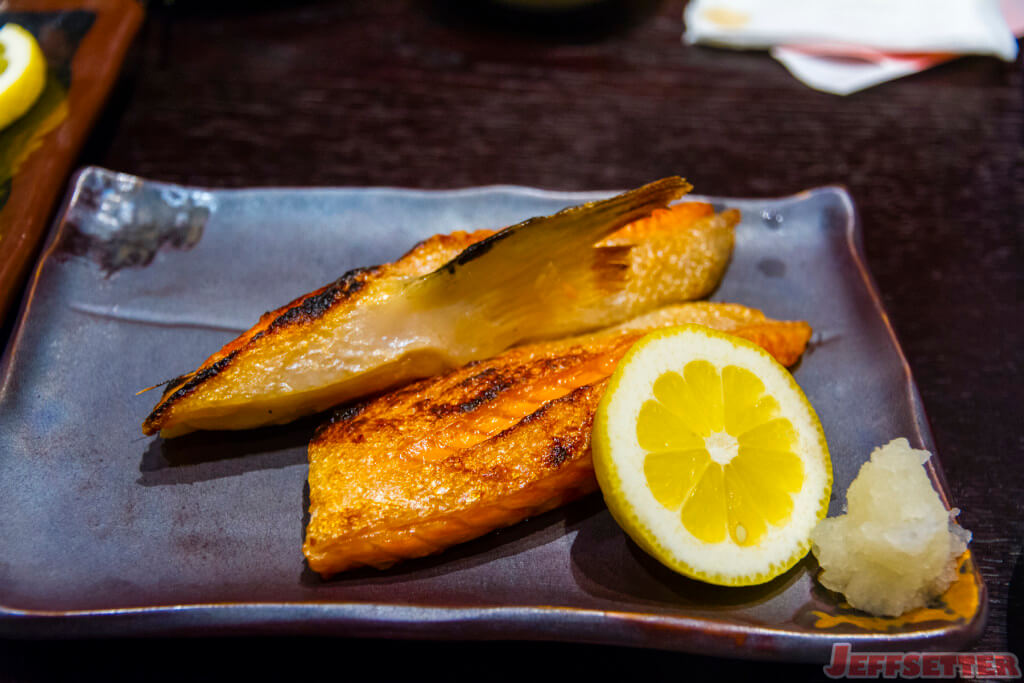 The grilled salmon was crispy on the outside and melty on the inside, owing to the high quality, fatty salmon they use.  The lemon and oroshi (grated daikon) came in handy with this super rich course.
The grilled item was followed by the assorted sushi platter.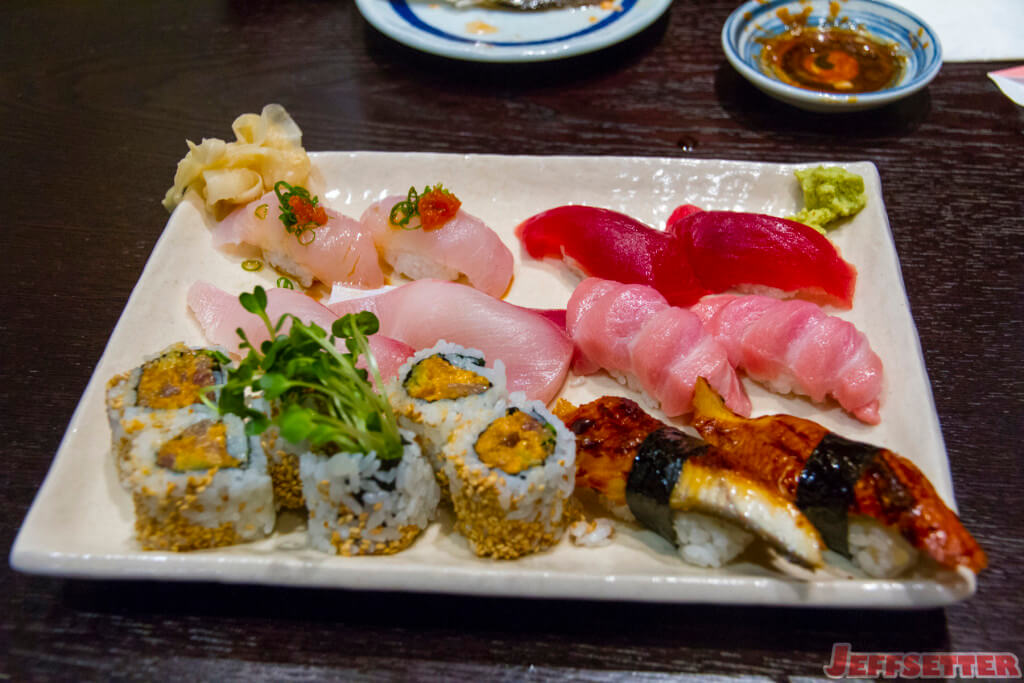 On our visit, the sushi platter had spicy ahi roll, unagi (eel), hamachi, bluefish, maguro, and ootoro (fatty bluefin tuna).  All of it was simply amazing.
The final course was the "delicious miso soup," which took the place of regular miso soup.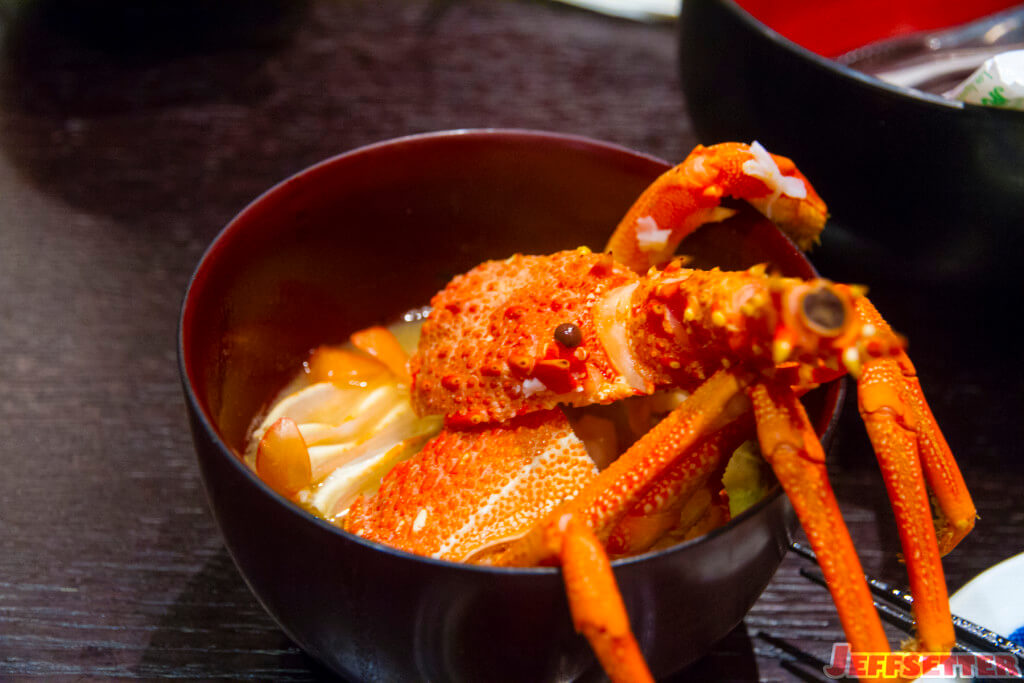 This version used the shell and head of the lobster served to you as sashimi earlier in the meal.  The miso soup takes on a really rich flavors thanks to the lobster, which was simply sublime.  Claw crackers were provided to extract the mean from the legs, which were delightfully sweet.
Dessert is offered at Mitch's Sushi, but we were too full.  I don't even remember what was on the dessert menu.  In terms of service, the Mitch's is good.  The service is friendly, accommodating, and our waters never went unfilled.
While $160 seems like a lot of money for a "simple" lunch or dinner, Mitch's provides amazing value.  Lobster is, of course, expensive, as is the 00t0r0.  In fact, the two pieces of ootoro often costs $10+ at most other establishments.  A simple look at other sushi restaurant menus will show how great a deal this actually is.  And, it's a great stop right after/before your flight to/from Hawaii!  Many of the car rental places are nearby anyway… ?