In what is an exceedingly unique way of doing business nowadays, Mokulele Airlines puts residents first. They're so committed to serving the needs of residents that they'll go to some extreme lengths to accommodate those in need.
There are two Hawaii-based carriers left – Hawaiian Airlines and Mokulele Airlines. I know Hawaiian is technically incorporated in Delaware, and Mokulele is now part of Southern Air. That's beside the point. Of these two airlines, Hawaiian proclaims in their commercials that "Hawaii flies with us." Yet, the smaller of the two, Mokulele, really takes island residents to heart. At least, that's the philosophy espoused by their leader in a recent Civil Beat article.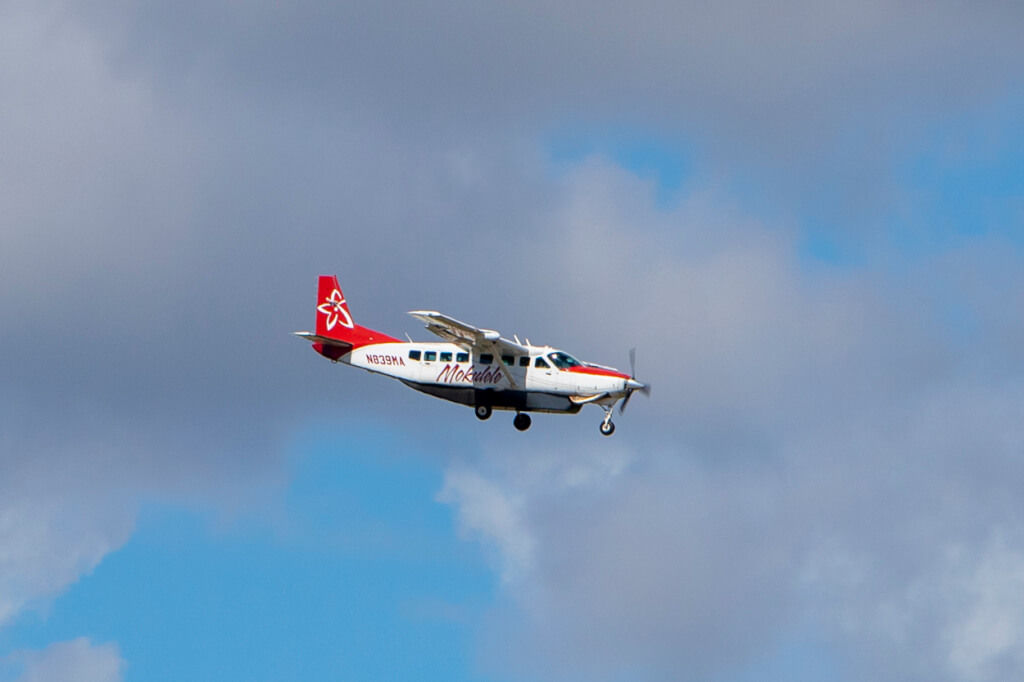 Mokulele Airlines Puts Residents First
Now, when I say Mokulele Airlines puts residents first, I don't mean all residents. This primarily applies to residents of Molokai and Lanai. You see, Mokulele Executive Vice President Richard Schuman – a Molokai native – hands his contact information out freely to residents of these two islands. If they're in a bind, they can contact him directly, and he'll do everything he can to help out.
One recent example includes a family from Molokai traveling back from Orlando. Their flight from Orlando to Honolulu was delayed by three hours, which meant they would miss their last flight from Molokai to Honolulu. That meant finding a last-minute hotel along with that expense, ground transportation, and food. However, the family reached out to Schuman to see if he could do anything to help, especially since all flights were sold out for the next two days.
Ultimately, Schuman delayed a Mokulele flight and rerouted another to accommodate the family that day.
There are many other stories just like this, though they're often Molokai or Lanai residents needing last-minute travel to Oahu to see a loved one in the hospital.
Not Everyone is Happy
While Schuman's actions are commendable, they do piss off people. Online complaints show that Mokulele tends to make last-minute cancelations, sometimes stranding people. Their fleet of Cessna Grand Caravans also comes with operational limitations, like weight limits of 300 pounds and limited support for passengers who use wheelchairs. Of course, that's why the Airline acquired a couple of larger Saab 340, as they're more capable and wheelchair-friendly. The caveat, of course, is that the Saabs have a smaller carry-on capacity. Go-figure.
Mokulele Airlines Puts Residents First, Final Thoughts
Since Ohana by Hawaiian shutdown, Mokulele was left as the only option for people needing to travel from Molokai and Lanai. So, I'm impressed that the Airline is stepping up to serve these islands the best they can. However, if you don't live on one of these islands, I'm sure you'll likely avoid Mokulele. Their small Cessnas aren't pressurized, which means flying through weather rather than above it. Plus, these planes fly a lot slower than a jet and can't fly many routes non-stop.
As a result, a flight from Honolulu to Kahului on Mokulele will take 1.5 to 3 hours rather than 20-30 minutes. Oh, and it costs more, too – $280 roundtrip versus as low as $77 on Hawaiian.
However, there's no denying that Mokulele Airlines puts residents first, which is a good thing. I'm impressed and glad that they're here and are doing this.