Well, this is getting interesting. As you'll recall, Hawaiian Airlines recently announced a partnership with Regent to develop electric "seagliders." Well, Mokulele is partnering with Regent, too now, as part of its own attempt to wean itself off fossil fuels.
Air travel is vital for life in Hawaii. Yet, it's also the method of transportation that's proving the most difficult to decarbonize. Batteries are heavy, and weight is the enemy in aviation. True, the technology is improving, and we may see some electric commuter planes soon. But I'm not sure the route our local airlines are taking makes much sense.
Mokulele is Partnering With Regent
As you'll recall from my previous post, Regent is a Boston-based company seeking to build something they call a seaglider. Essentially, these are ground-effect vehicles that fly only 10 to 30 feet above a body of water. In this case, they'll rely on the ocean's surface to reduce drag and increase efficiency. However, as I mentioned last time, this presents serious issues – but more on that later.
In this case, Mokulele is seeking to purchase Regent's 12-seat Viceroy model, which Regent hopes to put into service sometime in 2025 – three years ahead of Hawaiian's 100-seat Monarch model. Currently, the company says that Viceroy will have a range of 180 miles and can travel at up to 180 mph. That's not a lot of range – it's barely enough to get from Honolulu to Kona. However, given Mokulele's current route structure, that shouldn't be an issue. Using their fleet of Cessna Grand Caravans, Mokulele currently serves all islands except for Kauai, with Oahu to Hawaii Islands flights needing to connect on Maui.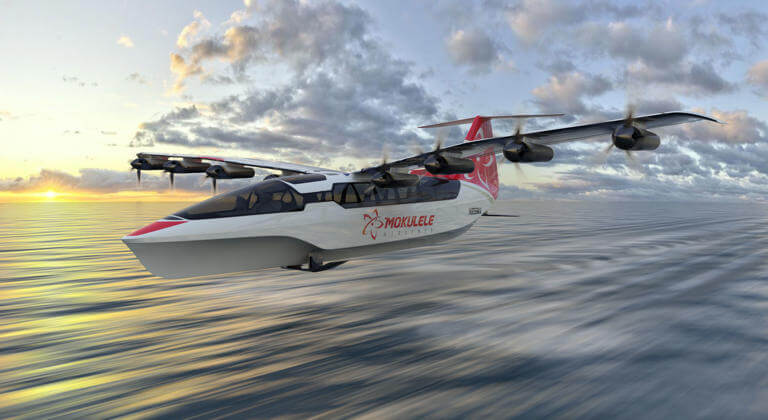 Mokulele and Regent's Challenge
The challenges Mokulele and Regent face are the same as those faced by Regent and Hawaiian. For one, seagliders are built to operate on water. When not flying, they must use hydrofoils to maneuver through the water like a traditional boat. Usually, that's not a big issue. However, as mentioned before, the waters around Hawaii can get very rough. Large swells can impact seagliders even when they're in flight. In fact, winter swells damaged Hawaii Superferry's Alakai and have been plaguing inter-island passenger service for well over a century.
High winds can also create issues, with seagliders needing to fly into the wind to take off. Maui regularly has very high winds thanks to its topography, which often impacts its main port. How will seagliders deal with this? Oh and these issues are amplified by the small size of Mokulele's seagliders. Just as with normal ships and aircraft, larger vessels are typically better at handling adverse conditions.
Then, of course, there are issues with regulations and infrastructure. As a watercraft, seagliders will fall under the jurisdiction of the U.S. Coast Guard – not the FAA. However, such vessels haven't been used commercially before, necessitating new regulations. What's more, Hawaii's harbors will need facilities built to accommodate the vessels and passengers, while charging infrastructure needs to be developed. That's a tall order in the next three years.
Final Thoughts
Look, I don't mean to be a downer, but this type of thing has been tried in a variety of different forms throughout our history. There's a reason why ocean-based inter-island travel has never worked after the advent of affordable air travel. There's no reason to believe this time will be any different. In fact, I don't get why Mokulele and parent Southern Air doesn't invest in the Heart Aerospace ES-19 instead.
This proposed 19-seat electric commuter plane can fly up to 250 miles using today's battery technology – much farther than the Viceroy. Plus, it's currently scheduled to enter commercial service in 2026 – that's not a huge time difference. To me, this seems like a much more plausible route to take. And, hopefully, one of our airlines will.