Late last year, I got an American Express Hilton Aspire card under what I thought was a good deal. As it turned out, though, the deal was an error, and one Amex wasn't going to honor. So, I downgraded the card, and that was that. But, a new turn of events means that my American Express Hilton Aspire saga isn't over yet.
Background
Last December, American Express sent upgrade offers to Hilton Honors credit card cardholders. The offer sounded almost too good to be true – no annual fee for the first year and a $95 annual fee in the second year. I couldn't say no and accepted an upgrade to my no-annual-fee Hilton card with an offer like that. As it turns out, though, the offer was too good to be true. The disclosure accompanying the card cited a $450 annual fee, as did a letter I received days later explaining that the offer was a mistake.
Not wanting to pay the $450 annual fee, I immediately downgraded the card back to the free version. And that, I thought, was going to be the end of that. Well, it turns out American Express ended up having a change of heart.
My American Express Hilton Aspire Saga
Back in May, I received an email from Amex going over the error and inviting me to upgrade to the Aspire – again. This time, though, they assured me that the offer I originally wanted would be honored. However, to accept the offer, I'd need to call.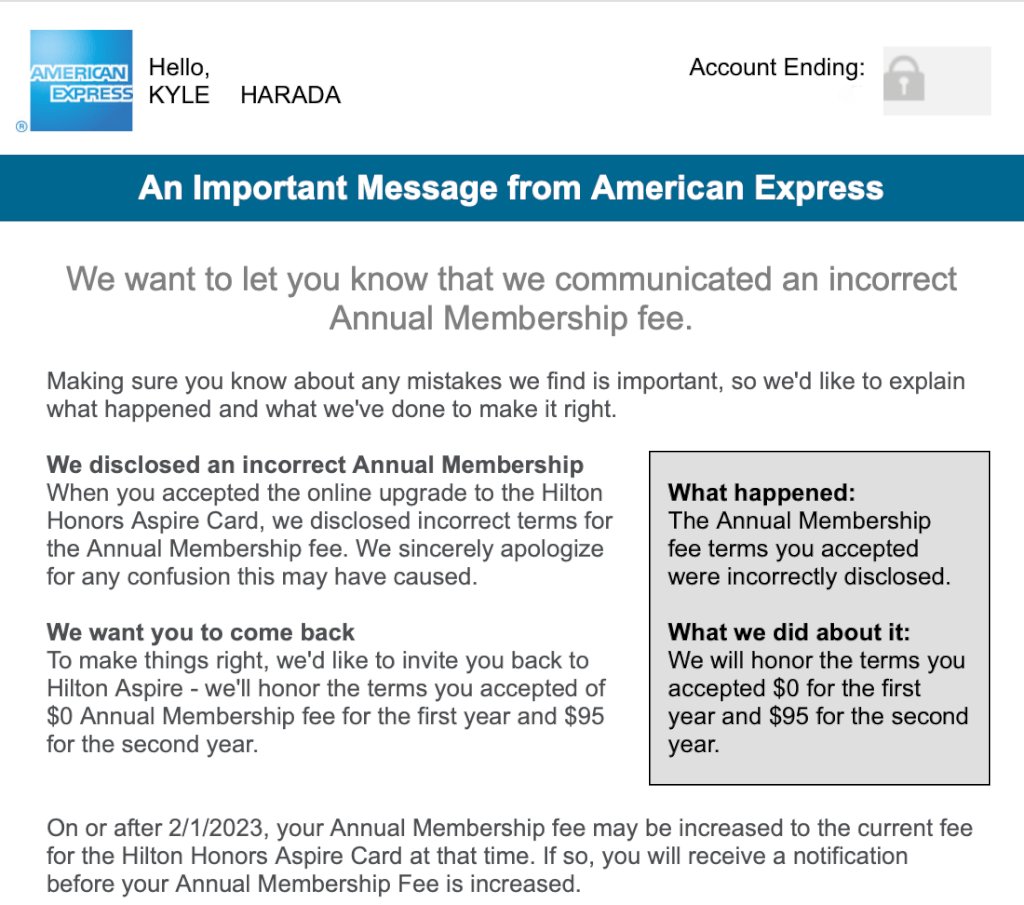 The Phone Call
Rather unsurprisingly, things went off the rails from the very beginning. When I called, I informed the rep of the offer, and it took her a while to figure out what was going on. Eventually, the rep let me provide her with the offer code in the email. Unfortunately, I was then told that the four-digit code from my email was incorrect and that it should be a 14-digit alpha-numeric code instead. I then read the email back to the rep verbatim, at which time I was placed on hold so the rep could investigate the matter.
After a rather lengthy hold, the rep came back on the phone and informed me that the code was valid and that I'd be able to take advantage of the offer. Then it was a matter of going through all of the usual formalities. Yet, this being what it is, there was one more oddity to contend with. Though the offer had an acceptance deadline of June 6, my account wouldn't actually be converted until early July.
Replacement Card
Fast forward to July 2. That day, I received an Amex Fraud message indicating that a request had been placed to replace "your card" and instructing me to call if I didn't make this request. Not having had made a card replacement request, I called. The stupid thing here, though, was that they didn't indicate what account the message was referring to. So when the rep picked up and asked what account I was calling about, I had no idea. Eventually, though, he discovered that a new card had been issued for my Hilton Aspire account. Suddenly, it all made sense. What struck me as odd, though, is that a product conversion is being flagged as a card replacement. Even more strange is that Amex doesn't reference the impacted account in their communications as Chase does.
After getting off the call with American Express, I immediately logged into my Amex app and checked on my Hilton Honors card. Indeed, the card was replaced with a Hilton Aspire card.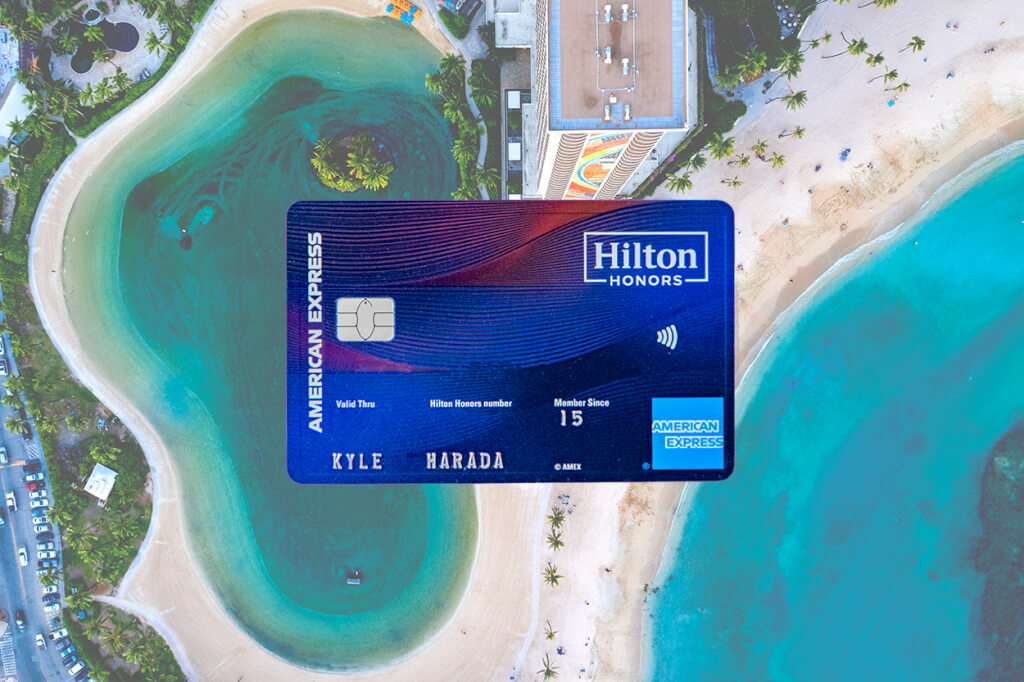 Final Thoughts
This whole thing with American Express has been a bit of an ordeal. Yes, this is totally a first-world problem – especially since it's for a completely unnecessary premium credit card. However, it surprises me how poorly American Express has handled the issue. The initial error and refusal to honor it was just poor customer service. But, the way they handled the corrective offer to impacted cardholders was, perhaps, worse. You'd think Amex would train their reps on the offer before sending it out, though I don't think they did. They also really need to work on a better fraud alert system, as the current system causes far too much confusion. Because of this, would've been a nice, reconciliatory offer, ended up being slightly less so because of all of the confusion. And this whole situation just reinforces my ongoing frustrations with Amex.
None of this, by the way, is a knock against the reps themselves. This is entirely on Amex for not setting them up for success. And I still firmly believe that the Amex Hilton Aspire is one of the best hotel credit cards out there. But,  Amex clearly needs to make improvements.