Unlike most travel bloggers, I don't stay in hotels all that often. What's more, it's pretty rare that I stay in suites – paid or upgraded. So, today, I'll be ranking my favorite suites of all time. It'll be a shortlist, but a diverse one, I think.
Being a Marriott loyalist, it should come as no surprise that most of my suite experiences are at Marriott hotels. The one non-Marriott suite might come as a surprise to many, given how the property behaves these days. What's more, I did pay for at least one of these suites in cash. Well, I've paid for a few suites in cash, but I'm omitting suite brands like SpringHill Suites and Fairfield Inn & Suites for obvious reasons. So, with that, let's begin.
7. Courtyard Waikiki Beach
It should come as no surprise that my least favorite suite is at the Courtyard Waikiki Beach. It's a Waikiki hotel with "beach" in the name that's, well, far from the beach. It's also a very lackluster property with tiny rooms and loads of exterior noise. Even after their renovation that replaced the noisy window-mount ac units with spilt-air units and freshened up the rooms.
The standard suites here are true suites with a separate bedroom and living room. The main reason to get the suite here, though, is the bathroom. Standard rooms here have a cruise ship-size bathroom with tiny, dark showers. With the suites, you get relatively spacious (for Waikiki) bathrooms featuring a dual vanity and shower/tub combo. The rest of the room is comfortable enough, but the a/c over the bed is aimed directly at your face – not fun. And, as I said before, street noise is bothersome.
In case you're wondering, this is the suite I paid cash for.
6. Rome Marriott Grand Hotel Flora
Back in 2013, Mrs. Island Miler went on our honeymoon across Europe. As I made our hotel arrangements, I reached out to the properties we'd be staying at and asked for upgrades. The fine folks at the Rome Marriott Grand Hotel Flora graciously acquiesced to my request and assigned us a one-bedroom suite. Unfortunately, we weren't all that impressed with this suite or this property as a whole.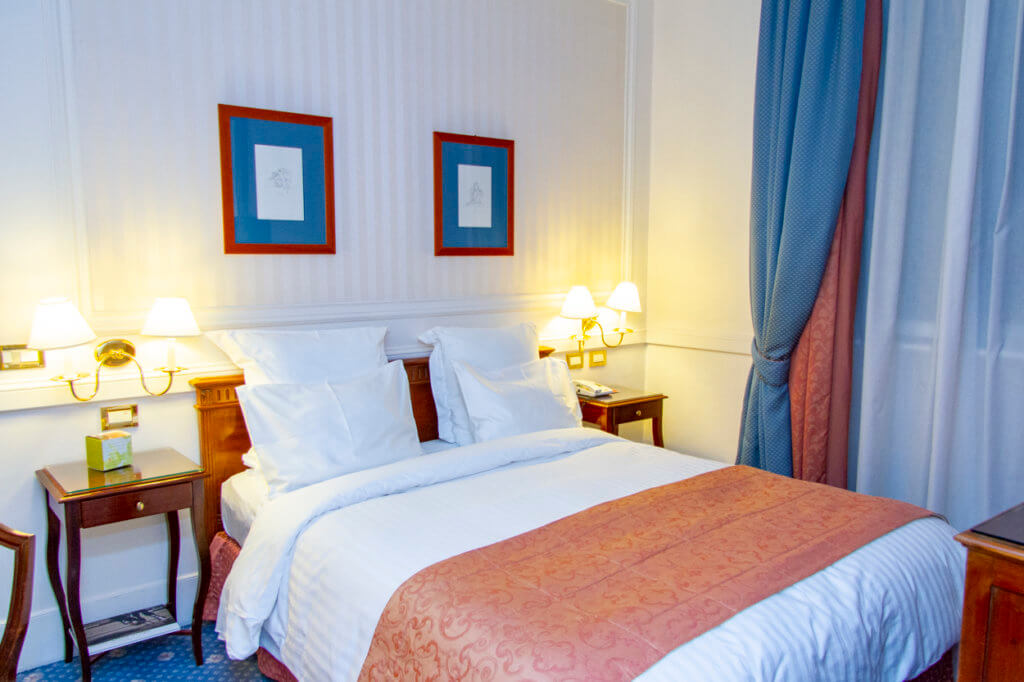 Given the hotel's central location within historic Rome, I knew going in that the rooms would be small. After all, European hotels, historic ones especially, are on the smaller side. That said, this room was too tight for our liking. Our bags barely fit in the living room, and the bathroom was pretty tight.
5. Royal Hawaiian, a Luxury Collection Resort
My most recent suite stay was at the Royal Hawaiian Hotel in Waikiki. To say I was unimpressed by the experience is an understatement. While our suite was impressive, it's also seen better days. Much of the room, while regal and evocative of old Hawaii, is tattered and worn. What's more, our bathroom was musty. The low ceilings and dim lighting in the bathroom didn't help either.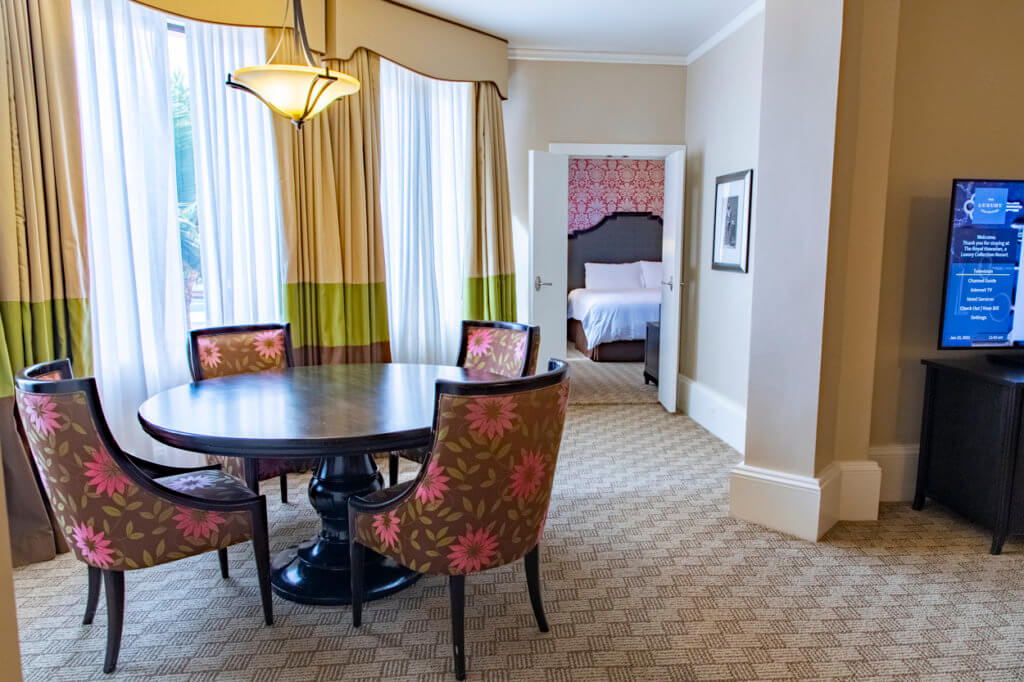 What did work oddly well was the wifi here? It was FAST. True, the hotel was pretty empty. But, it was far better than what we experienced at the Waikiki Beach Marriott back in December.
4. Seattle Marriott Waterfront
During our first PNW visit, we stayed at the Seattle Marriott Waterfront on my fellow Marriott Insiders' recommendation. Also, on their recommendation, I reached out to the hotel manager ahead of time to ask for a request. After all, this trip served as our belated two-year wedding anniversary (12 years actually together). To my delight, we were upgraded to an Elliot Bay View Suite! Even better – at least for the AvGeek in me – is that we were assigned room number 707 – in the land of Boeing 😉.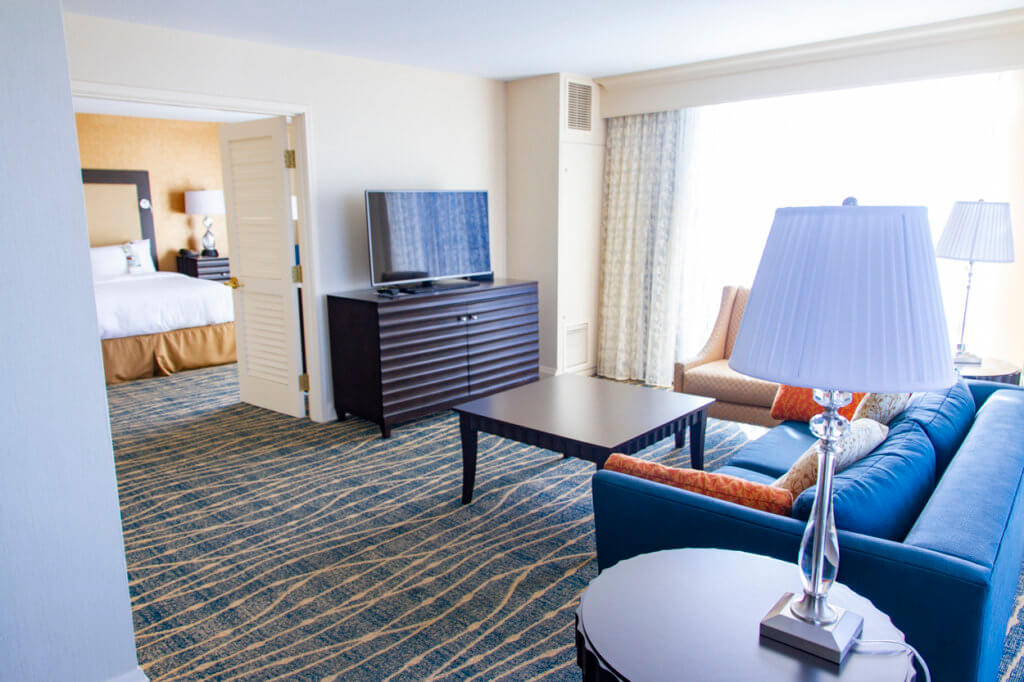 Not only did our room offer stunning views of the bay at Seattle's waterfront, but it was quiet, comfortable, and spacious too. The bathroom was nothing special, but given the layout of the hotel, I can see why. That said, our room was clean, our HVAC was unobtrusive and worked well, and all of our furniture was in great condition. But, really, we spent a significant amount of time on our balcony admiring the views. This despite the cool temperatures at this time of year.
3. Andaz Maui
We got to stay at the Andaz Maui on points once and only once. And during that stay, we got upgraded to an ocean view suite despite being a lowly Hyatt Gold Passport Platinum member. Our entire stay there was fantastic. Every single employee was warm, friendly, and polished. The valets even remembered our names and conversations from the previous days.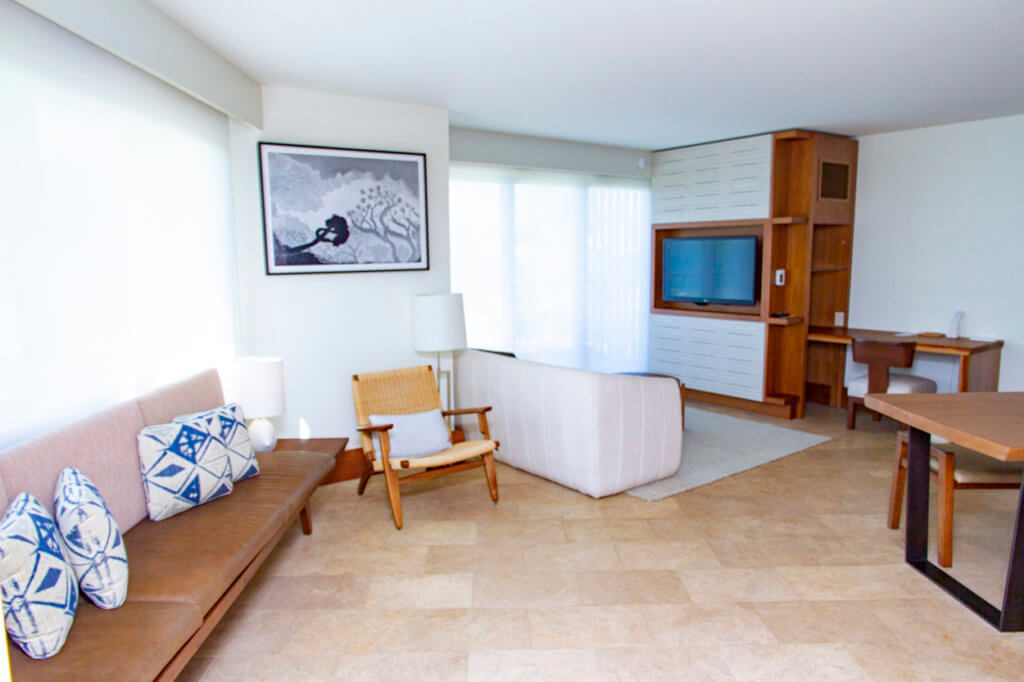 Our 800 sq/ft room was incredibly spacious and comfortable. It featured a separate bedroom and living area, a huge main bath with a Toto Washlet toilet, a half bath, and a wonderful little dining area with a minibar stocked with fantastic Hawaii treats. The room was so cozy that we could've spent our entire long weekend there lounging around in the room and getting fat at the hotel's wonderful restaurants. Alas, we'll likely never stay here again – for obvious reasons.
2. Westin Hapuna Beach Resort
My second most recent suite stay was at the Westin Hapuna Beach Resort out on the Big Island's Kohala Coast. It was my first Westin stay ever and the first time I had stayed somewhere north of Waikoloa. Getting a suite upgrade here is notoriously tough, but we lucked out in scoring an upgrade on an award stay for our sixth wedding anniversary.
Though smaller than our suite at the Andaz Maui, I ranked this one higher because it was more comfortable and felt homier while maintaining a sophisticated flair. Oh, and the room is more functional too. While we had a hard time figuring out how to work the shower at the Andaz, we had no such issues here. Plus, despite our room's location right next to the lobby, our room was nearly silent. Did I mention the view? We spent quite a bit of time lounging around on our balcony, taking in the sights and sounds.
1. My Favorite Suite of All Time – JW Marriott Ihilani
My top suite of all-time is one that, unfortunately, we can't stay at any longer. Well, that's not entirely true. The hotel is now a Four Seasons Resort, and the suite still exists. But, with the rates Four Seasons charges, it's doubtful I'd ever get to stay there again. What's more, we were upgraded to the suite during our wedding weekend by the fantastic staff there.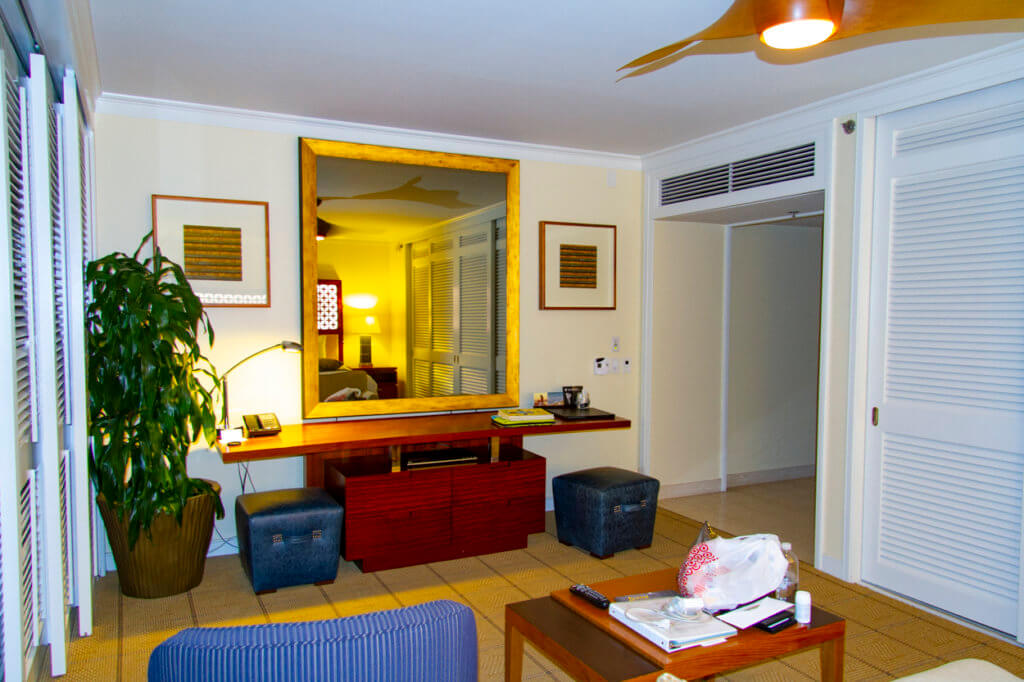 Called the Ihilani Suite back in the day, this double-door suite features one bedroom and one and a half baths. The master bath features a massive jetted tub (my groomsmen and I all squeezed in for a hilarious photo op), a separate shower,  and two large vanities. The suite also has a huge walk-in closet – likely larger than my bedroom at home. Oh, and that giant mirror in the bedroom? That's also a large TV. Pretty cool, huh? The TV in the living room, though, was hilariously small.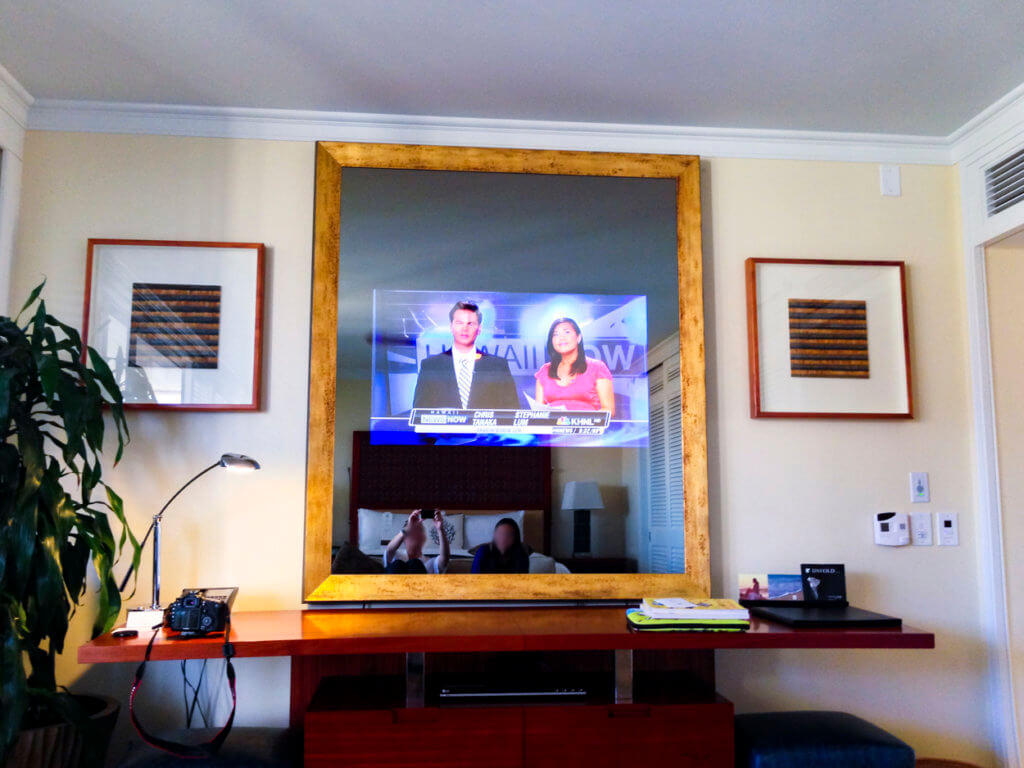 We did also get to tour the Grand Suite during our wedding weekend at Ihilani. But, it was at night and my crummy camera and shakey hands mean that I, unfortunately, don't have any photos of that marvelous suite to share with you all. However, I can tell you that the suite is now called the Penthouse Suite at the Four Seasons Oahu.
My Favorite Suites of All Time, Final Thoughts
I'm sure many of you have far more suite experience than I. Yes, it'd be nice to have more suite stays in the future, but I'm also grateful for the opportunities we have had. The best stays, though, aren't memorable only because of an incredible room. It's often a combination of the quality of the room, the view, and, most importantly, the hotel staff. The JW Marriott Ihilani aced that criteria without a doubt, as did the Westin Hapuna Beach Resort and the Andaz Maui when it first opened. Now, that all said, these suites aren't necessarily my favorite hotel rooms of all-time either. When looking at all types of rooms, there are some standard rooms out there that I'd take over most of these suites any day. But, that's a story for another time.
What suites are your most memorable?