Three years ago, I purchased a 15″ MacBook Pro. At the time, issues with its defective keyboards were well documented. However, Apple promised that they fixed the issue for the 2018 model year. That turned out to be far from the truth. So, here is my MacBook Pro keyboard replacement experience.
When I bought my MacBook Pro, I hoped that the silicone membrane Apple began installing around their butterfly key mechanisms would prevent my laptop's keyboard from failing. Unfortunately, that turned out not to be the case. After three years of use, my keys began failing. Particularly, my left shift key stopped working, while most of the keys on the left side of my keyboard began repeating. It got so bad that certain letters would appear three to four times after being pressed once. It was incredibly annoying. Thankfully, Apple issued a recall of all butterfly key Macs, offering free replacements.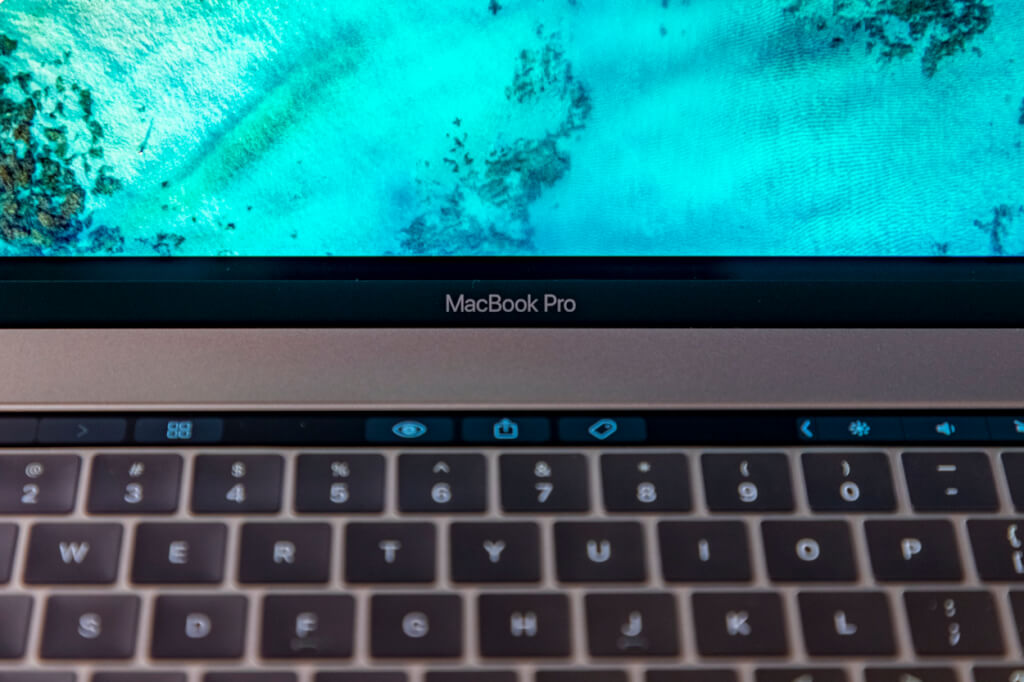 My MacBook Pro Keyboard Replacement
Though there's an official recall for affected machines, you still need to take your laptop to an authorized Apple repair center for inspection. So, I scheduled a Genius Bar appointment at my local Apple Store.
Genius Bar Appointment
My Genius Bar on June appointment was simple enough. The Apple Genius took my MacBook Pro and attempted to run some diagnostics on it. Unfortunately, he couldn't get the diagnosis to work, noted that I still had Apple Care coverage (not necessary for the recall), and processed my machine for repair. From there, my laptop got shipped directly to Apple's repair center in Texas.
The Genius notified me that, during the repair, my MacBook Pro would receive an entirely new top case, including a whole new keyboard, trackpad, and battery. Score! My batter was in poor condition anyway, while – sticking issue aside – one of my keys was damaged too. All-in, the repair would've cost me almost $700 if I had to pay for it myself. But, thanks to Apple's repair program, that wasn't the case. The quoted repair time was 10 to 14 days, inclusive of shipping to and from.

Repair Issues
Three days after my Genius Bar appointment, my MacBook Pro arrived at Apple's repair facility and underwent evaluation – that was July 2. On July 6, following the July 4th weekend, I got an email stating that my repair couldn't proceed because my laptop had a firmware password set. Unfortunately, I couldn't just give them my firmware password and had to provide proof of purchase instead.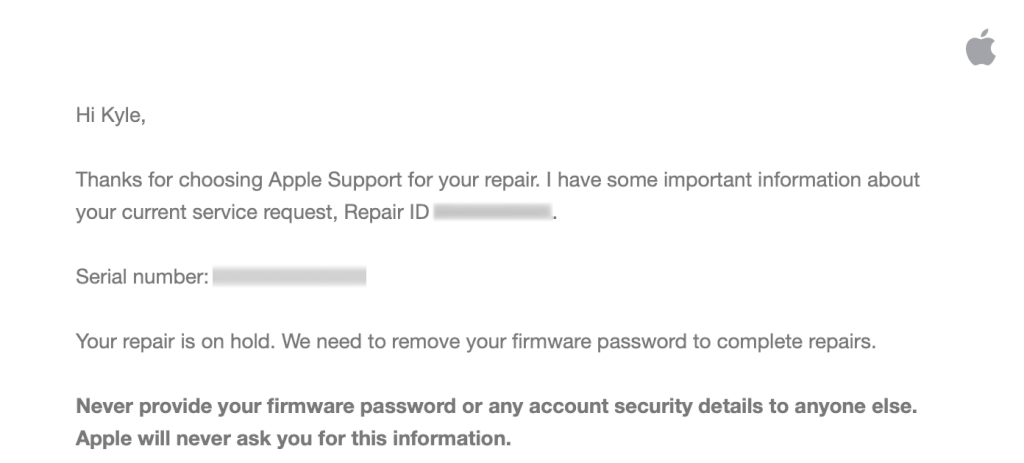 Unfortunately, the confirmation email I got when I ordered my laptop wasn't sufficient. Instead, I needed to provide an official Apple Store invoice. The problem with that is that you can't access invoices from three years ago. So, I had to initiate a chat with an Apple Store Specialist to see if I could obtain an archived copy. It took a couple of tries since my first attempt resulted in an invoice for a related purchase. But, eventually, I did get what I was looking for. The alternative was to send my laptop back to me to remove the password and send it back in again.
Thankfully, the archived invoice was accepted, and my repair was done the very next day. My laptop was also shipped back on that day, which was Wednesday, July 7.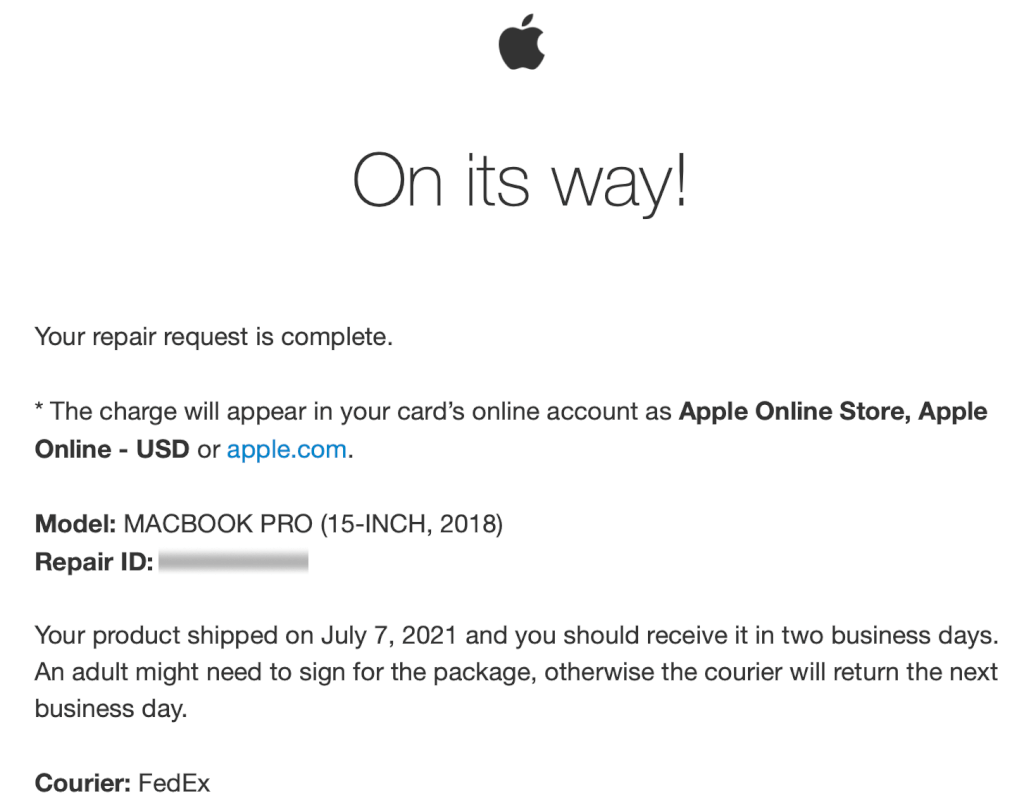 Shipping
Apple graciously shipped my MacBook Pro back via FedEx Priority Overnight. Watching like a hawk, I noticed my laptop got to FedEx's main sorting center in Memphis that day. For some reason, though, it didn't make it onto a plane that evening and sat there for a day. So, instead of receiving my laptop back on Thursday, it ended up coming in on Friday. So much for Priority Overnight service! That shouldn't surprise me, though, since my packages shipped with FedEx are almost always late.
Thanks to FedEx, my entire repair process took 10 days – it would've been nine if FedEx didn't mess up.
Prevention
Unfortunately, when Apple replaces your keyboard, you get the same crappy keyboard your MacBook Pro came with. So, dust and junk will inevitably happen again, leaving you with a malfunctioning keyboard. So, once your repair is complete, you've got two options – trade the thing in or use a keyboard cover.
Apple hasn't released any M1-powered 16″ MacBook Pros yet, so I've opted to keep my current machine for now. To protect my refurbished keyboard, though, I did end up ordering CaseBuy TPU keyboard cover on Amazon. To me, it's a great cover that doesn't feel too intrusive and stays in place well without adhesive. Plus, it cost me less than $8! And, no, I don't have an affiliate link – I'm just sharing my experience with you all.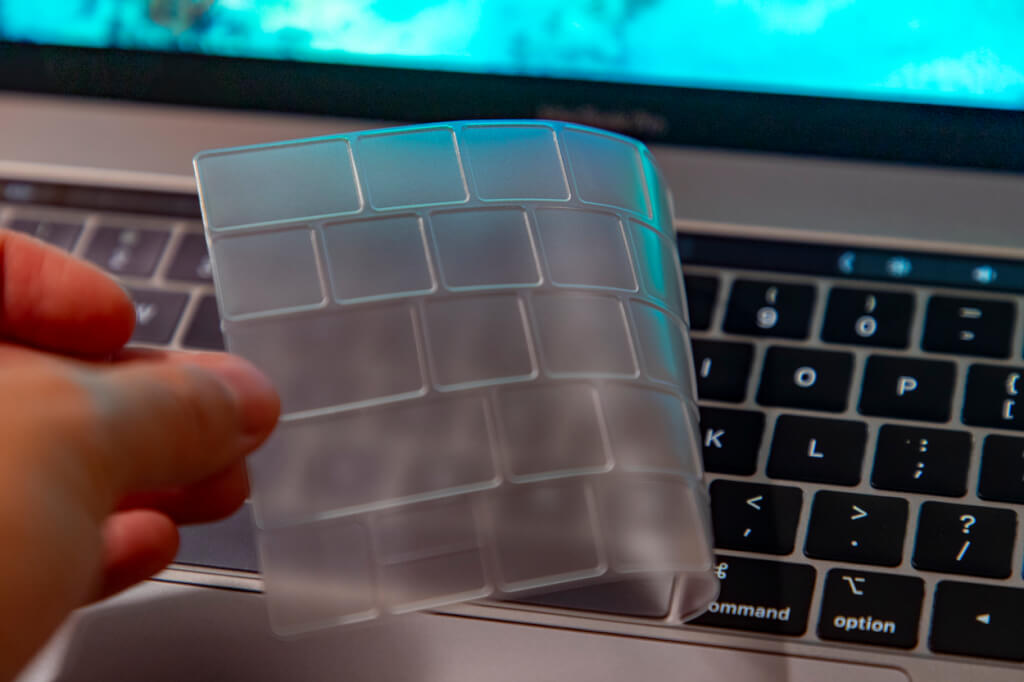 My MacBook Pro Keyboard Replacement, Final Thoughts
If you've got an affected laptop, I highly suggest doing the repair as soon as the issue begins appearing – it'll only get worse over time. What's more, Apple's repair program is only applicable for four years from your date of purchase. Not sure if your laptop qualifies for the program? Check out Apple's Keyboard Service Program page. Thankfully, their 16″ MacBook Pros no longer have this keyboard design at all, so, hopefully, the issue never happens again. But, as I mentioned earlier, I'll be waiting for an Apple Silicon version to come out before replacing this machine.
That all said, if you haven't done the repair yet, expect to have to if you don't use a keyboard cover. And, when you do, be sure to remove your firmware password before sending your laptop off. Don't know how to do that? Here's how. Of course, be sure to run a Time Machine backup beforehand too.