I know many in the blogosphere complain about room upgrades with Marriott. Maybe it's because I don't travel a ton, but I haven't had issues with Marriott upgrades. But since I stayed with two major brands during my recent trip, I want to talk about how my recent room upgrade experiences went during these stays.
While I don't always get upgraded with Marriott, my track record has been pretty good. Suite upgrades for me are rare, even as a Titanium Elite or the old Platinum Elite, but I usually receive at least a premium view room. And that's fine with me. So, perhaps, that's why I'm not so upset about the whole situation?  Regardless, let's go over my most recent experiences with Marriott and Hilton.
My Recent Room Upgrade Experiences – Background
Recently, I took Mrs. Island Miler to Maui for a little close-to-home vacation – trip report coming soon! We stayed at two very popular properties during this stay – the Westin Maui Resort & Spa and the Grand Wailea Resort & Spa. Each stay was during the same week in the second half of November, with the Westin stay being on cash + points and the Grand Wailea stay being purely on points. It's worth noting that I still have Marriott Titanium status and Hilton Diamond status.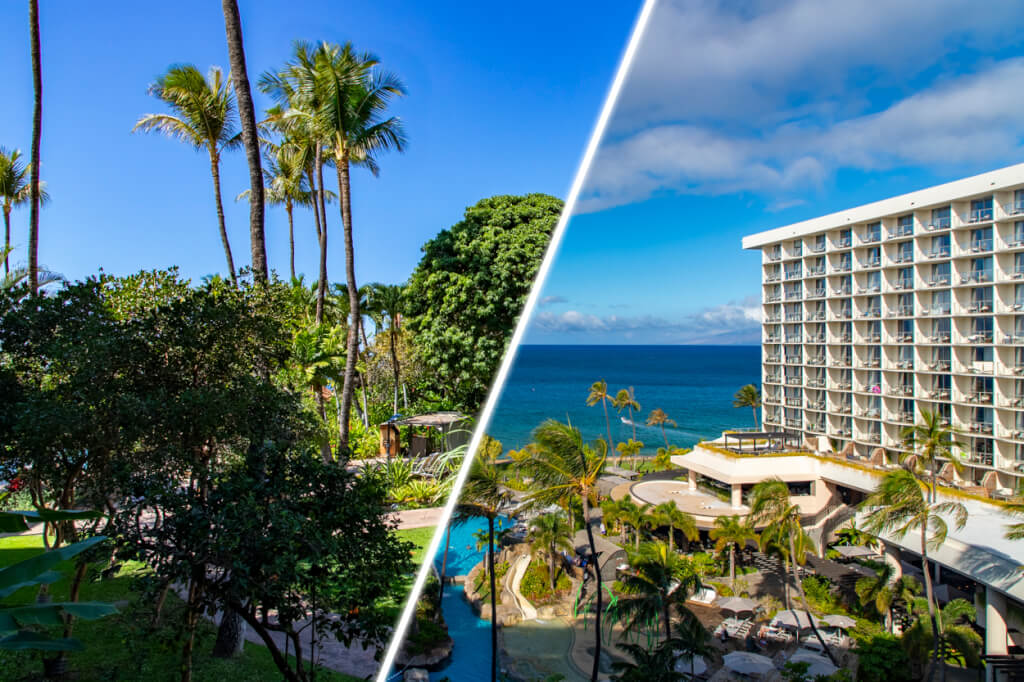 Westin Maui
Since I needed to burn Suite Night Awards, I applied two to my stay at the Westin Maui. These cleared five days before check-in and placed me in a Superior Ocean View guestroom in the older Ocean Tower. I didn't receive an ocean-view suite, as it was the top choice, nor do they let you request the Hokupa'a Tower. I was hoping for a further upgrade upon check-in, though that didn't happen. Did I wish I would've gotten a better upgrade? Sure. But our room did have a nice view of Ka'anapali Beach, Lanai, and Molokai. We weren't in our room all that much either, so I'm not going to complain.
Grand Wailea
Despite being a much larger property, the Grand Wailea was far more stingy with their upgrade. In fact, I got a one-category upgrade from a Terrace View to a Garden View room. *Woohoo*. Here, Garden View meant a view of the hotel grounds on a low floor with no view of the pools. Sure, it wasn't a parking lot view, but still. Luckily, we spent relatively little time in this room too.
That said, I did stay at the Hilton Hawaiian Village a few years back as a Diamond Elite too. And at that time, I did receive an upgrade to a Rainbow Tower Oceanfront Room, which was fantastic! Though, that is an even bigger property.
My Recent Room Upgrade Experiences, Final Thoughts
At the end of the day, I think my approach to upgrades are part of the reason why I feel the way I do. I have pretty low expectations and don't normally expect a suite upgrade either. Do I appreciate them when I get them? Sure. But I view them as the exception rather than the norm, even if the benefits guide says otherwise. After all, we usually don't spend a lot of time in our room when we travel. So room size doesn't typically matter too much to us. Well, except for hotels at which the base room sizes are small. I'm looking at you, Courtyard Waikiki. And, as far as this trip went, I was happy just to get Grand Wailea on points. So, there's that's too.
I do have one more Marriott stay for the year coming up, so let's see how that goes.