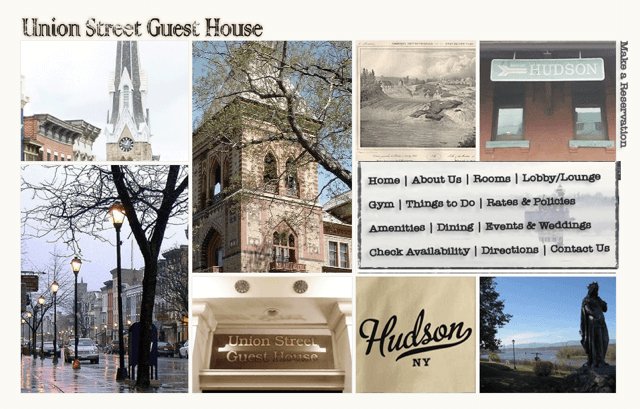 An article has been making the rounds about an upstate New York Hotel fining customers $500 for leaving a negative review for their hotel. Here is the original text that sparked the story:
If your guests are looking for a Marriott type hotel they may not like it here. Therefore: If you have booked the Inn for a wedding or other type of event anywhere in the region and given us a deposit of any kind for guests to stay at USGH there will be a $500 fine that will be deducted from your deposit for every negative review of USGH placed on any internet site by anyone in your party and/or attending your wedding or event
While the hotel now claims that this policy was a joke all along, they are in clear violation of policies set forth by Yelp, TripAdvisor and other travel services, so this is getting them into some hot water.
I genuinely think that the hotel did make a mistake by posting this on their website, and it's surprising that it was up on the site for years before anyone noticed. Although it looks like their website was last updated in 1998, so I shouldn't be that surprised. Thankfully the Internet has assured us that the policy would see the light of day.
Two thoughts on the story
While he story speaks for itself, I have two comments on the outcome:
1) When you read the policy more closely, it is telling the guests that they will receive a $500 penalty out of their wedding deposit for any negative reviews, but who writes negative reviews before the wedding anyway? Obviously the bridal party and others have better things to do leading up to their big day. There is a 5% likelihood of this fine ever happening.
2) This is the best marketing and publicity that could ever happen to this hotel! This story has literally put the Union Street Guest House on the map, and I applaud them for it!
Just check out the search results for "Hudson, NY":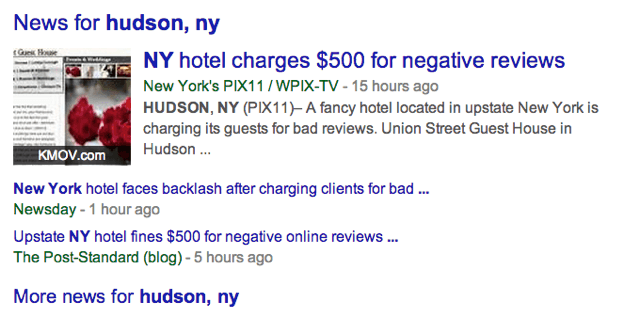 Major faux pas or a brilliant marketing scheme?
This might be the most exciting thing to happen for the city in years. Well played Union Street Guest House.