Renting a car on Oahu is about to get a whole lot easier as the new Honolulu rental car center opens on December 1, 2022. The massive new center promises to improve both visitors' and kamaaina experience at Honolulu alike and represents the final piece of Honolulu's airport modernization program.
Honolulu's consolidated rental car center (CONRAC) is one of the longest-running and most expensive ($377 million) projects under Hawaii's airport modernization program. Kicking off in 2009, the Honolulu CONRAC has now been 12 years and is one of the last major pieces of Honolulu's specific modernization plan to come to fruition. The other major development to recently come online was the long-delayed Mauka Concourse.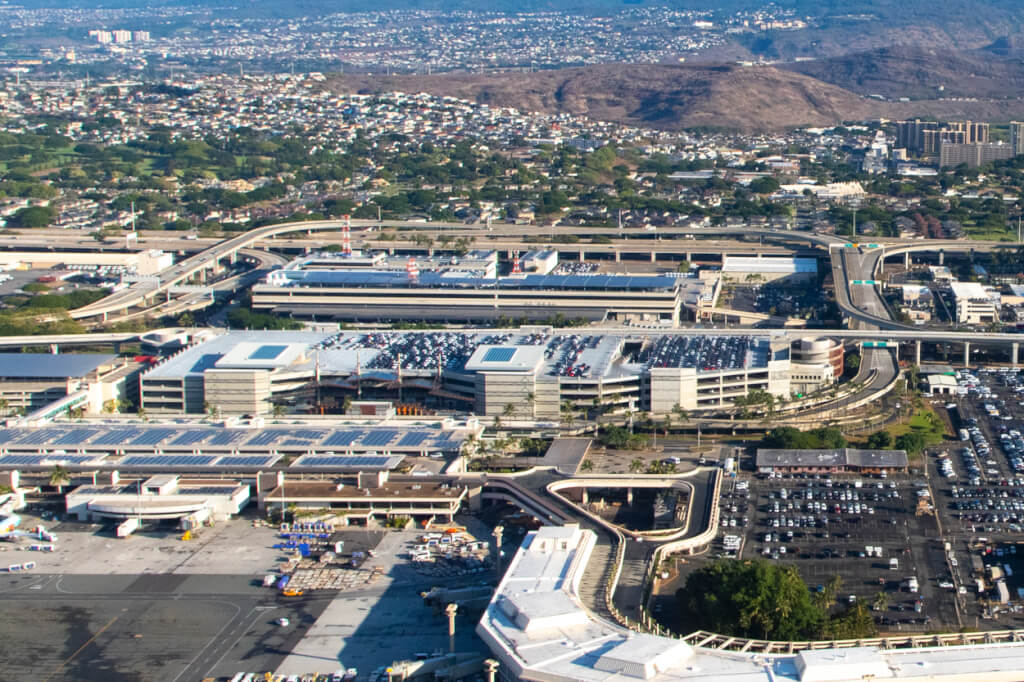 New Honolulu Rental Car Center Opens on December 1
The Honolulu Star-Advertiser reports that the new Honolulu rental car center opens on December 1 – this Wednesday. That's a little bit earlier than previous estimates that placed the opening towards the end of the month. And when it does open, it promises to provide more convenience for everyone. That's because the new CONRAC will bring together six agencies in a new facility near HNL's Terminal 2. Those agencies include:
Alamo
Avis
Budget
Dollar
Enterprise
Hertz
National
Sixt
Thrifty
In fact, airport officials say that many travelers won't have to take a shuttle bus to get to their rental car anymore. And those that do need to catch a shuttle can now take a general shuttle. Thankfully, though, these shuttle rides won't be as long as those in Vegas or Seattle. This should help speed the arrival process for visitors, reduce congestion within the airport, and help reduce pollution.
Another benefit of the new facility is the return of 1,000 parking stalls at the Terminal 2 parking structure. At the moment, these stalls are occupied by at least some of the rental car operators in Honolulu. But, once the new facility opens, this will no longer be the case. Unfortunately, however, officials say that the stalls won't be returned to public use until April 2022. Still, it'll be great to have more parking at the airport since that is something that's been in short supply lately.
Interestingly, state officials say the Honolulu CONRAC is slightly smaller than the Maui one. The CONRAC at Kahului airport, which opened in 2019, can hold up to 4,600 rental cars. At Honolulu, the facility holds just 4,500.
Location
The new HNL CONRAC facility is located on the Diamond Head (East) end of the airport. I've highlighted the building in the below photo. No one says how visitors will get to the facility on foot. Though, I suspect you'll need to at least cross the busy street on the arrivals level to do so. This is already the case on Maui, though the OGG CONRAC has a tram too. That will not be the case here in Honolulu. You'll either have to catch the consolidated shuttle as mentioned above or walk.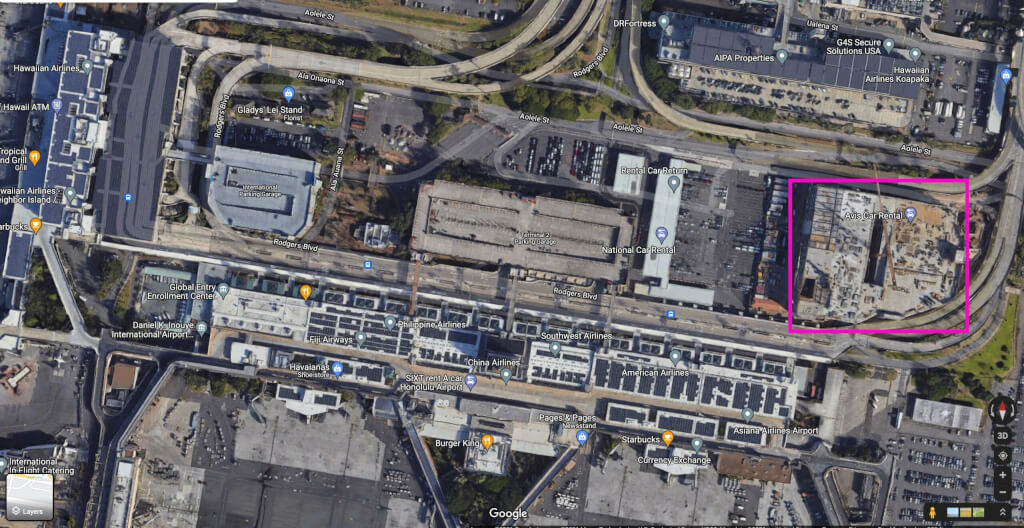 Final Thoughts
During our recent trip to Maui, we saw the CONRAC nearing completion. Our baggage claim, however, was near the second bridge connecting the parking structure to the terminal. I suspect that, from here, it is at least a 5 to 10-minute walk to the CONRAC. Passengers arriving on Hawaiian will undoubtedly have to catch the shuttle as Terminal 1 is quite far. But, again, this is a major improvement in experience for all – especially those that have to go to an off-site lot right now. And I know at least a few people that'll be relieved that more parking will once again be available.
What's next for Honolulu? Not a lot as far as visitor experience is concerned. The next major project on the schedule is the new Diamond Head Concourse, currently scheduled for completion in 2023. If this new concourse does come to fruition, it'll greatly expand HNL's capacity with space for up to 17 Boeing 777-9 aircraft. But this on-again, off-again project is far from a sure thing. So, we'll see what ultimately happens.