Last updated on October 17th, 2021 at 01:22 am
Before I get to the trip itself, I want to talk about the new Honolulu Airport Mauka Concourse. After all, this new concourse is the first new major addition at Honolulu's Daniel K. Inouye International Airport in decades! And, as luck would have it, our flight was departing out of this new terminal.
As I covered previously, Honolulu's new Mauka Concourse opened just days before our flight out.  The new concourse takes the place of the old commuter terminal and is dedicated to serving Hawaiian Airlines. Airport officials, however, didn't try to match the new facilities to the existing ones at all. The results are a radical departure from what HNL regulars are used to seeing.
The New Honolulu Airport Mauka Concourse – Location
The new Mauka Concourse, as its name suggests, is the northernmost terminal at Honolulu. In fact, it comes right up against the H-1 Freeway and Nimitz Highway. As such, this new segment houses what are now gates A1 through A12. Hawaiian's existing facilities are now home to gates A13 to A20 and B1 to B5. Gates B1 to B5 are actually what was Aloha Airlines' old terminal.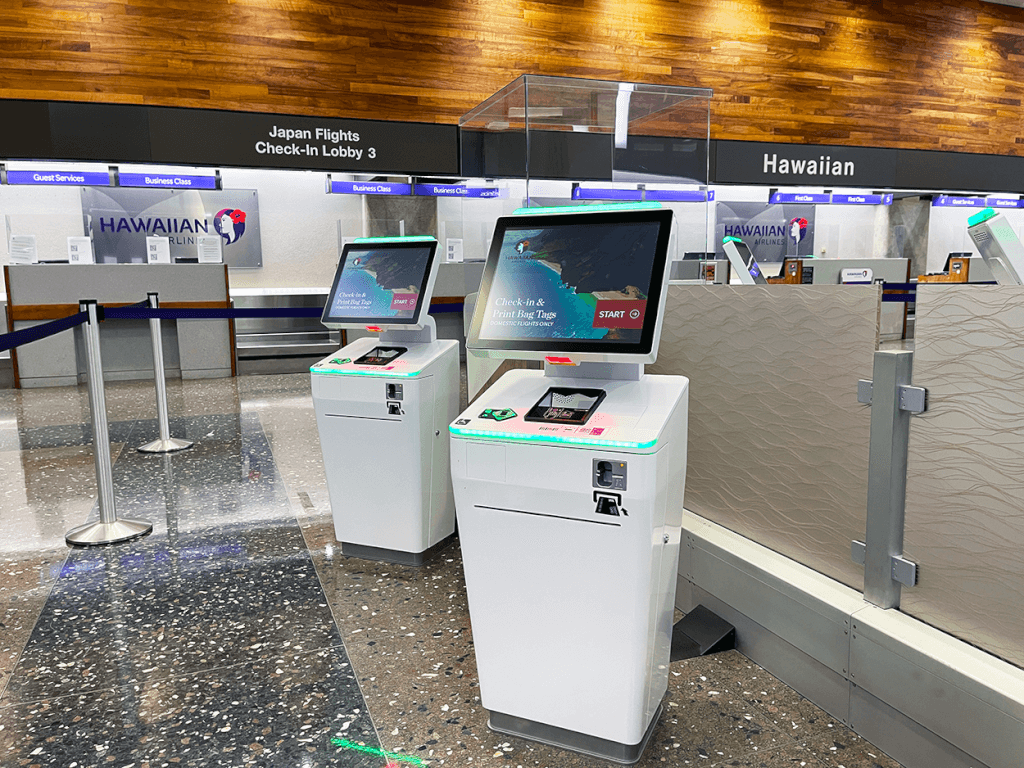 Anyway, to get to the Mauka Concourse, you need to turn right from the terminal 1 TSA checkpoints. That morning, the checkpoint in use was the more makai one, so we had to walk from around gate A17 to the new concourse. Once you reach it, though, you'll need to clear through a USDA agriculture checkpoint. Thankfully, there wasn't much of a crowd there at the time and we made it through in a matter of minutes.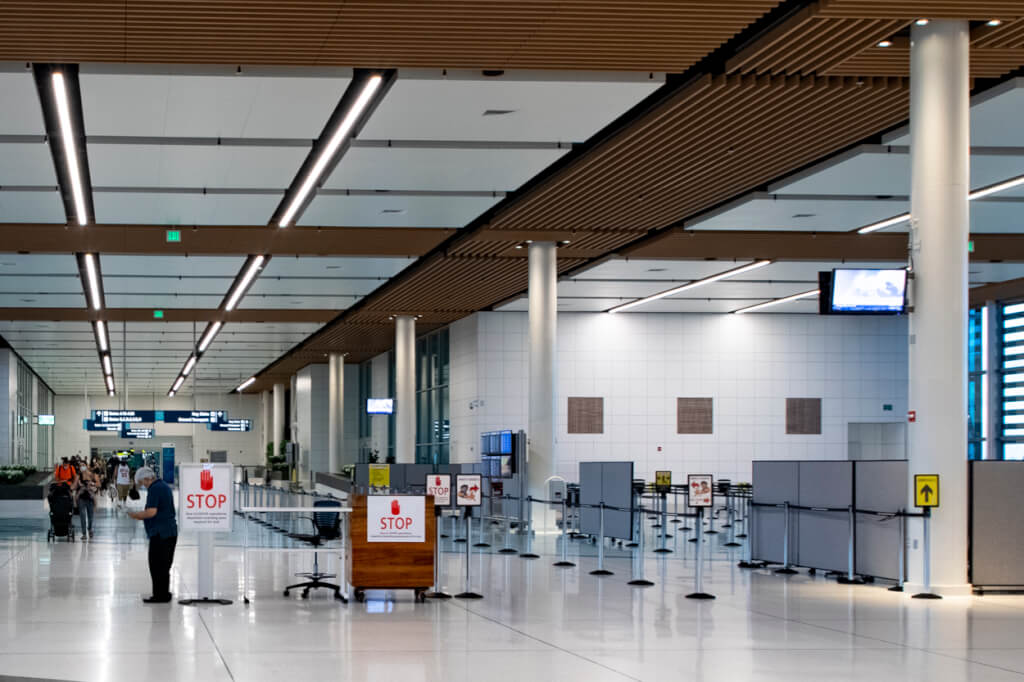 Ambiance
The biggest difference you'll notice in the Mauka Concourse is just how airy it feels. The ceilings in the Mauka concourse are probably about double the height of the other areas in Terminal 1. There's also a ton of empty space. Like, I wonder why there's so much empty space? It seems almost like a waste of money. This is especially true when you see how small the gate areas are.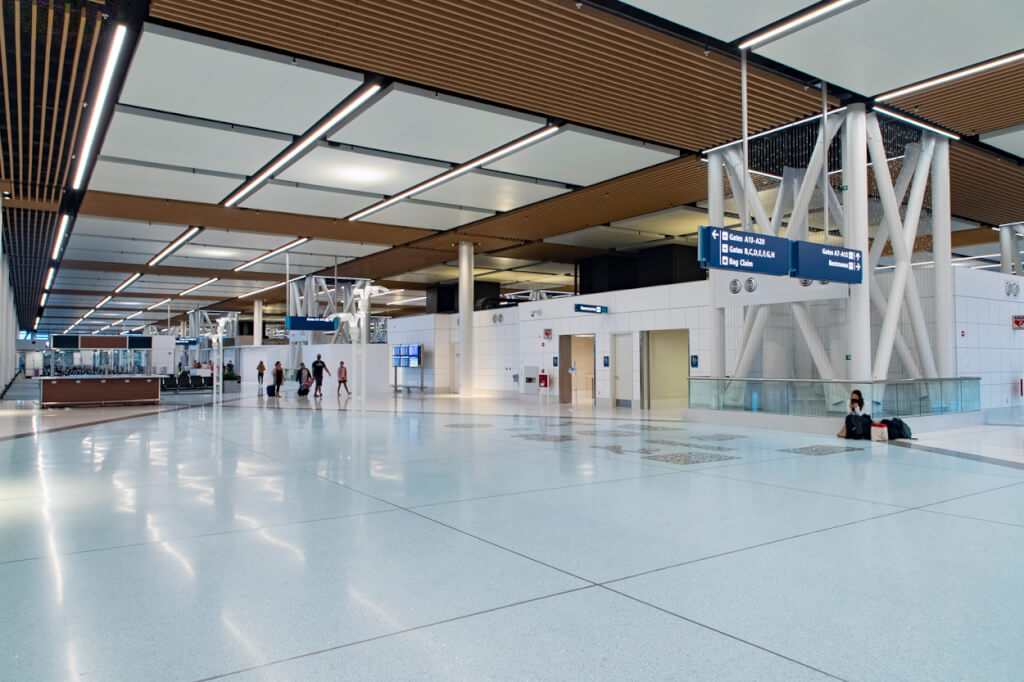 Mauka Concourse Gates
Given how much space the Mauka Concourse has, I definitely think they could've given more seating area near the gates. Unfortunately, in my haste to get photos that morning, I didn't take a more focused shot of the seating areas. What's worse, though, is how hilariously small the actual gates are. Take a look at this shot I took when we were boarding our flight.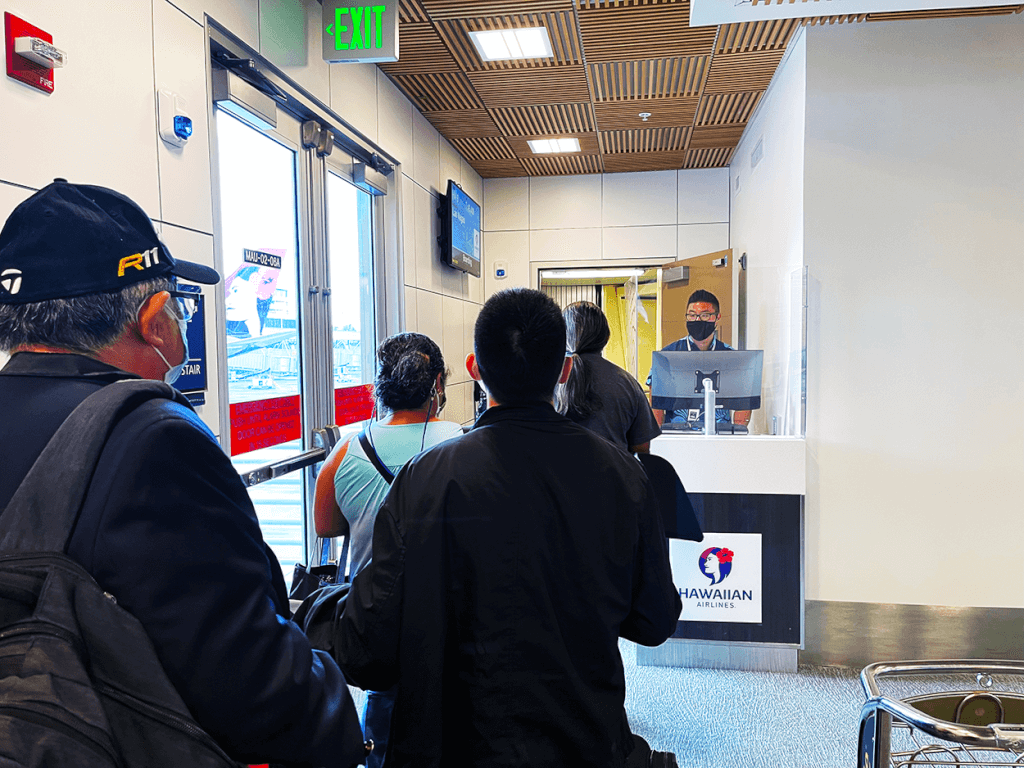 Seriously. Why is this area so claustrophobic? Who's bright idea was this? Let's also not mention how this terminal can handle Boeing 717s but only six A330s or A320neos.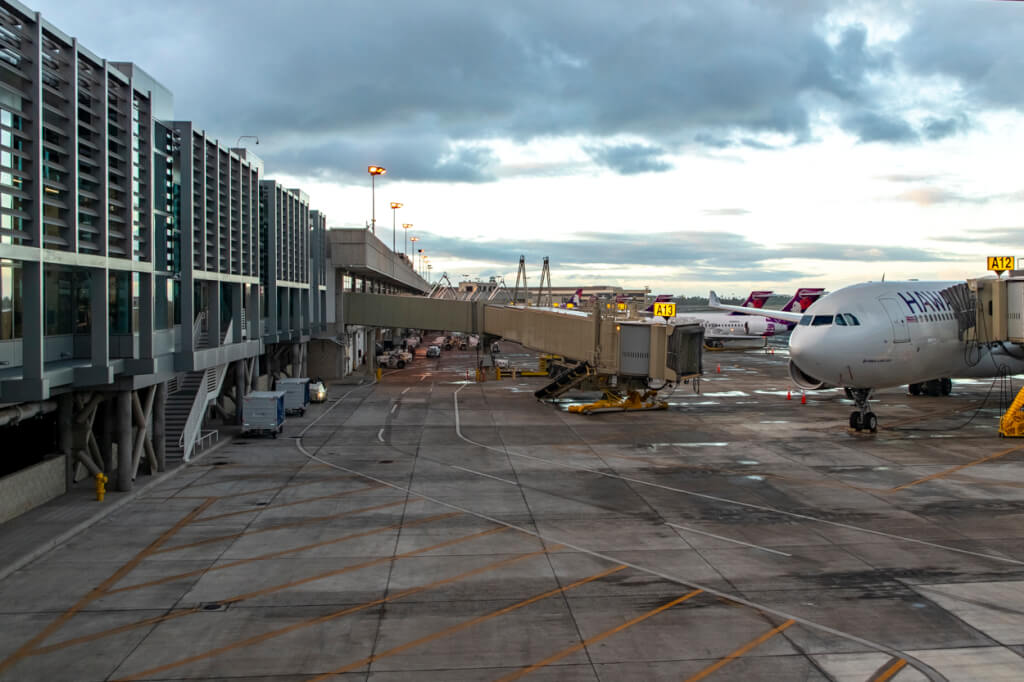 You can't even use gat A13 in the older part of Terminal 1 when a plane is parked at A12!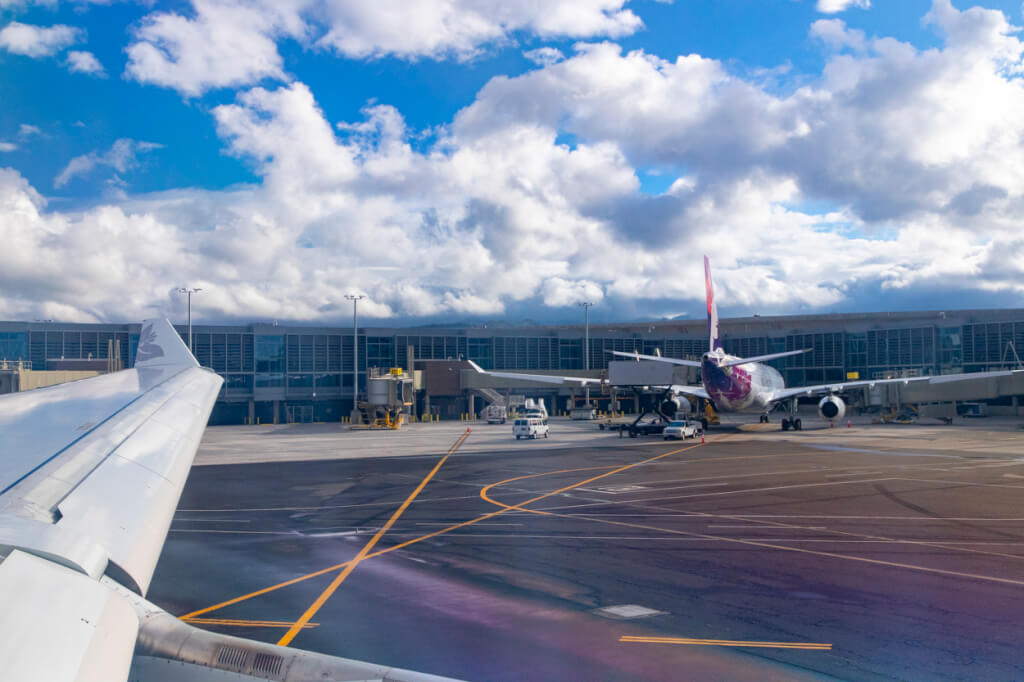 The New Honolulu Airport Mauka Concourse Concessions
At the moment, concessions are still under construction. There was one – Pages & Pages (think like Hudson News) – while we were there. It looks like there will be Dunkin and Kona Brewing kiosks coming to the terminal in the near future.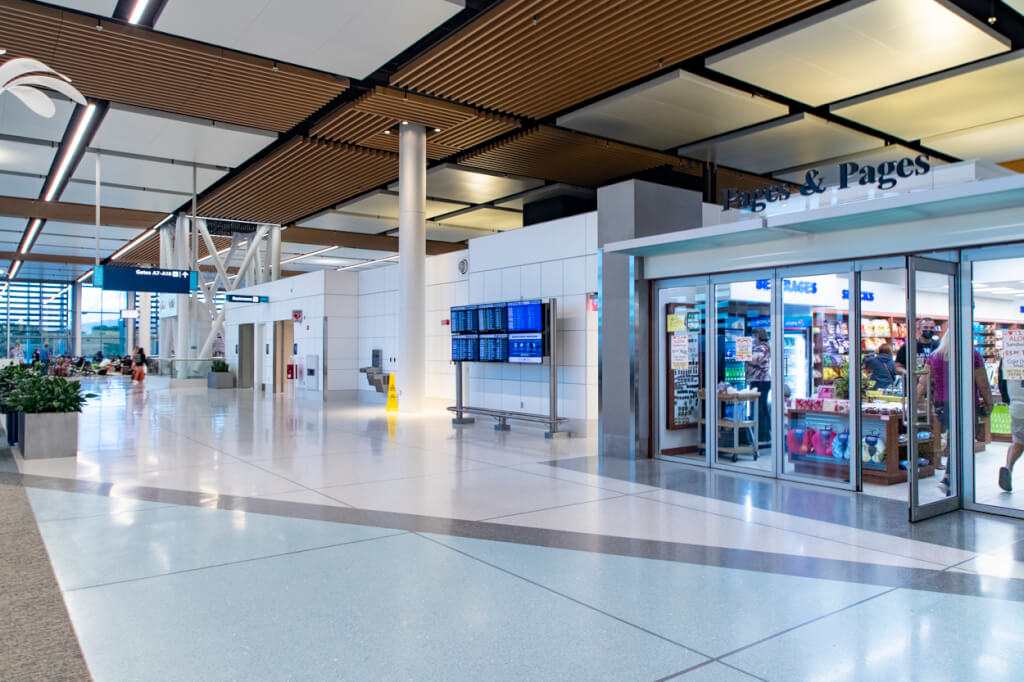 Oh, and there are a couple of sets of restrooms in the terminal. The restrooms and Pages & Pages both extend the terminal's width so you can use them to crossover as well.
Special Display
With all the extra space in the terminal, officials decided to create a display dedicated to the airport's namesake – Senator Daniel K. Inouye. Located near the Safe Travels screening area after Gate 12 is Senator Inouye's office or at least part of it.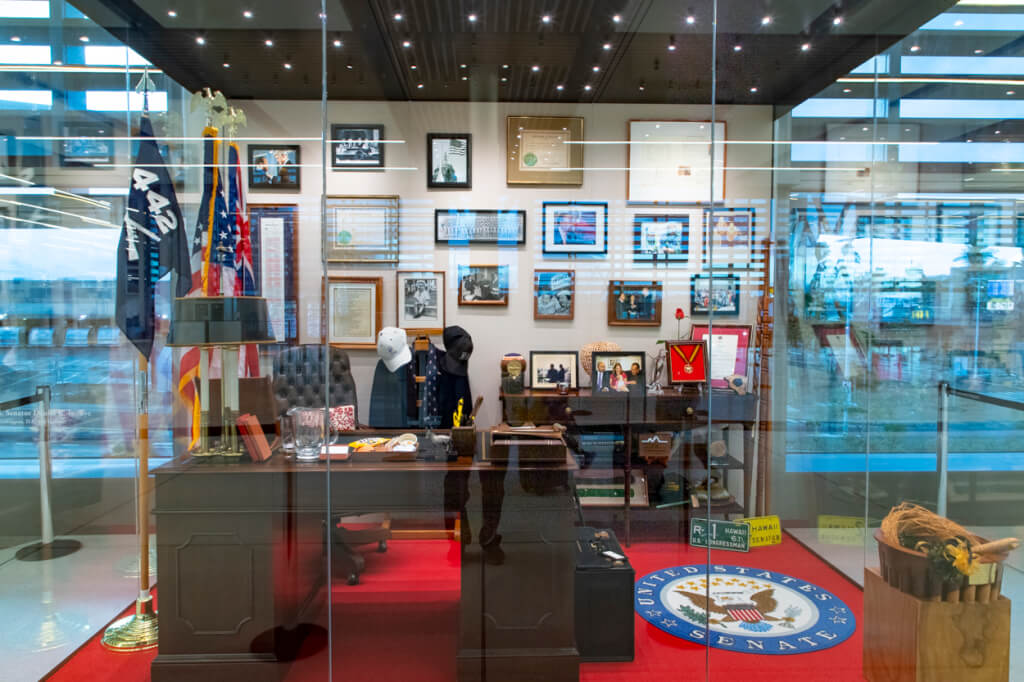 While the man did much for Hawaii, and I can understand why it's here, it definitely feels random. The whole display is in the middle of nowhere.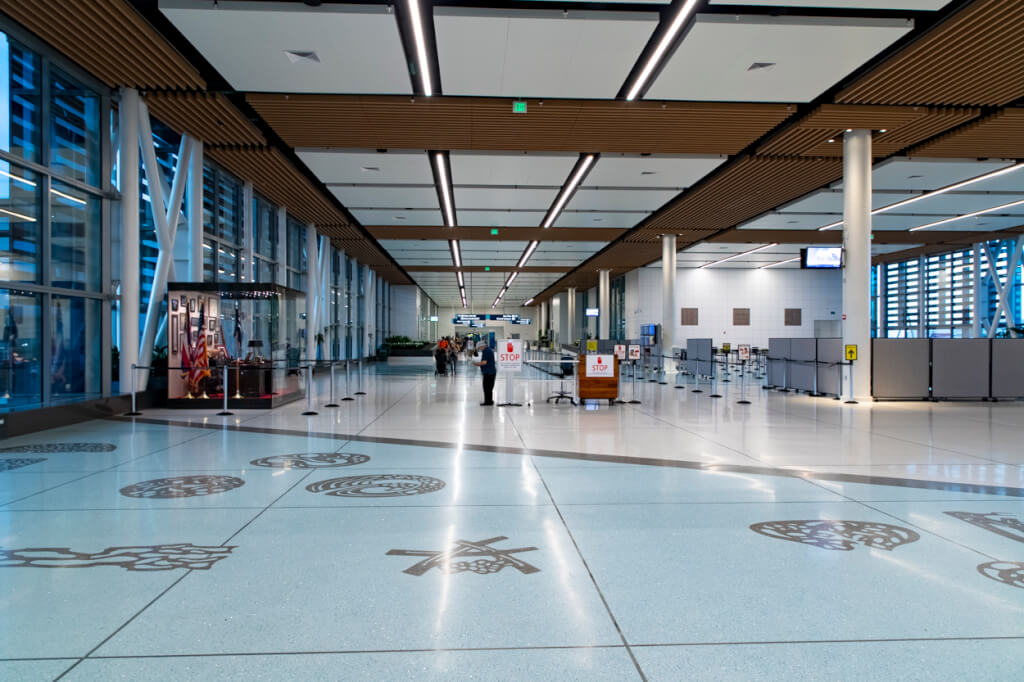 Tarmac Views
More so than the older portion of Terminal 1, the Mauka Concourse has great tarmac views. You can see the entirety of gates A13 to 20 from here, as well as Hawaiian's hanger.
The terminal also offers decent views of the aircraft parked at its own gates, though the gates on the outermost corners have really crummy views. In fact, thanks to the way those gates are positioned, I couldn't see the aircraft that brought us home at all.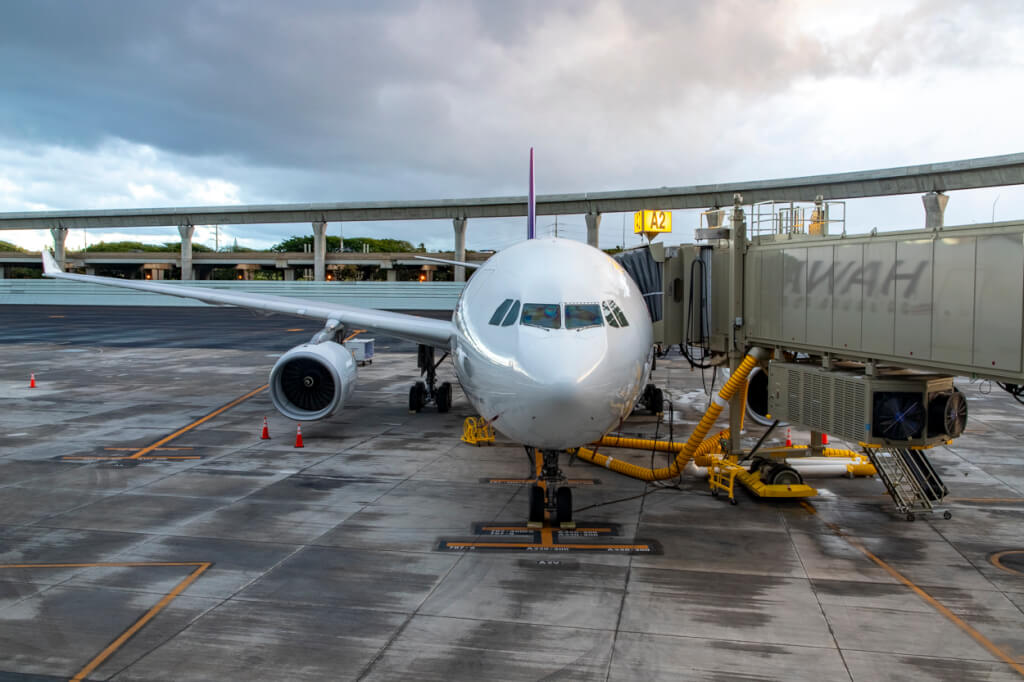 Unfortunately, while most of the windows in the Mauka Concourse are clear, a handful are covered in decals. Unlike dots on the windows at many other airports, I can't imagine these do much to reduce heating, so I'm really not sure what they're for. And, as for the pattern, I'm sure the triangles represent mountains for the Mauka Concourse.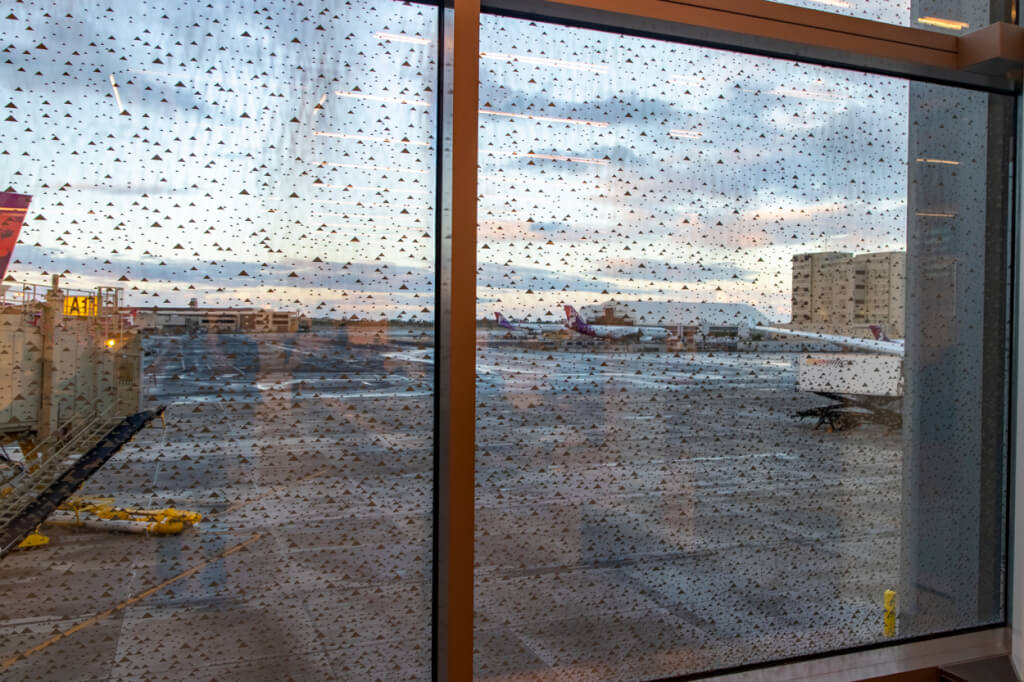 The New Honolulu Airport Mauka Concourse, Final Thoughts
It was really neat being in a new terminal so soon after opening. This is especially true for Hawaii, where new infrastructure is RARE. That said, the initial awe wore off pretty quick for me, being replaced by confusion instead. Seriously, while there are aspects of the Mauka Concourse I like, a lot of it doesn't make any sense to me. But I shouldn't be all that surprised, I suppose. Hawaii's airports have always been a bit of a letdown, and that doesn't seem like it's a trend that'll change any time soon.
Vegas + Irvine Trip Report
The New Honolulu Airport Mauka Concourse