Last updated on October 11th, 2020 at 01:19 pm
Aloha!
I'm Kyle, a reader of Jeffsetter and Hawaii resident.  Specifically, I've lived on Oahu for my entire life, but have travelled to Europe, the Continental US, Japan, Canada, and throughout the State of Hawaii.
When Jeff said he was going to start his life as a traveling nomad in Hawaii, and that he's never been to Hawaii, I knew I had to reach out to him and give him so tips.  Why?  Because I love share information about this great state and helping others with their Hawaiian vacation planning.  And that's now I now find myself sharing my Hawaii travel tips with all of you!
To start off this mini-series on Hawaii, I'd like to start off with an Oahu visitor guide.  Most people I know from out of State either love Oahu or hate it. As you may know, Oahu is home to the state capitol, Honolulu.  The island is home to about a million people, which means it is the most crowded island in Hawaii.
Waikiki in particular very crowded and definitely has a big city vibe to it, but that's not to say Oahu can't be relaxing and fun.  In fact, there's a great variety of things to do on Oahu, ranging from hiking, to swimming with dolphins, to Oahu's vibrant nightlife.
My Favorite Oahu Beaches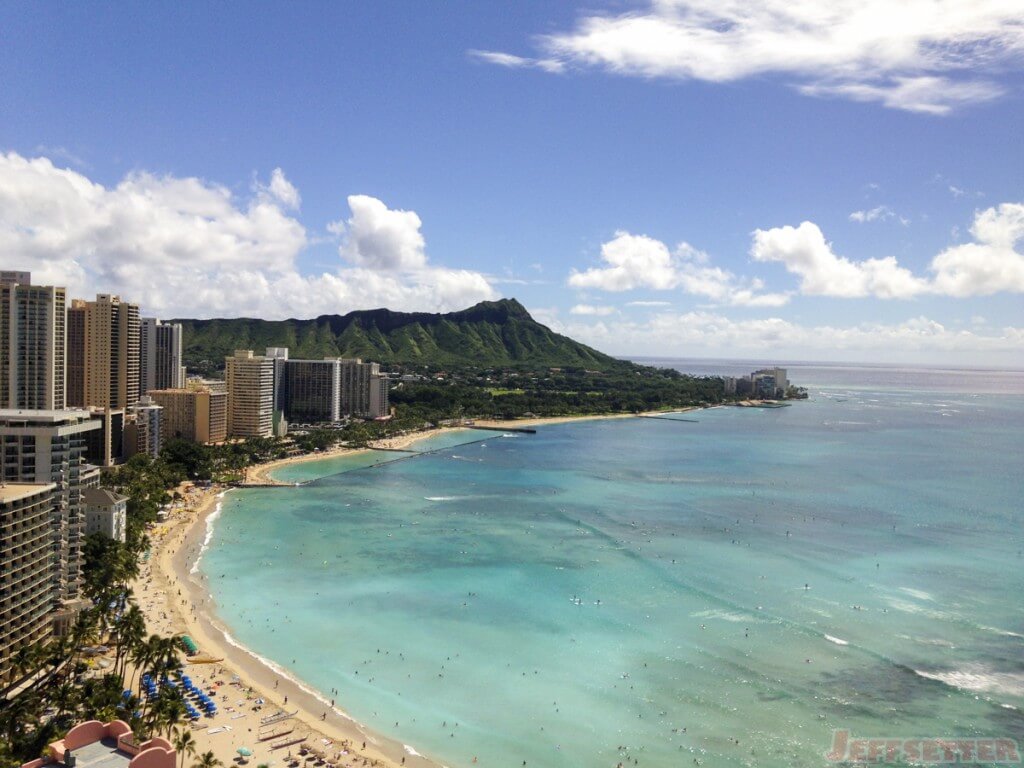 So one of the most popular things to do in Hawaii is to of course to go to the beach.  Waikiki Beach is nice, especially with a view of the iconic Diamond Head, but there's so many more beach to explore and enjoy.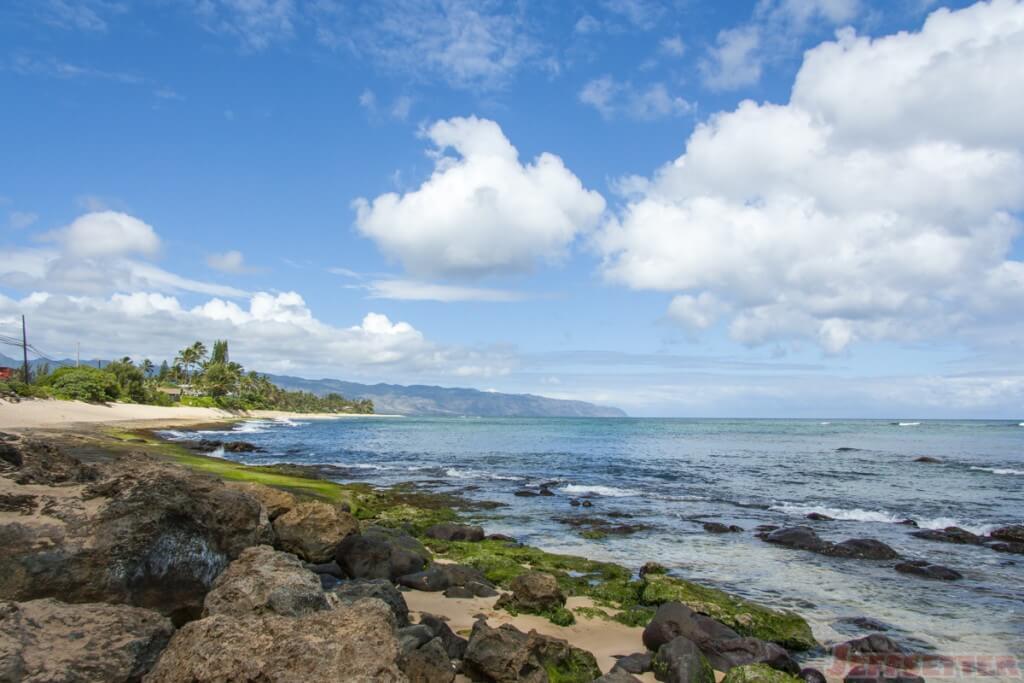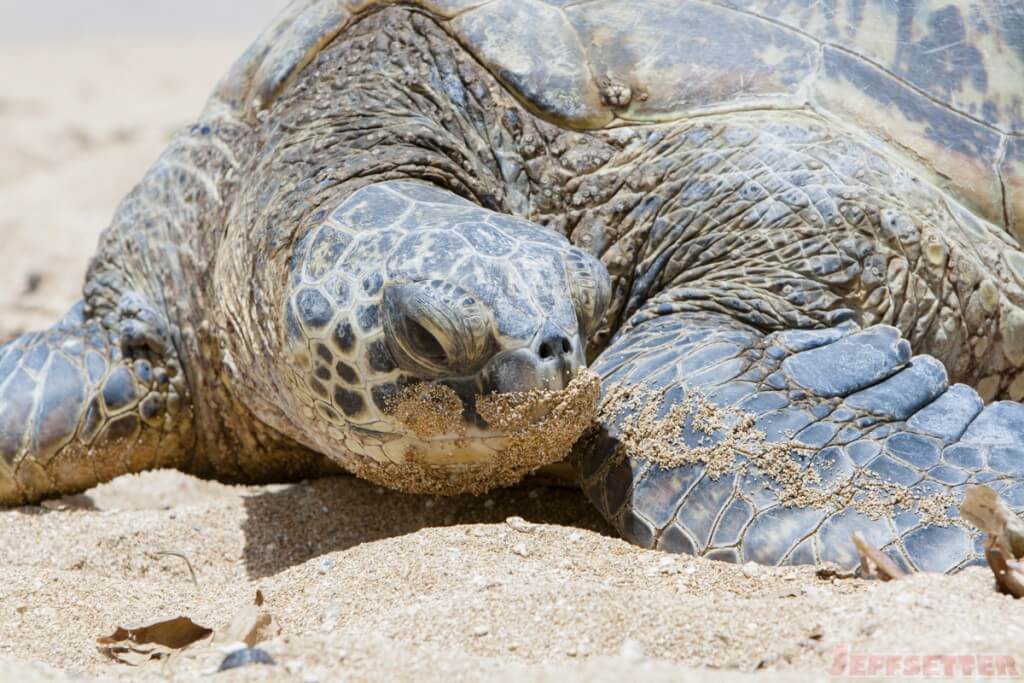 The North Shore is definitely the next most popular beach destination.  The above beach is Laniakea Beach, which is just outside the surf town of Haleiwa.  It's famous for being a popular honu (green sea turtle) spotting site, but my honu picture actually came from Haleiwa Beach Park next to Haleiwa Boat Harbor.
If you're a Baywatch Fan, you'll instantly recognize this beach!  Other popular beaches on the North Shore are Waimea Bay, Banzai Pipeline and Sunset Beach.  Parking can be an issue at all of these, so get there early to beat the crowds and plan on driving for about an hour from Waikiki. If you've rented an RV or something similar you're going to have an even harder time finding a spot to park.
Of course, you could always just stay on the North Shore at the Turtle Bay Resort or the new Courtyard by Marriott Oahu North Shore.  The Turtle Bay is on the beach, but the Courtyard isn't.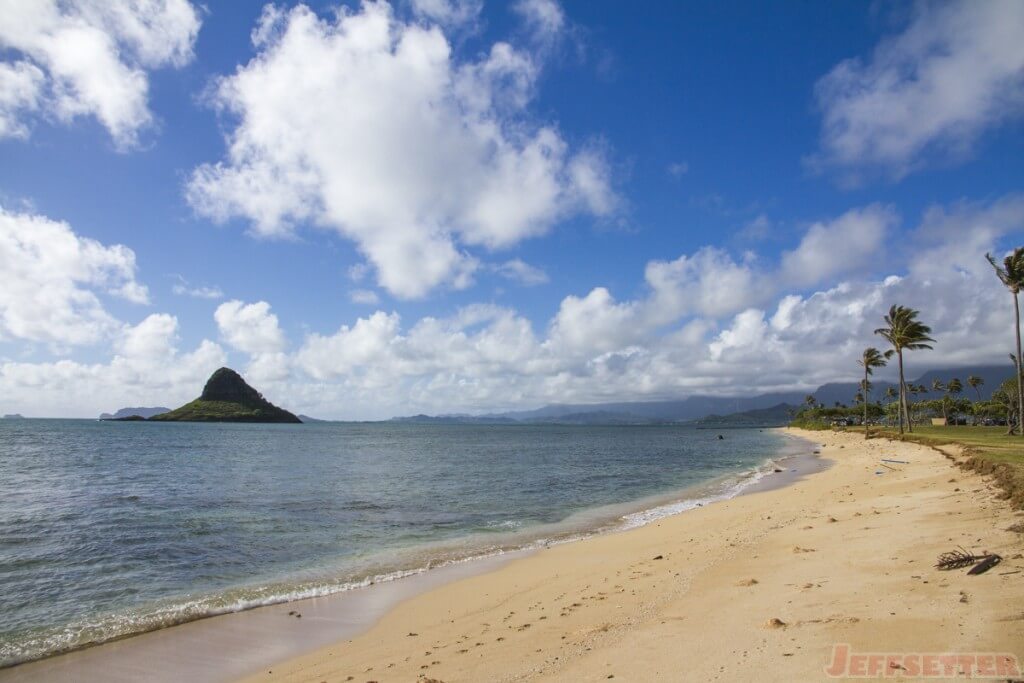 Out on the east side of the island are beach like the above Kualoa Beach Park, the world famous Lanikai Beach, Kailua Beach, and the 2015 top US beach, Waimanalo Beach.  All of these beaches are beautiful, though it's notoriously difficult to find parking at Kailua and Lanikai Beaches.
At Kualoa Beach, you can actually walk out to the islet (Mokoli'i, a.k.a. Chinaman's Hat) during extremely low tides, or simply kayak the 0.33 mile distance.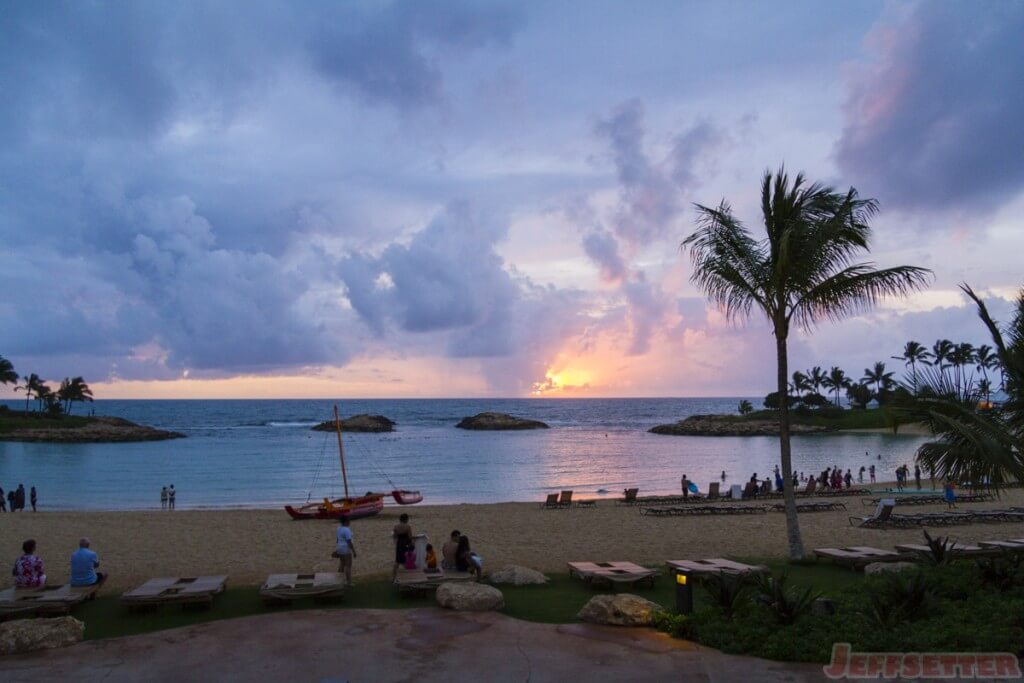 Out on the west side of Oahu, popular beaches include Ko Olina Beach (4 lagoons), White Plains Beach, Makaha Beach, Makua Beach, and Kaena State Park.  Ko Olina Beach is definitely the most popular of these, being located within the Ko Olina Resort with properties such as the Marriott Ko Olina Beach Club, Disney's Aulani, and the soon to be Four Seasons Oahu at Ko Olina.
White Plains is popular for surfing when the conditions are right, while the rest of the beaches are stunningly beautiful and much less crowded than others, but are even further than the 30-45 minute drive (without traffic) to Ko Olina.  It should be noted as well that Makaha, Makua, and Keana State Park are all are rougher portions of the island.
Visit at your own risk, as car break-ins are extremely common and the locals in the area aren't the friendliest to outsiders.  There is a hotel on Makaha Beach too, but it isn't a desirable one: Hawaiian princess Makaha.
Hiking
Oahu has many great hikes ranging from stroller friendly all the way up to expert.  I'm not going to lie… I'm not in the greatest shape, so I usually stick to the easy hikes.  Thankfully, easy doesn't necessarily mean boring hikes, even on Oahu.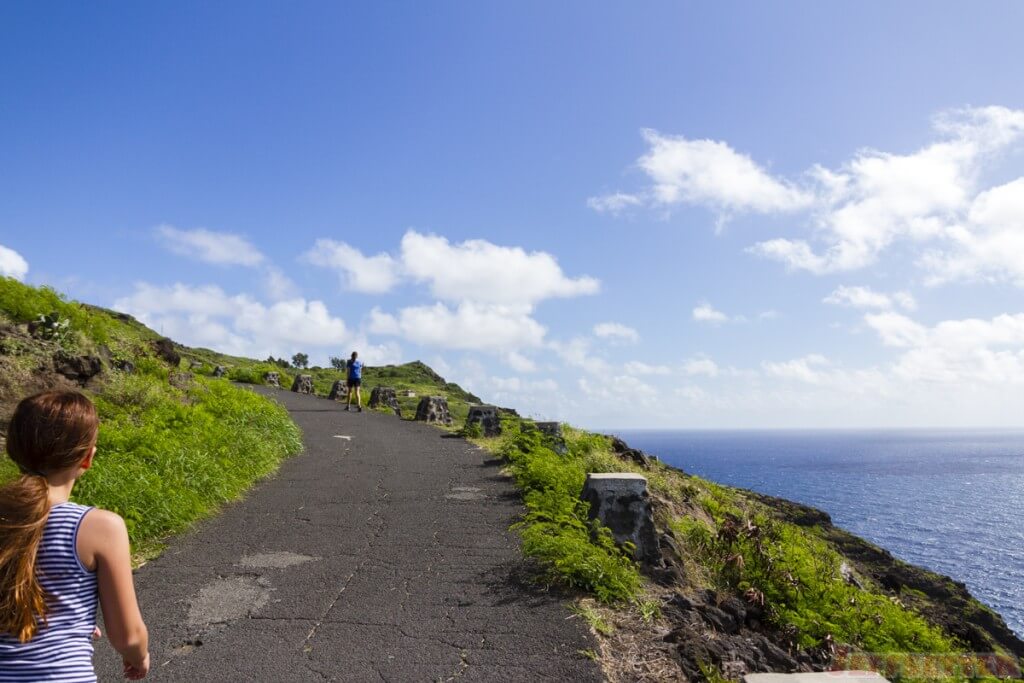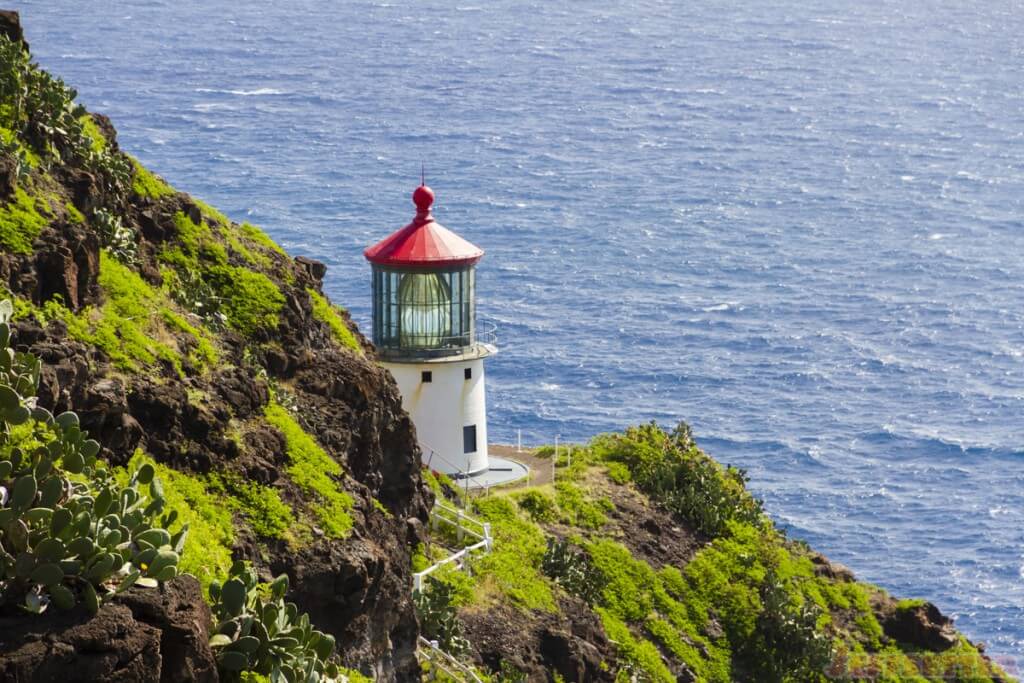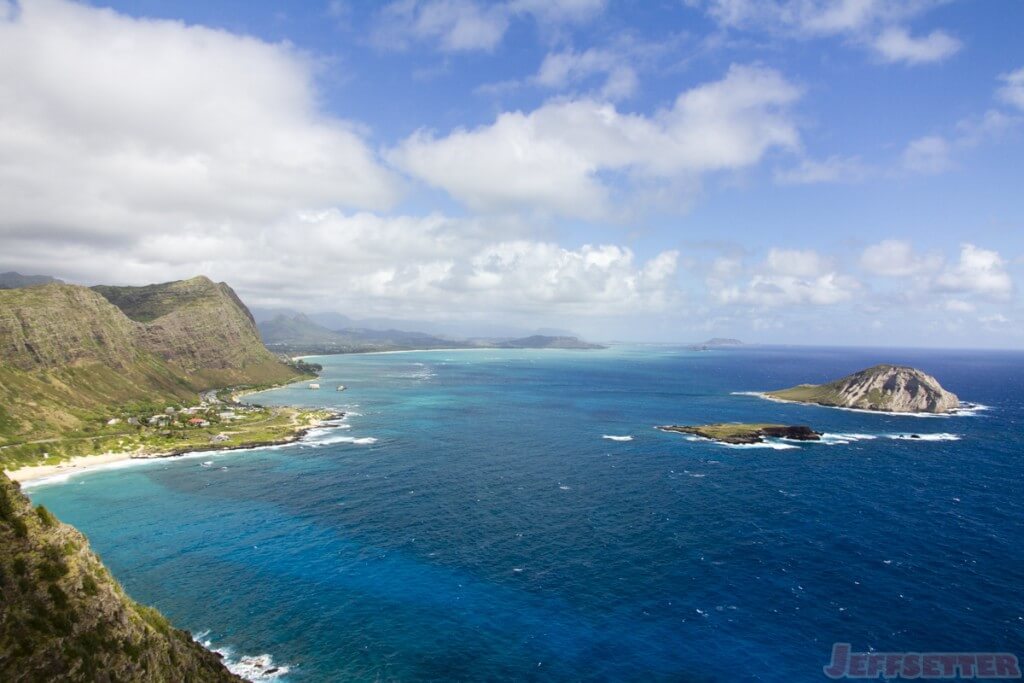 The above photos are from the very easy Makapu'u Point Lighthouse Trail.  This is a public trail maintained by the State of Hawaii and is paved for its entire length.
Just look at the views!  You have gorgeous ocean views for a majority of the hike, and during whale season, it's a great place to spot Humpback Whales. On clear days, you may even see Molokai off in the distance!
Parking is limited and there are no facilities here. See my review of the lighthouse here: Makapu'u Lighthouse Trail – Marriott Rewards Insiders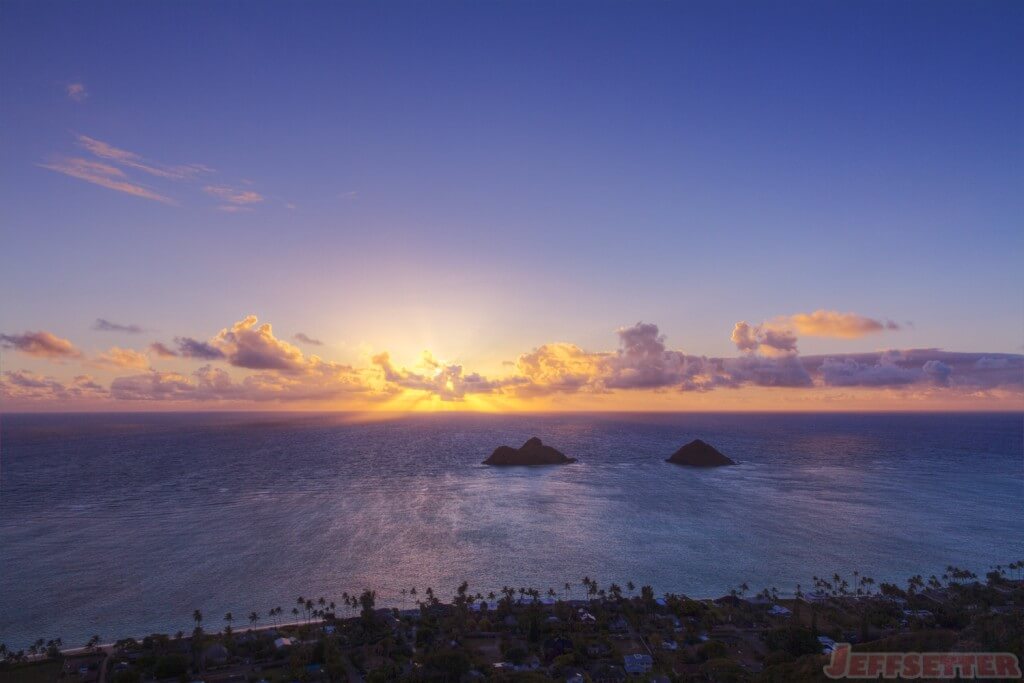 The above photo is from the 1st pillbox on the Lanikai Pillbox Hike on Oahu's windward side.  As you can see the views are breathtaking, and the hike is easy as far as ridge hikes go.  If you're out of shape, this one will be quite challenging, though, with steep grades that require you to get down on all fours to stable yourself in some spots.
Parking is also notoriously difficult to find, and if you're planning on heading to Lanikai in general, long weekends are best avoided.  The beach and the hike are both extremely popular, so traffic can be horrendous. Go on a weekday, or go while it's still dark (with proper lighting gear) and enjoy the sunrise!
There are many other hikes around the island to explore beyond the above two, too many to list here in fact, but I will mention a few more.  Diamond Head is definitely another really popular one that's relatively easy (maintained and largely paved trail) with spectacular views of Waikiki.  As an added bonus, go early on a Saturday and you can enjoy the famous KCC Farmers' Market before or after for some delicious food, gifts, produce and flowers.
Ka'ena Point Trail has two starting points, one on the North Shore past the town of Waialua, or the main starting point located within Ka'ena Point State Park.  Either way you go, you'll be hiking along the old Oahu Railway (more on that in a minute) right-of-way to a bird sanitary at Oahu's western most point.  If you're lucky, you'll even see Hawaiian Monk Seals and/or green sea turtle.  Plan on a 7 mile round trip over largely flat land and intense sun & heat.  Bring lots of water and sunscreen if you want to stay out of trouble.
Manoa Falls is an easy hike through lush tropical rainforests in Manoa Valley.  It's one of the few reliable waterfall hikes on the island of Oahu and also a popular one.  It can be muddy and mosquitos can be a problem, so come prepared!
For more information about hiking throughout the State, visit Na Ala Hele.  This is a government site and discusses only State sanctioned trails.  There are many trails, like the Lanikai Pillbox, that aren't listed. If you decide to go on these trails be aware… Some are illegal to hike on like the Haiku Stairway/Stairway to Heaven.  And always check the weather.  Flash flooding is very common, especially on waterfall hikes.
Attractions/Activities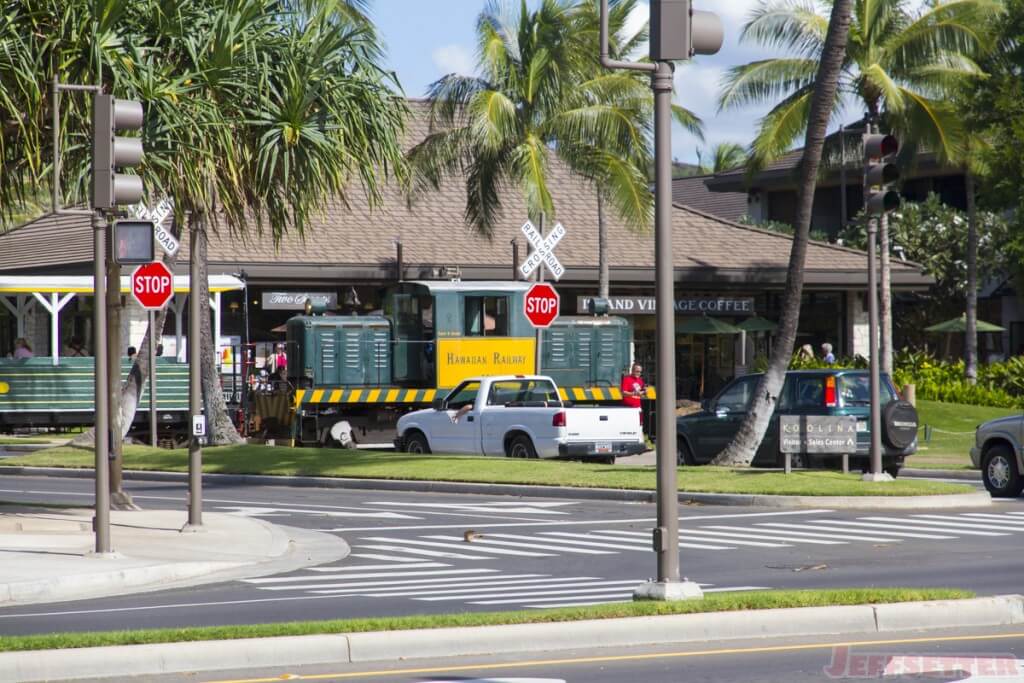 Remember how I mentioned Oahu Railway earlier?  Well part of the line still exists today and operates as part of the Hawaiian Railway Society, a non-profit organization dedicated to preserving and restoring Oahu's railroad history.  Rides are offered every Saturday at 3pm and Sundays at 1pm and 3pm.
Rides are 90 minutes, departing from the organization's museum in Ewa on a roundtrip that takes you out to Kahe point a little past Ko Olina Resort and are operated by former Oahu Railway diesel switchers.  $12 for adults, $8 for children & seniors.  Proceeds go to the society's restoration & preservation work.
Plantations
If you want to see what life was like during Hawaii's storied plantation era, then the best place to experience this is the Hawaii Plantation Village in Waipahu.  Here you can see and even experience what life was like back in the plantation days, with guided tours that take you through re-created dwellings representing each of Hawaii's ethnic backgrounds.  General admission is $13 and the museum is open Monday thru Saturday.
War Memorials
One site almost everyone visits when traveling to Oahu is the USS Arizona Memorial.  It is undoubtedly a must visit site on Oahu, but the area is so much more than that.  Collectively the areas is known as the Pearl Harbor Historic Sites, which includes the Battleship Missouri Memorial, the USS Bowfin Submarine Museum and the Pacific Aviation Museum in addition to the Arizona. All of these sites have various admission fees with the exception of the Arizona.  Admission to the Arizona is free, so don't let anyone tell you otherwise.  Package deals are also available for all the other sites.
Of course what trip out to the North Shore would be complete without a pit stop at the Dole Plantation?  Dole Whip, gifts and more!
Luaus and Sealife
If you're looking for a Luau experience, then there's 2 on Oahu that are quite popular.  The first is the Paradise Cove Luau out in Ko Olina Resort and the second, and by far the highest rates is the Chiefs Luau at SeaLife Park (formerly the Fia Fia Show in Ko Olina).
Since we're on the subject, SeaLife Park is another great attraction in itself with numerous displays, shows and even dolphin, stingray, sea lion and shark encounters.  Dolphin Quest at the Kahala Hotel also offers dolphin encounters in the resort's private lagoon.  Of course you can get a more real experience with with the handful of companies like Dolphin Excursions, which takes guests out to sea to see and swim with Hawaiian Spinner Dolphins. For a more cost effective underwater adventure, you could also admire all the reef fish at Hanauma Bay.
For the Movie lovers
Movie buffs or those looking for more adventurous activities will want to pay Kualoa Ranch a visit to see filming sites for movies like Jurassic Park or participate in other activities like horseback and ATV rides.  Gunstock Ranch is another great place for horseback riding.  If those activities still aren't exciting enough, you could also do a zipline tour at Keana Farms on Oahu's North Shore.  And for even higher adrenaline levels, you could go skydiving with Skydive Hawaii or go on a shark diving tour.
For the Foodies
If you're like Jeff and you like to cook or just have an interest in food, Naked Cow Dairy on Oahu's Waianae Coast offers farm tours with packages offering basic tastings to full hands-on milking with cheese & butter making classes.  Closer to Waikiki Cook Space Hawaii offers various classes depending on the guest chef.  Kapiolani Community College, with it's famed culinary arts program, also offers non-credited, single session courses for about $75 each.  For something cheaper, you could visit Frankies Nursery in Windward Oahu to see an enormous variety of tropical fruit trees, and if you're lucky, maybe have a chance to buy a taste some.
Shopping
For the shopaholics out there, there are many places to shop at:
Spas on Oahu
You're on vacation… why not pamper yourself to help unwind?  My favorite spa is unquestionably Laniwai at Disney's Aulani, but I haven't been to many spas either (see my Laniwai review here: Laniwai – Marriott Rewars Insiders).  Other popular ones locally are:
There's actually much more to do and see on Oahu, but the above are what come to mind at the moment.  Oh and be sure to check Groupon, LivingSocial, Amazon Local, etc. for some deals.  Lately there have been quite a few deals for dolphin tours.  Next up I'll be discussing where to eat on Oahu, so stay tuned!
Note from Jeff: Thanks Kyle for the great local perspective on what to do on Oahu. These incredible photos really make me wish I was already on Oahu. Looking forward to even more great posts. I have no idea how we'll fit all of this in, but hopefully readers find it useful. See you in a few months!