I spent the last week in San Francisco with Mrs. Jeffsetter with two objectives in mind for our time in the city:
Attend a conference being put on by Google at the Intercontinental hotel (review of hotel to come in the future) – and more importantly
To learn as much as we could about the city and find an apartment for our impending move to San Francisco
That's right, we will be moving from Minnesota to San Francisco this summer and I couldn't be more excited for the change! While I alluded to moving away from Minnesota to avoid Delta back in February, it was really a job opportunity for Mrs. Jeffsetter that was drawing us to the bay area.
That job opportunity has now become official, and much of our recent time has been focused on the logistics of moving to the west coast. Getting a house ready to put on the market and looking for a place to live in a desirable city has left little time for travel blogging. Now that we have a place to live in SF, it's back to our regularly scheduled blogging.
A Week of Hotels in San Francisco is Expensive
In order to make sure we had ample time for apartment shopping, we decided to spend 8 nights in San Francisco. 4 of these nights would be at the Intercontinental hotel using a conference rate, but we still had 4 more nights to book. Since the nights were not consecutive, we wanted to minimize the number of hotel switches needed during the week. We decided to splurge on the first three nights and stay at the Four Seasons San Francisco, a beautiful hotel on all levels.
For our last night in the city we did not want to pay any money, so I looked into the best way to get a free night. It just so happened that my annual bonus for being a Chase Hyatt Visa cardholder was set to expire in September, which lead me to the Hyatt website to see what options were available.
While the Chase Hyatt Visa Card has a great signup bonus of 2 free nights at any Hyatt hotel after spending $1,000 in the first 3 months of holding the card and $0 fee in the first year, it also has a solid retention bonus for those decide to keep the card into year 2. In exchange for paying the $75 annual fee in year 2, you get a free night at any Hyatt category 1-4 property on your cardmember anniversary. Plus you get platinum status with Hyatt as long as you hold the card (at the very least this entitles you to free Internet with each stay). I find those benefits to be worthwhile when it comes time for the card to renew.
Finding Hyatt Free Night Category 1-4 Properties in San Francisco
Using Award Mapper, we can see that there are three Hyatt properties in San Francisco, and two of those are category 4 or lower. Award mapper continues to be an invaluable tool for me whenever I need to book hotels based on map proximity and just want to see the details I need (award category and points required).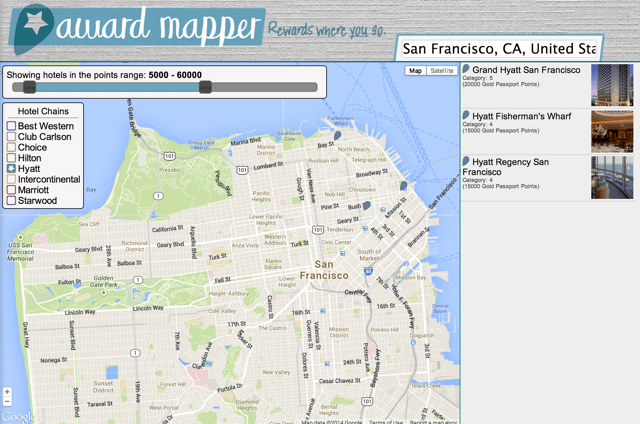 One of the options was the Hyatt Regency San Francisco, which is located pretty much directly on the Embarcadero waterfront. This is a desirable location if you want to see the water when waking up or be near the business district.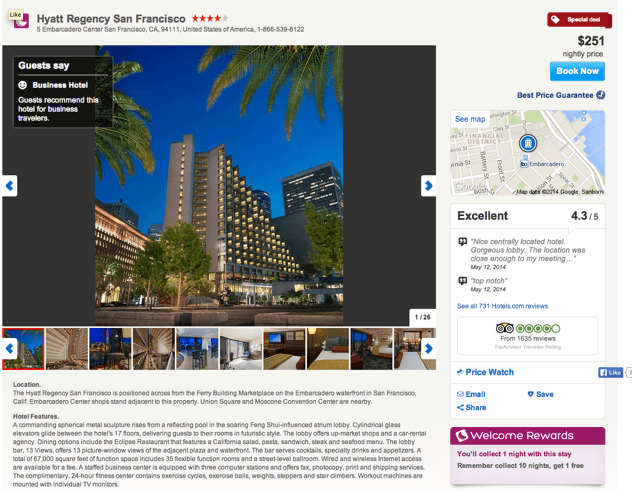 Our other option was the Grand Hyatt San Francisco Union Square. This was actually closer to the Intercontinental, but not near the water.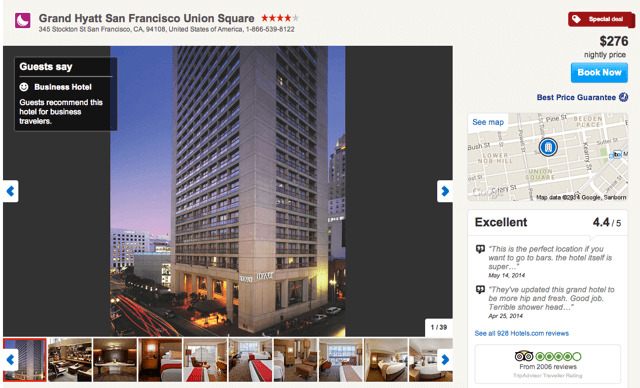 Since we had a strong desire to be near the waterfront and the ratings for both hotels were pretty much the same, we chose to stay at the Hyatt Regency. While I didn't maximize the value we received from our free night certificate (we got $25 less value if you simply look at the nightly rate), it seemed to better fit our needs. Plus, free is free.
Once we decided on a hotel, the redemption process was super easy. You simply log into your Hyatt account, select the free night certificate that's in your account, and choose the available property online. It was so easy that I forgot to take screenshots.
By retaining the credit card for a second year we were able to save $176 on a hotel room night. Since we needed a place to stay in San Francisco that night, it was a great use of the free night certificate. It also allowed us to splurge on the Four Seasons on the front half of our trip.
How was the Hyatt Regency San Francisco?
It sucked. The Hyatt Regency was one of the worst hotels I've stayed in for quite a while. Learn why Mrs. Jeffsetter called it "the worst hotel for the money in America" in a future review. For now, I just wanted to share with you the process of getting value from Hyatt's annual renewal gift.
I do not receive compensation for the links in this post. This is a credit card that I hold in my wallet, but use sparingly. Please consider your own personal financial situation before signing up for any credit cards.