Depending on who you are, figuring out your car rentals may be something given little thought.  For me, figuring out my rental car is one of the first things I do.  I often travel on a budget, so finding the best deal is important to me.  Sort of.  I'm not really willing to rent a beater after all.  ?  So researching car rental pricing is a critical part of my trip planning process.
As with almost anything in life, I research my car rentals to death.  If I'm traveling to a neighbor island (within Hawaii), for example, I'll look at at least 4 sites.  The first two I'll look at are Discount Hawaii Car Rentals and Costco Travel.
Discount Hawaii Car Rental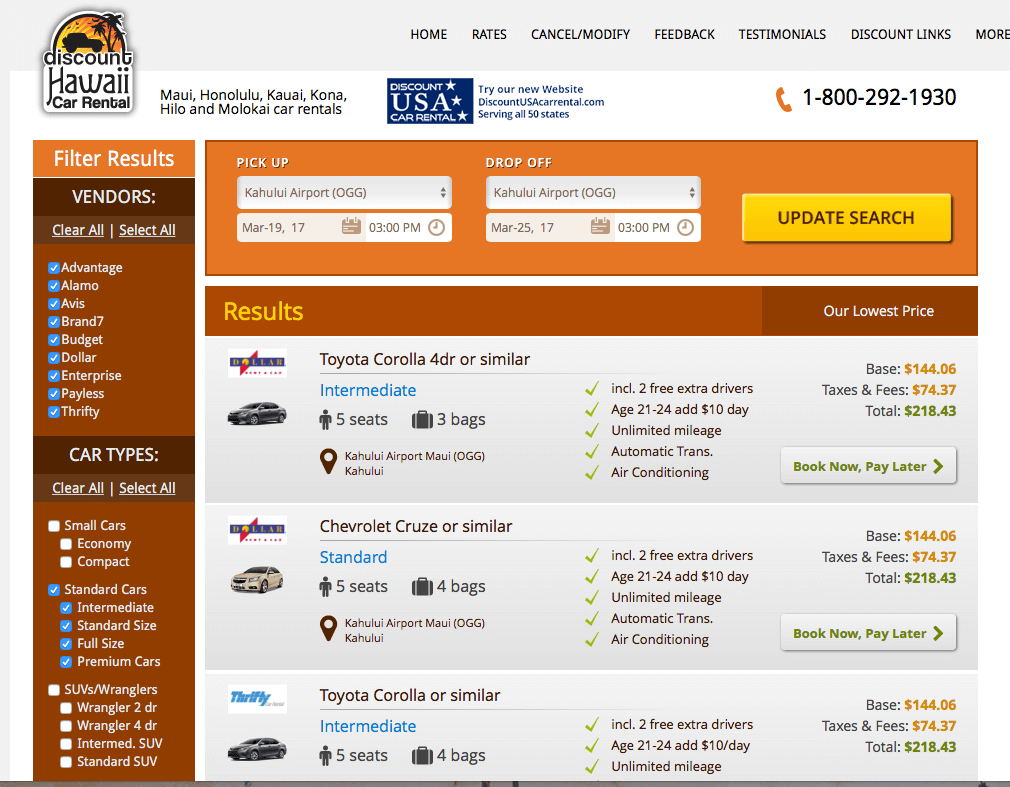 The first time I used Discount Hawaii Car Rental, I was a bit apprehensive.  I've never heard of the site before and wasn't sure if it was trustworthy.  But I gave them a shot and they've become of of my go-tos.  Now, no site is ever going to have the lowest prices guaranteed, which is why I often look at multiple sites before deciding.  That being said, all Discount Hawaii rentals come with at least one extra driver free of charge.  The pricing is laid out clearly and conspicuously.  Exactly what I like to see!
By the way, for the purpose of this comparison I'm using 03/19/17 to 03/25/17.  Why?  No reason really, except it's around spring break, which usually means higher pricing.  I usually get an intermediate/mid-size care, too, so I've used that as a criteria.
That being said, you can see the cheapest offer from Discount Hawaii during this time period is $218.43 for an intermediate or standard size vehicle from Dollar or Thrifty.  In this case, all of the cars come with 2 extra divers, free.  These rates are note paid in advanced and are charged directly from the rental company; an important consideration if you're using a Chase card with primary auto rental collision damage waiver.
Costco Travel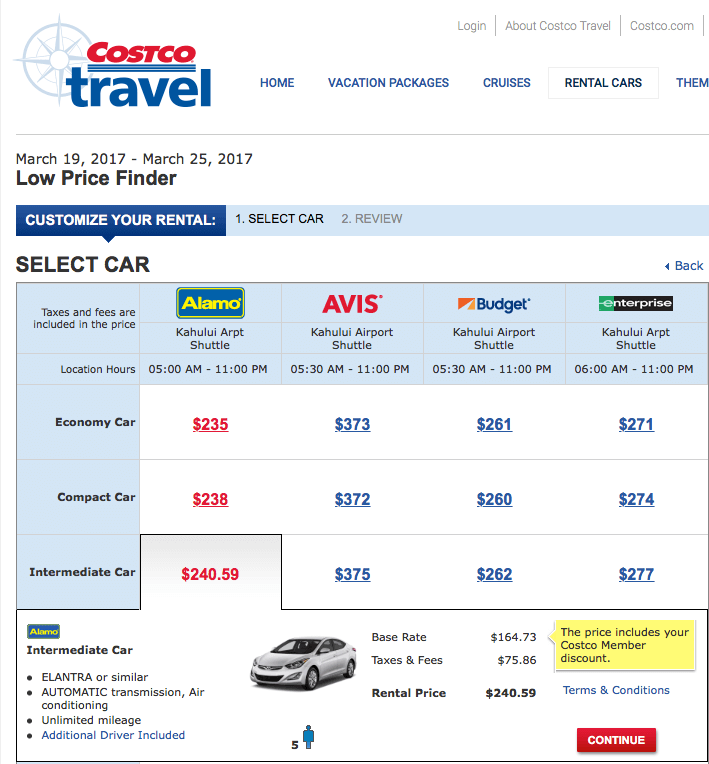 The other site I almost always check is Costco Travel.  Of course you have to be a Costco member to actually book with the site, which I am.  Their selection isn't as large as Discount Hawaii, but pricing can still be as good or better.  This time around it isn't, unfortunately.
You may notice that Costco Travel only includes one additional driver, unlike the two offered by Discount Hawaii.  However, like Discount Hawaii, Costco's rates are not prepaid; you can cancel at anytime.  What you cannot do, however, is add your car rental loyalty number, at least with Alamo.  Last time I used Costco and tried to add my number the price would have increased drastically for some reason.
OTAs
Depending on how much effort I actually feel like putting into my search, sometimes I'll also check out OTAs like Kayak.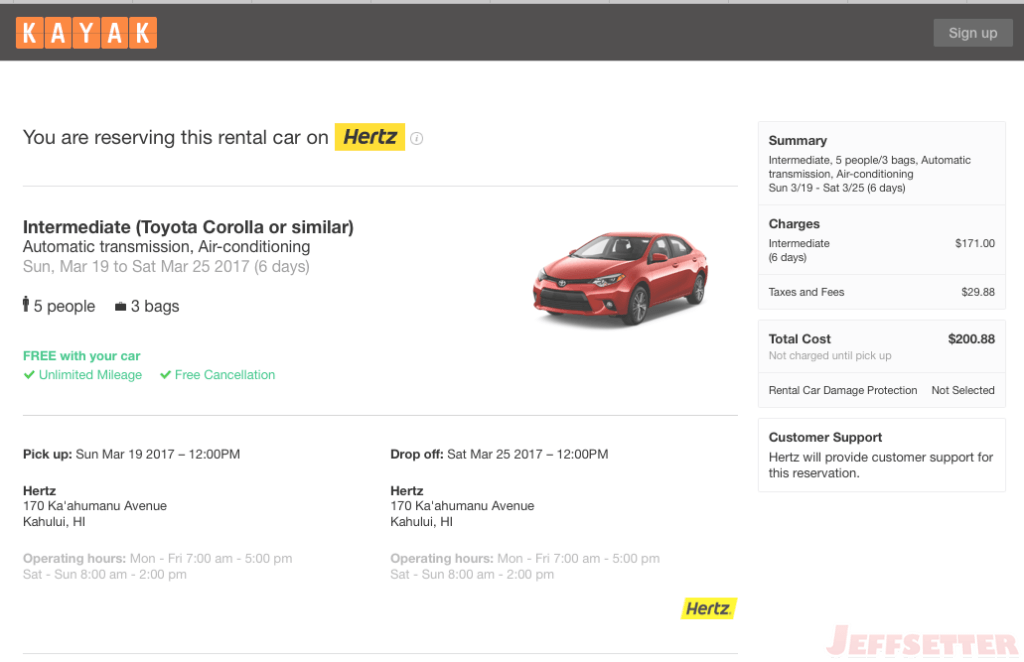 As you can see, Kayak has the lowest price of all the options so far.  With Kayak at least, the price shown on the list is also all inclusive.  Unfortunately, booking this way means you won't get an extra driver or two (if you need it) like with the other two.  But, depending on the price difference, it might still make sense.
Direct Booking
Though it doesn't happen often, checking directly with the rental agency can sometimes yield the lowest prices you'll find.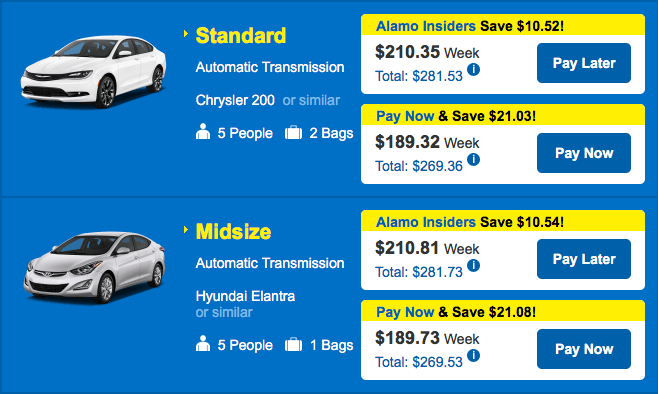 In this case, neither were lower.  In fact, direct booking yielded prices significantly higher than any other option.
Bottom Line
I guess this post was a little pointless huh?  The bottom line is basically to do research.  Check as many options as you can, and never prepay.  Whether it's car rentals or hotel rooms, I almost never prepay, not only because of flexibility, but so I can re-book as necessary if prices go down.  I've definitely done that before.