Restaurant Week Hawaii 2017 is probably the busiest I've had yet.  Three different establishments during the ten-day period!  So let's do a Restaurant Week Hawaii 2017 in review.
Restaurant Week Hawaii has been around for ten years this year.  Usually Mrs. Island Miler and visit only one restaurant during the week (island life is expensive, ok?), but this year was different.  This time we decided to go to three different places, one by ourselves and two with friends.  Two of the places we visited was on the expensive end of the spectrum too, but there's a reason for that.
Kona Coffee Purveyors
Ever since they opened last year, Kona Coffee Purveyors has become the only Restaurant Week establishment we consistently visit.  It's also the least expensive of the three places we went to, primarily because it's just for dessert.  This year, as was the case last year, Kona Coffee Purveyors served up B. Patisserie kouign amann sundaes.  Like last year too, there were three options this year, though all came topped with the same gelato.  And those options were:
Strawberry Guava Kouign Amann Sundae – strawberry guava kouign amann with sliced banana, gelato and whipped cream
Neapolitan Kouign Amann Sundae – classic kouign amann, macerated strawberries, chocolate ganache, gelato and whipped cream
Pumpkin Kouign Amann Sundae – pumpkin kouign amann, candied pecans, gelato, whipped cream, and a cinnamon dusting
Of these three, Mrs. Island Miler and I tried the Pumpkin and the Neapolitan version.  Both were good, though I wish the Neapolitan had more chocolate ganache on it.  I also prefer the pumpkin kouign amann on its own because it's perfect and the gelato kind of mutes its flavors.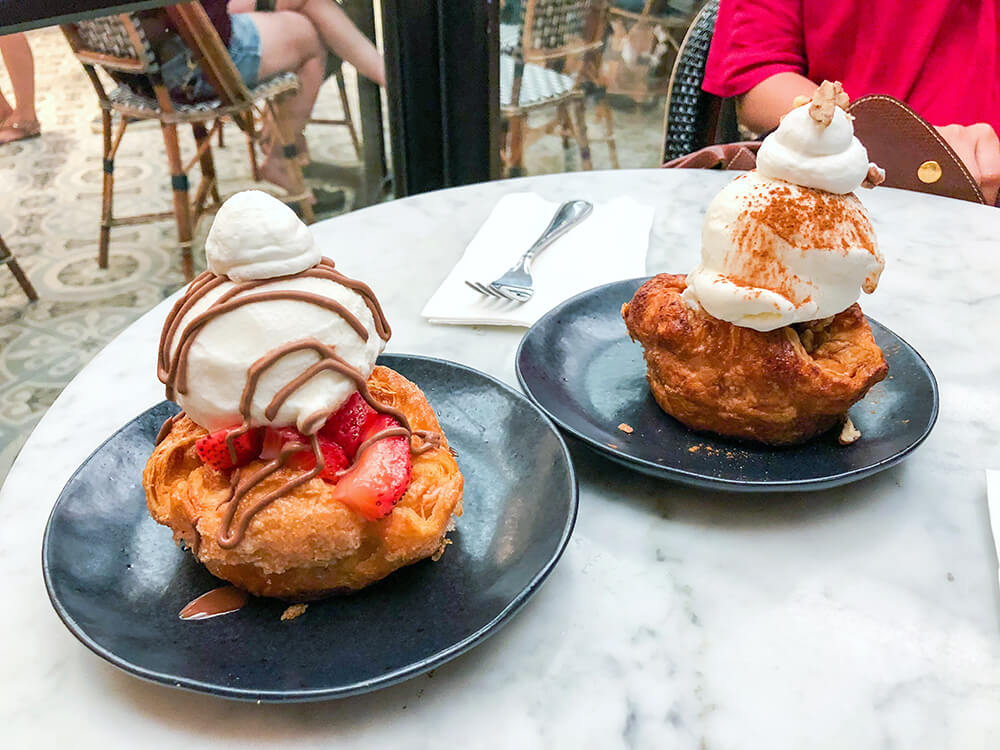 Our friends joined us for this visit and got the Neapolitan as well.  Their take was the kouign amann is better on its own, too.  That's hard to argue with because the kouign amanns are delicious and well balanced on their own.
Nobu Honolulu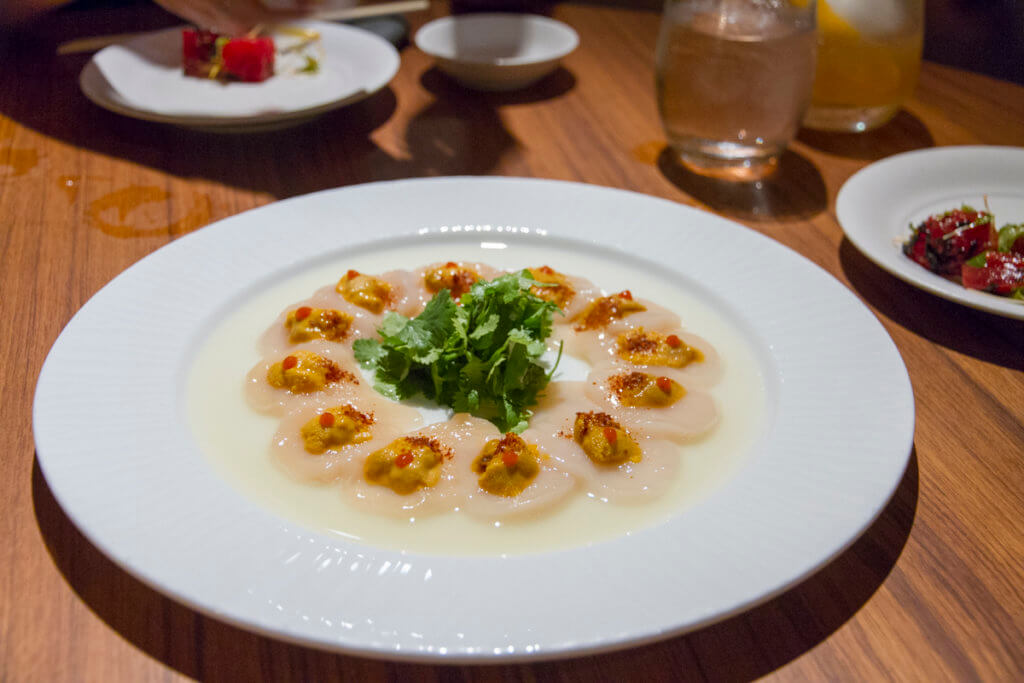 Our second Restaurant Week Hawaii 2017 visit was to Nobu Honolulu.  This was another one we did with our friends, as Mrs. Island Miler and one of our other friends had always wanted to try the place.  Plus their Restaurant Week menu looked good.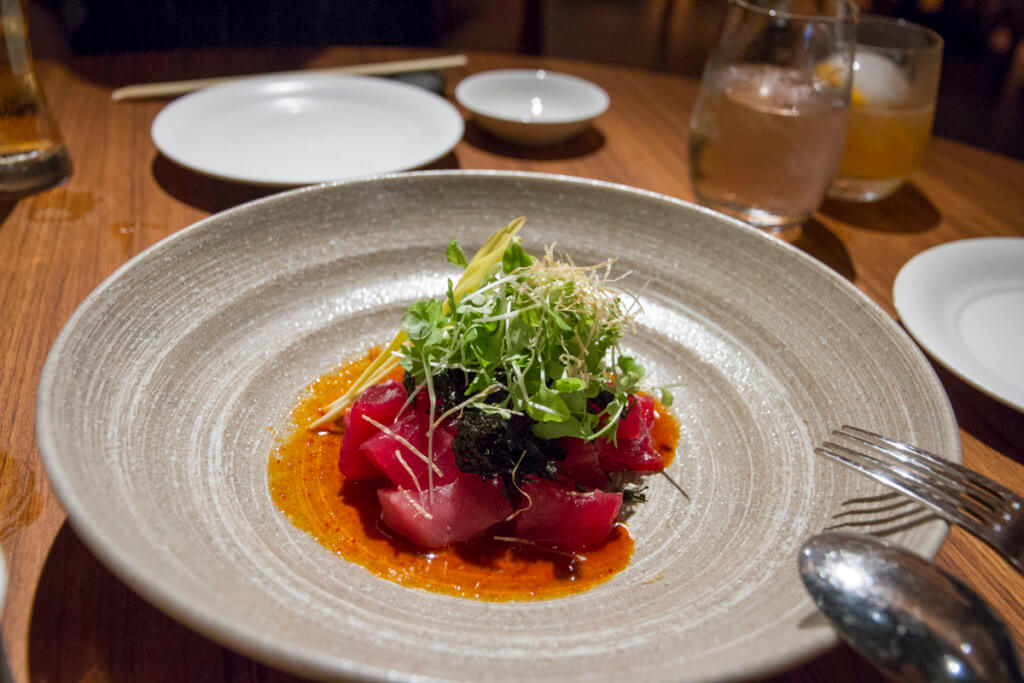 Served family style, for $80 the menu included:
Hotate Uni Tiradito
Ahi Sashimi Salad – Bara Nori, Kizami Yuba, Spicy Garlic Ponzu
Spiny Lobster Tempura
Dry Rubbed Wagyu Steak
Miso Soup
2 Piece Chef Choice Nigiri + Half Cut Handroll
Cream Cheese Mousse, Caramelized Apples, Milk Chocolate Chai Chantilly, Almond Florentine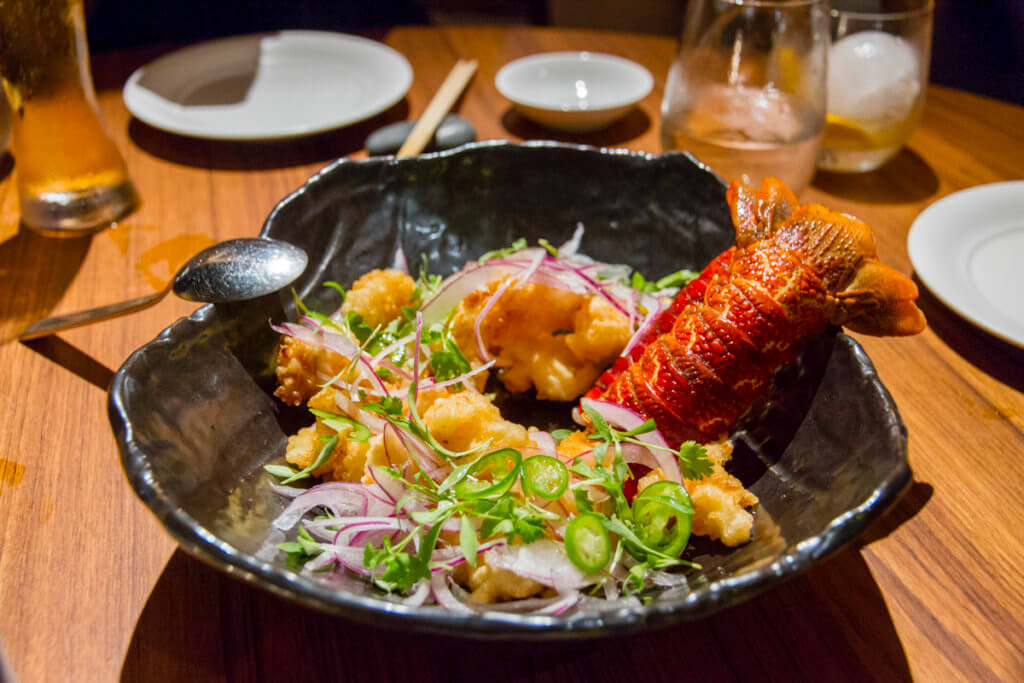 And while the flavors were, for the most part, good, the portions were hilariously small.  The family-style dishes were sized well for two people, but for four?  No one left the restaurant satisfied.  Perhaps that's why the wait staff would periodically ask if we'd like to order off the regular menu?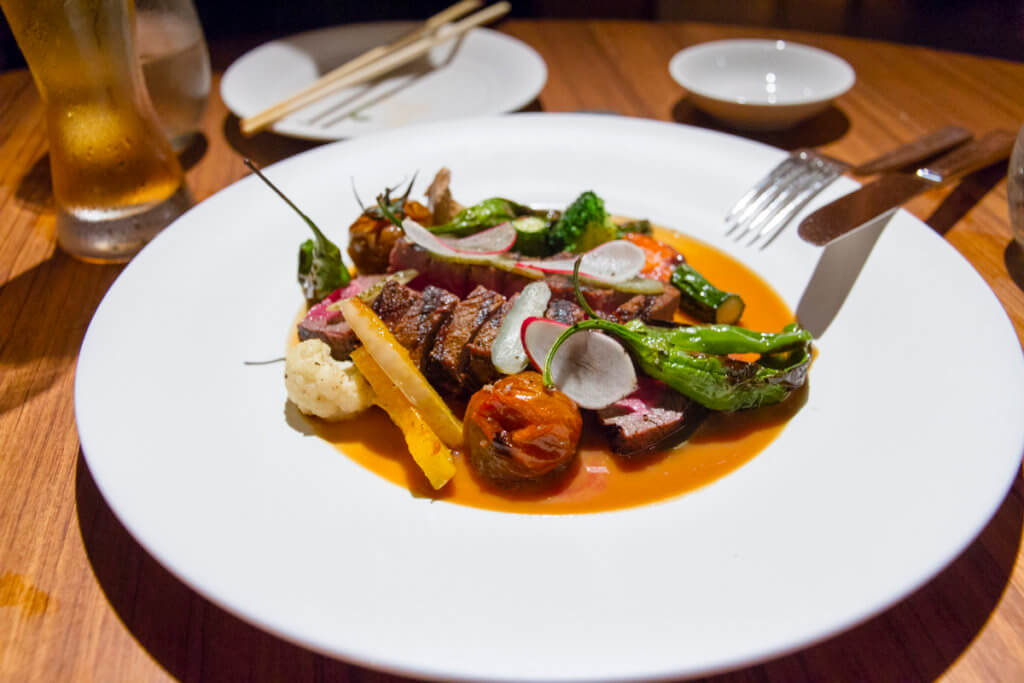 To add insult to injury, though, the steak was in no way wagyu beef.  It was pretty tough.  I've had better textured and flavored USDA Choice steaks for far less elsewhere.  And the nigiri pieces were REALLY mediocre.  The negi toro handroll was pretty good, though.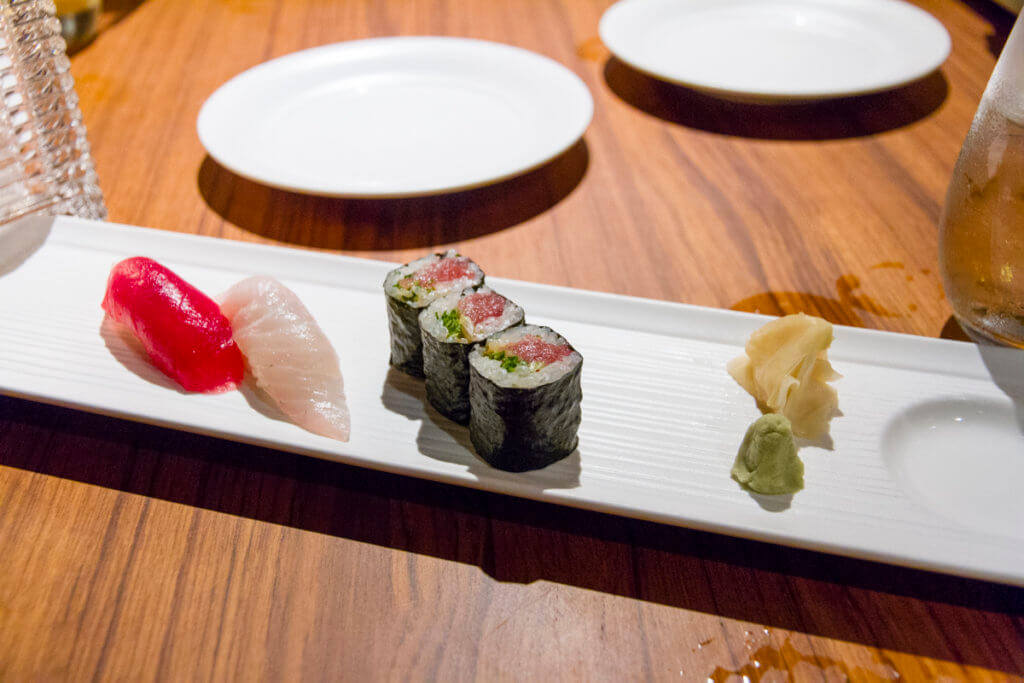 Needless to say, we were all really disappointed.  We really wanted to like Nobu's, and the service was quite good.  However, the quality of some dishes was questionable, and the value was terrible.  You're not supposed to leave dinner still hungry, after all.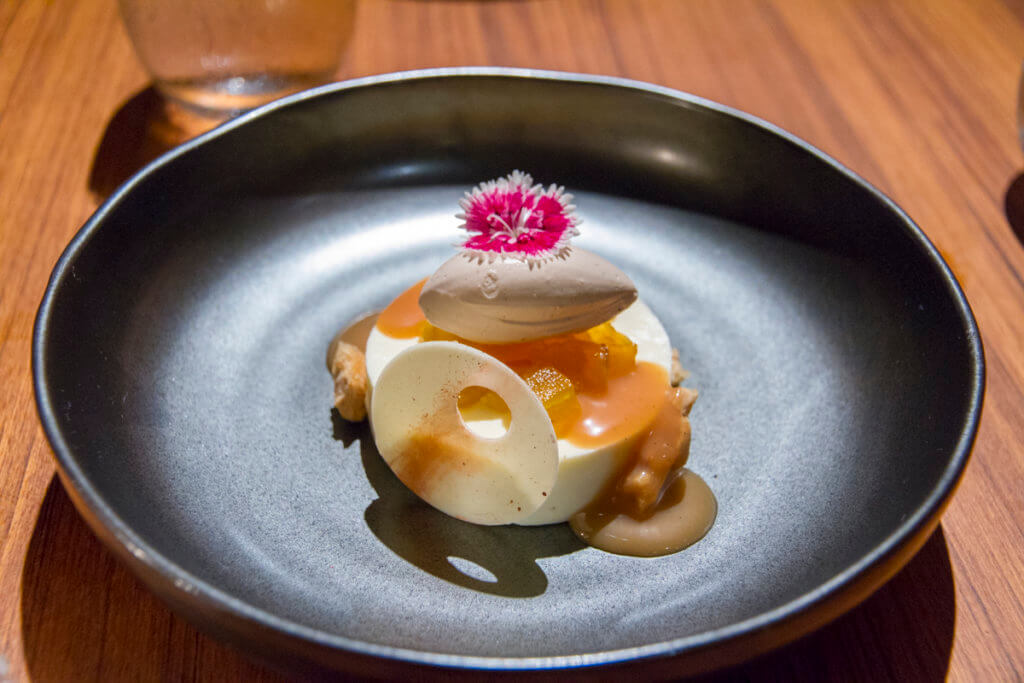 PAI Honolulu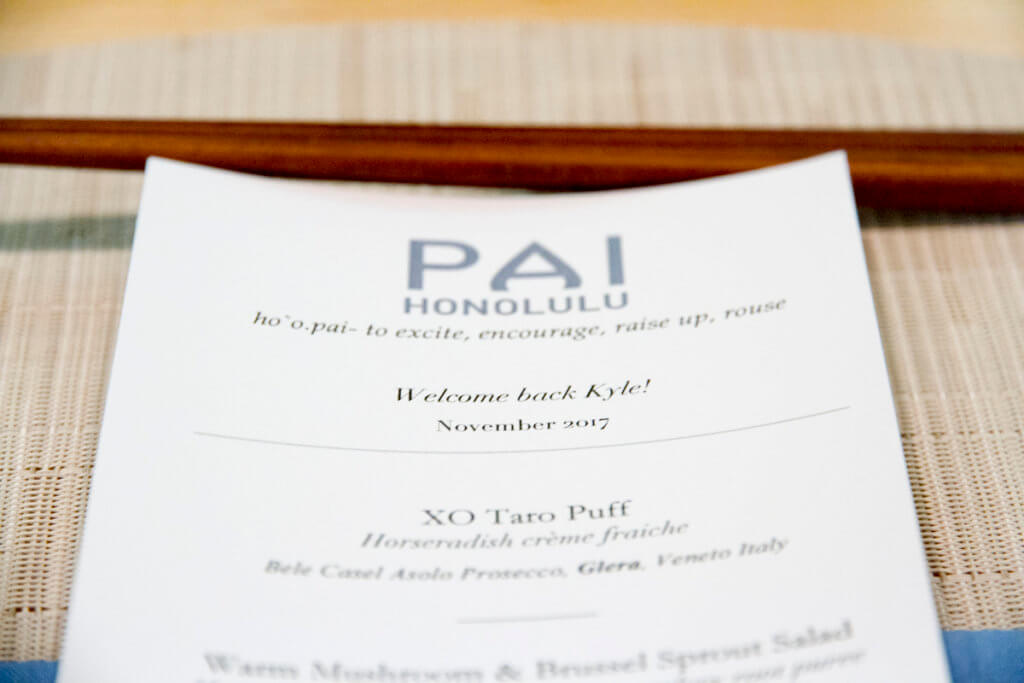 Our final Restaurant Week Hawaii 2017 restaurant was PAI Honolulu.  I was on the fence about visiting a third participant because, let's face it, dining out isn't cheap.  But, PAI Honolulu is probably my favorite Honolulu restaurant right now.  It's someplace Mrs. Island Miler and I both enjoy the food, drinks, and service.  We do also love the owners, too.  So, as much as I wanted to try PAI Honolulu's menu, this visit was also about supporting a restaurant I love.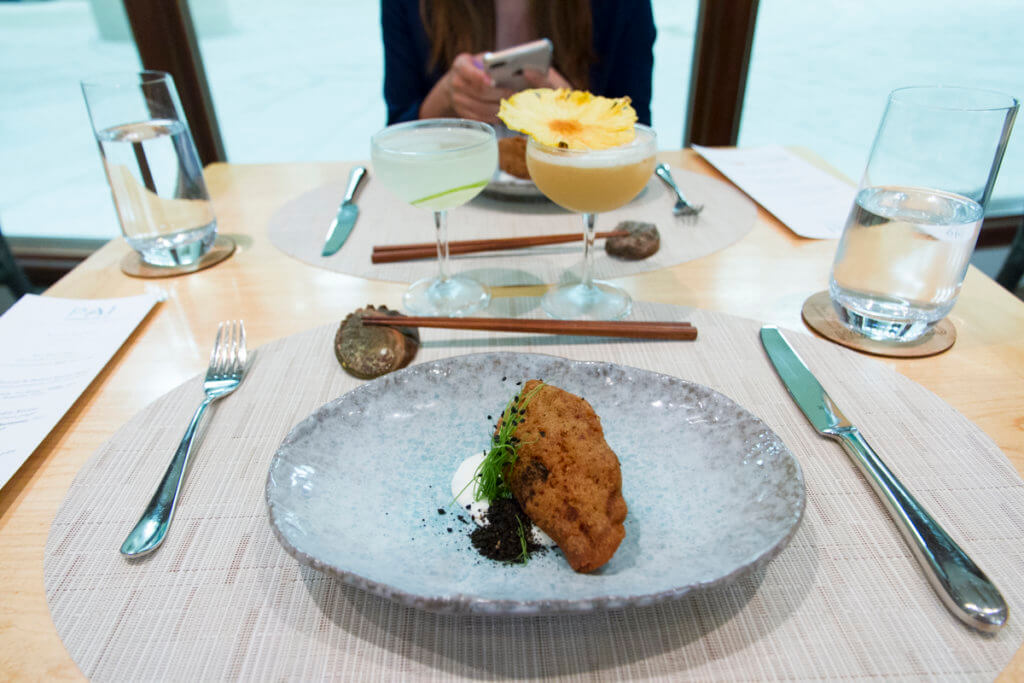 For their very first Restaurant Week Hawaii, PAI featured a four-course menu featuring:
XO Taro Puff – horseradish creme fraiche
Warm Mushroom & Brussels Sprout Salad – maitake, hon shimeji, grapefruit, celery root puree
Lobster Pumpkin Risotto – baby shrimp, preserved lemon, ginger
Spiced Yam Cobbler – apples, jicama, vanilla marshmallow gelato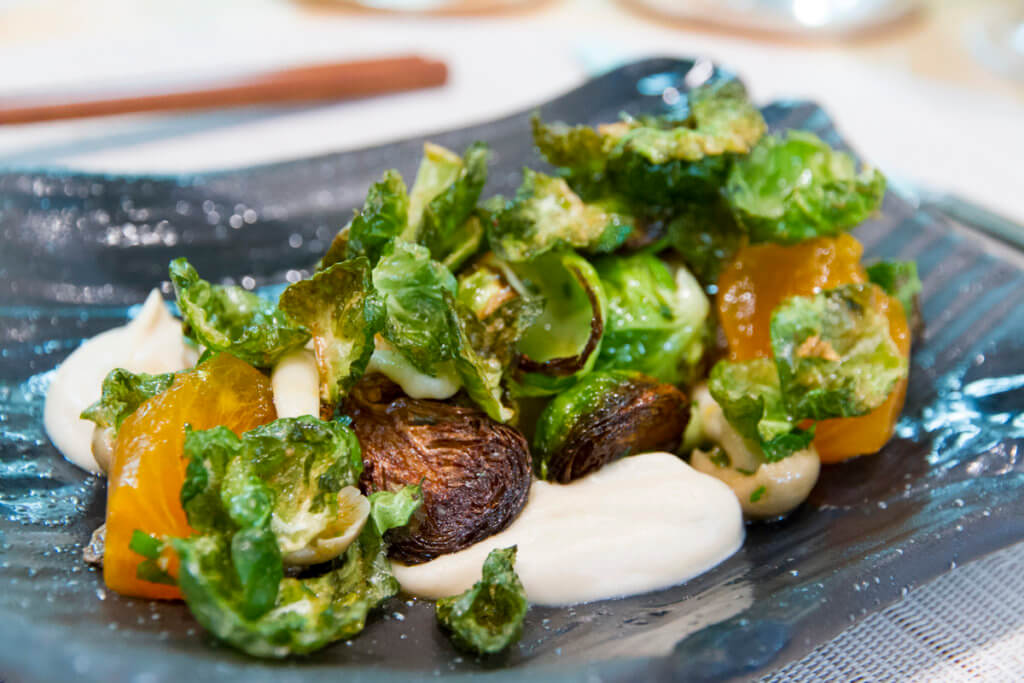 And while the menu sounds smaller than Nobu's, the portions were much more substantial.  Plus, at a cost of $55, the dinner is more affordable too.  Even better?  Every single dish was enjoyable, including the one (Spiced Yam Cobbler) that initially didn't sound good to me.  But I'm not surprised.  As I mentioned before, PAI Honolulu is a fantastic restaurant that really does surprise and excite, just as its chef/owner intends it to.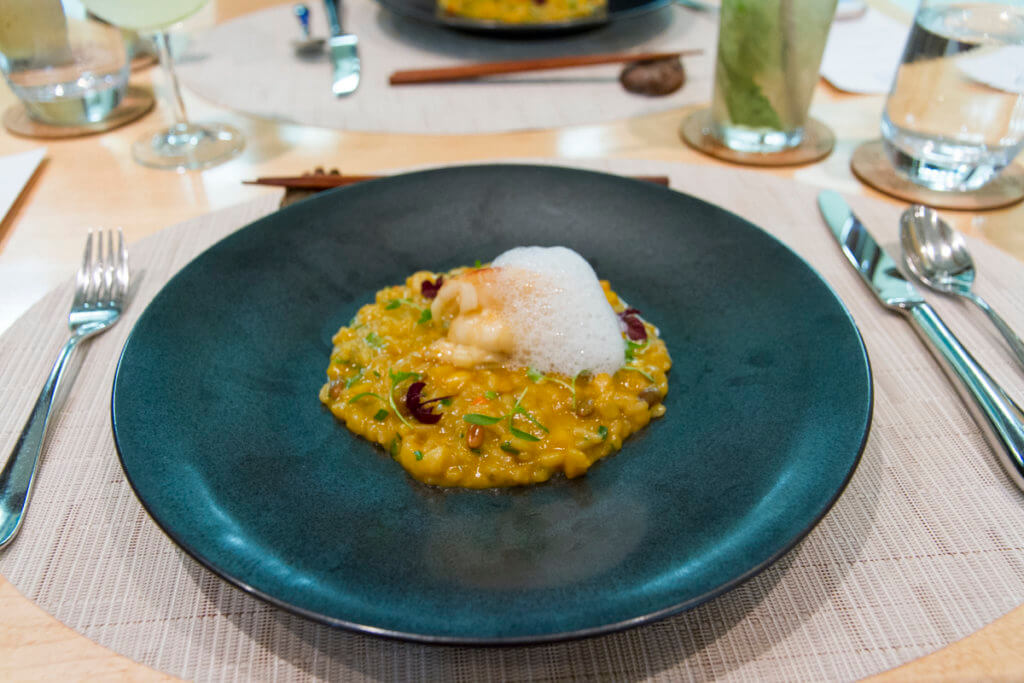 If I had to choose a favorite dish off of PAI Honolulu's Restaurant Week 2017 menu, though, it would probably be the Lobster Pumpkin Risotto.  It's worlds better than my butternut squash risotto; so much more refined and balanced and the lobster was absolute perfection.  But the Warm Mushroom and Brussels Sprouts Salad comes in a very close second.  And best yet?  If you want to try this menu, you still can as part of their regular dining room menu.  It's $10 more now, but you also get an additional course: Soft Boiled Egg – white bean ragu, garlic breadcrumbs, herbs.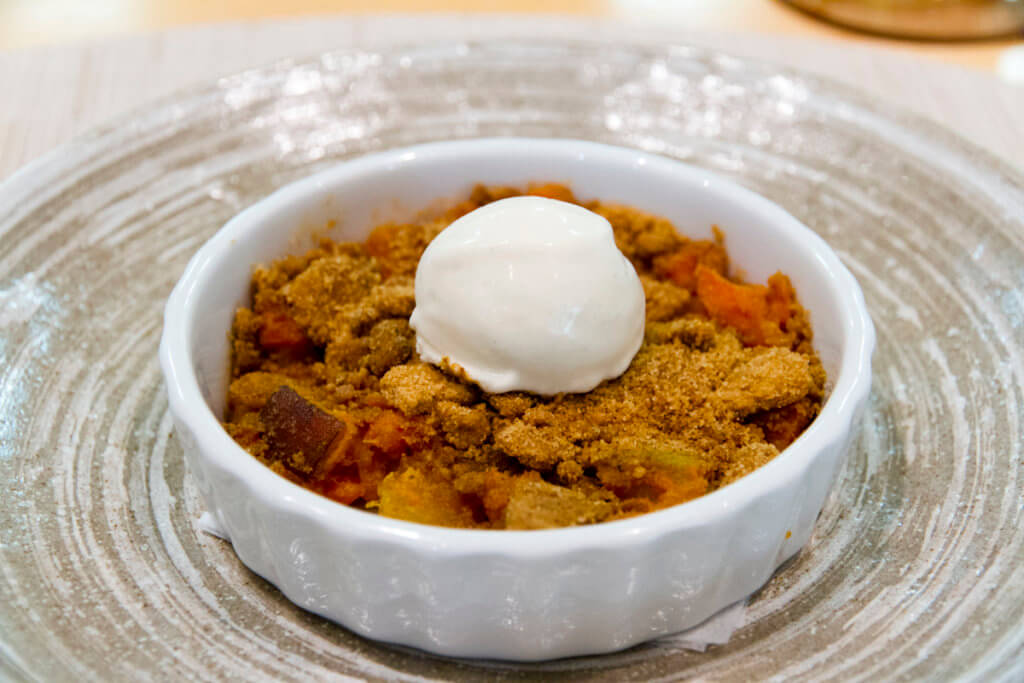 Restaurant Week Hawaii 2017 in Review, Final Thoughts
Overall, Mrs. Island Miler and I found Restaurant Week Hawaii 2017 to be good.  We usually use the event to try out a restaurant we haven't tried before, and we did.  Unfortunately, our trial this year didn't end well, and we most likely will not be returning to that restaurant again.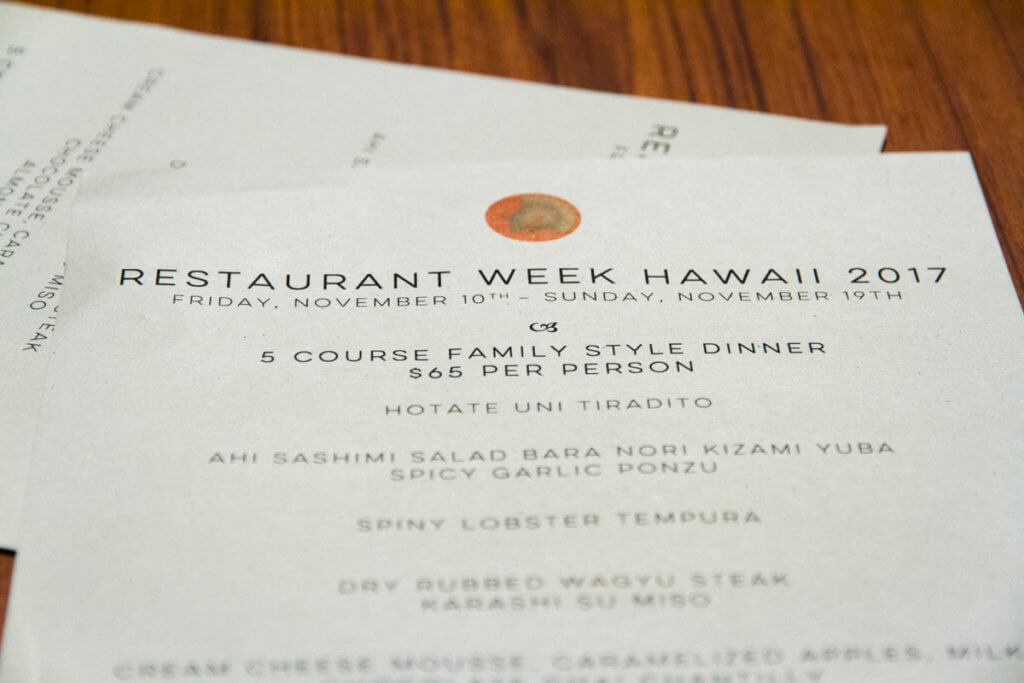 Which, to me, is an issue.  Why risk your reputation by offering sub-par quality and/or insufficient portion sizes just to participate?  If a restaurant is unable to or unwilling to provide a compelling, satiating special for this noble cause, then perhaps it's best to just sit it out.  And this wasn't the first time this happened either.  Two years ago we went to a restaurant called Bread & Butter that had what looked like an extensive menu… Only to walk away feeling like we ate a light snack.  And we've never been back since.