PAI Honolulu is one of the newest upscale restaurants in Honolulu.  And now it's one of my favorite restaurants in the world.
Usually, I review places as I visit them.  It doesn't matter if it's someplace I visit here at home or part of a trip report.  For whatever reason, I like to do things in chronological order.  But, this past Saturday I took Mrs. Island Miler to PAI Honolulu for our anniversary.  And the experience we had there blew me away!  So I'm interrupting my usual order to tell you about this fantastic new restaurant sooner rather than later.
Making Your Reservation
Reservations are accepted via the restaurant's website, OpenTable or by phone.  However, reservations at PAI aren't as straightforward as other restaurants.  Here, you'll have to choose between three different sections of the restaurant, each with its own menu:
Chef's Counter:  7-course tasting menu
Dining Room: prix fixe menu or 7-course tasting menu
Bar + Lounge: small + shared plates
Location
PAI Honolulu is located in downtown Honolulu.  More specifically, the restaurant's location is on the ground floor of the Harbor Court residential tower.  So, unlike most of the restaurants in the business district, parking at PAI is effortless.  And better yet, the parking at Harbor Court is a municipal lot, meaning the rates here are a lot lower than most other lots in the area.  $3 flat rate after 5 pm.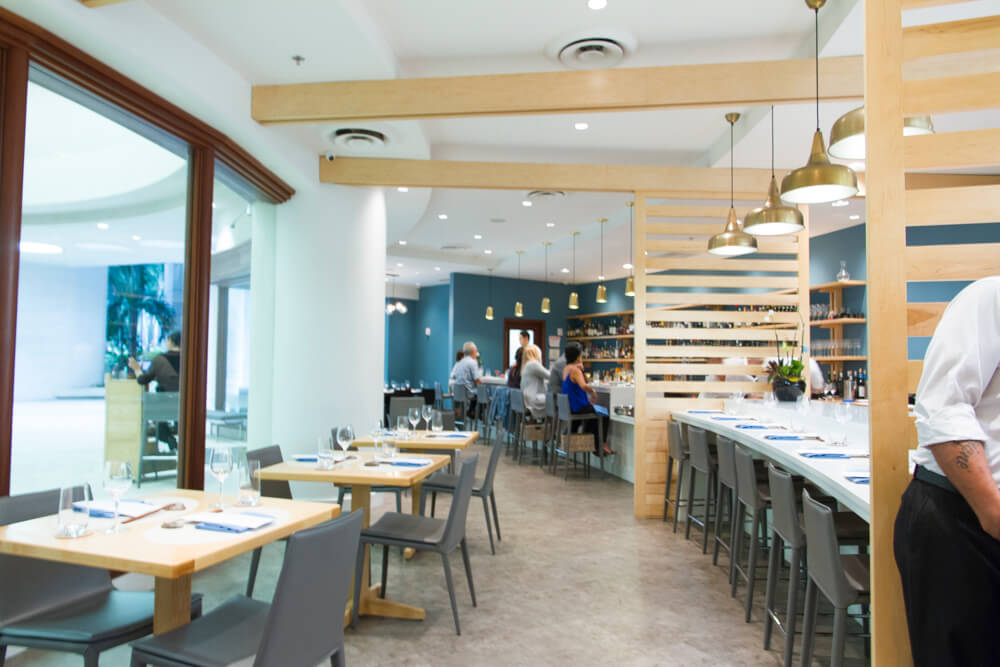 Because of its location, PAI is a very small restaurant.  However, the space is very efficiently used and never feels crowded, even as the restaurant filled up.  And despite the size of the restaurant, they can accommodate larger parties.
Service
From the moment we approached the restaurant to the time we left, service at PAI Honolulu was incredible.  Every person we interacted with was very warm, friendly and personable.  The staff makes you feel like they're glad to serve you, and more importantly that they truly love what they do.
At check-in, you're warmly greeted by the host whom then opens the door for you and leads you to your seat.  Got a bag?  A basket will be provided for you to store your bag in under your seat.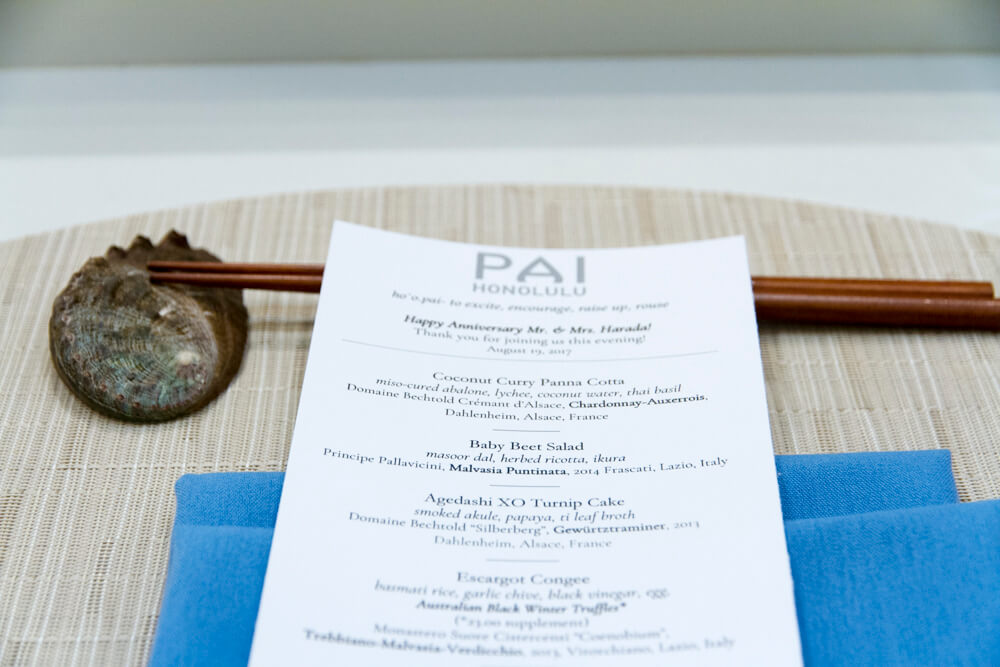 Once seated, a member of the waitstaff goes over your menu options with you, and once ready, takes your drink orders.  In our case, I reserved us seats at the Chef's Counter, so the only decisions we had were what to drink.  This also meant that Chef Kevin Lee would be our server throughout the meal.  He presented every course and explained everything in detail.
Beverages
To start our meal, Mrs. Island Miler and I ordered a couple of drinks.  I can't remember what they were, but I believe Mrs. Island Miler ordered the special ESHI Collins.  This refreshing beverage is made with gin, lemon, cucumber, and thyme.  It's a tad on the sweet side, which is what she prefers.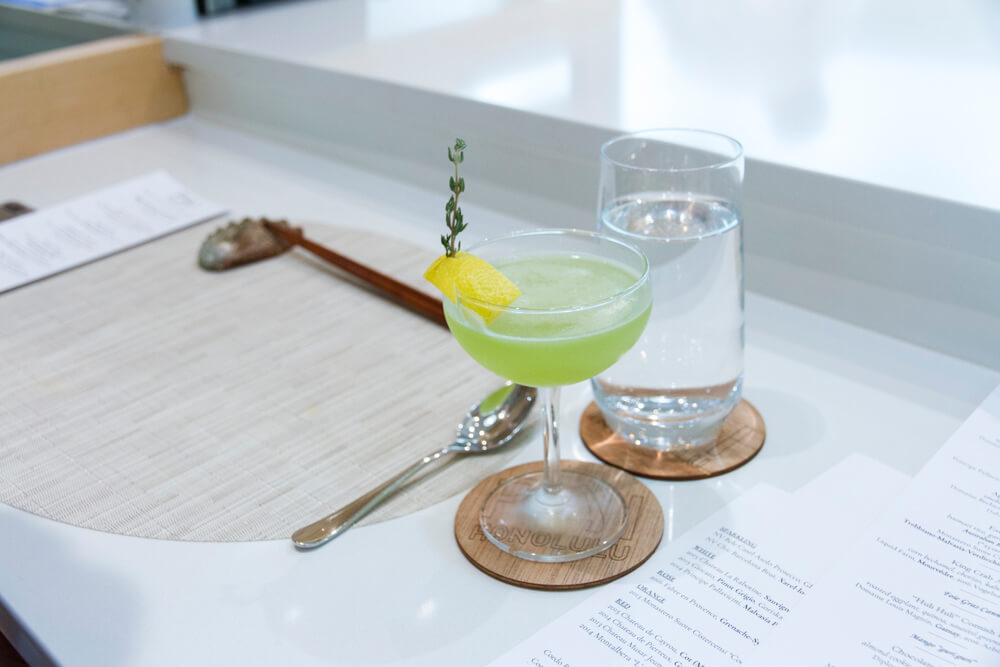 For my drink order, I opted for some sort of gin & tonic.  This one included lemon and thyme too, though it was a bit drier than Mrs. Island Miler's drink.  However, it was also very refreshing, tasty, and a little too easy to drink!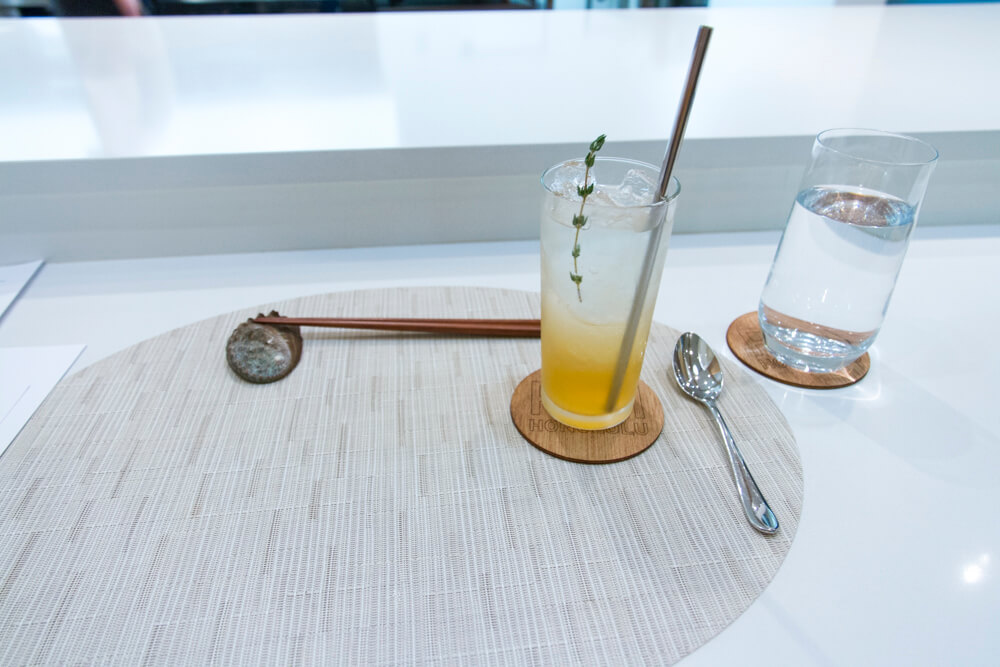 The Menu
As I mentioned earlier, Mrs. Island Miler and I were seated at the Chef's Counter.  This meant that our menu for the night would be the 7-course tasting menu.  And while this means you normally wouldn't have choices, Australian Black Winter Truffles are now in season.  So PAI Honolulu had a couple of enhancements and special dishes on offer.  On that particular night, there was an option to add truffles to the congee dish.  We were also offered an additional course of house-made tagliatelle with truffles or a shiitake mushroom and truffle lasagna.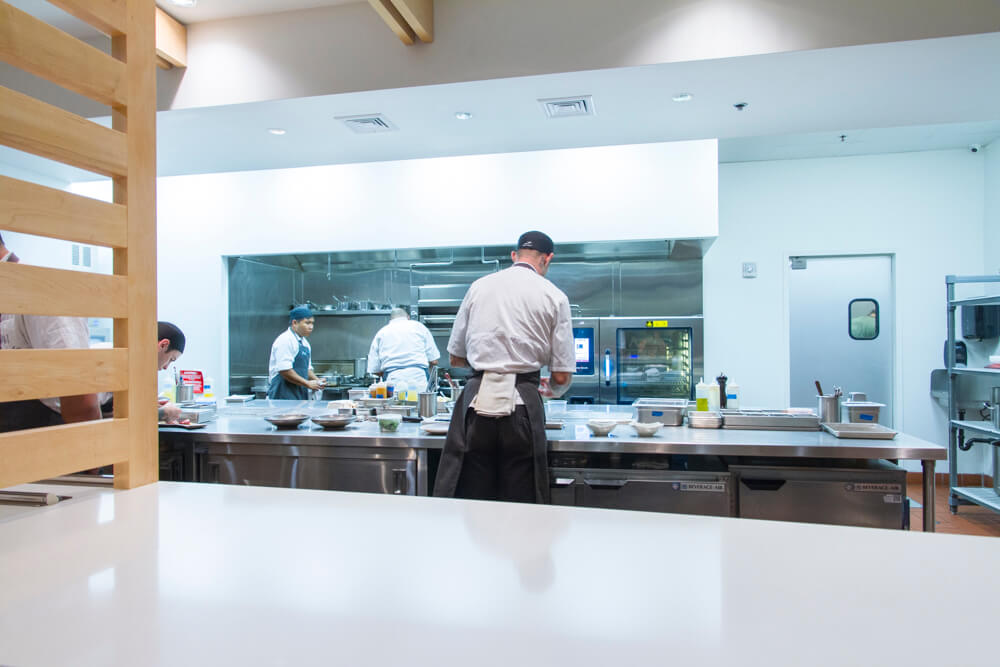 We love truffles, so we did add the truffle supplement to the congee course.  And while I would have liked to try both special courses, I knew we wouldn't be able to finish both.  So we decided to order the house-made tagliatelle and split it.  This extra course was served in between the tasting menu's pasta dish and the main course.
Cuisine
Okay, enough of my yammering!  Here's the food.
First Course:  Coconut Curry Panna Cotta with miso-cured abalone, lychee, coconut water, Thai basil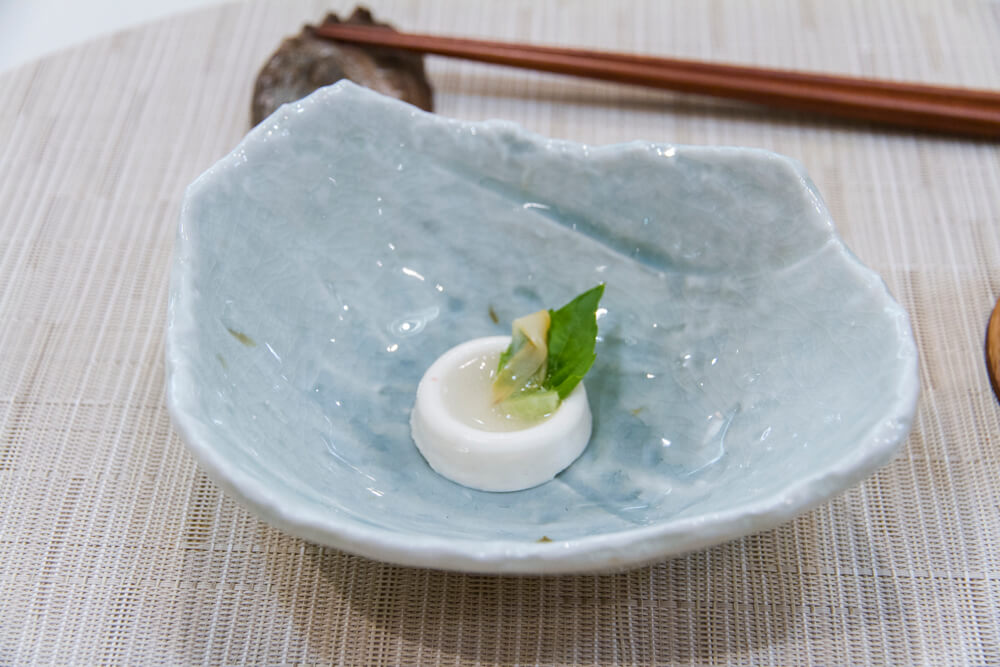 Second Course:  Baby Beet Salad with masoor dal, herbed ricotta, ikura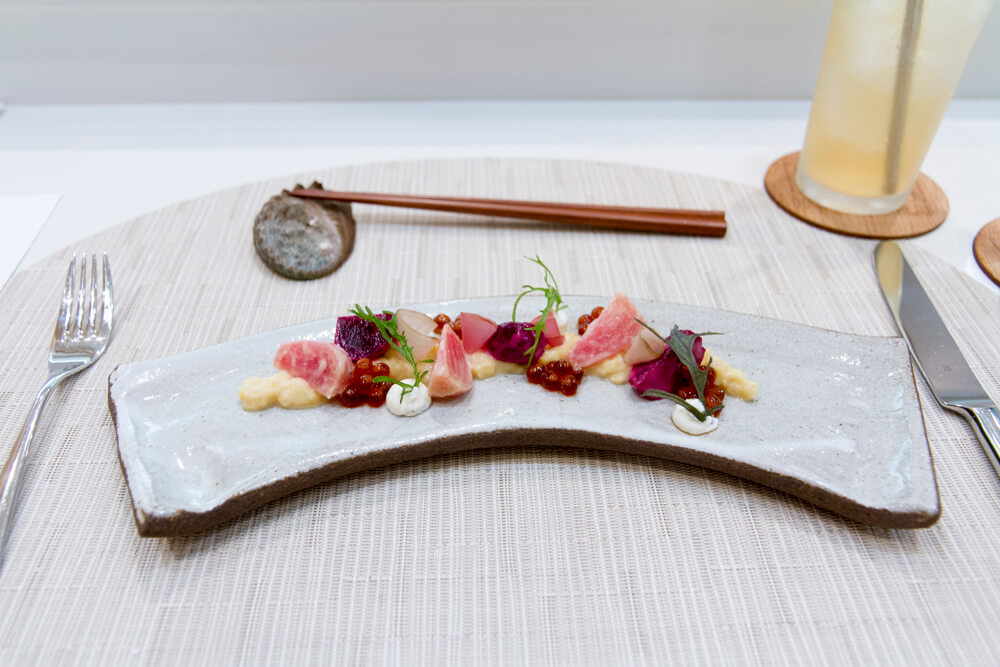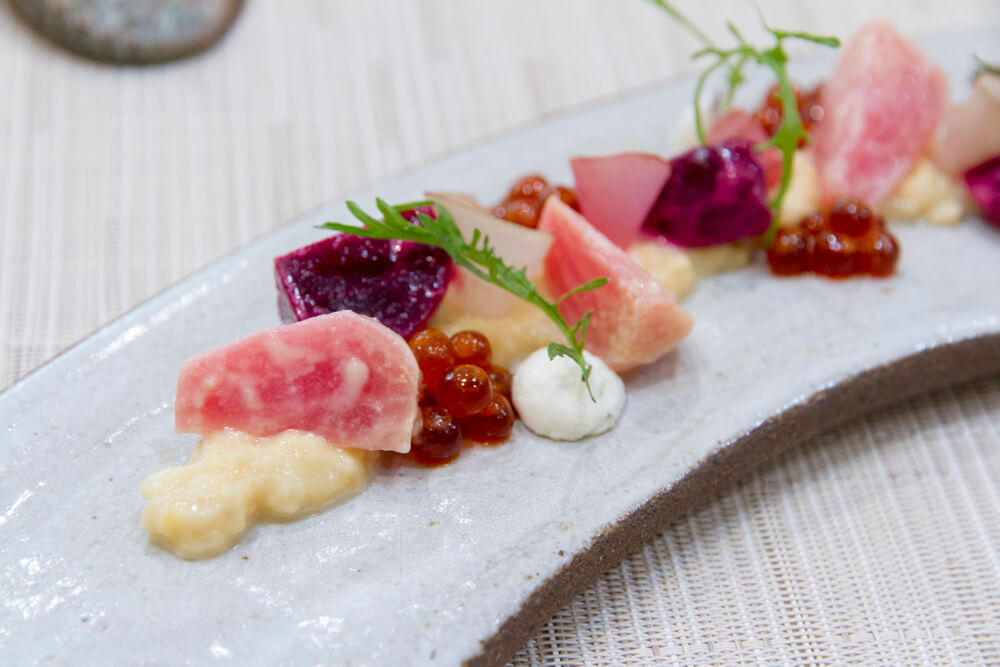 Third Course:  Agedashi XO Turnip Cake with smoked Akule, papaya, ti leaf broth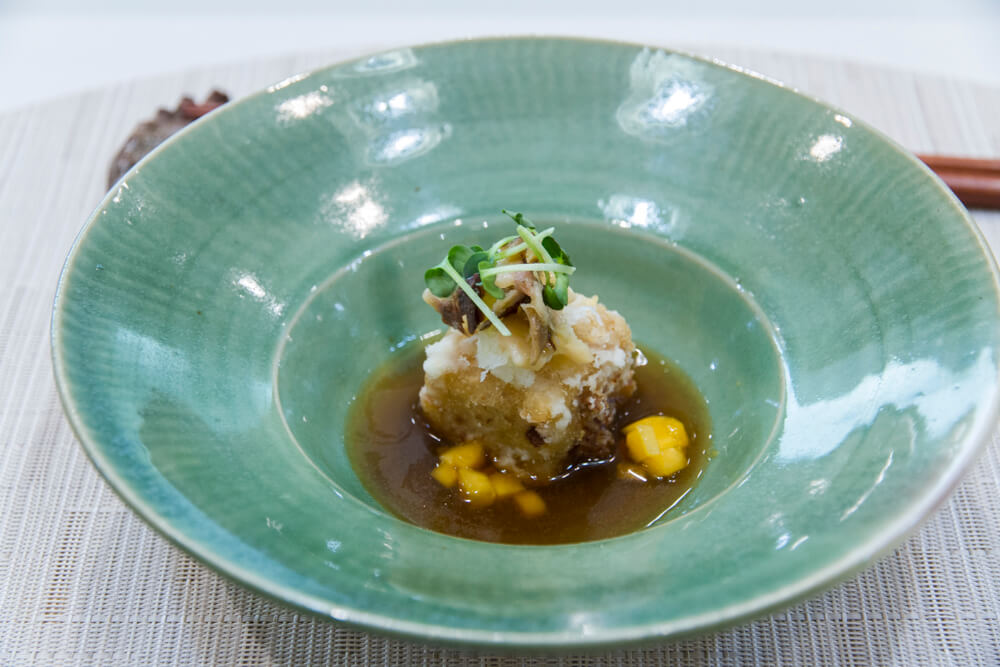 Fourth Course:  Escargot Congee with basmati rice, garlic chive, black vinegar, egg, Australian Black Winter Truffles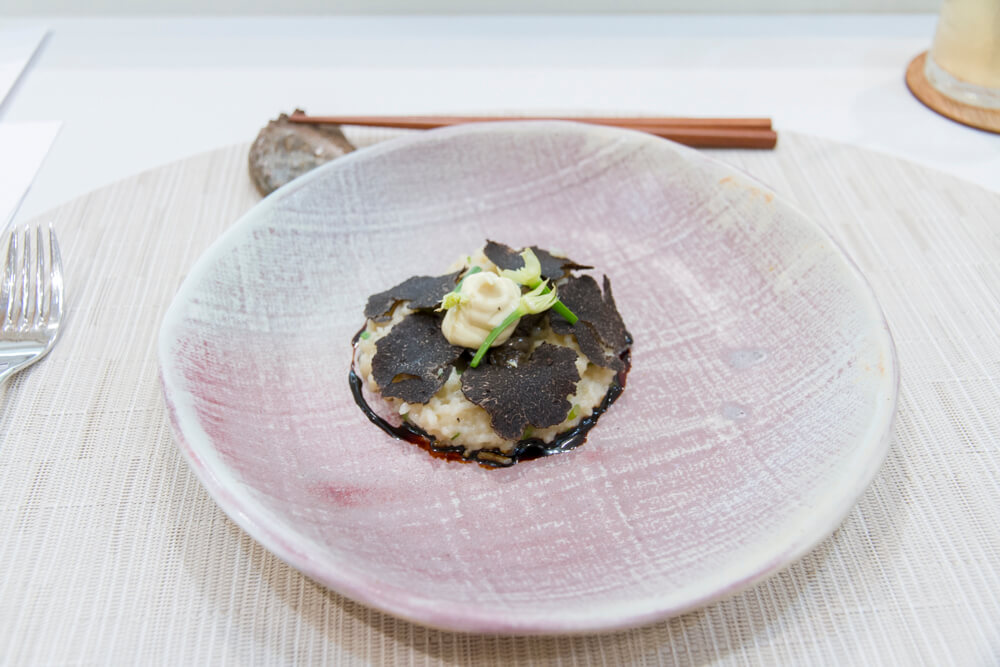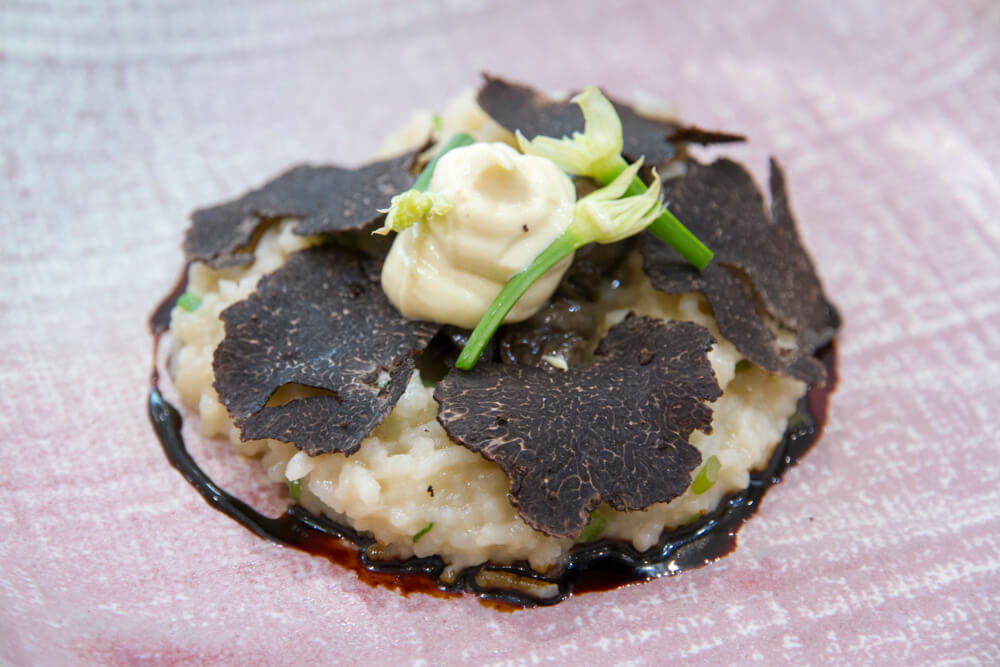 Fifth Course:  King Crab Agnolotti with corn bechamel, chorizo, kabocha, hijiki, curry leaf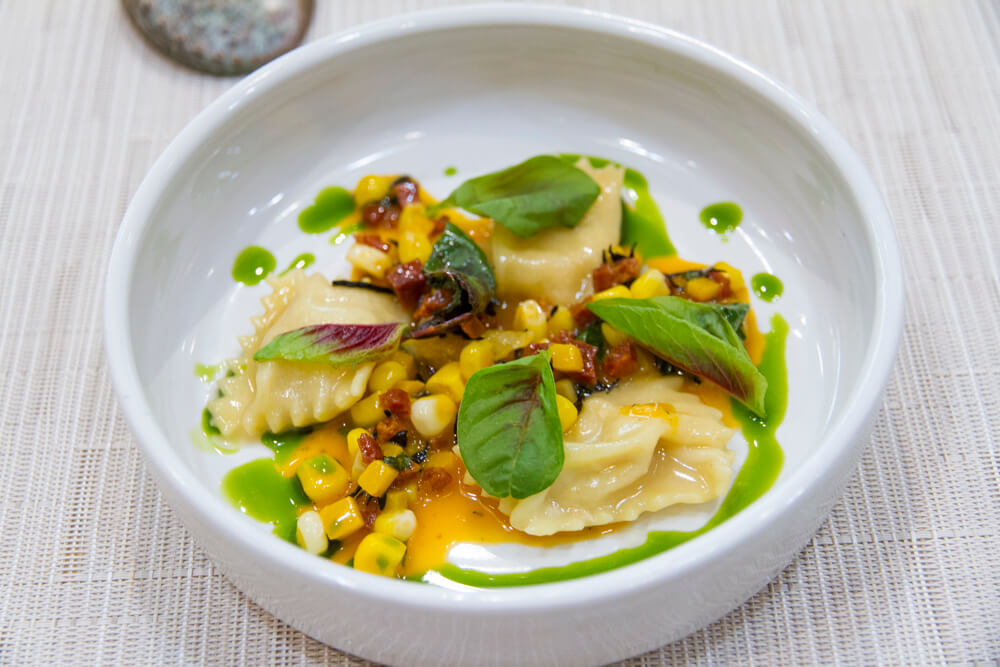 Optional supplementary course:  Tagliatelle with butter, pecorino, garlic chive, Australian Black Winter Truffle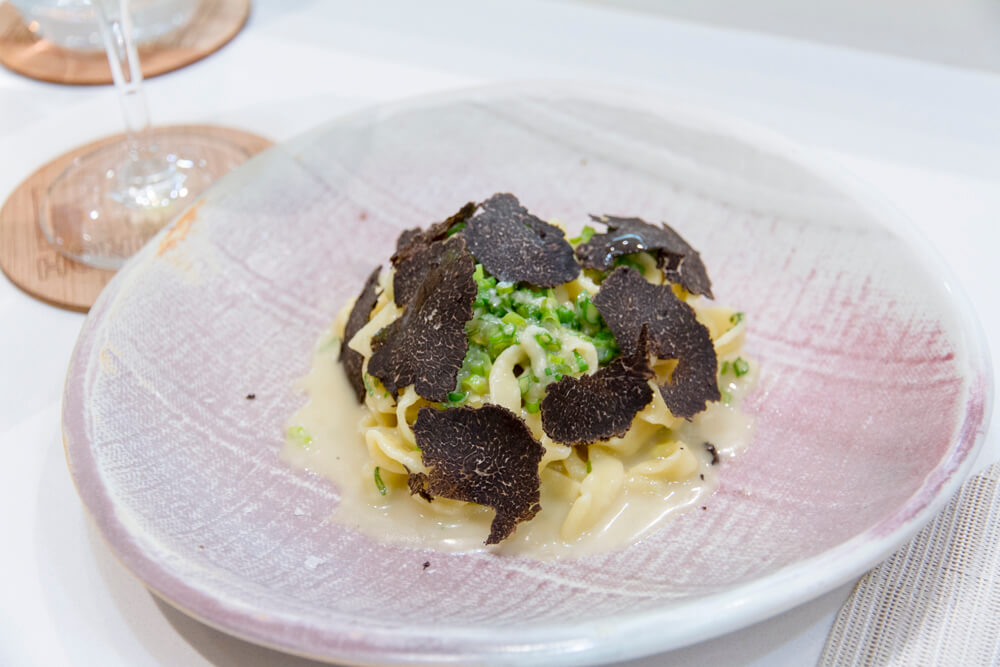 Sixth Course:  Foie Gras Cannoli with dried cherries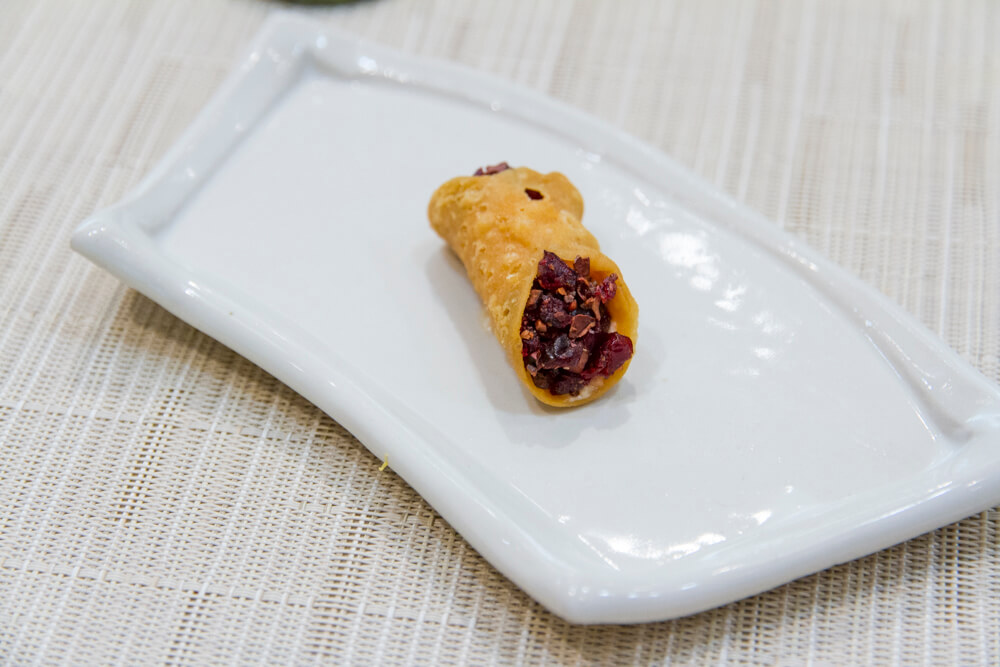 Seventh Course: "Huli Huli" Cornish Hen with roasted eggplant, quinoa, sauteed greens, cherry tomato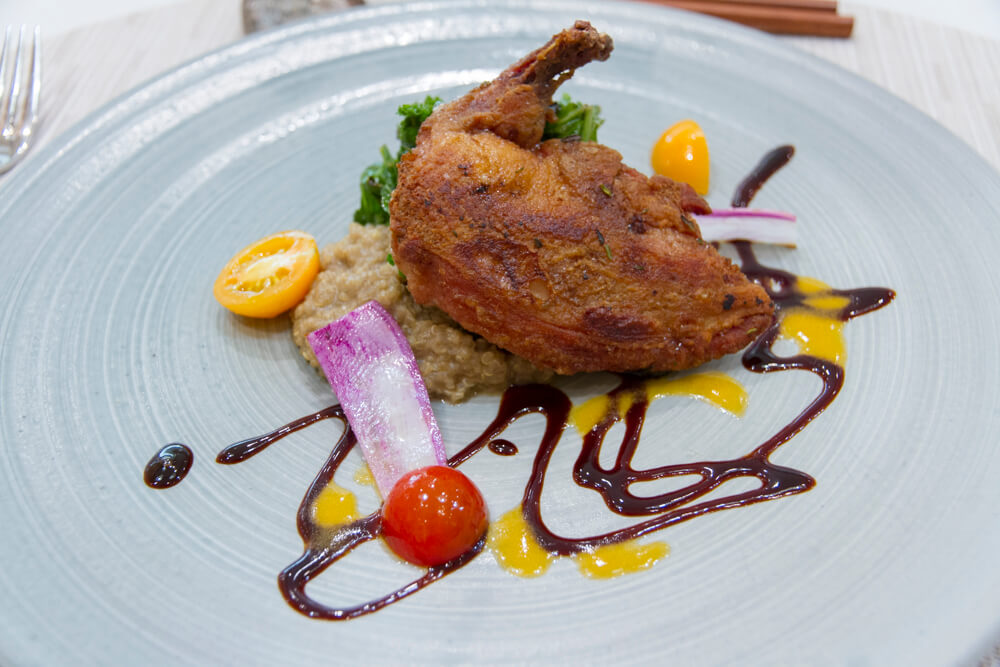 Intermezzo:  Mango "guri guri" with li hing powder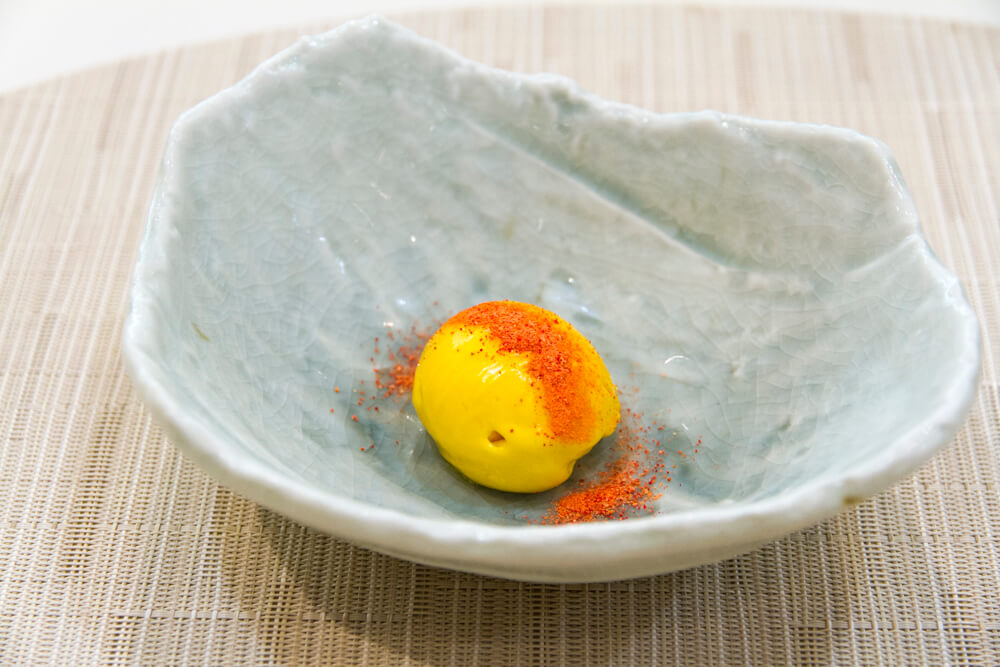 Dessert:  Chocolate Haupia with almond cookie crumble, lilikoi curd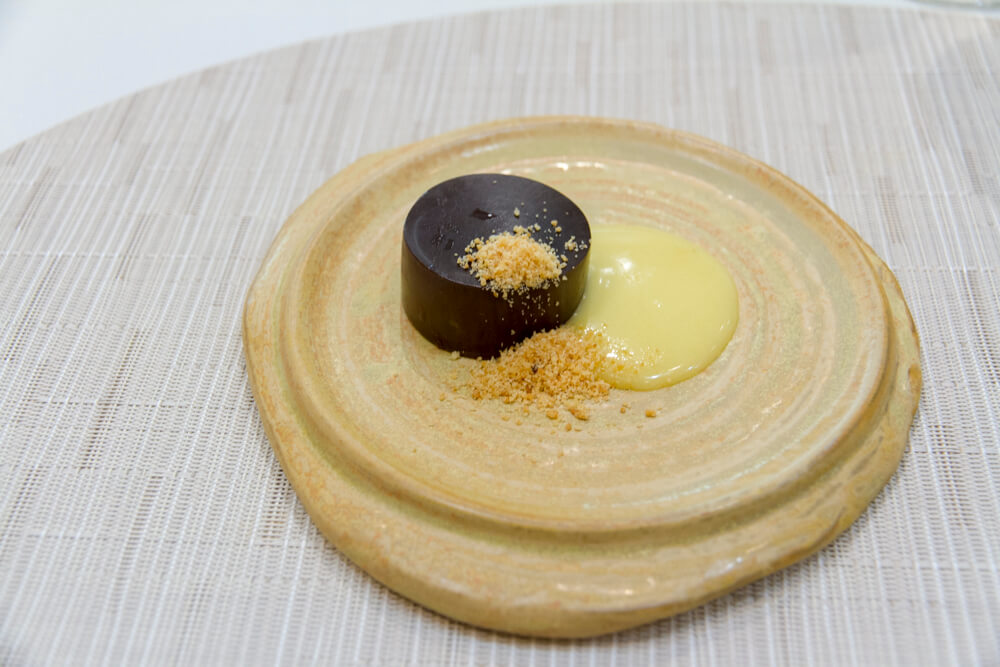 Petit Fours:  Manoa Chocolate Brownie & Butter Mochi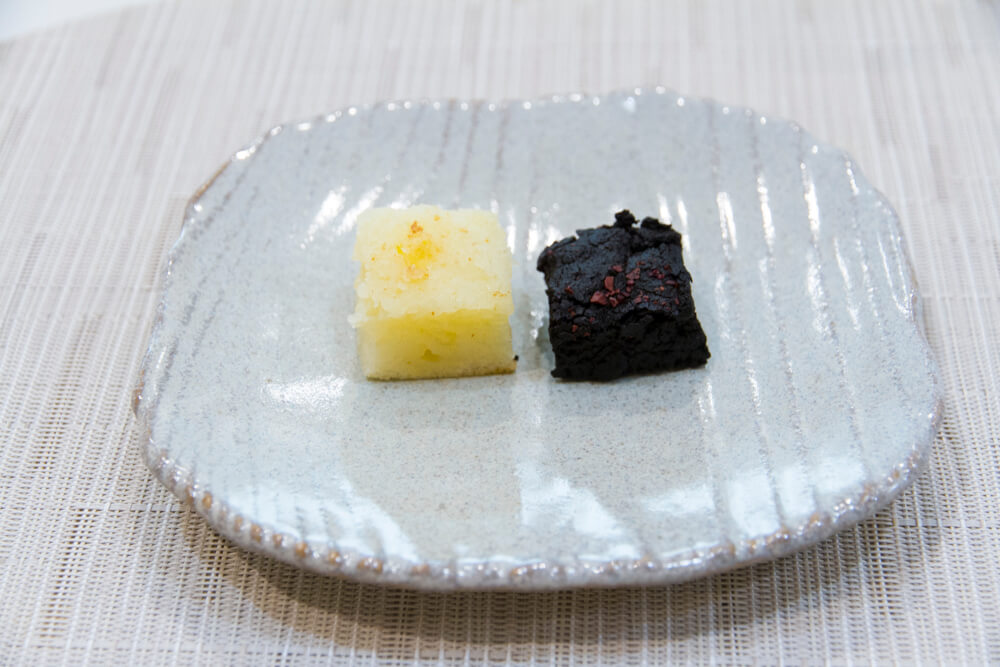 Thoughts on the Food
WOW.  While the cuisine may seem somewhat conservative, it's actually quite complex.  Take the first course for example; it looks so unassuming, but it's an amalgamation of creamy, cooling, spicy, sweet, salty and herbal flavors.  And you'll notice that no eggplant is visible in course 7.  That's because the eggplant was combined into the quinoa, making it rich and creamy.
But the biggest revelation of the night, at least for me, was the ti leaf dashi used in the third course.  That course was already a combination of Japanese, Chinese and Hawaiian flavors.  However, the dashi is made from ti leaf.  And if you've ever had laulau in Hawaii, you know that the bundle of pork and taro leaves comes wrapped in an outer shell of ti leaves.  This outer shell is discarded before eating.  But, here at PAI, Chef Lee took ti leaves and created this intensely savory, smoky broth that I just couldn't get enough of.  It's genius.
And even with all of the creativity, you better believe every item was executed perfectly.  The guinea hen?  Dry-aged and served crispy was seasoned perfectly and was uniformly cooked throughout.  It was juicy, tender and beautiful.  That's one way to get me to eat white meat.  The pasta?  All perfectly al dente.  Just a masterpiece of the perfect amount of bite and chew coated in the perfect amount of sauce.
PAI Honolulu Final Thoughts
Mrs. Island Miler and I have dined at many fantastic restaurants.  From Hiroyuki Sakai's La Rochelle in Shibuya to the highly anticipated Restaurant Senia in Honolulu, Gordon Ramsay's Petru in London, and even the 3-Michelin Star Le Bernardin in NYC, we've had many excellent dining experiences.  And I'm happy to report that PAI Honolulu is easily comparable to all of these fantastic restaurants.  In fact, regarding service, I'd say PAI Honolulu is on par with Le Bernardin.
Perhaps more importantly, however, dining out, especially at this level, should be a surprising experience.  And that surprise is one of my primary drivers for dining out.  It is, after all, what makes an excellent meal a truly memorable one.  And I'm happy to say that PAI Honolulu excelled here as well.  As I said earlier, that ti leaf dashi surprised the heck out of me, however, that's not the only reason why PAI surprised me.  There were dishes on the menu that seemed like dishes Mrs. Island Miler or myself wouldn't like.  But we both loved every single bite we had that night, which added to the surprise.
My only regret of the evening was the inability of my stomach and wallet to handle more food.  All of the menus sound fantastic, so we will undoubtedly be back in the not-too-distant future.  And if you're on Oahu, it's someplace I highly recommend you try too.