Food halls are fast becoming a thing in Hawaii.  And one of the newest ones is Dukes Lane Market & Eatery in Waikiki.
Location
Dukes Lane Waikiki is on the corner of Kuhio Avenue and Duke Lane.  A better description though is to say that the Market & Eatery is at the newish Hyatt Centric Waikiki Beach.  However, the hotel isn't directly connected to Dukes Lane, despite sharing a building.  Instead, it's on the ground floor on the corner facing the Laylow, Autograph Collection.  Dukes Lane, the Hyatt Centric, and Nordstrom Rack all share the same parking structure, though.
Concept
As its full name suggests, Dukes Lane Market & Eatery has places to both shop and dine.  Shopping at the complex, though, is a little limited in scope, with just two stores: the Market and the Vault.  The Market, buried in the back of Dukes Lane looks like a glorified, high-class ABC Store with sundries and some groceries.  And that's no surprise, as ABC Stores owns the entire Market & Eatery.  I don't really get the grocery part, as the clientele are primarily tourists, but we'll see how things there evolve.  The Vault, on the other hand, specializes in fine wines, liquours, etc. and is located right next to the Market.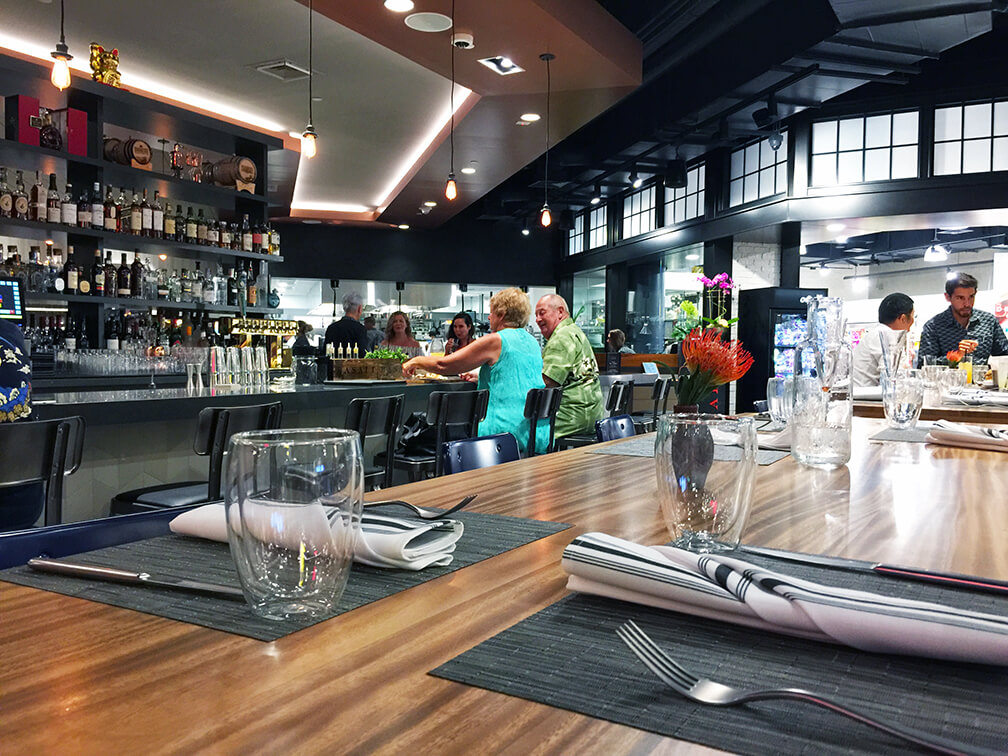 The rest of Dukes Lane is dedicated to a variety of dining options:
Bakery – pastries + daily doughnut specials
BASALT – upscale dining
Chill – gelato + Teaspresso boba/milk tea
Dash – snacks + pre-packaged foods
Island Gourmet Coffee – 100% Kona Coffee
Ono's Burger – specialty burgers
Spitfire Rotisserie + Flatbreads – rotisserie chicken, duck, pork; flatbread pizzas and plate lunches
That sounds like a lot of eateries, especially considering the size of the overall space.  But, the Bakery, Ono's Burger, and Spitfire and sort of share a portion of the complex.  The same holds true for Chill, Dash, and Island Gourmet Coffee.  Only BASALT is its own thing, with a bar, open kitchen, and both indoor and outdoor seating.
Dining
Of the handful of times I've been to Dukes Lane, I've only dined there twice: once at Ono's and once at BASALT.  Sort of.  You see, the first time we ate at Dukes Lane, we were invited to sit in BASALT and were offered the ability to order from both BASALT and Ono's menus.  That was pretty cool because that time around we ended up getting some drinks from BASALT Bar, some foie gras from BASALT, and a couple of burgers from Ono's.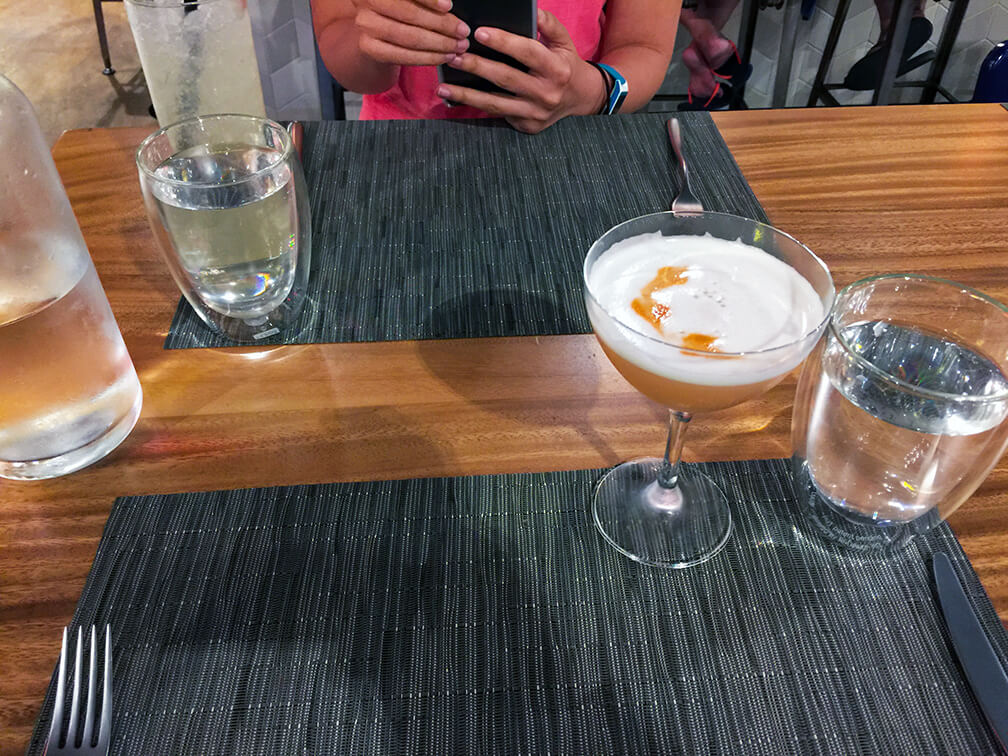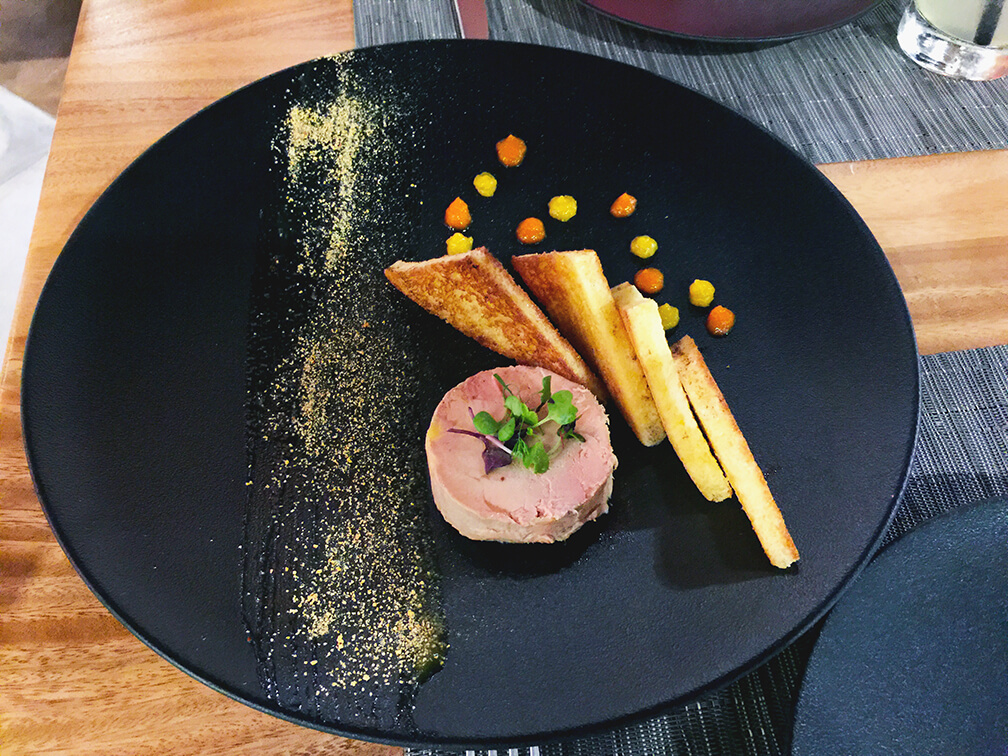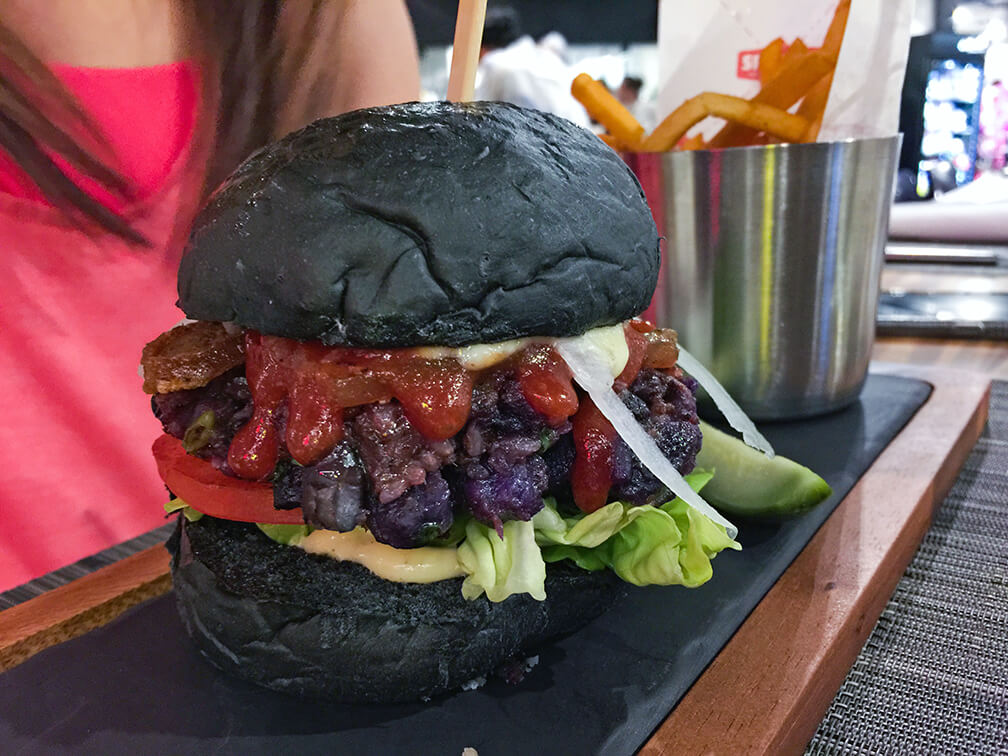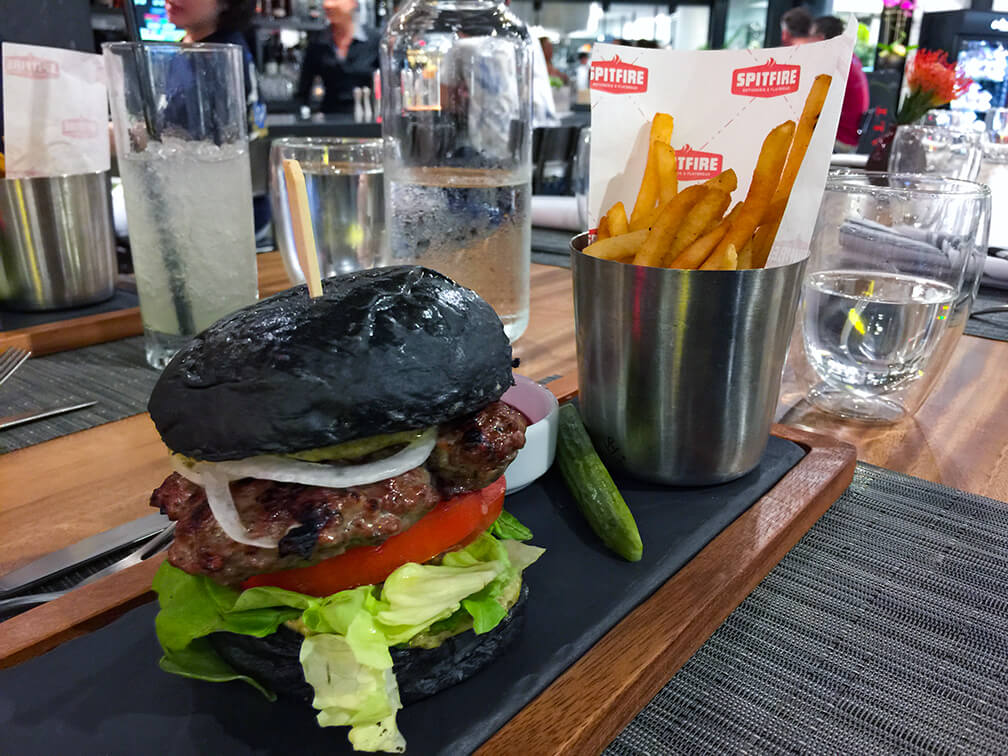 In fact, that first time, we were invited to order from any of Dukes Lane's menus.  And that's pretty cool, though I imagine it can be logistically challenging.  And that's probably why the same offer wasn't made during our second visit.  That time we sat in BASALT again and only ordered off the BASALT menu.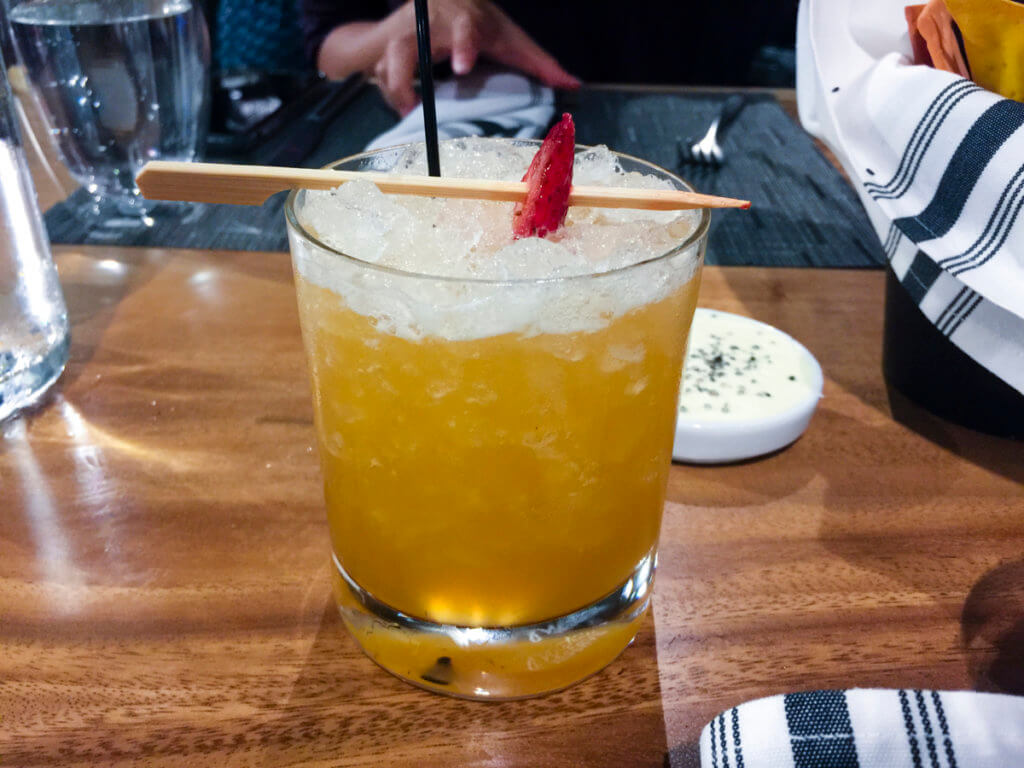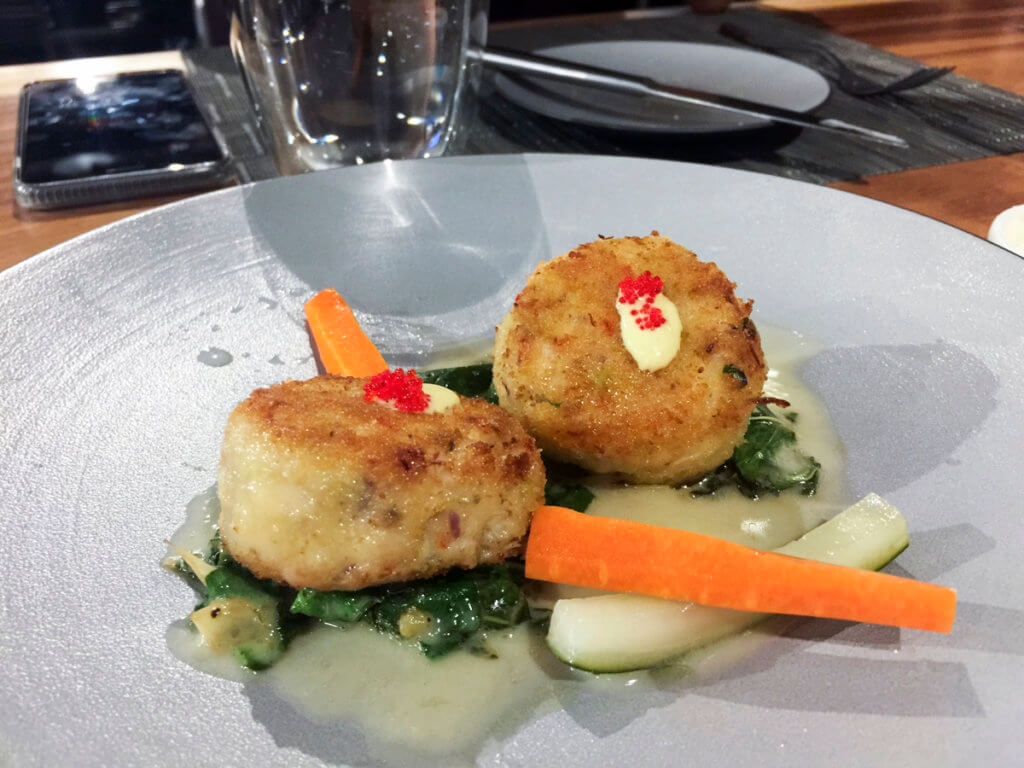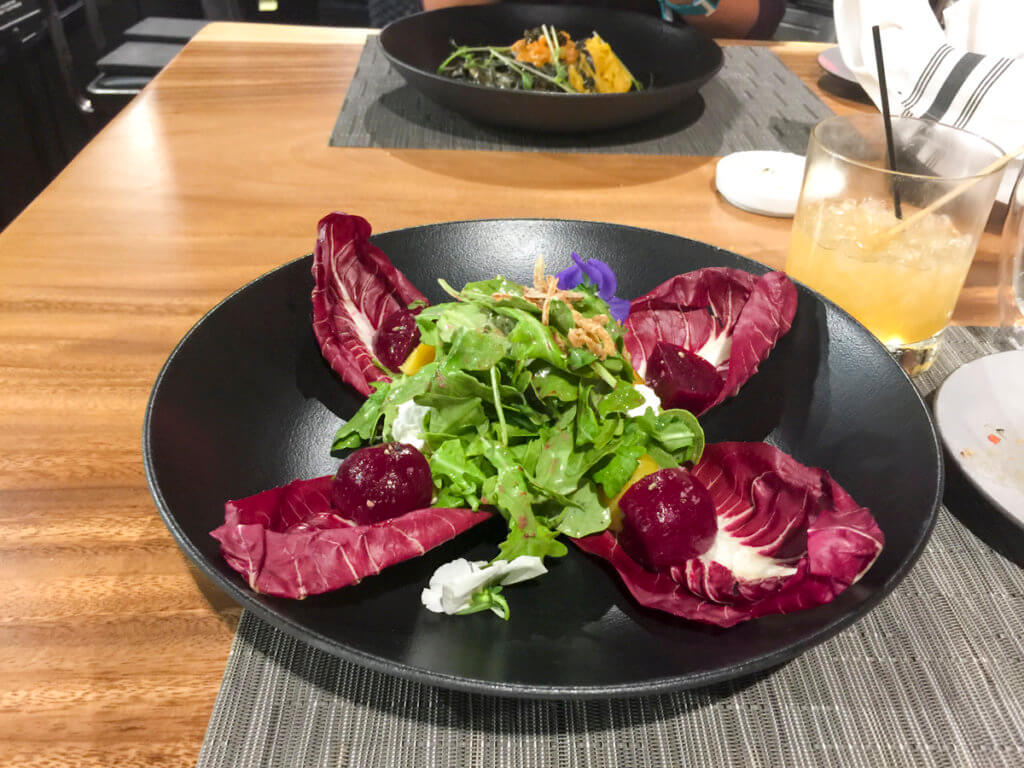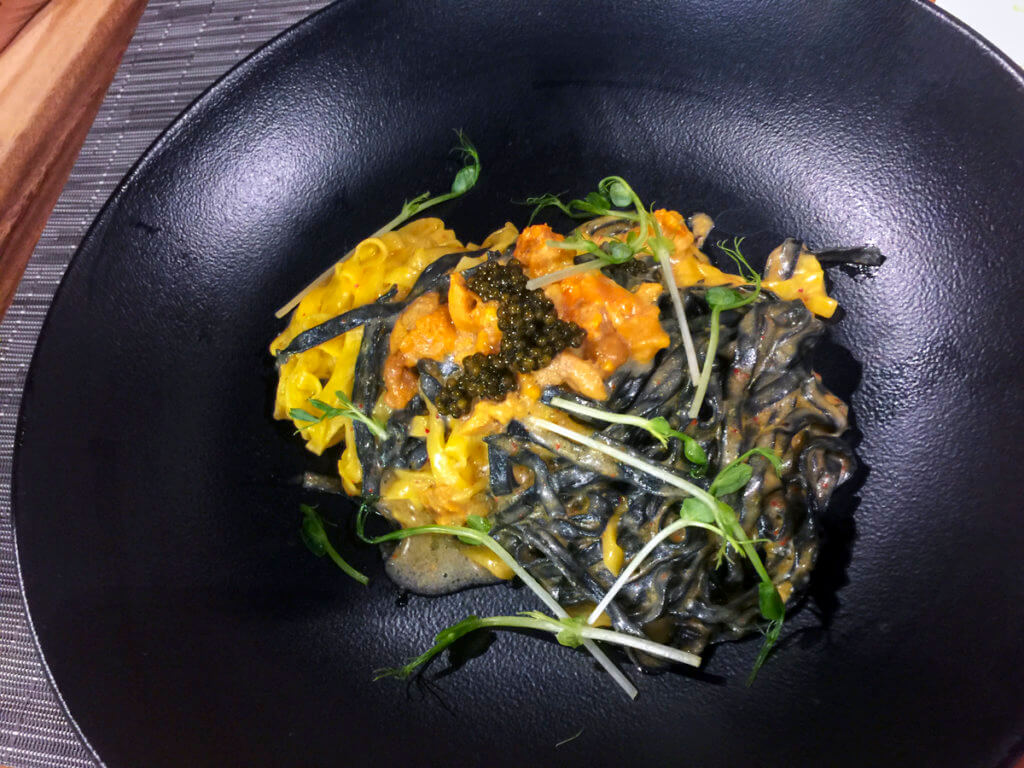 Of the two dining experiences we've had at Dukes Lane, the items I liked best were the drinks, the foie gras, our burgers, and the crab cakes.  The burgers were high quality, creatively seasoned, and just damn good.  But, pricing is comparable to what you'd find at nearby hotels.  The foie was lovely, but that's hard to screw up, as was the crab cakes since it was mostly crab and very little filler.  Everything else was kind of just so-so for me, though.
The most significant disappointment of all, however, was the pasta.  It's a promising and luxurious dish with uni, real caviar, notes of citrus, and pea shoots.  However, the sauce was thin and watery, and the noodles were mushy and overcooked.
Service
In our experience, service throughout the complex is excellent.  It can be a bit confused at times, but there's a lot of promise there too.  I attribute any of the confusion we experienced to opening jitters.
Dukes Lane, Final Thoughts
Our two visits to Dukes Lane were fairly early on.  And since this concept is a first for Dukes Lane, it isn't someplace I'd judge too harshly.  Yes, things aren't perfect and seem to change somewhat often right now, but I'm sure things will smooth out as they get into their groove.  So even if I didn't enjoy individual dishes, I'd certainly try them again and would encourage you to do the same.  Plus, I still gotta sample their other eats, especially their daily doughnut specials.