Besides Wicked Maine Lobster, the other newbie at the Royal Hawaiian Center is Kith Treats Waikiki. Billed as an adult cereal bar, Kith Treats is associated with a lifestyles apparel brand by the same name.
Not long ago, my social media feed was flooded with photos of colorful soft serve swirls. Further research revealed that this new ice cream spot isn't really an ice cream spot at all. Rather, it's primarily a clothing store. But, the next time we were in the area, Mrs. Island Miler and I decided to go check it out.
Kith Treats Waikiki Location
Kith Treats Waikiki is adjacent to its namesake apparel store on the ground level of the Royal Hawaiian Center in Waikiki. It's more of a walk-up bar than an actual treat bar or cafe. There are a few seats outside to the left of the window, but if you can't snag a seat there, you'll need to find a seat somewhere else.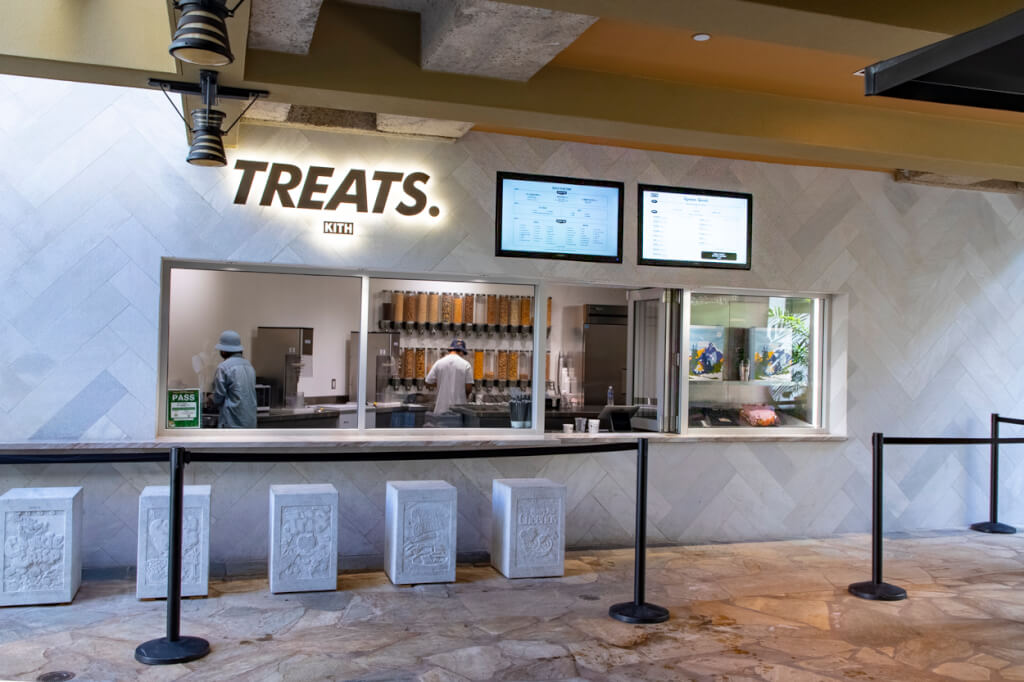 By the way, the seats they do have are styled to look like cereal boxes, which is pretty cool.
Kith Treats Waikiki Menu
There are four primary items on Kith Treats' menu – Ice Cream Swirl ($8), Milkshakes ($8.50), Commuter Bowls (cereal & milk bowls) [$6.50], and Cereal Infused Ice Cream Sandwiches ($6). Ice cream comes in vanilla or chocolate and in regular dairy or dairy-free options. The dairy-free vanilla is cononut based, while the dairy-free chocolate option is soy-based. Both dairy-free options cost an extra $2. For the Commuter Bowls, you can choose whole milk, skim milk, almond milk, and chocolate milk.
If you get an Ice Cream Swirl, Milkshake, or Commuter Bowl, you can choose two toppings from the cereal and mix-in lists. Additional toppings cost $0.75 each. The lists are VERY extensive and can make choosing pretty hard.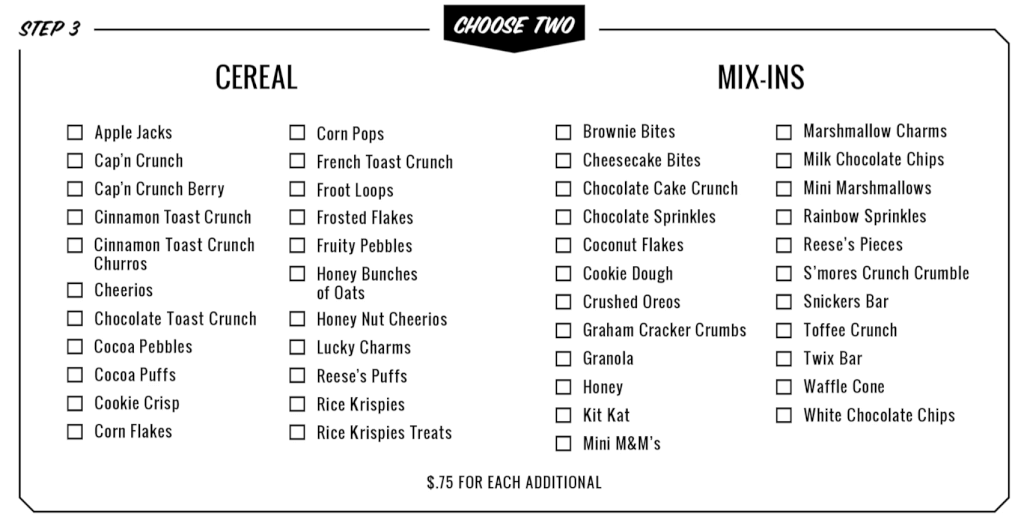 Of course, if you don't want to make tough decisions, you can also choose from a list of pre-made combos.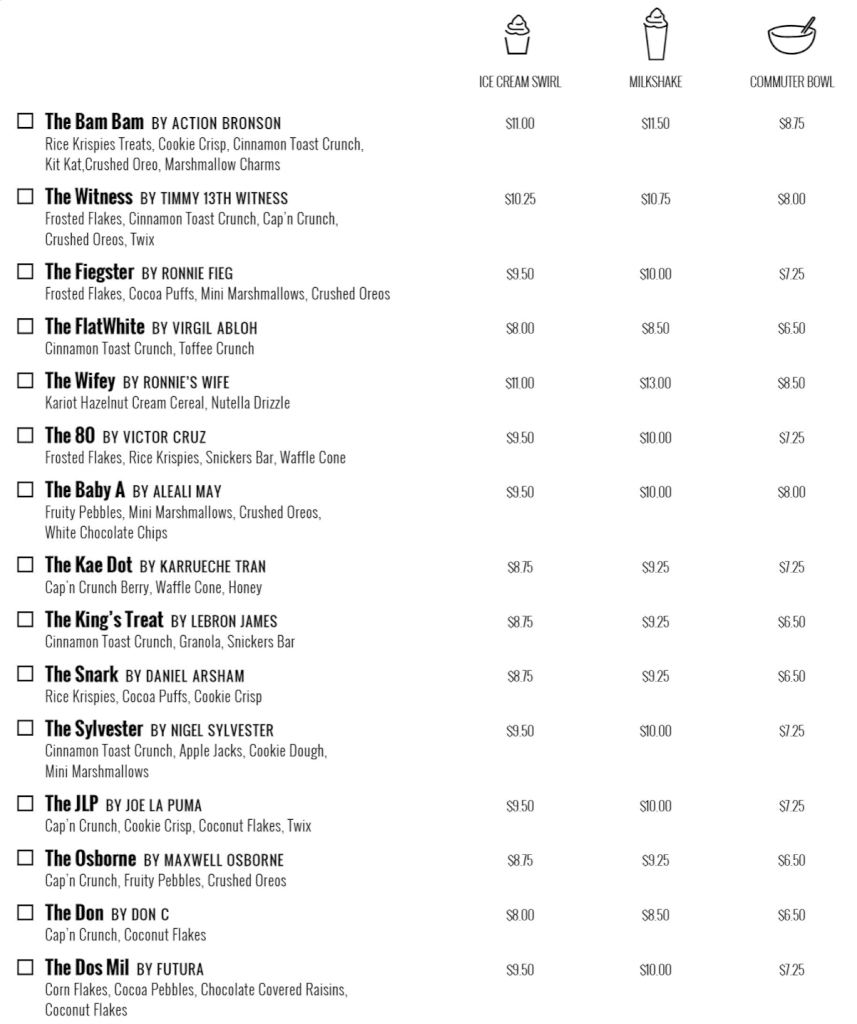 What We Ordered
Both Mrs. Island Miler and I ordered a custom Ice Cream Swirl. I went with the dairy-free vanilla, while she went with standard vanilla ice cream. For the life of me, I can't remember what she ordered, but I went with cornflakes and brownie chunks in mine.
You can watch them make your ice cream through the windows. They use this contraption that blends and swirls your topping choices into the ice cream that they swirl into a cup.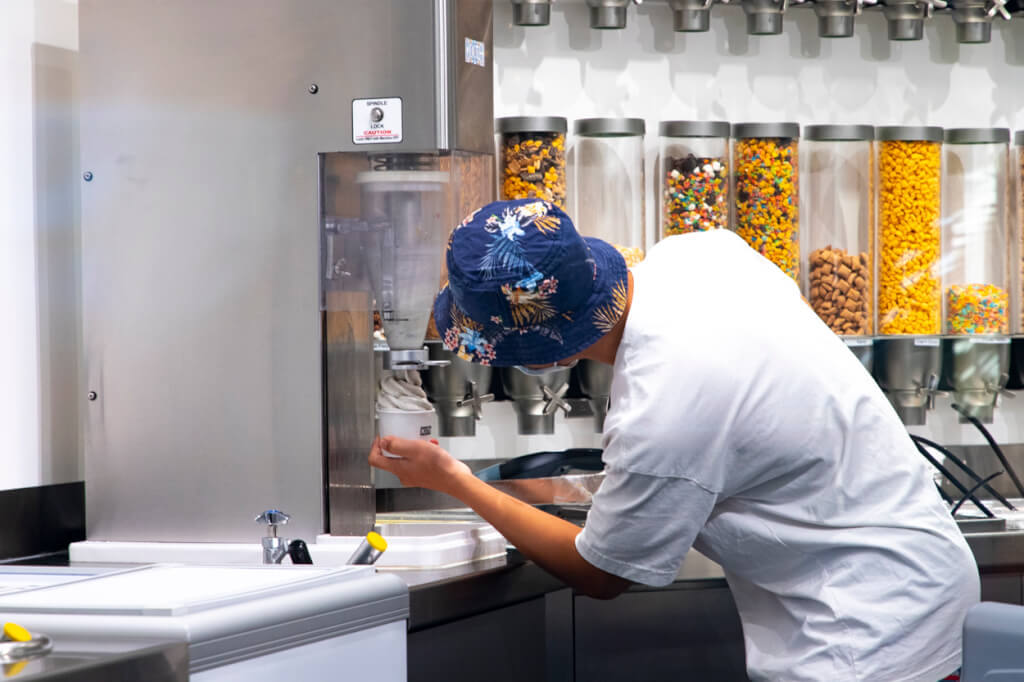 At $10, this is a pricy cup of ice cream. But, you do get a lot for your money. If Mrs. Island Miler didn't have different ice cream preferences than I, we totally could've shared a single cup. It's that BIG.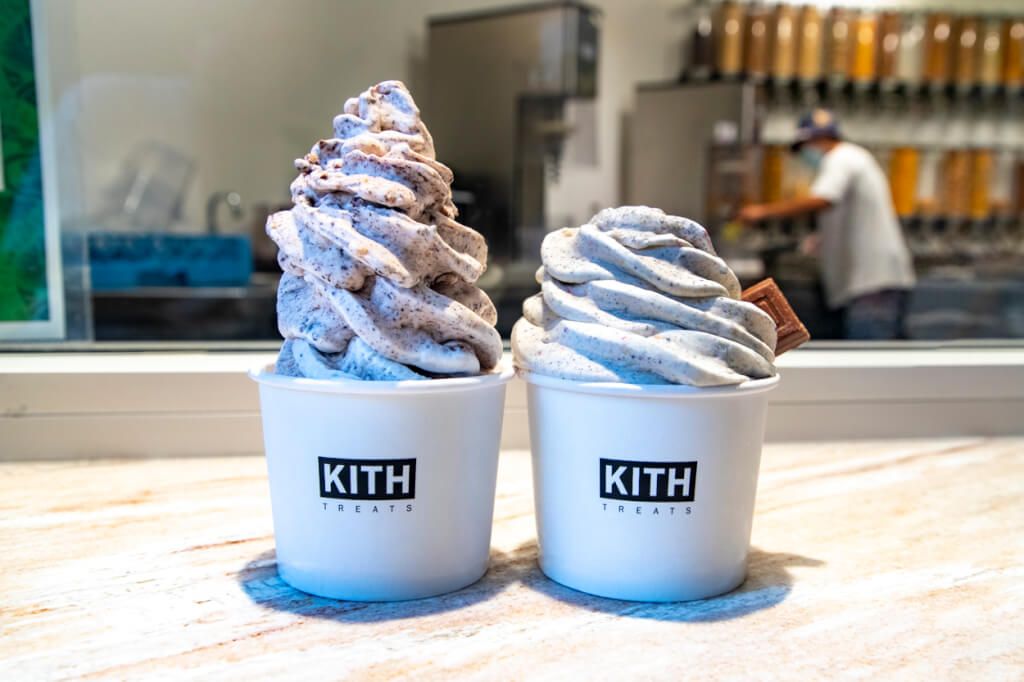 Flavor-wise, Kith Treats' ice cream is pretty good! The dairy-free ice cream is reasonably creamy with just a hint of vanilla. I loved the savoriness and crunch provided by the cornflakes, while the brownies added a wonderfully chewy, chocolatey bite.
Final Thoughts
Kith Treats Waikiki is an intriguing option if cereal is your thing. It isn't at all like the Cereal Milk soft serve at Milk Bar but is good in its own way. It's also a great option for those of us that are lactose intolerant. However, at over $20 for the two of us, Kith Treats is pretty expensive, especially if you can't share with someone else.
The big question, then, is would I return. And, yeah, I would definitely return, just not often. In fact, I do want to try the chocolate dairy-free option, so I'll be heading back at least once more. That said, I'd rather head over to Double Fat Ice Cream for much more inventive and tasty ice creams.