Recently, some of my favorite culinary minds in Hawaii came together to open a hidden foodie oasis in Waikiki. The place is, admittedly, a little difficult to find. But, if you seek them out, you'll be rewarded with fantastic Italian food and ice cream. That's why I'm dubbing this place the tastiest secret spot in Waikiki!
Actually, there is no formal name for this spot. In reality, it's two separate entities that share the same investor/business partner. But, those two businesses were already favorites of mind. So, their coming together provides me with a fantastic little place to grab a casual bite to eat. Before I get into details, though, let's talk about where this little oasis is.
Where to Find the Tastiest Secret Spot in Waikiki
When one of the businesses began teasing their opening, they said they'd be opening in the Alohilani Resort. But, if you're familiar with the Alohilani, there really isn't any open commercial space – even with the pandemic hammering tourism. So, where could this place be? It turns out, while this secret spot is on-property, it isn't in the hotel itself. Instead, these two fine businesses are outback in this strange little area up a ramp. That, along with the area's location off of Kealohilani Ave., is why this place is a bit of a hidden gem.
That said, the Alohilani Resort does provide free validated parking when visiting this little secret spot. So, if coming by car, after parking, make your way down into the lobby and the out onto Kalakaua Avenue. Then, head Diamond Heat/east and turn up Kealohilani Avenue. Look for this sign fronting a ramp, and you're there. And don't forget a receipt from your purchase! You'll need to take this to the front desk to get your parking validated.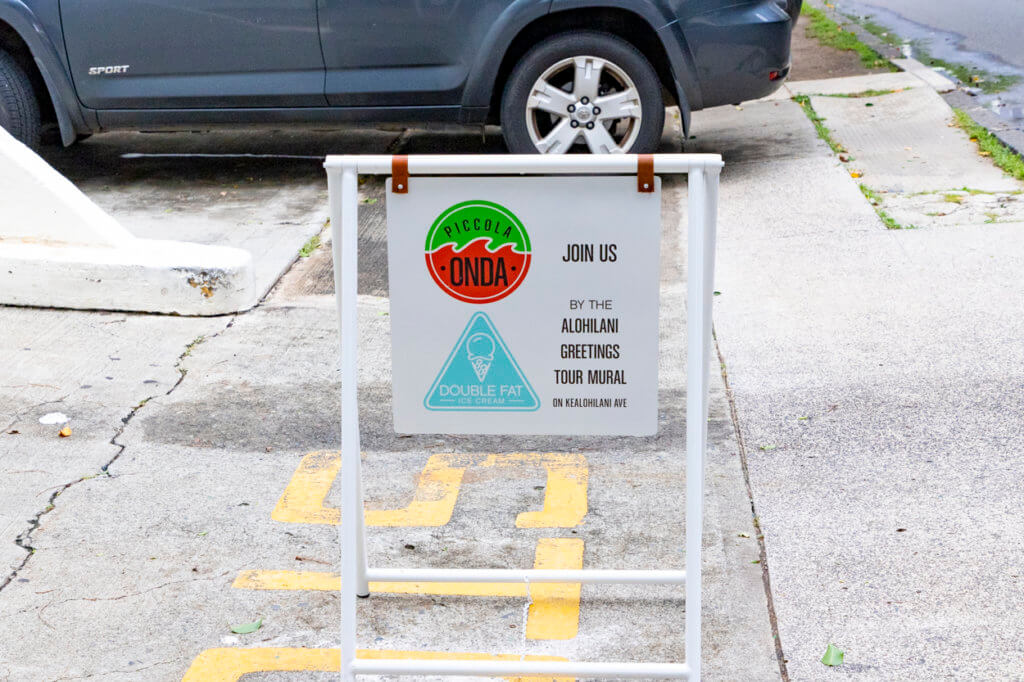 Piccola Onda
Now that you know where to find the tastiest secret spot in Waikiki – let's talk food. First up, we have Piccola Onda. If you're local and think that the name sounds familiar, it is because Piccola Onda is directly related to Onda Pasta – my favorite purveyor of fresh pasta in Hawaii. They've long been a fixture of our farmer market scene, but I've always had trouble with the fact that their prepared items were only available in the morning. That, of course, is no longer the case. Operating out of a food truck at the Alohilani Resort, Piccola Onda is open daily from 11 am to 7 pm slinging pasta, sandwiched, and salads.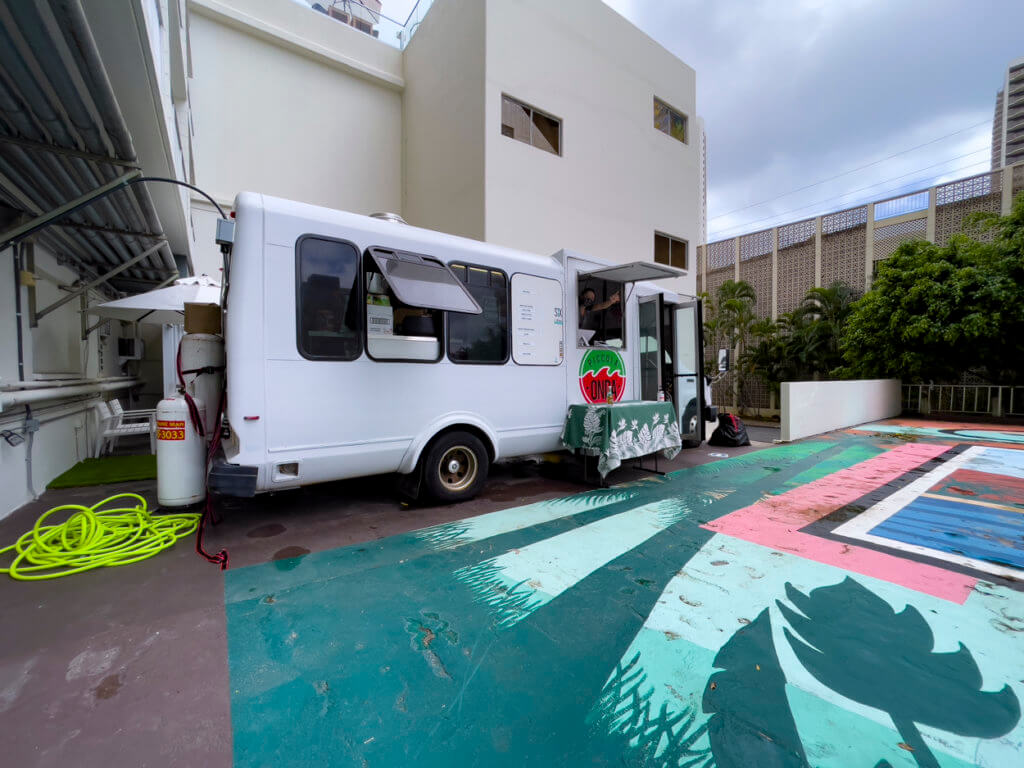 Piccola Onda Food
So far, we've been to Piccola Onda twice in the past three weeks. And though I really want to try the Zozzones sandwich made with Pono Pork sausage, their specials keep preventing me from doing so. I'm not angry, though, as I've loved everything we've eaten here thus far, especially since Onda Pasta and Piccola Onda are some of the only places to get truly authentic Roman pasta here in Hawaii. For example, their excellent carbonara (special) contains no cream whatsoever. Instead, you get pasta coated in a sauce made of rendered pancetta fat, egg, cheese, and black pepper. The rendered pancetta is then sprinkled on top, providing a wonderful, salty, meaty crunch.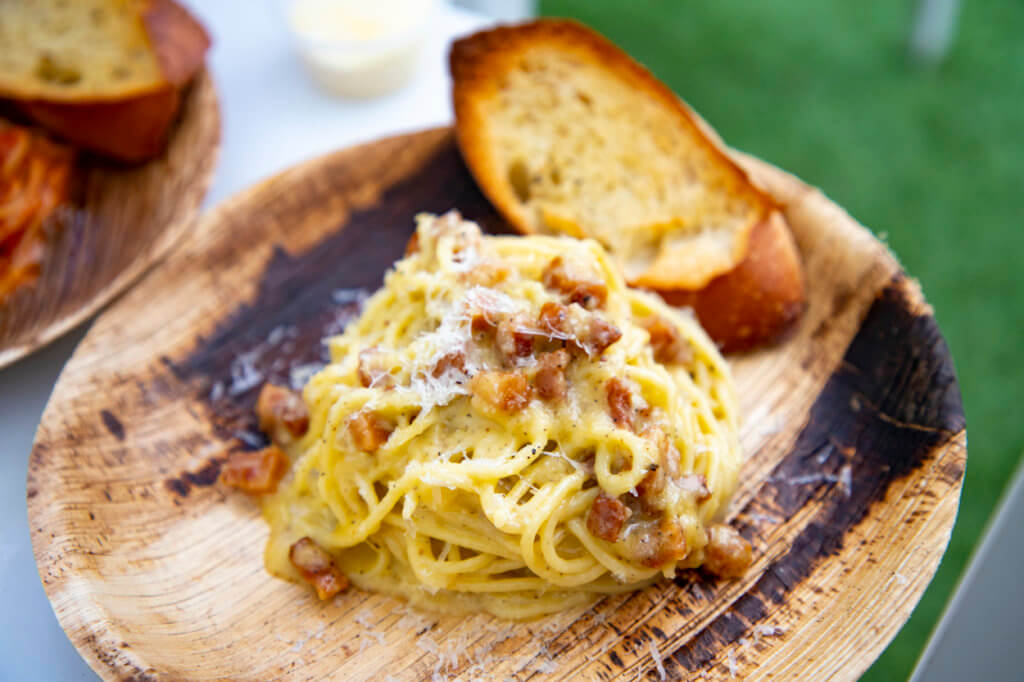 If cheese pasta isn't your thing, be on the lookout for the Arrabiatta special. Here, you get a choice of penne (traditional) or chef's take-chili spaghetti. While Arrabiatta is already spicy, the spaghetti gives the dish not only more zing but far more flavor too. You can taste the flavor of the chili in the pasta, making it more nuanced and savory. SO GOOD.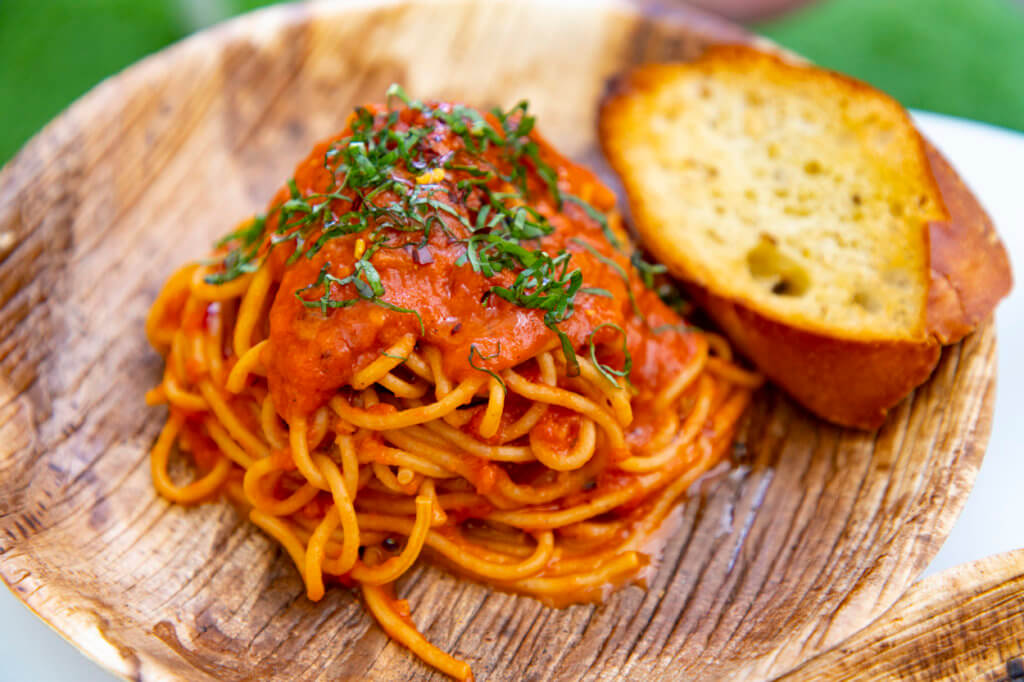 Now, one dish we enjoyed that isn't a special is the lasagna. Unlike your frozen aisle staple, this lasagna is light on cheese yet big on flavor. The filling changes from time-to-time, but during our visit, it was eggplant and Pono Provisions sausage in tomato sauce. Yum! Even better, if you score an edge or corner piece, you get to enjoy some crispy, cracker-like edges, which provides for a wonderful textural contrast.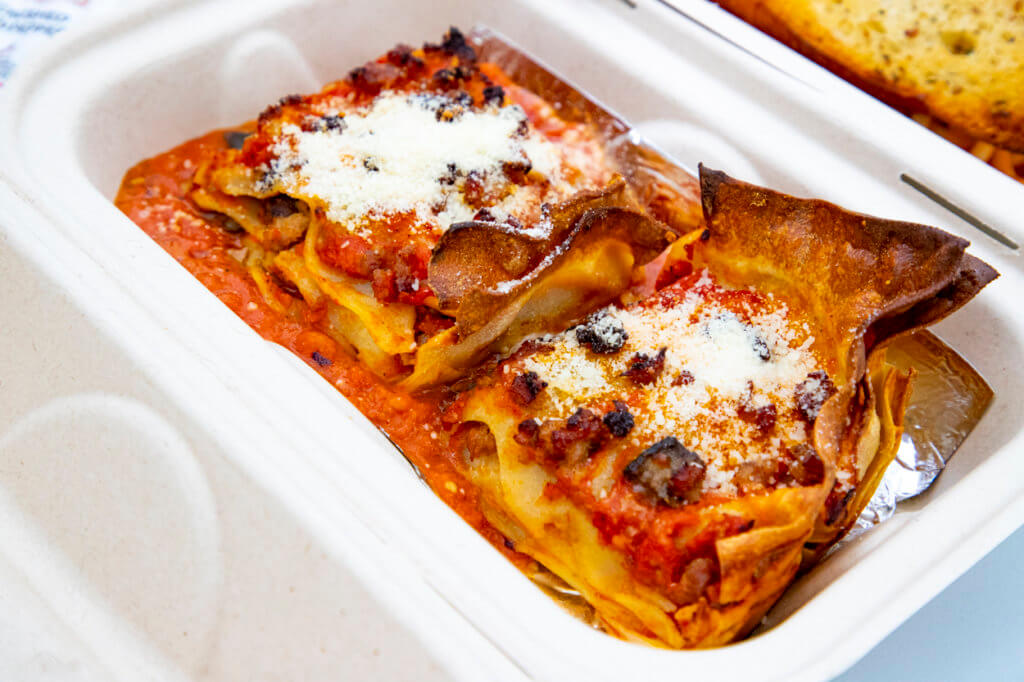 The last pasta we've tried is one of our all-time favorites – Bucatini All'Amatriciana. This Roman classic combines guanciale or pancetta with tomato, chili pepper, and pecorino. The resulting pasta is an umami bomb that's just oh so good. And even though I make a mean version myself, I wouldn't hesitate to order this again.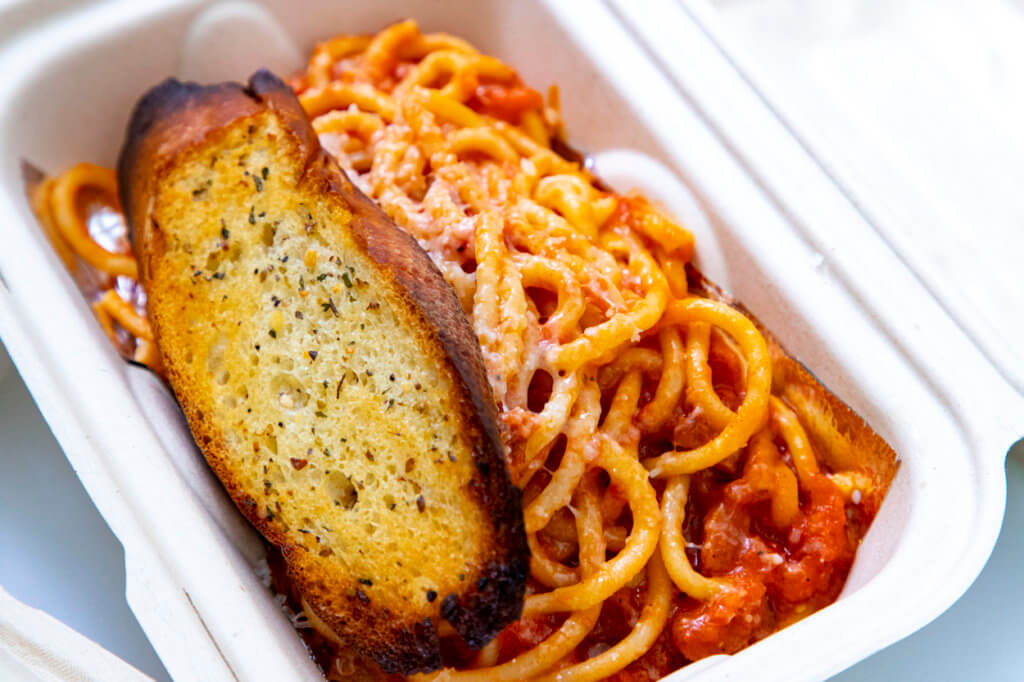 Piccola Onda Pricing
At the time of this writing, prices at Piccola Onda range from $8 for a Caesar Salad to $18 for their Squid Ink Rissotto. Most pasta, though, comes in at $14 each. That means, for about $35 including tax and tip, you can get lunch or dinner for two comprised of some of the best pasta in Hawaii.
You can order your meal online to save some time, but the specials are seldom available this way. So, if you want to check out their specials, make sure to order in-person or give them a call at 808.367.6373
Double Fat Ice Cream
Located in a little hut behind Piccola Onda, Double Fat Ice Cream is one of Hawaii's best ice cream shops. It isn't good because they use double the fat, though. "Double Fat" is a play on words since fat is important to ice cream, but it also means happy in Chinese. So, the business's name implies you'll have double happiness when eating their ice cream – something I totally agree with.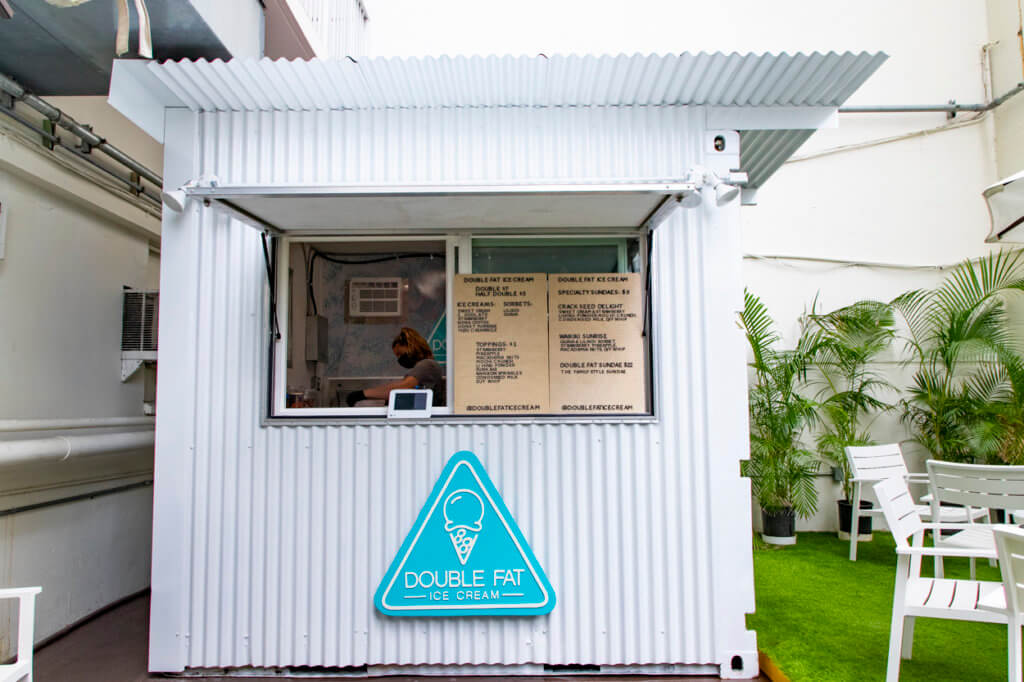 Standard Ice Cream
Double Fat Ice Cream isn't your typical ice cream shop. There are some interesting flavor combos happening here. That said, there are traditional flavors available too. The chocolate ice cream, for example, has a deep chocolate flavor and velvety texture, while the strawberry ice cream is a more natural take, using real strawberries sans the artificial color. For all you coffee lovers out there, the Kona Coffee flavor isn't to be missed. It's like the best latte you've ever had but in ice cream form.
Unique Flavors
Then, there are the more unusual flavors such as Yuzu Creamsicle and Honey Furikake. I love yuzu so that flavor is right up my alley. I also love furikake, so I was sure going in that this would be another flavor I'd like. That said, if you aren't into savory-sweet flavors, this one might be a little weird to you. If you do like it, though, I recommend giving it a try with some mochi crunch. The resulting combination is not unlike enjoying a bowl of Hurrican Popcorn only, you know, cold, creamy, and sweet.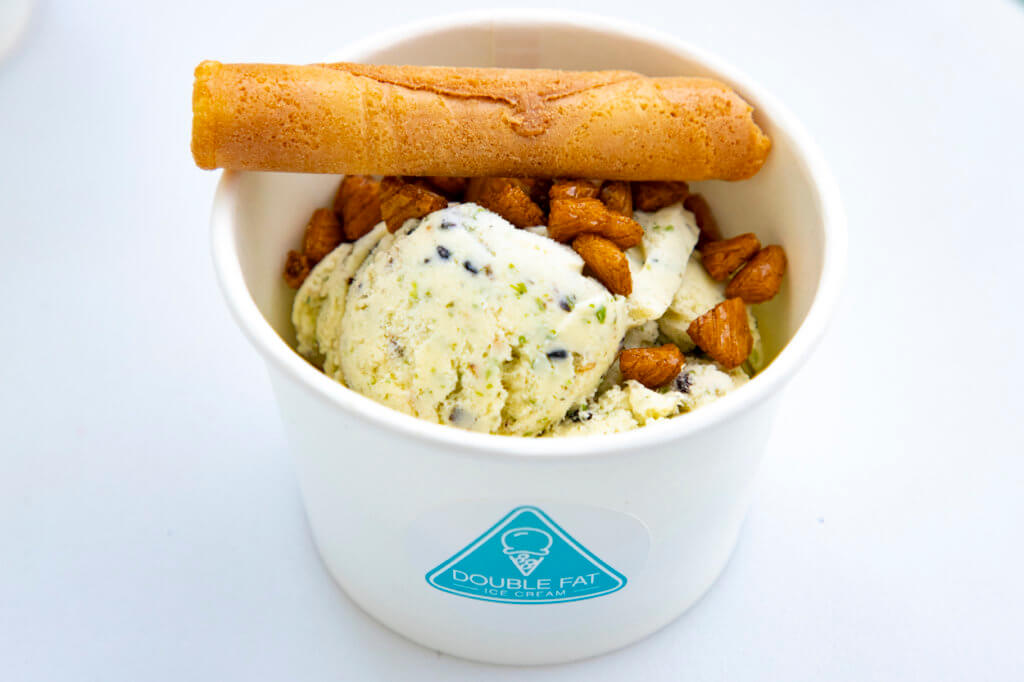 Crack Seed Delight
The thing that everyone has been raving about since Double Fat opened is the Crack Seed Delight. Now, if you're not from Hawaii or of Chinese descent, you're probably wondering what the heck crack seed is. Basically, it's preserved fruit that's often heavily salted and has a salt, sour, sweet flavor profile. The cult classic here in Hawaii is Li Hing Mui, a type of Chinese salt plum that we eat whole, sprinkle on pineapple, or even use to rim a margarita. But, except for the pickled mango li hing ice cream PAI Honolulu makes, you really don't see crack seed being used in these types of preparations. If done right, though, the combo works incredibly well.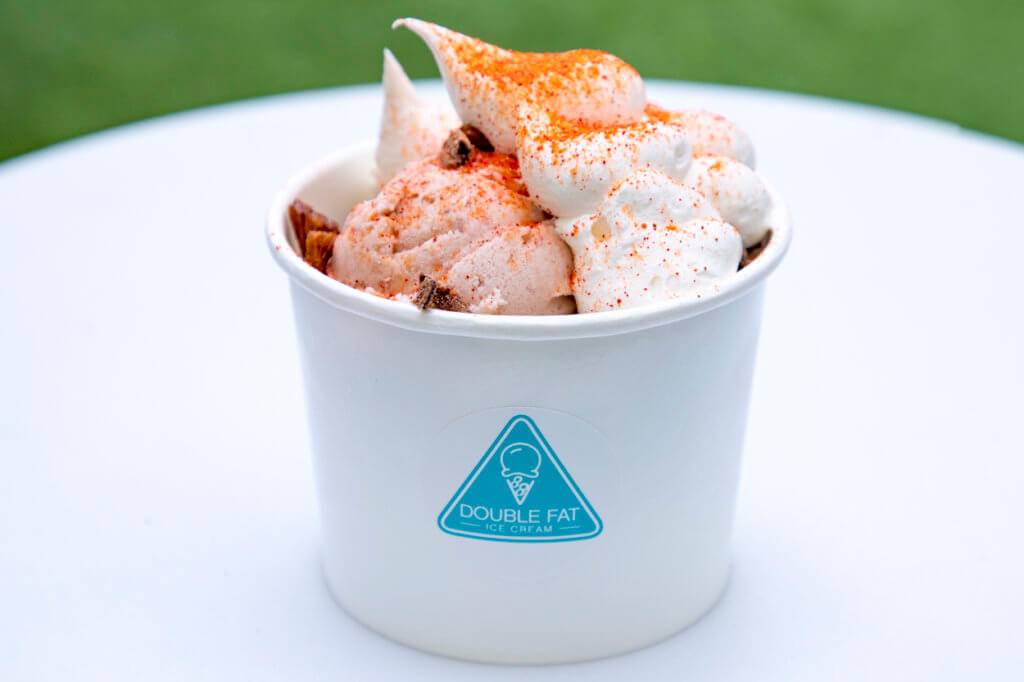 In this only-in-Hawaii interpretation of a sundae, a base of sweet cream and strawberry ice creams are topped with sweetened condensed milk, mochi crunch, little bits of crack seed, Double Fat whip, and li hing powder. As you might imagine, the end result is a sweet, salty, sour, cold, creamy, and crunchy mix of flavors and textures. But, be on the lookout for those bits of crack seed – they pack a salty punch! It surprised the hell out of me the first time I hit one. However, when all components of the Delight are eaten together, it makes for a very tasty if not unusual flavor experience.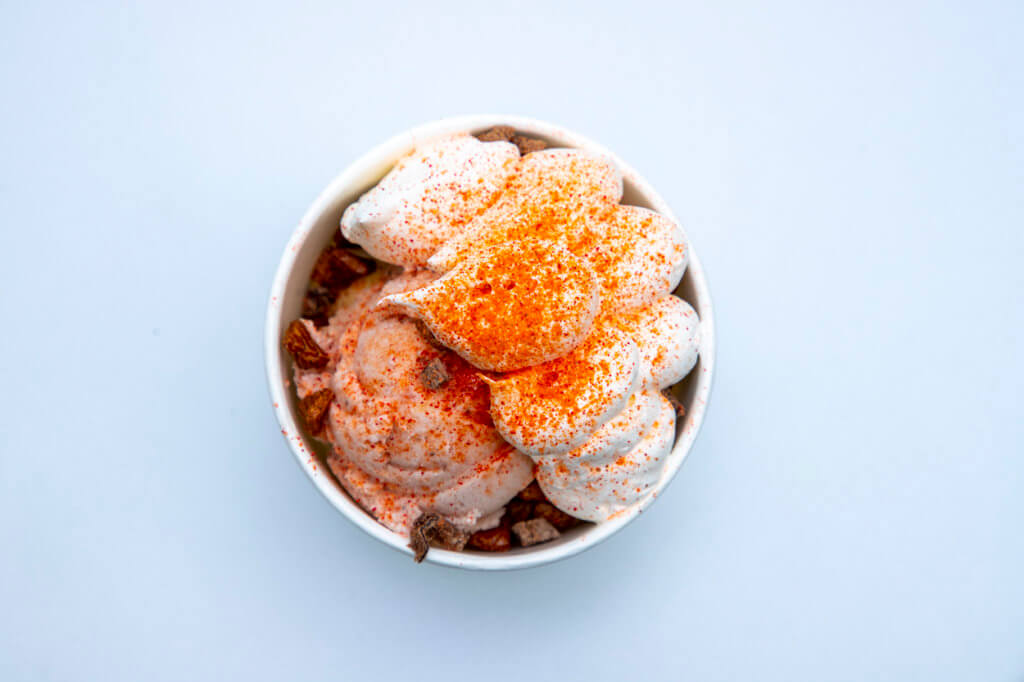 Double Fat Ice Cream Pricing
There are two standard sizes at Double Fat Ice Cream the Double ($7) and the Half Double ($5). The double looks like it's the equivalent of four normal-sized scoops. The Half Double gets you about two scoops. These prices apply to both ice creams and sorbets, while toppings come in at $1 each.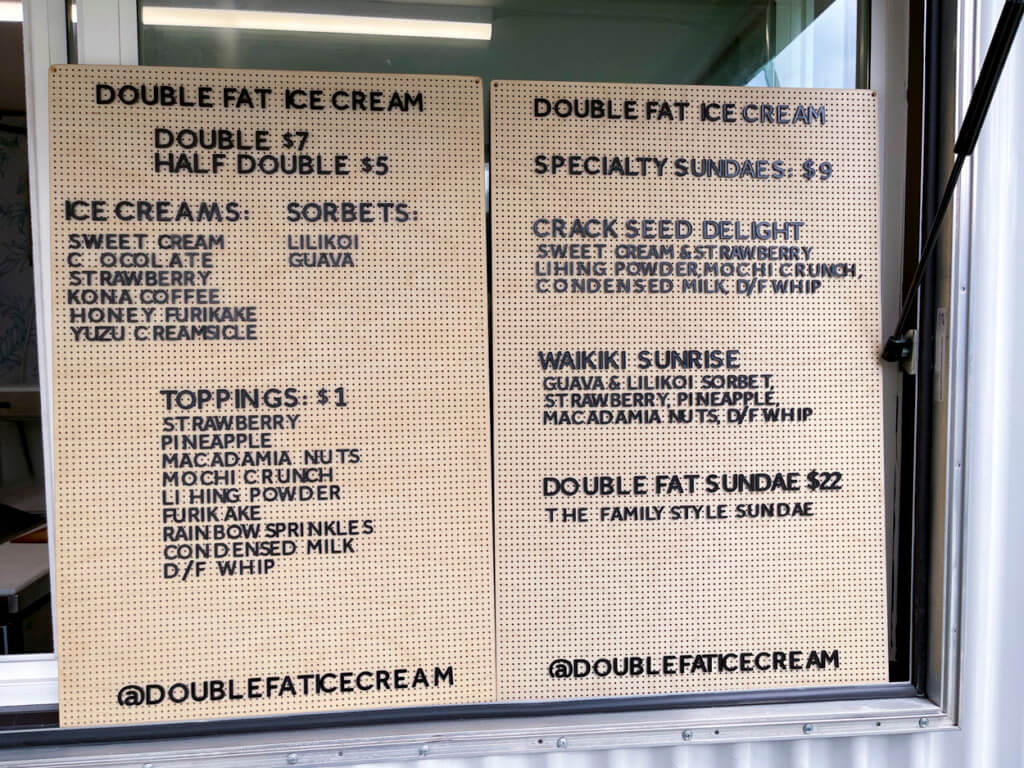 As far as sundaes go, you've got two options – the aforementioned Crack Seed Delight and the sorbet-based Waikiki Sunrise. Both come in at $9, which is a bargain, in my opinion. But, if you've got a big group or just want a giant bowl of ice cream, you can also go for the family-style double Fat Sundae for $22. Good luck to you if you do.
Seating
During our visits to this fantastic secret spot, I noticed most people tend to get their orders to-go. Which is understandable given the state of the world right now. But, if you choose to dine in, there's a collection of seats, umbrellas, and small tables next to Double Fat. I'd say about eight or ten people could fit back there.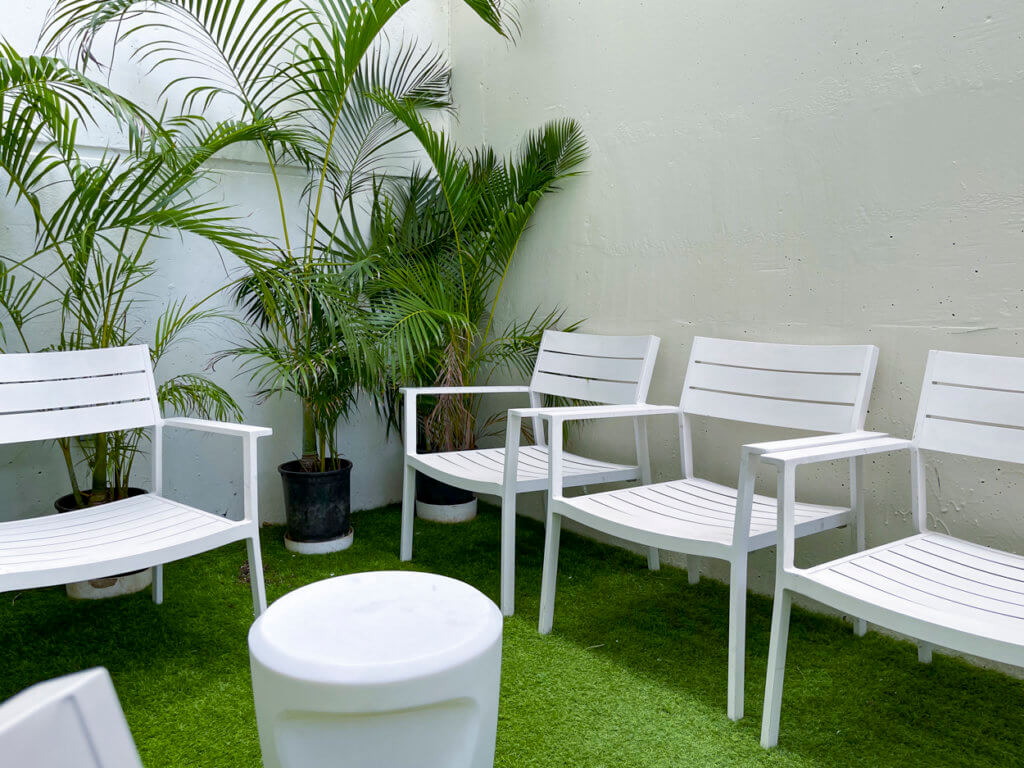 The Tastiest Secret Spot in Waikiki, Final Thoughts
Times continue to be difficult for the hospitality industry as a whole. But, it's encouraging to see that, through it all, there are entrepreneurs that are still willing to take a chance. And, at least here on Oahu, the results have been delicious. After all, last year, Mark Noguchi and Chris Kajioka teamed up to give us Papa Kurt's. Now, Will Chen, along with Andrea Onetti and Brandon Lee, has gifted us this fantastic little foodie oasis – and I couldn't be happier. So, whether you're a local or a visitor, I encourage you to go give this secret spot in Waikiki a try.