For years, I've passed by Poke by the Pound when driving along Honolulu's Nimitz Highway. So while searching for a place to have lunch during a recent weekend, I decided to drop in and give them a try.
Poke by the Pound Location
Located in the Honolulu neighborhood of Kalihi, Poke by the Pound occupies a highly visible location on the corner of Nimitz Highway and Kalihi Street. There's a good amount of parking out front, so finding space shouldn't be. People don't tend to hang around all that long either, as this is primarily a takeout spot.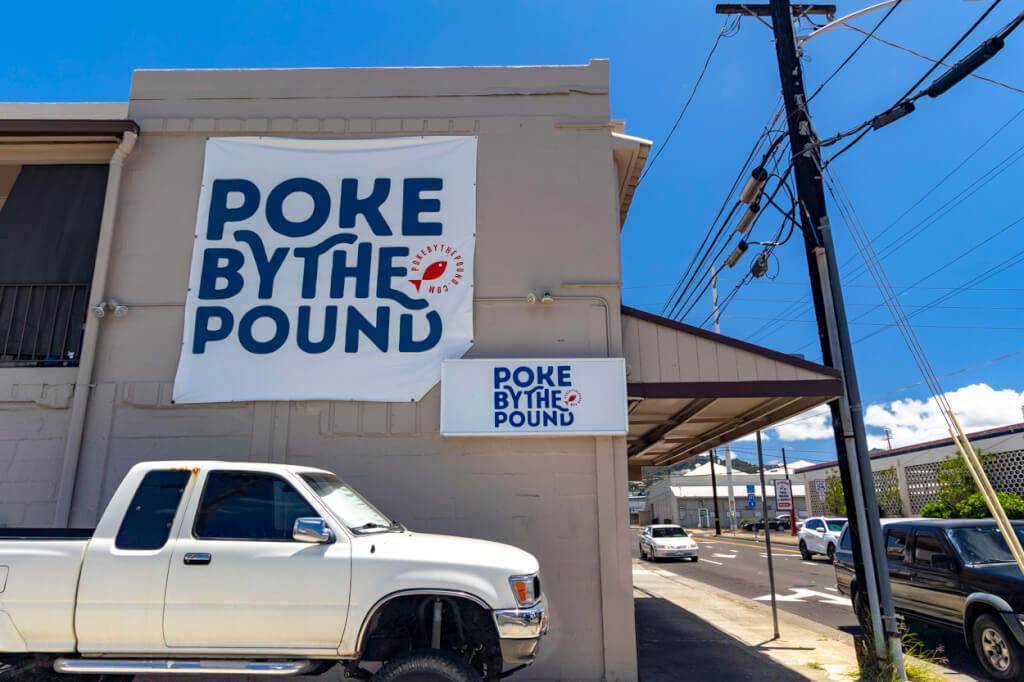 Poke by the Pound Menu
Poke by the Pound has a relatively small menu of poke and hot items. The hot menu includes just four options, including Miso Salmon, Furikake Salmon, Ahi Steak, and Ahi Belly. Six items make up the poke menu: Shoyu Onion, Limu Kukui Nut, Spicy Tuna, Hawaiian Salt, Tako Poke, and a special flavor. For poke, you can buy containers by weight or poke bowls with rice for a fixed $15.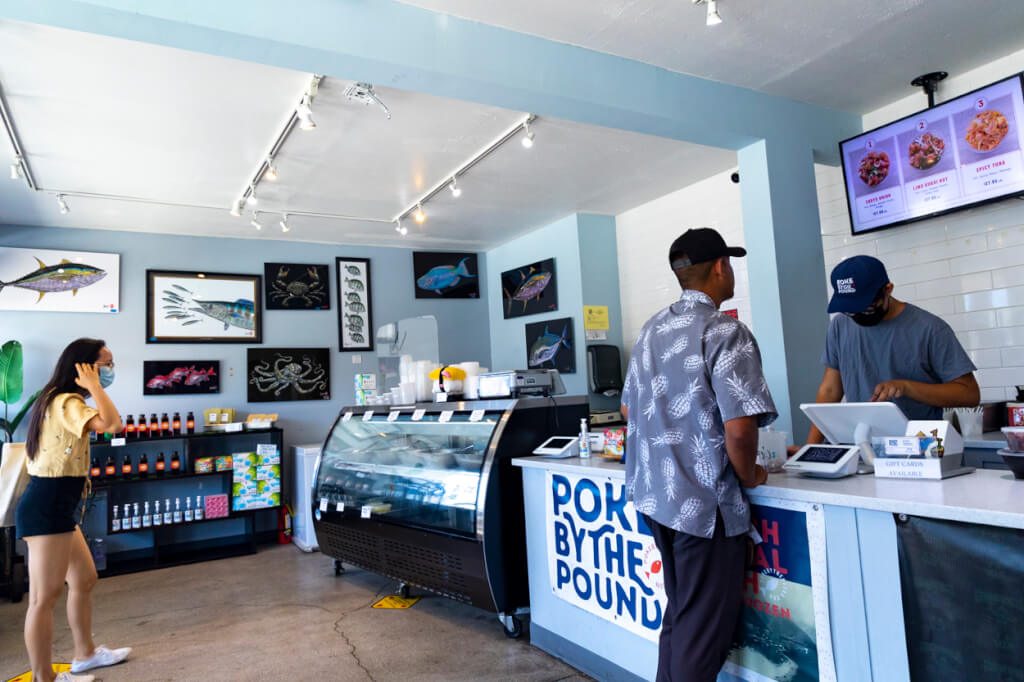 What We Ordered
Going into our visit, I knew I wanted to give the Limu Kukui Nut a try, as I love Hawaiian-style poke featuring inamoa – roasted kukui nut. I also wanted to try the shoyu onion, as this is usually my second favorite type. Mrs. Island Miler also wanted to try the Hawaiian and the spicy. But when we got there and saw that the special of the day was garlic, we decided to try that too. That's why we ended up ordering two bowls – one with Shoyu Onion + Garlic and Spicy + Garlic – plus a container of Limu Kukui Nut.
Before I get into the individual flavors, I must say, the fish Poke By the Pound uses is fresh, great quality stuff. I'd say they're in line with the likes of Off the Hook in this regard.
Shoyu Onion + Garlic
Poke by the Pound's Shoyu Onion looks and sounds great. In the mix are fresh ahi, sweet onion, green onion, and ginger. What's not listed on the menu is the red pepper flakes. A problem? Not for Mrs. Island Miler. For me? Kind of. This poke was quite spicy for me. That said, the flavor is good. The shoyu is there but isn't overly assertive. The sweet onions were sweet too without any acrid flavors.
As for the garlic, this version combines oyster sauce, green onions, crispy minced, and whole garlic cloves. The garlic flavor is assertive without being over-powering.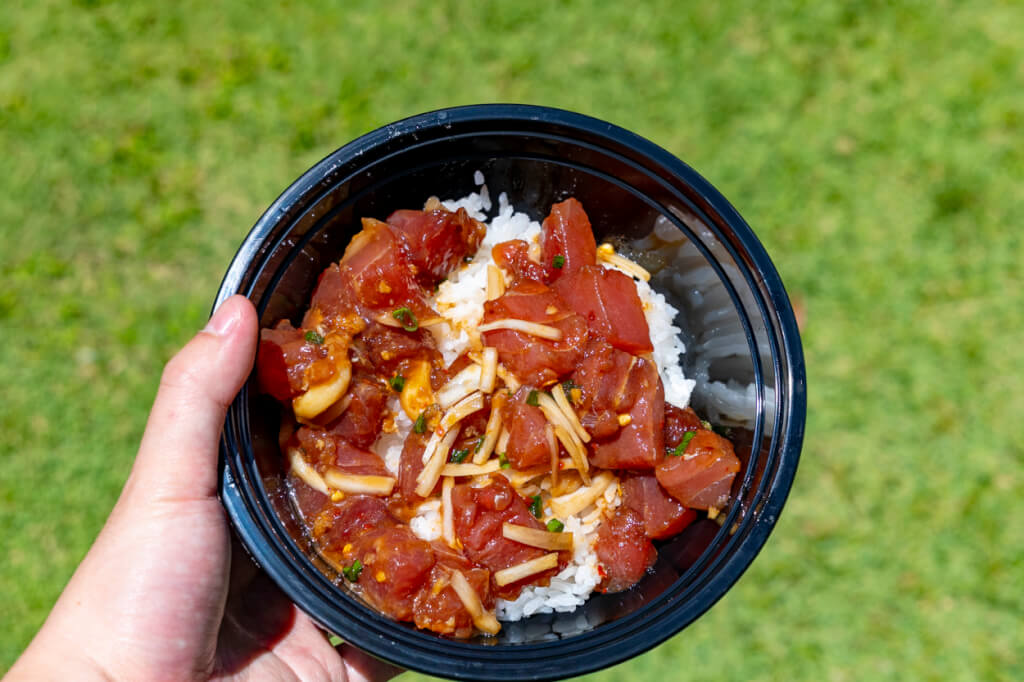 Spicy + Garlic
I didn't try any of the Spicy, as Mrs. Island Miler said it's spicy, even for her. That said, she's a fan.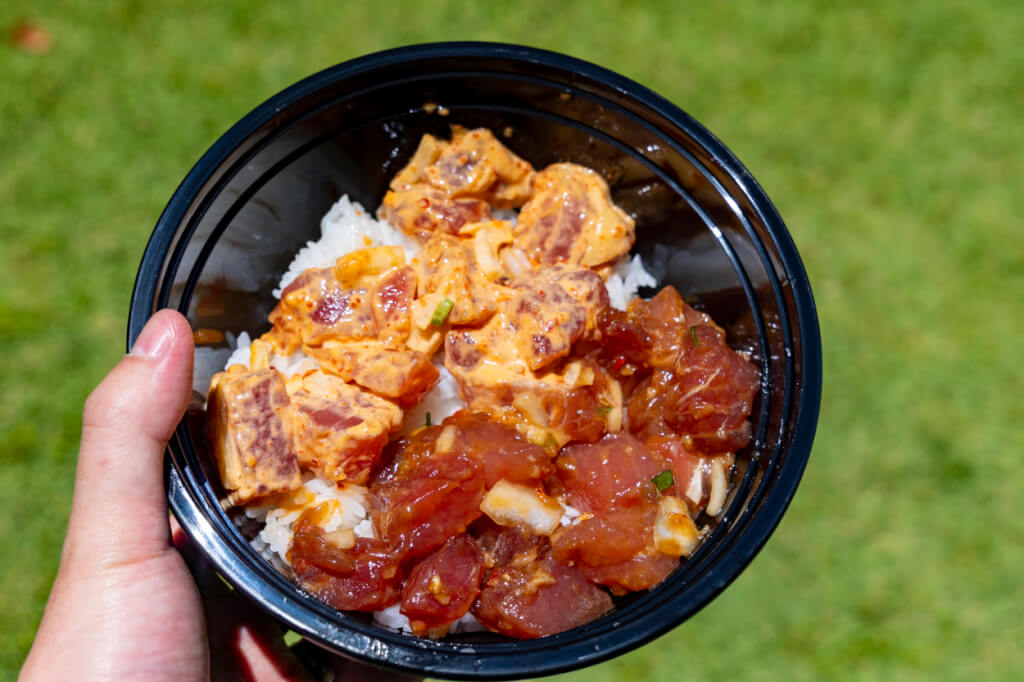 Limu Kukui Nut
This one has the mildest flavor of the three. The menu states just three ingredients – inamoa, sweet onion, and kukui nut. Like the shoyu, though, there's a healthy amount of red pepper in the mix. The resulting poke is quite spicy, though it doesn't have much in the way of inamoa flavor.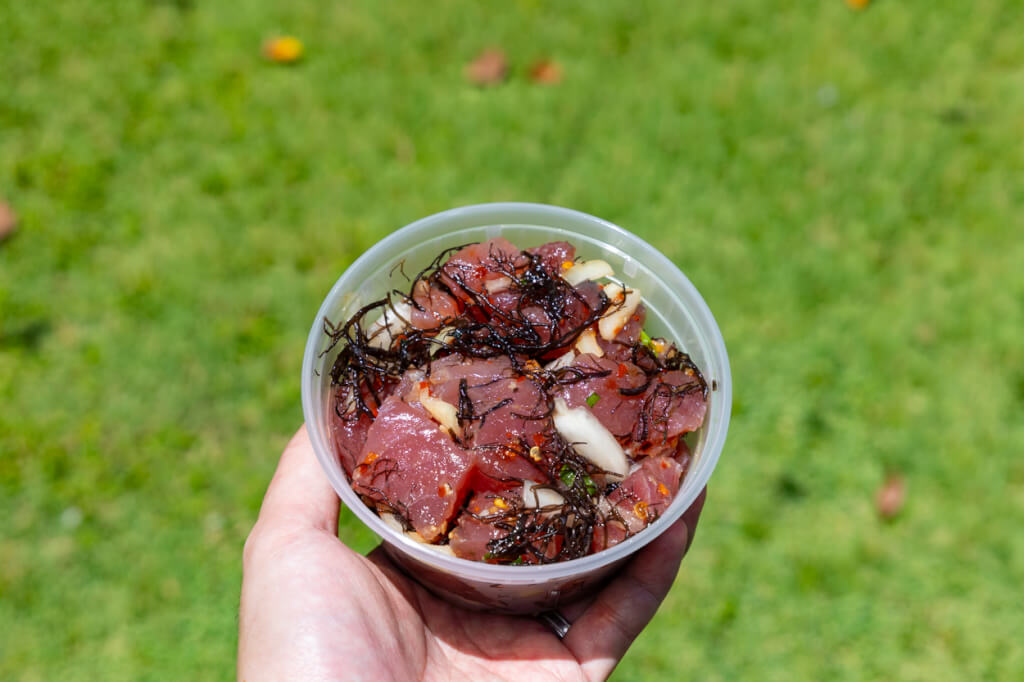 Final Thoughts
Overall, I'm pleased with Poke by the Pound's quality. If I had to nitpick, I'd say they should use smaller bowls for their poke bowls. They weigh out poke portions for consistency, but it looks downright chintzy in these large bowls. But the larger portion of rice came in handy for me. As I mentioned earlier, all of Poke by the Pound's poke is pretty spicy to me. So, while their stuff is good, this isn't a shop I'll be returning to. For Mrs. Island Miler, on the other hand, the poke was fine. In fact, she loved the level of spice! To each their own. If you like spicy food, I encourage you to give them a shot!
If you do plan on paying Poke by the Pound a visit, I suggest ordering online. Save yourself the wait!