During our most recent stay at the Waikiki Beach Marriott, we were given a credit for the hotel's newest eatery – the Queensbreak Restaurant. Wanting to maximize the value of this stay, we decided to go check them out for pupus and cocktails.
As part of its recent top-down renovation, the Waikiki Beach Marriott did something smart. They took what was once empty dead space between the property's two towers and turned it into a new restaurant. Sure, that means the area doesn't have great views, but it's nice enough and gives guests more options.
Queensbreak Restaurant Location
As I mentioned, the Queensbreak Restaurant is in the area between the Waikiki Beach Marriott's Kealohilani and Paoakalani Towers. Specifically, it's on the pool level – Kealohilani Tower level 3 – fronting Ohua Avenue. For my local readers, that's the Ewa side of the property above Arancino di Mare. If you're coming out of the Kealohilani elevator bank, turn right and then right again when you get to the turf lawn.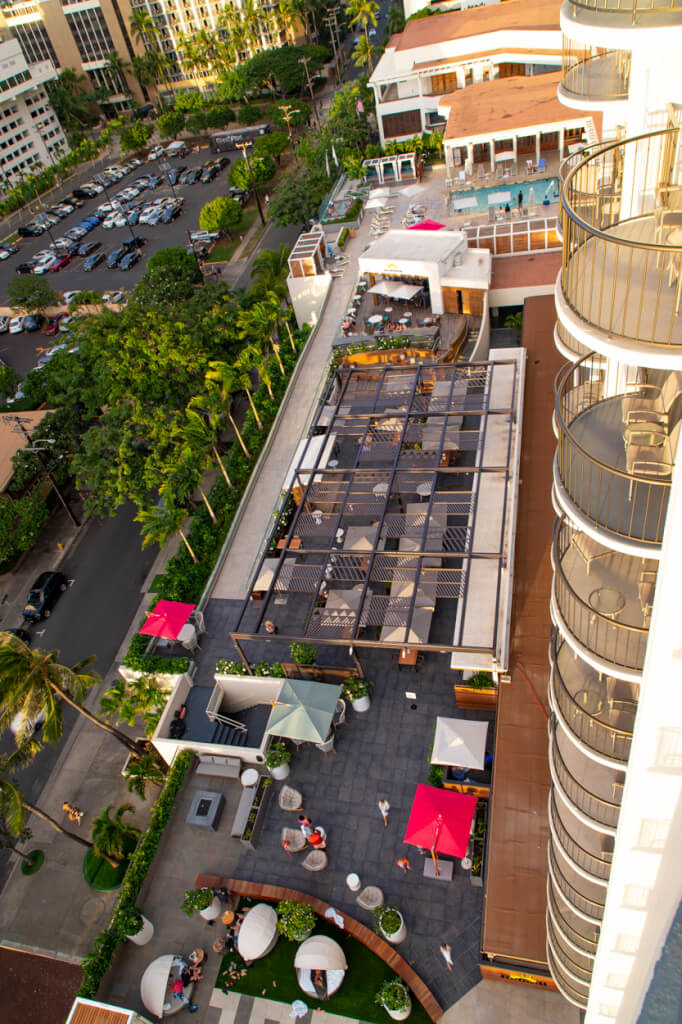 Queensbreak Restaurant Vibe + Service
Despite its location, the Queensbreak Restaurant has a pretty cool vibe. The open-air restaurant is surrounded by vegetation giving it a sort of hideaway feeling. Think Hideout at the Laylow, though a bit less loungy and more restauranty and you've got the right idea.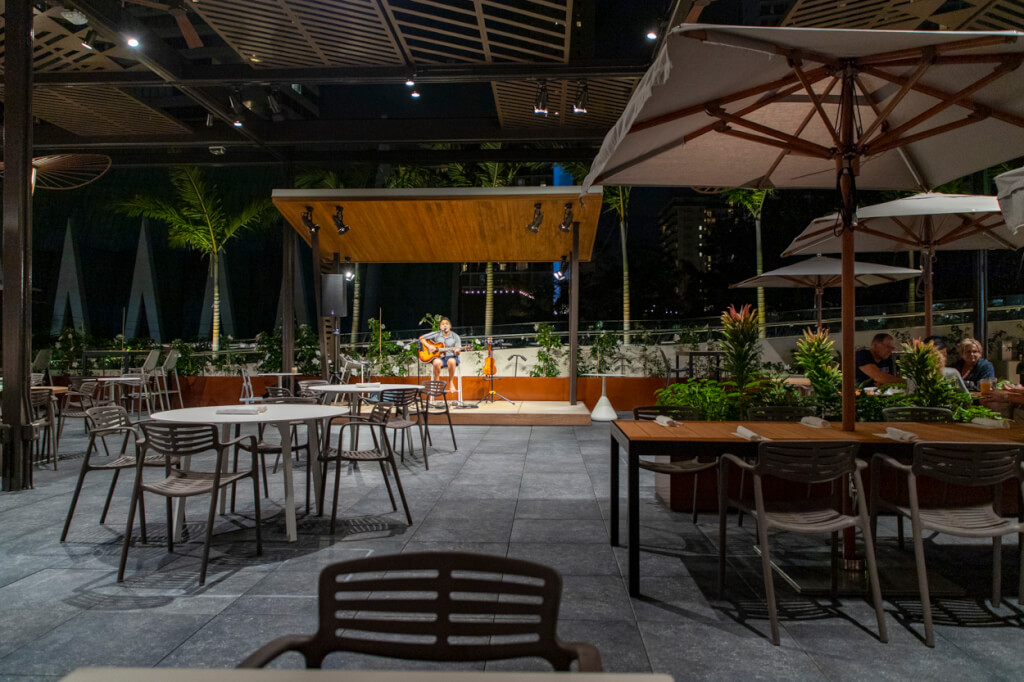 The night we were there, they had live entertainment. I didn't catch the guy's name, but he switched between singing and playing instrumentals. It leant well to the overall atmosphere, but we did notice that he repeated a lot of songs throughout the night – we could hear the music from our room.
Service. I'm going to give them a pass on this for now given the newness of the restaurant and the current operating environment. That said, service is well-intentioned but scant. Our server vanished for a good while meaning we got stuck there longer than we wanted to.
Drinks
To start, I ordered the Queen's Bees Knees and Mrs. Island Miler went with the Grace & Grit, both of which came in at $15. My drink was simple, combining Fid Street Gin with a Honey Calamansi Sour. Interestingly, it didn't quite taste like calamansi. To me, it was like drinking tangerine juice with gin, but was tasty nonetheless. Mrs. Island Miler's drink is a standard Margarita blended with guava and lychee, though it tasted generically tropical to us. Still, it was good enough and a bit dangerous. Side note – they use plastic glassware here, which was interesting. Then again, Queensbreak also serves as the pool bar, so that makes sense.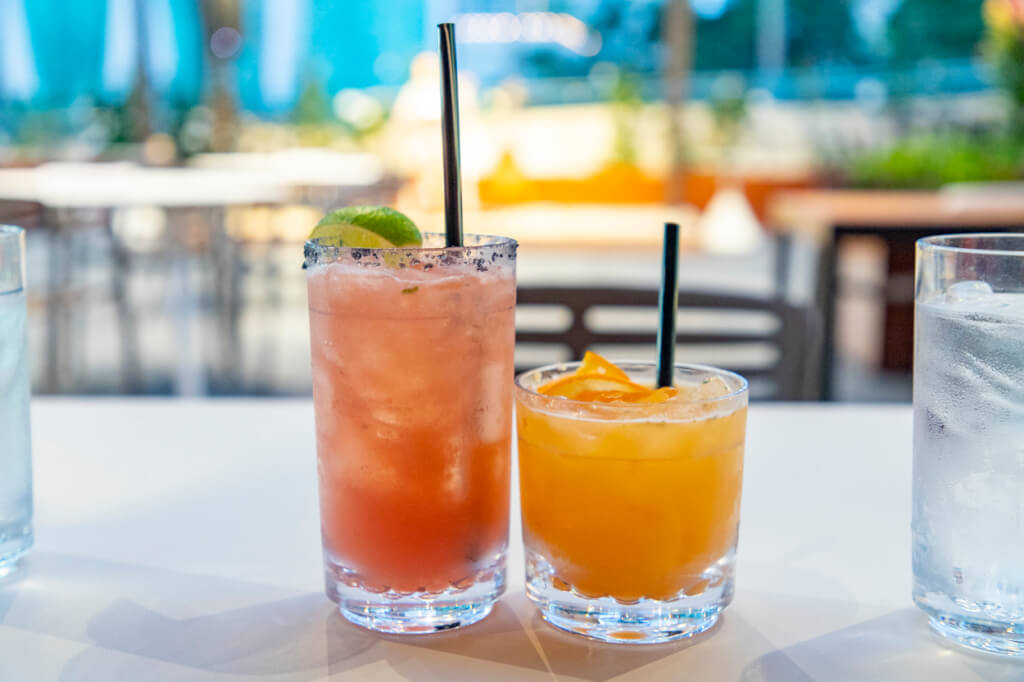 Food
We wanted to keep things light and ended up ordering only two dishes – the Fresh Island Poke ($20) and the Mushroom Flatbread ($19).
I'm usually leery about ordering poke at hotel restaurants, but the menu at Queensbreak says they use inamoa, which is encouraging! In fact, their version sounds like a mash-up of traditional Hawaiian and shoyu-style poke, including ahi, kukui nut (inamoa), ogo, Maui onion, shoyu viniagrette, and a side of taro chips. The ahi was fresh and perfectly seasoned, while taro chips are always a welcome addition to me.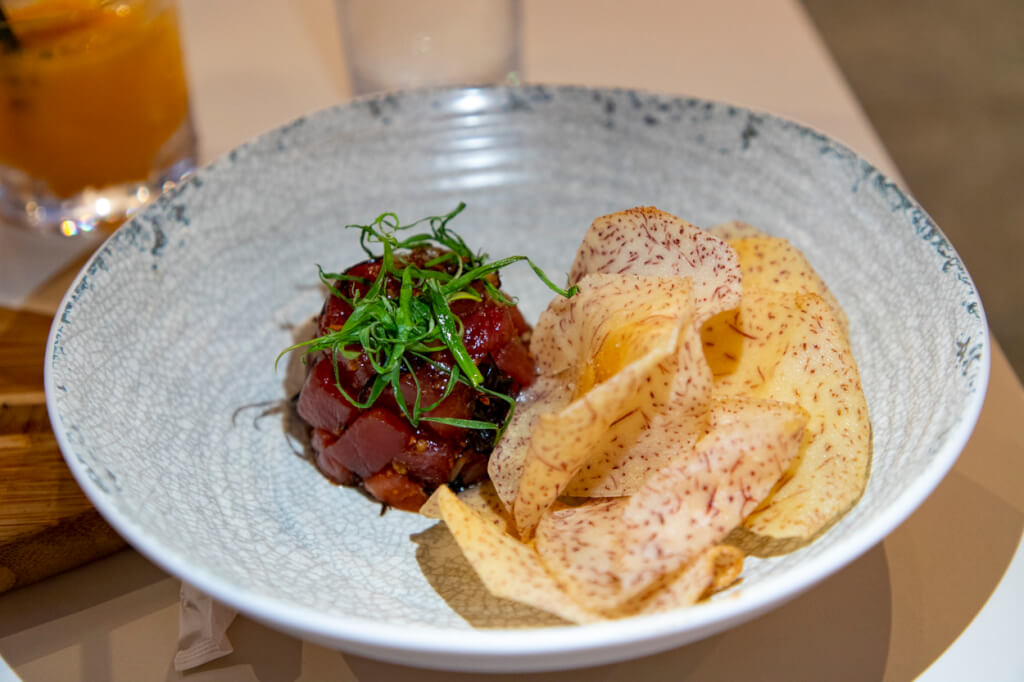 The Mushroom Flatbread, while tasty, was a little less successful. This thing comes loaded with Hamakua Mushroom, goat cheese, mozzarella, Maui onion jam, tomato, basil, and sea salt. And while bites containing all of the ingredients were marvelous, they weren't quite evenly distributed. What's more, the combination of mozzarella AND goat cheese was a bit much. Nevertheless, we liked this enough that we'd probably order it again.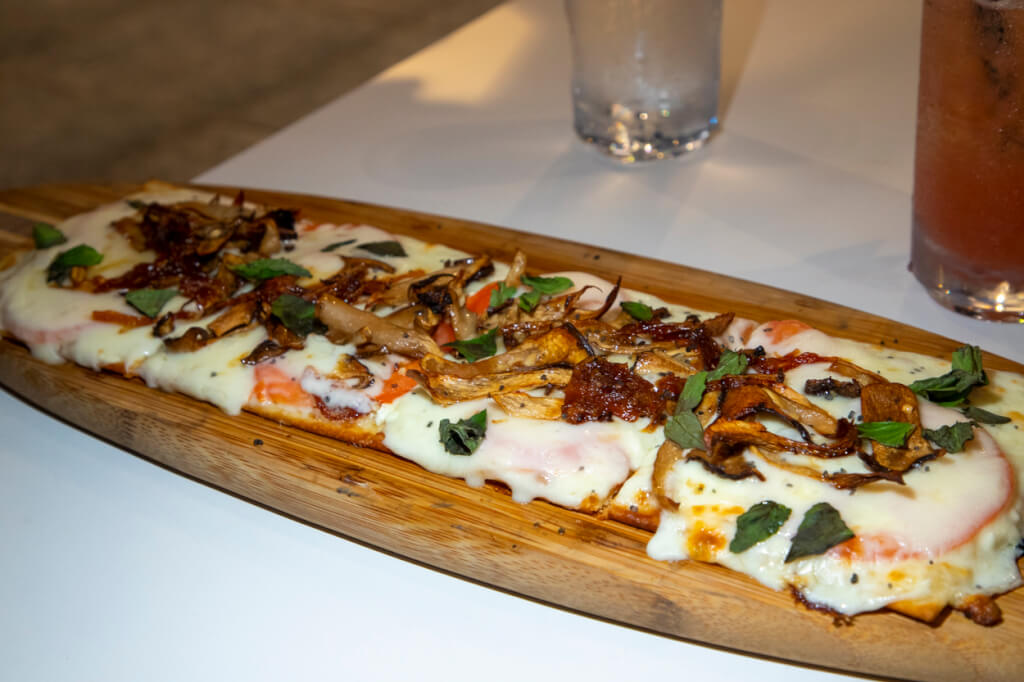 Final Thoughts
Our final tab came out to over $80 including tax and tip. That's A LOT  for appetizers and drinks, but hey, that's Waikiki. And, really, what we ordered could've easily been a light meal, so I'm not complaining. Plus, the F&B credit we received certainly helped take the sting out of the price too. Overall, I think the Mrs. and I both agreed that Queensbreak is someplace we can see ourselves returning to. My one wish is that they expand their menu a bit. Hopefully, one day.