Of all the times I've stayed at the Waikiki Beach Marriott, I've never gotten a room larger than a Jr Suite. But that all changed during my recent stay, which was great! So let's talk about the Waikiki Beach Marriott Deluxe Suite since there really isn't much information about it out there.
Recently, I mentioned that I've had good luck with using my Marriott Suite Night Awards in 2021. That continued to hold true for my very last stay of the year at the Waikiki Beach Marriott. Actually, things almost didn't go quite the way I was hoping for. You see, when my SNA initially cleared, I was assigned a Deluxe Suite. A day later, however, that was downgraded to a Jr Suite. The outstanding guest services team reached out days before to provide information about my upcoming stay, so I decided to inquire about the change.
They stated that they downgraded me to keep me in my preferred bed type (king). You see, the Deluxe Suite only has one bed type – two queens – so they proactively did their best to put me in the best room with my preferred bed type. How awesome is that? But after reassuring them I preferred the larger room, they changed me back to the Deluxe Suite.
Waikiki Beach Marriott Deluxe Suite
I've covered the Waikiki Beach Marriott in detail before. So, if you want to learn more about the check-in experience, please see my past posts. Suffice to say, not much has changed since my last visit in 2020. There's still no valet and you still get a pack of alcohol wipes at check-in. Oh and my room was ready by 8 am that morning – far earlier than I requested!
Deluxe Suite Location
Once we got all checked in, we headed up to our room on the 16th floor. Now, here's something to keep in mind. The Waikiki Beach Marriott Deluxe Suites are in the Kealohilani Tower, which is an L-shaped tower fronting Kalakaua Avenue. As a result, the rooms with the best views are the Ocean Front Jr Suites. The Deluxe Suites? They're located back in the shorter part of the building, which has some pros and cons to it. First, the pros – it's a short walk from the elevators to the Deluxe Suites, they aren't immediately next to the elevators, and there are few rooms near them, making them some of the quieter room types. The one major con, however, is that, while you still have an ocean view, your view also includes the interior of the L, meaning your balcony faces a majority of the other ocean view rooms.
Layout
Try as I might to find more information about the Waikiki Beach Marriott Deluxe Suite at Marriott.com or other sites, I couldn't. So, here's what you can expect. As you enter the room, you'll find yourself in a small landing area. Immediately to the right through a set of double doors is the master bedroom. Directly across from the entrance is the second bathroom. And, to the left of the entrance is the dry bar and living area.
Dry Bar
The bar area in the Waikiki Beach Marriott Deluxe Suite features a single-cup coffee maker, all of your coffee making supplies, an ice bucket, a fridge, and a large safe. There's also a connecting door here for those that wish to turn these one-bedroom suites into a two-bedroom suite.
Waikiki Beach Marriott Deluxe Suite Living Room
The living room in the Waikiki Beach Marriott Deluxe Suite is an expansive area featuring a large sectional, a chair, a strange coffee table, a dining area, a TV, and two balconies.
To the left of the TV is a set of empty shelves, which is a little odd, while right below it are the only dressers you'll find in the entire suite, which is also a little strange. What's more, the position of the TV isn't ideal, since it faces the dining table rather than the sectional. This made watching TV for us a little more difficult since those dining table chairs aren't all that comfortable. The rest of the furniture in the living room, however, was quite comfy.
It's worth noting that the best balcony in the room is the one next to the sectional in the living room. This is the only one that points directly out towards the ocean.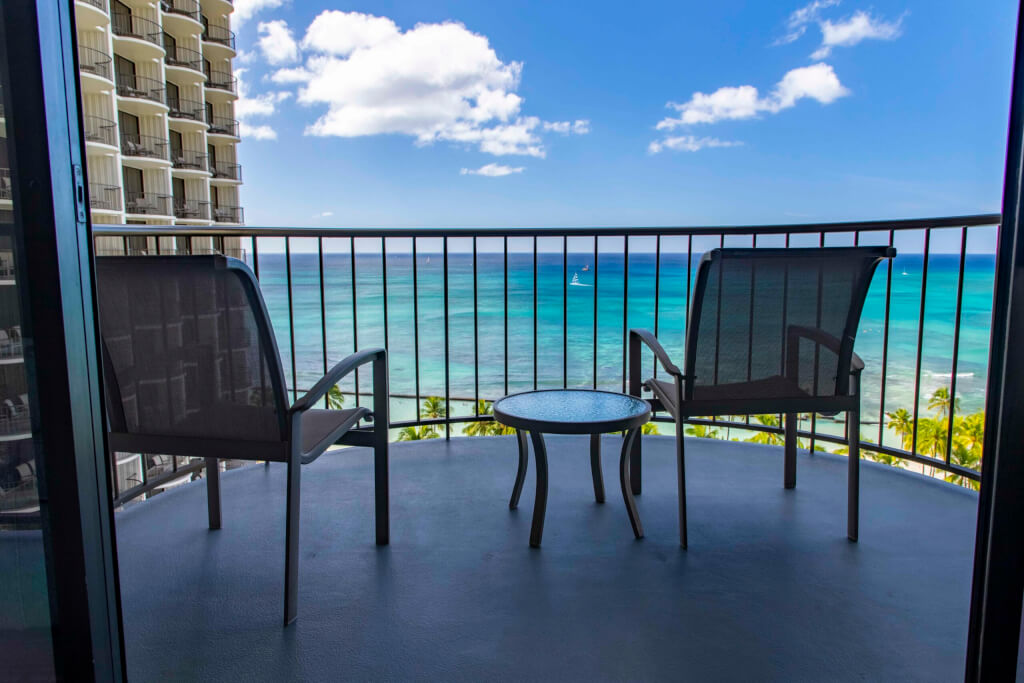 The other balcony off of the living room faces directly towards the adjacent apartment building, though you do have ocean views if you look off to the left. This balcony, however, has chaise chairs available and is where I ended up spending a good deal of my "outdoor" time.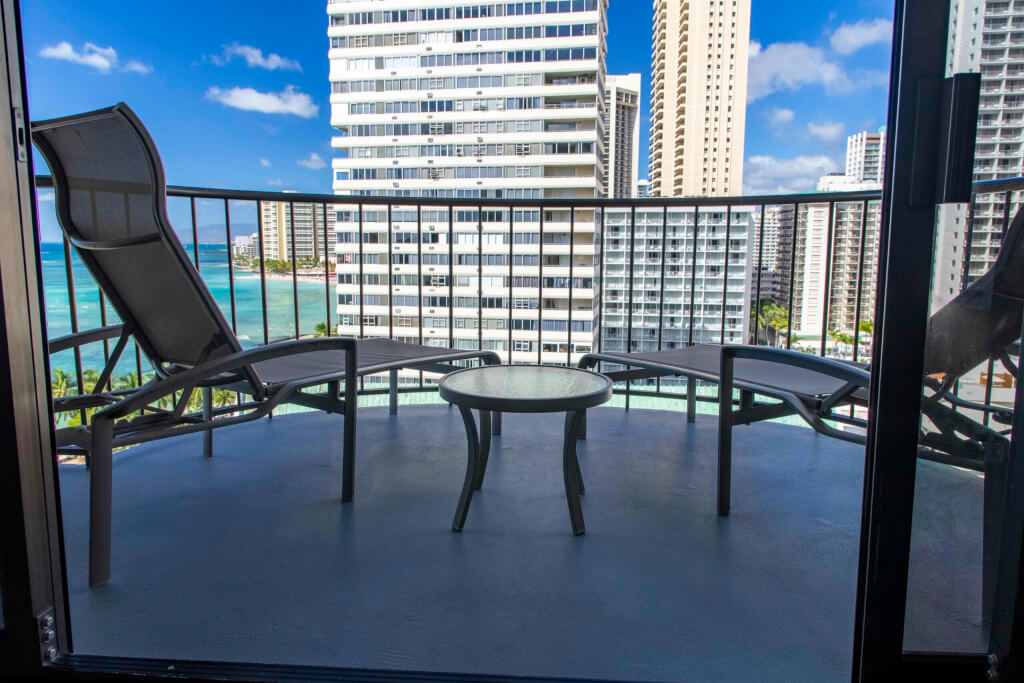 Waikiki Beach Marriott Deluxe Suite – Guest Bathroom
Perhaps the most unusual feature of our deluxe suite was the guest bathroom. This bathroom is actually two separate rooms – one with a closet and a vanity, and another with a shower/tub, toilet, and vanity. This is also where you'll find the room's only iron and ironing board.
While this setup is a little unusual, I did like having it. It's always far more convenient to have two bathrooms rather than one – even just for the two of us. For those of you that travel as a family, though, I'd imagine this setup is is even more valuable!
Waikiki Beach Marriott Deluxe Suite – Bedroom
Far too often, I find that the bedrooms in one-bedroom suites are on the smaller side. Thankfully, though, that isn't the case here. In fact, I'd argue that the bedroom in our Deluxe Suite is larger than most standard-size rooms. Just take a look! Here you can see that there are two queen beds, a large table, two night stands, a love seat sectional thingy, a chair, a small table, and a large TV with a Blu-Ray player.
Ok, so the bedroom by itself seems a little bit smaller than the standard rooms here at the Waikiki Beach Marriott. However, when you add in the master bath…
Waikiki Beach Marriott Deluxe Suite – Master Bathroom
The master bathroom in our bedroom was quite large. There was no separate shower and tub as is the case in the Jr Suites. However, there is a dual vanity with closet, a decently sized shower, and another toilet. My only wish here is that they'd give us a Toto Washlet toilet or something similar.
Waikiki Beach Marriott Deluxe Suite View
You've already seen our view from my balcony photos above, but here are a couple of shots I took standing at the railing. Sure, it's not great seeing others on their balcony too, but it didn't bother us one bit. And while the views aren't quite as nice as what we enjoyed in our Ocean Front Jr Suite, they were still fantastic!
Thanks to the room's location on the side of the building, looking back also gives you a city/mountain view too. Sure, it isn't as breathtaking as the ocean views, but it can be nice in its own way too. Note: you can see the back half of the new Queens Break restaurant in the below photo, along with the smaller Paoakalani Tower pool. I'll be covering the new restaurant in a future installment.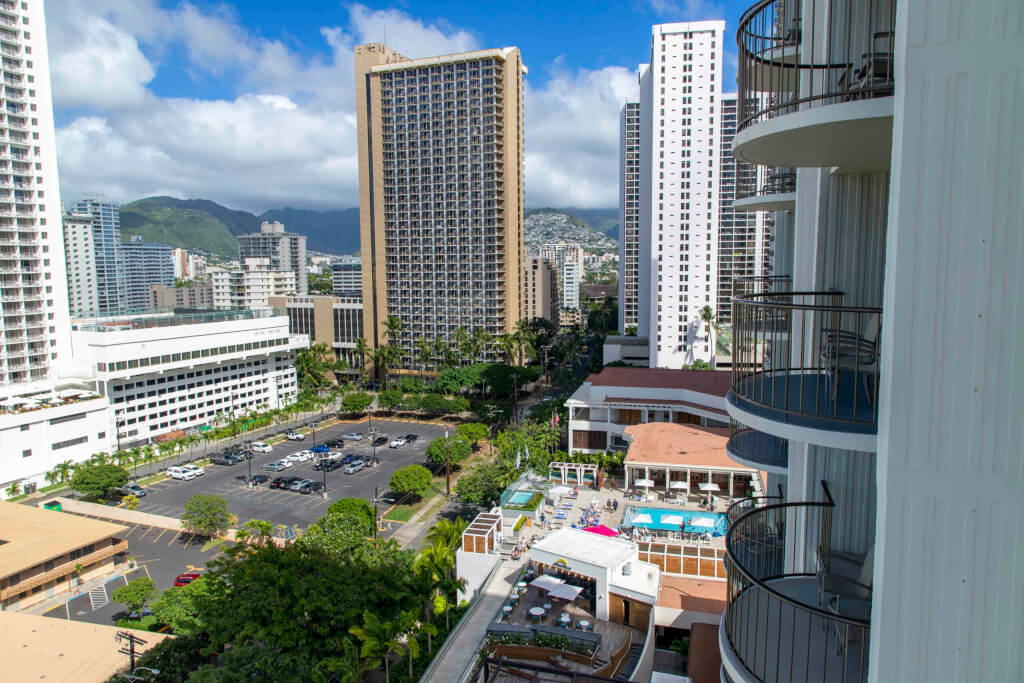 And if you looked straight down from our other two balconies, you could see the Kealohilani Tower pool with its keiki splash zone and the lawn. A new addition, the lawn features games during the day and a movie experience at night. Pretty cool!
As you can see, the property added a ton of cabanas on the pool deck during its renovation, as well as a couple of fire pits fronting Kalakaua Avenue. While the pool setup here isn't idea, it is far better than what's at the Hyatt Centric Waikiki. Plus, I'm glad to see the property make better use of what was once a huge amount of bare, open space.
The Nitty Gritty
As I mentioned earlier, the Waikiki Beach Marriott Deluxe Suite is a lot quieter due to its location. However, the doors and walls are still thin, so what hallways noise there is easily seeps into the room. That said, with the bedroom doors closed, you can't hear anything coming from outside of the room. Plumbing noise, unfortunately, is something you aren't going to get away from at this hotel. It wasn't bothersome for us, but it was noticeable.
HVAC in our room operated wonderfully throughout our stay. The sun blaring in during the late afternoon makes for a challenging cooling environment, but, overall, the system worked well and was near silent on low fan speed.
As far as water temperature and pressure go, both were excellent.
Oh, and, in case you're wondering, the Waikiki Beach Marriott did NOT install toiletry dispensers during its recent renovation. Single-use bottles are still the name of the game here.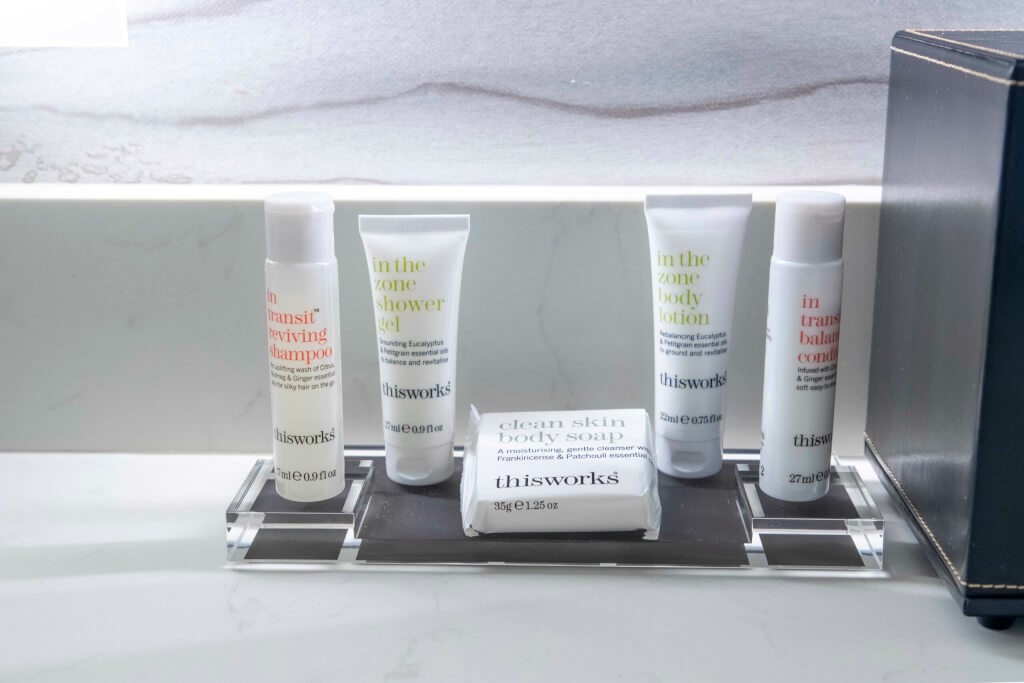 Final Thoughts
I went into this staycation supremely PISSED at the Honolulu Marathon organization. They defrauded participants and left us hanging. Kudos to those that still participated, but we did not. That said, the upgrade to this outstanding room along with some good eats really helped to take my mind off that issue and gave the Mrs. and wonderful, relaxing weekend away. So thank you to the staff of the Waikiki Beach Marriott. You guys are consistently among the best I've encountered in Waikiki and have always taken great care of us. That said, I was doubly impressed by the extra steps you guys took to ensure our needs were met this time around. Bravo!
And, sure, there are some design aspects of this suite that didn't quite make sense. But at the end of the day, it was a great space to spend a couple of nights in and we were sorry to leave. So I've got my fingers crossed that we'll land the suite again during our next stay later this year!