Recently, I had a hankering for some bagels & lox. Since we were in the area, I decided to check out Tali's Bagels and Schmear and Ward Center. This is the second bagel shop that's popped up in recent years, the other being Montreal-style bagel spot Empty Elle's in Kailua.
Tali's Bagels and Schmear Location
For those of you familiar with Ward Center, you'll know exactly what I'm talking about when I say that Tali's Bagels and Schmear is in the old Mocha Java spot. If you've never been, this is the miniature foodcourt area on the Ewa (west) end of the mall. You'll also find Fat Cheek's in this area, which is near the former Honolulu Chocolate Company location – now Diamond Head Chocolate.
Tali's Bagels and Schmear Menu
The menu at Tali's Bagels and Schmear is fairly simple. At its most basic, you can order one or a dozen regular or mini bagels, with or without their homemade schmears. Also available is a popular item from Tali's time as a farmer's market pop-up – their mini bagel flight, which consists of three mini bagels with three different types of schmears. However, the majority of the menu at Tali's Bagels and Schmears is dedicated to bagel sandwiches, which something for everyone. And, of course, there is a small drink section, too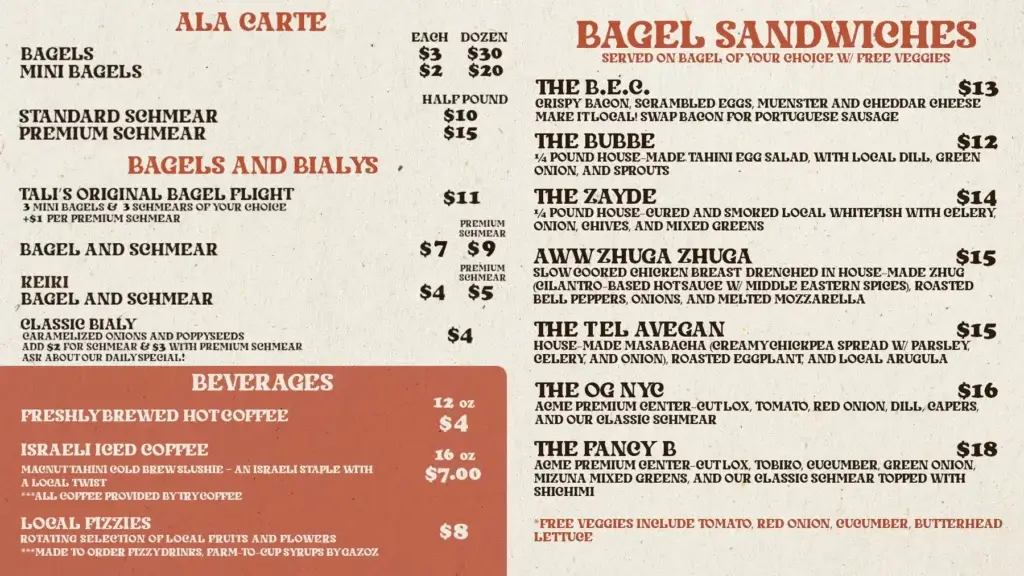 If you're wondering what kind of schmears Tali's has to offer, you're either going to have to visit their shop or check out their Instagram, as availability changes weekly.
What We Ordered
As I mentioned earlier, we ended up at Tali's Bagel and Schmear because I had a hankering for a bagel & lox. There aren't a lot of places on Oahu that you can get this at, and even fewer that do it well. So I knew off the bat that I had to get The OG NYC. And let me tell you, what a treat this was. I got mine on an Everything Bagel, and it came stuffed with lox, tomato, red onion, dill, capers, and Tali's classic schmear. It was an outstanding, well-balanced, classic bagels and lox on a great quality NYC-style bagel.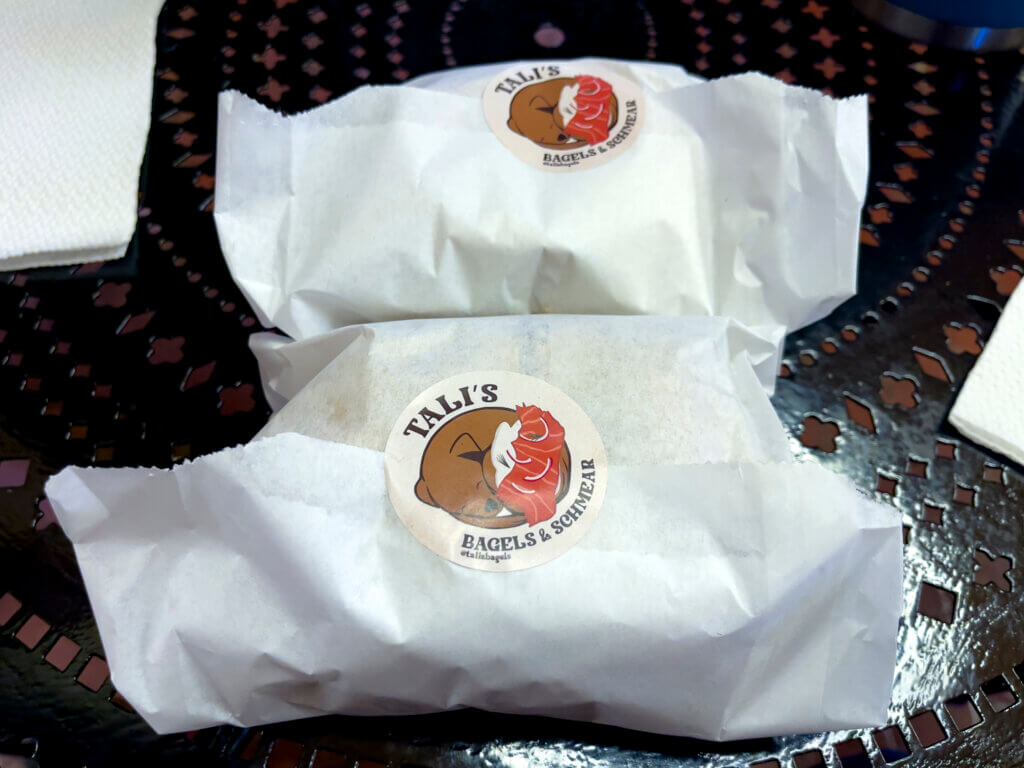 Mrs. Island Miler decided to go with The Fancy B on an Everything Bagel. This one is also a bagel & lox type of sandwich, but a more modern take. Here, you get the same lox, but with tobiko, cucumber, green onion, mizuna mixed greens, Tali's classic schmear, and a sprinkling of shichimi togarashi. We actually ended up splitting our sandwiches, so I got to eat this one too. It's much fresher and lighter than the OG, thanks to all the greens and veggies in it. That said, it's a unique take on bagels & lox, that's equally delicious in its own way. In fact, if you want a lighter-feeling eating sandwich, this is definitely the way to go.
I will say, I forgot it had shichimi in it while I was eating, and was wondering what the heck the slight burn was. But it was a great addition, in my opinion.
Final Thoughts
As you can see in the menu photo, a couple of sandwiches at Tali's isn't cheap. But, to me, it's worth it. This is the only place I've had a good bagel & lox in Hawaii, especially since Empty Elle's doesn't serve lox (but I still love them, too!). So if you've got a craving for bagels & lox, or just something different, I suggest heading over to Ward Center to check them out.