Waikiki has seen an explosion of new restaurants over the past few years.  And the latest restaurant to make its debut is Tsurutontan Waikiki.
Location
Tsurutontan Waikiki is the third U.S. location of the Japanese udon brasserie.  It's the first one in Hawaii and is on the third floor of the Royal Hawaiian Center.  In fact, it's near one of the other newer restaurants in the area, Tim Ho Wan.  If you're not staying in the area, parking is available at the center.  The first hour is free with validation from the restaurant, and the subsequent 2nd and third hours coming in at $2 each.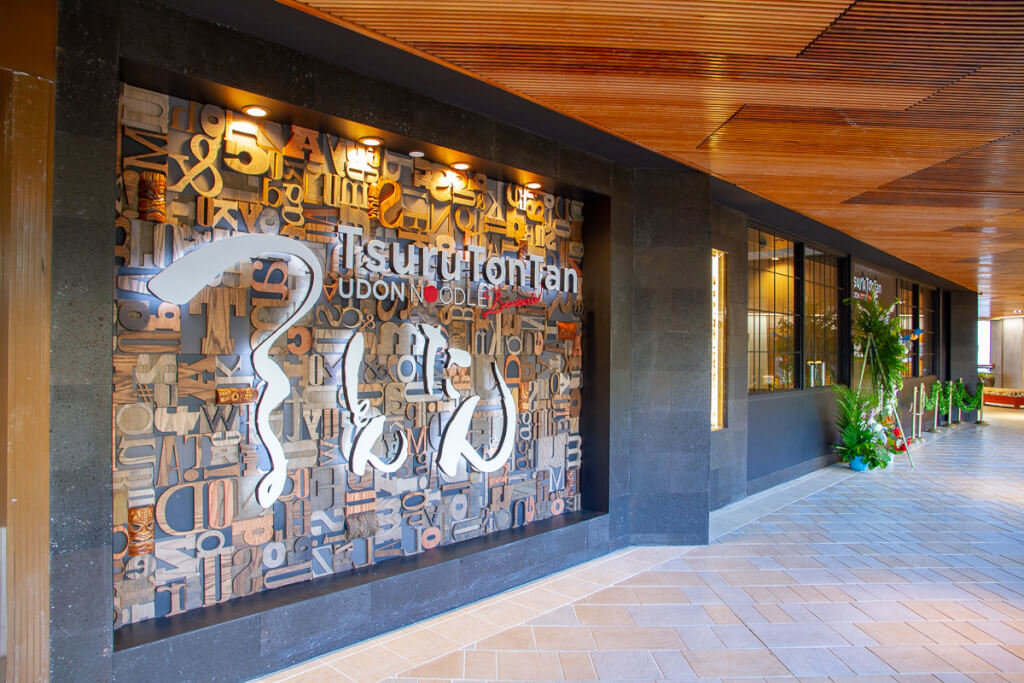 Service
The restaurant opened its doors on June 14 and is still in its soft opening phase.  And, as a result, the service is a little unorganized, but give it time, and I'm sure it'll smooth out.  That said, the servers we had on both visits thus far were fantastic.
Appetizers
The main focus at Tsurutontan is udon, but there is a good variety of other dishes on the menu.  Across our two visits, we sampled two sushi appetizers and two other raw preparations.  First up, one of Tsurutontan's signature starters, Spicy Tuna Tartare Cones.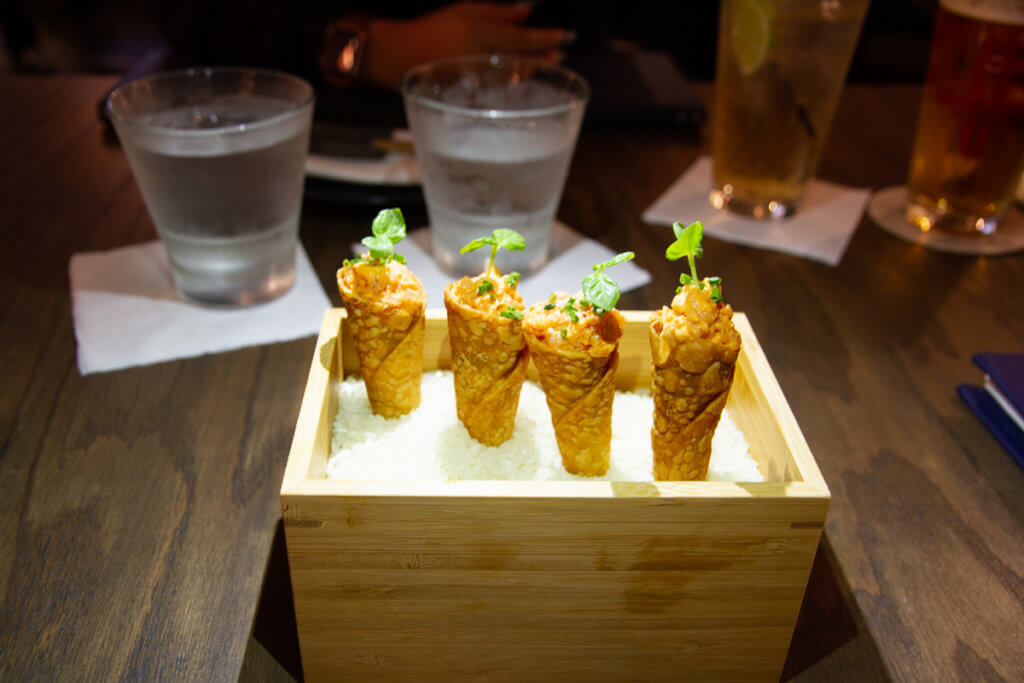 And these are exactly what they sound like.  Wonton cones filled with an avocado puree, spicy tuna, and a topping of shiso.  Delicious.  Meaty, creamy, crunchy, and slightly herbal all at once.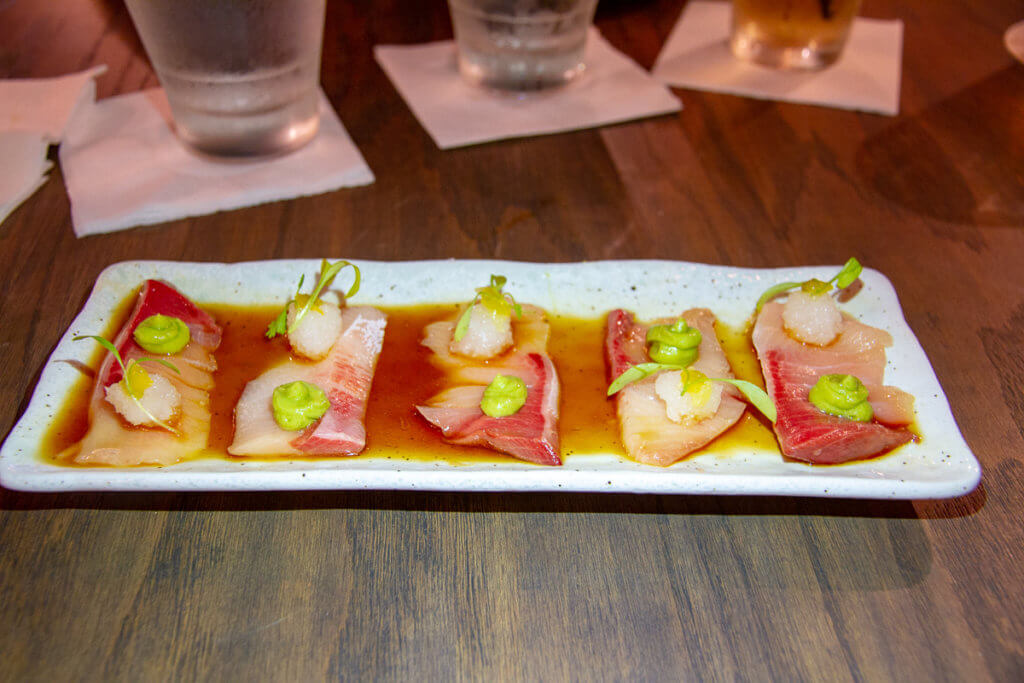 Next up is the Hamachi Carpaccio; slices of carpaccio in ponzu with grated daikon, avocado puree, and yuzu kosho.  What can I say?  The hamachi was fresh, while the entire thing was nicely balanced.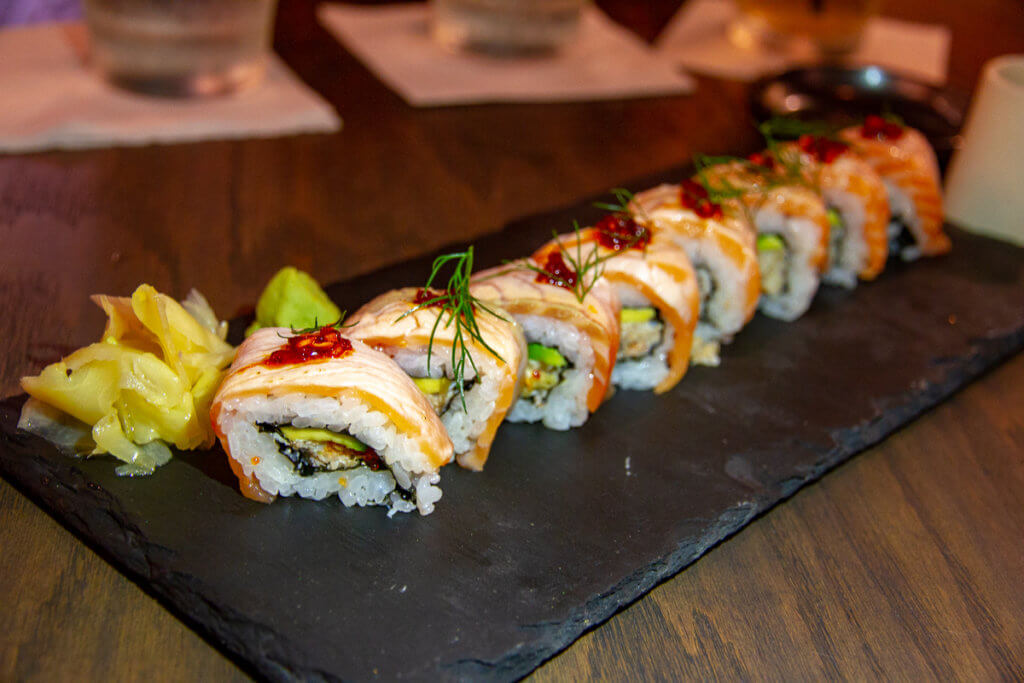 Another favorite appetizer is the Salmon & Snow Crab sushi, which is basically a California roll topped with seared salmon, crispy rayu, and dill.  Sounds like a strange combination, but it's delicious!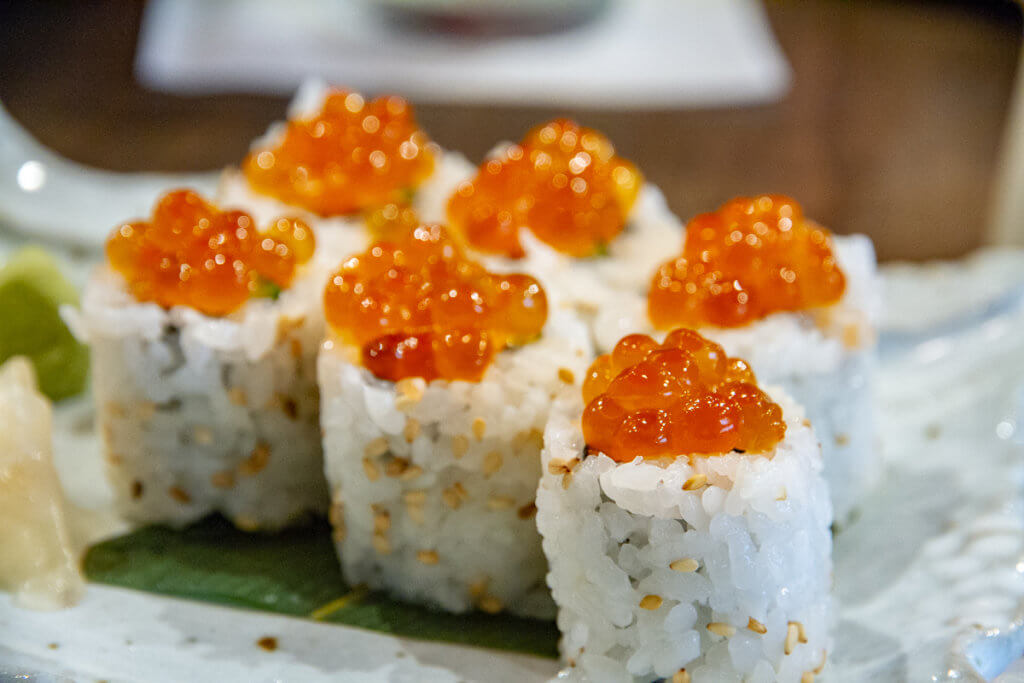 Finally, we tried the Salmon and Ikura sushi.  And it's exactly what it sounds like, a salmon roll topped with ikura.  Nothing special.
Udon
As you might imagine, there's a vast variety of udon dishes at Tsurutontan.  This includes those in traditional broth, those in other types of hot broths, curry, creme broths, and cold udon dishes.  Beyond choosing your udon, you also get to pick your noodle type (thick or thin), and your portion size (standard or large) at no extra cost.  And, for my first dish, I decided to give Uni Udon with thick noodles a try.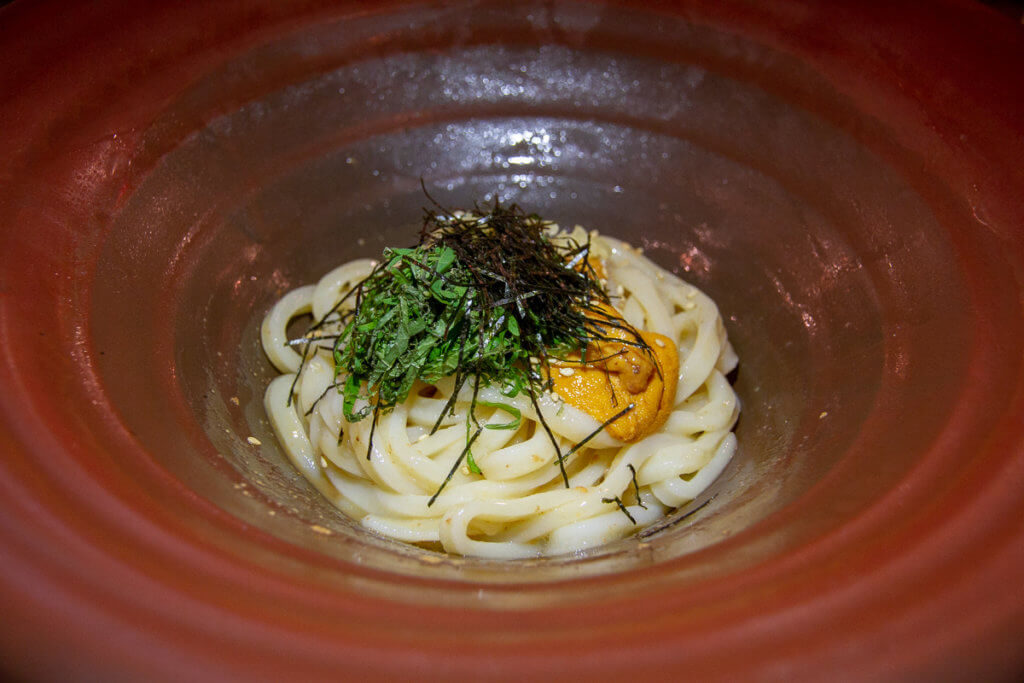 Basically, cold noodles in a uni soy dashi, topped with uni, nori, and shiso.  I don't know if they forgot the dashi or not, but man was this bland.  I do like the combination of the briny uni and nori with the herbaceous shiso, though.  And the noodles had a wonderfully dense, chewy texture.  This time around I did choose the regular size, which was perfect for the day but would've been insufficient if I was hungry.
For her first udon, Mrs. Island Miler went with the Mentaiko Caviar (cold) udon with uni and ikura.  She chose the thin noodles and also went with a regular portion size.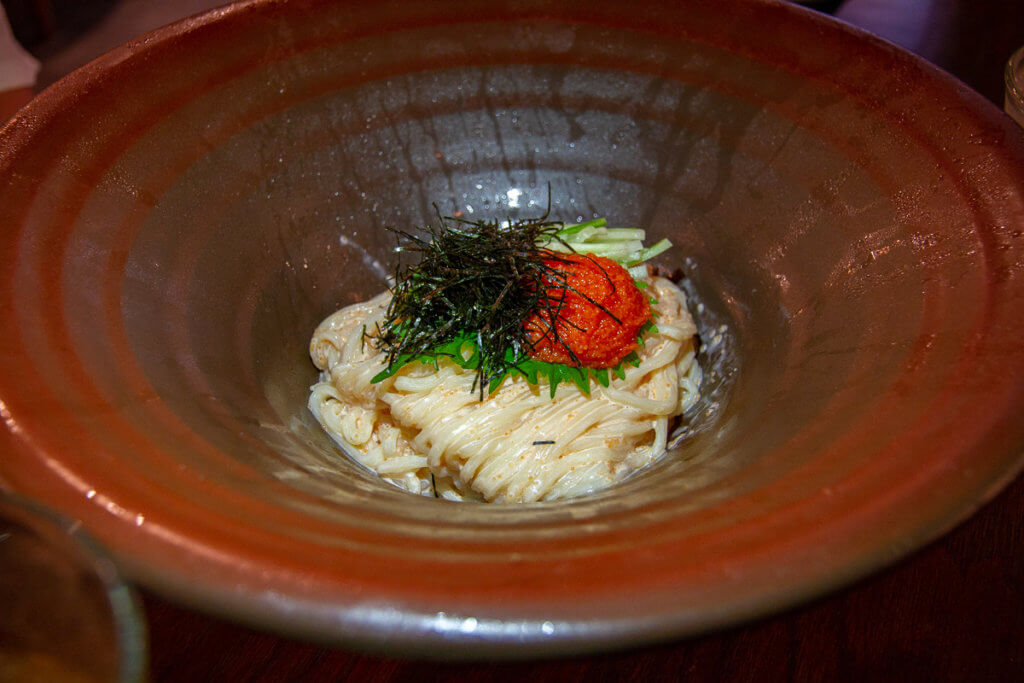 This one had much more flavor than mine, with lots of spicy mentaiko in every bite.  The only thing I could think would make it better is a bunch of julienned shiso like my dish had.  The thin noodles are a bit softer though, and in-case you're wondering, the uni and ikura came on the side.
On our second visit, we both decided to go with hot options in soup.  And this time, I went with the Duck Udon in traditional dashi with duck breast, meatballs, and Tokyo Negi.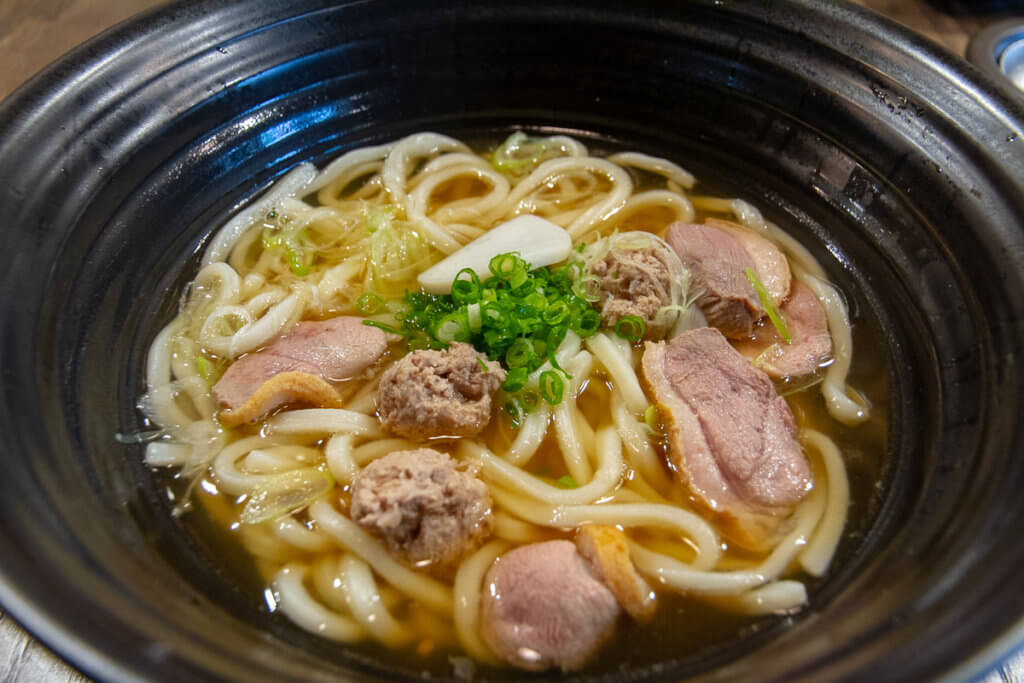 This time around I went with a large portion with thick noodles once again.  And while this dish was decent, the noodles weren't al dente like the cold dish I had last time.  The dashi isn't as good as at the much cheaper Marukame Udon a few blocks away either.  The meatballs are tasty and taste like gyoza filling, while the duck breast is just ok, being on the chewier side.
Mrs. Island Miler decided to order something similar to the first time, going with the Mentaiko Ankake Udon.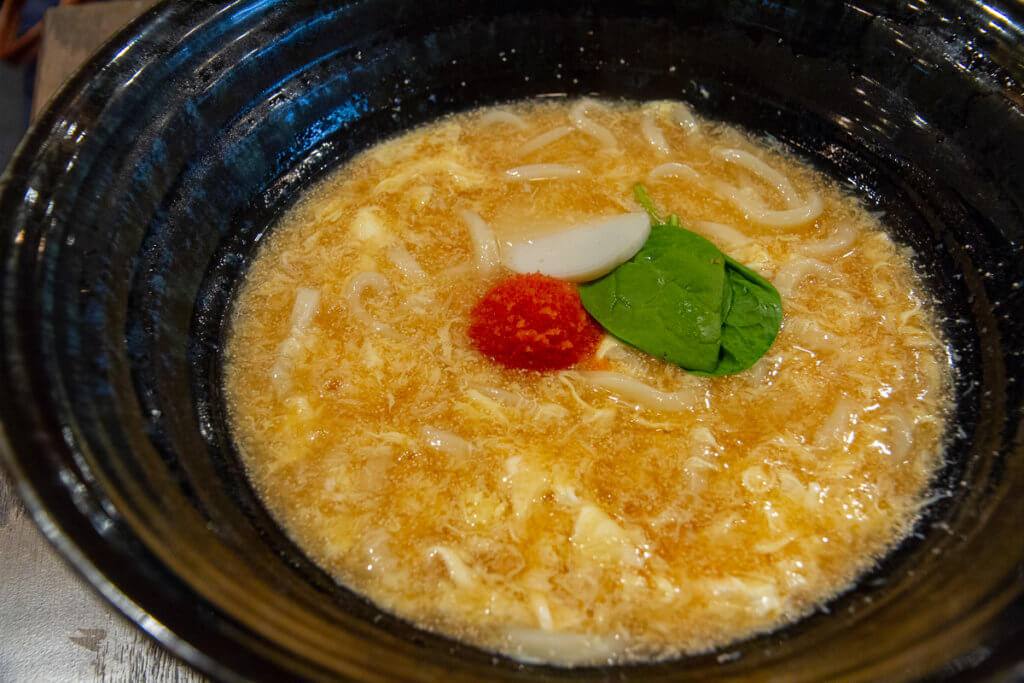 Unlike last time, though, she went with thick noodles but kept it at a regular portion size.  The dashi here is the traditional type with egg drop and mentaiko in it.  And while it sounds a little strange, it is really good.
Dessert
The first time I dropped by, Tsurutontan Waikiki didn't have desserts yet.  But this time they did, so we gave one of them a try.  On the menu are shave ice, a couple of Kulu Kulu Honolulu cakes, a Lychee Ricotta Cup, a selection of ice creams, and Water Cake.  And since it's something we've wanted to try (and tried to make and failed), we decided on the Water Cake.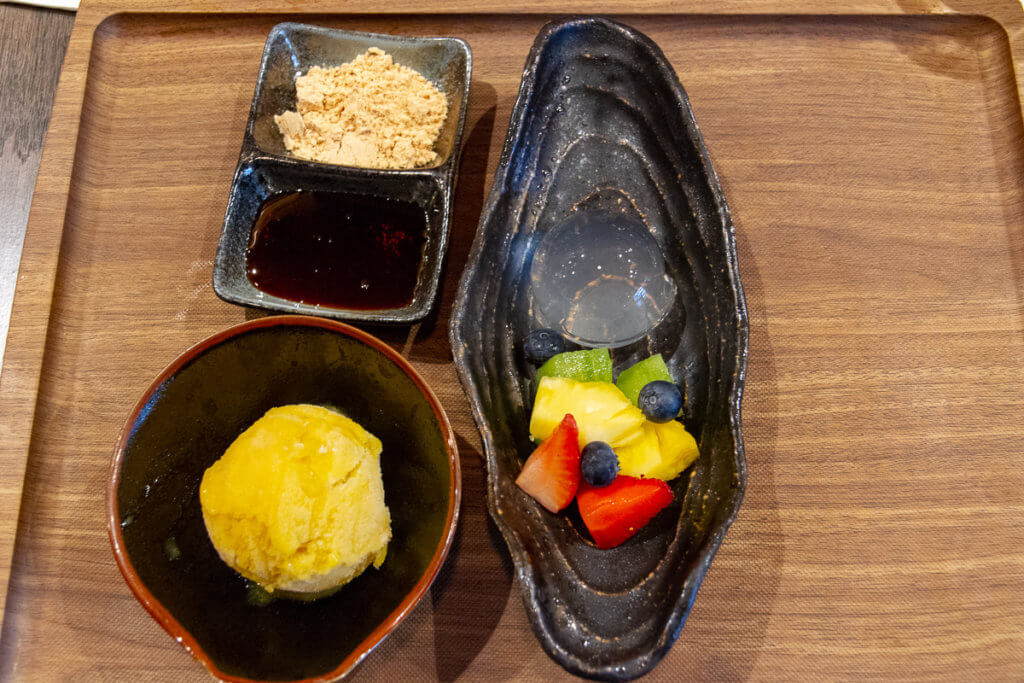 The cake isn't really a cake; instead, its a combination of agar and water, comes with fruit, kuromitsu (black sugar syrup), kinako (ground roasted soybean), and your choice of ice cream.
As you might imagine, the cake doesn't have any flavor, so you need the kuromitsu and kinako.  But it's very refreshing and light.  Perfect since we were already full.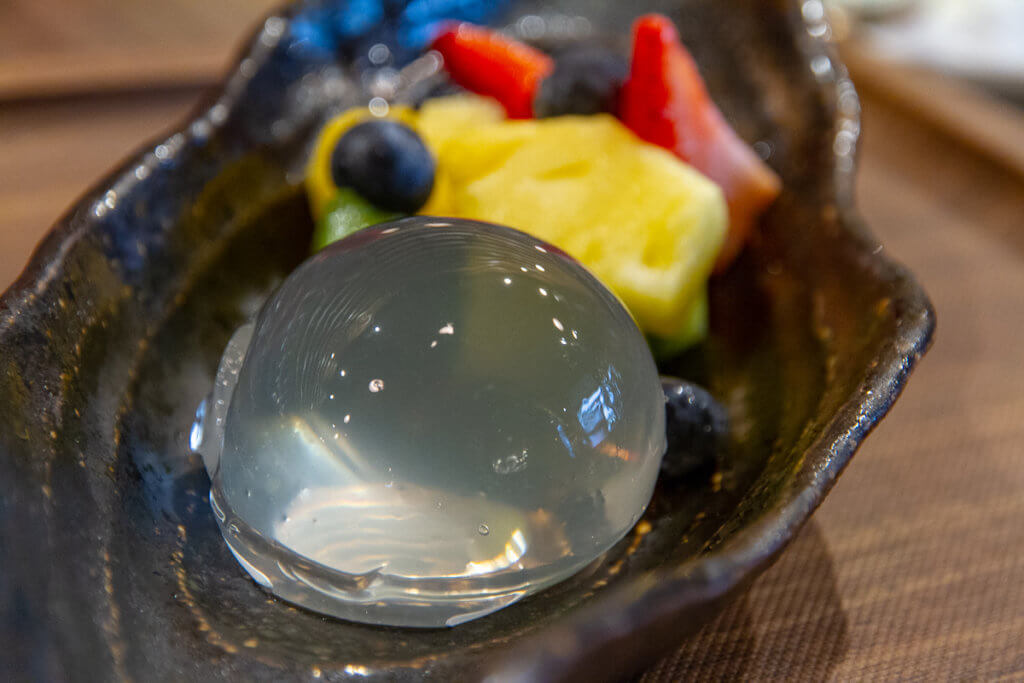 As I understand, though, the cake is supposed to be clearer and not have a seam.  So this probably isn't the most authentic version of the dessert, but it's still pretty good.
Tsurutontan Waikiki, Final Thoughts
Tsurutontan Waikiki is a restaurant I've been looking forward to since it was first announced.  And I'm really glad it's finally here, as udon is my favorite noodle soup dish.  Yes, there are some deficiencies, like the inconsistent doneness of the noodles, but the place is really new.  I'm sure things will smooth out eventually.  Regardless, it's a restaurant I like and will be back in the future.  Pricing isn't too bad either.  A sushi dish, two udons, and a dessert cost us $50; but depending on what you order, it can soar to around $100 for two.