The purpose of my visit to San Antonio was to attend a conference.  And, of course, since the conference took place at the San Antonio Marriott Rivercenter, this is where I stayed.  If I were traveling for leisure, though, I likely wouldn't have chosen this hotel.
After a short, 10 minute wait at SAT, my Uber arrived.  The drive from the airport into downtown San Antonio was a rather quick one too.  And in less than half an hour after collecting my bag, I arrived at the San Antonio Marriott Rivercenter.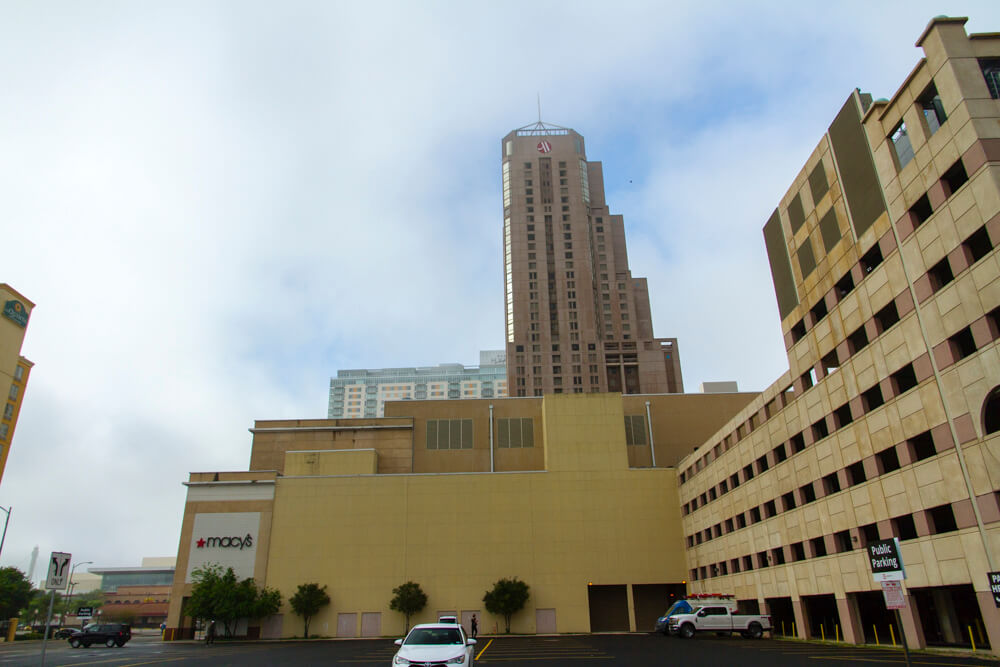 Service
The staff at the Marriott Rivercenter were, for the most part, genuinely friendly and helpful.  And, honestly, nearly every San Antonio resident I interacted with during my stay was genuinely friendly and eager to help.  One thing that struck me as odd, however, was the check-in experience.
During my check-in process, the associate made it a point to let me know that I had arrived much earlier than the standard check-in time.  He went on to say that they had a room ready for me and gave me my assignment and left it at that.  Perhaps its just me, but if me being early isn't a issue, why emphasize that fact?  It didn't help that his tone was rather stern when he mentioned my arrival time to me.  But, whatever.
The thing that probably irked me the most, though, was when I had a package delivered.  Here, guest packages are delivered to the on-site UPS Store.  And in order to have your package released to you, not only do you have to confirm your ID, but you also have to pay them $5.  Seriously?  I've never had to pay a package delivery fee, especially for something so small.  Not even at the Renaissance New York Midtown.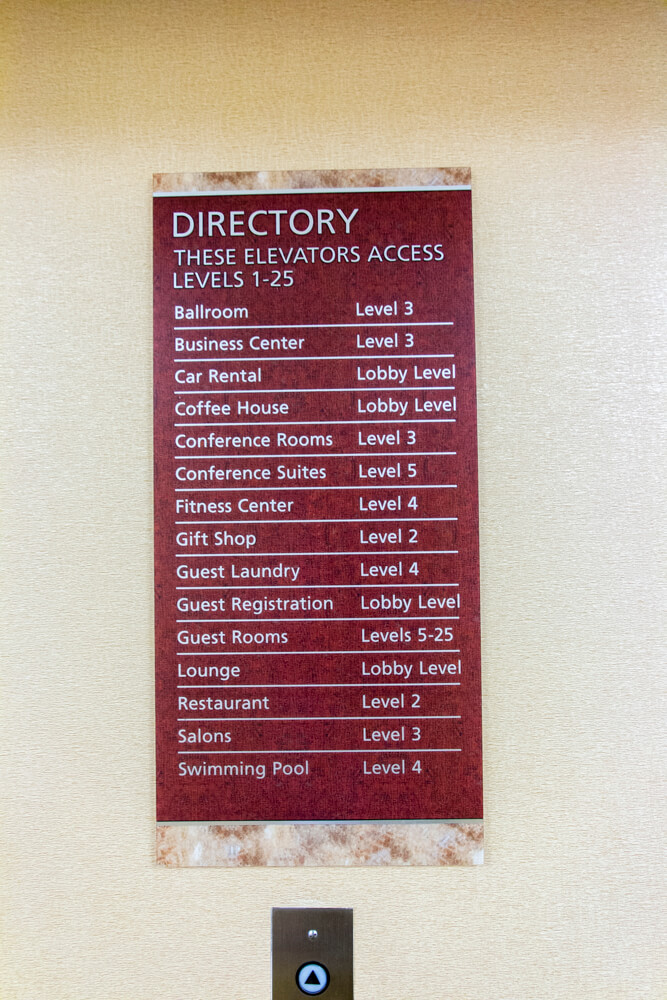 Room Assignment
I was assigned a room standard room on the 24th floor.  It's important to note that this hotel doesn't really have different room types.  All that's available are standard rooms, concierge level rooms, junior suites, suites, and one-bedroom suites.  And since I'm just a lowly Marriott Rewards Gold, no upgrade for me.  I didn't even receive my preference of a "high-floor" room.  Yes, the 24th floor is a "high-floor," but at this property it isn't.  The San Antonio Marriott Rivercenter has over 40 floors, and the fact that I didn't receive a "high-floor" room became problematic.
My Room
Once checked-in, I headed up to my room.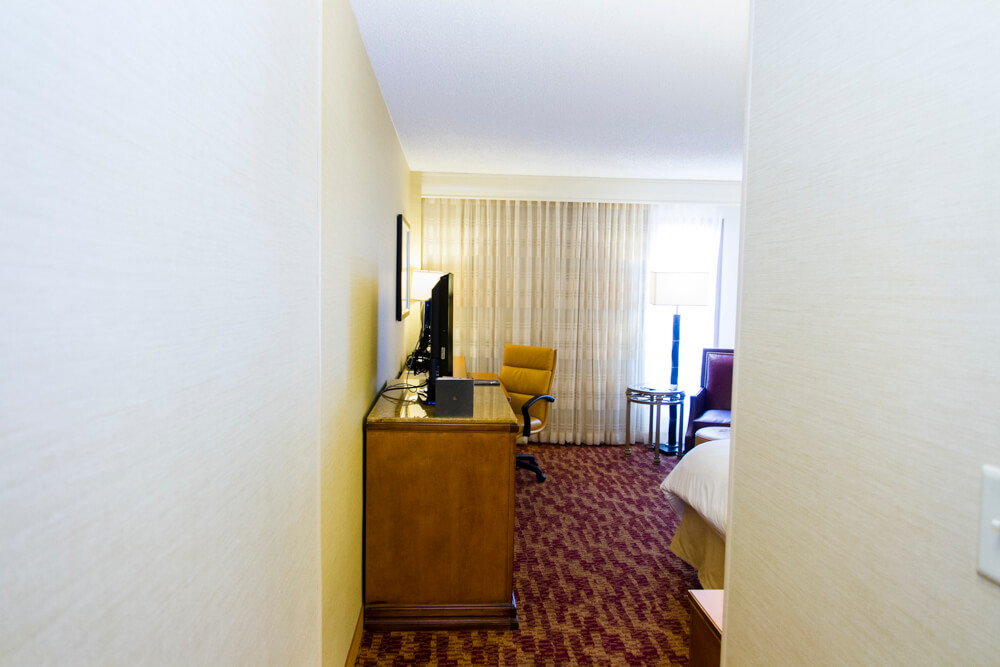 Upon entering the room, you enter into a short hallway.  To the right of the doorway is the closet and vanity, with the bathroom further in as a separate room.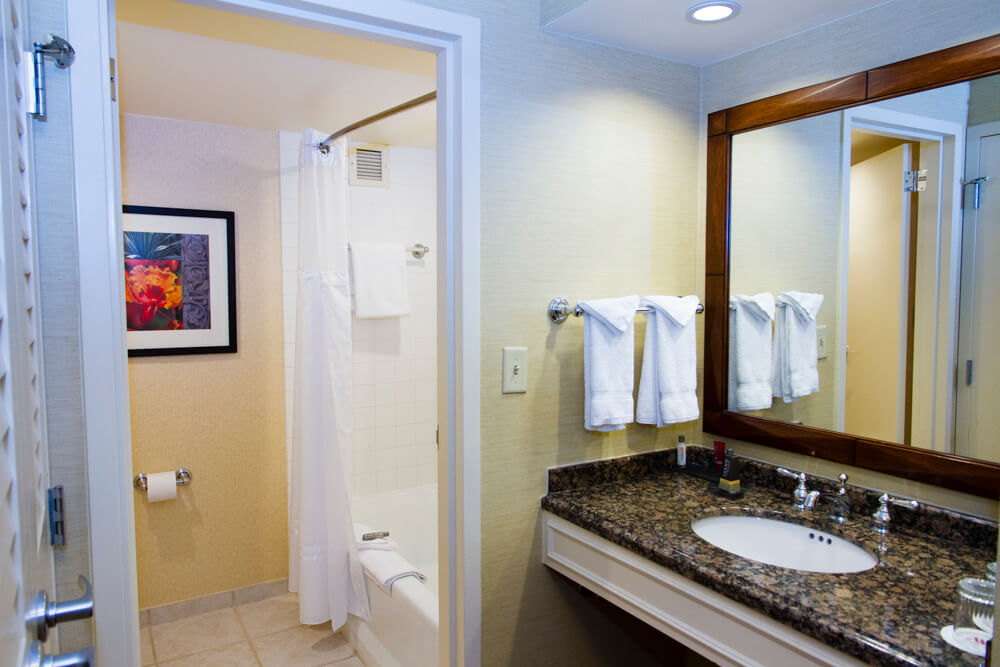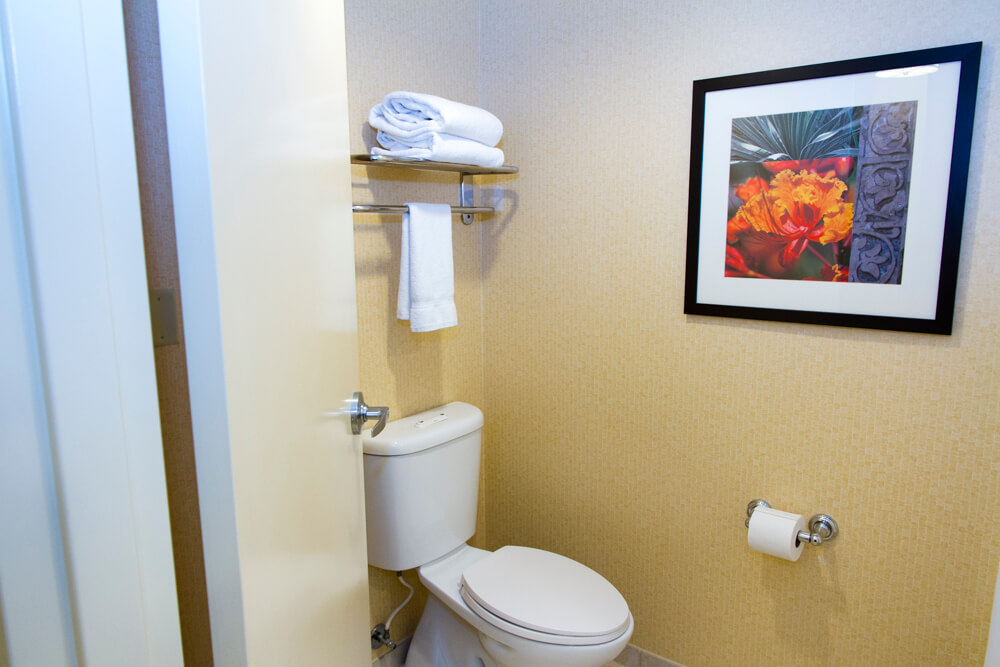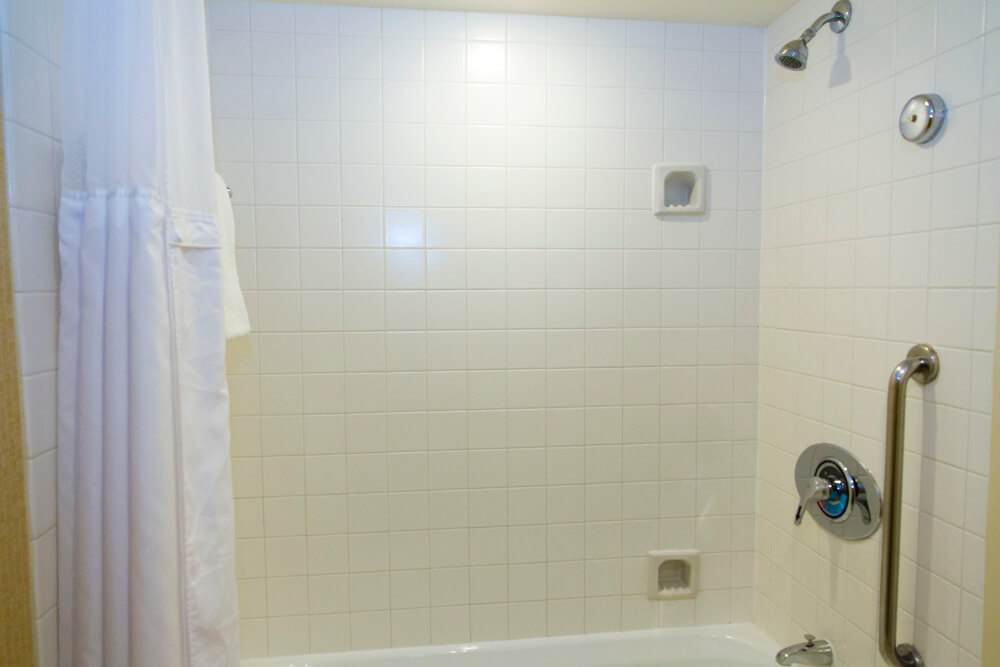 The bathroom is a decent size, though the way its partitioned actually makes it feel a little smaller.  Personally, I'm not a fan of the setup either, as sometimes Mrs. Island Miler will wake up and get ready long before me.  And if we're in a room like this, there's no door to separate the vanity from the rest of the room.  But I was traveling solo this time, so not that it mattered.  Toiletries were the standard Marriott variety.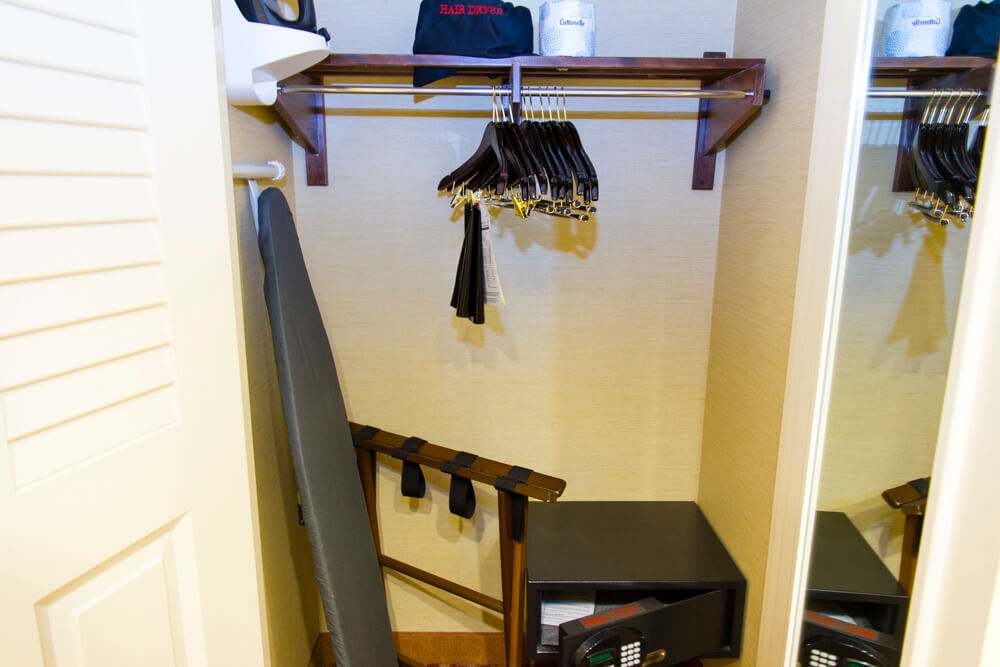 The closet is also decently sized, and contained an iron + ironing board, a safe (big enough for a laptop) and a hair dryer.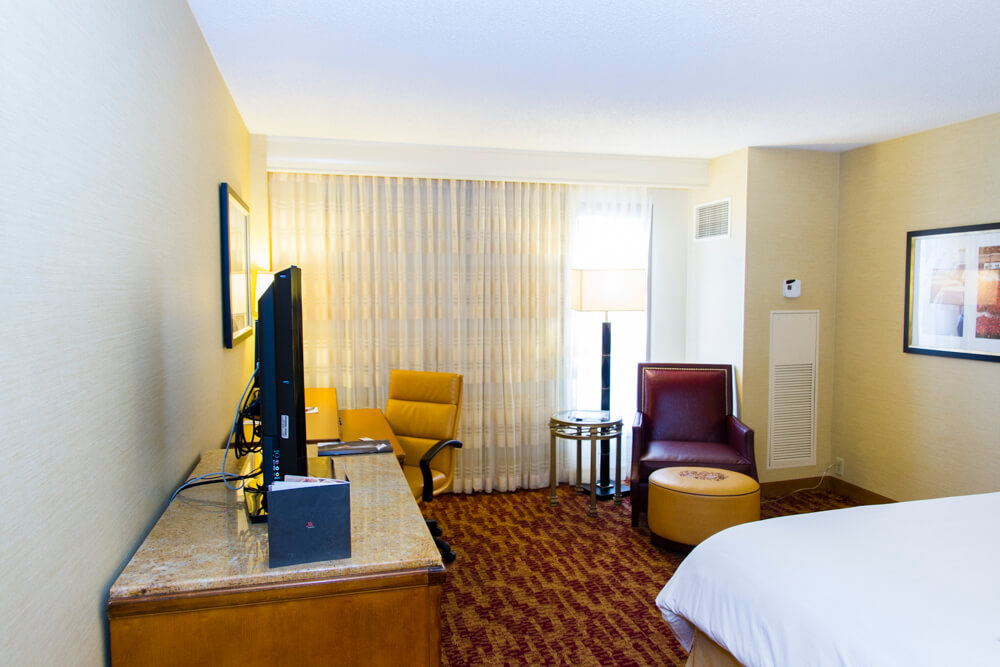 As with the bathroom, the main portion of the room is decently sized too, though its fairly basic.  Beyond the bed, the room contains a dresser, a desk with chair, and another chair with an ottoman.
The TV in the room was the standard, smallish variety, though it did feature Netflix.  And under the TV, you'll find the coffee maker, ice bucket, etc.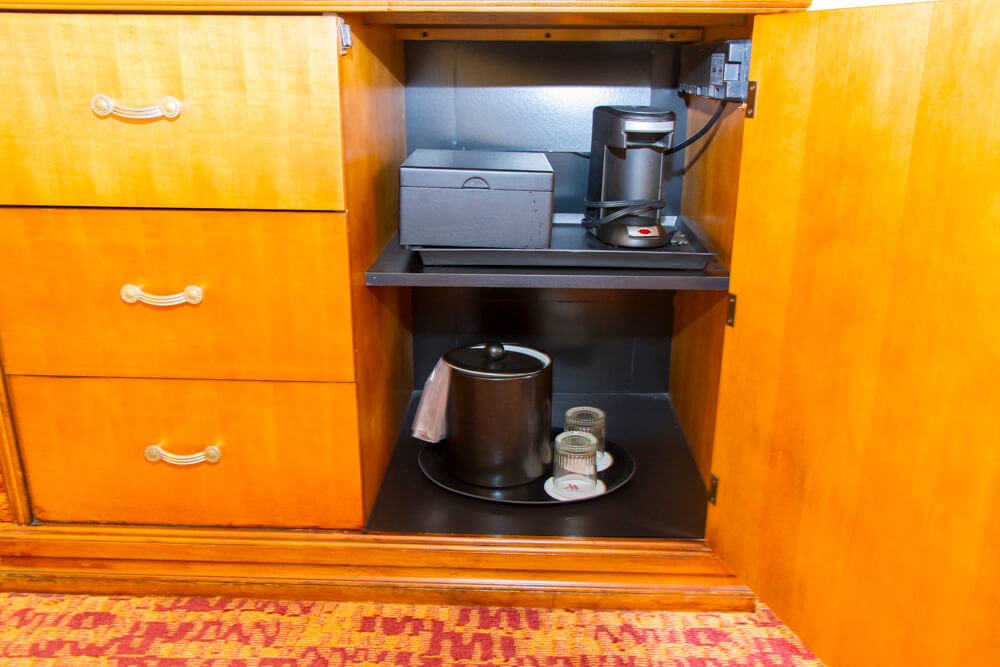 But no matter how hard you look, you won't find a fridge.  Not a big deal really, though I do prefer a room with a fridge.  Especially if I want to store some food items or chill a drink.
View
No offense, but there isn't much to see.  I'm thankful that I didn't have a view of the mall's parking lot or sign, but meh.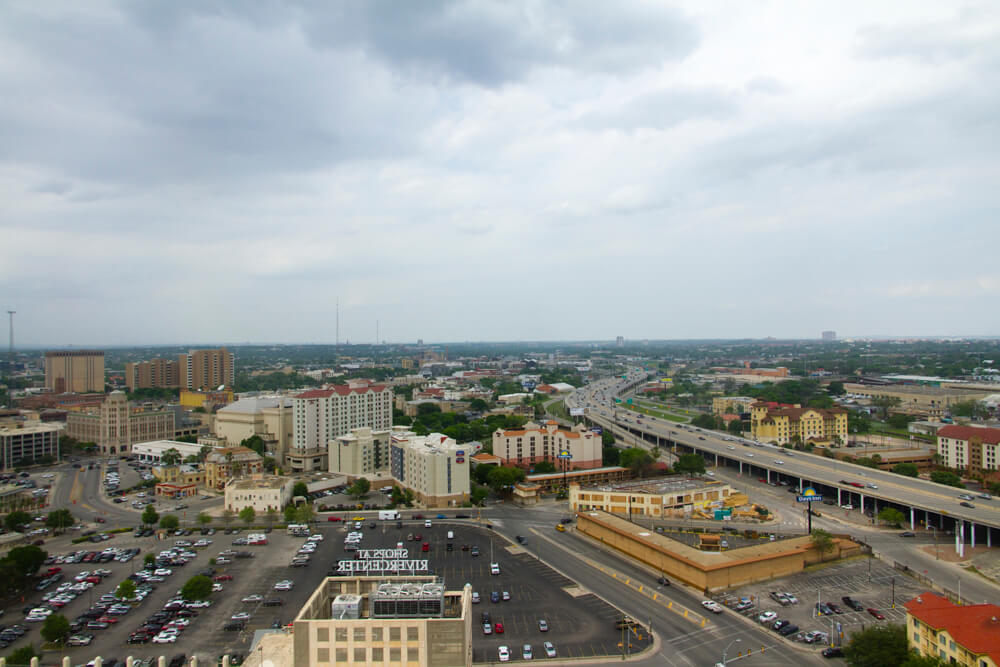 Like I said, there really isn't much to see.  Just the Interstate and more hotels.  Now, I can see why people from middle-America are so enamored with our mountains in Hawaii.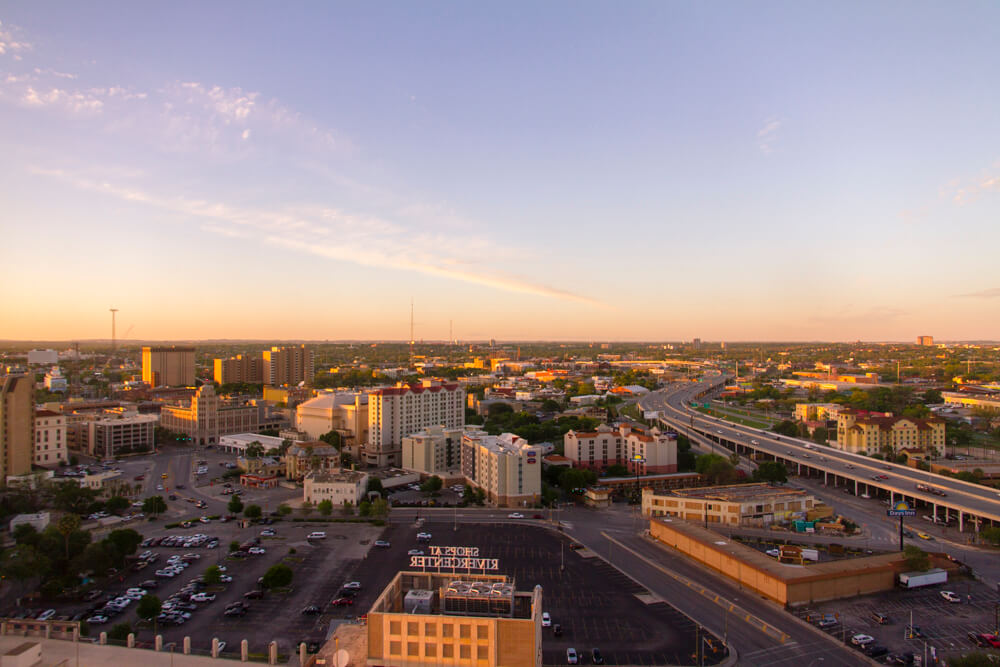 Sleep Quality
My room came with a king bed.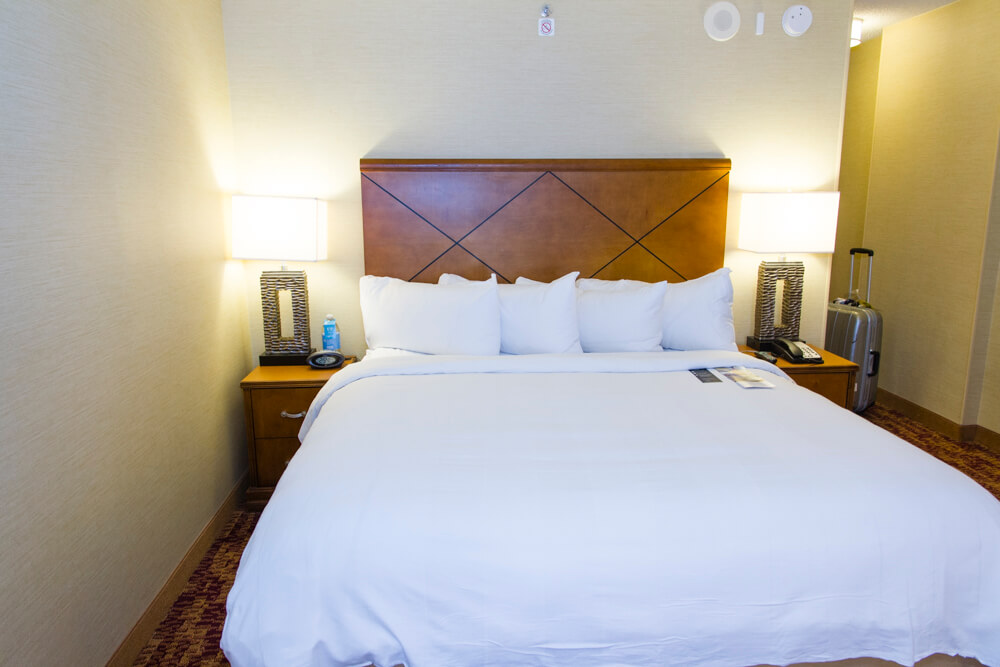 I'm usually a fan of Marriott beds, but this one… not so much.  It felt a little past its prime, and the pillows were awful.  The pillow are so non-supportive, my head would literally sink to the bottom.  It's as if there were no pillows, even with two stacked together.  Worst yet?  The pillows would wrap up around my ears and make them HOT.
Temperature control was also an issue at night for me.  For some reason, it seemed as if certain nights the air conditioner would just stop working.  My second night in the room, I woke up sweating and lowered the temperature, but to no avail.  I never really got an answer as to why this was the case, but it happened a couple more times during my 5 night stay.  Nice.  So between the bipolar HVAC and crummy bed, I didn't sleep very well during my stay.
Concierge Lounge
The San Antonio Marriott Rivercenter does feature a Concierge Lounge.  It's located on the 26th floor, which is just two floors above my room.  But guess what?  The elevators to my room only go up to the 25th floor… And the other set of elevators only serve floors 25 and up.  So I had to catch an elevator up to the 25th floor, then change elevators to continue onto the 26th floor to access the lounge.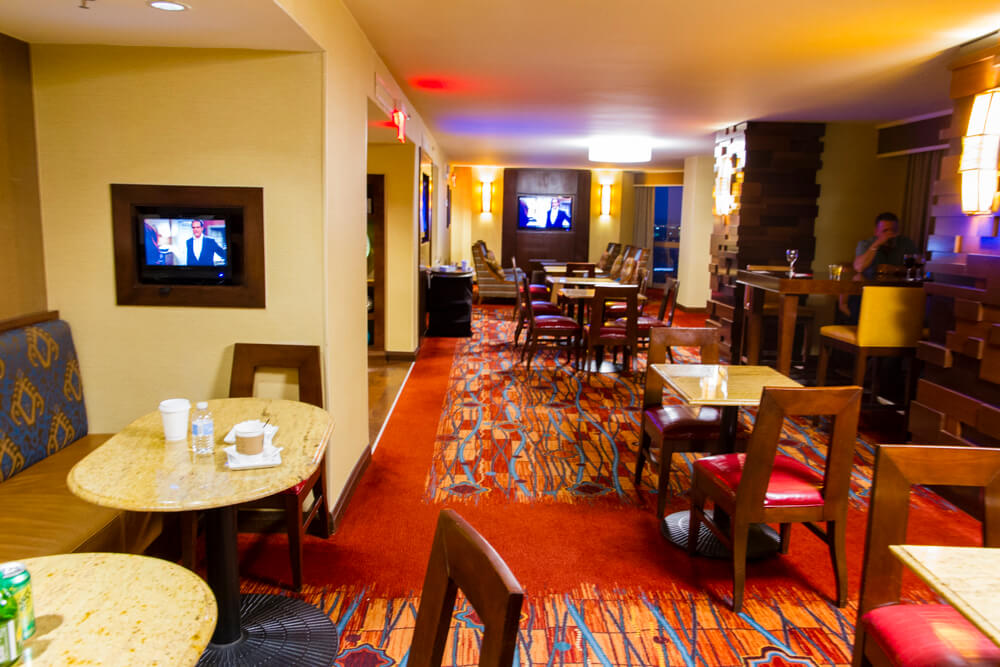 The lounge itself is fairly nice, but small for a hotel of this size.  Hours of operation are fairly limited too, with no lounge access after rather early on Friday night, and all the way through the weekend.  Oh, and the property did not offer any meal vouchers or points for days in which the lounge was not available.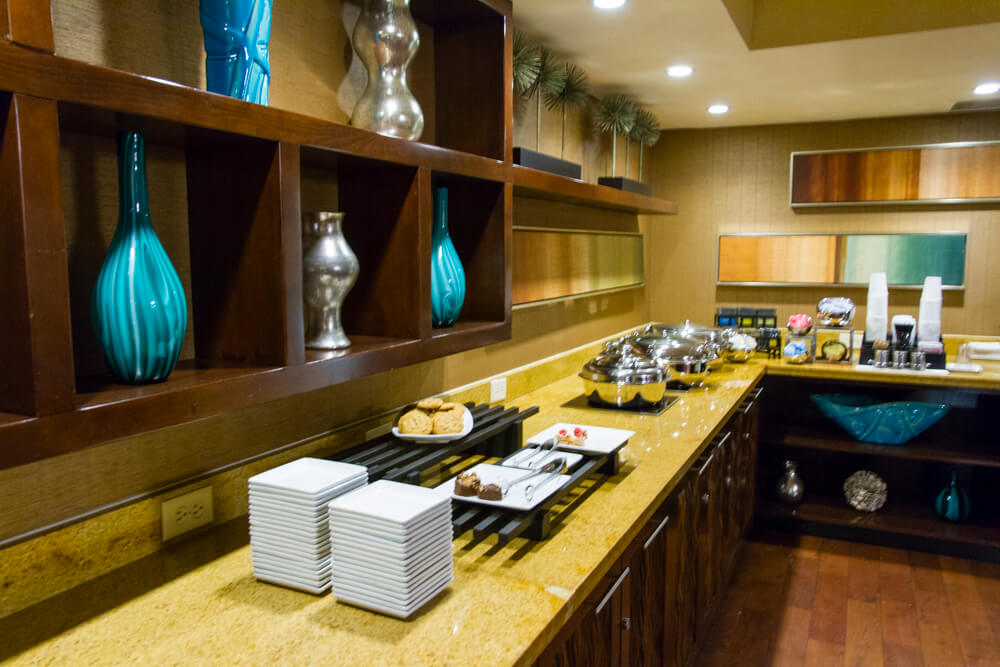 But when the lounge was open, it featured a decent spread of desserts, snacks, and hot breakfast.  Heck, the breakfast in the lounge was better than the catered garbage served at the conference.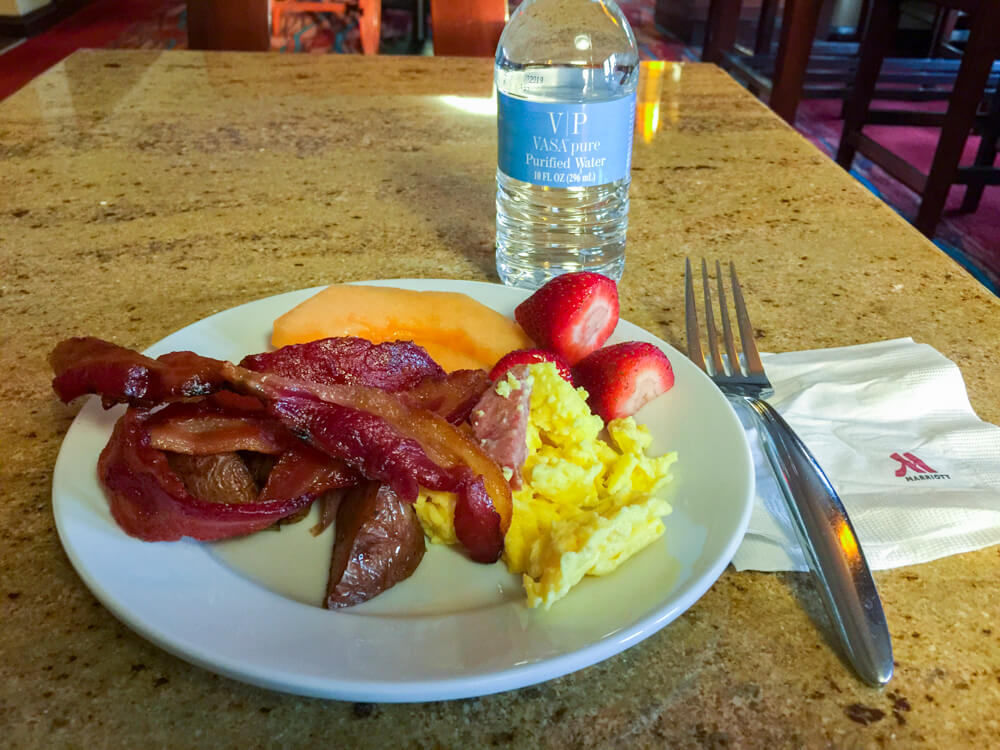 Oh, and this lounge offers those half-bottles of water.  Not a fan of that, but I understand why they do it.  Wouldn't have been such a big deal if the vending machine on my floor actually had water in it, or if the on-site Starbucks didn't close at 6pm every day…
San Antonio Marriott Rivercenter Final Thoughts
The San Antonio Marriott Rivercenter was an interesting experience for me.  Like I said earlier, this isn't a hotel I'd choose if I were traveling for leisure.  It is very obvious that the property is a dedicated convention hotel, and that the property owners don't care about reinvesting in it.
The overall experience, in my opinion, was lacking and this property is my least favorite Marriott hotel so far.  And you know what?  Just one of the issues I experienced would be a deal killer, but combined, they've completely turned me off to this property.  So unless you have a convention at the hotel, I cannot recommend staying here.  Even then, I would consider other options if you can.