Hawaii may be starting its pre-travel testing program on October 15. However, even though visitors can come to Hawaii, most things will remain closed. Case in point, the newly announced Honolulu Reopening Strategy.
Today is the final day of Honolulu's Lockdown 2.0. So, what comes next? Well, the four-tier Honolulu reopening strategy, for starters.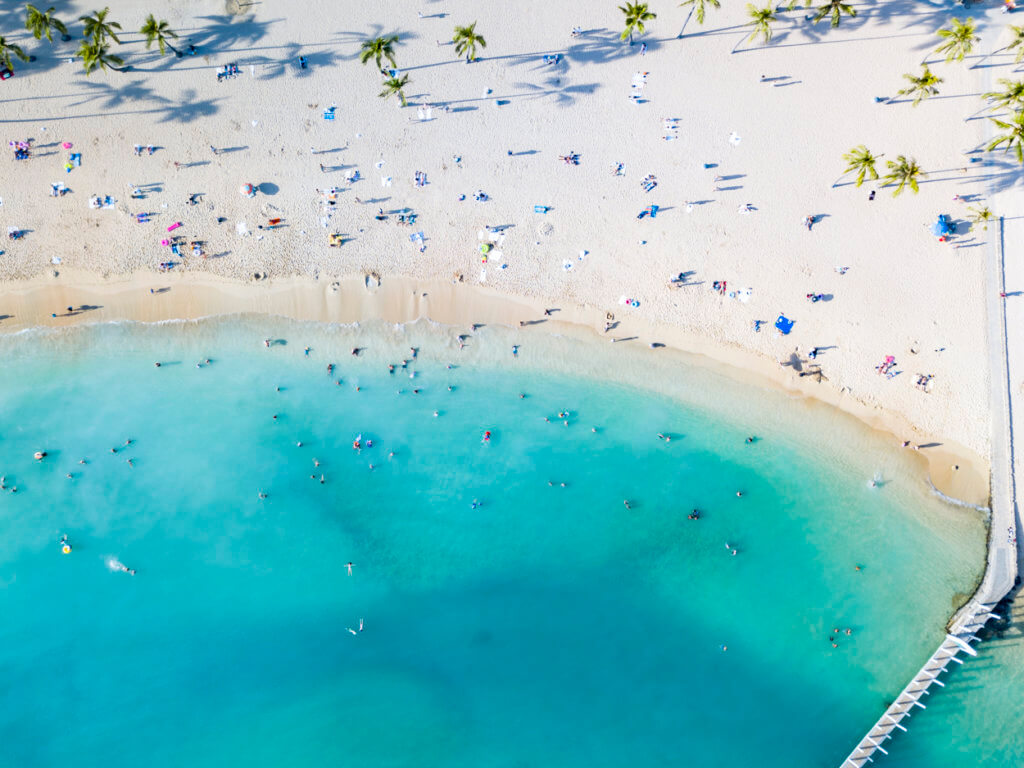 Honolulu Reopening Strategy
Tier 1
Tier one is where Honolulu starts come tomorrow. It's also where we'll stay for, at least, the next four weeks. A minimum of two weeks of data is required to move on to the next Tier, while any change will be preceded by an announcement three days prior. At any rate, Tier 1 applies to 7-day average case counts of greater than 100 and test positivity rates of more than 5%.
Under Tier one, all party and group sizes must remain at five or less, including at parks and beaches. Further, a same household requirement applies to restaurants, which may reopen, but only at 50% capacity. Retail, bowling allies, movie theaters, museums, attractions, aquariums, and botanical gardens can also reopen at 50% capacity, while commercial recreational boating is limited to 25% capacity.
What can't resume during Tier one are helicopter tours, legal short-term rentals, organized team sports, indoor gyms and fitness facilities, bars, and night clubs.
Tier 2
After the initial one-month piers, Honolulu can transition to Tier 2 of the reopening strategy if and only if it's 7-day average case count is between 50 and 100 cases, while its positivity rate is between 2.5% and 5%.
This tier is largely similar to Tier 1. The biggest changes are that the restaurant capacity restriction gets removed (though the table capacity restriction remains), arcades can reopen at 25% capacity, helicopter tours can reopen at 50% capacity, legal short-term rentals can reopen, and indoor gyms and fitness facilities can reopen at 25% capacity.
Tier 3
Once we transition to Tier 2, we need to hold there until we see two weeks at Tier 3's requirements. Those requirements are a 7-day average case count between 20 and 49 with a positivity rate between 1% and 2.49%. Then, and only then can we transition to Tier 3.
Tier three builds upon Tier 2, doubling party and group sizes to 10 people. Outdoor sports remained banned at this time, though capacity restrictions are removed for retail shops and helicopters. Arcades, commercial recreational boating, and indoor gyms and fitness facilities also get a capacity boost to 50%. Bars and night clubs must remain closed during this tier.
Tier 4
To get to Tier 4, we'll need to have two consecutive weeks of the 7-day average case count coming in below 20 and a positivity rate under 1%.
At this tier, the size limit on groups and parties increase to 25. Further, outdoor organized sports get the green light once again. Golf courses also have all restrictions removed. And, that's about it. Bars and nightclubs? No determination has been made regarding if they can reopen during this phase yet.

What this Means for Come October 15
If you do the basic math, you'll realize that Honolulu can't enter into Tier 2 of its reopening strategy until October 24. That's a little over a week after Hawaii begins welcoming back visitors. And that's only if keep our average case counts between 50 and 100 and our positivity rate between 2.5% and 5%. Currently, Oahu's 7-day average is at 88 cases per day, while the positivity rate is at 2.3%.
Clearly, Lockdown 2.0 worked. So, we'll see if our numbers change once we move on to Tier 1 as of tomorrow.

The Honolulu Reopening Strategy, Final Thoughts
It's nice to see our restrictions being relaxed once again. I sincerely hope, though, that Hawaii residents learned their lesson and will act responsibly. Going back into another lockdown is something I'd like to avoid. What's more, once visitors begin making their way back to the islands, we'll likely see a spike in cases again too.
What gets to me in the reopening plan, though, is how they're treating bars. Yes, some bars are terrible and should probably remain closed. But, what about the classy, responsible places like Bar Leather Apron? Are we really telling all bars that you gotta stay closed for what'll likely amount to at least a few more months? How many of them will survive this?