For what seems like forever now, modernization work has been a constant site at Hawaii's airports. However, one of the largest of these projects is now complete – and ahead of schedule at that! And thanks to this, the Honolulu Airport Mauka Concourse opens today!
As I reported back in July, many of Hawaii's hotly anticipated airport modernizations were in their final phases of development. The one of the largest of these at $270 million – 10% of the $2.6 billion overall budget – is the Daniel K. Inouye International Airport's Mauka Concourse. Originally scheduled to open in September of this year, as the title of this post suggests, construction at the concourse wrapped up early, paving the way for an August opening.
Honolulu Airport Mauka Concourse Opens Today
On Friday, August 27, the Mauka Concourse begins formal operations. Gates at this concourse are numbered A1 to A12 and will serve Hawaii's homegrown airline – Hawaiian. Naturally, the concourse can accommodate a maximum of 11 narrow body aircraft. However, it can accommodate wide body jets too, though that does decrease capacity. Initially, though, Hawaii plans to operate only Boeing 717 and Airbus A321neo flights from the concourse only. These aircraft primarily serve neighbor island flights (717s) and flights to secondary markets (A321neo) such as Long Beach, Oakland, and San Jose, among others. So for all my fellow kama'aina flying between Honolulu and places like Las Vegas, Los Angeles, New York, Orlando, etc., you have no chance of using this terminal – at least for now.

In addition to increased aircraft capacity, the new Mauka Concourse introduces an entirely new experience for travelers. The entire terminal has a more open feel than Honolulu's existing ones. What's more, the new concourse adds six new TSA lanes to help ease wait times. Currently, average wait times during peak periods between 10 am and 3 pm hover around 12 to 15 minutes.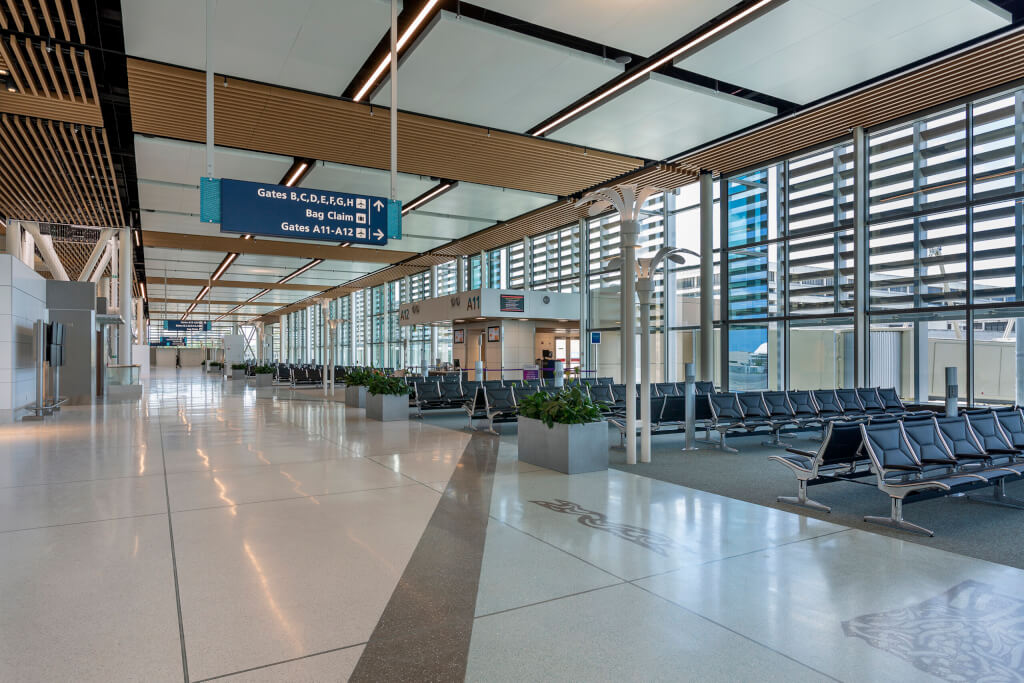 Naturally, the new Mauka Concourse brings with it new concession options. Thanks to the pandemic, though, individual vendors decided to delay construction in their spaces. As a result, the concourse will initially open with just a Pages & Pages sundries, followed soon after by an unnamed donut pop-up and a bar.
By the way, if the design gives you a bit a deja vu, it's because Honolulu-based KYA lead the project. They're also the architect behind ANA's Honolulu lounge, which definitely has some similar design elements.
Oh, and, thank goodness there are no dots on the windows at like at SFO!
Final Thoughts
It's been nearly 30 years since the last major expansion occurred at the Daniel K. Inouye International Airport. If my memory serves me right, that expansion was the Aloha Airlines terminal, which now serves Hawaiian Airlines as gates B1 to B5. And while additional capacity  was desperately needed at Honolulu in 2019, the new concourse is opening at an interesting time. Not only is travel demand still down compared to two years ago – remember, there are still barely any international flights – but Hawaii is also having serious considerations on the impacts of tourism on the islands and how to control it. So, while the additional capacity was necessary back then, will it continue to be necessary in the future? We'll have to wait and see.
For now, though, the completion of the Mauka Concourse ushers in a great new experience for some passengers at Honolulu. It also marks a major milestone in our airport modernization project, pushing us to 95% complete. Projects at Kahului and Kona remain in progress, while the $360 million consolidated rental car facility at Honolulu is slated for completion in December.