There have been rumors circulating for months about new plastics coming to Marriott Bonvoy. Well, they're finally here, and the new Marriott credit cards are blah. But that's not all. Some of the existing cards saw a revamp too, and not necessarily for the better.
Ever since Marriott took over Starwood, there have been a handful of Marriott Bonvoy cards issues by both Chase and American Express. Those cards include the Marriott Boundless and Bold cards by Chase and the Marriott Brilliant and Business cards by American Express. Ok, the Ritz-Carlton Rewards card by Chase still exists, too, though you can't directly apply for it. But, now, some of these cards are getting changed up, while two new cards are joining the family.
The New Marriott Credit Cards Are Blah
When I say the new Marriott credit cards are blah, I really mean it. I'm not saying this just because I'm not really a fan of the program anymore. Even if I was still full-in on Marriott, I wouldn't even consider applying for these cards. Why? Take a look.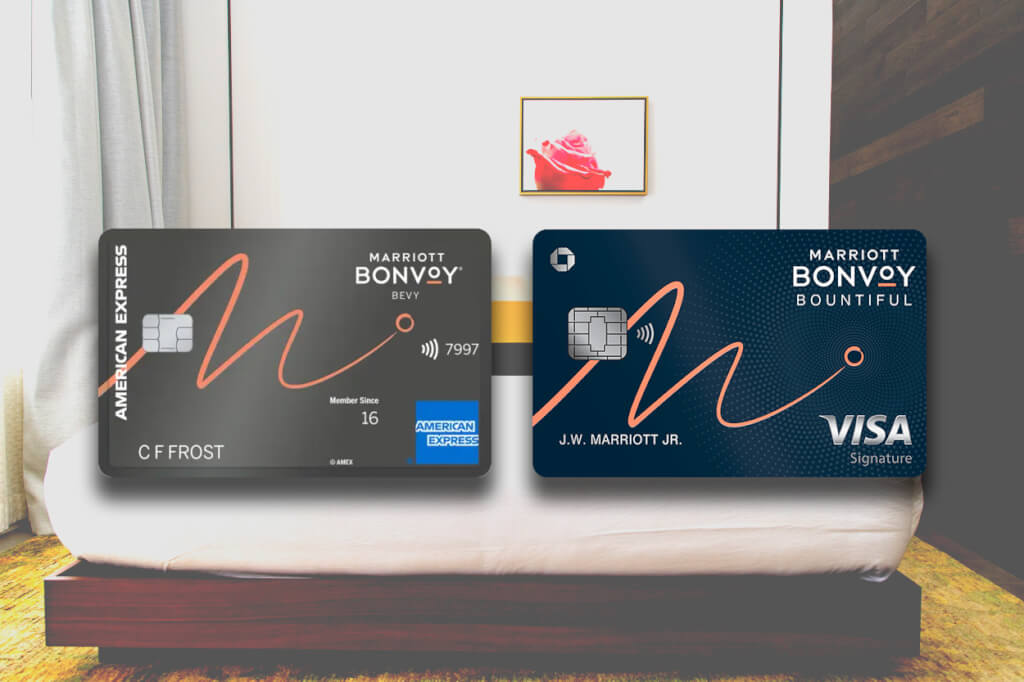 Marriott Bountiful by Chase
The press release and name of this card make its purpose clear – to maximize points earnings via credit card spend. As a result, that's where most of this card's benefit comes in:
6X Marriott Bonvoy Points on purchases at hotels participating in Marriott Bonvoy
4X Marriott Bonvoy Points on up to $15,000 in combined purchases per year at restaurants worldwide and at U.S. supermarkets
2X Marriott Bonvoy Points on all other eligible purchases
1,000 Marriott Bonvoy Bonus Points with each qualifying stay
Complimentary Gold Elite status
A Free Night Award (redemption level at or under 50,000 Marriott Bonvoy Points) after making $15,000 in purchases per year. Certain hotels have resort fees.
15 Elite Night Credits each calendar year toward higher Elite status
$250 annual fee
But are you really going to earn that much more with this card? The existing Boundless card earns 6x points at Marriott properties; 3x on gas, groceries, and restaurants; and 2x points on everything else. Sure, it doesn't give you complimentary Gold status or 1,000 bonus points with each stay, but is that really worth an extra $155 per year? Not to mention the fact that Gold status is virtually useless, oh, and the Boundless comes with an annual 35,000 points free night certificate, whereas the Bountiful does not.
Marriott Bevy by American Express
This card is identical to the Bountiful by Chase, so I'm not going to relist everything here – just look above.
See what I mean? Why on earth would anyone pay $155 more per year to earn 1 point per $1 more at select merchant categories, earn 1,000 bonus points per stay, and give up a free night award? How does that make any sense? Further, how lazy is it that Chase and Amex have the exact same card?! The new Marriott credit cards are blah. Period.
Marriott Brilliant by American Express
While the new Marriott credit cards are blah, some of their existing cards saw changes too. We've known for a while now that American Express was stupidly going to change the Brilliant's annual Marriott property statement credit into a monthly dining credit, but they're changing more than that.
Complimentary Marriott Bonvoy Platinum Elite Status
Free night certificate changes from 50,000 to 85,000 points
25 Elite Night Credits each calendar year
New Annual Earned Choice Award: Each calendar year (starting January 2023), after making $60K in purchases.

Five Suite Night Awards™
$750 Off a Bed from Marriott Bonvoy® Boutiques
Free Night Award with a redemption value of up to 85K points

New annual fee of $650
Yup, that's right. The annual fee is going up by $200. And for that increase, you get a crappy $25/month dining statement credit, a higher free night certificate value, Marriott Bonvoy Platinum Elite status, and a card-exclusive Choinc Benefit award if you spend $60,000. NO THANKS. Why am I going to pay Amex Platinum money for this? If I'm going to pay that annual fee, I want access to Platinum Concierge and FHR. The increase in certificate value, EQNs, and status are nice but don't justify the cost, in my opinion.
As a reminder, the Brilliant card does come with these other benefits too:
6X Marriott Bonvoy points on purchases at hotels participating in Marriott Bonvoy, 3X points at restaurants worldwide and on flights booked directly with airlines, and 2X points on all other eligible purchases
Up to a $100 property credit for qualifying charges at The Ritz-Carlton, Ritz-Carlton Reserve or St. Regis brands when you book direct using a special rate for a 2+ night stay – rate is often more expensive
Priority Pass Select Membership
Application fee credit for TSA PreCheck or Global Entry
Ritz-Carlton Rewards Visa
You know what card is still worth it? The Ritz-Carlton Rewards Visa. This card remains virtually unchanged, except for the fact that the annual free night certificate is increasing to 85,000 points. And, yes, the annual fee is staying at $450. But, in addition to the 85,000-point certificate, that annual fee gets you:
$300 annual travel credit
6x points on Marriott purchases; 3x points on dining, car rental, and airline purchases; and 2x points on everything else
15 EQNs every year
Complimentary Gold Elite status
Platinum Elite status when you spend $75,000 per year
The same excellent protections provided by the Chase Sapphire Reserve, including Primary Auto Collision Damage Waiver
The New Marriott Credit Cards Are Blah, Final Thoughts
Again, I'm not sure what the hell Marriott/Chase/Amex were thinking. The new Marriott credit cards are blah, and I can't imagine why anyone would want them. If anything, the Ritz-Carlton Rewards Visa remains the most compelling card of the bunch, though I'm still on my old Marriott Bonvoy Premier card.
What do you guys think? Do you agree that the new Marriott credit cards are blah? Or do you like the minimal new earning options and the spending requirement for a free night certificate?